Skip to content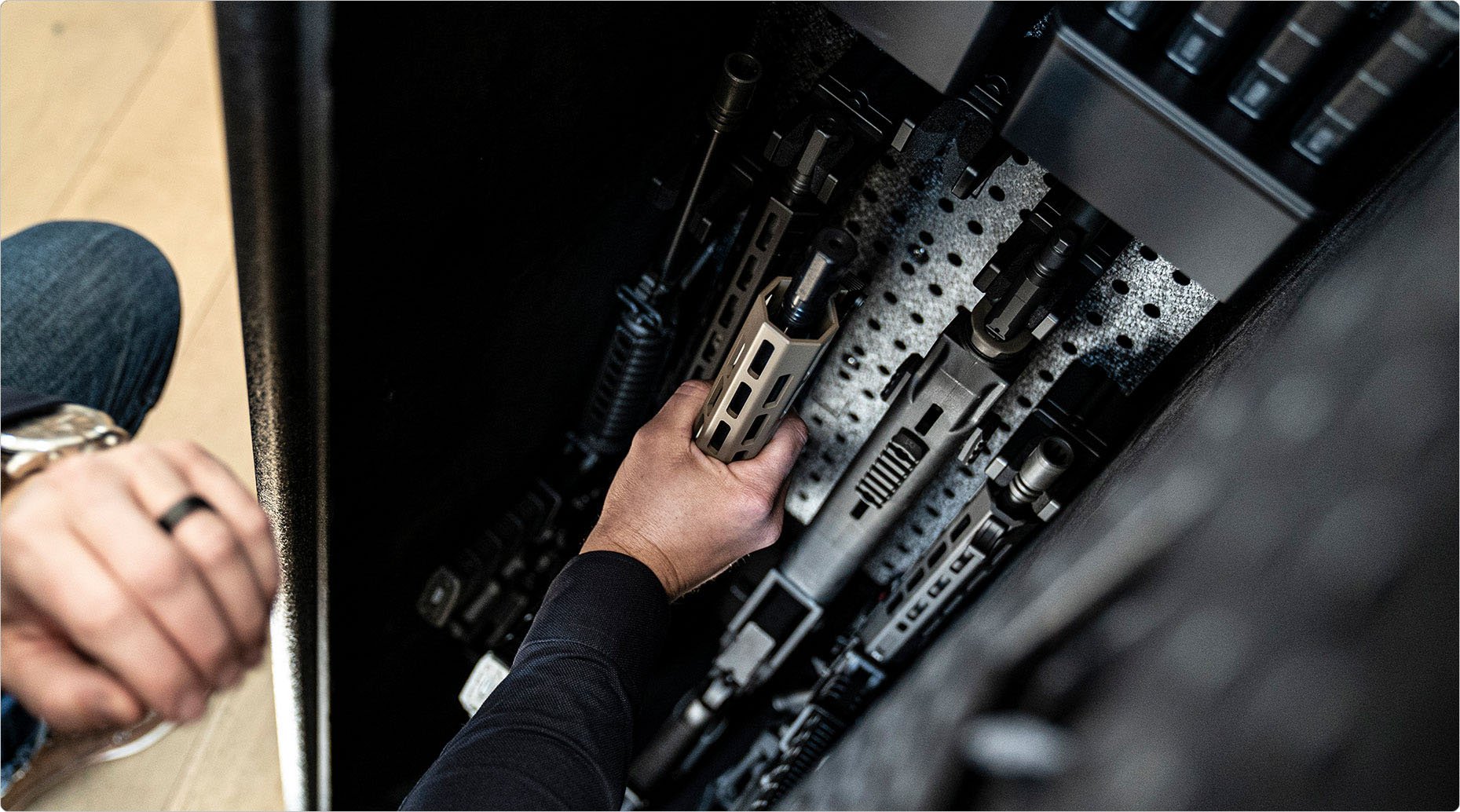 Every gun enthusiast gets to a point where they have too many rifles to keep in a case in the closet. As a gun enthusiast myself, I recently needed to find a safe that could handle plenty of long guns, and I wish I had this article when I was choosing.
Usually, big safes are used for storing just about everything from documents to ammo, rifles, and pistols. Although if you want a rifle safe, you need to make sure that the shelves inside the safe can accommodate plenty of long guns and not just regular gear and handguns.
We have spoken with plenty of gun enthusiasts to figure out exactly what they need out of a rifle safe, and we have found that capacity and overall size are the most important thing besides price. Most of these safes are extremely secure, so the next thing users look at is access methods and fire ratings. Lastly, they look for additional features like lights or dehumidifiers.
We have compiled a few of our recommendations for your comparison. Read on to explore each further, or use this list to jump straight to an item:
Important Qualities of Rifle Safes
Before we look at specific safes, we must look a little deeper into the specific qualities of a safe. There is not one perfect safe for everyone, and each user is going to have different expectations for their safe. With the price tag of a quality safe, it is a good idea to know what's most important to you before you make a decision.
Size & Capacity
Safes normally state that they are an X-gun gun safe. Ideally, a 20-gun gun safe can hold 20 guns. These numbers are accurate if you use rifles without scopes or longer magazines, but oftentimes users report being able to store less than what the safe was rated for.
Usually, the capacity stated represents how many long guns a safe can hold. If it is a 30-gun safe, that means it holds 30 long guns. However, some manufacturers include handgun storage on the door in their overall count. If you're planning on storing long guns, make sure you know what the manufacturer means by their capacity.
If you do want to store a healthy amount of handguns in your safe, check out our 5 Best Gun Safes of 2023 Guide for a safe that is good for both long guns and handguns. If you have 20 long guns that you need to store in a safe, I recommend getting a safe that is rated for at least 30 guns. Get a 35-gun safe if you want to leave a little room for growth in your collection.
The physical size of a safe is always a factor when you buy something this big. You definitely need to measure out a space in your home or garage to make sure it is going to fit. You also need to measure your doorway to make sure you can move the safe through it. Don't forget about the weight either: some of these safes weigh over 1000 pounds, so make sure your floor can support it.
When you buy your next safe from Sportsmans.com, it will be delivered to the closest Sportsman's Warehouse location to you, but you will need to hire a moving crew to install it for you. Normally, that Sportsman's Warehouse will have a local reference for you if you ask.
Fire Rating
A gun safe has one purpose: to keep your firearms protected. You want your valuables safe from thieves as well as fire, and fireproof safes are generally also sturdier overall.
A typical rating you will see for a fireproof safe is 30 minutes at 1200 degrees Fahrenheit. However, you can find a range of 30-minute safes that are rated for different temperatures. As a general rule, a higher time and higher temperature are best. You will notice a price increase for a rating past 60 minutes though. The best fireproof safe we currently have at Sportsman's is on this list and is rated for 100 minutes at 1680 degrees Fahrenheit.
Access & Security
The main purpose of a safe is to well… keep things safe. So, security is extremely important. The good news is that just about every big safe you will see in stores is going to be more secure than you will ever need. Since the doors of these safes are so secure, the best thing for you to look at is the steel thickness and additional safety measures.
With a hard-to-crack door, the easiest option for thieves is to cut through the safe. Thicker steel is obviously going to give you an advantage here. However, this will make the safe heavier and likely more expensive.
Next, you need to pick what kind of access method you want. You could use the tried and true combination dial or a digital access code. Digital safes are generally easier to use, and some of them can even be remotely reset by the factory if you forget your code. In terms of security, the combination dial and access code are on the same plane. Both of these styles will also come with a backup key, so it is really just a personal preference.
Additional Features
If you do not want to pay the absolute bare minimum for a safe, then you may be able to get some extra features. Lights are often the first added feature you get as you scale up in price, and they are certainly nice to have. If you get a big safe, it is going to be dark inside when you have it open and are looking through it, even if the room is bright. So having some backlights is a definite plus.
Next, a dehumidifier is good for the long term. This is something that you can add to just about every safe on your own, but sometimes nicer safes come with one. A dehumidifier will keep moisture out of your safe, keeping your rifles in good shape and increasing the lifespan of any ammo you have in the safe.
Lastly, you want an interior that will suit your needs. Versatility is a good thing in the layout of your safe's interior. We specially picked safes for this list that are able to dedicate both sides to rifle holders, but you can also replace those holders with shelves or other accessories. Not all safes are as versatile, so if you don't buy a safe from this list, make sure to check out how its interior works before you buy.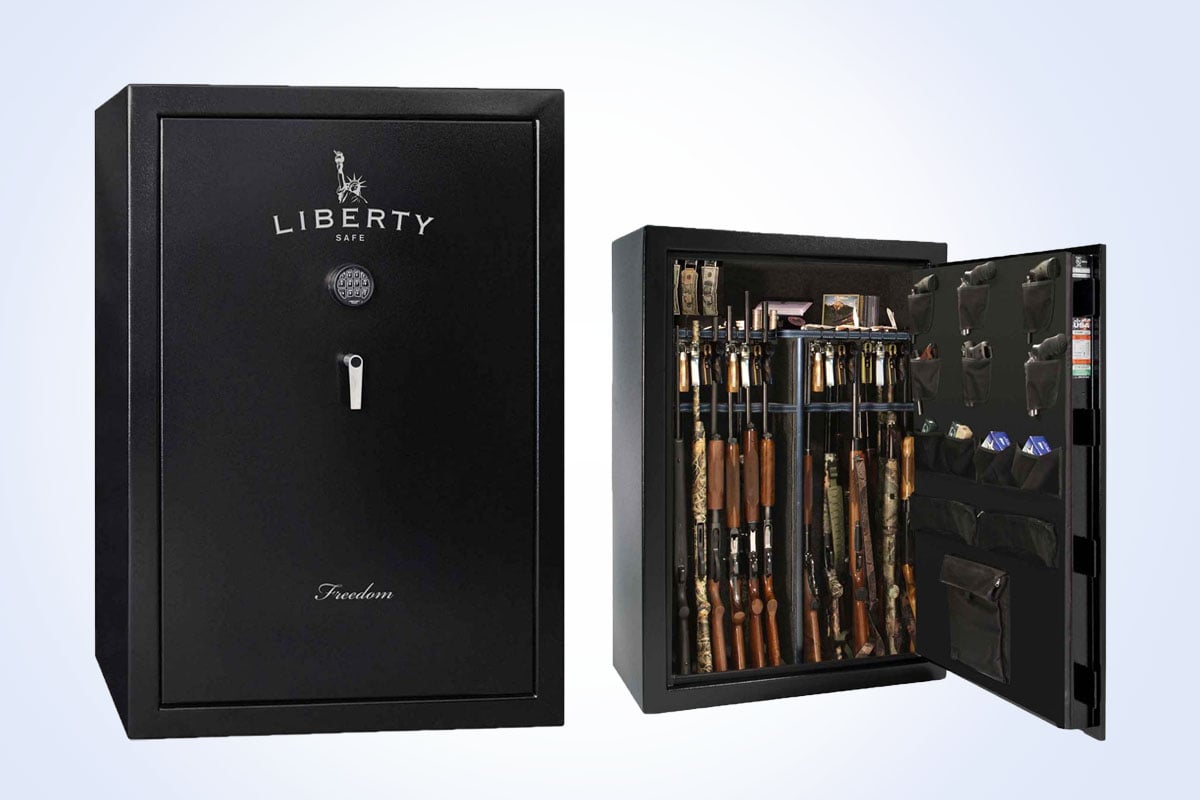 Check Price
The Liberty Freedom 48 Gun Safe is a big boy. It is rated to hold 48 long guns and holds an additional six handguns on the door, as well as other accessories in the door pockets. Of course, if your long guns have scopes or longer magazines, you may not be able to fit 48 total long guns; the rating is firearm-dependent. You also get plenty of room for ammo or extra gun accessories like scopes or grips on the top shelf.
The SecuRam electronic lock allows quick and easy access and is certified EMP-resistant. Security is unmatched at this price point with its triple-hard plate and six 4 inch wide by 3/16 inch thick military-style locking bars. These bars create the ultimate defense against any attempt at prying the door open. The Freedom 48 safe is constructed of a 2-piece roll-form steel body made with 14 gauge steel. It also has a 5/8 inch fireboard rated 40-minutes at 1,200°F.
You can also get behind the manufacturer of this safe, Liberty Safe. They have a lifetime warranty on all of their safes and guarantee a free replacement for any faulty safe. Plus, they are a trusted brand that has been producing quality safes for more than three decades right here in America.
Key Features
Lifetime Warranty With Free Replacement
Holds Up To 48 Long Guns
SecuRam Electronic Lock
40 minute fire rating @ 1,200°F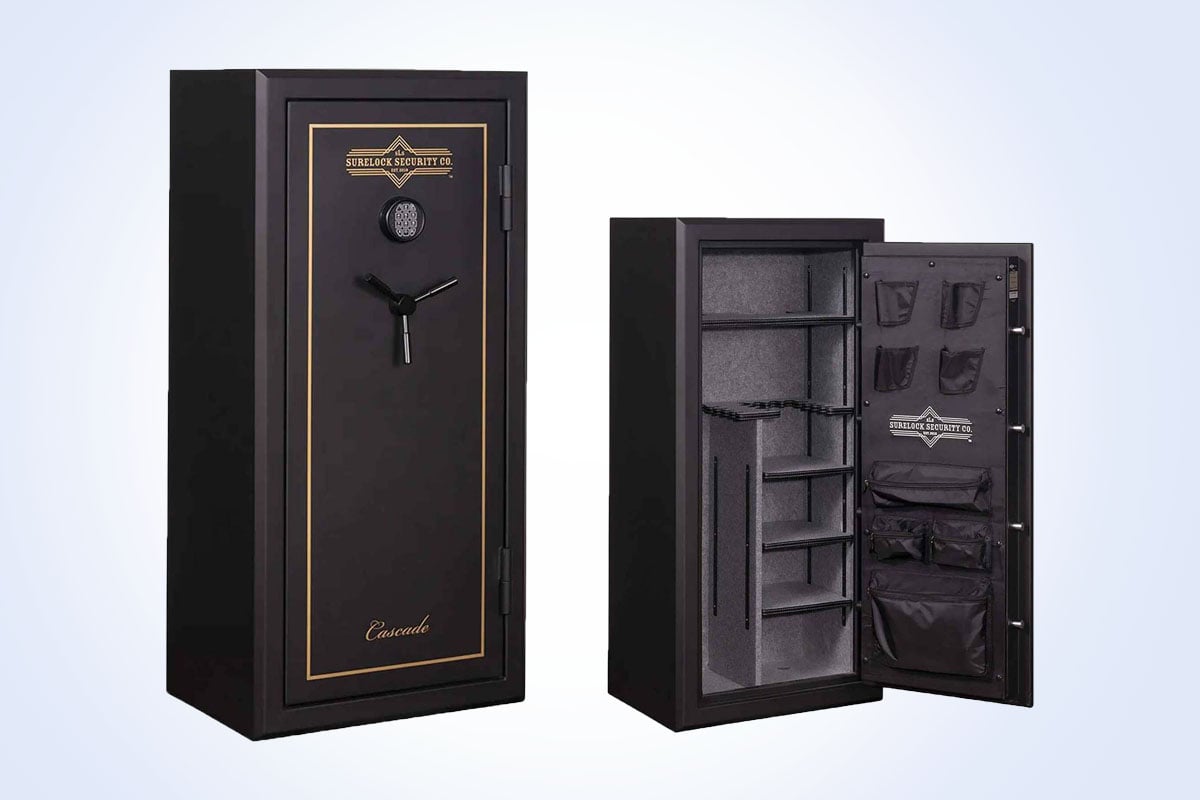 Check Price
This SureLock Cascade 24 Gun Safe is one of the most affordable options on the market that does not sacrifice quality. Although it does have relatively thin 14-gauge steel, this is still a great option for keeping guns safe from children or random break-ins. This safe also carries a 30-minute fire rating at 1400 degrees, which is impressive for the price.
Standing 55 inches tall, 26 inches wide, and 20 inches deep, the Cascade 24 is a great mid-size safe for securing up to two dozen long guns. Plus, at just over 300 pounds, you can likely install it yourself with help from a buddy instead of hiring a moving crew. The exterior is powder coated with a black textured finish and has a 3-spoke handle and digital lock (with key backup) for easy, reliable access.
The Cascade 24 can hold up to 24 long guns, plus four additional handguns on the door. The three adjustable shelves allow you to customize the interior as you see fit. With four active 1-inch steel bolts and four dead 1-inch steel deadbolts, the Cascade 24 offers additional security and peace of mind, without breaking the bank.
Key Features
8 locking bolts (4 active, 4 dead)
Surelock Security's Lifetime Replacement Program
30 minute fire rating @ 1400°F
Customizable interior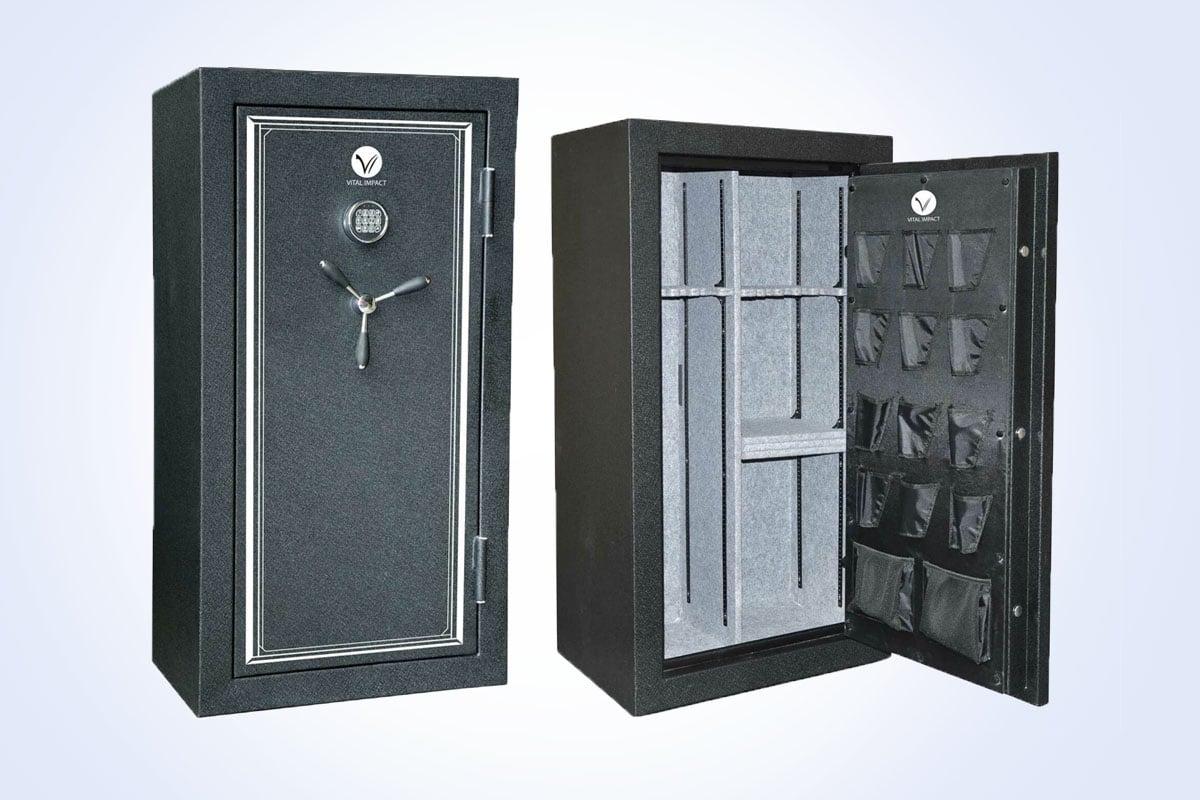 Check Price
The Vital Impact 42 is an awesome safe for the money, but the capacity rating is slightly misleading. This safe actually has 30 slots for long guns and 12 handgun slots on the door. For our purposes, that makes it a 30-gun safe instead of a 42-gun safe. Still, at this price point, it is a steal.
This safe is also made out of 14 gauge steel, but that is a consequence of its price. That does keep the weight at just over 300 pounds, so two people could move it through a house. Even still, it is tough enough to withstand more than what 99% of people would throw at it, and it also has a 30-minute fire rating at 1200 degrees. The Vital Impact 42 has an electronic keypad (with key backup) and is California DOJ-approved, so you can be certain it will keep your firearms protected.
Key Features
30 minute fire rating @ 1400°F
California DOJ Approved
Holds 30 long guns & 12 handguns
Check Price
The Browning Hells Canyon 65 Gun Safe was made for hunters. It is designed to hold every long gun you have, and it does a fine job at it. This is actually the largest safe that Browning makes in their Hunter Line. It stores up to 65 long guns and still has plenty of room for ammo or other gear.
Browning designed the Hells Canyon 65 to be wider, like a bureau, instead of the more common "boxy" dimensions in other safes. It also has a lower height profile, allowing you to place the safe in any number of locations in your house without blocking off interior space.
This safe is also incredibly tough to break into. It is made of thick 11 gauge steel, which makes it weigh 1055 pounds, but keeps it secure. It also has a force deflector locking system, hardened steel pin lock protection, and pry-stop end blots. It is also rated to withstand fire for 90 minutes at 1680 degrees.
Key Features
11 Gauge Steel Body
Force Deflector Locking System
Hardened Steel Pin Lock Protection
Pry-Stop End Bolts
90 minute fire rating @ 1680°F
LED lights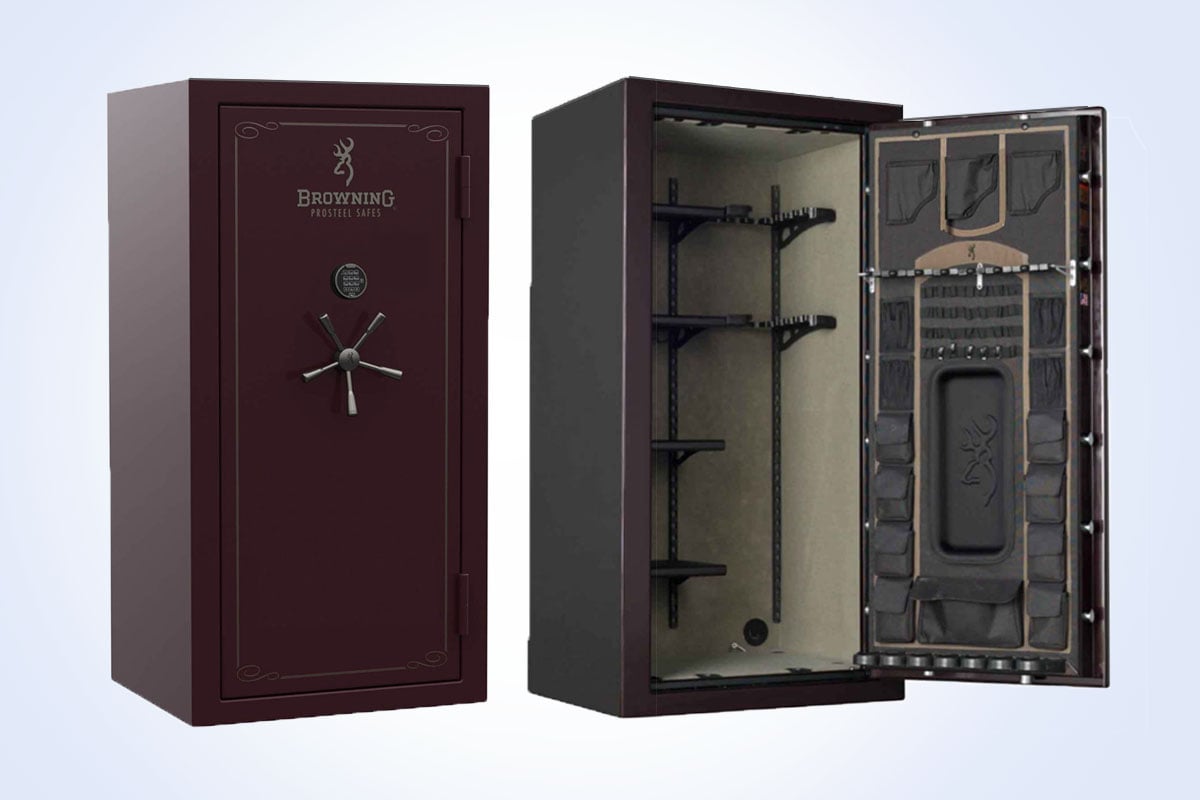 Check Price
If you want a safe that is extremely fireproof and pretty good-looking, the Browning Prosteel 33 gun safe is the safe for you. This safe holds 33 long guns and also has a unique feature called a scope saver. This is a cut-out on the safe door that provides a little extra room for scoped rifles that are stored on the door itself. This helps keep bulkier firearms in the safe without taking up multiple spots.
The Browning prosteel safe also has one of the best fire ratings on the market, especially at its price point. It can handle 100 minutes of 1680-degree fire without damage. It is also made of thick 11 gauge steel and has 16 locking bolts, 10 of which are active. It is safe to say that neither fire nor burglars have a chance of beating this beautiful black cherry safe.
The electronic lock on this safe is also UL rated, and there are also LED lights in this safe to illuminate all of your firearms when you open it. There is also an included plugin, so you can add a dehumidifier if you want. While this is not a cheap safe, customers rave about how much value this safe provides at its price point.
Key Features
33 Long Gun Capacity
LED lights
Scope saver for rifles stored on the door
11 gauge steel
100 minute fire rating @ 1680°F
16 Locking Bolts (10 active)
There is no doubt that there are plenty of safes to choose from. Make sure you get the capacity that is right for you, based on the size of your guns as well as the amount of scopes or guns with long magazines you'll be storing. Plus, it's always a good idea to leave room to add to the collection!