Skip to content
Sitka Camo Patterns:
Selecting the Perfect Camouflage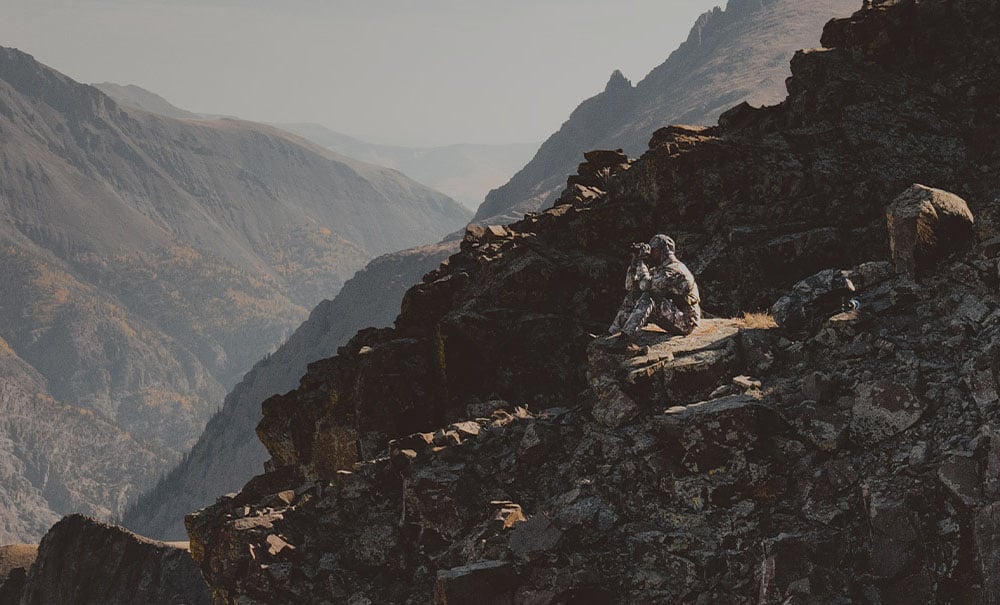 Sitka is known for their range of high-quality hunting camo patterns , each of which is intended for a specific type of terrain and is scientifically designed based on animal vision. For hunters who want to disappear into their surroundings, these options provide specificity and a new level of stealth. But of course, it's crucial to understand which camouflage pattern is right for the terrain you'll be heading into before making your purchase.
This guide will provide the insights hunters need into Sitka's camouflage patterns to determine whether they need to buy Open Country, Subalpine, Elevated II, Waterfowl Marsh, Waterfowl Timber, or Everyday for their next outing.
All Sitka designs are based on different prey species' eyes and brains. They are designed to blend humans into their surrounding terrain, but also with specific mixes of light and dark that conceal the outline of the human form. The algorithms used in Sitka's process delay the animal eye's ability to put together what it's seeing – a delay that gives hunters the window for a clean shot.
As you read through this article, keep in mind what terrain you hunt in most frequently, and which types of hunting will benefit most from camouflage. This will help you prioritize which design to purchase – until you can get them all, of course!
Sitka Camo Pattern
Application
Optifade Open Country
Level, rocky terrain above timberline; engagment ranges of 40 yards and beyond
Optifade Subalpine
Ground level, tree-covered terrain; engagement ranges of 50 yards or less
Optifade Elevated II
Whitetail hunters in elevated position; engagement ranges of 80 yards of less; undetectable at 15 feet in tree stand
Optifade Waterfowl Marsh
Layout and blind hunting in the marsh; engagement range of 35 at 40-degree and steep angles
Optifade Waterfowl Timber
Darker environments in flooded timber; engagement ranges of 10 to 40 yards
Optifade Open Country
Optifade Open Country was Sitka's first concealment system to use groundbreaking digital patterning to break up a hunter's outline in the eyes of big game. This pattern is ideal for hunting in rocky terrain above the timber line at ground level at engagement distances of at least 40 yards. Hunters will find this useful for targeting mule deer, elk, mountain goats, bighorn sheep, and more. Optifade Open Country is designed for Rocky terrain; Ground level; Above the timber line; Deer, elk, mountain goats, bighorn sheep, and more; 40+ yards from target species.

Sitka offers Optifade Open Country in popular items including Sitka Traverse Gloves, Sitka Heavyweight Hoody Jacket, Sitka Cloudburst Jacket, and Sitka Dew Point Pants.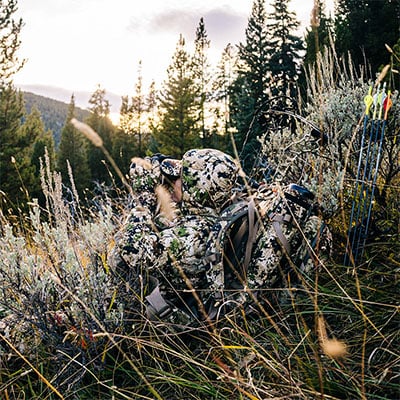 Optifade Subalpine
For hunters targeting deer, elk, and other ungulates within 50 yards, Optifade Subalpine will increase stealth exponentially. This pattern blends hunters into tree-covered and vegetated terrain. The patterning is specifically designed to conceal within 50 yards of engagement, with a high contrast pattern that conceals the moving hunter through the approach. Optifade Subalpine is designed for Tree-covered and vegetated terrain; Ground level; Targeting ungulates (hoofed mammals); 50 yards or less (stalking and ambushing).

Sitka offers several of their most popular items in Optifade Subalpine, including the Sitka Mountain Glove, Sitka Core Lightweight Bottoms, and Sitka Core Lightweight Crew Long Sleeve Shirt.
Optifade Elevated II
For hunters who will be climbing trees for a better view of their prey, the Optifade Elevated II provides concealment off the ground. Building on the technology of the Optifade Forest pattern, this new whitetail line has a longer engagement distance. Optifade Elevated II is designed for engagement up to 80 yards late into the season and is designed to conceal hunters shooting from a steep angle. The pattern configuration reflects the higher contrast of looking up into the bright sky through shaded tree cover. Because this pattern is ideal for highly sound-sensitive species such as whitetail deer, mule deer, and elk, Elevated II apparel is ultra-quiet to keep hunters deadly silent. Optifade Elevated II is designed for Elevated position such as tree stands; Engagement ranges within 80 yards; Conceals hunters up to 15 feet up in a stand; Whitetail, mule deer, elk, and more.

Sitka offers many of their most popular products in Optifade Elevated II, including the Sitka Equinox Hoodie, Sitka Stratus Bib, and Sitka Stratus Fleece Pants. Many of Sitka's Elevated II products also offer a pass-through port for easy layering without disconnecting from the safety harness.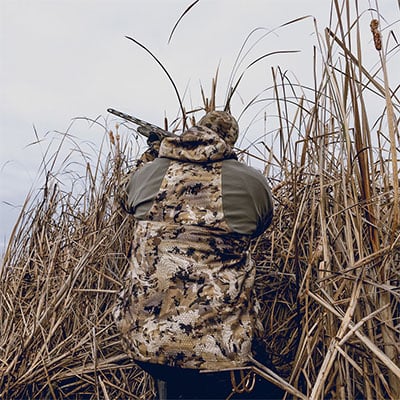 Optifade Waterfowl Marsh
Optifade Marsh is specifically designed to camouflage hunters as seen from above, using a swirling pattern to camouflage hunters from constantly moving birds. This high-contrast pattern conceals hunters in blinds, standing crops, and cut stubble fields for waterfowl hunting. The pattern is most effective for engagement at 35 yards, with angles of at least 45 degrees. Optifade March is designed for Waterfowl hunting; Blinds, standing crops, cut stubble fields; 35-yard optimal engagement distance; 45 degree and steeper angles of engagement.

Sitka offers many of their most popular products in Waterfowl Marsh, including the Sitka Boreal Aerolite Jacket, the Sitka Hudson Hand Muff, and the Sitka Dakota Vest.
Optifade Waterfowl Timber
The Sitka Waterfowl Timber Backwater System is a high-performance, durable concealment system for hunting waterfowl from boats, blinds, and water in flooded timber, buck brush, and wooded marsh environments. These products are built to be breathable, free-moving, and comfortable throughout the season in difficult terrain. Optifade Timber works best at engagement distances from 10-40 yards, and uses both high-contrast design to mimic water's reflection of the bright sky and darker tree cover, as well as an overall darker approach as a bird's environment darkens on its descent. Optifade Timber is designed for Waterfowl hunting; Darker flooded timber environments; 10-40 yards optimal engagement distance.

Sitka offers many of its most popular items in Optifade Waterfowl Timber, including the Sitka Delta Jacket, the Sitka Gradient Pants, and the Sitka Core Midweight Half Zip Long Sleeve Shirt.
Everyday
In addition to its range of scientifically proven camouflage designs, Sitka also offers gear and everyday wear that is not based around concealment. For hunters who want the comfort, breathability, durability, and performance of Sitka while training, working, and exploring, Sitka Everyday wear delivers. Sitka's Everyday line includes Travel, Training, Workwear, and Logo Wear.