Skip to content
Shot Size Chart
Recommended Shot Sizes for Waterfowl and Game Hunting
Shotgun shot is manufactured in a variety of sizes for different applications. The size of shot decreases as the number of the shot increases. A No.8 shot is going to be smaller than a No.2 shot. Certain shot sizes are traditionally used for hunting different types of game—although, shot selection for hunting is influenced by subjective preference. The shot size chart below serves as a general guide and starting point for shot selection for hunting various game animals. (Note: The size of shot presented below, whether lead or steel, is based on the American Standard shot sizes.)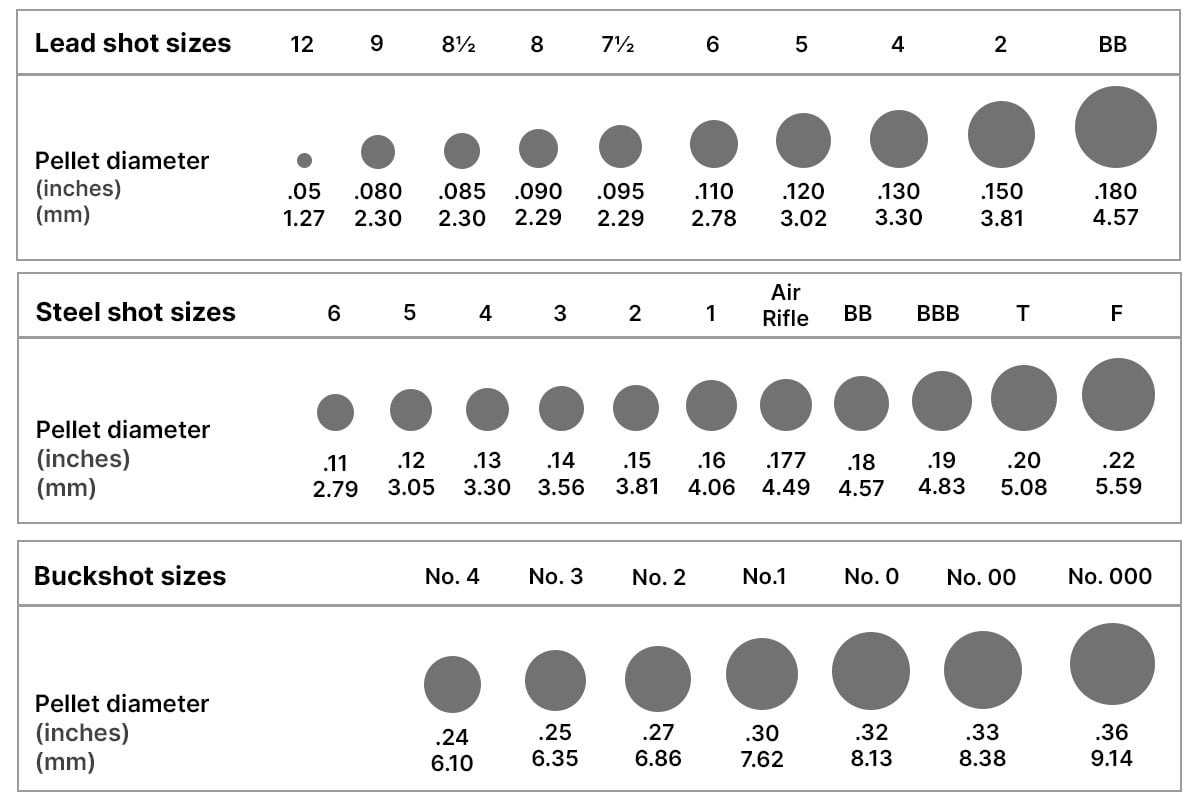 Game Species
Shell, Gauge and Shot
WATERFOWL
Small Ducks
Shell: 2-3/4 inch, 3 inch
Gauge: 20 ga
Shot: 3,4,5,6


---

Shell: 2-3/4 inch, 3 inch
Gauge: 12 ga
Shot: 3,4,5,6

Large Ducks
Shell: 2-3/4 inch, 3 inch
Gauge: 20 ga
Shot: 3,2,1


---

Shell: 2-3/4 inch, 3 inch, 3-1/2 inch
Gauge: 12 ga
Shot: 3,2,1

Geese
Shell: 3 inch
Gauge: 20 ga
Shot: 2,1,BB,BBB,T


---

Shell: 3 inch, 3-1/2 inch
Gauge: 12 ga
Shot: 2,1,BB,BBB,T

UPLAND GAME BIRD
Pheasant
Shell: 2-3/4 inch
Gauge: 20 ga
Shot: 4,5,6


---

Shell: 2-3/4 inch
Gauge: 12 ga
Shot: 4,5,6

Quail
Shell: 2-1/2 inch, 3 inch
Gauge: .410 ga
Shot: 6,7,7.5,8,9


---

Shell: 2-3/4 inch
Gauge: 20 ga
Shot: 6,7,7.5,8


---

Shell: 2-3/4 inch
Gauge: 12 ga
Shot: 6,7,7.5,8

Grouse
Shell: 2-3/4 inch
Gauge: 20 gauge
Shot: 4,5,6,7,7.5


---

Shell: 2-3/4 inch
Gauge: 12 gauge
Shot: 4,5,6,7,7.5

Doves
Shell: 2-1/2 inch, 3 inch
Gauge: .410 ga
Shot: 6,7,7.5,8,9


---

Shell: 2-3/4 inch
Gauge: 20 ga
Shot: 6,7,7.5,8


---

Shell: 2-3/4 inch
Gauge: 12 ga
Shot: 6,7,7.5,8

Turkeys
Shell: 3 inch
Gauge: 20 ga
Shot: 4,5,6


---

Shell: 3 inch, 3-1/2 inch
Gauge: 12 ga
Shot: 4,5,6

Woodcock
Shell: 2-1/2 inch, 3 inch
Gauge: .410 ga
Shot: 6,7,7.5,8,9


---

Shell: 2-3/4 inch
Gauge: 20 ga
Shot: 6,7,7.5,8


---

Shell: 2-3/4 inch
Gauge: 12 ga
Shot: 6,7,7.5,8

SMALL GAME
Squirrel
Shell: 2-1/2 inch, 2-3/4 inch, 3 inch
Gauge: 20 ga
Shot: 4,5,6


---

Shell: 2-1/2 inch, 2-3/4 inch, 3 inch
Gauge: 12 ga
Shot: 4,5,6

Rabbit
Shell: 2-1/2 inch - 3 inch
Gauge: 20 ga
Shot: 5,6,7,7.5


---

Shell: 2-3/4 inch, 3 inch
Gauge: 12 ga
Shot: 5,6,7,7.5

Coyote
Shell: 2-3/4 inch, 3 inch, 3-1/2 inch
Gauge: 20 ga
Shot: 3,4,5


---

Shell: 2-3/4 inch, 3 inch, 3-1/2 inch
Gauge: 12 ga
Shot: 3,4,5

LARGE GAME
Deer
Shell: 2-3/4 inch, 3 inch, 3-1/2 inch
Gauge: 20 ga
Shot: OO Buck (or slug)


---

Shell: 3 inch, 3-1/2 inch
Gauge: 12 ga
Shot: OO Buck (or slug)

Elk
Shell: 3 inch, 3-1/2 inch
Gauge: 12 ga
Shot: Saboted slug

Black Bear
Shell: 3 inch, 3-1/2 inch
Gauge: 12 ga
Shot: 00 buck, 000 buck, slug (self-defense only)

Grizzly Bear
Shell: 3 inch, 3-1/2 inch
Gauge: 12 ga
Shot: 000 buck, slug (self-defense only)

---
Shot Size Charts for Hunting
When selecting shot size for hunting, range from game and penetration should also be considered to ensure a humane kill. Size and type of shot may also be specified by local hunting regulations. When selecting shot for hunting, it's important to remember that relative to a bullet shot loses velocity fairly quicky. Additionally, larger shot typically carries farther and spreads much less than small shot.
Lead Shot Sizes
For upland birds and small game, lead is regarded as the ideal material for shot. Lead shot is dense, allowing it to retain energy and flatten on impact. For hunting smaller birds, such as doves, pigeons, quail, woodcock, rail and snipe #8 and #7-1/2 lead shot is ideal. For upland game birds, including grouse and partridge, and short-range uplands birds (woodcock and ruffed grouse), #7-1/3 lead shot is recommended. For game, such as squirrel, prairie dog, rabbit, pheasant (short range) and grouse (long range) a #7-1/2 or #6 is the go-to shot size. Hunting pheasant or chuckar long range usually requires a #6 or #4 lead shot.

Steel Shot Sizes
In a side-by-side comparison, steel shot does not perform as well as lead shot. Steet shot is lighter and harder than lead. However, when hunting migratory waterfowl non-toxic shot, such as steel shot, Tungsten or Bismuth, is mandated by federal law. Steel shot is the most popular non-toxic shot for hunting waterfowl. For hunting ducks short range, #4, #3, or #2 non-toxic shot is recommended. For hunting long-range ducks, the larger #2, #1 or BB shot sizes are most common. For hunting larger waterfowel, specifically geese, BB or BBB shot is recommended at short range, and BBB or T size shot performs best at long range.

Buckshot Sizes
Buckshot is manufactured to larger diameters than either lead or steel shot. It can be used for hunting larger game such as deer, elk or moose. While still commonly used for hunting deer, single-projectile loads known as "slugs" are far more common now for hunting deer and larger prey animals using shotguns. The 12 guage "oo" ("double-aught") buckshot made up of approximately 9 .33 caliber pellets is still used for hunting medium-sized game species such as whitetail or mule deer at close range. 00 buckshot can also be used for killing larger game including elk or moose, but is only effective at close range. Hunting bear, including black, brown and grizzly bear is not recommended using buckshot. However, the large "ooo" ("triple-aught") buckshot can be used for self defense against bears.

Shot Size, Type and Length by Gauge
Find shot size, type and length by gauge including 10, 12, 16, 20, 28 and 410 shotgun gauges.
Gauge
Length, Shot size and Types
10 Gauge
Length: 3-1/2"
Shot size: #2, #4, #5, BB, BBB, #00 Buck, T
Type: Slug, Buckshot, Waterfowl, Turkey

12 Gauge
Length: 1-3/4", 2-3/4", 3", 3-1/2"
Shot size: #1, #2, #3, #4, #5, #6, #7, #7.5, #8, #9, BB, BBB, #00 Buck, #000 Buck, T
Type: Slug, Buckshot, Waterfowl, Upland, Turkey

16 Gauge
Length: 2-3/4"
Shot size: #2, #4, #5, #6, #7.5, #8, BB
Type: Slug, Buckshot, Waterfowl, Upland

20 Gauge
Length: 2-3/4", 3"
Shot size: #1, #2, #3, #4, #5, #6, #7, #7.5, #8, #9, BB, #1 Buck, #2 Buck, #3 Buck
Type: Slug, Buckshot, Waterfowl, Upland, Turkey

28 Gauge
Length: 2-3/4", 3"
Shot size: #5, #6, #7.5, #8, #9
Type: Waterfowl, Upland

410 Gauge
Length: 2-1/2", 3"
Shot size: #4, #6, #7.5, #8, #9, #000 Buck
Type: Slug, Buckshot, Upland, Turkey

SHOT SIZES PER GAUGE
#9
#8
#7.5
#7
#6
#5
#4
#3
#2
#1
B
BB
BBB
#00 Buck
#000 Buck
T
#1 Buck
#2 Buck
#3 Buck
10 Gauge
X
X
X
X
X
X
X
X
X
12 Gauge
X
X
X
X
X
X
X
X
X
X
X
X
X
X
X
X
16 Gauge
X
X
X
X
X
X
X
20 Gauge
X
X
X
X
X
X
X
X
X
X
X
X
X
X
28 Gauge
X
X
X
X
X
.410 Bore
X
X
X
X
X