Skip to content
Hunting Caliber Chart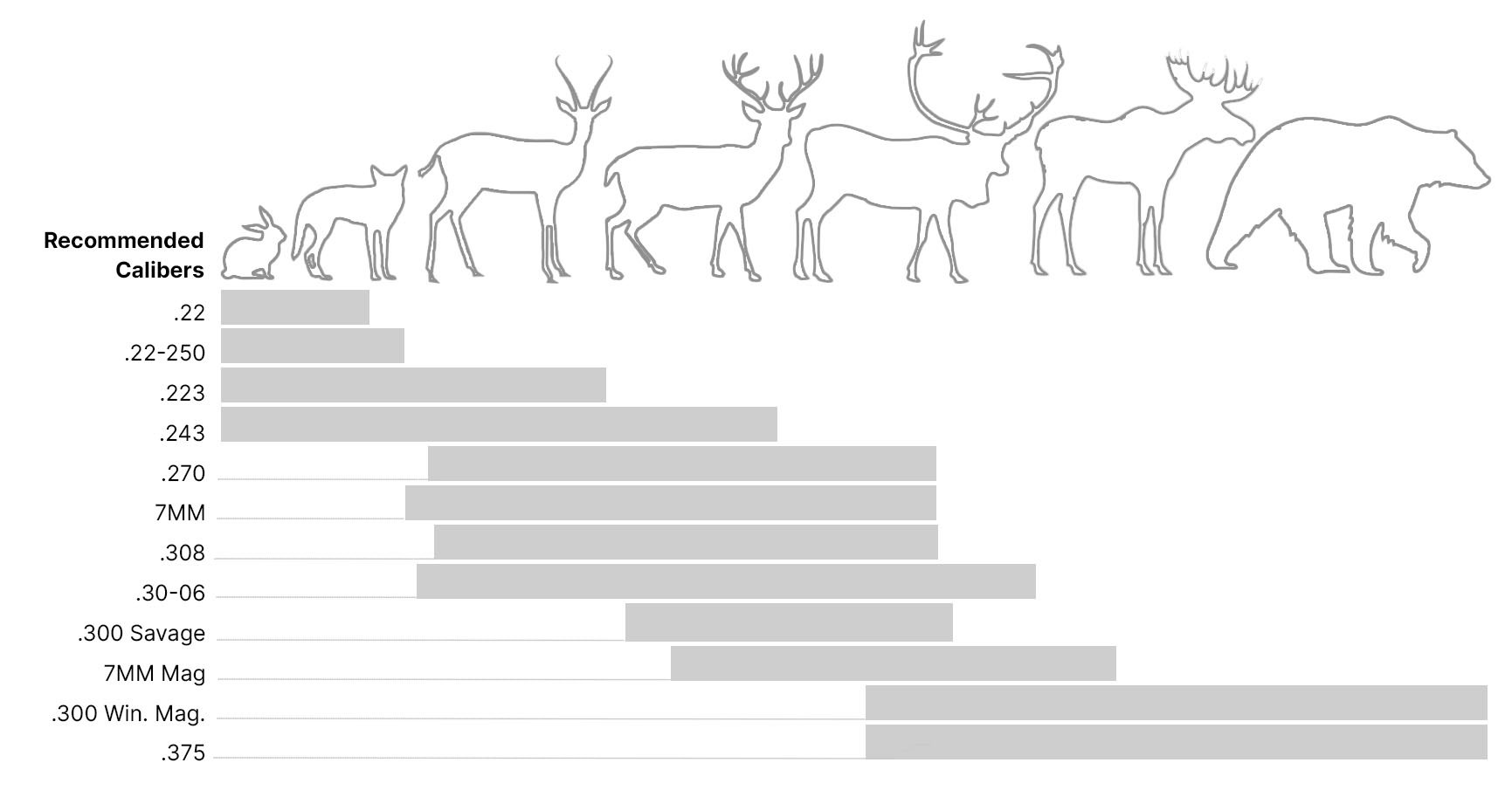 Small Game
---
Squirrel Hunting Calibers

Squirrel has been on the menu in America for a long time. Since the colonial era, a dinner of fried squirrel has been welcomed across the eastern regions of the USA.
Whether it be the .22 LR or .22 WMR, the .22 caliber is no doubt the quintessential caliber for squirrel hunting. It's powerful, deadly accurate out to 50 yards (the distance you'll be shooting most squirrels) and won't make a mess of your pelt. You can also take a squirrel with the .17 HMR or a good high-powered pellet gun.
Rabbit Hunting Calibers

These furry rodents, both the eastern cottontail and the western jackrabbit are almost always the starting point for a youngster on a lifetime of hunting. Rabbits are plentiful, easy to find, and still a challenge since they are quick animals, and in the case of jackrabbits can tear up the prairie at almost 40 miles per hour. You don't need a cannon for rabbits, the smaller caliber does just fine and won't ruin the meat on impact. Another benefit to smaller calibers is less recoil and a small-stature youngster can enjoy their first hunt without worrying about a kick that can induce shooter's flinch.
Turkey Hunting Calibers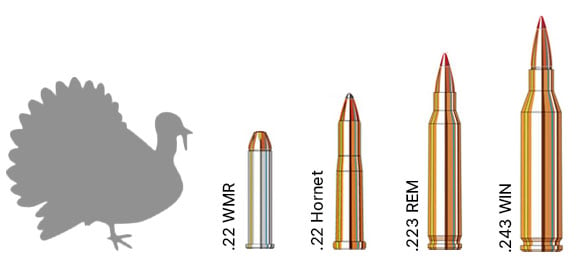 Upland game birds and waterfowl in the United States must be harvested with a shotgun, the lone exception is the largest of North American birds, the wild turkey. Turkey hunting with a centerfire cartridge presents a challenge. Unlike its domesticated relative, the usable meat on a wild bird is just the breast. The legs, thighs, and wings are stringy from exercise. A rifle shot to the body of the bird will take it out effectively, but even a slight misplacement will destroy much of the white meat.
Medium Game
---
Fox Hunting Calibers

There are two reasons to hunt fox. The first is if they're a threat to poultry or other small animals on your farm or homestead. The second, and most often cited reason to hunt fox is for their fur. Fox are considered both a varmint and a fur-bearing animal depending on the area you live. In selecting a good caliber for taking fox you want one that does the job in a single shot, but that doesn't destroy the pelt in the process. Lighter -grain bullets, fired at high velocity are the best cartridges for fox.
Coyote Hunting Calibers

Among predator or varmint hunters, the coyote is king. The versatile coyote has expanded his range to include cities as large as Los Angeles and the wily wild dog has moved east, even frequenting New York City's Central Park. Hunting coyotes is best in the heart of winter since their full pelts demand the highest price in those months. Taking a coyote is usually done at long range so a cartridge with a punch out beyond 300 yards is preferred, but shorter-range shots can be taken if you are adept at calling coyotes with a few dozen yards. It all depends on your hunting style.
Antelope Hunting Calibers

The Pronghorn is a challenge for any hunter with their incredible speed and wary nature. They can be called into close range with a simple waving of a white flag, but most of the time you're going to be taking long-distance shots when hunting pronghorn. A cartridge with big game energy in excess of 1,000 foot-pounds at ranges beyond 300 yards is ideal for this fastest of all North American game animals, reaching speeds of 65 miles per hour in short bursts. Antelope live on the open plains of the high desert so long-range shots are often the only shots you'll have a chance to take. An accurate, hard-hitting long-range cartridge is what you'll be looking for.
Mountain Goat Hunting Calibers

The Rocky Mountain Goat inhabits some of the most challenging terrain in North America. They can cling to nearly vertical ridges, scale perpendicular walls, and vanish as quickly as they appear. Many consider them the apex big game animal within the lower 48 states. When hunting them a long-range cartridge, in a lightweight rifle is what you're after.
Hog Hunting Calibers

Hog hunting is a growingly popular sport in the Southeast and west into Texas, but feral pigs are now a threat on the plains and in California. A hog can reach almost a thousand pounds, moves quickly, is perhaps the most intelligent big game animal you can hunt, and can take a lot of punishment. A heavy, hard-hitting cartridge is called for when you square off with a huge wild boar.
Alligator Hunting Calibers

You don't hunt gators, you trap or hook them and then deliver a kill shot at close range. There are times when you can get a clear shot at an alligator on a riverbank or a closer shot on a semi-submerged gator near your boat, but most of the time you're delivering the coup-de-grace at intimate ranges of less than 10 feet. Just about any cartridge will work for this.
Large Game
---
Deer Hunting Calibers

Deer hunting remains the most popular big game venue in the outdoor world. Whitetail or mule deer it doesn't matter which, you need a cartridge with at least a thousand-foot pounds of energy to ethically drop a large buck. The styles of hunting in all 48 continental states differ with species. In the east its close range shots but in the west, you can harvest bucks at very long distances, an effective caliber for each individual is what you're after.
Caribou Hunting Calibers

Don't tell the kids you're out hunting Rudolph, but caribou and reindeer are the same animals. These large members of the deer family inhabit an area circling the globe near the Arctic Circle. They live on the tundra or in nearby boreal forests, so long shots are often the only shots you're going to get on a caribou. Caribou are similar in size to elk, but with six distinct sub-species, they can range in size from 250 to 700 pounds.
Elk Hunting Calibers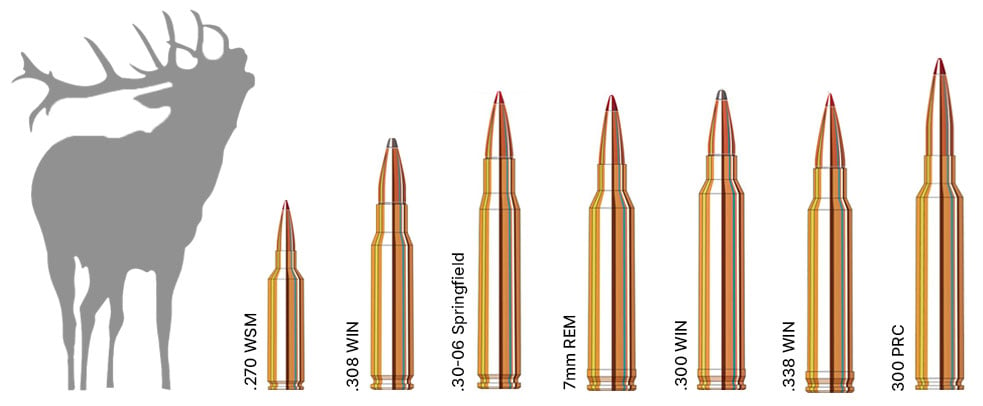 Elk are considered the penultimate big game animal in North America. They inhabit the foothills and slopes of the Rocky Mountains but good-sized desert herds roam Wyoming, Montana, and the Dakotas as well. Elk are close relatives of mule deer, only much larger. They can be called within very short range with a variety of calls, hunted via the track and stalk method, or taken with long shots after glassing an area from a high vantage point. Elk are trophy animals that many hunters dream about.
Moose Hunting Calibers

Moose are the largest members of the deer family. Alaskan and Canadian moose are even larger than those found in the Great Lakes and the Rocky Mountain Region. Distance shooting isn't usually in the picture for moose, but on occasion, you can spot one on a far off meadow. Moose enjoy riparian habitat, and the shots are usually less than 100 yards in the wetlands, small ponds, and tributaries that they inhabit. A cartridge with high energy at close to moderate range is what you're after.
Black Bear Hunting Calibers

Legend has it that Daniel Boone was adept at harvesting black bears with his smooth bore musket, but in today's hunting world with thousands of options in caliber, bullet size, and velocity one thing remains true when hunting black bears, they are tough animals. Comparable to wild boar hogs in their ability to take a shot and survive, bigger is better when it comes to the stopping power you'll want to send down the barrel after a black bear.
Grizzly Bear Hunting Calibers
Ursus arctos horribilis, the scientific name for the grizzly bear, is the apex predator on the North American continent. The grizzly is the stuff of legend, and on occasion, of nightmares. The massive animal is powerful, fast, and aggressive and the numbers of grizzlies in the Rocky Mountains are steadily increasing in this federally protected animal. The same is not true in Canada where the grizzly is a game species, the only wild game on the continent that can prey on you as easily as you prey on it. It takes a powerful cartridge to stop a grizzly, and even then it requires a well-placed shot, or you have an enraged mass of snarling muscle coming at you at 35 mph.
Muskox Hunting Calibers

Muskox are an ice age species that still thrive in the brutal cold of the Arctic. They appear a lot larger than they are due to their heavy coat of fur. Muskox only weigh 500 to 600 with cows and at most, 800 pounds with bulls, but they look a lot larger. A mythology of firepower has descended on muskox hunting in Siberia, Alaska, Canada, and Greenland that calls for huge, high-powered cartridges to take these animals. Physically, they are no larger than elk, and most are much smaller than moose, but appearances can be deceiving so the bigger is better belief prevails.