Skip to content
Camp Kitchen Checklist
Packing your camp kitchen depends on just how much of a cook you consider yourself to be. Some like to lean fully into "campground chef" status, while others just want to whip something up and get on with their adventure. Either way, setting up the perfect campground kitchen is an important part of your camping experience.
This checklist provides fantastic starting point for equipping your ideal campground kitchen. Keep in mind, this list includes everything you could possibly require -- if you're less of a foodie, don't feel compelled to check every single box before your next trip!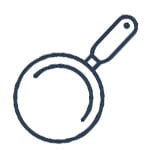 Cooking and Food Prep
Stove - Camp stoves come in all shapes and sizes to help you craft your ideal set of meals in the great outdoors. In order to determine which camping stove is best for you, you'll need to think through what recipes you hope to make, how many burners you need, how much surface area you can count on for cooking, wind protection strategies, type of fuel, and how quickly you want the stove to boil water. Popular types of camping stoves include canister stoves, alcohol stoves, liquid-fuel stoves, and multi-burner stoves.
Fuel - Be sure to check your fuel levels to ensure you have plenty of fuel for your trip. Different camp stoves take different types of fuel, so if you already have a stove, then make sure to get its corresponding fuel type. If you're still shopping, know that you can choose from butane, propane, isobutane, and liquid fuel stoves. You'll want to consider how portable and available your fuel type is before making a decision, plus how well it burns.
If you can't light your camp stove, you obviously won't get much use out of it. Camp stoves can be lit by any kind of lighter, though a long kitchen lighter may keep your fingers a bit farther from the flames. Metal firestarters can also create a spark to light your camp stove. Wooden matches are a nice option too, as long as you can keep them dry during your trip and aren't expecting too much wind. Make sure to store any lighters in a separate area from your fuel.
Once you have your recipes and your stove space, you're ready to pack your cooking pots and lids. A more minimalist camp setup might want a cooking pot that can double as a bowl, while a bigger camp kitchen will want a few larger pots that can cook mac and cheese over a double-burner camp stove. You may want a cooking pot that only works over the burner, or you may want one that can stand up to an open flame. Cooking pots come in full sets or you can buy individual pieces. Popular cooking pots are often made from aluminum, stainless steel, cast iron, titanium, and nonstick materials.
A good frying pan is a must when camping—just make sure it isn't too big for the burner you're bringing! Cast iron pans make for excellent camping pans, as long as a bit of extra weight isn't an issue. You can find camping pans with adjustable handles to make them more portable. Most camping frying pans have 6"-15" diameters and come with or without lids to prevent splattering or hold in heat.
Make sure to pack pot holders or pot lifters so you can manage your hot cookware while the stove is going. A simple set of cloth potholders can work great—make sure they are durable enough to stand up to the heat as well as the outdoors without taking up too much space in your pack. For a more packable option, pot lifters can provide a secure grip on your pot while taking up less space than puffy fabric mitts.
Many of us bring canned goods and bottles out into the outdoors, and it's very frustrating to realize you can't open it! Keeping a cheap version in your camping tub can help fight this issue—and so can purchasing a multi-tool that can take care of all these issues and more. Take a look at the types of goods you're bringing in your camp kitchen, and make sure you will be able to open each of them before you declare yourself packed.
A good sharp camping knife will enhance any recipe you'll make on the road. Dull knives are dangerous in general, but even moreso on the uneven surfaces of a camp kitchen. The knife on your multitool might help you cut small things like garlic, but if you'll be slicing vegetables or meats, you'll need a proper kitchen knife. Blade protectors can help you transport your knife more easily. Good quality chef's knives are anywhere from 6"-12".
Cutting boards provide a clean surface for you to prepare your recipes. Rubberized grips can help keep your cutting board in place if you're worried about it moving around on a picnic table, and you'll want to consider how much surface area you need for cooking. A small cutting board is nicely packable if you'll just be chopping small things like berries for oatmeal, while a larger cutting board will be important if you are preparing larger cuts.
Optional:
If you're traveling with a large number of people, a portable grill can add a whole new dimension to your camping. Before deciding on your grill, know your needs in terms of portability, fuel type, accessories, and cooking space. If you want an even more portable option and don't mind having less control over your heat source, grills that go over the fire are an excellent option.
Griddles provide an open, flat surface for cooking pancakes, toasting sandwiches, and more. You can choose between standalone griddles and attachments that will fit onto your burner. Griddles can go over one or two burners, and some options are reversible to offer different cooking styles with the same gear.
For anything from fresh bread to stew, a Dutch oven is a dependable, durable camp kitchen option. Make sure to get a Dutch oven that is safe over open flame for your camp kitchen: this usually means cast iron rather than enamel cast iron. A Dutch oven with legs on the bottom will help improve balance over the campfire, and a rimmed lid will allow you to put charcoal on top of the lid to provide heat from above. The size of your Dutch oven will depend on how many people you intend to feed and what kind of recipes you will be making.
If a campfire is an essential part of your camp kitchen, make sure you'll be able to manage that heat source. Saws or axes can help you split logs and create kindling. Saws are better for large logs, but small axes are excellent to create small strips for kindling. Hatches, axes, saws, and large knives can help you manage your campfire.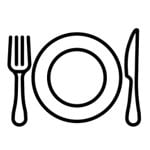 Camp Table Settings
When you're camping, you want plates and bowls that are lightweight, portable, and sturdy. You can get dinnerware sets that will cover your needs for a full group, or put them together individually. If portability is a concern, you can opt for bowls and plates that stack and collapse. Make sure you bring at least one set of plates and bowls per person, and consider how hardy you prefer your dinnerware materials.
It's a good rule of thumb to bring mugs and cups camping that won't break if you drop them. This means plastic and enamel are better options than ceramic or glass. Opt for collapsible mugs if you want to save storage space, or backpacking mugs that clip onto your pack. You can also purchase a mug and kettle kit that will give your campsite a cute matching aesthetic.
You can always just throw basic cutlery into your camping bag—but why not get some specialty gear? If you're looking to save space, you can pick up camping utensils that combine fork, spoon, and knife into a single utensil, either functioning as a multi-tool, creating a double-sided tool, or simply adding a ring to separate utensils. Be sure to review your menu for any specialty utensil needs, like claw crackers for crabs.
Camping utensils might include spoons for stirring, spatulas, tons, lid lifters, barbecue tools, skimmers, scrubbers, whisks, and chef's knives. Check your menu to confirm which of these you just have to have.
Tablecloths make cleanup easy and provide a colorful pop to your campsite. Camping tablecloths should be made from water-resistant, durable linen. Make sure your cloth is large enough for your table, and bring clips if you're expecting windy conditions.
A lantern dedicated to your camp kitchen will make dinner more luxurious instead of a race against the setting sun. You can use electric, LED, or propane-fueled lanterns to keep your cooking area bright. If you have a pole or branch above your picnic table, you may want a hanging lantern (or lantern that can be hung with an accessory) to provide overhead lighting for your work.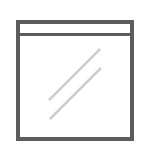 Camp Kitchen Storage
Coolers can keep your ingredients safe over the course of your trip, but they can also provide nice cool refreshments during summer outings. Hard coolers have tough edges, which give more structural integrity and allow other items to be packed on top of them. Soft coolers are easier to fit between other items when you're packing, but are usually smaller than hard coolers. You can find coolers with capacities from 4-400 quarts depending on how much you're planning to keep cool.
If you'll be camping in an area with bears, it's very important to bring bear containers. This keeps bears out of your campsite and promotes their health, helping them stay wild. Locking your food in your car is not enough in these areas: your bear container should fit all your food and scented items, including scented toiletries. Many campsites with bears will provide food storage containers that are bear safe, but check if you need to bring your own. Many campsites have rodents such as mice and squirrels, so hard plastic containers will help keep your ingredients safe.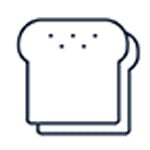 Common Camping Foods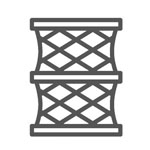 Camp Kitchen Cleanup
A portable camp sink can make cleanup much easier, especially if you have a large group with many dishes. You can choose from camp sinks that are essentially collapsible tubs where you can create some soapy water for your dishes, or more built-out options with drains and a spot to dry your utensils. You can even find camp sinks that are attached to folding tables and hook up a faucet to a nearby water source if you want to feel just as set up as you do at home!