Skip to content
Hunting Camo Patterns
Find the best hunting camo patterns, brands and types for big game, deer, waterfowl, turkey, and upland/small game for alpine, desert, farmland, flooded timber, pine & hardwood forest, marsh, and mountain terrains.
Select Your Hunting Terrain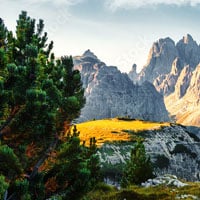 Alpine (select a camo pattern)
When you're in the high mountains, you need a camouflage pattern that will blend you into the rock. Alpine hunts are usually above the tree line, meaning the pattern will usually bring in the greys of rock, or browns and sage greens of bark and brush. High contrast is often a hallmark of alpine camouflage patterns to break up the hunter's outline against both rock and sky.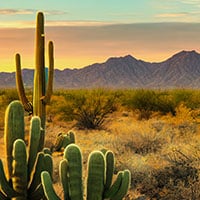 Desert/Sagebrush (select a camo pattern)
Deserts and sagebrush environments are comprised of subtle tones to mimic open sands and muddy greens of dry brush. Whether you're tracking mule deer, bighorn sheep, predators, or even hares, the right pattern will break up the hunter's outline across the dry expanse.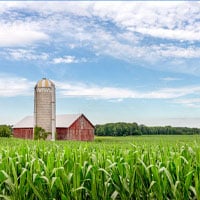 Farmland (select a camo pattern)
The hunter in farmland is moving through generative environments, often with ponds, freshwater lakes, and the green that comes with it. Photorealistic elements can help break up the hunter's outline and disguise among the surrounding vegetation. Consider whether your surrounding vegetation will change colors with the seasons, in which case you might want specific camouflage or a pattern that is designed for cross-seasonal concealment.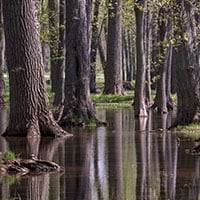 Flooded Timber (select a camo pattern)
Flooded timber provides a dark but high-contrast environment. Darker earth tones will blend nicely with the wood and water as seen from above, which is the likeliest vantage for waterfowl hunters. High-contrast highlights can help to mimic reflections of the sunlight in the water amongst the darker tones.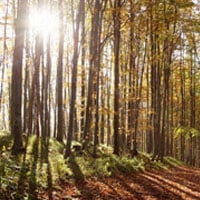 Hardwood Forest (select a camo pattern)
In the hardwood forest, greens and browns keep hunters concealed from their targets. Hunters planning to use treestands will want patterns with white space and highlights, to break up their outline against the treetops and the sky as viewed from below. Photorealistic elements of bark and leaves can help disguise the human form.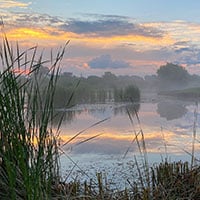 Marsh (select a camo pattern)
Blends of light and dark browns in swirling, watery patterns help disguise hunters in marshes. Many hunters are targeting waterfowl in marsh environments, in which case they will most likely be viewed by their targets from above. This means the camouflage pattern should break up the hunter's outline against the earth below them, rather than surrounding trees or sky.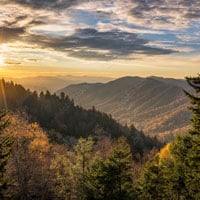 Mountain (select a camo pattern)
Mountain camouflage needs to carry the hunter through the woods, and be prepared in case you go above the treeline. Greens, browns, and greys can help disguise the hunter in a variety of mountainous environments. Whether you'll be pursuing elk, wolf, whitetail, red deer, mountain goat, or other mountain-dwelling species, the right pattern will make a difference.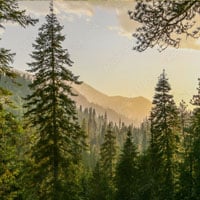 Pine Forest (select a camo pattern)
The greens of pine needles and browns of bark help to disguise the hunter in a pine forest. Photorealistic elements of pine needles, cones, and bark texture can further break up the hunter's outline from the eyes of suspicious prey. Whether you're hunting deer, quail, or fox, the right color pattern will help keep you hidden long enough to take your shot.
Hunting Camo Patterns by Brand
Factors to Consider When Selecting Hunting Camo
Not all camouflage is created equal - which is good, because not all terrain is the same! When you're choosing the right camo pattern, there are a few important questions to ask yourself.
What Season Will You Be Hunting In?
As we all know, trees change color based on the season. What season will you most use your camo in?
| | |
| --- | --- |
| Spring, Summer | Greens |
| Fall, Winter | Browns |
What Are Your Surroundings?
Where you're hunting, will you be surrounded by many leaves and grasses? Or will you be primarily surrounded by bark, either from trees with sparse leaves or leaves higher up? Or will you be in less vegetated, more rocky terrain?
Certain targets (like doves) will have you trekking through many types of terrain in search of a good specimen. Many patterns are designed by species to account for this need for versatility.
Consider what your surroundings will look like. This will help you decide what type of natural elements should be mimicked on your camouflage pattern.
What's Your Vantage?
Your background isn't just determined by the vegetation around you - it's also where your target will be viewing you from. If you'll be in an elevated position like a tree stand, they'll be viewing you against the sky. If you'll be seen from above by a bird flying by, you'll need to blend in more to the ground than the tree standing next to you.
How Much Clothing and Equipment Will You Need?
Jackets and vests cover the biggest area while keeping you warm and protected, so that's a good place to start. Masks and hats can help hide light hair or skin from keen-eyed targets. And of course, you can get full-body camouflage if stealth is your top priority!
Look up regulations in your area to determine whether you need to pair your camouflage with blaze orange.
Hunting gear, like equipment bags and bows, also comes in camouflage patterns if you want to keep your gear hidden. You might also consider a camouflage net to cover any equipment that isn't patterned.