Skip to content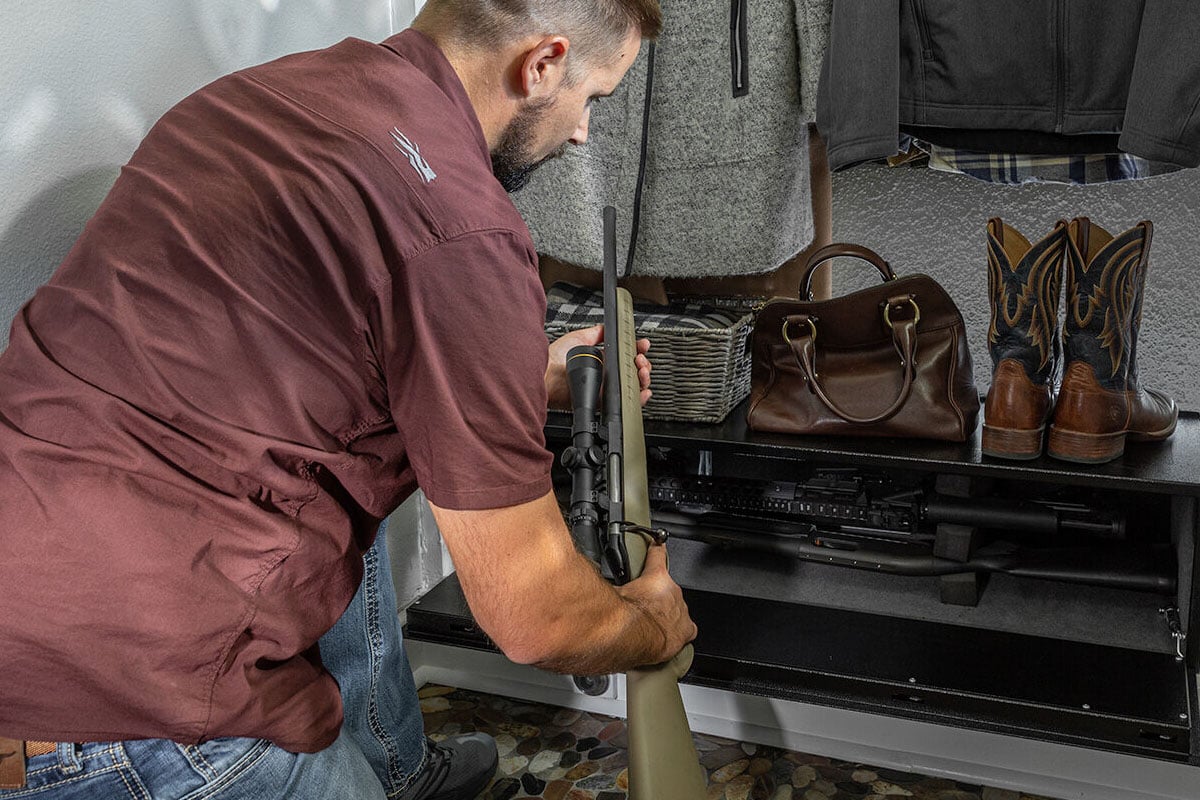 After you build up a small collection of firearms, you need a quality gun safe to keep them secure. We have asked hundreds of users about their safes to find out exactly what works for them and what doesn't.
Not every user has the same needs from a safe, but one of the most important factors, besides price, is firearm capacity. Some safes are designed to store a single handgun; others are designed to store 65 rifles. That is a wide range, but capacity will be proportional to weight and price.
The fire rating is crucial for any safe that will hold valuables. Security is a leading quality for all safes, and the access method is a make-or-break factor for some users. If you only want to store a handgun or two, there are some stellar pistol vaults on this list, although if you need to store a handful of pistols and long guns, then there will be plenty of full-size safes for you here too.
Important Gun Safe Qualities
While it can be exciting to dive head first into some examples, you must understand the qualities of a gun safe and what they mean before you buy. The last thing you want is to buy a safe that is too small or that you don't like after using it for a few weeks. One of the most important qualities is size and capacity.
Firearm Capacity
Capacity is probably the first thing you look at when you're browsing gun safes. The manufacturer estimates the capacity of each safe in the name. So a 30-gun gun safe can hold 30 firearms. Usually, that number represents how many long guns a safe can hold and does not include the handguns that are often held on the door of a safe.
Although that is not always the case, if you want to store a large number of rifles in your safe, make sure you check out how many rifle slots there actually are before you buy. If you are looking for a safe that stores mainly long guns, you should check out our Best Rifle Safes of 2023 Guide.
If you are looking for a handgun safe to keep in your bedroom, your safe will likely only store a single handgun and possibly an extra magazine. However, some models can store two or three handguns. If you are specifically looking for a handgun safe, check out our Best Handgun Safes of 2023 Guide.
Size & Weight
The physical dimensions of the safe are extremely important for any user. A handgun safe needs to be able to fit on your nightstand, in your closet, or in your car. You will need to measure wherever you intend to place it to make sure it fits before you buy.
It is the same story with a full-size gun safe. You need to make sure that the floor can support a 1000-pound safe, that it fits in a room, or that you can fit in through the door at all. Larger safes will likely need to be professionally installed due to their sheer weight, so prepare for that added cost.
Access & Security
The main purpose of any safe is to keep its contents secure. Single firearm safes are not known to be the most secure devices in the world, but they work well for keeping firearms out of the hands of children and amateur burglars. Full-size gun safes, on the other hand, are extremely secure.
Usually, your safes made of thicker steel are more secure because they are more resistant to being cut through or bent back. Gun safes also have a number of locking bars, and generally, the more bars, the better. It is also best to have locking bars on the top and bottom of the door rather than just on one side.
Besides more bars and thicker steel, nicer safes usually have multiple safety mechanisms that deter any attempt to get past the lock without the combination. You basically have two options for entering that combination in a full-size gun safe; you can either use a combination dial or a digital access code. For smaller pistol vaults, you will commonly find safes that open with access codes, biometric sensors, or RFID tags. However, just about every safe has a backup key in case of emergencies.
Fire Protection
Handgun safes usually do not provide any fire protection, although full size safes usually come standard with 30 minutes of fire protection. However, you can find safes that are protected for 60, 90, or even 100 minutes. There will also be a temperature rating along with that time rating. In general, the higher the time and temperature rating, the better, but you can expect the price to also increase with the rating.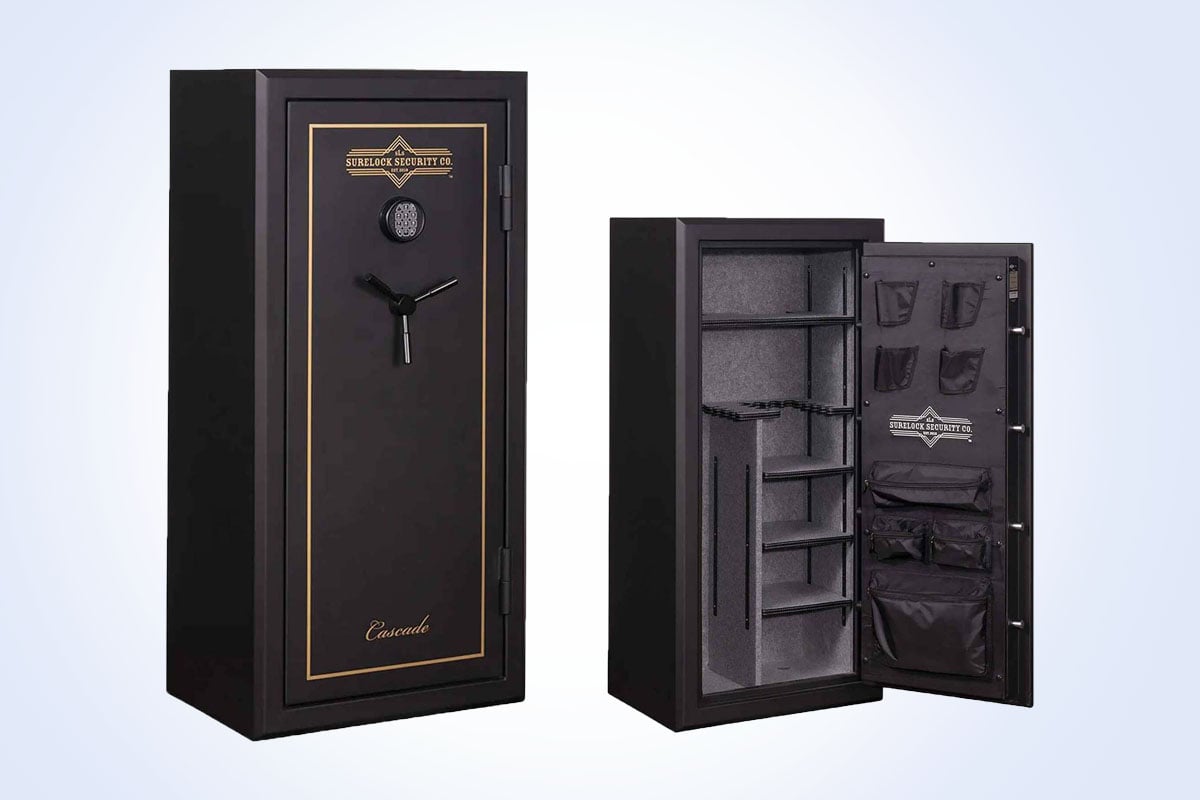 Check Price
The SureLock Cascade 24 is a great safe for storing a lot of firearms on a budget. It can store up to 24 long guns, or you can customize the interior to store 12 long guns on one side and have shelving on the other for handguns or other gear. Safes can get pretty expensive, but at a price point below $700, the Cascade 24 is tough to beat.
This safe is made of 14 gauge steel and has four live and four dead locking bolts. Combined with its digital lock and fire rating of 30 minutes at 1400 degrees, you can be sure this safe will live up to your standards.
Key Features
8 locking bolts (4 active, 4 dead)
Surelock Security's Lifetime Replacement Program
30 minute fire rating @ 1400°F
Customizable interior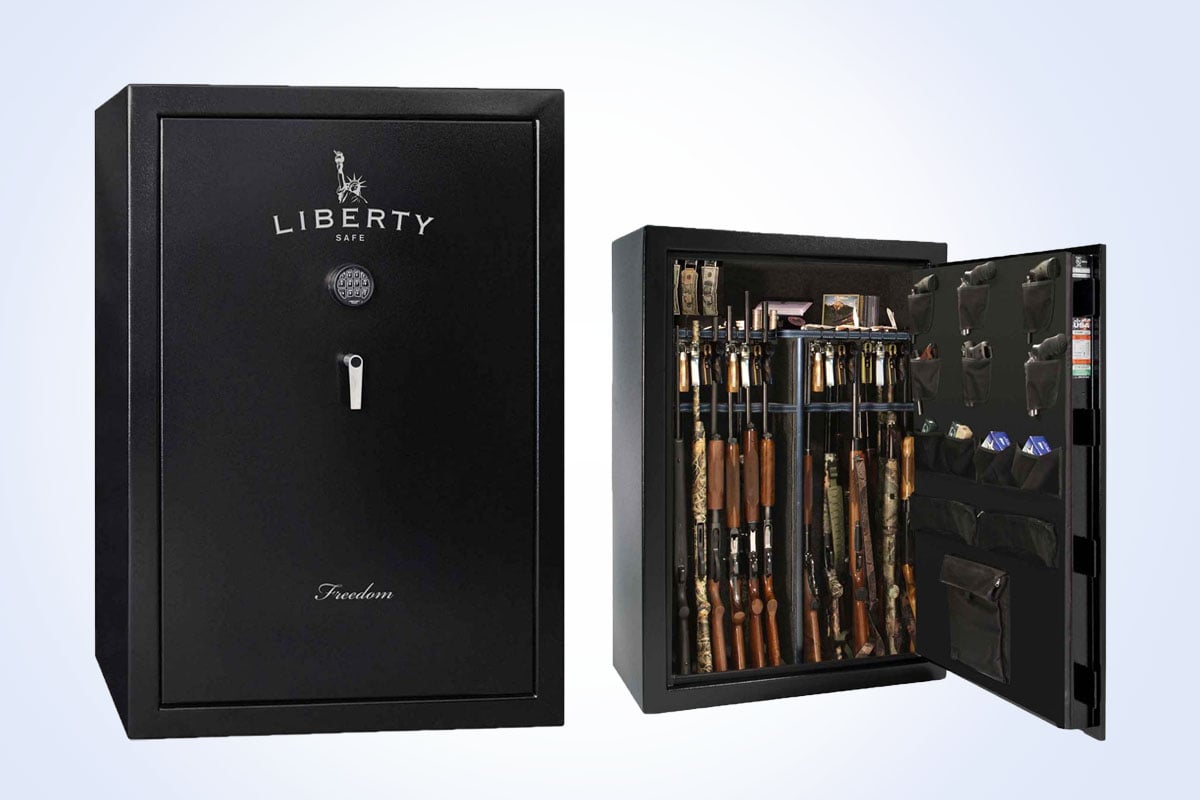 Check Price
The Liberty Freedom 48 is a big safe that will store nearly everything you need. At its price point of less than $2,000, you get a whole lot of safe for the money. You can store up to 48 long guns, plus an additional six handguns on the door.
Thanks to its 14 gauge steel body and door, it is not as heavy as other safes with the same capacity. The four heavy-duty locking bars are also impressive, which are made of 3/16 inch steel and are 4 inches wide. Combined with its SecuRam electronic lock, this safe is extremely secure for the price.
Key Features
Lifetime Warranty With Free Replacement
Holds Up To 48 Long Guns and 6 handguns
SecuRam Electronic Lock
40 minute fire rating @ 1,200°F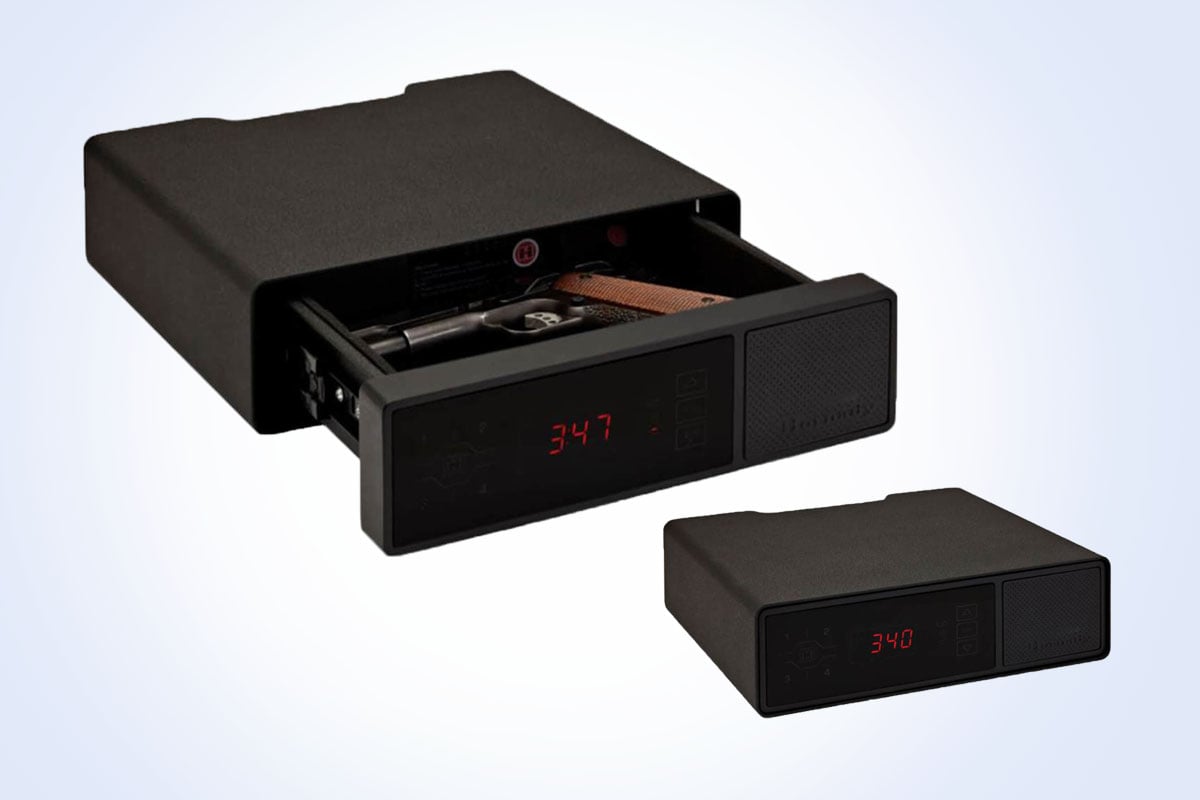 Check Price
The RAPiD Safe Night Guard keeps your handgun secure at all times, right on your nightstand. RFID technology offers quick and dependable access to your firearm while providing unmatched security from unauthorized users. Plus, the Night Guard offers the additional functionality of a clock and USB charging ports.
The tempered glass front panel contains the RFID reader, clock display, and access code keypad. The spring-assist drawer quietly slides open to reveal a padded interior. Accommodates most full-sized handguns.
Key Features
Multiple access options including RFID, access code, or key
Clock and two USB charging ports
Wall or battery powered
Fits most full sized handguns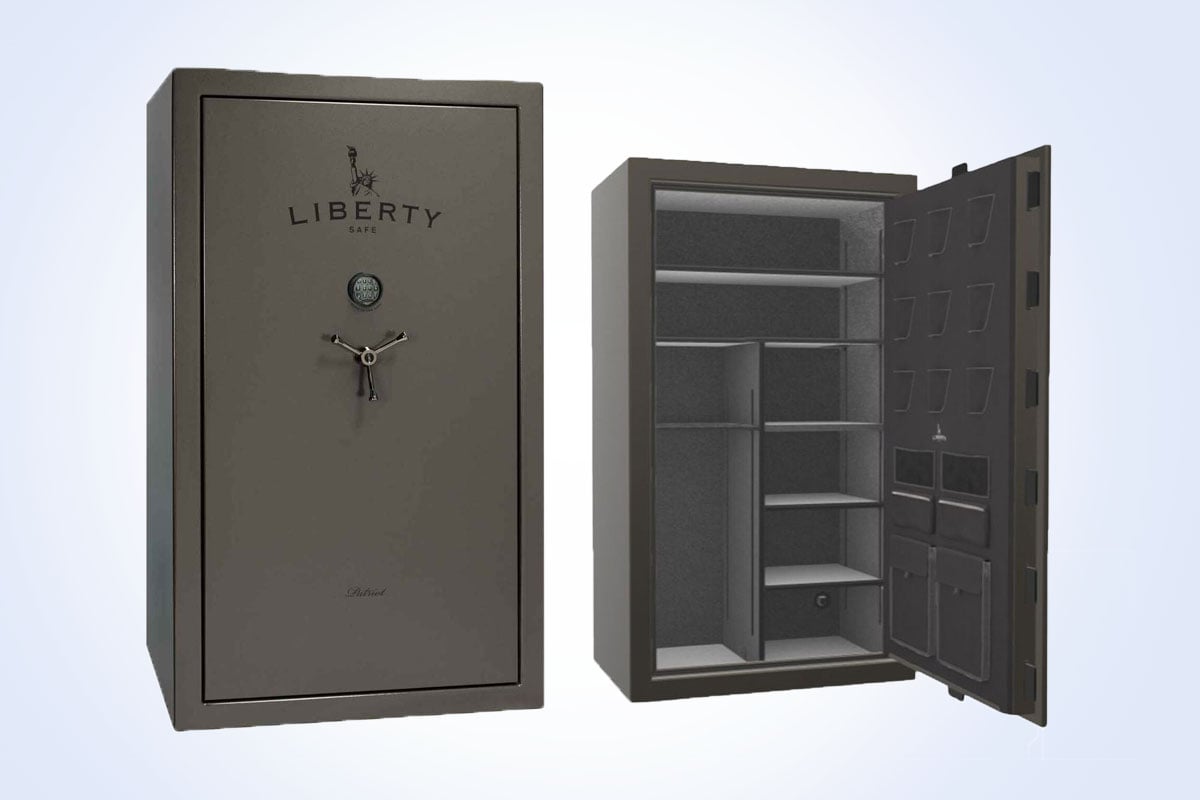 Check Price
The Liberty Patriot 50 Gun Safe is about as secure as you can get for less than $3,000. This safe is made of 12 gauge steel, which brings it to nearly 1000 pounds. Although it also has eight 4-inch locking bars, six on the side and one on the top and bottom, respectively.
It is also equipped with one of the best digital locks on the market, the SecuRam TopLit, which is also UL listed. The Patriot also boasts an impressive 75-minute fire rating at 1200 degrees. You can also fit just about anything you need to in this safe; it has room for 50 long guns and 9 handguns on the door.
Key Features
Lifetime Warranty With Free Replacement
Holds Up To 50 Long Guns and 9 handguns
3-Sided Military Locking Bars For Ultimate Door Security
SecuRam TopLit Electronic Lock
75 minute fire rating @ 1,200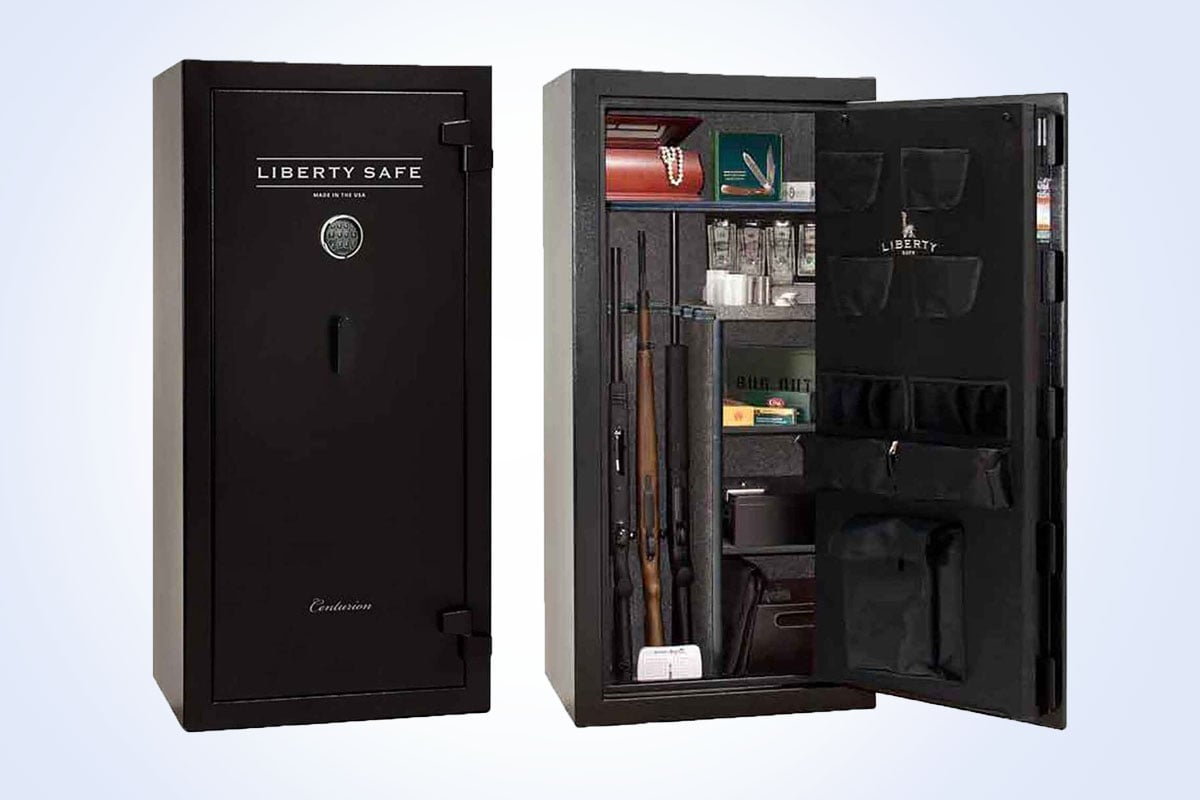 Check Price
If you want a high-quality safe for around $1,000, the Liberty Safe Centurion is an awesome choice. Why is this 24-gun safe the best starter safe? Well, it has a fairly good capacity, is made by a very reputable brand, and is highly secure for the price. Liberty Safes are top-of-the-line in security and longevity, so they are the perfect choice for a beginner.
This particular safe has 7 military-style locking bars (5 on the left side of the door, 2 on the right), is made of 14 gauge steel, and has a slightly above standard fire rating of 40 minutes at 1200 degrees.
Key Features
Lifetime Warranty with Free Replacement
Holds Up To 24 Long Guns and 6 handguns
2-Sided Military Locking Bars
SecuRam Electronic Lock
40 minute fire rating @ 1,200°F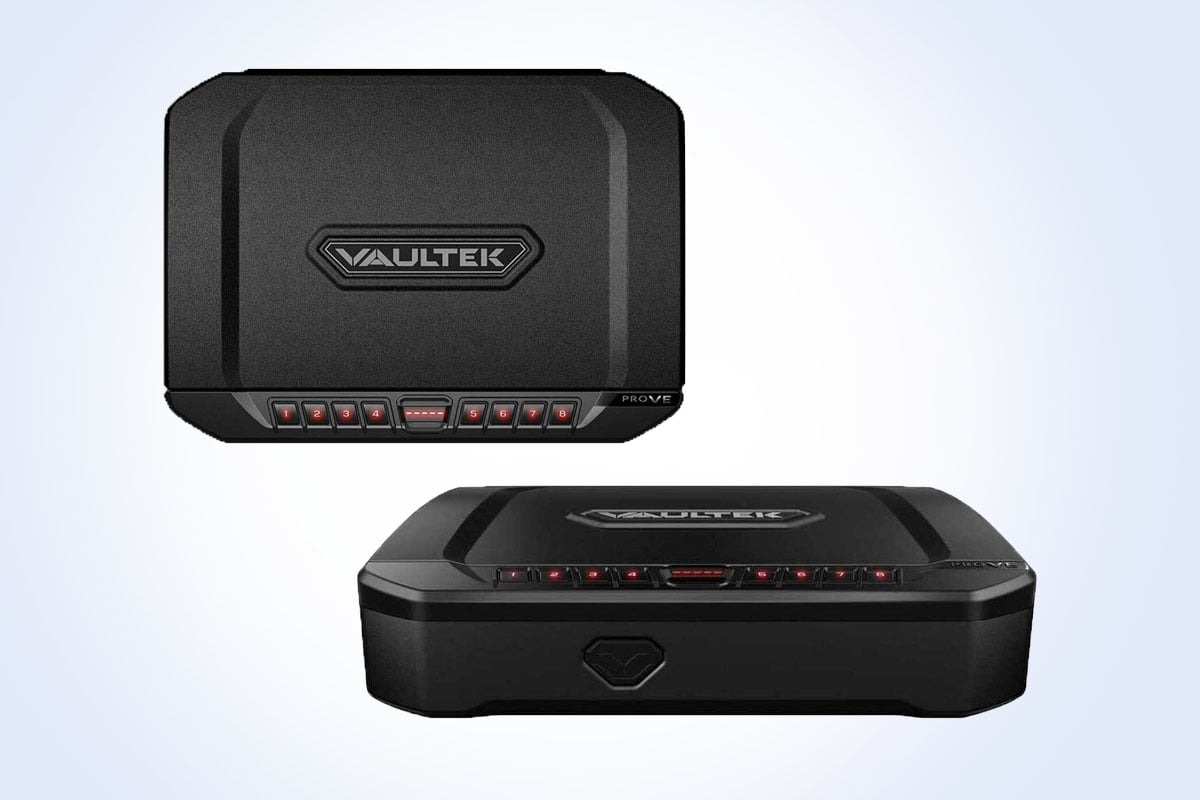 Check Price
The Vaultek Pro VE Essential is a great pistol vault if you just need to store a handgun or two around the house. This safe would be perfect for mounting in a closet or on a table. It can hold two full-size handguns or just one handgun and some extra gear like magazines or a flashlight.
It is also highly secure with anti-pry bars, dual anti-impact latches, and interior-mounted hinges for defense against break-ins. It opens with a back-lit keypad that lights up when you approach or a manual key. It also has LEDs inside so you can see when it's dark. This safe can run off batteries for three months and be recharged in just a few hours with a micro-USB cable.
Key Features
12 gauge carbon steel
LED interior lighting
Highly secure for its class
Stores multiple handguns
Smart Sense Technology
Check Price
If you need a safe to store a large amount of firepower, the Browning Hells Canyon is what you need. This behemoth of a safe can hold 65 long guns and still have plenty of room for handguns or other gear. It is made to be extra wide instead of boxy like most safes, and it also has a lower height profile that helps it fit throughout your home.
This is a beefy safe with an 11 gauge steel body weighing over 1000 pounds. It has locking bolts on three sides of the door to prevent prying it open and a force deflector locking system. All and all, this safe is extremely secure and will hold most people's entire arsenal.
Key Features
11 Gauge Steel Body
Force Deflector Locking System
Hardened Steel Pin Lock Protection
Pry-Stop End Bolts
90 minute fire rating @ 1680°F
LED lights
If you have never bought a gun safe before, it is quite an exciting experience. There are a lot of qualities that you need to pay attention to, but as long as you get a safe that is big enough to hold everything you need, there is really no wrong choice. The more secure, the better, but security and space vary with price. No matter your price range or purpose, a safe on this guide is sure to fill your need!