Skip to content
General Hunting Checklist
A general hunting checklist covers a lot of situations you won't find in the vast array of hunting venues. Hunting squirrels or rabbits is vastly different than hunting Canada geese, and neither of these resembles the challenge of hog hunting in Texas or pronghorn on the high desert of Wyoming.
This checklist is provided to get you thinking about the hunting situations you will find yourself in. Some items, such as the weapon you're going to use, and the need for a license and permission to hunt on private land are universal. Others like bear spray or a high-powered handgun don't lend themselves to hunting turkeys in the Pennsylvania hardwood forest.
Things to take away from this list for your hunting situation can be broken down to: Where am I hunting? How long will I hunt? Am I prepared for any emergency that might arise while I'm hunting? Can I find my way back to the truck if I become disoriented? Do I have the wherewithal to stay out overnight, or even for a couple of days if I'm separated from my hunting party? And most important, do I have water and food with me?
As you peruse this list, please keep those questions in mind, and tie them to the type of hunt you're about to embark on. Keep this little gem in mind as you go down this checklist: "Proper preparation prevents poor performance."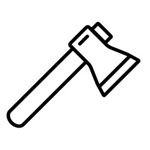 Carried with you on the Hunt
Hunting legally requires a license, and hunters should be prepared to be asked for their license while out. Make sure to keep your license readily available in a safe location, ideally a waterproof zippered compartment. If your bag isn't waterproof, you can always put your license in a plastic bag for protection. It's also a good idea to take a picture of your license to keep on your phone as a backup. You should also keep a pen in the same area so that you can record information on your harvest log.
If you'll be hunting on private land, you'll need written permission from the landowner. Even if you have a handshake agreement with the landowner, you may be stopped by other parties, in which case written permission can keep you from having to bother someone you probably want to maintain a good relationship with. Different areas have different regulations around what constitutes private land, so be sure to research where you'll be hunting.
Choosing your weapon is one of the most important aspects of hunting. Some hunters might choose a target species and then identify the best weapon, while others might be excited by a particular firearm and then choose their species based on that. When choosing a weapon, it's important to consider whether the weapon is powerful and accurate enough to make a clean, ethical kill; how this weapon will impact the other gear you need and what kind of hunting you'll be doing; what size and power is appropriate for your target species; what regulations are in place in your area; and what weapon you have the skill to shoot effectively (or that you feel excited to build skill to shoot effectively). Rifles, shotguns, and bows are some of the most popular hunting weapons today.
Once you have your weapon chosen, bring along the right ammunition for that weapon. Rifle or shotgun ammunition come in different sizes and weights. Make sure you are identifying the right ammunition for your target species, your firearm, and your ability to shoot accurately. When choosing arrows, make sure to get the right weight for your bow and your intended shooting distance, and decide between carbon arrows, aluminum arrows, wood arrows, and those made from hybrid materials.
You need a knife to process your game in the field, especially if you are targeting big game where some meat will need to be broken down so you can carry it back. When choosing a hunting knife, consider the blade length, type of edge, size of blade belly, and security of grip. A knife that feels good in your hand and is the appropriate size for your target species will improve your trip considerably.
Some species can be lured out rather than simply tracked. This is where decoys and game calls come in. Decoys create the appearance of your target species, while game calls help you mimic their sounds. Decoys are popular for turkey and waterfowl hunting, and can be found in standard, magnum, and super magnum sizes. Game calls can be purchased for waterfowl, elk, big game, upland game, predator, and turkey. The types of calls include box calls, diaphragm calls, pot and striker calls, push button calls, and locater calls.
Whether you're on the ground or elevated, having a structure to help conceal you can make a big difference, especially when targeting a sensitive species such as deer. Ground blinds range from simple structures you can make from natural materials behind trees to enclosed structures with patterns to blend you into the surroundings. If you have large enough trees to support you, tree stands can offer even more concealment. When choosing a tree stand, consider whether you will need to build it each time or if you can leave it up in a certain spot throughout the season. Treestands come in ladder, hang on, climbing, and tower varieties—and it's always a good idea to bring a treestand safety harness as well.
A hatchet or saw can help cut wood while you're in the backcountry, or even help you process larger game when more force is needed. Many hunters find hatchets too bulky to carry with them, but if you are in heavy brush and know you'll need to remove terrain, it may be worth the weight. Otherwise, a foldable saw can fit much more easily in your pack and still help you saw through those larger elements when necessary.
It's no use being in the backcountry if you can't find your game. Consider what distances you'll be scouting game through, what terrain you're hunting in, and your packing needs before you begin your search for a spotting scope. You'll need to choose your magnification, objective lens diameter (which impacts light transmission as well as bulkiness), and eyepiece style.
Make sure you can get everywhere you need to go safely without getting lost. If you'll have signal and you're on trails that are covered by mapping software, a portable GPS can work wonders—just make sure you have extra batteries. You'll also want a print map as a backup, and if you're on private land or lesser-known trails then you may be relying on this as your primary navigation system, along with a compass.
The right hunting pack will help you carry your gear. You'll need a different pack if you're planning a day trip or sleeping overnight, and if you'll be hauling game. Backpacks come anywhere from a few liters to 80 liters, with internal or external frames, and different organizational and pocket systems to suit different needs. Many hunting backpacks have special places for you to strap your rifle or bow.
A good rule of thumb is to plan on 2-4 quarts of water per person per day. That can get heavy fast, so many hunters bring water purifiers or purifying tablets (discussed below). Still, you'll need a hardy water bottle no matter how you're filling up. A hydration bladder can also make it easier to drink without compromising your position. Many hydration bladders have tubes coming out of the pack—so if you're trying to minimize movement in a tree stand, you don't have to go searching for your bottle every time you need a sip.
Make sure to bring any meals you'll be having during your trip plus plenty of snacks. Protein-rich food like jerky, or dehydrated meals that just require water can be lightweight ways to get your nutrients. Candy and trail mix can provide an energy boost when you need something sweet. Consider the foods you're bringing and whether they'll give your scent away—pre-packaged meals and canned soup can be great ways of masking the scent.
If you are traveling for long enough that you can't carry all your water with you, water purifying tablets or a filter are an absolute must. Water purifying tablets are lightweight and can even be brought along as a backup option. Water filters will take out the nasty protozoan cysts and bacteria from river or lake water, while a water purifier will take out viruses as well and is therefore recommended if you'll be hunting in developing nations. You can find pump, gravity, ultraviolet, bottle, squeeze, or straw-style water filters to bring with you on the hunt.
Make sure your protection from bugs doesn't give away your position to your target species. If you're concerned about scent during the early season, you can opt for mosquito netting instead, but be sure that you're not trading a scent signature for a rustling noise that will give you away just as easily.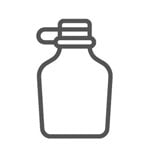 Carried in the Truck
Once you get your game back to the truck, you'll need to get it on ice. Make sure your cooler can keep cold long enough to transport your game, and get one that's big enough for your dream hunting trip.
A major challenge in big game hunting is transporting your prize back to civilization. A sled can save you a lot of aching muscles, giving you an efficient way of moving gear. A sled is particularly useful if you'll be hunting in the snow. A durable, waterproof sled that is big enough for your target species might be the perfect item.
If you're going into a remote area, bring along extra gasoline so your truck doesn't get stranded.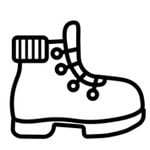 Clothing
A hunting jacket keeps you warm and comfortable while helping to conceal you from potential targets. Make sure you know what temperature range you'll be working in, what activity level you anticipate, and what kind of terrain you're looking to blend into when you purchase your hunting jacket. A durable, breathable camouflage jacket will keep you protected from the elements while building up a sweat on the trek. Hunting jackets may have features like hoods, built-in face masks, zippered vents, and various pocket storage systems that may appeal.
Hunting pants should be durable enough to pass through brush and brambles, while not being so heavy they weigh you down on your journey. If you're hunting a sensitive species like deer, you'll want pants that are designed to be quiet as you walk. Consider the temperature and terrain you'll be hunting in to help determine the material and camouflage pattern you will need. You can choose from puffy pants, brush pants, insulated bibs, and more.
Your hunting vest provides protection from the elements in addition to lots more storage right on your person. With a camouflage pattern, it also helps conceal the hunter—or an orange vest might help signal your presence to other hunters! When choosing a hunting vest, make sure you are getting the right camouflage pattern for the terrain, and consider what kind of essentials storage works best for you.
When you're out in the field, it's great to have camouflage gear to blend into your surroundings. If you don't have camouflage gear, being in the same basic color palette as your surroundings will help, and so will hiding your gear in the shadows. You can also purchase camouflage drops to cover your gear if you have something that sticks out.
When you're hunting, the air might be cold, but all your movement will keep you warm. Having an underlayer of moisture-wicking clothing can help you manage this. This layer should be thin, built for higher levels of activity, and designed to camouflage you in case it needs to serve as an outer layer in the heat of the day.
When you're out in the backcountry, you don't want to be slowed down by wet feet, blisters, or a shoe that's falling apart. Make sure to get water-resistant boots, or waterproof boots if you'll be hunting in wet conditions or winter weather. Consider comfort, durability, weight of the boots, and the fit when making your purchase. Keep in mind that if you'll be wearing thick wool socks, this will impact the fit of the boot. The terrain will impact how much traction and technical performance you need from your boot.
Comfortable socks will help prevent blisters and discomfort during your trek. Socks made from water-resistant materials such as wool, polyester, nylon, silk, and spandex will work well for hunting. Make sure your socks are taller than your boots and that they fit your foot properly. You may want more or less cushioning depending on the temperatures you're expecting and how long you'll be hiking.
A hunting cap can serve several purposes, from extending your camouflage to sun protection to warmth. A wool skull cap will help protect the ears and prevent heat from escaping out the head, while baseball caps offer a bit of sun protection during warm weather and brimmed hats helps hunters move through weather changes over longer trips. Many hunting caps are made from cotton, nylon, wool, and polyester.
Hunting gloves aren't just for cold weather—while they can certainly provide extra warmth when needed, they also offer extra traction that gives a better grip on your weapon. Consider what material will help you grip while providing breathability and the right amount of warmth for your expected conditions. Leather and synthetic gloves are popular with many hunters, and gloves can be found in camouflage patterns for various terrains.
A hunting belt should carry your gear while staying in place when you're on the move. Consider whether you want pouches that give you additional storage for your hunting belt, or if you just want a regular-size belt that is up to the task of carrying smaller gear like knives and range finders as well. A good hunting belt should be durable, lightweight, and sturdy enough for added gear. Hunting belts are often made from nylon or leather.
*Please Note: One or more of these should be blaze orange to meet state hunting regulations when hunting big game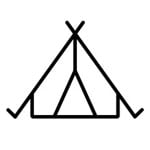 Camping Gear
If your hunting trip will keep you out overnight, you'll need to choose your shelter. A camper or RV can be a great choice for hunting in the middle of nowhere when you don't need to carry your shelter on your back. Consider whether your chosen camper can get through the terrain to your target location, and what amenities you'll need for transporting game and gear.
A tent is another great option for your shelter, whether you're set up in one spot or carrying your tent with you to backpack as you search for your target. A backpacking tent should be lighter weight, since every ounce counts when you're carrying things over miles. A good tent will keep you warm, protect against the elements and bugs, and provide good ventilation with easy setup. Tents are typically found in 2-, 3-, and 4-season models sleeping 1-10 people.
If you're sleeping in a tent, make sure to bring your rain cover and a footprint. The rain cover will protect you from wet conditions, as many tents have mesh doors that will easily let water through during a storm. Your footprint is an extra piece of material that goes between your tent and the ground—this way, if the bottom of your tent gets snagged on a rock or some other sharp material, you'll only have to replace the footprint instead of potentially losing the entire tent.
A good sleeping bag will keep you warm and comfortable overnight. Sleeping bags are made with different temperature ratings, so make sure you know your expected low temperatures. Consider how important compression and packability are to you, and find the right shape and size sleeping bag for your body. Rectangular, semi-rectangular, mummy, and double bag designs are available using down or synthetic fill with temperature ratings from 0-40 degrees.
Sleeping pads provide an extra layer of comfort between you and the hard surface of the earth, but they also give extra insulation from the cold. Your sleeping pad should fit comfortable inside your tent, and some models are much more portable than others. Choose between self-inflating pads, thick air pads, ultralight air pads, and foam camping mats.
Hands-free illumination can be extremely helpful during nighttime setups, cooking, or hiking. A small or large flashlight can help if you need to search with a brighter beam, and a lantern can be a great way to illuminate a steady spot like your table. It's good to know how bright you need your light to be, what battery system works for you, if you need water-resistance in your lighting due to wet conditions, and if you enjoy LED lighting. Headlamps come in rechargeable, battery-powered, strobing, colored, flood, and spotlight varieties. You can choose from rechargeable, compact, flashlight/lantern combos, mid-size or large flashlights, and keychain flashlights. Lanterns may come in propane, candle, and hurricane varieties.
A camp stove gives you the option for hot meals and hot coffee, which can enhance a trip through the backcountry. If you want to carry it in your pack, you'll want a backpacking stove that folds up tight with a single pot. If you'll be setting up for meals at the truck, then you may want a single- or double-burner stove that can make bigger meals. Consider what kind of wind protection your stove offers, how important time to boiling is, how many burners you need, and what kind of fuel you prefer to use. Canister stoves, alcohol stoves, liquid-fuel stoves, and multi-burner stoves will all enhance a hunting trip.
If you're ready to upgrade from a camping stove, then a portable grill can give you lots of options for cooking for larger parties. Make sure to look for a grill that suits your transportation and portability needs, uses your preferred fuel type, and has the accessories and cooking surfaces you want. More portable option include bringing a grill rack that can sit over your campfire, but this offers less control than a proper grill.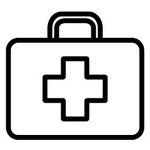 Emergency Gear
The right first aid kit is an absolute must when you're heading into remote areas. You can purchase first aid kits based on the number of people in your party and the amount of time you'll be on the road, or you can assemble your own components. Any first aid kit should have basic supplies, wraps, splints, wound care, and tools like thermometers and tweezers. Bring medications for common issues like headaches, nausea, and allergies, as well as any medications you personally need.