Skip to content
Rifle Caliber Chart
A Ballistics Performance and Usage Guide for Hunting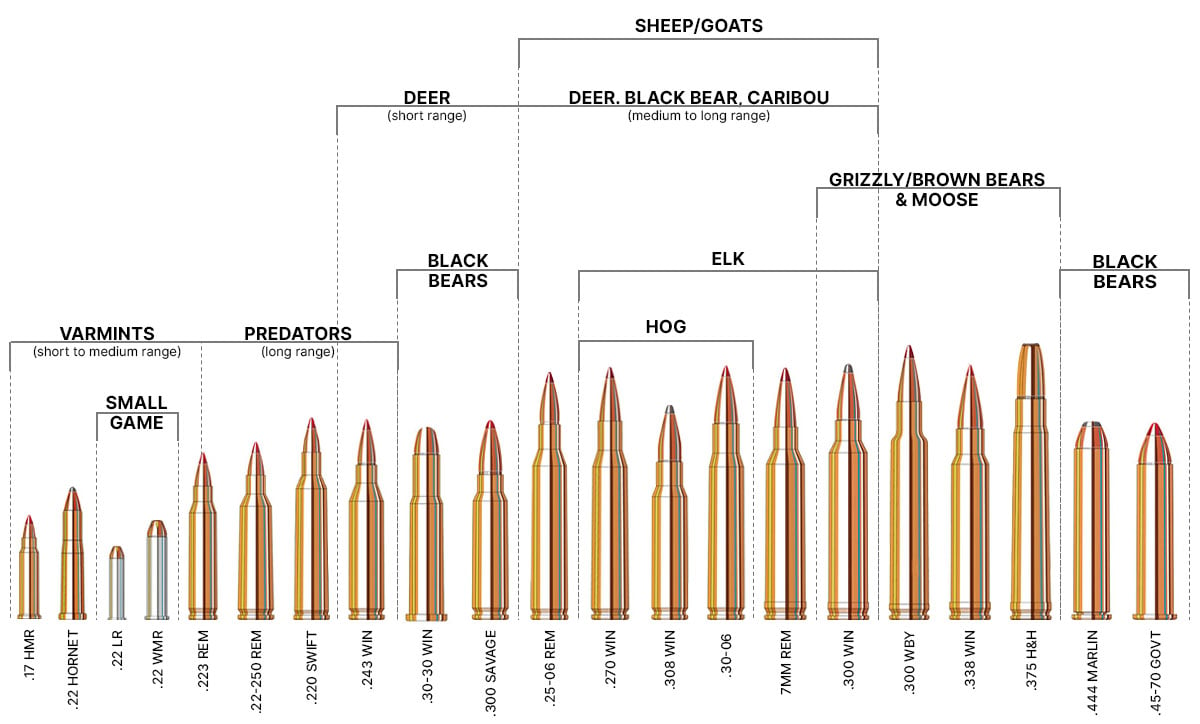 One of the first considerations when purchasing a rifle is caliber - more accurately the cartridge. Generally, caliber refers to the measure of of a bullet's diameter. The larger the caliber, the bigger the bullet, and the larger the game you can take down. However, "cartridge" not only takes into consideration diameter but all other specifications of the round including bullet, powder, primer, and specific casing.
The following chart provides the minimum kinetic energy required to humanely kill specified game animals.
| Kinetic Energy | Game Animals |
| --- | --- |
| > 300 ft/lbs | Small Game (rabbit, groundhog, etc.) |
| > 1000 ft/lbs | Medium Game (deer, antelope, etc.) |
| > 1500 ft/lbs | Large Game (elk, black bear, wild boar, etc.) |
| > 2000 ft/lbs | Toughest Game (cape buffalo, grizzly, musk ox, etc.) |
The rifle caliber charts below provide performance ballistics (e.g. bullet mass/type, velocity, energy) and usage information to help you identify which rifle caliber and cartridge is ideal for hunting various game animals. Select a rifle caliber from the list below to review performance ballistics and usage recommendations.