Skip to content
Gun Safe Size Chart
The following gun safe size charts are designed to help you determine the correct size gun safe you'll need to safely and comfortably store your gun collection. Our gun safe charts will provide you a general idea of safe sizes. Actual dimensions will vary by manufacturer.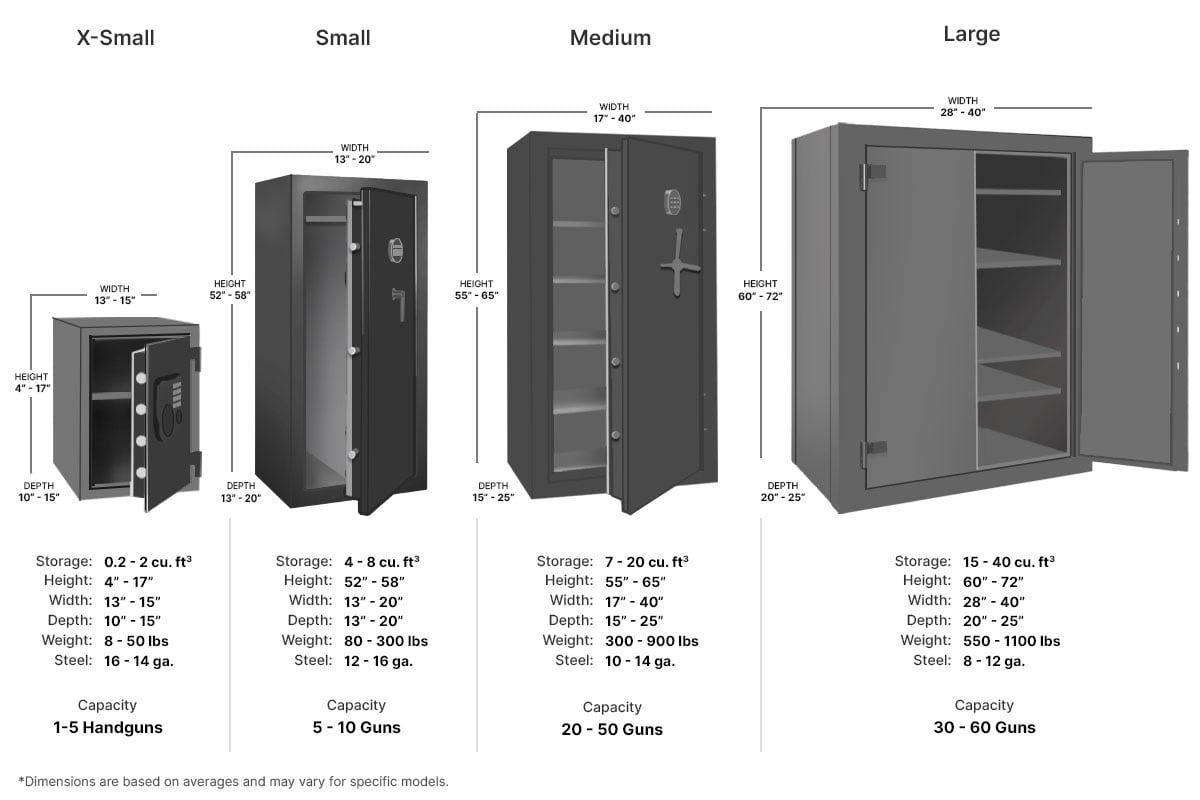 Extra small gun safe
Extra small gun safes are ideal for storing 1-5 handguns. They're also typically designed for storing other valuables including jewelry, precious metals, cash and important documents. Extra small gun safes are designed to fit in small spaces such as in a closet, next to a bed, or under a table. They typically weigh between 8 and 50 lbs and are easily portable.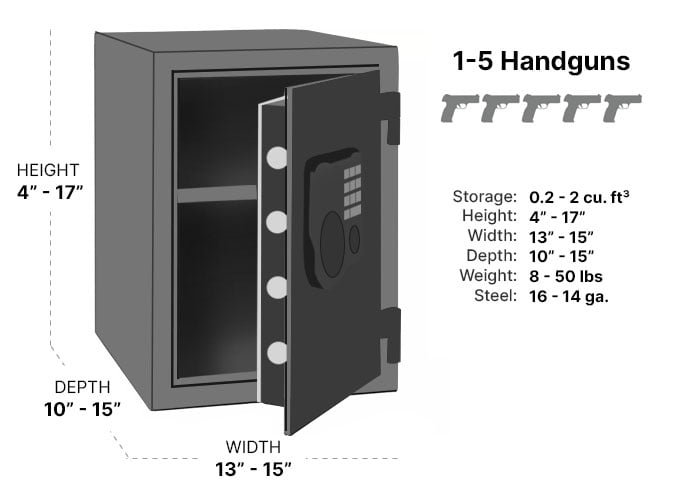 Small gun safe
Small guns safes are designed to comfortably store 5-10 guns. With a height of 52"-58", a small gun safe should be able to store a combination of both handguns and rifles. Small guns safes are portable, but not easily moved once installed. A small gun safe will fit in a closet or cupboard space. These safes are ideal for smaller gun collections.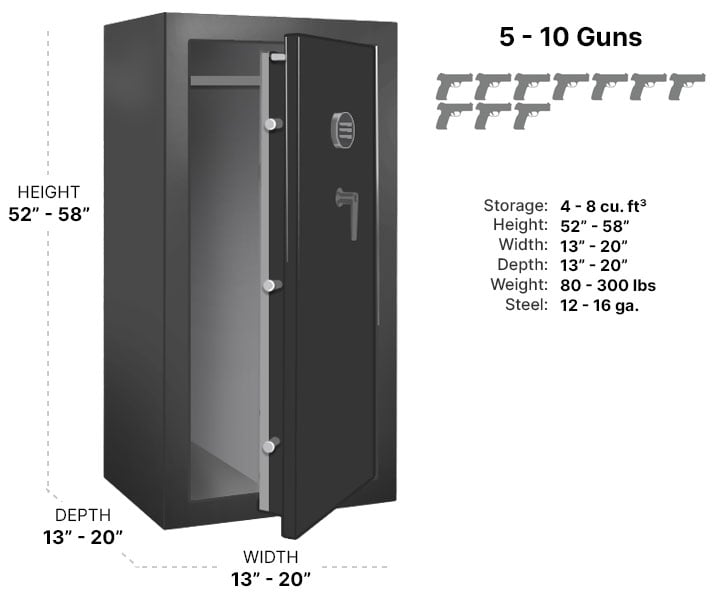 Medium gun safe
A medium size gun safe will fit a combination of 20 to 50 handguns and rifles. These safes typically provide a little extra space for storing larger long guns and rifles. A medium size gun safe is the most popular size safe for the average gun collector. These safes often have additional compartments and shelves for storing other valuables.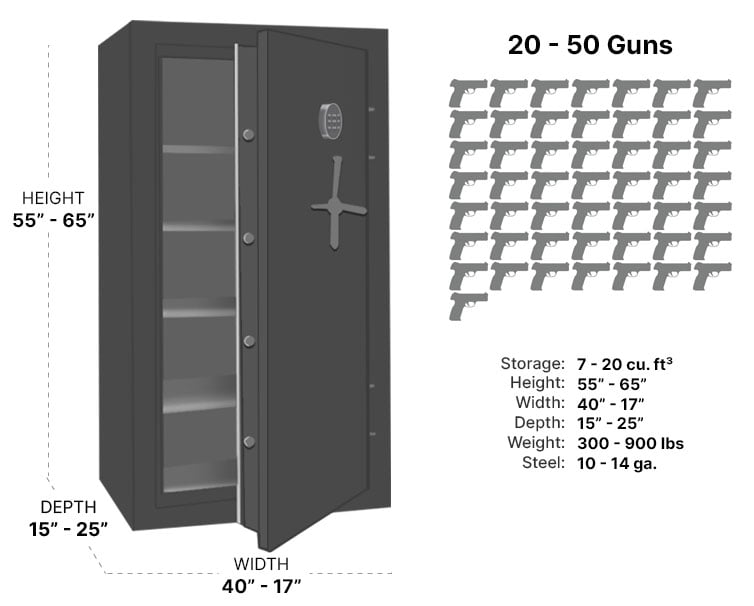 Large gun safe
Large gun safes are designed to provide maximum storage for larger gun collections, as well as larger guns. They can store a combination of 30 to 60 handguns and rifles. With a height range of 60"-72", a large gun safe will fit most any long gun length. With an average weight of 550 to 1100 pounds, large gun safes are challenging to move. They can be installed anywhere in a house or office that has sufficient access and reinforced flooring.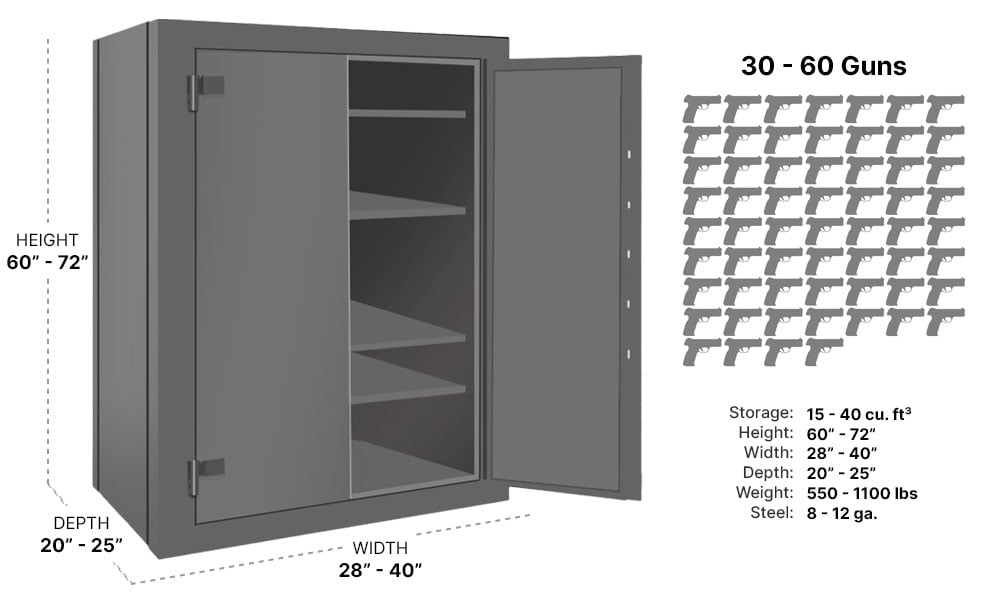 Size
Gun Capacity
Weight
Dimensions
Cubic Ft.
Steel Gauge
X-Small
1-5
8-50 lbs.
Height: 4" - 17"
Width: 13" - 15"
Depth: 10" - 15"
0.2-2 cu. ft³
16-14 gauge
Small
5-10
80-300 lbs.
Height: 52" - 58"
Width: 13" - 20"
Depth: 13" - 20"
4-8 cu. ft³
12-16 gauge
Medium
20-50
300-900 lbs.
Height: 55" - 65"
Width: 17" - 40"
Depth: 15" -25"
7-20 cu. ft³
10-14 gauge
Large
30-60
550-1100 lbs.
Height: 60" - 72"
Width: 28" -40"
Depth: 20" - 25"
15-40 cu. ft³
8-12 gauge
What to consider when selecting a gun safe size
Number of guns and valuables

The first step in determining gun safe size is figuring out how many guns you need to store. If you only need to secure a few personal defense handguns, then an extra small safe will do the job. However, if you plan on having multiple handguns as well as a few rifles, you'll need at minimum a small or medium size safe. Think of what your gun collection looks like now, compared to what it will look like in the future. If you plan on purchasing more guns, you'll want a safe that can accomodate that growth.

Do you plan on using your safe to store other valuables? If you have jewelry, precious metals or important documents you want to store in your safe, you'll need a larger safe. You'll also want to safe that is large enough to accomodate shelving and drawers.

Size and weight of your guns

Consider the size and weight of your guns both individually and collectively. If you have a collection of large guns, such as a Barret M107a1, you're going to need a safe that can accomodate the extra length. Will your entire collection of guns fit comfortably in your safe? You also want to consider both the weight of your guns as well as the weight of your guns and gun safe together. Most residential wood floors are designed to support 40-50 pounds per square foot. If you're going to have a large gun collection, you'll most likely need to secure your safe to cement flooring or reinforce your wood floor.

When placing your safe on a wood framed floor, place an oversized wood platform between the safe and the floor to remove the weight focused on the corners of the safe on the flooring.

Where will your safe go?

This is a very important consideration. Does the space where you'll install your gun safe provide sufficient access? Is there enough space to easily get into and out of the safe. What size gun safe will fit in your space. How much weight can the space support? Again, your typical wood frame floor will support a maximum of 50 pounds per square foot. On wood frame floors you want to place larger safes as close to a load bearing wall as possible.

When placing a safe on a cement floor, it's advisable to raise the safe up off the floor using wood or concrete blocks to avoid water damage.

Additional storage needs

Are you going to be storing valuables other than guns in your safe such as jewelry, documents, or cash? Will you be storing ammunition in you safe? Make sure you select a gun safe size that will accomodate all your valuables. It's much easier to purchase the correct gun size now, than to purchase a more spacious gun safe down the road because you didn't fully account for your storage needs.