Skip to content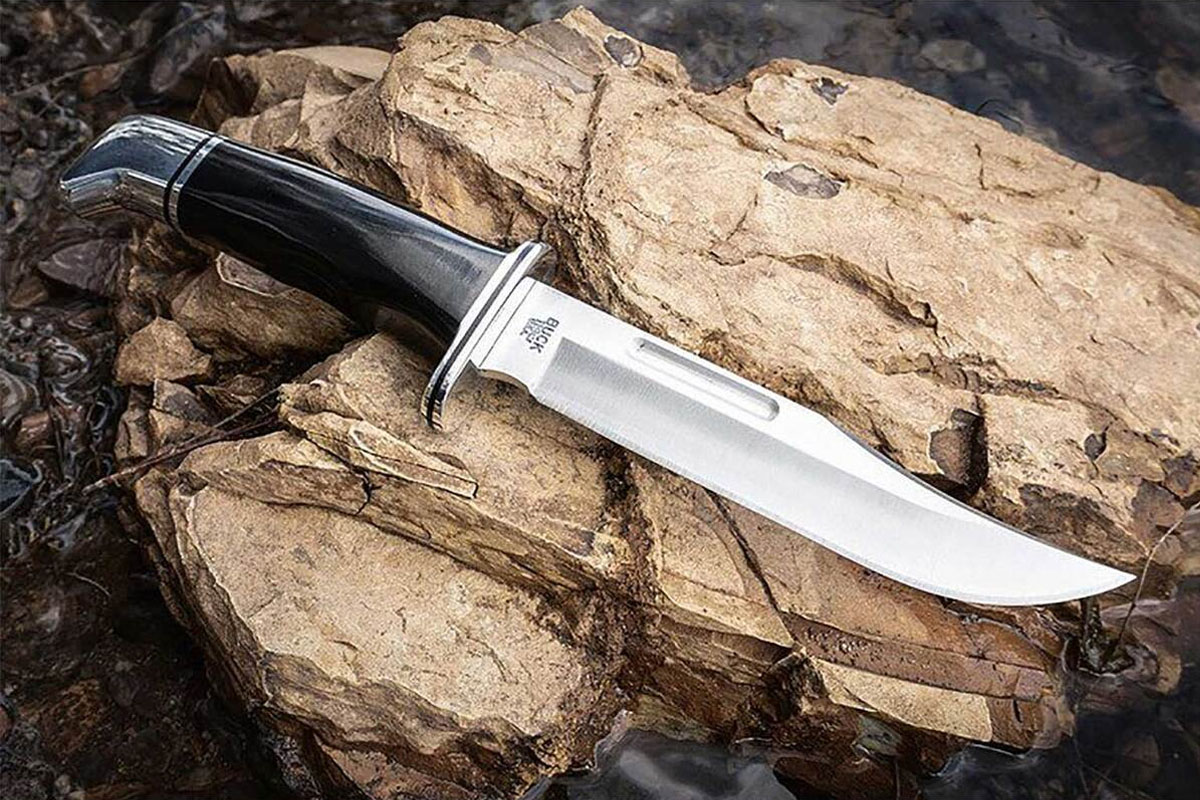 Hunting is a very rewarding experience and a good hunting knife will allow you to get the most out of that experience.
But like everything knife related, we sometimes have too many options to choose from. This leaves us at a disadvantage because hunting provides unique challenges that most knives might not encounter. So we're going to go over what goes into a fixed blade hunting knife and narrow down the best options for your specific situation.
What to Consider When Choosing a Fixed Blade Hunting Knife
Hunting knives bridge the gap between camping knives and fighting knives in terms of their performance. This means they can deal with everything from taking down an animal to building camp. Your intended uses will affect the size, shape, and design of your hunting knife.
What Are The Parts Of A Good Hunting Knife?
Hunting knives bridge the gap between camping knives and fighting knives in terms of their performance. This means they can deal with everything from taking down an animal to building camp.
What tasks you plan on doing more of will affect the size, shape, and design of your hunting knife. Let's look at the different aspects of hunting knives.
1. Blade Shape
The shape of the blade helps us to determine what we are going to use the knife for. Since we are going to be dealing with processing meat and killing animals we are going to have fewer options than a knife meant for general utility.
A blade with a pronounced point is going to be a major factor when we're choosing a hunting knife. This is because piercing capability is important when dealing with animals since it allows us to deal with meat and other tissue easily.
This means we have roughly four styles of blade shape to choose from. These are drop point blades, trailing point blades, clip point/bowie style blades, and spear point blades.
Blade Shape
Primary Use

Drop point
Trailing point
Clip point/bowie
Spear point

Processing game, utility
Processing game, utility
Killing game, some utility (middle ground)
Killing game, no utility
Most of these styles can process game easily but not all of them are good at finishing off game or dealing with wild animals.
Trailing point and drop point blades are going to be better for processing game and fall more on the utility side of hunting knife usage.
Spear points are optimized for killing game. They allow for the best penetration of hide and tissue with minimal effort, but have very little utility.
Clip point/bowie style blades are the happy middle ground. They offer good piercing capability but still have a lot of utility beyond killing the animal.
I personally prefer clip points on my hunting knives, especially if I can only bring one knife with me. A clip point blade allows me to be able to defend myself from other wild animals while giving me a lot of options when processing the meat.
2. Blade Length
Blade length is another major factor to consider when selecting a hunting knife. Processing a rabbit will not require the same size of knife that hunting a wild boar would.
If we're processing small to medium game, a blade with a 3-5 inch blade is more than enough to do the job. However most hunting knives sit in the 4-7 inch blade range in order to deal with a wide variety of hunting tasks.
Some hunting knives go even longer and sit in the 8-10 inch blade range, but these tend to be designed to finish off dangerous game or are intended to be used to survive animal attacks. The extra length allows you to easily reach major blood vessels and organs for an ethical kill.
Blade Length
Usage

3-5 inches
6-7 inches
8-10 inches

Skinning, meat processing for small game
General use, killing game
Killing game (especially dangerous game), self-defense
Personally, a blade in the 6-7 inch category is the sweet spot for a general use hunting knife, with something similar to a Kabar or Buck hunting knife being my go to design. But if I knew I was going to be hunting a boar, I'd probably consider using my 10 inch bowie knife for the added security.
3. Edge Type
A good edge on your knife will determine how easily you will be able to process an animal. Most hunting knives opt for a plane edge rather than a combination edge. A combination edge will feature a small section that is serrated to help deal with tougher material.
However, a properly sharpened plane edge will be able to deal with every task you will encounter when breaking down an animal. Serrations might help with tough sinew and cartilage in the joints, but I would rather bring a dedicated bone saw or similar tool rather than rely on an inch of serration on my knife.
Some knives will feature a gut hook on the rear of the blade. This allows for easier processing by putting a recessed edge that can be used to "unzip" an animal without damaging the internal organs and contaminating the meat. Gut hooks are more about convenience and are not a necessity on a hunting knife.
Edge Style/Feature
Hunting Use

Plain edge
Gut hook
Combination edge

Optimal, can deal with all meat processing tasks
Can be convenient to avoid internal organs
Serrated section can help deal with bone, not necessary if you have a separate tool for this
4. Handle Design
A knife's handle is how we interface with it. This means it has to provide a secure grip in order to ensure that we don't hurt ourselves with our own knife. A handle that prevents the hand from slipping onto the blade is a matter of safety and should not be overlooked.
If a knife is going to be used to process an animal, the handle should have features that lock the blade into the hand. This can be achieved with finger grooves, handguards, or even the handle material.
For a knife that is going to be used to finish an animal off, handguards are a must. This is because most of the time you will be stabbing the animal and a crossguard is a physical barrier between your hand and the blade.
Qualities of a Good Handle:
Non-slip material
Handguard/crossguards
Finger grooves
I like crossguards on knives. They provide me with a great indexing point and they provide added security when I'm using the knife for whatever task I need. I usually don't prefer finger grooves on handles because they don't match my hand or prevent me from modifying my grip on the knife.
5. Sheath design
A good hunting knife is nothing without a means to carry it safely. Its sheath should retain the knife, but not make it too hard to draw the knife.
More traditional options will use some sort of clasp or tie down to physically hold the knife in the sheath. This has worked for decades but takes a bit to get used to. Modern sheaths tend to use a combination of Kydex and friction to retain the knife in the sheath. These designs are sometimes augmented with a traditional retention strap for added security.
A sheath for a hunting knife doesn't need to be fancy, it just needs to keep your knife handy and secure. This gives us some leeway as to sheath styles which mostly will be attached to our belt anyway.
| Sheath Material | Retention | Main Factor |
| --- | --- | --- |
| Leather | Clasp | Traditional material, requires more care |
| Kydex/polymer | Friction, clasp | Lower maintenance |
| Nylon | Clasp | Affordable |
| Polyester | Clasp | Wears more easily |
I prefer more modern Kydex sheaths, but as long as the knife is retained, leather or nylon sheaths are fine. Just don't store your knife in a leather sheath when you're not using it, this will cut down on rust build up.
Best Fixed Blade Hunting Knives
Now that we know what to look for in a hunting knife let's look at some options to choose from.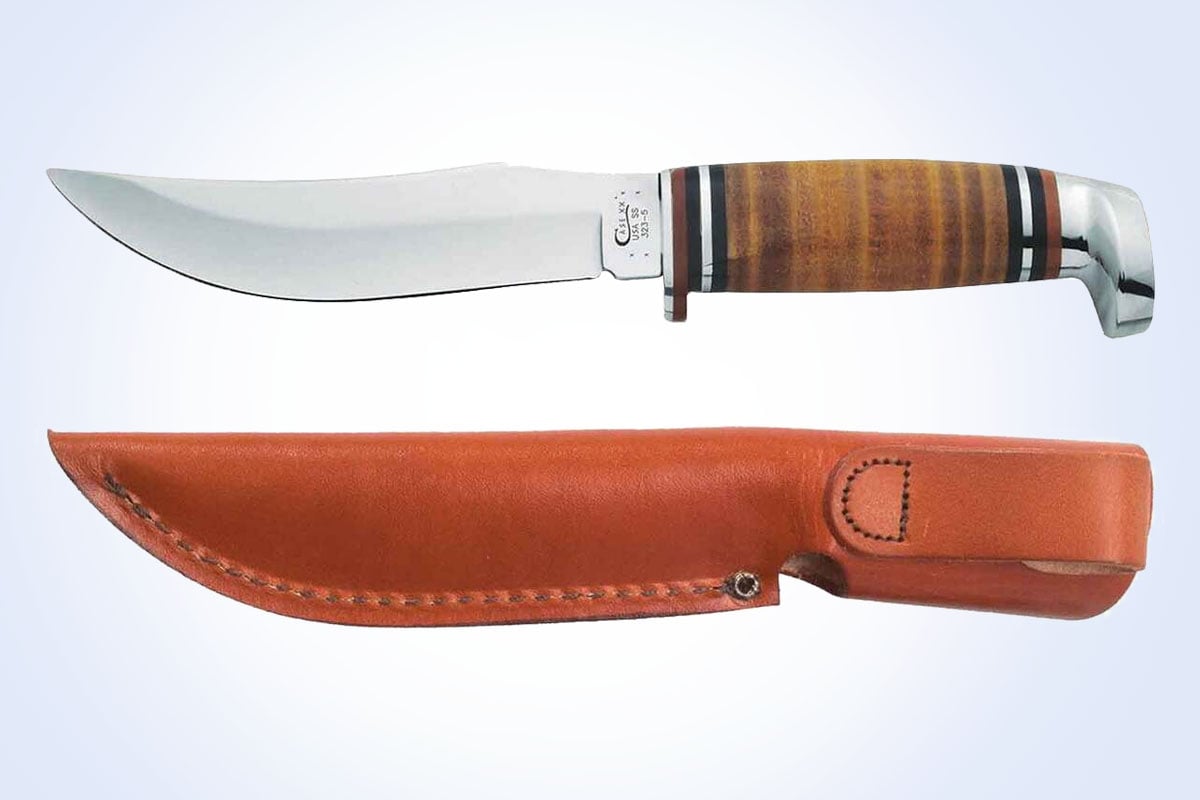 Check Price
This Case Hunter has a 5 inch blade with a clip design. This makes it a great knife for any hunting trip that won't require a specialty knife.
The small aluminum handguard will prevent your hand from slipping onto the blade but won't be as intrusive as a full crossguard. The pommel or end cap is also made of aluminum and is pronounced enough to provide additional leverage when drawing the knife.
The handle is made of leather washers cut to shape. This means you need to add the handle to your leather care routine in addition to the sheath. The blade on the other hand is corrosion resistant, meaning it is less likely to rust than carbon steel options.
Key Features
5 inch blade
True-Sharp Stainless Steel
Leather sheath
Clip style blade
6.4 ounces
Overall length 9 inches
Leather handle
Check Price
If you don't hunt that often or don't have a big budget, the Outdoor Edge WildSkin is a great option. It can easily process game and double as a camp knife.
The bright orange TPR handle provides a non-slip grip while the antler design cuts down on user fatigue. The gut hook on the back of the blade makes the gutting process easier and faster.
The nylon belt sheath offers a cost effective means of carrying the knife, but it is not the best option for a knife sheath. Eventually the nylon will wear down and stretch, this means it will have to be replaced at some point.
Key Features
High vis rubberized TPR handle
Gut hook
4 inch drop point blade
420J2 stainless steel
Nylon sheath
4.5 ounces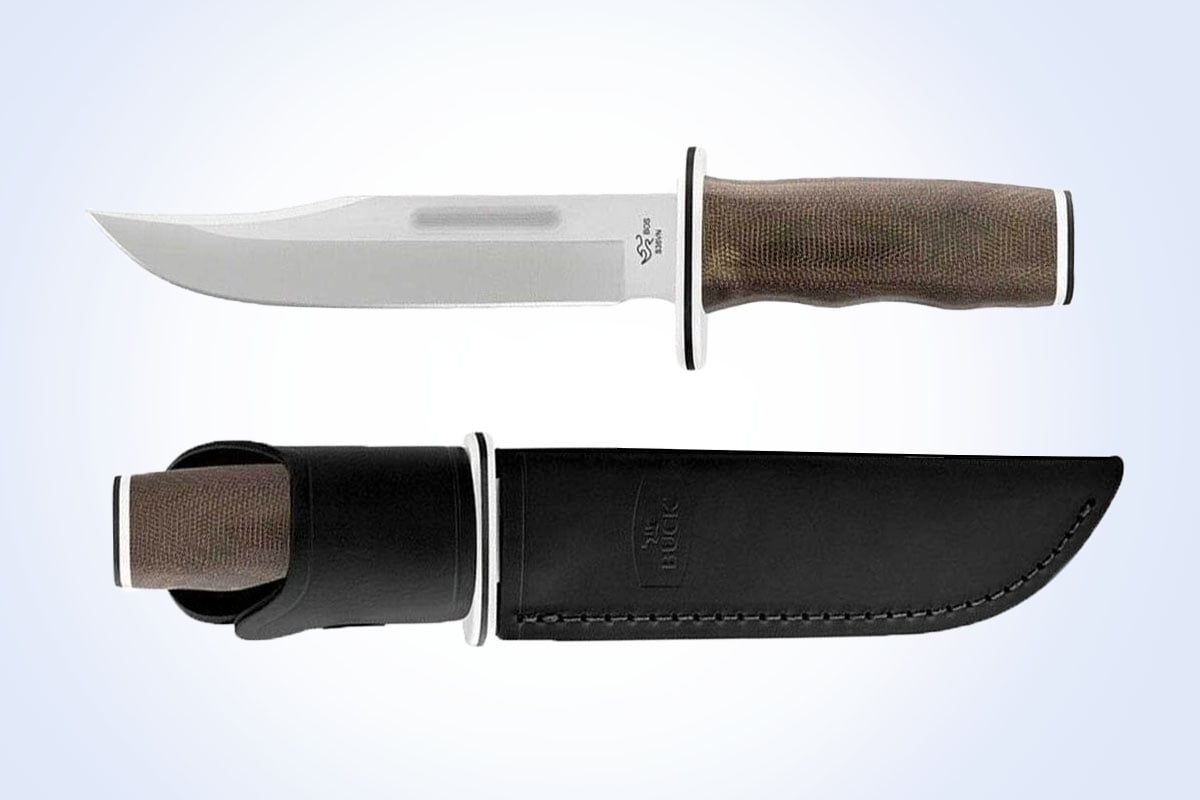 Check Price
The Buck 119 Special Pro is a classic design that is great for an all around hunting knife. The 6 inch blade is neither too long or too short for most tasks, while the narrow clip point provides a good balance of piercing and slicing ability.
The full crossguard keeps your hand from running up onto the blade during heavy use and the Micarta handle is slip resistant in wet conditions.
The blade steel provides corrosion resistance and durability which means you can use the knife hard without worrying about it failing or easily rusting.
The single snap leather sheath is better than some other options, but the design means the knife has to be drawn with a more deliberate action when compared to other designs.
Key Features
6 inch clip point blade
S35VN stainless steel
Paul Bos heat treatment
Buck Knives Forever Warranty
Green Micarta handle
7.7 ounces
Leather sheath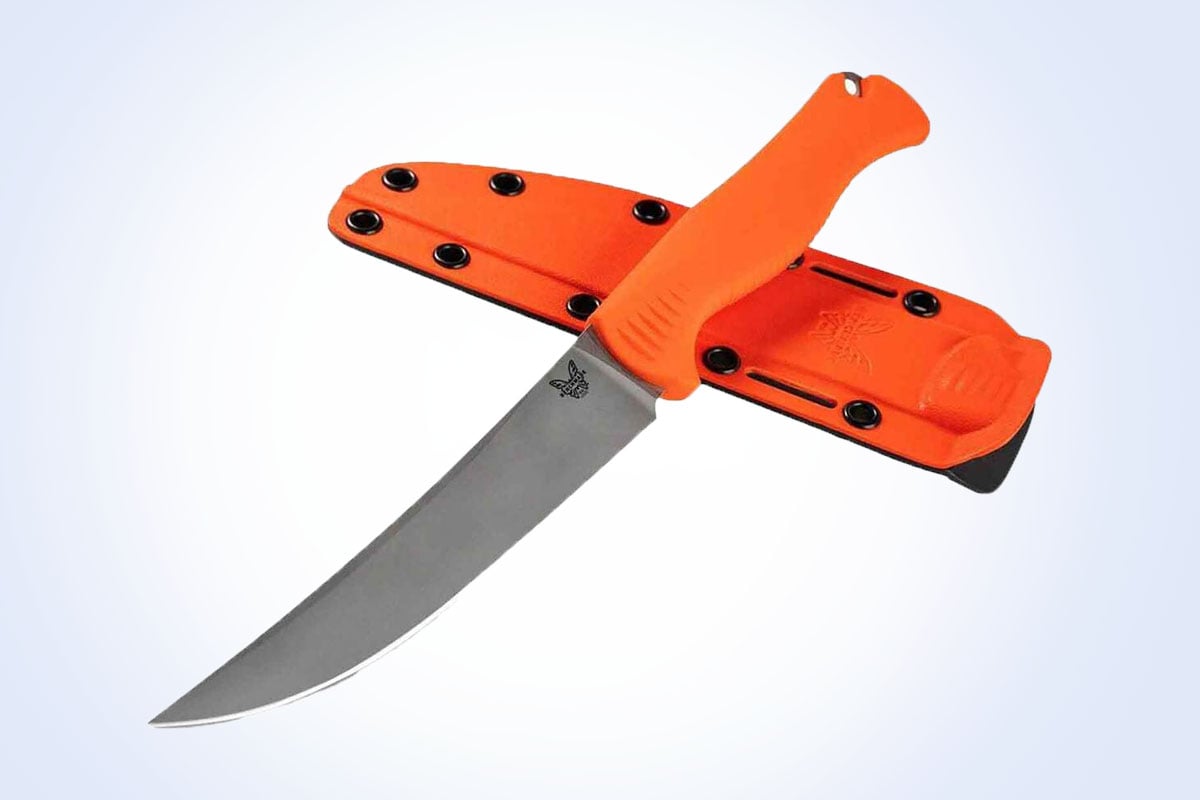 Check Price
If you take venison or other wild meat seriously, the MeatCrafter should be part of your hunting gear. The trailing point blade and SelectEdge technology combine to make an amazing carving knife that can debone, trim, and slice your meat with ease.
The blade features a forgiving flex to the blade, allowing it to get into the hard to reach areas and get more meat off the bone. The MeatCrafter fits in both your hunting gear and your kitchen, but it specializes in meat processing. This means it shouldn't be used for general cutting tasks or finishing off game.
The handle is made of Santoprene and the sheath is made of Boltaron for better durability and low maintenance. Both are a high visibility orange so they are hard to lose.
Key Features
6 inch trailing point blade
CPM-154 steel
3.24 ounces
Santoprene handle
High vis sheath and handle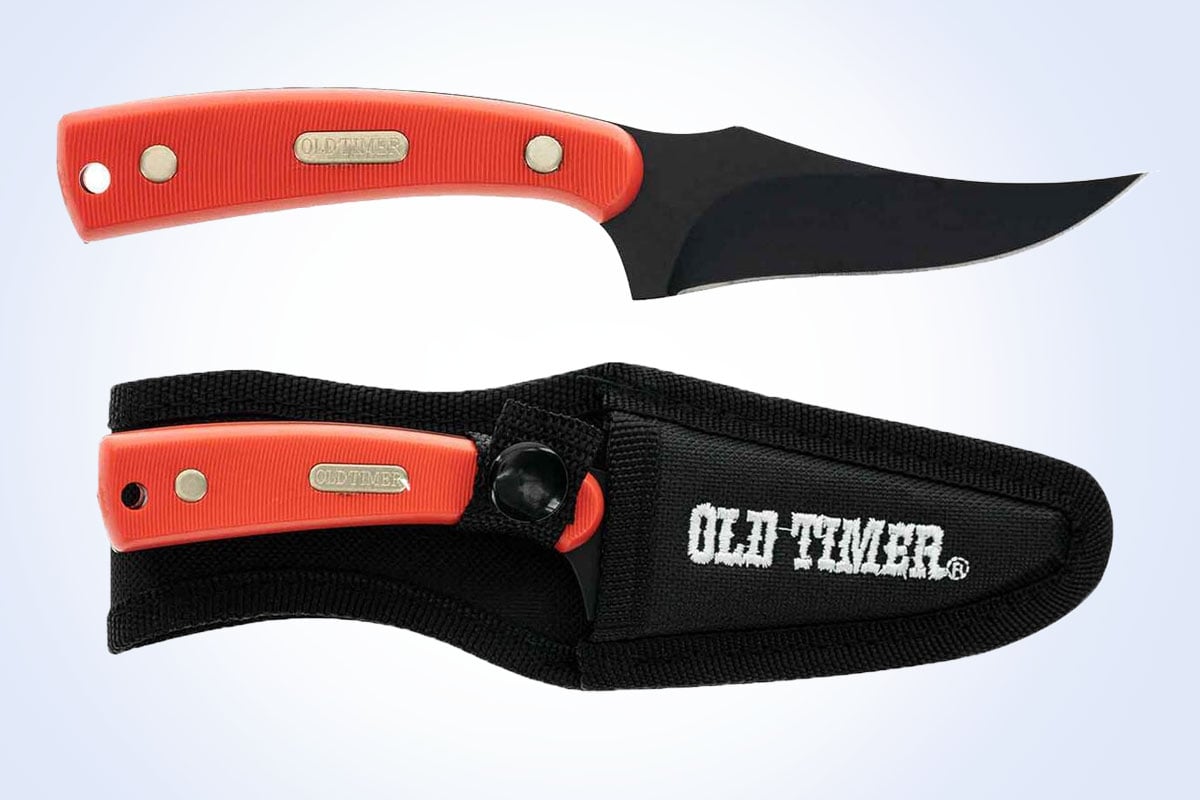 Check Price
The Old Timer Sharpfinger is a great little knife. Small enough to be carried everywhere, the sharpfinger design dates from the 1970s and fills the role of a skinning knife in addition to a utility knife.
The low cost of this knife combined with the trailing point design allows for a great entry hunting knife, especially if you prefer to process your game at home rather than in the field. This knife falls more on the utility side of the hunting spectrum and shouldn't be pushed into heavier duty roles.
The only drawback to the knife is the polyester sheath. While it does provide an easy means to carry the knife, the polyester will wear out quickly with everyday use and will have to be replaced.
If you want a hunting knife that you can use outside of hunting, the Sharpfinger is a great choice.
Key Features
3.5 inch trailing point blade
Polyester sheath
3.04 ounces
Black oxide finish
Check Price
The Buck General Pro is a great hunting-centric knife. The 7.4 inch blade allows you to easily dispatch animals and retains a good level of utility. If you're going to have one knife for everything, including hog hunting, this is a good option.
The handle provides a secure grip from the combination Micarta handle and full crossguard. This means your hand won't ride up into the blade if you intend to use it for boar hunting.
The blade is made of a special stainless steel blend and features a Paul Bos heat treatment for a good combination of durability and edge retention. You'll be able to slice and piercing without worrying about the blade rusting out if you forget to clean it.
Key Features
7.4 inch clip point blade
Micarta handle
S35VN steel with Paul Bos heat treat
Leather sheath
Buck Knives Forever Warranty
8.3 ounces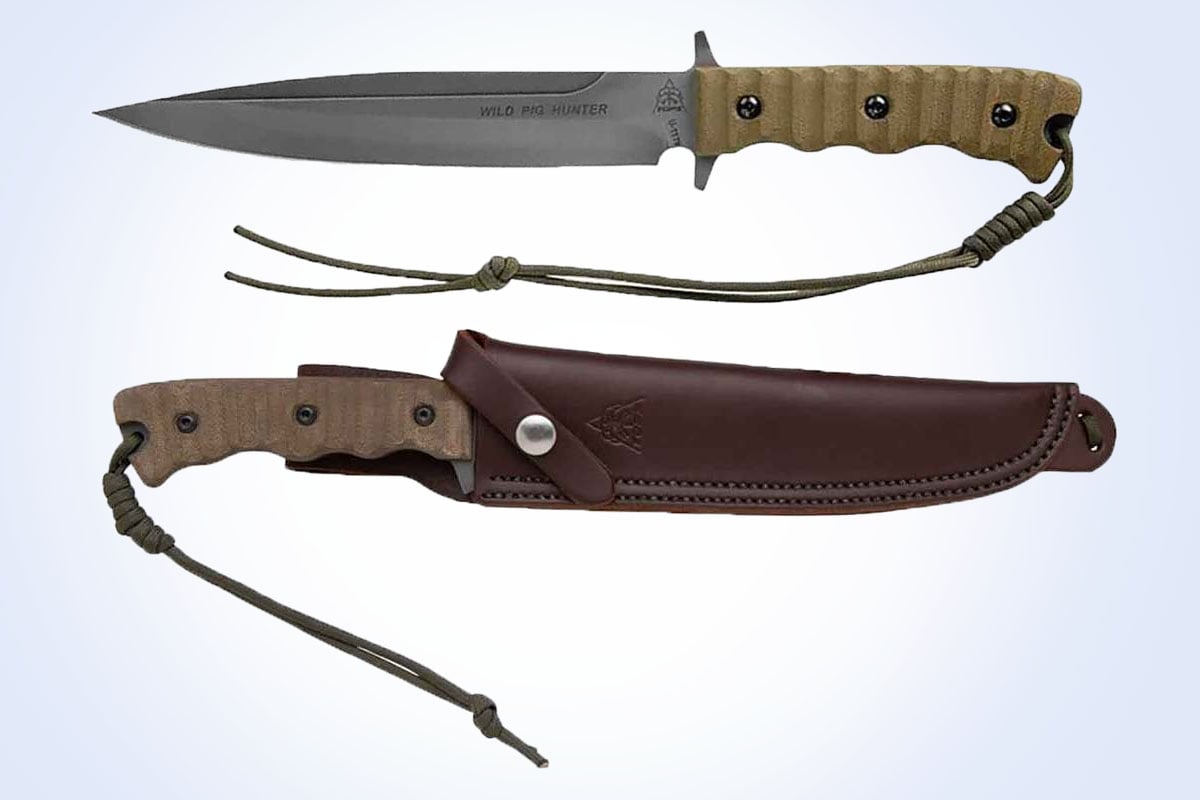 Check Price
If you are a dedicated pig hunter, you should consider getting a knife that is designed to use on pigs or boar. The TOPS Knives Wild Pig hunter offers an aggressive point at the end of a 7 ½ inch blade.
You will have no trouble getting through a boar's hide with this knife. It features a 1095 carbon steel blade which provides rigidity, but remains flexible enough to not snap the blade in half while you use it. The only downside to using 1095 steel is that it is more prone to rust and requires more care than a stainless steel option.
The handle features the Rocky Mountain Tread texture that provides a stable grip that keeps your hand off the blade with the help of the crossguard. The sheath is leather and has a more traditionally placed retention snap to hold the blade in the sheath.
This is far from a general use knife, and while you could use it for other cutting tasks, it shines in its role as a pig knife.
Key Features
7.5 inch drop point blade
1095 carbon steel
Leather sheath
14.2 ounces
Micarta handle with Rocky Mountain Tread texture