Skip to content
How to Choose a
Camping Tent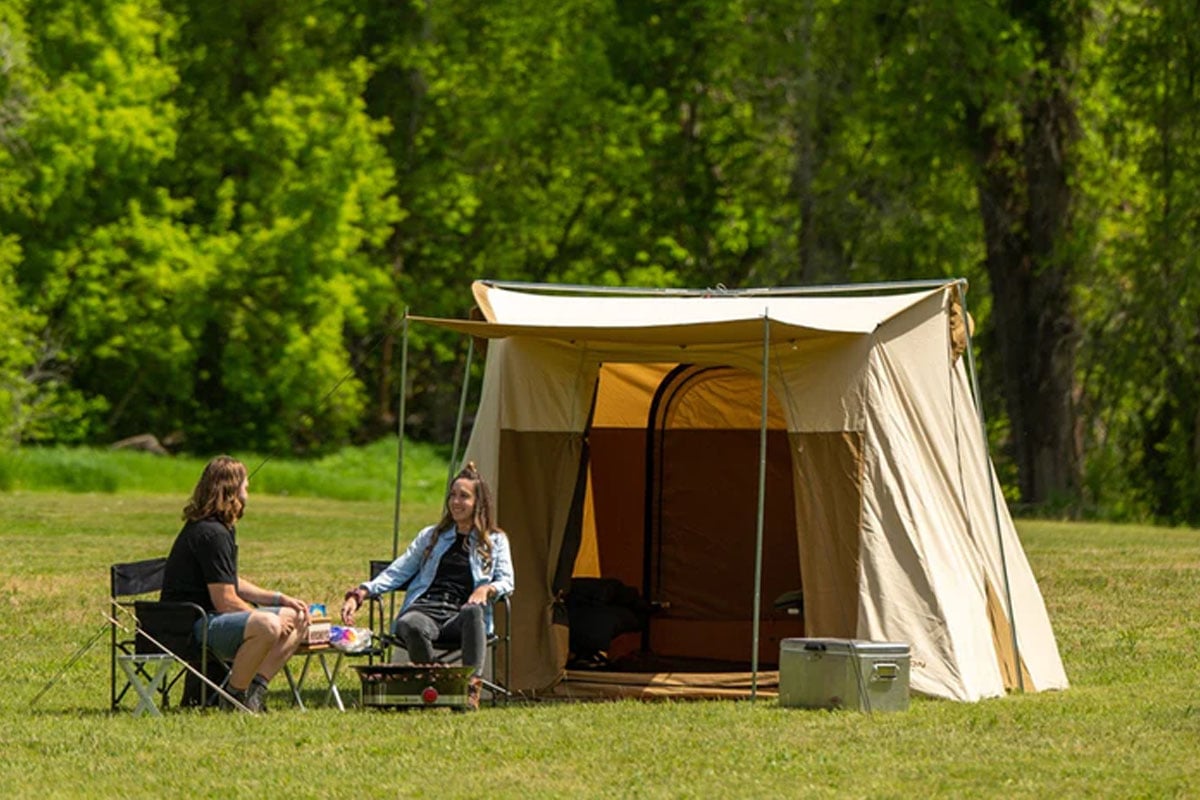 Check Price
Camping is a favorite summer pastime for many of us at Sportsman's Warehouse, and we think that's probably the case for many of our readers as well. Some people go camping just for the experience, while others enjoy camping as a means to an end during some other expedition. No matter how you camp, finding the ideal tent is a critical part of gearing up.
Picking the right tent for you and your activity is not as simple as you may think at first. There are a few different types of tents, and there are plenty of sizes of tents. There are also many variables that go into your choice of tent like tent material, weight, size, durability, water resistance, and ease of use. We will cover all this and more so you know exactly what to look for before you buy.
Types of Tents
First, let's get you in the right ballpark. Tents are often classified by sleeping capacity – but this isn't their type, it's just their size. The type of tent refers to something called seasonality.
Seasonality is a tricky idea for new campers because something like a 4-season tent isn't (as the name suggests) the best for all four seasons of the year. Instead, the number of seasons represents a type of tent. That way when someone says an x season tent is best for the winter, or a y season tent is best for summer, we all know what kind of tent they are talking about. Although not all tents are strictly bound to one of these seasonality categories. Some tents overlap two seasons and we will talk about those in a later section. Let's start at the beginning, 1 season tents.
1-Season Tents
A 1 season tent is the bare basics. They are usually made of especially thin material, and are fairly inexpensive. These tents do not provide much, if any, protection from rain. A 1 season tent is intended to be used in the summer where the ambient temperature is comfortable. You can think of these types of tents as being beach tents, where you are provided with a little shade, but not much protection from the elements as a whole.
These types of tents are not very popular for camping. Upgrading to a 2 or 3 season tent normally comes with little to no price increase, and you get a product that is much more suitable for camping. For that reason, you will not see many 1 season tents on the market geared towards campers.
2-Season Tents
A 2 season tent is a lot like a 1 season tent in terms of materials used and overall construction. Oftentimes, these two types of tents are considered to be the same thing. Although the main difference is that a 2 season tent will look a little more like a camping tent. That means it has a door and provides a small amount of protection from the elements.
These kinds of tents can sometimes include a rainfly, which is a waterproof secondary layer made to be pitched over top of the tent. Although 2 season tents are not the best for camping in wet conditions and they are generally only used in warm and dry environments.
3-Season Tents
3 season tents are the most popular tents on the market. Chances are, if you go to the closest sporting goods store and buy a tent, it will be a 3 season tent. You can use these tents comfortably during the spring, summer, and fall, which makes the name make more sense. They can protect you from a lot more than a 1 or 2 season tent. 3 season tents are made to be a bit more durable, and can hold up well in storms and heavy winds. To hold up to all that weather, these tents usually come with a rainfly to keep water out.
These tents are not your best choice for camping in the winter months. They are popular and made to withstand a storm, but they do not keep you very warm. You can use a 3 season tent in the winter if you sleep in a heavy sleeping bag and warm clothing, but if you plan on camping in colder temperatures, you will be better off with a 4 season tent.
4-Season Tents
4 season tents should be thought of more like 4th season tents, because they are really only used during the winter. You can get away with using one of these tents during a cold fall, but you will be sweating if you try to sleep in a 4 season tent during the summer.
4 season tents are much thicker than anything we have talked about previously. More often than not, 4 season tents are double wall tents. This means that they have a second layer that handles the waterproofing while the first layer keeps you warm. Due to all of the added material, these tents are going to be much heavier than a 3 season tent. These tents also come with a rainfly and are most certainly waterproof and designed to withstand heavy rain and snow storms.
5-Season Tents
Most of us will never need a 5-season tent. These tents are made for long and cold expeditions and are usually used by professionals. These tents are made to stand against the nastiest weather and keep everyone inside it warm. The price tag also reflects that fact. 5 season tents are the most durable tents on the market and are great for long term use.
Single vs Double Wall
A single wall tent is what most non-serious campers think of when they think of a tent. This is a tent that has a single layer of material between you and the outdoors. These tents can still have an added rainfly to keep water out, but that is not considered a second wall if you have to purchase it separately and add it yourself.
Double wall tents usually come with a rainfly already attached to them. This outer layer rainfly is totally waterproof and not breathable. The inside layer is breathable but not waterproof. So, the first layer keeps you warm, while the second layer keeps you dry.
Single Wall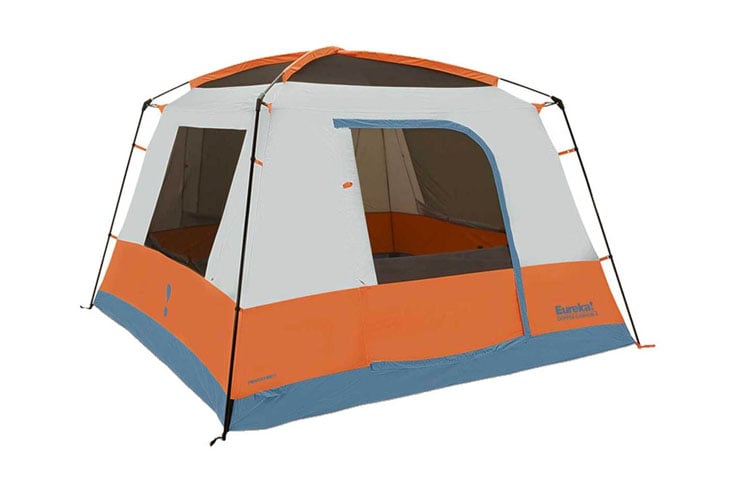 Double Wall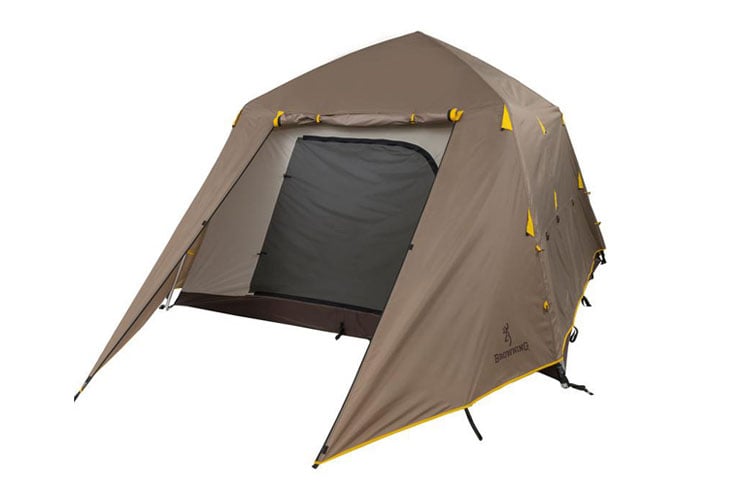 3 season tents can sometimes be double wall tents, but are often single wall tents. 4 season tents are usually double wall tents, but you can also find single wall options. This is what I was talking about when I said not every tent falls strictly inside one of the seasonality categories. A 3 season tent that is double wall will be much better in colder temperatures than a 3 season tent that is single wall.
Picking Out Your Next Camping Tent
When you are standing in the aisle looking at a row of tents, there are a few things you need to know before you pick one up. Seasonality is one thing you should consider, but nailing down a few more factors will really narrow your search. There are thousands of camping tents on the market, so try not to get overwhelmed! Let's start with the most basic variable, tent size.
Shop Camping Tents
Tent Size
Sleeping capacity is likely the first thing you will see on tent packaging. It is also something that you should already know! If you have a family of 5, you likely need a 5-person tent. Although If you want a little extra room in the tent, and you don't want to be on top of each other you should likely get a 6-person tent. The same is true if you like to keep a lot of gear in your tent. Three people and all of their camping gear can sleep very comfortably in a 5-person tent.
1 Person Tent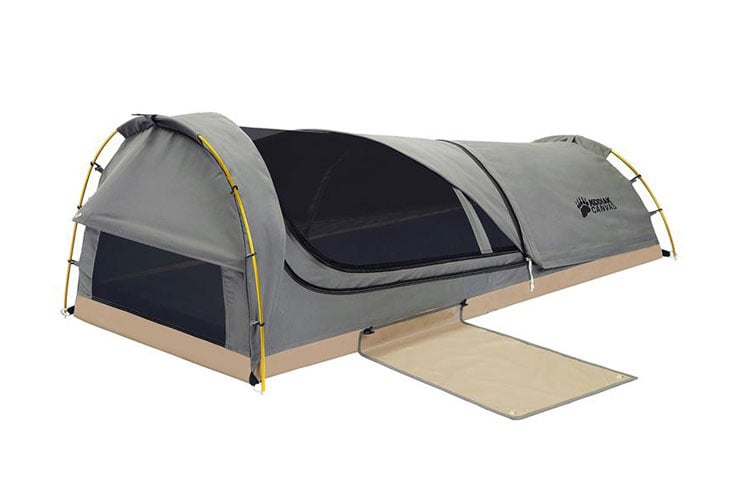 4 Person Tent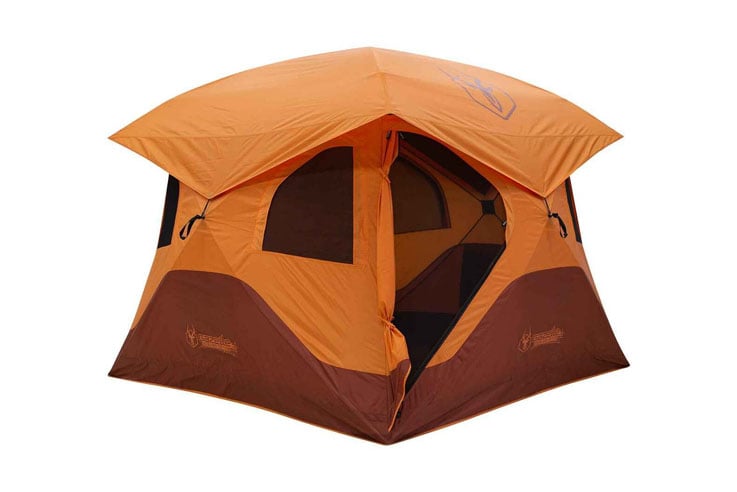 8 Person Tent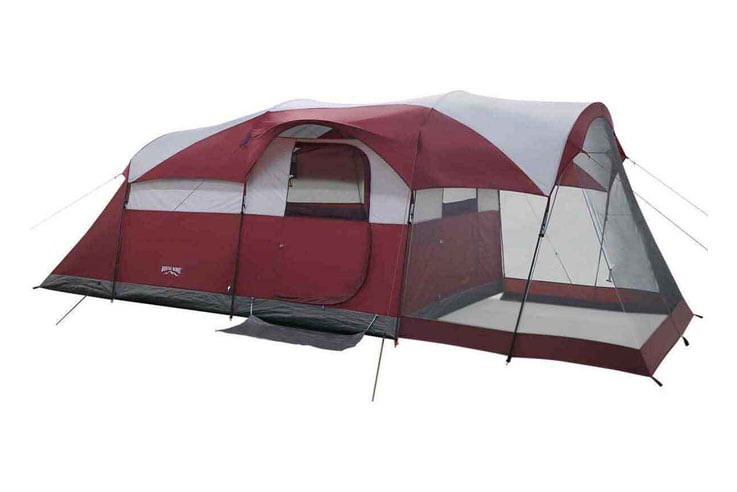 12 Person Tent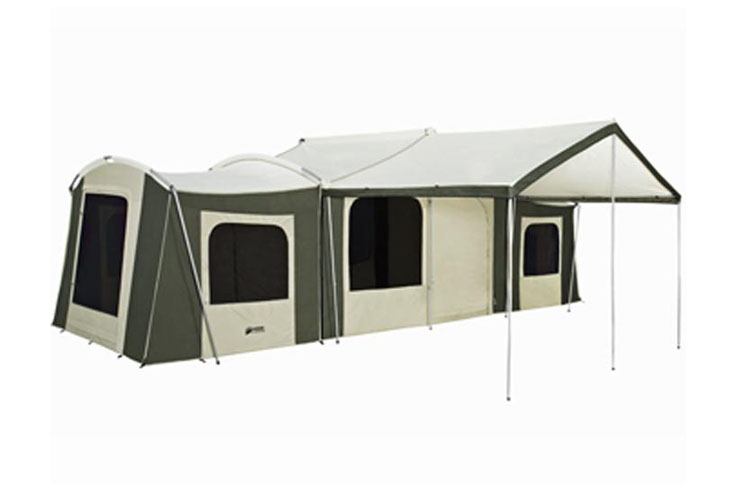 Another thing to look at is the actual tent dimensions. Not all 5-person tents are the exact same size. It is surprising just how much two tents that are classified by the same sleeping size can vary in actual dimensions. Just remember that a bigger tent oftentimes comes with a bigger price tag, and it almost always weighs more.
Weight is a big component of every tent. Although this heavily depends on what kind of camping you are doing. If you are car camping and can drive up to your camping spot, weight is not much of an issue. Although if you have to hike into a camping spot, you will likely want a lighter tent. Here is a quick table with estimated values for weight and dimensions of a packed-up tent by sleeping capacity.
Tent Capacity with Estimated Weight & Dimensions
Sleeping Capacity (Number of People)
Estimated Weight (lbs.)
Estimated Pack Size (inches)
1
4.5
19 x 5 x 5
2
5
20 x 6 x 6
3
7.5
19 x 7 x 7
4
19
30 x 8 x 8
5
22
28 x 9.5 x 9.5
6
30
30 x 12 x 12
8
60
32 x 14 x 14
10
70
35 x 14 x 14
12
80
36 x 16 x 16
16
110
40 x 17 x 17
* These values are averages of 3 to 5 tents in each sleeping size from sportsmans.com
If you want an especially comfortable tent, you will want a tall peak height so that you can stand up in it. The peak height is the tallest measurement of the tent's roof from the ground. Being able to stand in a tent is a great luxury to have, but taller tents usually have more material and are therefore heavier.
Durability & Lifetime
More durable tents will also cost more money. Although if you want a tent that lasts a long time, you should get a tent made of high denier fabric. Denier is a measure of weight and durability in fiber, the higher the number the stronger the fabric. You will see tent fiber specs anywhere from 10D to 300D (the D standing for denier).
Tents that are well built will also include loops on the outside to attach your guy lines to. Guy lines are used to tie down parts of your tent to prevent the fabric from flapping in the wind, or to tie down a rainfly. These are different from the spots you stake your tent down.
Most of the time you get what you pay for in a tent. If you want a tent that is going to last you a decade or more, do not plan on spending $100 at Walmart. You can still get a nice tent relatively cheaply, but it will not last as long.
Weather Resistance & Comfortability
If you want to stay comfortable in a tent you really only need two things, warmth and dryness. The rest is taken care of by your sleeping pad and sleeping bag. If you want a warm tent, you will want a double wall tent. These tents have an inner layer that is designed to be warmer and breathable, and an outer layer that is designed to keep water out, called a rainfly.
A rainfly is a waterproof cover designed to fit over the roof of a tent, but is often included and already attached to the tent. A separate rainfly can be used whenever rainfall is expected, or it can be used in cold weather conditions for extra warmth retention.
Ventilation is also important for keeping tents comfortable. Tents are ventilated through the use of mesh paneling in the ceilings, doors, and windows. This enhances cross-ventilation which also can help manage condensation, especially in warmer climates. For humid, hot campsites, look for tents with large mesh panels.
Ease of Use
You also don't want a tent that you are going to have to fight with constantly. Of course, most tents are made as user friendly as possible. Ease of use then boils down to setup time, the types of poles they use, and how many doors it has (aka how easy it is to get in and out of).
For setup time, here is a quick table showing an estimated time it will take a beginner camper to set up and take down a tent, and the time it takes an experienced camper to do the same. Tent size is broken up into small, medium, and large here based on sleeping capacity. There is a little bit of overlap in the categories since small, medium, and large are not actual tent sizes.
Tent Set Up/Take Down Time & Experience Level
Tent Size
Beginner
Experienced
Small (1-3 person)

Set up: 10-15 minutes

Take down: 15-25 minutes

Set up: 5-10 minutes

Take down: 5-15 minutes

Medium (3-8 person)

Set up: 15-30 minutes

Take down: 20-40 minutes

Set up: 5-15 minutes

Take down: 10-25 minutes

Large (8-16 person)

Set up: 30-45 minutes

Take down: 30-60 minutes

Set up: 10-20 minutes

Take down: 15-30 minutes
A tent's pole structure helps to make it easier (or more difficult) to pitch. A lot of tents will have an X pattern to their pole setup, which is considered easy to use. Almost all family tents these days are freestanding, meaning they do not require any kind of stakes to set up. One huge advantage of this is that users can pick the tent up and move it to a different location before staking. Users can also easily shake any dirt out of the tent before disassembling.
The Extras
Just like any kind of gear, there are always more things you can add. The extras are the nice additions that can sometimes be overlooked when you are picking out a tent. The first thing to look at is storage. Many tents come with internal pockets that you can put things in while you are using it. The more pockets the better right?
Next, is the number of doors your tent has. If you're camping with a larger group, multiple doors will help you to avoid climbing over one another. Cabin-style tents are typically built with this consideration in mind. We suggest looking for doors built with YKK zippers, they tend to resist snagging better than other brands.
A tent vestibule is another thing you may want if you have a lot of gear. They can be thought of sort of like a garage for your tent. These are normally built in and take the place of the front door of the tent, but you can also buy add-on vestibules. This is a great way to add extra space to a crowded tent, and keep your gear safe.
Types of Camping & The Tents They Require
Sometimes it is easier to pick your tent based on the kind of camping you plan on doing. Here we will talk about some general forms of camping with a tent and what kind of tent you may want to go along with it, plus a few of our recommendations.
Car Camping
Car camping is when you are able to drive up to your camping spot. This is often the camping style of choice for most groups. If you are renting a camping spot in a recreational area, you will also be car camping. Car camping is likely what you will want to do with your family since lugging around all the gear you will need may be difficult if you have children.
For this kind of camping you can afford to get a bigger and heavier tent because you only need to drag it a few yards from your trunk to the camping spot. This kind of camping is often done by beginners during a nice time of year, so a 3-season tent is often the best choice.
The Eureka Copper Canyon LX 4-Person camping tent is a great choice for car campers. It has a ton of room for sleeping and gear, and is very comfortable for a small family. This is a 3-season tent that can withstand a strong rainstorm and make sure everyone inside is a happy camper. If you need something with a higher sleeping capacity, the Browning Big Horn 8 8-Person Camping Tent is an affordable and roomy option.
Walk-in Camping
Walk-in camping is where you rent a campsite but have to walk to it. Normally, this means you park in a parking lot nearby and have a short walk to your campsite. Although how far you have to walk depends on the campsite. Sometimes it is a hundred yards or so, and other times it is more like a hike.
For this kind of camping, you will want something a little lighter, but with the use of a wagon, you can still pack in a nice tent and not worry too much about the walk. For walk-in camping you will likely want a 3-season tent, unless you plan on going in the winter months. For winter camping trips, a 4-season tent is ideal.
Walk-in camping does not usually attract people with small kids (due to the walk), so if you only need a tent for one or two people, the Mountain Hardwear Mineral King 3 person tent is very roomy and not very heavy. This tent also comes with a rainfly, but if left unattached on a dry night, you can still see the stars.
If you need a little more room, and the walk in is not so bad, then the Rustic Ridge 6 Person Deluxe Dome Tent is a great waterproof 3 season tent for walk-in camping. This tent has a ton of room and also includes a sheltered porch!
Backpack Camping
Backpack camping is when you have to hike to your camping spot, or you have to stop at night and camp during a hike to some sort of destination. If that is the case, then you are going to be carrying this tent on your back all day. You obviously want this tent to be a bit lighter than the 20 to 30 pound family tents we talked about previously.
If you are hiking with someone, the Kelty Late Start 2 Person tent is the perfect size. It weighs just 4.5 pounds and is big enough for two people and their gear at night. It is also easy to put up and take down so you can spend as much time as possible on the trail.
If you are hiking in a larger group, most people will bring their own tent, or at least each couple will have a tent. If you need a tent just for yourself, there is also a Kelty Late Start 1 Person Tent that weighs just 3.5 pounds and is perfect for hiking.
Which Tent is Best for You?
As you can see, there is a tent for everything. The first thing to decide is how many people you are going to have in your tent, and therefore how big of a tent you should have. Then you are going to need to decide what time of year you will camp and if you need a 3 or 4 season tent. For most campers, a 3-season tent with an optional rainfly will be the most versatile option.
You should now know everything you need to buy your first or next tent! What are you waiting for? Head over to our tent section and pick out the shelter for your next adventure!