Skip to content
Texas Hunting Guide
Private lands account for 95% of Texas geography, but the state does offer significant hunting opportunities. Texas's large amount of open land supports a variety of game species, and its permissive gun laws make hunting very accessible for most people.
What to Hunt
---
Texas is most known for its big game hunting opportunities. The state's wide range of habitats supports several popular big game species.
Deer
More deer are taken in Texas annually than any other state. This is largely due to the state's amount of land mass, but Texas does support a very large deer population. Ideal deer habitats can be found across the entire state. Deer seasons are divided into archery only, general season, youth only, and muzzleloader seasons. There is an annual statewide bag limit of five white-tails, of which no more than three may be bucks. Bag limits are further broken down by county.
Turkey
Texas offers one of the nation's highest turkey populations, with around 500,000 birds. Rios and Easterns compromise all of Texas's turkey population. Texas does not offer the amount of public land that some other states do, but booking a turkey hunting guide is a relatively straightforward process. Texas offers a fall turkey season that typically runs from October-February depending on the county, and a spring turkey season that typically runs from March-May. It is not permitted to hunt roosting turkeys at any time.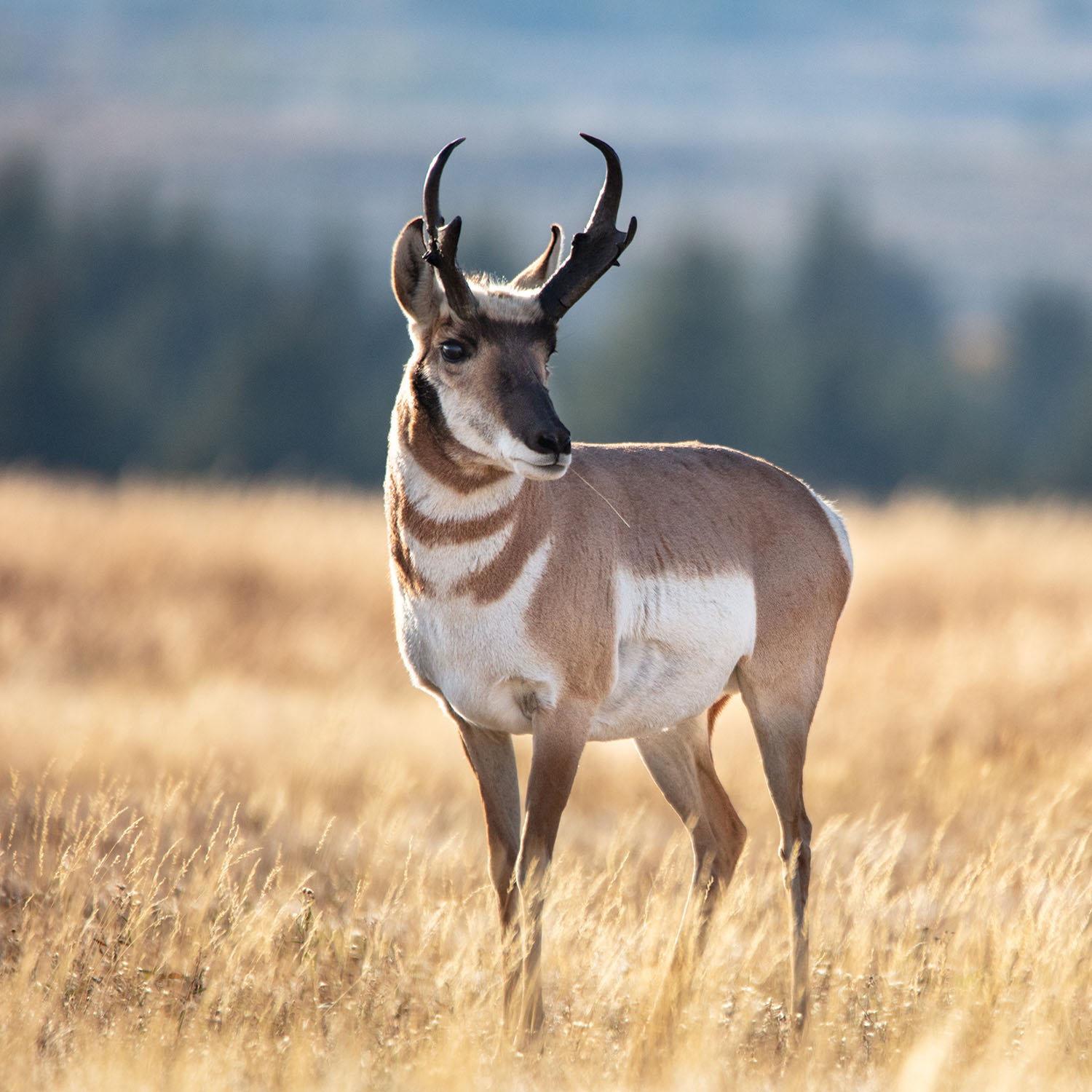 Pronghorn
Pronghorn hunting is offered in 41 of 254 counties in Texas. Much of the pronghorn opportunity in Texas is found in the state's panhandle. Pronghorn hunting is by permit only. Pronghorn season is typically a couple weeks in October.
Hog
Texas has more feral hogs than any other state in the nation. Feral hogs are an invasive, destructive species. There is no limit on hog hunting in Texas. Hogs can be found in every single county in Texas except for El Paso County. It is permitted to use box traps and corral traps to take feral hogs.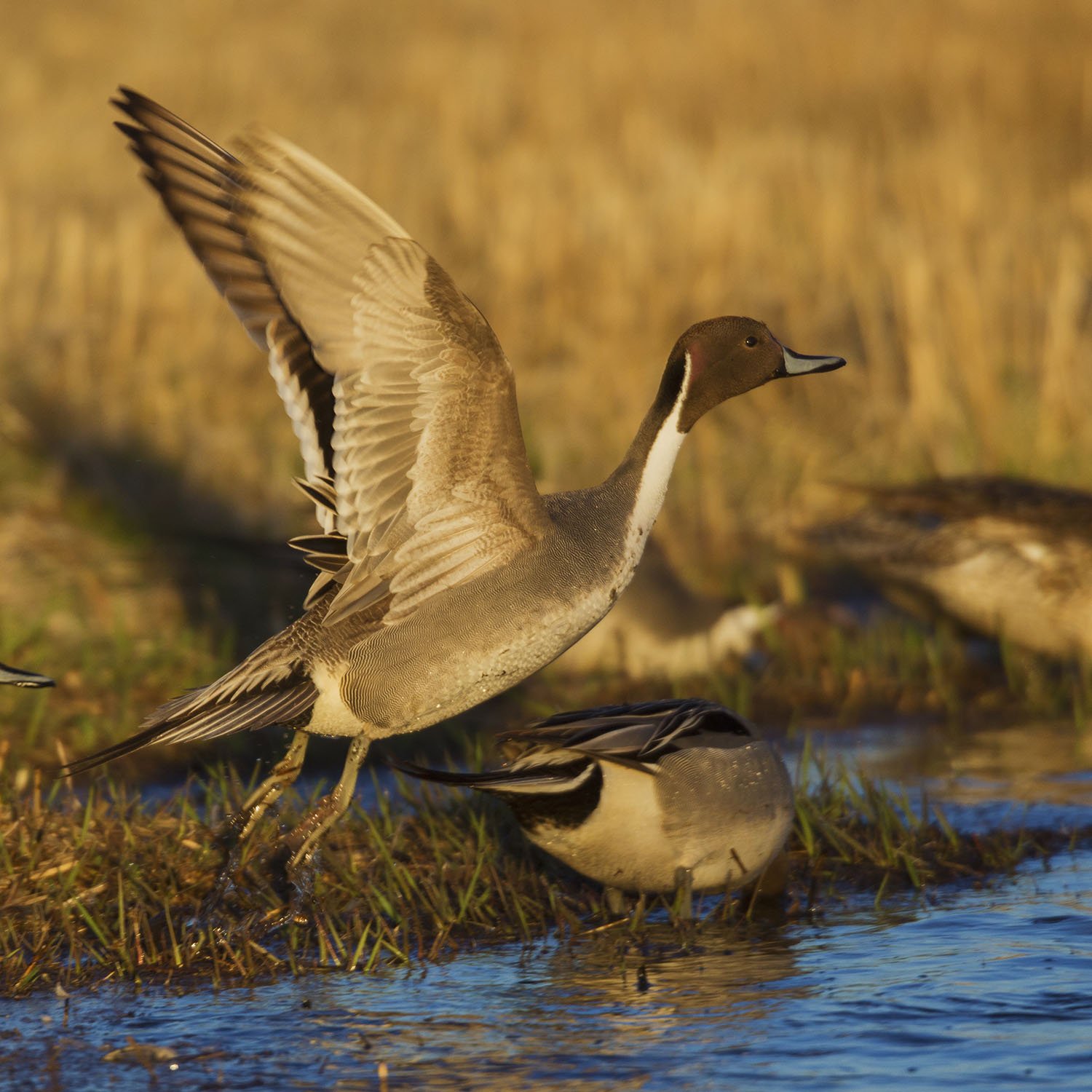 Waterfowl
Because so little of the land in Texas is public, waterfowl hunters typically will have to pay for private hunting opportunities. Duck hunters may target mallards, wood ducks, redheads, canvasback, scaup, pintail, mottled duck, black duck, and more. Hunters may also find merganser, coot, and migratory game birds. There is a daily bag limit of six ducks per day, and the possession limit is three times the bag limit.
Other Texas game species include: Elk, Bison, Moose, Bighorn, Mountain Goat, Prairie Dog, Dusky and Ruffed Grouse, Ptarmigan, Partridge, Pheasant, Sandhill Crane, Quail, Cottontail Rabbit, Jackrabbit, Snowshoe Hare, Pigeon, Collared Dove, Mourning Dove, American Crow and Cougar.
Where to Hunt
---
By a percentage of total land mass, Texas offers very little public land. However, the state is large enough that there are still significant public hunting opportunities.
Annual Public Hunting Permit
Texas' Annual Public Hunting Permit provides hunting on almost one million acres of land. This area is comprised of more than 180 hunting areas, including wildlife management areas, state parks, and leased private lands. The Annual Public Hunting Permit supports deer, hogs, waterfowl, gamebird, and small game.
Private Lands
The vast majority of the huntable land in Texas is privately-owned. Hunters will have to pay for guides or get permission from landowners to use these areas. Privately owned lands are subject to the rules and restrictions of the owner.
Licensing Fees
---
Generally speaking, all hunters must obtain licenses to hunt in the state of Texas. Additional fees and permits may be required depending on the species being hunted.
| License | Fee |
| --- | --- |
| ​Resident Hunting License | ​$25.00 |
| Senior Resident Hunting License | ​$7.00 |
| ​Youth Hunting License | ​$7.00 |
| ​Disabled veteran (resident and non-resident), Super Combo Hunting & All-Water Fishing Package | ​FREE |
| ​Resident Trapper's License | ​$19.00 |
| ​Non-resident General Hunting License | ​$315.00 |
| ​Non-resident Spring Turkey License | ​$126.00 |
Hunter Education
---
Every hunter in Texas born on or after September 2, 1971, must successfully complete a hunter education course. The minimum age to take the course is 9 years old. Youth hunters may be exempt from taking the course if they are accompanied by adult, licensed hunters.
The course can be taken in person or as a combination of in-person and online learning.
Youth Hunting
---
Youth of any age is allowed to hunt in Texas, though there are some supervision requirements. The following people must be supervised by a licensed hunter at least 21 years of age while hunting:
Youth under 9 years of age
Youth 9 through 16 years of age who have NOT completed a hunter's education course
Youth 17 years of age who have NOT completed a hunter's education course or purchased a hunter's deferral
The Texas Wildlife Association and the Texas Parks and Wildlife Department offer the Texas Youth Hunting Program (TYHP). This program allows youth between 9 and 17 years of age to learn about hunting under the supervision of licensed, experienced hunters.
Trapping
---
Texas considers the following animals furbearers for the purposes of trapping: badger, beaver, fox, mink, muskrat, nutria, opossum, otter, raccoon, ring-tailed cat, skunk, and civet cat (spotted skunk). A trapping license is required to take these animals. A hunting license is not required to obtain a trapping license.
Trappers may take furbearers using firearms, footholds, body traps, live or box traps, dogs, snares, archery equipment, electronic or handheld calls, artificial light, falconry, air guns of at least .30 caliber, or arrow guns. It is not permitted to use smoke, explosives, or chemical irritants. Some traps have regulations on their sizes and acceptable placements.
Hunting Seasons
Game
Season Begins
Season Ends
Javelina*
Oct 1 2022
Feb 27 2022
Sep 1 2022
Aug 31 2022
Mule Deer*
Oct 1 2022
Dec 11 2022
Pronghorn
Oct 1 2022
Oct 16 2022
Squirrel*
open year round
open year round
White-tailed Deer*
Oct 29 2022
Jan 15 2023
Chachalaca*
Oct 29 2022
Feb 26 2023
Pheasant
Dec 3 2022
Jan 1 2023
Quail
Oct 29 2022
Feb 26 2023
Turkey*
Oct 1 2022
Feb 26 2023
Mar 11 2022
May 21 2022
Dove*
Sep 1 2022
Jan 22 2023
Duck*
Oct 22 2022
Jan 29 2023
Goose*
Sep 10 2022
Mar 12 2023
Rails, Gallinules & Moorehens
Sep 10 2022
Sep 25 2022
Nov 5 2022
Dec 28 2022
Sandhill Cranes
Oct 29 2022
Jan 22 2023
Snipe
Nov 5 2022
Feb 19 2023
Teal
Sep 10 2022
Sep 25 2023
Woodcock
Dec 18 2022
Jan 31 2023
Alligator
Sep 10 2022
Sep 30 2023
Apr 1 2023
June 30 2023
Rabbits and Hares
no closed season
no closed season
*Hunting dates for this species may vary by zone, method of take, or subspecies of animal. Visit the state's website here to find out more.
Disclaimer: The information provided here is not to be construed as legal advice or acted upon as if it is legal advice: it is provided for informational purposes only. While we strive to provide accurate, up-to-date content, we cannot guarantee the accuracy, completeness, or currency of the information.