Skip to content
Nosler Partition Hunting Reloading Bullets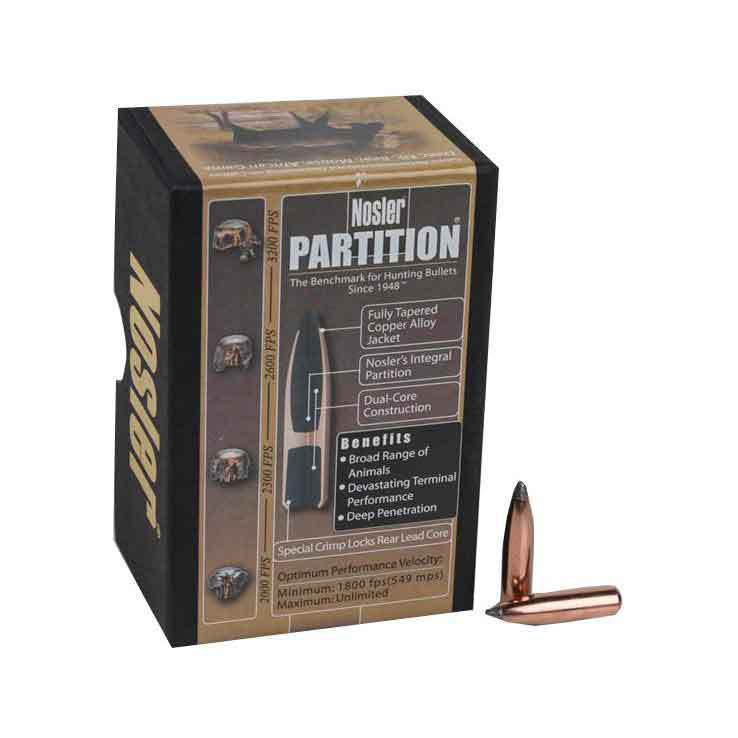 From
$50.99
Nosler Partition® Hunting Reloading Bullets -The Partition's has been favored worldwide as it has a legendary level of accuracy, controlled expansion and weight retention in any caliber, on any game, and in any situation.
You must be 18 or older to purchase this restricted item. Some items may only be shipped via Ground. You are responsible for complying with federal, state and local laws.
Items on sportsmans.com may display a strikethrough price in search results and on product display pages. The strikethrough price represents the Minimum Advertised Price (MAP) OR Manufacturer's Suggested Retail Price (or MSRP) for the item.
p45681
Item#
Caliber
Diameter
Bullet Style
Ballistic Coefficient (G1)
Pack Quantity
Grains
Bullet Type
Price
Purchase Options

304175

MPN: 16332

30 Caliber
.308
Semi Spitzer Partition
.351
50
220
Semi Spitzer Partition

$80.99

304169

MPN: 16325

284 Caliber/7mm
.284
50
140

$71.99

303993

MPN: 25396

30 Caliber
.308
50
180

$77.99

304012

MPN: 35626

30 Caliber
.308
50
200

$78.99

304013

MPN: 35642

243 Caliber/6mm
.243
50
100

$64.99

304173

MPN: 16330

30 Caliber
.308
50
165

$74.99

304165

MPN: 16321

264 Caliber/6.5mm
.264
50
140

$71.99

309759

MPN: 16337

338 Caliber
.338
50
210

$98.99

304162

MPN: 16317

25 Caliber
.257
Spitzer Partition
.377
50
100
Spitzer Partition

$64.99

304171

MPN: 16327

284 Caliber/7mm
.284
50
160

$74.99

304170

MPN: 16326

284 Caliber/7mm
.284
Spitzer Partition
.456
50
150
Spitzer Partition

$72.99

304161

MPN: *16315

243 Caliber/6mm
.243
50
95

$62.99

317970

MPN: 35200

270 Caliber/6.8mm
.277
Spitzer Partition
.432
50
140
Spitzer Partition

$71.99

304168

MPN: 16324

270 Caliber/6.8mm
.277
Spitzer Partition
.434
50
160
Spitzer Partition

$73.99

312477

MPN: 16316

22 Caliber
.224
50
60

$50.99

304163

MPN: 16318

25 Caliber
.257
Spitzer Partition
.389
50
115
Spitzer Partition

$65.99

304174

MPN: 16331

30 Caliber
.308
50
180

$77.99

304166

MPN: 16322

270 Caliber/6.8mm
.277
50
130

$68.99

304172

MPN: 16329

30 Caliber
.308
Spitzer Partition
.387
50
150
Spitzer Partition