Skip to content
Nebraska Hunting Guide
Nebraska is one of the nation's most popular hunting destinations, with a wide variety of species and high success rates for most types of game. The state offers long seasons and permissive bag limits.
What to Hunt
---
Nebraska supports a wide variety of popular game species for hunters to enjoy.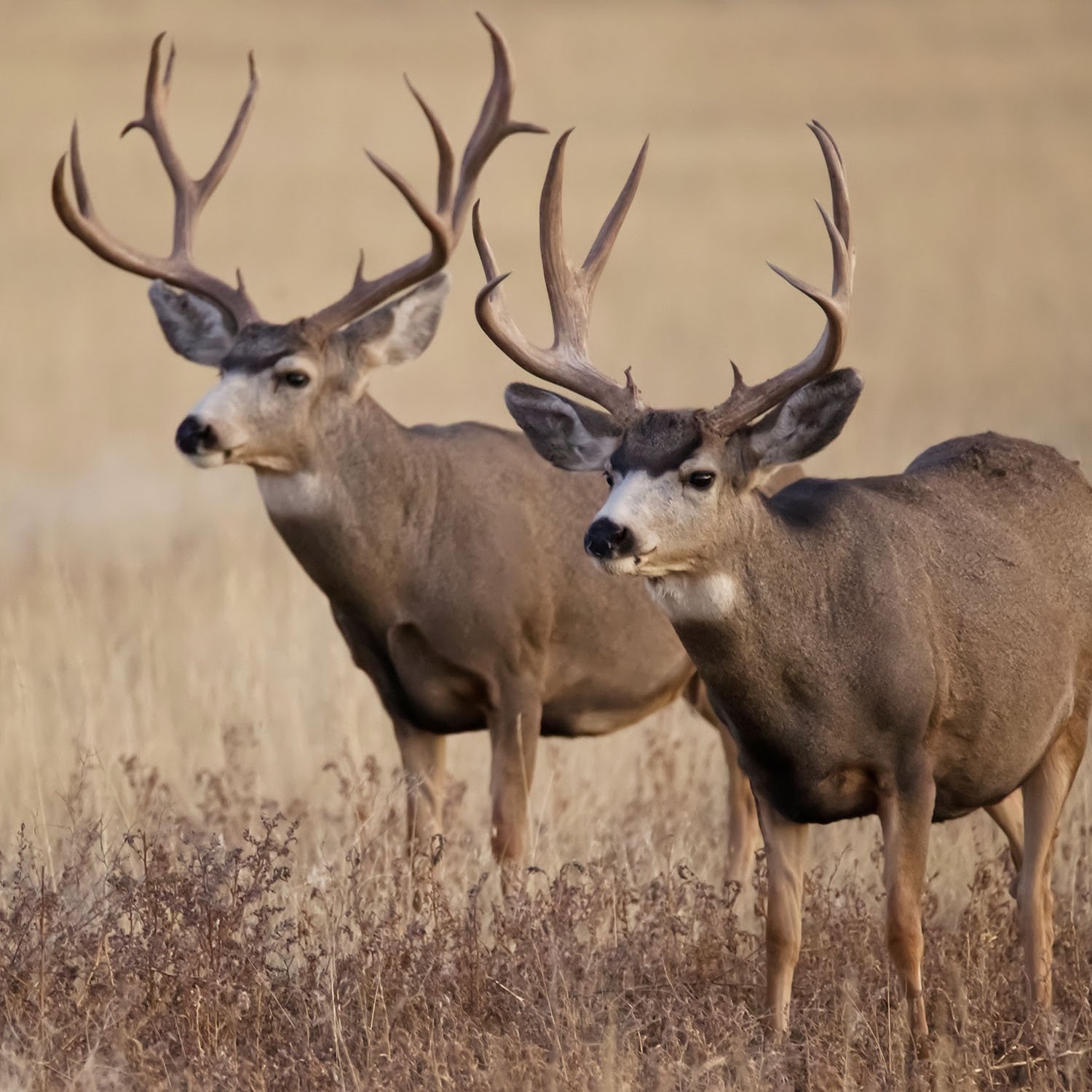 Deer
Nebraska is home to many whitetail and mule deer, and deer are found in every county in the state. The highest whitetail concentrations are in eastern Nebraska and the riparian corridors. Mule deer can primarily be found in the western two-thirds of Nebraska. Permits for both mule and whitetail deer can be purchased over the counter. Residents and non-residents can apply for permits, typically in June. Many antlerless only season permits are granted as well.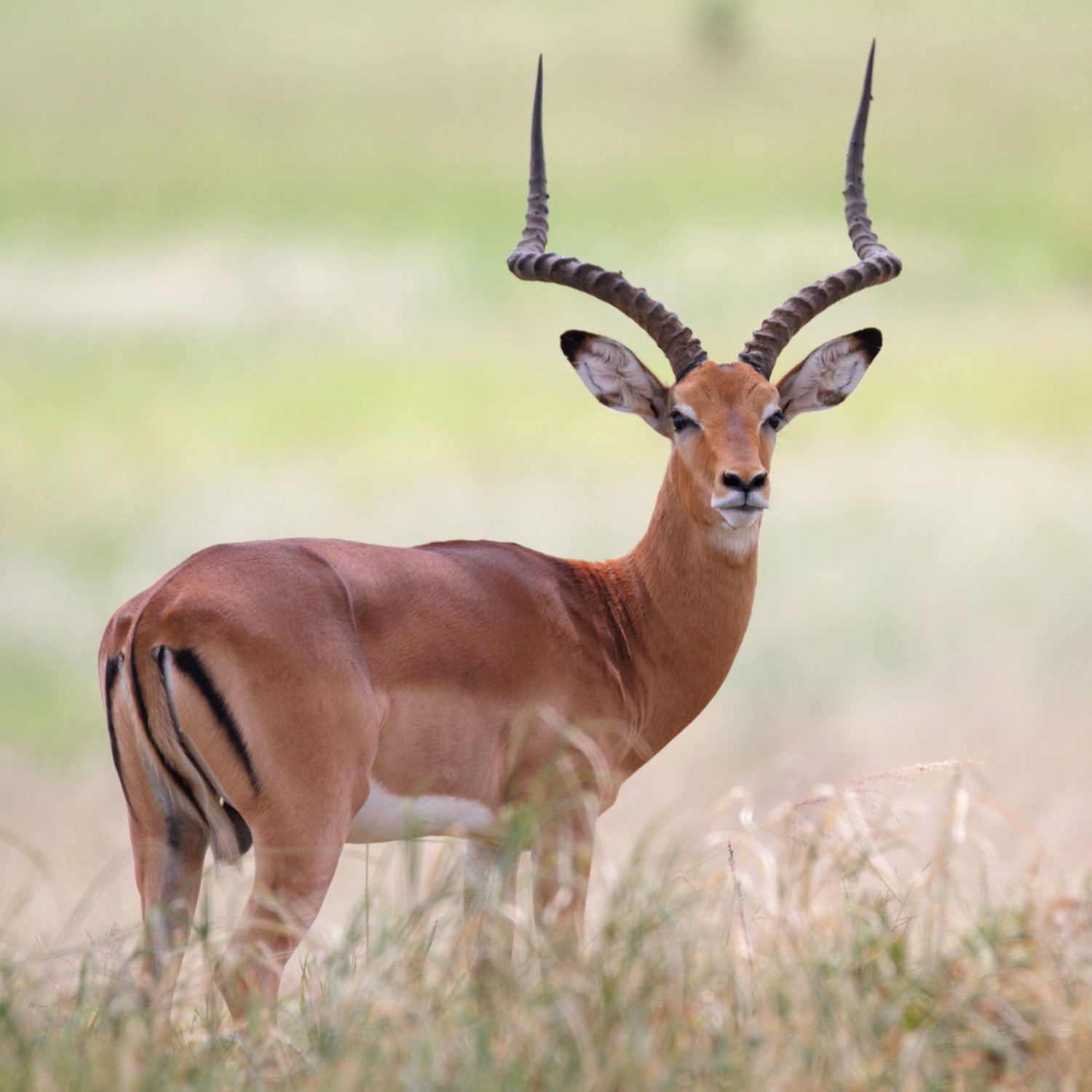 Antelope
Nebraska offers limited antelope hunting to residents and nonresidents. Most of the state's antelope are found in the Western regions. The highest antelope densities occur in northern Sioux and Dawes Counties in particular. Antelope season typically runs from August through January, with seasons for archery, muzzleloaders, and firearms. Hunters must enter a drawing for buck permits, but doe permits are offered first-come, first-served.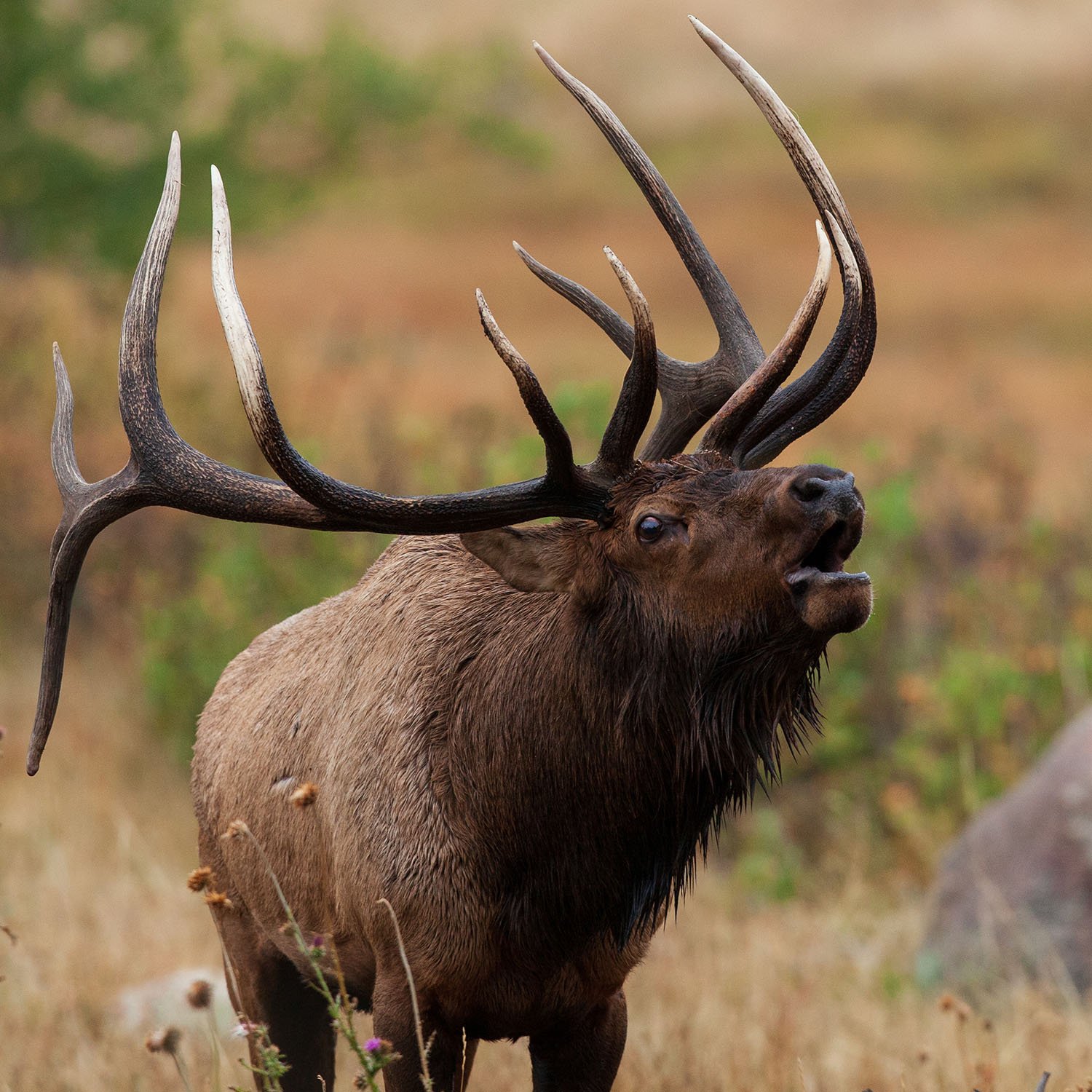 Elk
The Nebraska Game and Parks department provides public elk hunting land in Ash Creek, Bordeaux, and Hat Creek. However, only 3% of the state is public land overall, so most elk are taken on private land. The state suggests that nonresident hunters make a dedicated scouting trip before planning an elk hunt in Nebraska. Last year, Nebraska granted 501 permits out of 6,029 applicants. Elk seasons are divided into archery, firearm, bull, and antlerless seasons.
Turkey
Nebraska is home to three different populations of wild turkey: Merriam's, Easterns, and Rio Grandes. Throughout the state, hunters report high success rates. The state also offers permissive bag limits and particularly lengthy turkey hunting seasons. Spring season generally runs from March through May, with fall season running from September through January. Hunters may use archery or shotguns to take turkeys. Turkeys can be found in every county in Nebraska, and the population of turkeys has risen greatly over the last decade.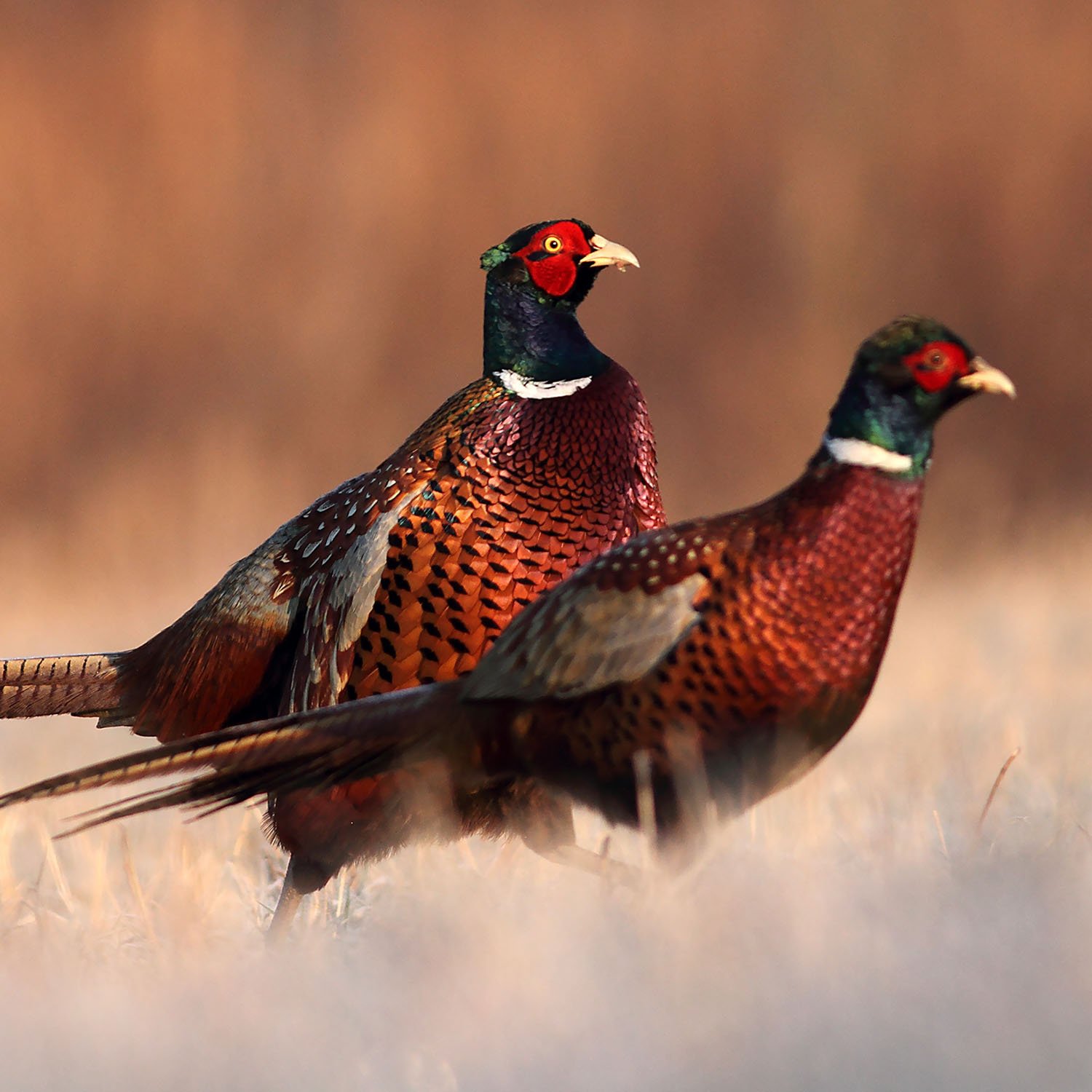 Pheasant
Pheasants are distributed throughout the entirety of Nebraska, with particularly strong densities occurring in the southwest region of the state. The southern portion of the Nebraska panhandle also offers excellent pheasant hunting opportunities. Pheasant season typically runs from October through January, and hunters must have a small game hunting permit and a habitat stamp.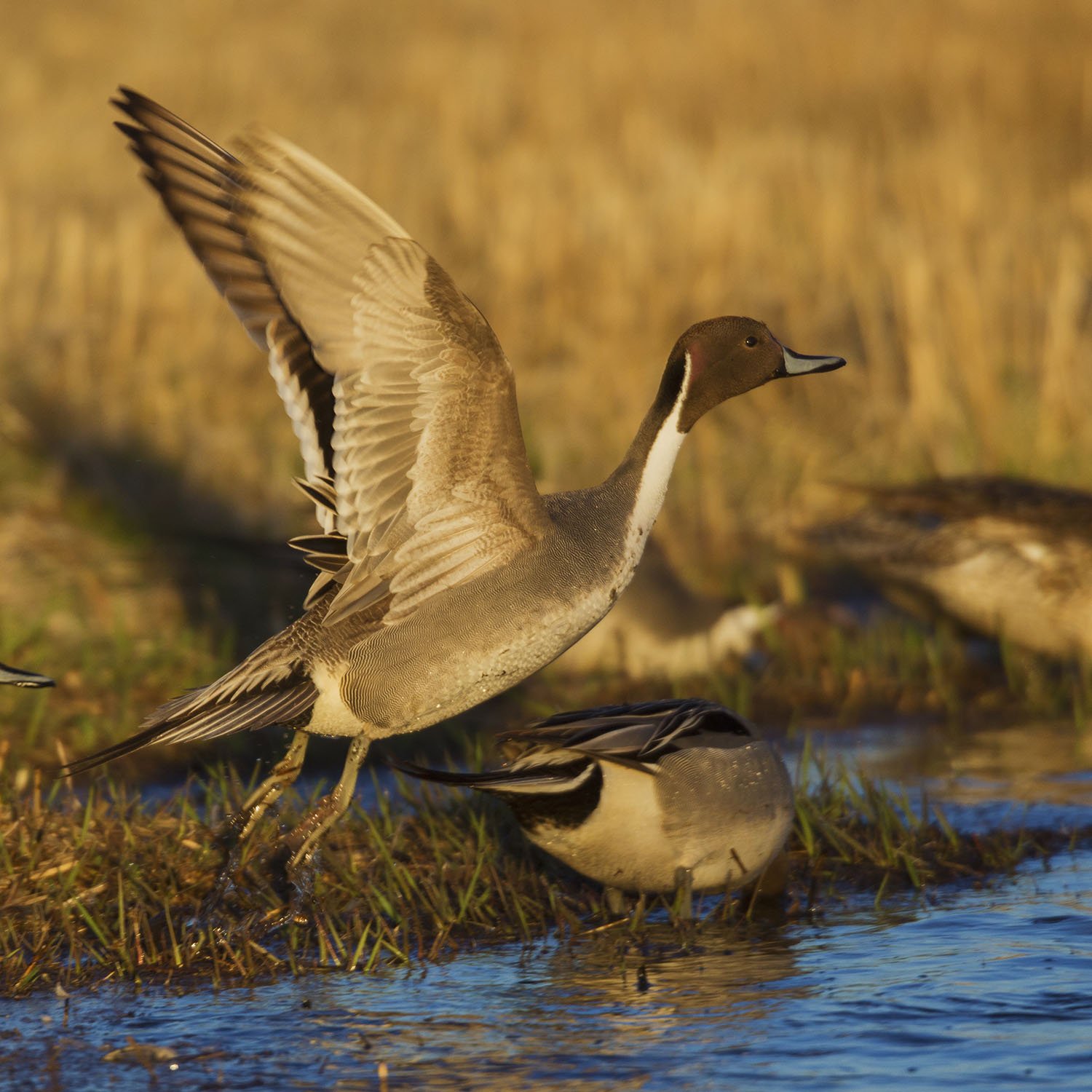 Waterfowl
Nebraska features very high duck and waterfowl population levels with low hunt pressure. Duck season is particularly long in Nebraska. Although the state offers little public land, the Rainwater Basin Wetland Management District is a public corridor that features significant duck hunting opportunities.
Other Nebraska game species include: Bighorn Sheep, Mountain Lion, Quail, Partridge, Prairie Grouse, Dove, Snipe, Rail, Woodcock, Crow, Squirrel, Cottontail, Jackrabbit, Goose, Teal, Duck and Coot, etc. found in the "Hunting Seasons" section at bottom of the page.
Where to Hunt
---
Despite having a low percentage of its land as public hunting land, Nebraska offers a variety of areas that are suitable for hunting.
Open Field and Waters Program Lands
Only 3% of Nebraska land is publicly owned. The Open Field and Waters Program offers financial incentives to landowners for opening their land to public hunting. This program comprises 346,000 land acres throughout Nebraska.
Wildlife Management Areas
Wildlife Management Areas (WMAs) are managed by the Nebraska Game and Parks Commission's Wildlife Division. WMAs are designed for the benefit of wildlife habitat. These areas are open to many outdoor recreational activities including hunting. Special regulations and restrictions may apply in some areas.
State Recreation Areas
State Recreation Areas (SRAs) are owned or managed by the Game and Parks department. Some SRAs are open to hunting and trapping. However, hunting and trapping in SRA lands is prohibited within 100 yards of any activity area (picnic areas, campgrounds, etc).
State Parks and State Historical Parks
Some state parks and state historical parks allow hunting. Regulations and restrictions will apply, and hunting access permits are generally required.
Natural Resources District Recreation Areas
Natural Resources Districts manage many multi-purpose areas throughout the state of Nebraska. These areas typically have site-specific regulations for hunting and trapping. It is important to be familiar with these regulations before hunting on an NRD area.
U.S. Forest Service Lands
Most US Forest Service Lands are open to hunting. However, there may be federal or site-specific regulations that must be followed. Contact the Forest Service District Offices to learn more about these regulations.
U.S. Army Corps of Engineers Lands
USACE operates several outdoor areas in Nebraska that offer hunting access. Many of these areas are lakes or the lands around lakes, so waterfowl hunting is common in USACE lands. USACE lands are subject to site-specific regulations.
Waterfowl Production Areas
Waterfowl Production Areas are operated and maintained by the U.S. Fish and Wildlife Service (USFWS). They are generally open to walk-on hunting and trapping.
Conservation Partner Areas
Certain conservation partners (often private companies) have acquired high conservation value properties throughout Nebraska. These properties are typically open to hunting, but they may be subject to area-specific regulations. Some conservation partners include: The Nature Conservancy, The Crane Trust, National Audubon Society, Nebraska Public Power District, Ducks Unlimited, and City of Alliance.
Platte River Recreation Access (PRRA) Program
The Platte River Recreation Access (PRRA) program allows walk-on public access to over 6,200 acres of land. The PRRA program operates on an online reservation system. PRRA areas are subject to site-specific regulations, and access is limited to a specific number of users.
Passing Along the Heritage (PATH) Program
The PATH program provides Nebraska youth and their mentors access to hunt on select private and public lands. Only youth under 18 years of age may hunt on PATH program lands.
Licensing Fees
---
License fees in Nebraska vary widely from species to species. Fees can additionally vary based on the zone in which you are hunting. Below are some of Nebraska's general hunting licenses.
| License | Resident | Nonresident |
| --- | --- | --- |
| ​Annual Hunt | ​$18.00 | ​$109.00 |
| ​Resident Lifetime (age 16-45) Hunt | ​$355.00 | ​N/A |
| ​Non-Resident 2-Day Hunt | ​N/A | ​$76.00 |
| ​Fall Turkey | ​$30.00 | ​$128.00 |
Hunter Education
---
All hunters age 12-29 are required to successfully complete a hunter's education course prior to obtaining a hunting license. Bowhunter education is required for all hunters who take hunt deer, elk, antelope, or mountain sheep with bow and arrow or crossbow.
Youths under age 12 may hunt without completing a hunter's education course, but they must be under the supervision of a licensed hunter age 19 or older.
Nebraska courses are available online or in-person.
Youth Hunting
---
There is no minimum age to hunt in Nebraska. Nebraska offers various permits and licenses for youth hunters. The state also organizes Pheasants Forever and Quail Forever Mentored Hunts for youth. These are available to hunters age 11-15. The state also offers a Mentored Youth Archery Program. This is available to Bowhunter Education graduates age 12-17.
Trapping
---
Badger, beaver, bobcat, mink, muskrat, opossum, raccoon, red fox, gray fox, striped skunk and long-tailed weasels may all be legally trapped in Nebraska. A trapping education is recommended but not legally required to obtain a trapping license.
Hunting Seasons
Game
Season Begins
Season Ends
Deer*
Sep 1 2022
Dec 31 2022
Antelope*
Aug 20 2022
Jan 31 2023
Elk*
Aug 1 2022
Jan 31 2023
Bighorn Sheep
Nov 29 2022
Dec 22 2022
Turkey*
Mar 25 2023
May 31 2023
Sep 15 2022
Jan 31 2023
Mountain Lion*
Jan 2 2023
Feb 28 2023
Pheasant, quail, and partridge
Oct 29 2022
Jan 31 2023
(YOUTH) Pheasant, quail, and partridge
Oct 22 2022
Oct 23 2022
Prairie Grouse*
Sep 1 2022
Jan 31 2023
Mourning, white-winged, and Eurasian collared-doves (in aggregate)
Sep 1 2022
Oct 30 2022
Eurasian collared-dove (only)
year round
Snipe
Sep 1 2022
Dec 16 2022
Virginia and sora rail
Sep 1 2022
Nov 9 2022
Woodcock
Oct 8 2022
Nov 21 2022
Crow
Oct 15 2022
Dec 15 2022
Jan 13 2023
Mar 14 2023
Squirrel
Aug 1 2022
Jan 31 2023
Cottontail
Sep 1 2022
Feb 28 2023
Jackrabbit
Sep 1 2022
Feb 28 2023
Dark goose*
Oct 1 2022
Feb 9 2023
White-fronted goose*
Oct 1 2022
Feb 9 2023
Light Goose*
Oct 1 2022
Feb 9 2023
Early teal*
Sep 3 2022
Sep 18 2022
Duck and coot*
Oct 15 2022
Jan 25 2023
*Hunting dates for this species may vary by zone, method of take, or subspecies of animal. Visit the state's website here to find out more.
Disclaimer: The information provided here is not to be construed as legal advice or acted upon as if it is legal advice: it is provided for informational purposes only. While we strive to provide accurate, up-to-date content, we cannot guarantee the accuracy, completeness, or currency of the information.