Skip to content
How to Choose the Perfect Wading Boots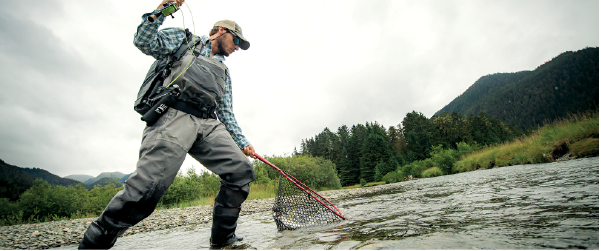 Battling the current while fishing can be a difficult task. That's where a high-quality pair of wading boots can be very helpful. Robust, well-made wading boots will keep you firmly planted in place and can make all the difference when it's time to reel in that trophy fish. Similar to hiking boots, wading boots are intended to provide the wearer with support, comfort, and traction. Wading boots are sometimes worn with a pair of stockingfoot waders to keep you dry, or they may be your only piece of footwear.
Features
---
Like most fishing equipment that you can buy, wading boots have a variety of features and qualities that are optimized for different water conditions. Some things you should take into consideration for your wading boots are the sole, style, fit, and material. By looking at each of these aspects, you can find the perfect boots for your next trip.
Soles
One of the most important parts of a good wading boot is the sole. The sole should provide excellent balance and traction while you trek through rivers, streams, and creeks. There are essentially three different varieties of wading boot soles available to fishermen today: rubber, felt, and cleated.
Rubber Soles
If you anticipate yourself taking long hikes to get to your fishing spot, rubber soles are a great option. They are built similarly to hiking boots, with fantastic durability and sturdiness. You may even hear rubber-soled wading boots referred to as 'hiking-soled' wading boots. Not only do rubber soles provide excellent traction in muddy rivers, but they are very easy to clean.
Felt Soles
Although it may seem unlikely that a cloth-soled boot would be able to handle wet conditions, felt-soled boots excel in the water. These types of soles provide great traction over slimy rocks, moss, and debris. They are not as durable as rubber soles, but felt-soled boots really do excel in the water.
However, some states have outlawed the use of felt-soled boots. Felt-soles don't dry as quickly as rubber soles, so they are liable to carry bacteria and invasive species from one fishing location to the next. Be sure to review your local fish and wildlife regulations before buying felt- soled boots.
Cleated Soles
For particularly treacherous conditions, many anglers use cleated (or studded) wading boots. These offer very efficient traction in rough waters. Cleated boots provide a secure grip over dead leaves and mossy patches. However, if you often wade through mud, cleated boots are going to be very difficult to clean. For a versatile cleated solution, you can buy a pair of wading cleats that slide over rubber or felt-soled wading boots.
Superior Support
---
Rolling currents and floating debris can be treacherous, so it's important that your wading boots provide support for your ankle and foot. Make sure the wading boots you choose have a sturdy heel and additional padding around the collar of the boot. This can help mitigate the risk of rolling your ankle in the water. Toe and heel caps can also protect your feet from loose rocks underwater.
Your heel should not be lifting inside your boot with each step -- this can increase the chances of injury or slippage. To avoid this, keep your boots laced very tightly. A wide tongue can also help support your foot. If the tongue is sewn into the side of the boot itself, this can help keep debris and dirt from entering the boot.
Style and Material
---
Wading boots are available in many different styles, designed for the conditions they will likely encounter. Rocky rivers are the most likely terrain that fishermen will encounter, so hiking-style boots are the most popular option. In some extreme conditions, a rugged work-boot style will be more desirable. Lastly, there are sneaker-style wading boots. These are best for shallow, relatively calm waters but are typically the most comfortable option for wading boots. No matter what style of wading boot you think is best, be sure that the materials and construction can withstand your fishing conditions. Keep in mind that wading boots are not meant to be waterproof. They should allow water to freely pass through the structure. Underneath your wading boots, you can wear stockingfoot waders that keep your socks dry. Many wading boots feature synthetic or microfiber construction. This allows you to move downstream without absorbing water weight into your boots. Many models even have drainage holes which let water easily flow through and around your feet as you wade. You might also find some high-end wading boots that are coated with a Durable Water Repellant. This will help your boots block water absorption.
Wader Boot Sizing
---
Sizing for wading boots is going to be different than everyday footwear. We suggest going one size larger than normal in your wading boots to properly accommodate the neoprene stockingfoot waders. If you anticipate wearing wool socks in the colder months, you may even want to go 1 ½ sizes up.
It can be difficult to accurately size wading boots. Some manufacturers have taken the need for the extra room into consideration, while others have not. Most wading boot manufacturers will feature a size guide on their website. It's a good idea to consult a size guide before making your purchase. The most important thing is that your wading boots will securely hold your foot in place and provide plenty of support.
Buying the proper wading boots is an important part of gearing up for this fishing season. Be sure that your wading boots provide the proper support, durability, and comfort for your specific needs. By using our tips and advice, you can make sure you find the perfect pair of boots this fishing season!