Skip to content
Skip to navigation menu
Types of Home Grills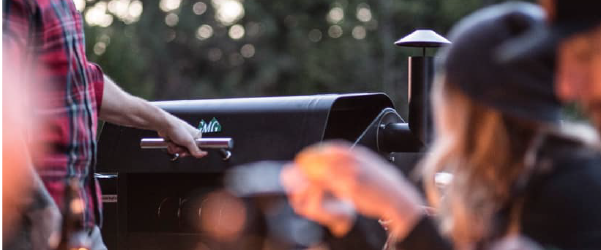 When grilling season comes around, the most popular conversation to have is usually some version of 'gas versus electric'. Gas and electric are the most popular options for home grills, but there are several other types of grills that have become accessible in recent years. So, which one do you choose? We're going to go through the most popular options for home grills, their pros and cons, and what you can expect from each.
Charcoal
---
Charcoal grills are the classic option for many reasons. They are easy to use, relatively inexpensive, and they create a wonderful smokey flavor that can be hard to replicate. Although they are slower to heat up than gas or electric grills, they typically get a lot hotter. There are no simple temperature knobs, though, so charcoal grills can require some finesse on the part of the user.
Charcoal grills are also messier than other home grill options -- as your coal turns to ash, the grill will need to be cleaned after each use. However, cooking with coal is going to give your food a signature flavor not achieved from many other grills.
Pros:
Unmistakeable smokey flavor
Relatively cheap
Somewhat portable
Cons:
Harder to achieve a precise temperature
Slower to heat up
More time to clean
Gas
---
Gas grills are the most common backyard grill option. They start fast, heat right up, and are very easy to operate. If you can cook on a stove, you can cook on a gas grill. Although you will miss out on the smokey flavor you get from charcoal, gas grills provide exceptional convenience and ease of use. They also come in a wide variety of sizes, so you can easily find a gas grill to fit the needs of you and your family.
Gas grills are the most expensive option, and are typically seen as long-term investments. If properly cared for, a gas grill can last essentially your entire lifetime. Because most gas grills run on propane, you need to regularly refill and replace your gas tanks.
Pros:
Easy to use and clean
Heats up quickly
Long-lasting
Cons:
Expensive
Constant refilling of propane
No smokey flavor
Pellet
---
Pellet grills are a relatively recent addition to the grill market but have become very popular in a short time. They are as easy to use as electric grills, and provide the rich smokey flavor usually only found with charcoal. You simply set your desired temperature and the electric-powered grill adds small wood pellets as needed to maintain the heat. These pellets come in a huge variety of wood flavors, which is an added bonus for smoking and grilling enthusiasts.
Pros:
Easy to use
Smokey flavor
Cons:
Can be very expensive
Must be plugged in to an outlet
Outdoor Electric
---
Outdoor electric grills are useful for people who live in apartments or condos where charcoal grilling may be prohibited. They also provide a lot of functionality in a relatively small form factor.
With an outdoor electric grill, you won't need to worry about cleaning up ash or running out of propane. This makes for an incredibly convenient style of outdoor cooking -- just plug it in and start cooking! These grills are usually very compact and can fit fairly comfortably on a balcony or small patio.
Pros:
Compact
Clean
Easy to use
Cons:
Expensive
No smokey flavor
Indoor Grills
---
Indoor grills are great for city-dwelling home cooks without access to a backyard or balcony. These are small, countertop appliances that provide grilling capability without producing large amounts of smoke. Indoor grills come in three basic varieties: grill pans, open grills, and griddles. Any of these will be very inexpensive, but most users find they don't provide the full 'grilling experience'.
Indoor electric grills are also quite small, making them unsuitable for entertaining large groups of people. However, for home cooks who just want to occasionally enjoy a grilled steak or burger, and indoor electric grill can be a good option.
Pros:
Easy to clean
Quick to heat up
Convenient
Cons:
No smokey flavor
Small cooking surface
Portable Grills
---
If you like to go camping or grill away from home, portable grills could be the perfect solution for you. They are designed to be both convenient and road-trip friendly, so you can easily use your grill while tailgating, camping, or picnicking. They also run on smaller, 16-oz propane tanks that are very easy to carry around.
However, portable grills can be expensive if you aren't getting regular use out of them. Like traditional gas grills, they also require a propane tank that will need regular refilling.
Pros:
Cons:
Needs propane refills
Smaller cooking surface
Smokers
---
Although not quite grills, nothing creates flavor quite like a smoker. Smokers cook food at very low temperatures for a very long time -- think of them like the grilling version of a slow cooker. Although once only used by restaurants and avid barbecue enthusiasts, at-home smokers are increasingly available for the casual home cook. Smokers can grill very large cuts of meat, making them perfect for entertaining large parties and groups of people.
Although smokers offer great, unique flavor, there is a learning curve. It will take some time to properly master a smoker, but you may find the learning process to be very enjoyable.
Pros:
Large cooking area
Robust smokey flavor
Cons:
Very long cook times
Somewhat expensive