Skip to content
Skip to navigation menu
RPM Bowfishing Bullet Tip 2 Pack
ID
1323096
by RPM Bowfishing
$4.99
RPM Bowfishing Bullet Tip 2 Pack -Unlike conventional chisel point tips, RPM's conical bullet tips provide incredible penetration, while virtually eliminating the planing issues common with flat-sided tips. RPM's bullet tips are interchangeable with any of today's popular bowfishing bodies.
1323096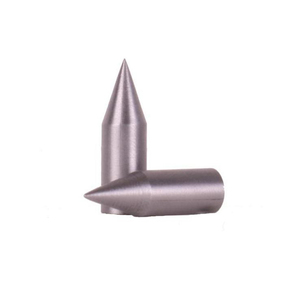 RPM Bowfishing Bullet Tip 2 Pack
by RPM Bowfishing

Overview
Overview
RPM Bowfishing Bullet Tip 2 Pack -Every point in the APS sports a hardened conical "bullet" tip. Bullet/conical tips eliminate the planing that sometimes occurs with traditional chisel style tips, and No Plane means Better Accuracy. Rocks? Not a problem for these tips. Each APS point features either a single or double (dual) friction ring designed to both secure the tip and body to the ferrule, as well as to prevent spin-offs when targeting larger fish.
Conical tips provide unparalleled penetratio
Virtually eliminates planing issues
Hardened to resist corrosion and deformation
Interchangeable with most popular bowfishing bodies