Skip to content
Skip to navigation menu
Clam Bigtooth Rig
ID
p33362
$5.99
Clam Bigtooth Rig -Highest Quality Components - Blood Red 3X Strong Trebles, Dependable Hand Crimped Construction, Attractor Beads & Blades.
p33362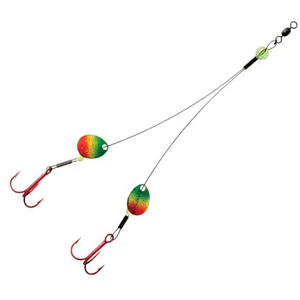 Overview
Overview
Clam Bigtooth Rig -Signature rig that launched the company. BigTooth's Y-yoke design makes it easy to rig even large suckers (or other minnows) in a perfect horizontal swimming position, so they can move freely and react to approaching monsters.You know what comes next. Look away if you have to.
7in Y-yoke wire
Original quick-strick rig for large predators
Presents bait in a natural position
Solid hook-ups
Highest quality components
Heavy-duty 45lb low-vis surflon coated stainless steel wire
Specifications
Specifications
Please choose a variant above.