Skip to content
Skip to navigation menu
JB Lures Hot-Flash Spinner Rig 930 Series
ID
p31495
by JB Lures
$1.79
JB Lures Hot-Flash Spinner Rig 930 Series -This series uses an all-new #4 Red Premium hook; this hook is very sharp and has excellent plating.
p31495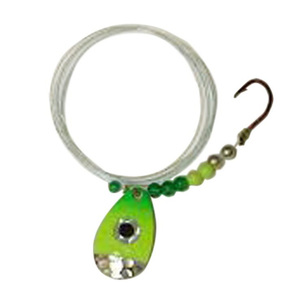 JB Lures Hot-Flash Spinner Rig 930 Series
by JB Lures

Overview
Overview
JB Lures Hot-Flash Spinner Rig 930 Series -The "Hot-Flash" blade has a unique "swimming minnow look". To create this blade we started with a hammered blade and by not painting the bottom 1/3, a hammered nickel or gold effect is still maintained on the "front" of the blade which also created a swimming "tail" effect . Then we added a very attractive two-toned look to the front of the blade. The darker colors are at the "top" of the blade while a prism "eye" is applied so that a "head" of the minnow is created. Finally a coat of glitter is applied to simulate the scales. We then cover the entire blade with a coat of epoxy to enhance the colors and protect the finish. When you see the blade in the water you will agree that it looks uniquely like a "swimming minnow". The #930 Series uses a #3 Indiana Blade and like all the "Hot-Flash" Spinner Rig, uses 42" Team-Fish Camo 12# Test.
Unique swimming look
#3 Indiana blade
42in Team-Fish Camo 12lb test
Specifications
Specifications
Please choose a variant above.