Skip to content
Braided Fishing Line
(73)
---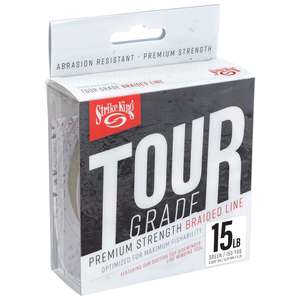 ---
---
---
The two main uses for braided fishing line are in topwater applications since it floats, and in settings where more line is beneficial. The lower diameter per strength measured in pounds of resistance makes braided line a great choice in filling baitcast reels. The longer line available on the spool with braid allows greater drag distances when tiring out larger fish.
Bass anglers prefer braided line since it floats for longer periods than monofilament or fluorocarbon line. Using braided line with topwater plugs, buzzbaits, and poppers when fishing for aggressive largemouth bass who are definitely not lining shy, is a great use for braid.
Longer retrieves for salmon, Northern Pike, and muskie with fluorocarbon or wire leaders allows you to use the drag on your reel to tire out these hard fighting fish.
Benefits
Highest strength to diameter
High abrasion resistance
More buoyant
Uses
Surface bass fishing
Fishing sharp rocks / submerged objects
Any baitcasting application