Skip to content
Skip to navigation menu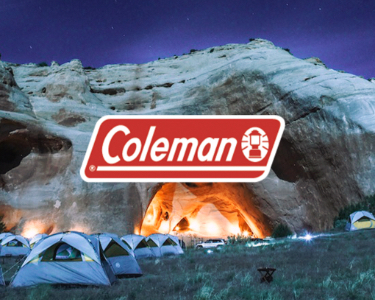 THE OUTSIDE IS CALLING
There's an adventure outside—and it's waiting for you. The best part? You don't need to go too far to find it. From your first camping trip to summer weekends at the lake, Coleman® has always been there. So, grab your friends, your family, your gear and get ready for wherever adventure takes you.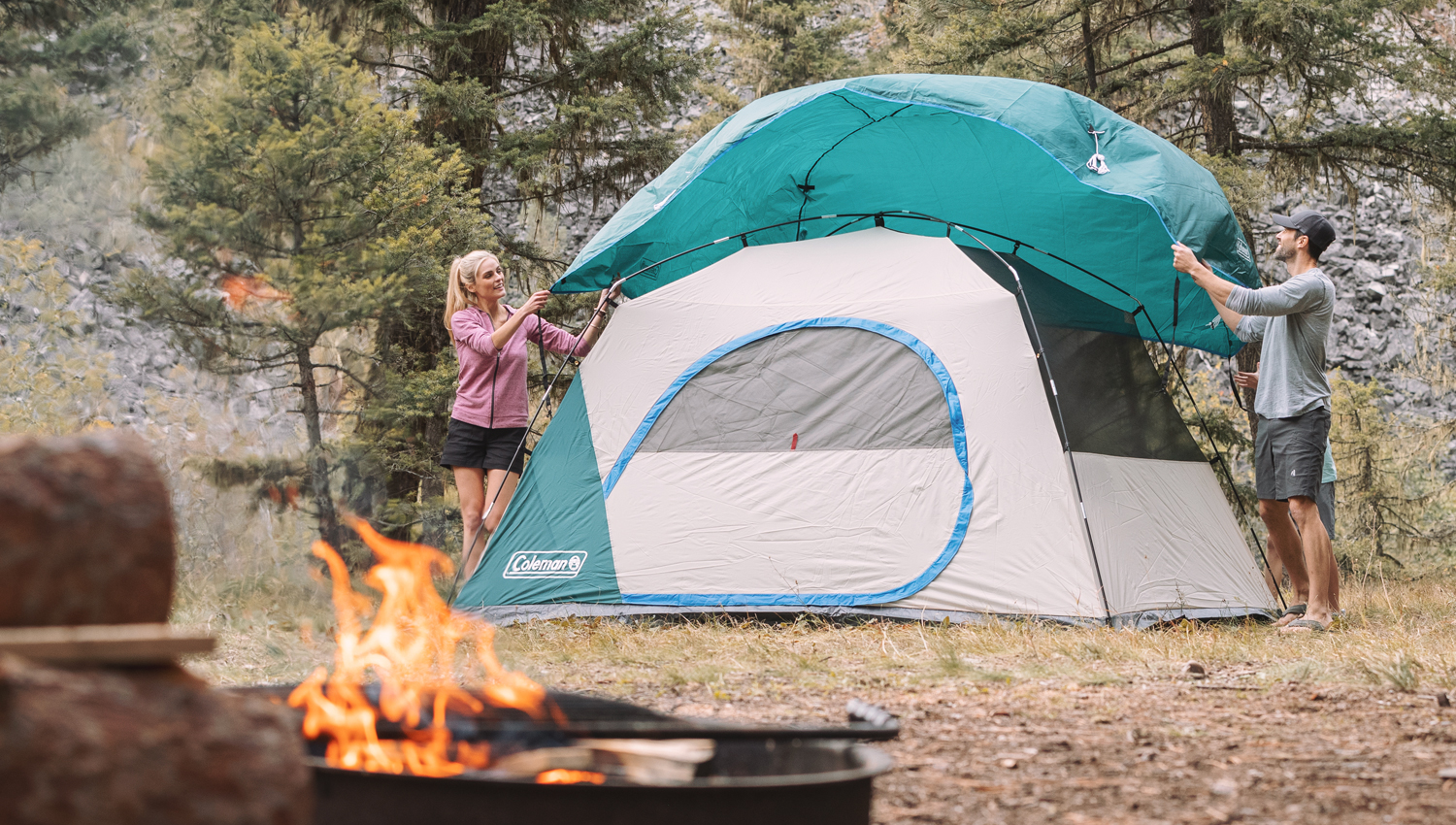 COLEMAN® ONESOURCE™
Keep the fun going from sunrise to sunset with one interchangeable battery system that can be used in multiple ways, so you stay connected in the great outdoors. The lithium-ion rechargeable battery works with all the Coleman® OneSource™ products seamlessly so you don't worry about powering up. Going camping? Try the dome tents with an internal airflow system and LED lights. Turn up the volume on your favorite playlist with the Bluetooth® wireless speaker or light up your night while sitting underneath the canopy shelter with LED lighting.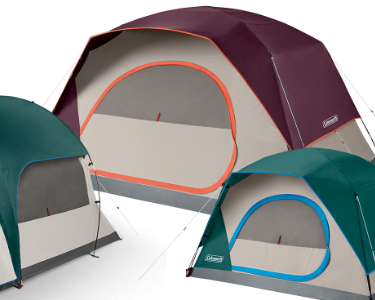 SKYDOME™, DARK ROOM™ & CABIN TENTS
Camping out this summer? We'll help you find the perfect tent for you and your crew. Our Skydome™ tents are quick to set up, offer 20% more headroom, and feature a WeatherTec™ system with welded corners and inverted seams to keep you and your gear dry. Sleep in a little longer with one of our Dark Room™ tents that block 90% of sunlight which also reduces heat inside the tent. For campers that need more headroom or just like more space to stretch out, our cabin-style tents feature spacious designs including vertical walls, oversized windows, and room dividers.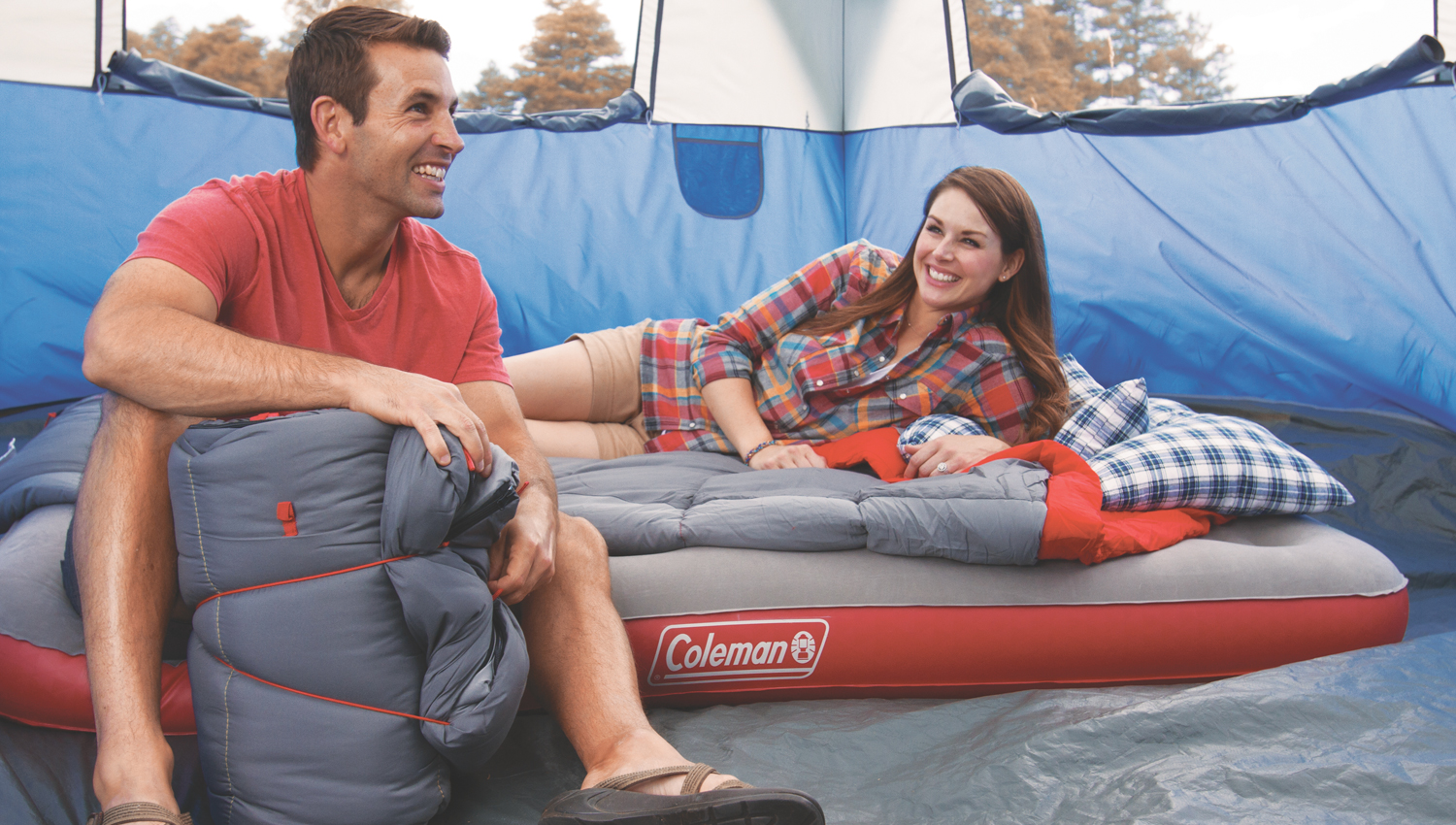 AIRBEDS
No need to sacrifice comfort while camping. Our airbeds offer a good night's sleep wherever you are. The queen- and double-sized mattresses feature a built-in pump, customized firmness, and are high off the ground. For kids or adult campers that don't need a lot of space, the twin-sized mattresses are just as comfortable and the perfect fit. Elevate your camping experience with the Aerobed® with USB charger, built-in pump, and pillow top mattress.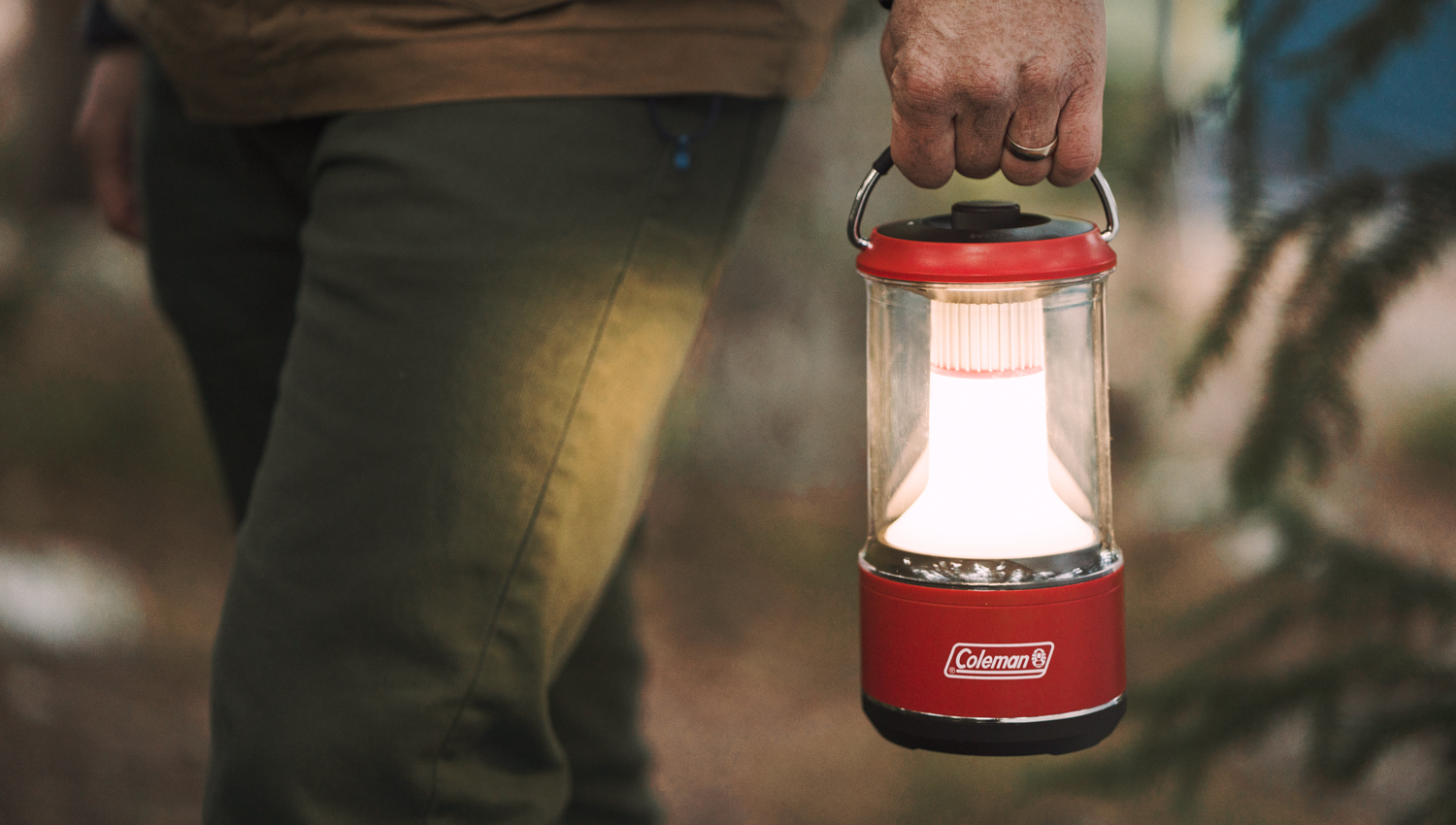 BATTERYGUARD™ LANTERNS & FLASHLIGHTS
Light up the night and make new outdoor memories with our BatteryGuard™ lanterns and flashlights. BatteryGuard™ batteries are automatically disengaged from the circuit when the lantern is turned off to extend their life by as much as 25%. It also reduces the chance of damaging corrosion so batteries can be stored in the device for years. The comfort-grip design helps keep the lamp in your hand. If it does slip out, the strong, lightweight aluminum design and rubber-edged bezel are both water resistant and impact resistant up to two meters.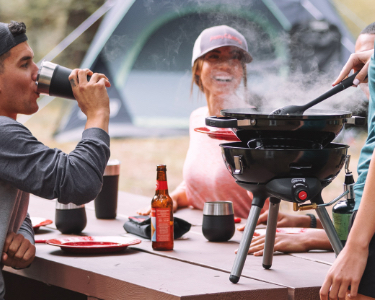 STOVES & GRILLS
Enjoy easy outdoor cooking with a variety of portable stoves and grills. Going camping? Our classic two-burner propane stoves feature side panels that block the wind and a foldable design that packs up easily. No table? No problem. Several of our camp stoves include telescoping legs that help you adjust the stove height so you can cook comfortably. If you're planning a BBQ in your backyard or local park, try one of our portable grills with foldable designs and features that allow for hassle-free setup and takedown. Push the Instastart™ ignition button for matchless lighting, then select your heat with temperature control of the
WHERE WE STARTED
It all began when we created the first portable, gas-powered lantern that illuminated the first evening football game west of the Mississippi. In WWII, our camping stoves transformed the way soldiers ate in the field. We continued to revolutionize the outdoors with our cooler manufacturing in the 1950s, and in the decades that followed we added tents, sleeping bags, lighting, and more.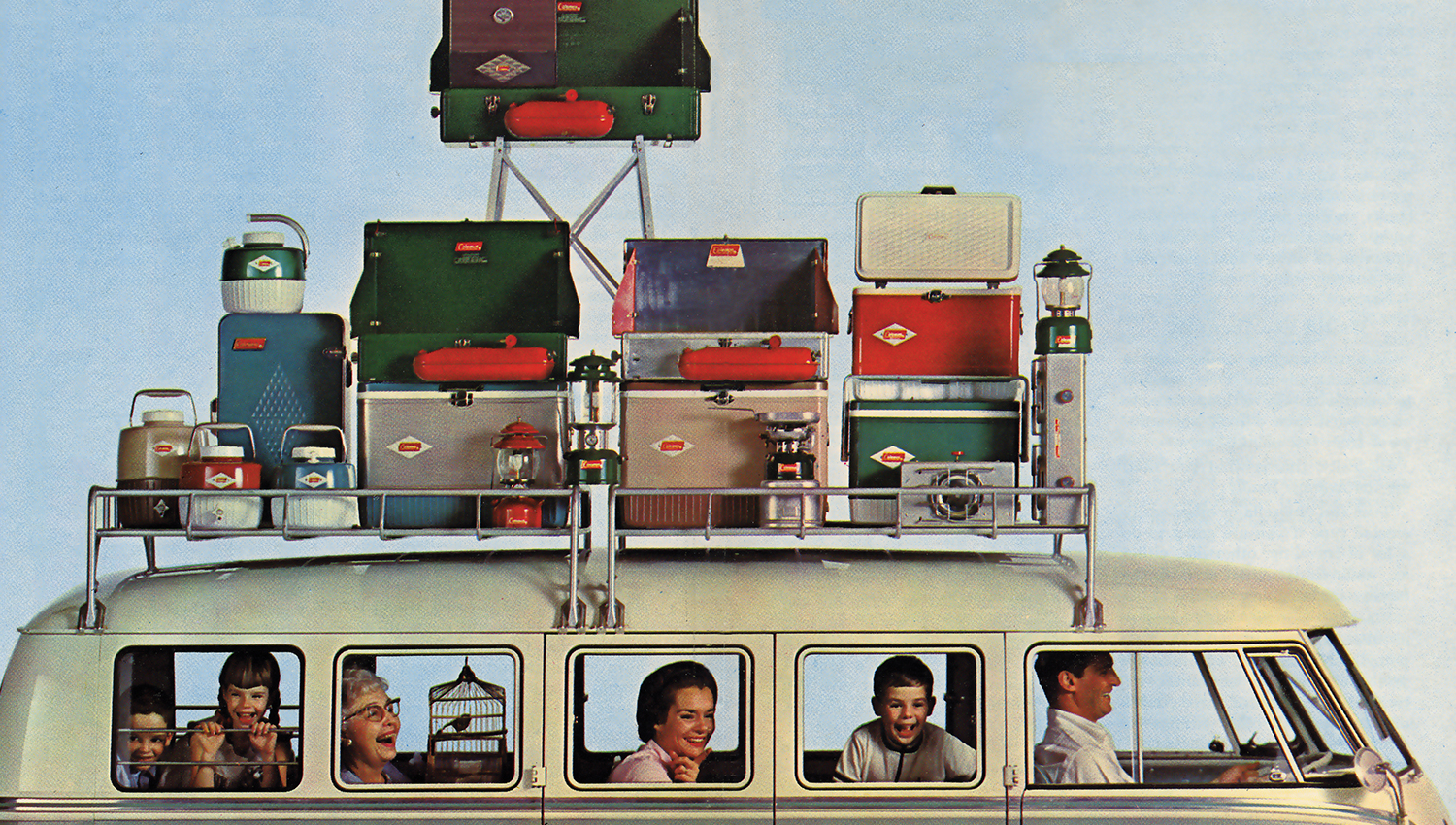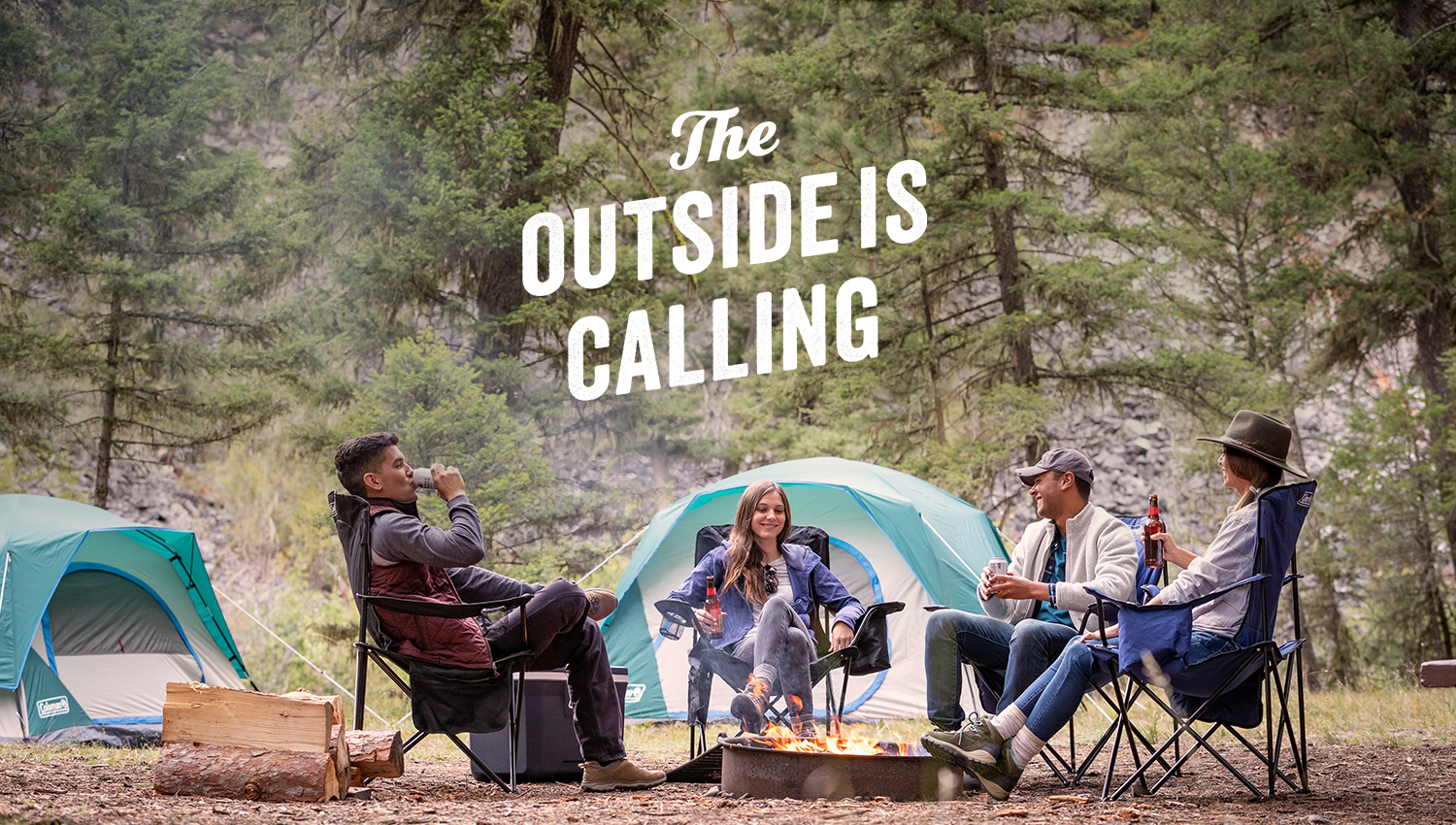 WHERE WE ARE TODAY
After 120 years, Coleman® gear is everywhere you are: on the trail, by the lake, at the campsite, or in your own backyard. We're always around a place where there are friends, coolers, and campfires. So, grab a tent, fire up a grill, and pull up a chair. The Outside Is Calling. Answer it.