Skip to content
Skip to navigation menu
Coleman ATV Nonslip Thumb Assist Control
ID
1304942
by Coleman
$21.99
Coleman ATV Nonslip Thumb Assist Control- This thumb control will give you better leverage which results in increased throttle control and reduces thumb fatigue.
1304942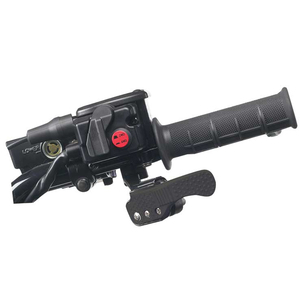 Coleman ATV Nonslip Thumb Assist Control
by Coleman

Overview
Overview
Coleman ATV Nonslip Thumb Assist Control- Give your thumb a break on those long rides, and install a Coleman ATV Non-Slip Thumb Assist Control Pro Adjustable attachment. With better leverage, you'll be able to throttle with slip-resistant security using your palm instead of your thumb. The ergonomic shape even offers up several thumb positions. It's easy to install on just about any ATV. It's tough too. Durable nylon construction and stainless steel hardware will have you riding in more comfort season after season.
No more tired or sore thumbs on long rides
Added non-slip material for a more secure throttle hold
More leverage to throttle with your palm
Comfortable, ergonomic shape for several thumb positions
Easy-to-install mounting system
Fits most ATVs (does not fit oversized throttle levers)
Durable construction, stainless steel hardware and tough nylon attachment
1-year limited warranty
Made in U.S.A.