Skip to content
Skip to navigation menu
Falcon Guides Rockhounding Utah
ID
1196260
by Falcon Guide
$12.95
Falcon Guides Rockhounding Utah - Author William A. Kappele shows you the grandeur of Utah's exposed formations, its canyon walls etched with fossils, and the spires and arches of the Needles District in Canyonlands National Park.
1196260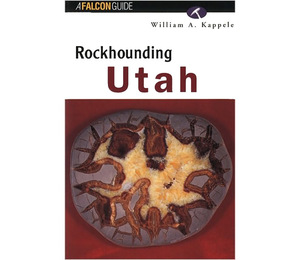 Falcon Guides Rockhounding Utah
by Falcon Guide

Overview
Overview
Falcon Guides Rockhounding Utah - Each description includes concise information on the material to be found there, the tools to bring, the best season to visit, the vehicle to drive, or when a remote find suggests it's time to lace up the hiking boots. Readers will glean new insights into the obsidian of the Black Rock sites, jasper at Hell's Backbone, petrified wood at Bullfrog Turnoff, and fossils of sea lillies along the Wasatch Range. May your journeys be fruitful and your bag be heavy on the way home. Somewhere in that bag among your rocks, we hope you haven't forgotten your copy of Rockhounding Utah.
Pages: 192
Paperback
Author: William A. Kappele
Publish date: 06/01/1996