Skip to content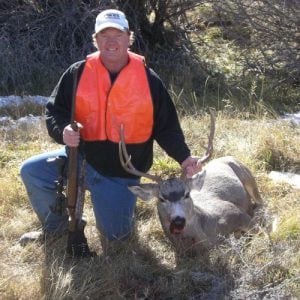 Randy's hunting career began with his dad, grandfather, and great uncle chasing quail in eastern Arkansas in 1965 at the early age of eight years old. After racoon hunting with his blue tick and redbone hounds later that year he was hooked. Since that day long ago, Randy has become an avid fisherman, bird hunter, and taken dozens of antelope and mule deer bucks. Most of his hunting and fishing has taken place in Wyoming, where he's lived since 1971. Deer, sage grouse, pheasants, and rabbits were a staple of Randy's diet as a college kid, and he continues to hunt them today.
---
Highlights
Experienced fisherman and hunter
---
Experience
Randy lives in the great outdoors on a farm outside of Riverton, Wyoming within a few minutes of the best walleye, perch, largemouth bass, and trout fishing in Wyoming, arguably the best in the world. He has frequent encounters with fox, raccoons, deer, and geese when feeding in the early morning. And while waterfowl migration isn't what it was when he was a kid, Randy still takes Canada geese, mallards, redheads, and blue wing teal regularly in the late fall and winter.
---
Recent Work