Skip to content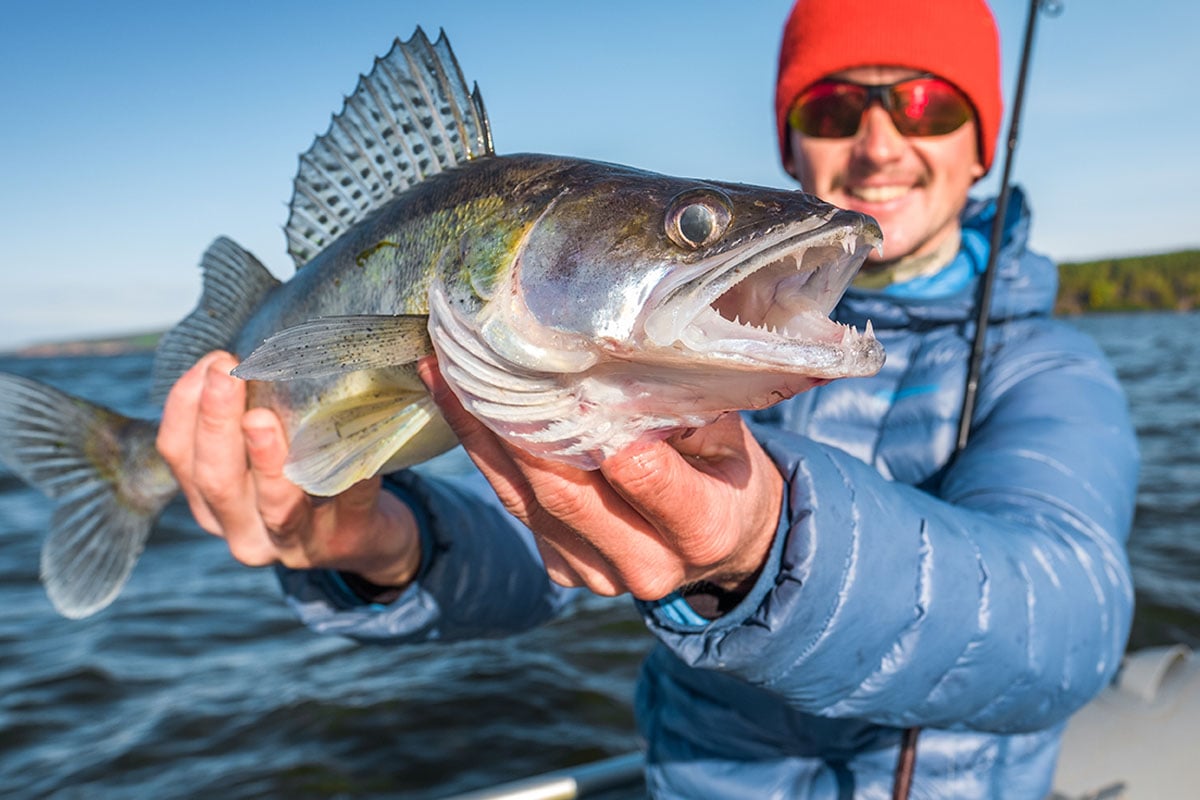 Walleye are apex predators. They'll eat anything brave (or foolish) enough to swim near them, and they can be caught all year long. Finding the best lures and jigs to entice these popular fish doesn't have to be a challenge, but it borders on science: a science edged with just the hint of a cult, for many anglers.
They don't fight like bass, tail dance like rainbow trout, or hug the bottom like catfish, but they taste better than all three of those popular sportfish. You'll find walleye on the menu at restaurants from the Great Lakes to the Rocky Mountains, and that's why it is such a popular fish. It simply tastes better than any other freshwater species.
Walleye Feeding Habits
The magic of walleye fishing is that it can be done all 12 months of the year in a wide variety of settings. This array of habitats offers the angler the chance to catch them from shore when they come into the shallower sections of a lake after baitfish. They can be caught trolling at low speed with a boat in specific temperature bands in lake water on lures, and bait harness rigging, or they can be caught in rivers where trout may be the dominant species.
One of the best times and ways to catch them is during the winter, through the ice. Unlike other species that enter torpor or semi-hibernation during the winter, walleye will continue to feed when it's well below zero above the ice.
They'll eat minnows, shiners, smaller species, and even themselves. Walleye are a well-known cannibalistic species but don't be squeamish, that just means they'll feed on anything that swims, which means more varieties of bait you can use to attract them.
Best Walleye Bait
Let's break them down right away, there are thousands of styles of bait for walleye. The popularity of the fish has spawned (yes, pun intended) a bewildering variety of things to tie on the end of your line to catch walleye.
There are many different baits you can offer walleye, but we're going to review just five styles that have proven effective in getting the attention of and hooking walleye.
Five Best Baits For Walleye
Jigs
Glide bait
Crankbait
Jerkbait
Live harness
1.

Walleye Jigs

A jig mimics a live minnow when properly retrieved with a slight jerking of the bait that simulates the darting movement of a small baitfish. Color on the jig head is important in certain water and light conditions, but not the biggest success factor.

A jig head can be the original lead color, painted black, or in a range of colors. The best jig heads are powder coated rather than just painted. When attached to a gray and black Gulp minnow, or a more realistically colored pattern that mimics fingerling trout or perch, this is a great innovation in walleye fishing.

Since walleye have a soft bite, a light to medium light rod used with jigs is the best option. You'll be able to feel the strikes easier.
Top 3 Jigs
Simple, easy to use, and effective, are the attributes of the Aerojig Jig Head. There's nothing fancy here, just a simple design available in sizes from 1/16th to 1/4 ounce and in several dozen unique color patterns.
This is a great jig, at a great price for walleye anglers. One of the biggest problems with cheaply made jigs is that they're dipped in paint for color varieties. The color is fine, but the eye is often filled with paint. The solution is to use another jig and scrap out the eye with its hook. Easy enough unless you're hands are cold, the wind is blowing, it's getting dark, or you just don't relish hooking yourself in the process. The Aerojig is powder coated, meaning the paint is electrostatically applied, then baked on for a permanent finish, making it more durable in the process.
Don't let the name fool you, this is a walleye jig, it just resembles a shad in the water. These are smaller jigs, in the 1/32nd ounce range. If you think you have to use big lures to catch big fish, well, think again. Matching the baitfish that walleye are feeding on is why jigs come in many sizes, colors, and shapes. The size of the baitfish is perhaps the most important aspect. If your lure is five times the size of the minnow's walleye have been feeding on, they'll look out of place and won't generate the action you're looking for.
This one looks a little different, with an almost cartoonish design. But that design isn't meant to fool us - it's designed to fool walleye, and the head works great for that. This is a more streamlined design, with a curved head, and an extended smooth barb that holds the rubber minnow in place. Available in three popular colors and offered in a middle-of-the-road 3/8-ounce size, this is a slightly different jig you should keep in your tackle box if your traditional jigs aren't getting noticed.
2.

Walleye Glide Bait

Glide baits were originally introduced for largemouth bass, but anglers quickly discovered they work great for walleye as well. Why not? Glide baits are jointed swimbaits designed to "swim" in the water with a more natural motion than other types of lures can offer. When retrieved slowly, these baits move in an S-pattern. This movement style often has them referred to as swim baits, but no matter the name, glide baits work well in mid-level and deeper water for walleye. They are also among the most expensive bait you can purchase.
Top 3 Glide Baits
Walleye often feed on bluegill, and you won't find a lure that more closely resembles swimming bluegill than this one. Designed to be used at various depths, this is a large, versatile, articulated glide bait. At 3 1/8 ounces and 7 ½ inches long, this is likely one of the larger lures you'll ever toss after walleye. It works well casting from shore and the variable depth makes it a good choice for trolling.
Whatever they're hitting on, you'll most likely be able to match with the wide variety of color patterns and styles this lure comes in. Offered in 18 different patterns, this lure can resemble a wide variety of perch, smallmouth bass, immature walleye, suckers, or simply colored in solid white, or solid black. The standard 6-inch length and 3-ounce weight make it easy to cast or troll. Variety is the key with this lure.
This lure is designed to sink at a slow rate of a foot for every two to three seconds, making it an excellent choice for fast water and deep lakes. Available in a wide variety of patterns including perch, trout, shad, and pike, you'll find one that matches the baitfish in the water you're working. Lighter and longer than competing models, the artwork on this design is excellent. A replaceable tail keeps this lure viable no matter how many strikes it's taken.
3.

Walleye Crankbait

These lures create a wobbling action and with the correct bill can work water from near the surface to extreme depths. Crankbaits were originally introduced for largemouth bass fishing, but anglers quickly discovered they're an excellent walleye lure as well. The bill is the secret: the longer the bill, the deeper the lure will dive on retrieves. Some include rattling action that creates sonic vibrations in the water.

You can think of these as a "triple threat" style lure when walleye fishing. They work at the desired depth to match where walleye are feeding, wobble, catch the light as they are reeled in, and produce rattling noise that attracts fish.
Top 3 Crankbaits
With colors called Frankenstein, Jolly Rancher, Electric Lady, and Firetiger among many others, you might get the impression that this is a gimmick lure, but it's not. The Shaky shad comes in a rainbow of colors at a very reasonable price, and that is the power of this crankbait. You'll find a version visible in almost any water condition.
Available in alewife, shad, perch, and chrome blue, this lure is designed exclusively for walleye. Its eye-catching pattern and set the depth of 10 feet on retrieve are both excellent features for most walleye fishing conditions. Adept from shore or while trolling this lure dives deep and attracts attention with a simple retrieve.
4.

Walleye Jerkbait

Perhaps the most confusing lures are jerkbaits and crankbaits. Novices often mistakenly assume they are the same. While they might appear similar, they are different. Jerkbaits are designed to work in shallow water, at depths of six feet or less. They are slimmer profile lures, and often have more treble hooks than a crankbait. Both were originally designed for bass and some trout, but both work well for walleye, with the jerkbait a great alternative in shallow water.
Top 3 Jerkbaits
Don't let the name confuse you: they may call it a trout lure, but in my experience on western rivers where walleye and trout cohabit, they'll both hit this style of lure. The HD Trout is a hard-bodied lure designed to work at shallow depths in rivers, and from shore on lakes of all sizes. This lure comes in many varieties but the most common design mimics various species of trout in color and pattern.
A hard-bodied jerkbait patterned in a variety of trout species, along with perch and solid colors, this lure lives up to its name "countdown." It will consistently drop 12 inches per second, so those walleye hovering at 15 feet below the boat are fair game when counting 15 seconds before flipping the bail and going into action. They cast well and are a good choice when you know the depth of offshore structure.
You probably saw this lure in your grandfather's tackle box a long time ago. The flatfish is one of the tried and true lures that anglers look to for walleye and bass. It's been effective for over half a century and continues to be an excellent lure. It is manufactured in dozens of patterns from bleeding frog to the traditional yellow and red salamander pattern.
5.

Live Harness

Sometimes the brightest, most clever patterned lure just doesn't get much attention. Walleye are predators. In addition to being attracted to sound and motion in the water, they hunt by scent as well. A live harness can generate attention when nothing else will. Just hook a nightcrawler or minnow on the trailing hooks behind the spinner and get the double-action of live bait with the attractiveness of a spinner catching the light and generating sound.
Top 3 Live Harness
This harness features 10 different spinner blade color combinations in three different sizes. The pair of trailing hooks are spaced to stretch out a nightcrawler or you can add a pair of lip-hooked minnows to create the sensation of a school of baitfish swimming together.
What do you get if you take a lead jig, place a spinner behind it, with a treble hook just behind the spinner, and finish the lure off with a large single hook? You get a Death Jig by Walleye Nations. It looks a little different to us, but we're not the ones attacking it. This combination, when hooked with a live minnow on the trailing single hook is a deadly walleye lure. It will work in both lakes and rivers when nothing else is generating a strike.
The longest lure in our entire review at an overall length of five feet, this is designed for a pair of tandem hooked nightcrawlers. The spinner is made of hammered brass to generate sonic vibrations, and the color combinations reflect light effectively even in dimly lit conditions. The fluorocarbon line is invisible in the water, creating an image of a baitfish swimming along with nightcrawlers floating along behind.
Conclusion
When it comes to walleye fishing, variety is often your best friend. Walleye are soft biters and require delicate sensation on the angler's part to feel strikes. These lures listed here will get those hits in a wide variety of settings, but it's up to you to feel the strike and then set the hook.