Skip to content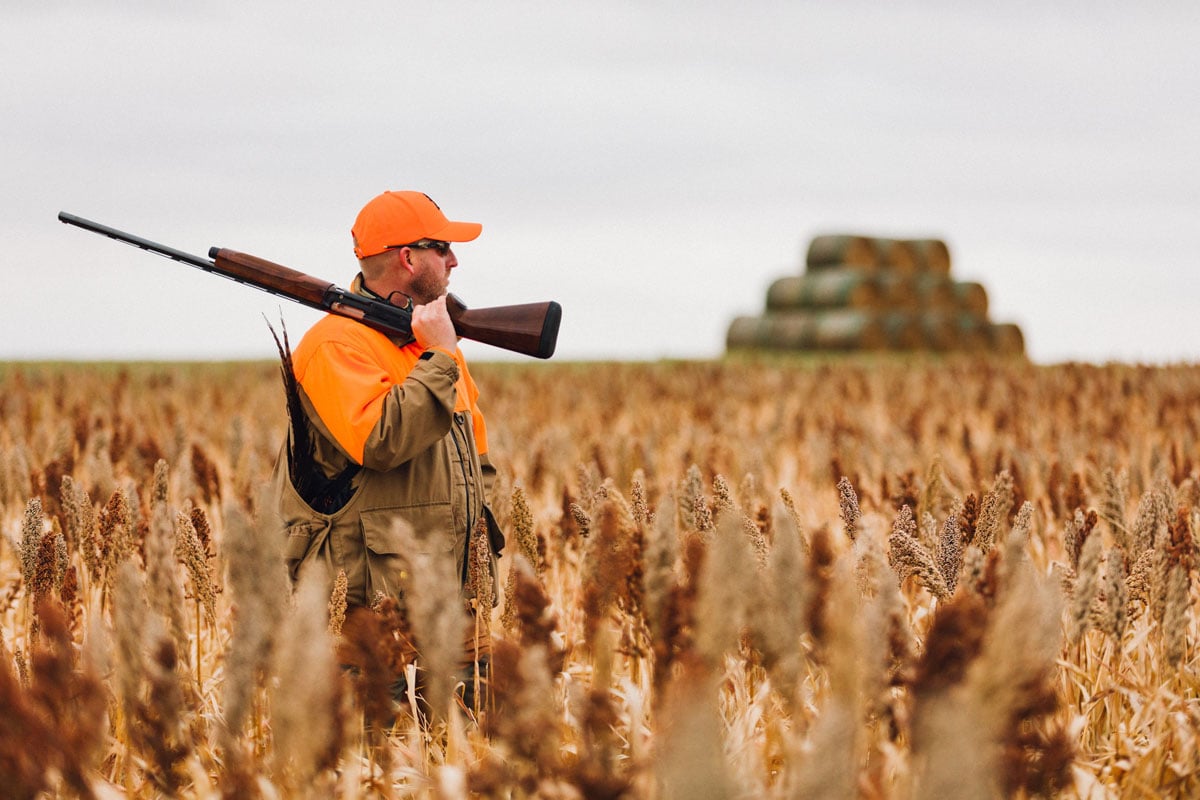 Overwhelming firepower in just a few quick pulls of the trigger, that's the draw of semi-automatic shotguns. Most youngsters took to the field for the first time with a single shot .410, 20, or 12-gauge, then moved to a pump. These designs are durable, reliable and teach valuable targeting skills to young hunters. As hunters advance, the lure of a semi-automatic shotgun is hard to resist. After a glitchy early history, semi-automatic shotguns are as reliable as pump-actions and oftentimes faster depending on the user. .
Shotgunsare the ultimate home defense weapon, a standard for law enforcement, and a useful tool for the military in tight, urban situations. They're also great for small game, and they're the only option for upland bird and migratory waterfowl hunting. 12-gauge semi-auto shotguns are by far the most popular. Although plenty of hunters choose to go with a 20-gauge, which has lighter recoil. You'll even find a few exotic models offered in .410 and the relatively rare 28-gauge.
There truly is a shotgun for every use, and semi-automatic shotguns are preferred for situations that require a quick reaction time. Today, I am going to walk you through a few of the best semi-automatic shotguns you can buy for a wide range of uses. First, here is a quick list of today's semi-automatic shotguns, you can quickly go to their respective sections by clicking their links. Then we will talk about how I picked the shotguns themselves, and what it means for them to be the "best" at a particular use.
Selecting the Best of the Best: Our Criteria
Semi-automatics share many of the same criteria as pump-action shotguns, barrel length, magazine capacity, available gauges, sighting systems, and left, right, or ambidextrous shell ejectors. Semi-auto shotguns have unique criteria in cycling rate, type of magazine feed, adjustable trigger tension, manual loading style, and balance. Recoil is also important, with an increased firing rate, those successive kicks can really add up.
While I looked for shotguns that were high performers in the basic criteria that all shotguns share, I chose these shotguns specifically for how they stacked up against other semi-automatic shotguns. I have personal experience with a handful of these shotguns, but it would be an oversight to not lean on what Sportsmans Warehouse customers have to say. So with my experience, and the community feedback, I was able to piece this list together.
I also gave each shotgun a "best of" category. This is a subjective title, and it is more of a suggestion. Some shotguns are built to do a certain task better than others, and other shotguns give a better bang for your buck. Whatever is special about a particular shotgun is what I tried to embody with its "best of" title.
Before we dive into the nitty-gritty of each shotgun, here is a quick table showing the major differences between them.
Semi-automatic Shotgun Comparison
| | | | | | | | |
| --- | --- | --- | --- | --- | --- | --- | --- |
| Model | Gauge | Shell Size | Barrel Length (inches) | Action | Reliability 1-5 (least to most) | Recoil 1-5 (light to heavy) | Cost |
| Remington Versa Max | 12 | 2 ¾, 3, 3 ½ | 26 or 28 | Gas | 4 | 2 | Moderate |
| Stoeger M3500 | 12 | 3 ½ | 26 or 28 | Inertia | 3 | 4 | Low |
| Weatherby SA 08 | 12,20,28 | 3 | 28 | Gas | 4 | 1-3 | Low |
| Browning A5 | 12, 16 | 2 ¾, 3 ½ | 26 or 28 | Inertia | 5 | 2-4 | High |
| Mossberg 930 | 12 | 3 | 28 | Gas | 4 | 2 | Low |
| Benelli M4 | 12 | 3 | 18.5 | Gas | 5 | 4 | High |
| Benelli M2 | 12,20 | 2 ¾ or 3 | 18.5, 24, 26, 28 | Gas | 5 | 2-4 | High |
| Winchester SX4 | 12,20 | 2 ¾, 3, 3 ½ | 22, ,24, 26, 28 | Gas | 5 | 2-4 | Moderate |
| Beretta 1301 | 12 | 3 | 18.5, 21, 24 | Gas | 5 | 4 | Moderate |
| Beretta A300 | 12,20 | 3 | 19, 24 | Gas | 5 | 2-4 | Low |

Available in 12-gauge, this gas-powered shotgun brings Remington's reputation to the semi-auto world. When Remington introduced the VERSA MAX shotgun in 2010, Remington shattered convention and all previous benchmarks for reliability and performance with an autoloading action unlike any that came before it. This is a workhorse shotgun designed for today's American sportsman who wants the ultimate in autoloading technology and performance but doesn't require a full featured gun like the groundbreaking original.
Remington has kept all the great technology that earned the VERSA MAX a Golden Bullseye Award from American Rifleman and a "Best of the Best" nod from Field & Stream magazine while streamlining the design to appeal to more hunters in more fields. And, like all of Remington's shotguns, the new VERSA MAX Sportsman is built in the USA.
The Remington Versa Max Synthetic Semi-Auto Shotgun provides consistent, error-free cycling, reduced recoil, and low-maintenance operation. It weighs around 7.75 pounds, which is a little heavy, but worth many of the trade offs, including lower recoil. Part of that weight is thanks to the fact that this shotgun is nearly 50 inches long, but you do have the option of going with the short 26 inch barrel instead of the standard 28 inch barrel. Its standard capacity is three shells, including the chamber, so it is legal to use for waterfowl hunters.
This shotgun also uses Versaport technology, which regulates the firearm's gas pressure based on the length of the shotgun shell. The difference in power between a 2 ¾ and a 3 ½ inch shell can be substantial, Remington has solved that problem. The Versa Max is a well-rounded, versatile shotgun well suited to law enforcement and recreational use.
The single biggest issue with semi-automatic shotguns was once their inability to work with lower-powered shells. Commonly referred to as "low brass" because much of the shell was plastic or waxed paper, these shells contained smaller amounts of gunpowder. With a gas-style semi-auto, there wasn't enough gas to vent, and with an inertia design, the recoil wasn't sufficient to drive the action. The biggest thing that Remington has to offer with this shotgun is their Versaport system. It allows any size shell to operate in their semi-automatic action. That means you can shoot any shotgun shell through this model. Competitors have guidelines for specific length shells and powder requirements. This gun doesn't.
Key Features:
Gauge: 12
Purpose: Hunting, Skeet, Tactical
Shell Size: 2 ¾, 3, 3 ½ in
Barrel Length: 26, 28 in
Action: Gas
Pros
Cons

Handles all three lengths of shells
More ports open with shorter shells
Low recoil
26 or 28-inch barrel

The Stoeger M3500 is an inertia-driven shotgun well-suited for both upland game birds and waterfowl. Its design handles the rigors of cold and wetness often associated with duck and goose hunting. With its more powerful 3 ½ inch shells, it is a great turkey gun and is effective at good distances with slugs for deer hunting.
The M3500 offers a ribbed barrel in three different lengths with fully interchangeable chokes. A shim kit extends the stock slightly, and the gun comes fitted with fiber optic sights. The Stoeger M3500 is one of the more economical choices in a semi-automatic design, often costing less than $700. Its inertia design requires less cleaning and can handle the challenges of long days near the water shooting over decoys in all types of winter weather.
It weighs 7.65 pounds, so you will want a sling. It is also 48 inches long, with a 14.38 inch length of pull. There are many variants to the Stoeger M3500, and if you want one, you can get one with mossy oak, realtree camo, or snow camo, different metal finishes, wooden stocks, and even a Stoeger M3500 designed for turkey hunters. These variants cost a little more than the black synthetic variant, but it may be worth it for a rifle designed for your specific use.
This shotgun is chambered to use 3 ½ inch shells, but also cycles 2 ¾ in and 3 in shells equally well without adjustment. Although I would recommend going with the intended 3 ½ inch shells. As a recoil shotgun, it needs that extra power to cycle. The more powerful the load, the better with this shotgun. That's why it is a favorite with eastern deer hunters when loaded with slugs or buckshot, but equally popular with turkey and goose hunters who need more pellets on these larger birds at greater distances.
Key Features
Gauge: 12
Purpose: Hunting
Shell Size: 2 ¾, 3, 3 ½
Barrel Length: 24, 26, 28 in
Action: Inertia
Pros
Cons

Inertia design
3.5-inch shells
Cycles well in cold/wet conditions
Fiber optic sights included
Affordable
Ribbed barrel
This gas-operated shotgun is available in 12, 20, and 28-gauge options. This autoloading firearm is both reliable and fun to shoot. It also comes with a very affordable price tag, making it one of the best-value shotguns on our list. Plus, the SA-08 is a reliable workhorse that lets you move from early season dove loads to the heaviest waterfowl loads in no time.
The SA-08 is a lightweight gun at only 6 lbs in its smallest configuration. The lighter weight makes the SA-08 a very popular waterfowl gun in 12 and 20-gauge. For clay pigeons, there is a gauge for every size of shooter. The 28 gauge has almost no recoil and still packs a decent shot pattern for clays. The 20-gauge is a great dove, partridge, and pheasant gun. The more robust 12-gauge is a shotgun you can take anywhere. It is more than powerful enough to take geese, turkeys, and deer. The SA-08 is a shotgun with eye appeal, prominently displaying the engraved Weatherby logo.
With any Weatherby, you shouldn't be too surprised to hear it is built well. The Weatherby SA-08 has a CNC-machined receiver, and chrome-plated bolt, making sure it can hold up to any abuse you throw at it. It also has an easy to work on drop-out trigger system if you want to make any adjustments. The SA-08 is also threaded for a choke, so you can add an improved cylinder, modified, or full choke depending on what you are hunting.
The low recoil and available gauges offered aside from just the 12-gauge most manufacturers offer is the draw to this shotgun. It has a shorter 24-inch barrel but retains the ability to adjust with three included chokes. This is a versatile shotgun that almost anyone can operate without fear of strong recoil.
Key Features:
Gauge: 12, 20, 28
Purpose: Skeet, Hunting, Tactical
Shell Size: 3 in
Barrel Length: 28 in
Action: Gas
Pros
Cons

Reduced glare, matte black metallic components
Chrome-plated bolt
Drop-out trigger system
Swivel studs
Inexpensive

Shorter 24-inch barrel
Synthetic stock
Based on the shotgun that started the semi-auto revolution with its invention in 1898, and a century of production before it was discontinued, this is more than a nostalgic piece of firearms history. This is an improved, enhanced version of the original recoil-operated gun with modern features.
It walks in the modern world, but it has the look and feel of the original A5. The Kinematic Drive Recoil system automatically adjusts to light or heavy loads. The Kinematic Drive harnesses recoil energy and converts it into the mechanical motion needed to operate the action. This concept is tried and true, and now perfected by the company that first broke ground with autoloading shotguns.
The beauty of Kinematic Drive is the simplicity of design for consistent, reliable function with any load and under the full extremes of weather, temperature, moisture and grime. This gun is designed to work, come hell or high water. Operation is especially clean because all gas is sent out the barrel and away from the action. The extensively tested Kinematic Drive offers reliable performance with virtually all loads down to 1-ounce field loads with no adjustments.
The Browning A5 is an ideal shotgun for hunters and target shooters alike. One of the few semi-automatics offered in resurgent 16-gauge, this is a gun that appeals to the classic lines of hunting in the 1940s and 50s, but is still a serious competitor today.
The original A5 had some problems with cycling and ejecting shells, this newer version (by 100 years) does not. It is extremely reliable and unlikely to fail in high-stress situations, like home defense. You won't have to worry about short stroking and jamming a pump shotgun with an intruder in your living room with an A5, just pull the trigger until the threat is eliminated. On a historical note, the A5 has seen more combat than any other semi-automatic shotgun.
Key Features:
Gauge: 12, 16, 20, 28
Purpose: Skeet, Hunting, Tactical
Shell Size: 2 ¾, 3, 3 ½
Barrel Length: 26, 28 in
Action: Inertia
Pros
Cons

Offered in 12 and 16-gauge.
Reliability
Satin nickel finish
Durable Turkish walnut stock
Jeweled side bolt
Easy replacement and removal of plug

Nostalgia comes with a price.

Mossberg is renowned for pump-action shotguns. Since the 1960s you won't find many branches of the military or law enforcement who don't carry the venerable, reliable Mossberg pump in their tactical vehicles. The first time I ever went duck hunting, I was holding a Mossberg 930 in my hand. I used it for plenty of seasons, and I can still see the surprised look on my dads face after I shot my first duck out of the air with it at just 12 years old.
Mossberg extended their engineering quality to the semi-automatic realm in the 930. This is an easy-to-use shotgun for upland game birds, waterfowl, and even turkeys, but it has a reputation as a stalwart home defense weapon. The fact is that this shotgun is a general purpose weapon that performs well in the majority of situations, add that together with its low price tag, and you have the makings of a very popular firearm.
The Mossberg 930 is gas-powered, with a 4 + 1 shell capacity. You can get a 930 for just about any purpose too. There are a wide variety of variants of it. A few of the most common variants would be the 930 Field Shotgun, 930 Waterfowl Shotgun, 930 Turkey Shotgun, and the 930 Tactical Shotgun. I am sure you can appreciate the simplistic and straightforward naming of these variants as much as I do.
If you're looking for an inexpensive shotgun that has all the benefits of a higher-priced semi-automatic 12-gauge, this is a good place to start. This is a great choice for a lower-priced shotgun that can transition a young or novice shooter from a pump or break-action style gun, without breaking the bank.
Key Features:
Gauge: 12
Purpose: Skeet, Hunting, Tactical
Shell Size: 3 in
Barrel Length: 28 in
Action: Gas
Pros
Cons

Ventilated rib barrel
Gas operation
28-inch barrel
Adjustable fiber-optic sights
Accu-Set chokes

Fires only 3-inch shells
Heavy for a gas shotgun at 7.75 pounds.
Best for Home Defense:
Benelli M4

When it comes to semi-automatic shotguns, they do not get much better than the famed Benelli M4. As the choice of the U.S. Marines Joint Service, the M4 has seen combat on six different continents. This is a tactical shotgun, you won't be taking many green wing teal over decoys with the Benelli M4. Although if you want a defense shotgun, the M4 should be at the top of your list.
The M4 is built on an auto-regulating gas system, often referred to as an "ARGO" system. It operates more cleanly than traditional gas systems. Over long periods of use, ARGO-style systems are also more reliable. This is a gun that will work in a variety of weather conditions. The M4 is a tactical shotgun that has been built with combat in mind. It features ghost ring adjustable sights and has a picatinny rail that allows you to mount any optic you want.
There are a few different variants of the M4, but most of the changes are in relation to its finish and stock design. The Tactical Anodized Black variant shown here is by far the most popular. You could hunt with this shotgun, but it's loud, has a wide shot pattern, and is better suited to two-legged prey. It is an ideal home defense shotgun.
This is a shotgun with a similar design to the Remington Versa Max in that it will work with a variety of different power-level shells. The big difference is the M4 only chambers three-inch shells. This is a gun designed to last and perform under extreme circumstances. Ridiculously long in some tests that have fired 25,000 rounds through a test model without an appreciable decline in performance. The M4 was developed with military use in mind, so it is not surprising to hear how tough it is after it passed military muster.
Key Features:
Gauge: 12
Purpose: Tactical
Shell Size: 3 in
Barrel Length: 18.5 in
Action: Gas
Pros
Cons

Durable
Works with many different 3-inch shells
Light recoil
18.5-inch "tactical barrel"
A good law enforcement/home defense shotgun

Only chambers 3-inch shells
Price
Best General Purpose:
Benelli M2

Often referred to as the "little sister" of the famed Benelli M4, this is a shotgun that meets high standards on its own. At a slightly lower price than the similar action M4, it is available in 12 and 20-gauge. The M2 comes with three different stock configurations: pistol grip, standard, and the Benelli ComforTech stock, which is purpose-built to reduce recoil.
The M2 is a dependable, high-performance shotgun. The ComforTech stock reduces recoil by almost 50%, making the M2 a very comfortable shotgun to use. With this technology in 20 gauge, the recoil is barely noticeable. The M2 also features Benelli's Wet/Dry finish that makes it easy to properly grip in high-stress situations.
Variable options make this one of the most versatile semi-automatic shotguns you can purchase. The M2 chambers 2 ¾ or 3-inch shells, utilizing similar technology to the more expensive M4. What this means is that you can fire inexpensive 2 ¾ or 3-inch shells without issue. The variable barrel length of 18.5, 24, 26, and 28 inches makes this a platform for many uses. It is a great home defense weapon in the smaller 18.5-inch length, but it is a great field gun for rabbits, quail, pheasants, and waterfowl in the longer three lengths.
That is the great thing about the M2, it is easy to see how it was influenced by the ever popular M4, but it is not super specialized into home defense like the M4. It is certainly up to that task, but this shotgun can just as easily be used for a recreational evening shooting skeet, or in the woods chasing any number of animals. You will also notice that while this shotgun is not particularly cheap, it is much less expensive than the Benelli M4. If you want the quality and style of the Benelli M4, but not the price, the M2 is for you.
Key Features:
Gauge: 12
Purpose: Skeet, Hunting, Tactical
Shell Size: 2 ¾, 3 in
Barrel Length: 18.5, 24, 26, 28 in
Action: Gas
Pros
Cons

Chambers 2 ¾ or 3-inch shells
12 and 20 gauge
Four barrel lengths 18.5 to 28
Good choice for home defense
Inexpensive
Variable grips
Weatherproof

20 gauge requires frequent cleaning

Winchester made its mark in the firearms world with lever action rifles, but the technology that created this iconic brand now extends to gas-operated semi-automatic shotguns. Among the many models reviewed, this is the "Swiss Army Knife" of semi-automatic shotguns.
Starting out, the SX4 is available in 12 or 20-gauge. From there, the barrel lengths move from 22 to 28 inches in two-inch increments. The fast action of the SX4 in both 12 and 20-gauge versions makes it a perfect shotgun for fast-moving doves, or for hitting 60+ MPH Buffleheads as they zoom in over your decoys. The shorter 22-inch version is a great option for home defense. This is an excellent platform, offered in dozens of varieties, one of which will surely match your needs perfectly.
One extended version of the SX has a barrel length of 28.99 inches, the longest you'll find in a semi-automatic shotgun. This makes it a great gun for tight patterns on long shots, as in "sky-busting" high-flying geese. The durability, and reputation of Winchester Arms is reason enough for many shooters to consider this shotgun. Performance, variability, and weather resistance is another consideration.
Key Features:
Gauge: 12, 20
Purpose: Hunting
Shell Size: 2 ¾, 3, 3 ½ in
Barrel Length: 22, ,24, 26, 28 in
Action: Gas
Pros
Cons

12 and 20 gauge
22 to 28.99-inch barrel length
Good long-range gun
Fiber optic sights
Chambers 2 ¾ to 3 ½ inch shells
Inexpensive
Camo pattern

Not a great home defense shotgun
Heavy recoil in shorter barrels

Short, quick, and with a fiber optic sight, this is a gun for close quarters in the shorter 18.5-inch offering, but in the 24-inch versions, it works well in the field for ducks, partridge, pheasants, and quail. This is not a long-range shotgun designed to bring down high-flying geese, but it delivers a punch, and as a Beretta, you know you're getting the best quality you can buy.
The early model Beretta shotguns had a reputation for jamming with lower-energy shells. Beretta's engineers went back to the drawing board, changed the spring tension to allow less energetic shells to cycle the mechanism, and a legend was born. Beretta remains one of the best arms manufacturers on the planet, and the 1301 is a gun that lives up to that reputation.
While the variant pictured here is obviously short at a whole 37.8 inches long, there are other variants that are full size. A short shotgun like this would be ideal for self defense, as it would be better at turning corners, and being lighter. Plus, this tactical variant has a 8 shell capacity.
Full size variants of the Beretta 1301 are often used as competition shotguns. Those variants have a best-in-class tactical stock, and ultra-durable steelium barrels and to optimize performance, the loading and ejection ports have been increased in size to allow for fast loading and unloading.
These variants are named "Comp" while you can also get a "Pro Comp" variant that features a Blue Anodized action and has up to 40% less recoil. An elastomer dampener, located in the stock bolt, absorbs the impact of the slide against the stock, thus reducing the second recoil peak, muzzle jump and any vibrations caused by the movement of the slide.
Key Features:
Gauge: 12
Purpose: Tactical, Competition
Shell Size: 3 in
Barrel Length: 18.5, 21, 24 in
Action: Gas
Pros
Cons

Large 7-shell magazine
Fast cycling rate
Good choice in 18.5 inch for home defense
Cold forged hammer
Enlarged controls for using with gloves

Only chambers 3-inch shells
So, you want Beretta quality, but you're not quite ready to pay the high price this world-renowned Italian arms manufacturer asks for their shotguns. The solution is the A300, one of the world's most popular shotguns. So popular in fact that you can find a slough of variants of the A300. There are plenty of hunting variants, but there are also self defense and patrol variants unlike other shotguns on this list. A few of the most popular Beretta A300 variants are the Ultima (pictured here), Ultima Turkey, and Ultima Patrol. There are also plenty of camo patterns available, including tiger stripes!
The A300 is available in both 12 and 20-gauge and features a larger bolt handle and release, allowing easier manipulation in cold or extremely wet conditions, the kind you'll often find in a December duck blind. Beretta's Kick-Off Recoil Reduction system alleviates the worry of flinching in anticipation of a jarring kick when you pull the trigger. Plus, at 6.75 pounds, it is one of the lightest full size shotguns on this list.
This is a well-balanced gun that offers faster target acquisition thanks to its design and is a comfortable, easy-to-use shotgun in both 12 and 20-gauge that doesn't have the overbearing kick of some competitors. The ventilated rib keeps the barrel cool while shooting clays or in other heavy use and provides an excellent target rail when leading ducks, geese, or pheasants in flight.
All and all, this is a great all around shotgun that will do well for the average hunter that also shoots some skeet once in a while. It can of course be used for home defense, but is more tailored towards hunting. If you want a semi-automatic shotgun from a good manufacturer, Beretta is one of the best, and luckily for the community, they made this firearm more affordable than what they usually offer.
Key Features:
Gauge: 12, 20
Purpose: Skeet, Hunting , Tactical
Shell Size: 3 in
Barrel Length: 19, 24 in
Action: Gas
Pros
Cons

12 and 20 gauge
Ventilated rib
Kick-off Recoil reduction system
Proprietary MibilChoke
Inexpensive

Only chambers 3-inch shells
How a Semi-Automatic Shotgun Works [Inertia vs Gas]
Traditional pump action shotguns use a spring-loaded mechanism to simultaneously eject a cartridge and load a new one each time the user works the action. A semi-automatic shotgun is able to accomplish this automatically through one of two ways: a gas system similar to the AR-15 platform, or through a recoil-powered system.
Both gas and recoil powered shotguns use energy from a just fired shell to reload the chamber, but their exact methods differ slightly. A gas-operated semi-automatic shotgun operates by utilizing the propellant gasses generated upon firing a shell. When the trigger is pulled, the primer ignites the shell's propellant, propelling the shot forward. A portion of the high-pressure gasses diverts through a gas port located near the barrel's muzzle. These gasses enter the shotgun's gas system, consisting of a gas piston and a gas cylinder. The gas piston absorbs the force from the gasses, moving rearward against the action spring. As the gas piston moves back, it unlocks the bolt from the barrel extension, allowing the bolt to rotate and unlock from the chamber.
Simultaneously, the action spring, located in the stock, provides tension to push the bolt carrier backward. The bolt carrier extracts and ejects the spent shell while simultaneously loading a fresh shell from the magazine into the chamber. When the action spring pushes the bolt carrier forward, the bolt picks up the fresh shell, pushing it into the barrel and locking it into the chamber. Once the action spring returns to its original position, the shotgun is ready to fire again. This cycle repeats each time you pull the trigger as long as there are shells in the magazine, enabling the shotgun to fire, eject spent shells, load new rounds, and remain ready for subsequent shots.
On the other hand, an inertia-operated semi-automatic shotgun operates by utilizing the recoil force generated upon firing a shell. When the trigger is pulled, the firing pin ignites the shell's primer, propelling the shot forward and causing the shotgun to recoil backward. This recoil force causes the bolt and bolt carrier to move backward together, unlocking the bolt from the barrel. As the bolt carrier continues its rearward movement, it extracts and ejects the spent shell.
Meanwhile, an action spring located in the stock absorbs some of the recoil force and stores energy. As the bolt carrier reaches its rearward position, the spent shell is fully ejected, and the action spring expands, driving the bolt carrier forward. During this forward movement, the bolt picks up a fresh shell from the magazine and pushes it into the chamber, locking it into place. With the action spring reset and the bolt locked, the shotgun is ready to fire again. The inertia-operated system capitalizes on the recoil energy to cycle the shotgun's action, ensuring the extraction of spent shells and the loading of new rounds for successive shots.
Semi-Automatic vs Pump Action Shotguns
Semi-automatic shotguns and pump-action shotguns differ in their cycling mechanisms and operational characteristics. Semi-automatic shotguns automatically cycle their actions using the energy generated from firing, enabling the extraction, ejection, and loading of a new round without manual intervention.
In contrast, pump-action shotguns require the shooter to manually operate the forend to cycle the action after each shot. Semi-automatic shotguns offer a faster rate of fire since subsequent rounds are automatically chambered with each trigger pull. Although a seasoned shooter can often shoot a pump action shotgun just as fast as a semi-automatic.
However, semi-automatic shotguns tend to have more complex mechanisms and may require more maintenance compared to the simpler and more reliable pump-action shotguns. Pump-action shotguns are highly regarded for their versatility, reliably handling a wide range of ammunition, while semi-automatic shotguns may have specific requirements and sensitivity to certain loads.
Which Shotgun Is Right For You?
Semi-automatic shotguns offer a compelling combination of automatic cycling, faster follow-up shots, and convenience. Their ability to automatically extract, eject, and load a new round with each trigger pull provides shooters with an advantage in terms of speed and efficiency. While they may have more complex mechanisms and require diligent maintenance, modern semi-automatic shotguns are designed to be reliable and versatile, accommodating various types of loads and serving multiple purposes such as hunting, clay shooting, and self-defense.
Picking a particular shotgun for you might be tough, but let's be honest, shopping for a firearm is half the fun! First, you need to figure out what you are going to use it for, which should be pretty easy. Although that helps narrow down your search quite a bit. After that, it is just a matter of looking at the details. Any shotgun on this list can pass muster, and there is certainly one here for any task.
Semi-Automatic Shotgun FAQs
Still not quite sure which one is right for you? In this section, we aim to address common questions and provide helpful answers on various aspects of semi-automatic shotguns. Whether you're a seasoned shotgun enthusiast or a newcomer exploring different firearm options, we understand that you may have questions about the functionality, reliability, versatility, and more. Here I will try to provide clear and concise answers to some of the most popular FAQs surrounding semi-automatic shotguns.
How Reliable are Semi-Automatic Shotguns?

Modern semi-automatic shotguns are very reliable, though they can have cycling issues with low-powered ammunition. Be sure to maintain your shotgun so it runs as well as it can and pay attention to the manufacturer's recommendations for ammunition.

Are Pump-Action or Semi-Automatic Shotguns Better for Home Defense?

Pump-action is a popular choice for home defense thanks to its affordability, but semi-automatic shotguns are easier for new shooters thanks to their lowered recoil. If you select a model with a shorter 18.5 or 19-inch barrel, that is a great option for home defense.

Are semi-automatic shotguns legal?

Semi-automatic shotguns are legal in the United States. However, an adjustable or folding stock or a pistol grip can run into issues with certain states that have restrictions around assault weapons. The magazine capacity when hunting waterfowl is the same for both pump and semi-auto field guns.

Do Semi-automatic Shotguns Kick More Than Other Types?

Recoil is a common concern, and individuals may inquire about the perceived recoil of semi-automatic shotguns compared to other types. Generally, semi-automatic shotguns tend to have less felt recoil compared to pump-action shotguns, as the gas or inertia systems help mitigate some of the recoil energy. However, the perception of recoil can vary depending on factors such as the shotgun's design, weight, and individual shooter preferences.

Can Semi-automatic Shotguns Handle Different Types of Loads?

Most semi-automatic shotguns are designed to handle a wide range of loads, including light target loads, birdshot, buckshot, and slugs. However, some specific models may have limitations or require adjustments to the gas system for optimal performance with different loads.