Skip to content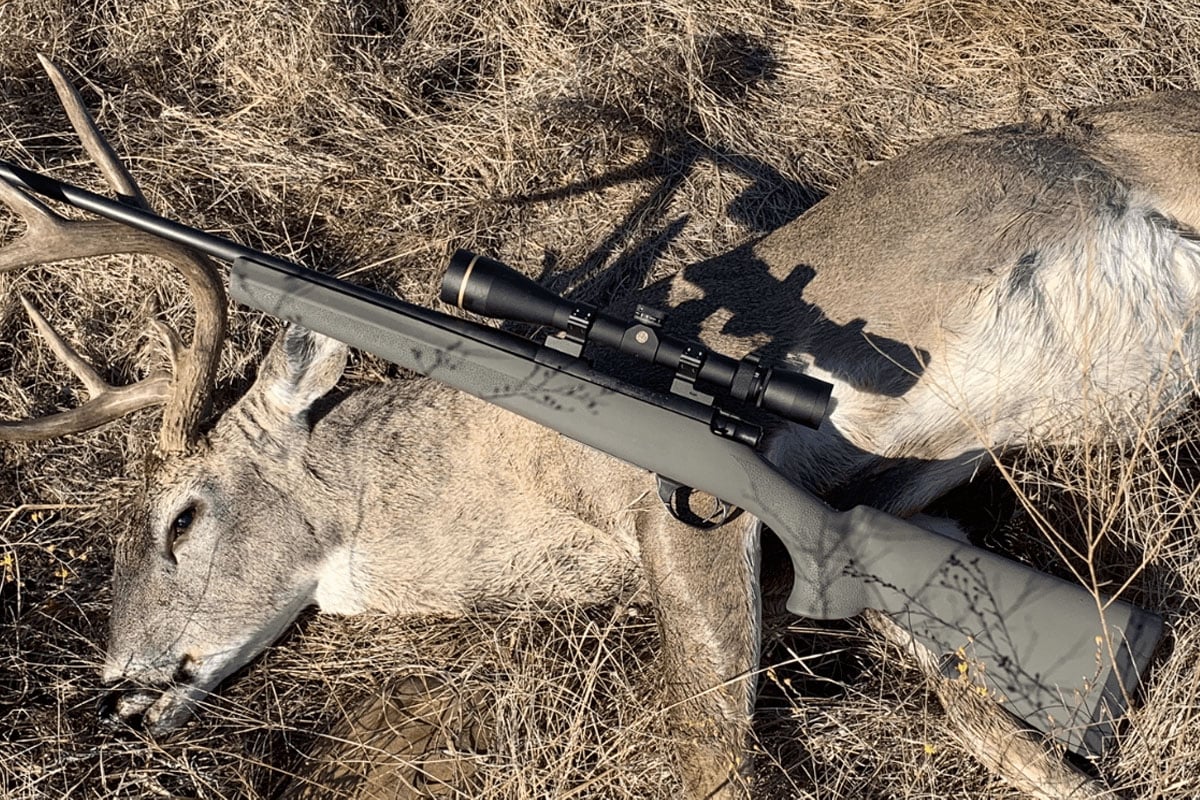 Lost, but far from forgotten by serious hunters, the .308 resides between the stylish new 6.5 Creedmoor and the venerable .30-06 in ballistics, reliability, and most importantly, energy and accuracy on target. No matter the hype, a .308 is a great big game hunting caliber, and there are excellent rifles on the market that deliver the power of .308 at a great price. Getting the best for the money is what frugal hunters and marksmen have known for a long time.
What to Look For in a .308 Rifle
The .308 is the caliber where recoil becomes a factor in determining what style of rifle you select. Smaller cartridges don't have the jarring recoil the .308 introduces, and larger calibers just increase the force. To avoid shooter's flinch which will lead to missed shots, or worse, wounded animals, the first criteria when looking for a .308 is weight, followed by the ability to attach a muzzle brake, and finally how well a recoil pad works with the rifle you are considering.
Weight diminishes recoil, that's a simple fact that's been around for a century-and-a-half. A heavier rifle handles the jarring recoil of the powerful .308 cartridge much better than a rifle weighing just a pound or two less. You don't find 16-inch naval guns on a destroyer, they were relegated to the massive size of a battleship, your rifle has similar traits on a much smaller scale. A rifle already tapped for a muzzle brake, or even more preferable, one that comes with a muzzle brake further reduces recoil. A quality recoil pad securely, and stylish attached to the butt of your rifle is a further refinement. The days of the dull red, drilled on recoil pad are gone. Modern pads accent the rifle and its performance.
I'm a fan of blued steel, and dark walnut in a hunting rifle, but that doesn't mean you have to be. Many hunters prefer stainless steel barrels and synthetic stocks. Those corrosive and moisture resistant materials don't matter much to me in the arid regions of Wyoming, but they can be a good idea if you live a much wetter climate, especially if the wet weather coincides with hunting season.
The lines of the rifle, checkering, and any other custom appearance work are important to some, while the simple utility of a well-balanced rifle, with a quality, adjustable trigger, and pre-drilled scope mounts or attached rails are important to others. At the end of the day, you want a rifle that fits your specific body dimension, that is accurate, durable, and that you are able to sight quickly when that big buck emerges from cover a few hundred yards ahead of you.
.308 Ballistics
Ballistics Chart of Two Most Common .308 Cartridges
| | | | |
| --- | --- | --- | --- |
| 150 Grain (SST) | Velocity (FPS) | Energy (ft pound) | Drop (in) |
| 100 Yards | 2773 | 2559 | 1.5 |
| 200 Yards | 2556 | 2176 | 0 |
| 300 Yards | 2350 | 1839 | -6.8 |
| 400 Yards | 2153 | 1543 | -20.0 |
| 500 Yards | 1966 | 1287 | -40.7 |
| 178 Grain (BTHP) | Velocity (FPS) | Energy (ft pound) | Drop (in) |
| 100 Yards | 2609 | 2691 | 1.8 |
| 200 Yards | 2445 | 2363 | 0 |
| 300 Yards | 2287 | 2066 | -7.6 |
| 400 Yards | 2134 | 1800 | -21.9 |
| 500 Yards | 1987 | 1561 | -43.9 |
Best .308 Rifles
An inexpensive, lightweight rifle built by one of the best rifle manufacturers on the planet. The Ruger American Predator delivers excellent quality at a low price.
It is a "niche" rifle, meaning it's made to carry long distances, and easy to transport through heavy brush without getting hung up on branches or overhanging cover. At the same time, that lighter weight, shorter barrel length, and shorter overall length can be a concern.
Standard .308 rifles usually have barrels 22 inches or longer in length, the American Predator is just 18 inches long. It's long enough for accurate shooting, but it requires practice.
The .308 cartridge packs a wallop when it's fire. Most hunters prefer a heavier rifle than the 6.2-pound Predator, but a muzzle suppressor and recoil pad can reduce much of the substantial recoil a .308 can produce.
Available in green and black, this is an attractive rifle with ample scope clearance, an ergonomic, lightweight synthetic stock, and an include rubber, recoil absorbing butt pad. If you're looking for a rifle you can pack a long way in pursuit of game, this might be the one for you.
Ruger American Predator Specs
| | |
| --- | --- |
| Weight | 6.2 lbs. |
| Barrel Length | 18" |
| Overall Length | 38" |
| Trigger Pull | Adjustable |
| Capacity | 4+1 |
| Twist | 1:10 |
| Stock Material | Synthetic |
Ready to sight in right out of the box, this low cost rifle comes with a 4 to 12, 40 mm zoom Bushnell scope that has been bore sighted before packaging.
Considered an "all-in-one" combination, this is a popular model for hunters working on a limited budget. The scope, action, and Savage's wildly popular "accutrigger" system make this an appealing package for the novice, or for someone getting a younger person into hunting.
With a weight of 7.36 pounds, it has the heft to reduce the recoil from a .308 but is light enough to carry on long hunting treks across the plains, foothills, or mountains.
The biggest draw to this rifle is its low cost, and fully prepared package, ready for the hunt.
Savage Axis Specs
| | |
| --- | --- |
| Weight | 7.36 lbs. |
| Barrel Length | 22" |
| Overall Length | 41.5" |
| Trigger Pull | Accutrigger |
| Capacity | 4+1 |
| Twist | 1:10 |
| Stock Material | Synthetic |
The Winchester Model 70 bridges the gap between art and functionality. This classic design is available in over a dozen designs, including the versatile .308 cartridge.
The attractive blued steel barrel is augmented by the dark, natural walnut stock.
The classic checking that Winchester is renowned for adds texture to your grip, and beauty to your eye. The rifle comes with a Pachmayr Decelerator Recoil pad and is drilled and tapped for attaching a scope base.
The internal magazine holds an impressive six rounds, with five in the magazine and one in the chamber.
Other cartridge designs have different weights, but the .308 is a light 6.5 pounds, hence the built in recoil pad.
Winchester Model 70 Specs
| | |
| --- | --- |
| Weight | 6.5 lbs. |
| Barrel Length | 20" |
| Overall Length | 42" |
| Trigger Pull | MOA |
| Capacity | 5+1 |
| Twist | 1:12 |
| Stock Material | Walnut |
A detachable box magazine, stylish synthetic camouflage coloring, and Savage's Accutrigger system allowing trigger pull adjustments from 1.5 to 6 pounds highlights in this high end offering from Savage Arms.
The Model 10 Precision Carbine comes with the long distance shooter in mind. It offers mounted swivel studs for easy bipod mounting. Two additional swivel studs are ready for your favorite sling, and the drilling continues with pre-drilled holes for easy, accurate scope mounting.
Features for the larger sized hunter abound on this rifle led by an extra-large bolt handle and wider grip. A heavier than the competition barrel adds weight and helps with recoil.
Savage Model 10 Precision Carbine Specs
| | |
| --- | --- |
| Weight | 8.2 lbs. |
| Barrel Length | 20" |
| Overall Length | 40.5" |
| Trigger Pull | Accutrigger 1.5 to 6 pounds |
| Capacity | 4+1 |
| Twist | 1:10 |
| Stock Material | Synthetic |
Remington, if you knew nothing else about this rifle, the manufacturer would indicate all you needed to know. This is a high quality rifle, a bit higher priced than the other models in this review, but not an expensive choice at all when considering a quality platform to shoot the popular .308 cartridge from.
With a hinged floorplate magazine, it offers the contours a Remington rifle is renowned for. This model often becomes the only rifle a serious hunter has in their arsenal.
The included supercell recoil pad is a nice addition for the hard kicking recoil of a .308 and aligns nicely with the synthetic stock.
A heavy 20-inch barrel is designed for long distance shooting, and the adjustable Remington branded X-Mark Pro trigger system allows you to select a light or more substantial trigger pull.
It weighs a substantial, but not extremely heavy 7.5 pounds, and comes drilled and tapped, ready for your favorite scope.
Remington 700 SPS Specs
| | |
| --- | --- |
| Weight | 7.5 lbs. |
| Barrel Length | 20" |
| Overall Length | 39.75" |
| Trigger Pull | X-Mark Adjustable Poundage |
| Capacity | 4+1 |
| Twist | 1:10 |
| Stock Material | Synthetic |
Bergara spent a little extra time in designing the trigger on their rifles. The B 14 Hunter arrives with a fixed three-pound pull, curved trigger that offers moderate, but not excessive resistance. Coupled with a heavy, 22-inch barrel the Hunter is a distance shooter's platform. In the .308 cartridge, it is an effective big game rifle on routine shots below 400-yards, and with a distance adjusting scope is good for considerably longer range.
Made in Spain, but widely distributed worldwide, the B 14 Hunter offers a two-lug system, with a sliding plate extractor and a coned bolt nose. Bergara paid close attention to the market, drilling and taping their scope mounting rings to fit the popular American Remington 700 style scope base.
Offered in a custom Killik K2 camo pattern it has a SoftTouch synthetic finish that enhances grip in cold, wet conditions.
Bergara B-14 Hunter Specs
| | |
| --- | --- |
| Weight | 7 lbs. |
| Barrel Length | 22" |
| Overall Length | 41.5" |
| Trigger Pull | 3 pounds |
| Capacity | 4+1 |
| Twist | 1:10 |
| Stock Material | Synthetic |
CZ, a Czechoslovakian company headquarter in St. Louis, Missouri is a no-nonsense manufacturer of high quality big game rifles. Their 557 bolt action model is a beauty, constructed of high quality blued steel on a stock constructed of Turkish walnut. The attractive millwork adds a clean image to this natural product and enhances grip simultaneously.
The 24-inch barrel is longer than competing models in this review and delivers slightly more energy and velocity over distance as a result of the longer length controlling the powder burn. The stock rivals traditional Remington and Winchester designs but offers a slightly larger palm swell for better control with hunters who have larger hands.
Perhaps the best example of CZ's no-nonsense approach is the absence of any optical sights on the rifle. It is intended solely for shooting with a mounted scope. CZ has a no-base design with built in dovetails that are ready to attach scope rings to without any additional drilling or taping.
CZ 557 American Specs
| | |
| --- | --- |
| Weight | 7.05 lbs. |
| Barrel Length | 24" |
| Overall Length | 44" |
| Trigger Pull | Adjustable |
| Capacity | 4+1 |
| Twist | 1:10 |
| Stock Material | Walnut |
Corrosion resistance is not something we think of often out here in the arid climate of the Rocky Mountains, but in many areas of the United States, it is an important consideration. If you're hunting the deciduous rain forest of the Pacific Northwest or during the frequent late autumn and early winter storms that make the Great Lakes and Eastern Seaboard a weather based gamble corrosion takes on new meaning.
Thompson has introduced a process claimed to be 50 times as corrosive resistant as standard stainless steel in their Weather Shield coating. In short, it is a chemical coating on the exterior stainless steel components of the rifle that enhance the already substantial corrosion resistant qualities of stainless.
Corrosion resistance isn't thought of often with a hunting rifle, but it is a consideration along with more traditional features involving trigger action, stock material, magazine capacity, barrel length, weight, and that all important consideration, price.
With an adjustable trigger, an internal three-round capacity magazine, and a weight of just seven pounds. The durability of this rifle is without question, its weight might be a concern in .308 caliber without a muzzle brake or recoil pad.
Thompson Center Venture Weather Shield Rifle Specs
| | |
| --- | --- |
| Weight | 7 lbs. |
| Barrel Length | 22" |
| Overall Length | 44" |
| Trigger Pull | Adjustable 3.5 to 5 pounds |
| Capacity | 3+1 |
| Twist | 1:12 |
| Stock Material | Synthetic |
In Conclusion
The .308 is a fabulous cartridge for big game hunting, its power, versatility, accuracy, and range make it one of the best calibers available for big game hunting. It took a while for the .308 to arrive. As with many popular hunting cartridges, it evolved from the shadow of war to a sportsman's favorite.
Many more exotic modern choices have diminished the market presence of the .308, but it remains one of the top cartridges you can purchase in off the shelf boxed ammunition for a variety of outdoor applications. The .308 was originally developed for semi-auto and full automatic applications but all the rifles we reviewed here are of the venerable bolt-action variety.
When it comes to rifles, almost every manufacturer continues to carry the venerable .308, now celebrating its 70th anniversary on the civilian market. Carbines, full-sized rifles in versions as short as 38 inches and as long as 46 provide variety in overall length, and barrel lengths from 18 to 24-inches offer the same range in the business end of the rifle.
If you were to select one cartridge for hunting everything from whitetail deer to moose, the .308 will fill the bill.