Skip to content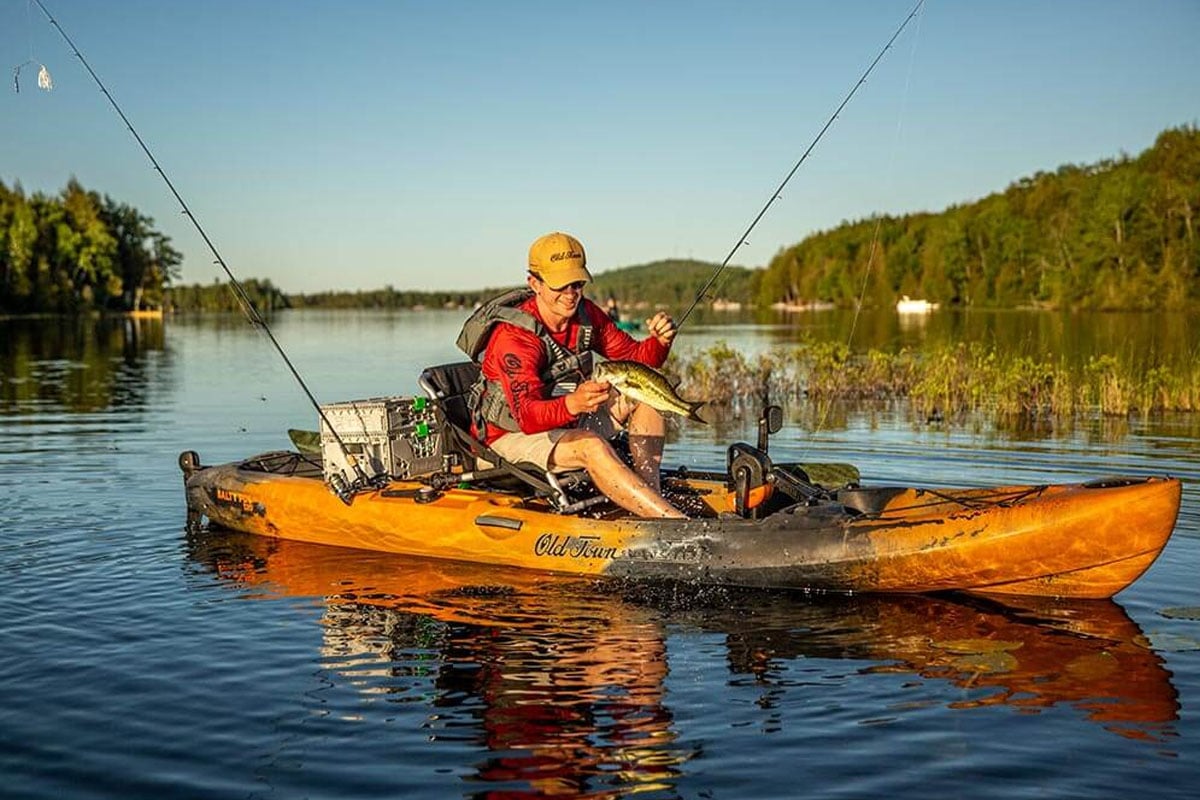 If you enjoy backcountry lakes far off the beaten path, you need a kayak. Light, easy to carry through the brush, or stout enough to handle whitewater, they come in a wide variety of styles.
Kayaks can be versatile, but some are better on specific types of water: Kayaks have many uses aside from just floating atop the water. Fishing Limited access lakes that require hiking demand a different style of kayak than one that can be carried on a vehicle and dropped directly into the water. Freshwater and saltwater fishing kayaks also require different designs.
We'll take a look at kayaks that need to be sturdy, but lightweight for packing into secluded areas, and kayaks that have to be strong enough to handle ocean currents or sections of fast-moving whitewater.
What to look for in a fishing kayak
The following are the criteria I recommend for evaluating the type of fishing kayak that will best meet your needs.
Portability

Smaller kayaks must be light enough to carry on a car roof, or to drag or carry through the brush to the water. Larger, heavier kayaks must still be unloaded and carried to the river or lake. Weight is a big component. A lighter kayak is easier to carry to the water, and easier to load. Heavier kayaks are better in fast moving rivers or on saltwater.

Length

Longer kayaks are more stable, and better on large lakes or the ocean. Smaller kayaks are more maneuverable and work fast water more efficiently.

Ease of inflation (for air-filled models)

The number of chambers, style and weight of a pump and time it takes to fully inflate an air-filled kayak are all considerations. Once you're near the water, you want to inflate that kayak you just carried in as quickly as possible.

Capacity

It doesn't matter much on just an afternoon on the water, but longer kayaking trips with overnight camping require greater storage capacity for food and equipment. Weight is a capacity measurement as well. It includes user and gear.

Overall performance

If you want to fish fast water, you want to sit lower in the water. For lakes and saltwater, high seating is preferable. A lower sitting kayak handles better and is more wind and wave resistant.

Comfort

If you plan to spend long hours on the water, comfort is important. Cramped legs drive more users off the water than tired arms from paddling. Select a seat wide enough for you to fit easily.

Maneuverability

Getting into good fishing spots on rivers or along the shoreline are often the difference between a lot of angling action and a long afternoon. Being able to move easily to the spot you're after is why you chose a kayak in the first place.

Adaptability

Modern kayaks have transoms that fit trolling motors, mounts for cell phones, fish finders and other electronic devices and have hooks, straps and webbing for attaching necessary equipment.
Price, availability, and aesthetics are all considerations with both styles of kayaks.
Best Fishing Kayak for 2023 Comparison Chart
Model
Weight (lbs.)
Length (ft/in.)
Storage Capacity (lbs.)
Width (in.)
Comfort for Larger Anglers
Maneuverability
(1-greatest to 5-least)
Old Town Loon
34
10.6
325
31
Yes
2
AuquaGlide Chelan 120
28
11.3
300
32.5
Yes
3
Old Town Sportsman
73
10.5
525
34.5
Yes
4
Evoke Navato 100
50
10
300
30
No
1
Old Town Sportsman AutoPilot
143
12
415
37
Yes
5
Evoke Conquer 120
56
12
325
29
No
3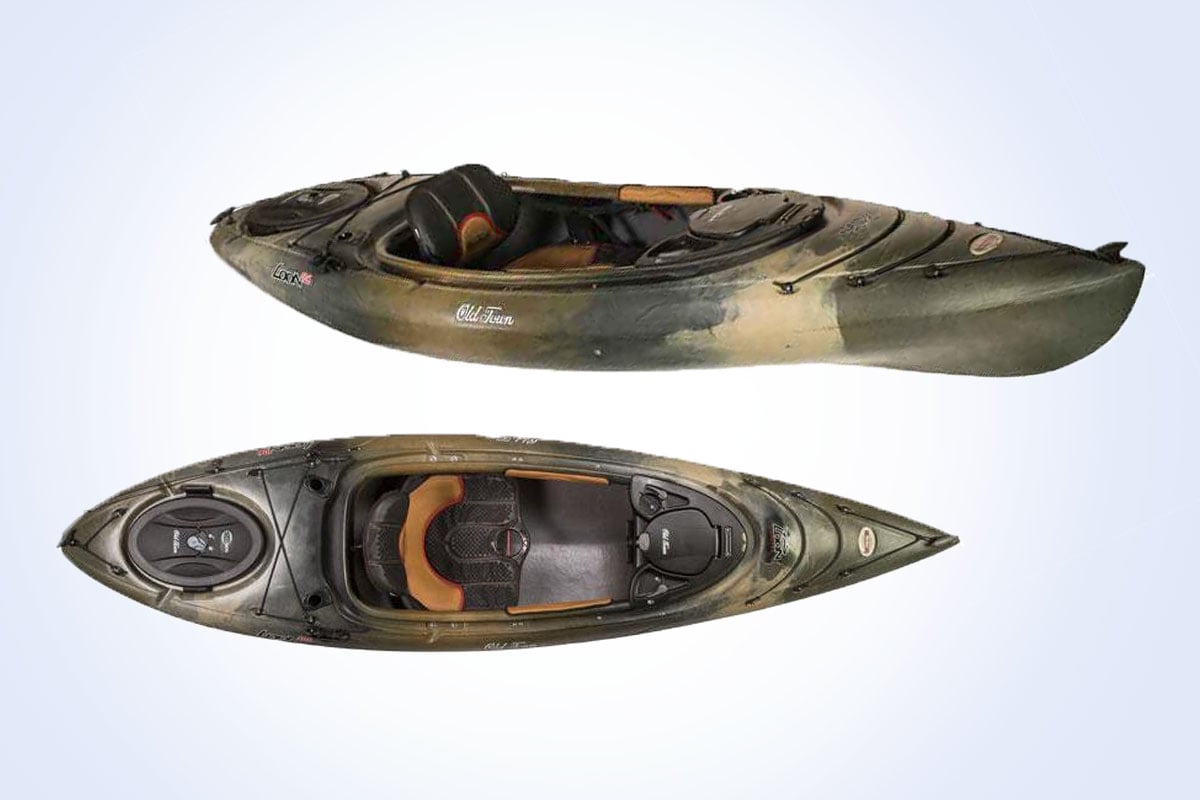 Check Price
Our choice for the best overall kayak came as a result of four of the major criteria. This kayak is light at 54 pounds, making it easy to maneuver from a vehicle.
It is made of three layers of durable polyethylene for superior strength against rocks and brush. Its seat is 23-inches wide, which should accommodate almost any user and its overall length of 10.6 makes it very maneuverable in tight spots along rivers.
The overall width of 31-inches allows it to fit neatly in most tight stream channels between rocks, and its sit-in design is best suited for encounters with fast water and rapids.
Key Features
Only 34 pounds
Heavy-duty three-layer polyethylene construction
Sit-in design
Shorter length
Check Price
When you're carrying necessities on your back, you take notice of the weight and dimensions of everything you pack in. Our choice for the best backcountry kayak is an inflatable with all the features, and performance of a rigid model.
The Aquaglide Chelan 120 packs into an optional 173-liter bag, that is easy to carry onto the trails leading up to that isolated lake. At just 28-pounds, including rigid floorboards for extra stability, it's light enough to carry a long way, and at 11 feet, 3-inches, it's long enough to safely traverse even mild whitewater.
The Duratex, reinforced PVC is strong and durable. When coupled with the drop-stitch flooring it creates a paddling experience similar to hard-sided kayaks of the same size.
An above-water design, with ample storage, and included cargo-netting style straps, and attachment bands in the cockpit allow lots of extra storage. Rated at 300 pounds, with three easy-to-attach ports for filling with air it has optimal capacity.
It takes about 10-minutes to fully inflate each of the three chambers with a hand pump and features an easy one-hand front handle.
Key Features
Inflatable
Compact design for easy backpacking
Enhanced storage capacities
Easy to reach front handle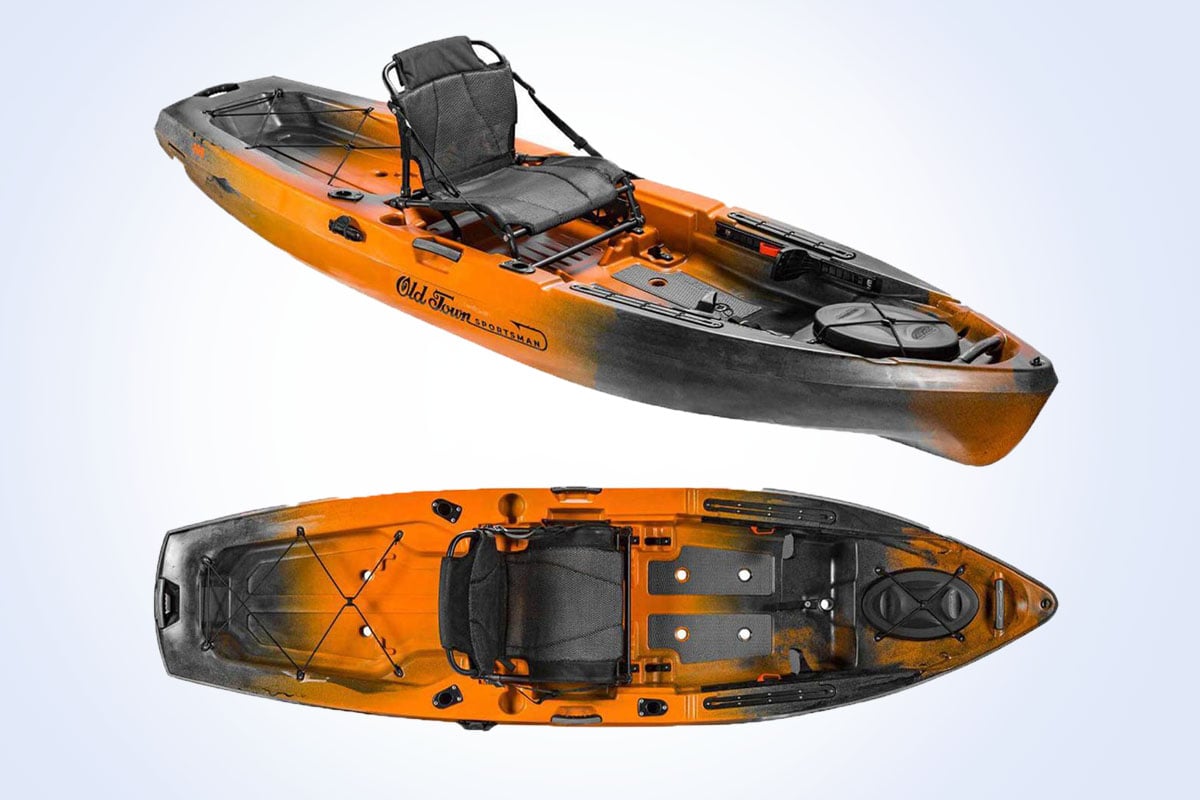 Check Price
At a hefty 73 pounds, combined with a compact 10-foot-six-inch length, this is a durable, stable canoe that will serve you well in choppy water, whitewater, or high winds. A front hatch offers extra storage, and the wider 34.5-inch width is better suited for larger fishermen.
The design creates a stable platform that is nearly silent in the water thanks to the hull design. This heavy-duty model has the larger angler in mind. It can easily handle taller, heavier fishermen in comfort for long hours on the water.
The durable heft of the kayak is still light enough to easily carry on a car top, and it fits well strapped into a pickup bed.
Key Features
Strong
Quiet hull
Front storage hatch
Easy to maneuver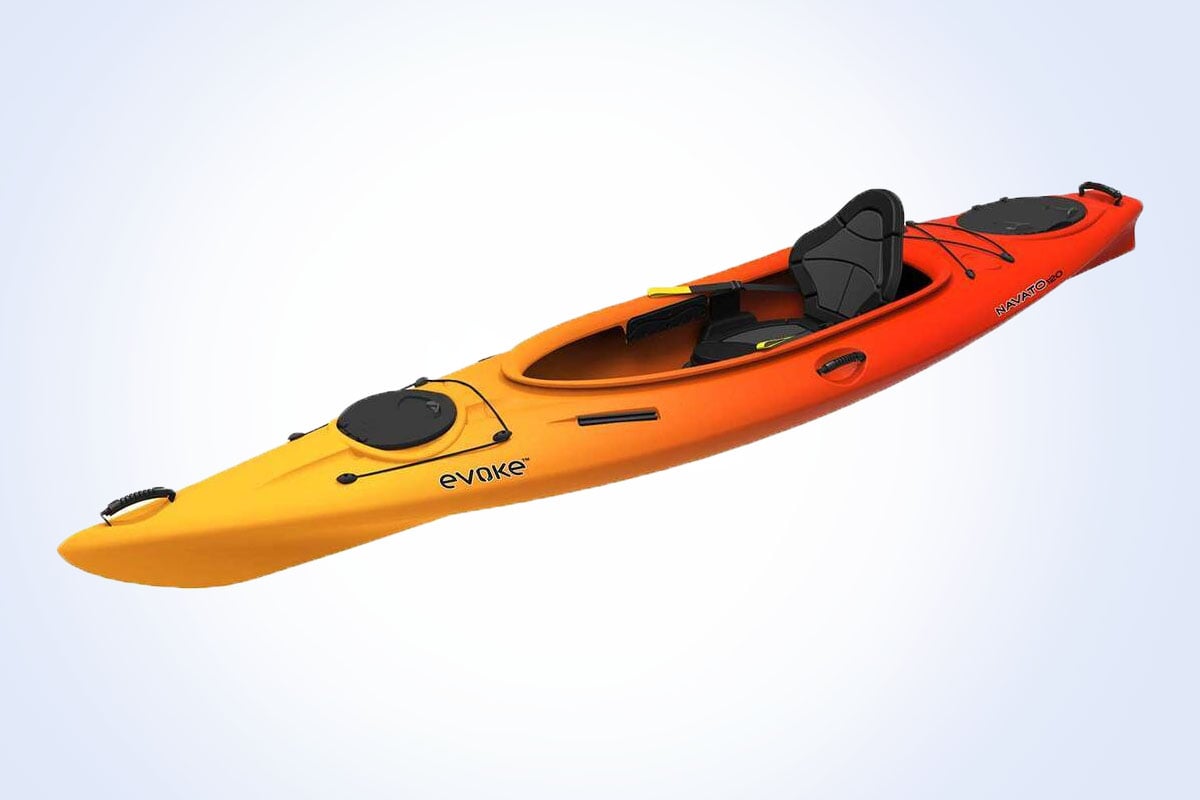 Check Price
When you purchase a budget kayak you usually concede to lower quality, but that's not the case with the Evoke Navato. This moderately priced kayak features a 10-foot design, thigh pads, and adjustable foot braces, and is easy to glide across the water.
The modified sit-in design is large enough for users with limited mobility to get into and out of with more ease than in tighter, traditional sit-in kayaks.
Storage hatches with removable bags, onboard shock cord deck rigging, and a universal mount for a fish finder or other electronics are exceptional features for a lower-priced kayak.
Key Features
Inexpensive
Storage
Easy access design
Thigh pads/adjustable foot braces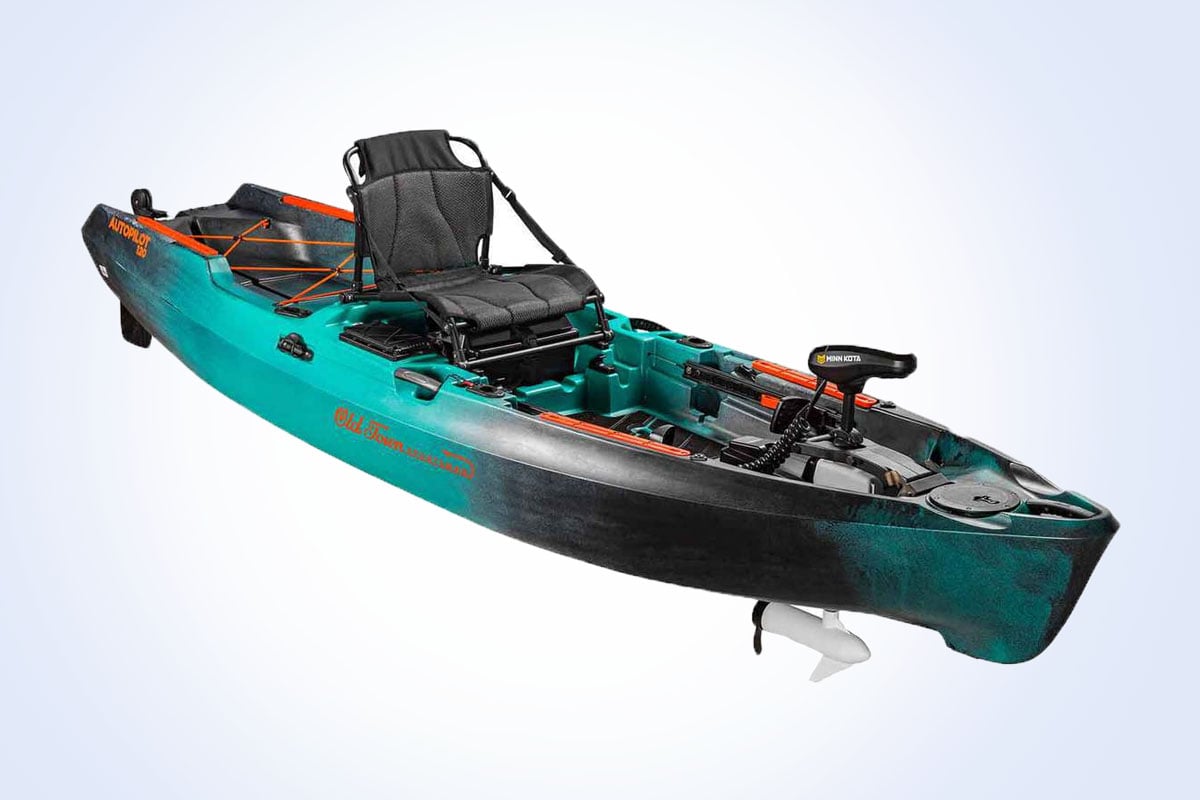 Check Price
The demands of saltwater kayaking are much more extreme than conditions found on most freshwater lakes and rivers. Corrosion, extreme weather, wind, and choppy conditions demand a kayak durable enough, stable enough, and strong enough to handle these challenges.
The Old Town Sportsman AutoPilot 120 meets all these challenges in a design that includes everything you might need out on the open ocean or in a heavily congested bay or estuary.
This kayak is heavy, with the hull alone tipping the scales at 119 pounds. Add the 24-pound motor console and you have the heft you'll need to handle larger ocean waves.
The AutoPilot 120 has a capacity of 415 pounds and is fully wired for additional electronics. The unit arrives with a 45-pound thrust Minn Kota trolling motor that is Bluetooth-compatible with i-Pilot remote.
A premium seat, with a premium navigation system that holds you in place despite the best wind and waves, can do to move you comes at a premium price. This is not an inexpensive kayak, but if you want a top-of-the-line model with every feature imaginable, and scalable enough to handle any future addition you might need, this is the one for you.
Key Features
Heavy design
Includes trolling motor
Wired for additional electronics
Higher priced
Check Price
You might wonder why a kayak designed for whitewater use is listed among fishing kayaks, but the reality is that on many western rivers, the best fishing areas are separated by stretches of tumbling whitewater flowing over and around boulders. To access these areas, you'll need a kayak strong enough to navigate the fast water, but light enough to carry into the backcountry on a car roof or in the back of a pickup.
The Evoke Conquer 120 meets the challenge of handling whitewater while providing a stable, moderately priced kayak for fishing the eddies and slow-moving channels of the same waterway.
Weighing 56 pounds it's light enough to carry short distances while heavy enough to handle fast water. The 12-foot length is perfect for fishing and has ample storage. The kayak can hold up to 325 pounds and is equipped with bow and stern hatches.
The only problem with this kayak comes in the narrow cockpit. At 17 inches, it could be a tight fit for any but the smallest users.
Key Features
Moderate, utilitarian design
Stable 12-foot length
Moderate price
Bow and stern hatches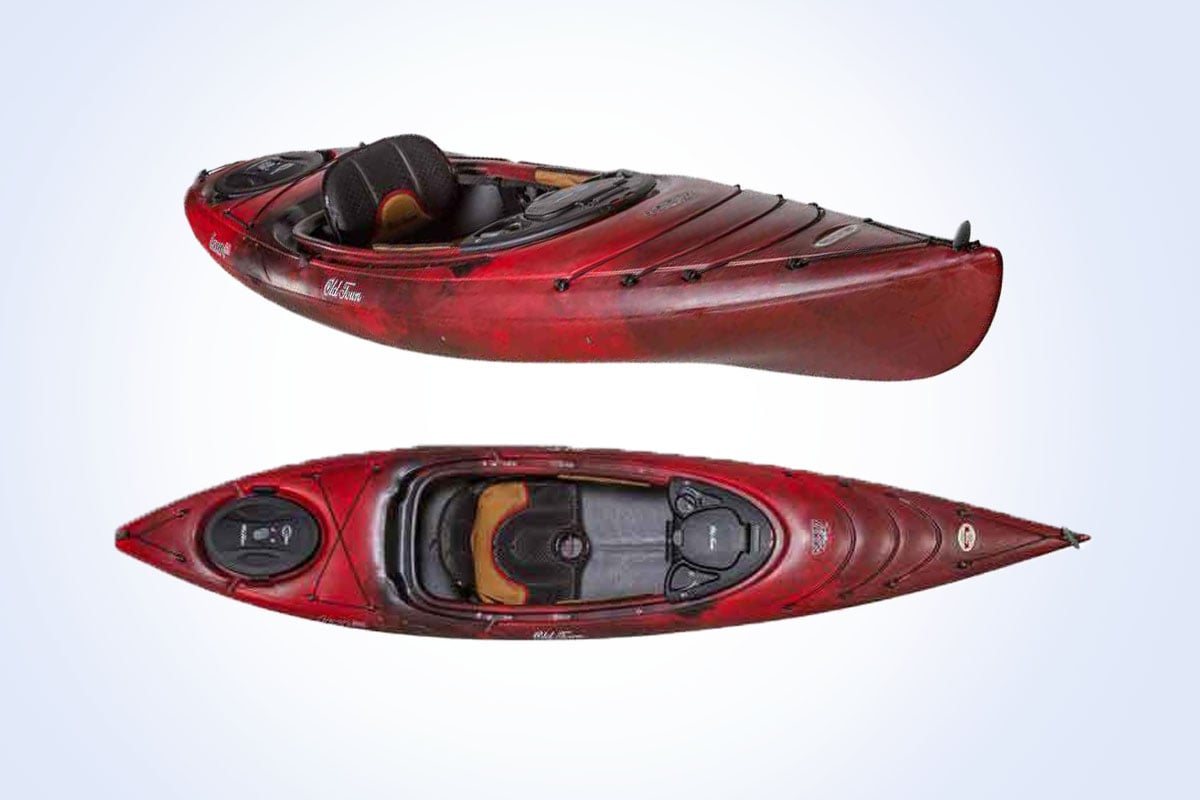 Check Price
Sometimes you just want to sit closer to the water. The lower profile of a sit-in kayak appeals to many anglers. Getting closer to the water can be an advantage when fly fishing, and it reduces shadows on the surface of lakes and slow-moving rivers that can spook wary trout. The sit-in design is preferred by many bass fishermen as well. They claim it allows a more natural retrieve with poppers, topwater lures, and buzzbaits.
The Old Town Loon 126 is a moderately priced, utilitarian kayak that meets these needs. Its slighter large cockpit features a 23-inch width that fits larger anglers and allows fishing while wearing heavy winter gear without feeling wedged.
Weighing just 54-pounds, the triple polyethylene construction is durable and can carry 325 pounds. The 10.6 length is ideal for a sit-in design enabling good control going forward or in reverse.
Key Features
Sit-in design
10.6 length for better control
Moderate price
Triple polyethylene construction