Skip to content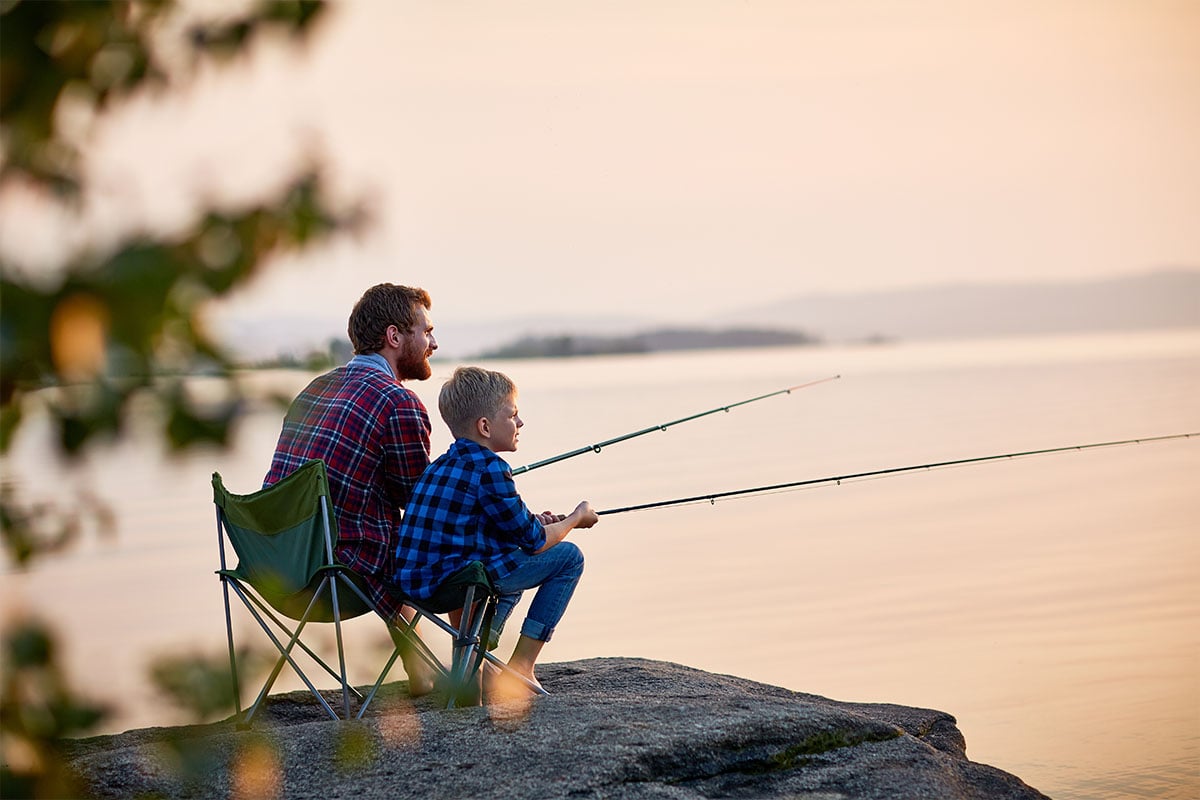 Without a good start, there is rarely a good finish, and starting a youngster on the path to lifetime enjoyment as an angler begins with their first fishing rod. Choosing a rod and reel combo for a child is a big step for anyone hoping to get their son or daughter "hooked" on the sport.
Choosing a rod isn't an easy thing to do. There are many gimmick style combinations that are high on image but deliver shallow performance. Any youngster before first or second-grade level will be attracted to a fishing rod with their favorite Disney character, animated cartoon character, or cute kitty or unicorn on the packaging.
Your job is to get them beyond the first impression on the packaging, and into a viable rod and reel that fits their smaller hands, and their less coordinated ability to cast and retrieve.
There are great rod and reel combos that work well with children, and then there are marketing ploys that focus on image, rather than function. We'll try to separate the two for you in this review.
The Difference Between a 'Children's Fishing Rod' and 'a Child Fishing with a Rod'
The advent of children's fishing rods is a relatively new concept in angling. Without sounding too much like a dinosaur I can relate my experience with my first rod and reel. I was eight years old and eager to hit the rivers and ponds in Northeast Arkansas where my dad was stationed at Blytheville Air Force Base.
Before he took me out, he told me I had to be able to cast accurately. What that meant in my case was getting the stiff five-foot fiberglass rod, and open-faced bait-casting reel to drop a one-ounce rubber plug into a car tire from 35 feet away using 30-pound test braided line. It had to land inside the tire five times in a row before I went fishing.
I learned to deal with backlash, how to put just enough pressure on the line as I cast to prevent snarls, and how to cast overhead, sideways, and across my body.
Days of diligent practicing after school had me accurate to well beyond the 35-foot range and my dad finally took me to a narrow, slow-moving stream a few miles from our house. I landed an eight-inch bullhead catfish on a worm and bobber, but I was hooked for life.
You can still require a child to learn how to use a rod designed just for them before going fishing, it's just a lot easier for them to learn with a smaller children's combo than with a full-sized adult model.
What is a Children's Fishing Rod?
A child's fishing rod should be easy to use, accurate at short distances, and free of tangling and other problems. That's a tall order for most fishing rods and reels, but the market is full of options that fit this idea.
A child's rod should be only three to four feet long, making it easier to cast, easier to carry through the brush, and less likely to hook someone else on the dock or from the boat when the child is casting.
The spin casting reel with its interior bail and spool is great for kids. They're easy to control with a single button, almost snarl-proof, don't reverse easily, so they don't tie knots internally, and are durable. They're a time-tested solution to children hitting the water for the first time.
What to look for in a children's rod:
Short 3 to 4-foot length
Spin casting reel
Anti-reverse
Push button casting
Durable
The Difference Between a Child's Rod and an Adult Model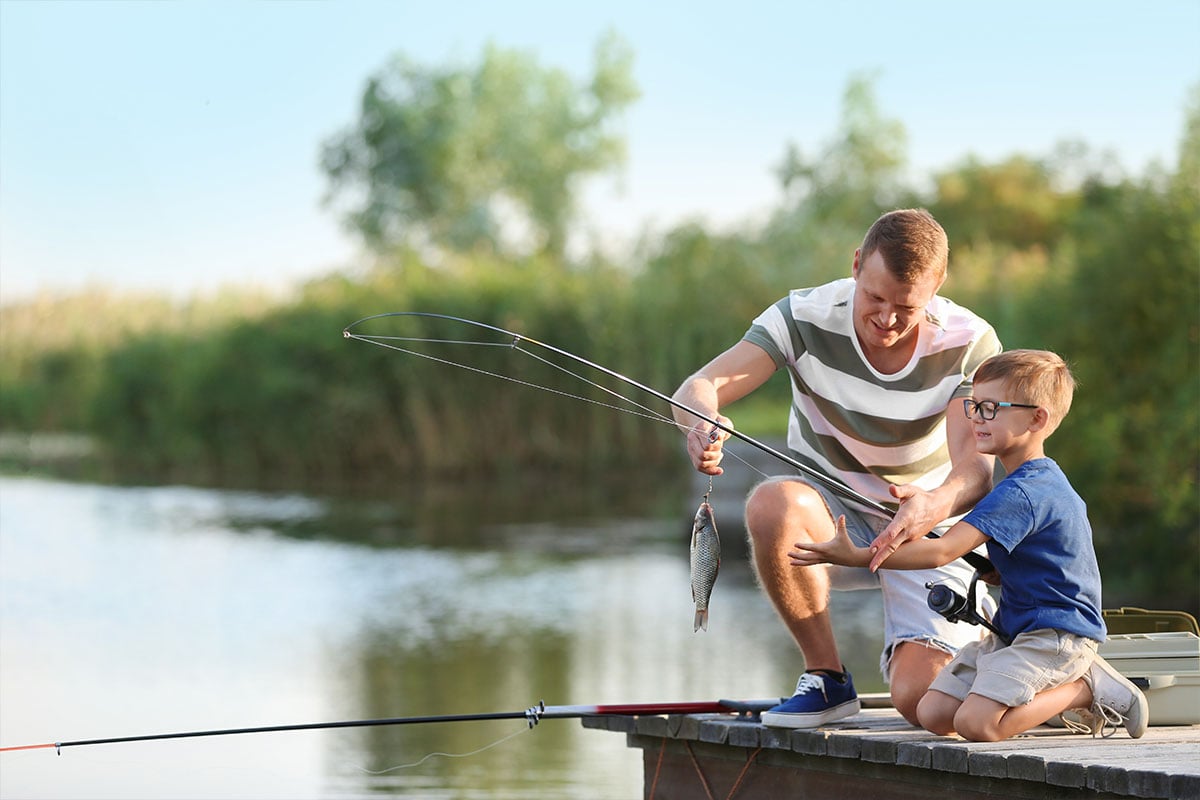 Adult rods and reels come in hundreds of designs, with nearly infinite possible combinations. If you're a serious angler, the type of rod, its length, power, action, and design are all important considerations when deciding which one you want for bass, salmon, or trout fishing. The reel is equally a big decision. Spinning? Baitcasting? Spincasting? Those are all choices you'll need to make for optimal performance when you're working the rapids for trout, making long casts across the current for salmon, or carefully placing a topwater jig between rows of lily pads after bass.
A child's rod and reel combo doesn't need all those options. Having a rod that's easy to handle, and a reel that's easy to control are the important things with a youngster. They need to be able to cast accurately, which means a shorter length rod than an adult would use. They don't need the frustration that excessive backlash can produce, but they do need to be aware of how to handle it when it happens.
A child's rod and reel should fit the age of the child, their hand size, and be a device they can build on as they grow. Start a child correctly and you'll have an avid angler ready to fish, learn, and progress as they grow older.
Rod/Reel Combinations
Types of Rods
For a child, especially a younger child just starting out, go with a fiberglass or composite rod. They're strong, reliable, and have just enough sensitivity in a three to four-foot length to get the youngster feeling the sensation of a trout or panfish battling on the other end of the line.
These rods can be designed for either a spinning reel or a baitcast/spincast reel. The difference is the mount, with the spinning rod mounting underneath the rod and the other two mounted on top of the rod.
Types of Reels
Spinning reels are preferred by trout fishermen, while baitcast reels are the most popular style for bass anglers. Spincast reels are a mix of both, and are easier to use than the other two.
A spinning reel requires two hands to cast and is a higher level of complexity since you have to be coordinated enough to work with both hands. A baitcast reel can be used with a single hand but requires more control to prevent snarling and backlash. That leaves the spincast reel, with a single push button to control a cast.
The spincast is easier for smaller hands to hold and control. The single push button (or lever release on some models) is the easiest of all to control, and aids in accuracy of the cast.
You want a child to experience success without a lot of complexity when they first begin fishing. A short, flexible rod rated for line from four to eight-pound test, in a shorter 36 to 48-inch length, combined with a push-button style spincast reel is your best bet.
As children age, you can bring in longer rods, and use all three types of reels. Once a boy or girl is competent at the beginning stage, they're ready for baitcast and spinning reels, and will soon join the ranks of experienced anglers.
Rod/Reel Combos for Specific Ages
| Age | Rod Length | Reel Type | Type of Fish |
| --- | --- | --- | --- |
| 3-5 | 36" | Spincast | Panfish, Trout |
| 6-8 | 36"-42" | Spincast, Spinning | Panfish, Trout, Catfish |
| 8-10 | 42"-48" | Spinning | Panfish, Trout, Catfish, Bass |
| 12-15 | 48"+ | Spincast, Baitcast | All Species |
Combinations to Avoid
Many rod and reel combos are more toys than functional fishing equipment. Don't let the cute packaging fool you. Most of these inexpensive combos won't cast beyond a couple of feet, are overly stiff, and have low-quality reels that break down quickly.
Another common sales item marketed to children is the telescoping rod. Avoid it. It might work for an experienced angler, but they are generally flimsy, easy to break, and aren't durable. A child will be harder on equipment than an adult, and telescoping rods are among the weakest designs on the market.
On the other extreme are high-quality graphite rods. These are fabulous for experienced anglers, but they chip easily and are not as damage resistant as fiberglass or composite rods.
Top 5 Models of Rod/Reel Combinations for Children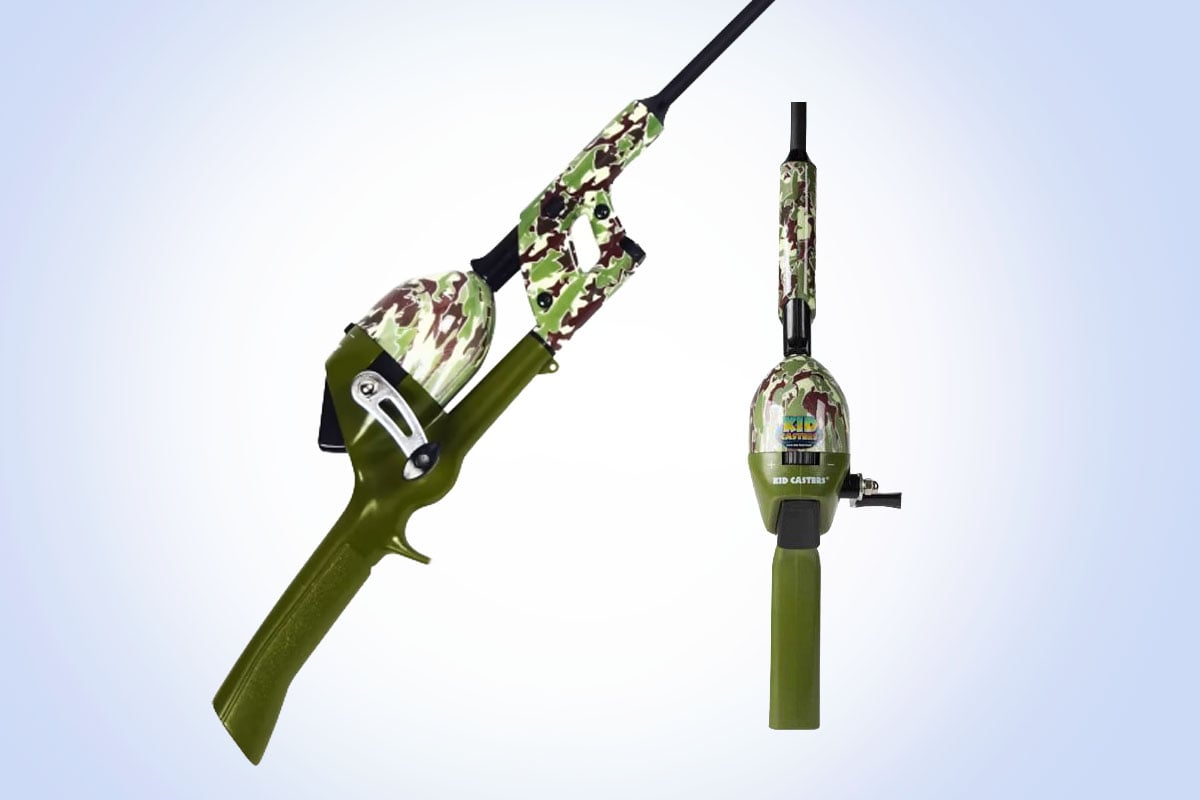 Check Price
This single-piece 34-inch rod is made for children, but many ice fishermen throw it into the bucket for jigging in the frozen winter months. A medium power rod and reel, with a 3.3:1 gear ratio, this combo fits the niche for many youth fishing opportunities.
Designed to handle lightweight monofilament line from one to 10-pound test, it's a great combination for good casts, and smooth retrieves, even by a novice. The fiberglass rod is durable, and many youngsters have landed their first largemouth bass on this combination.
Perhaps best of all, it is moderately priced.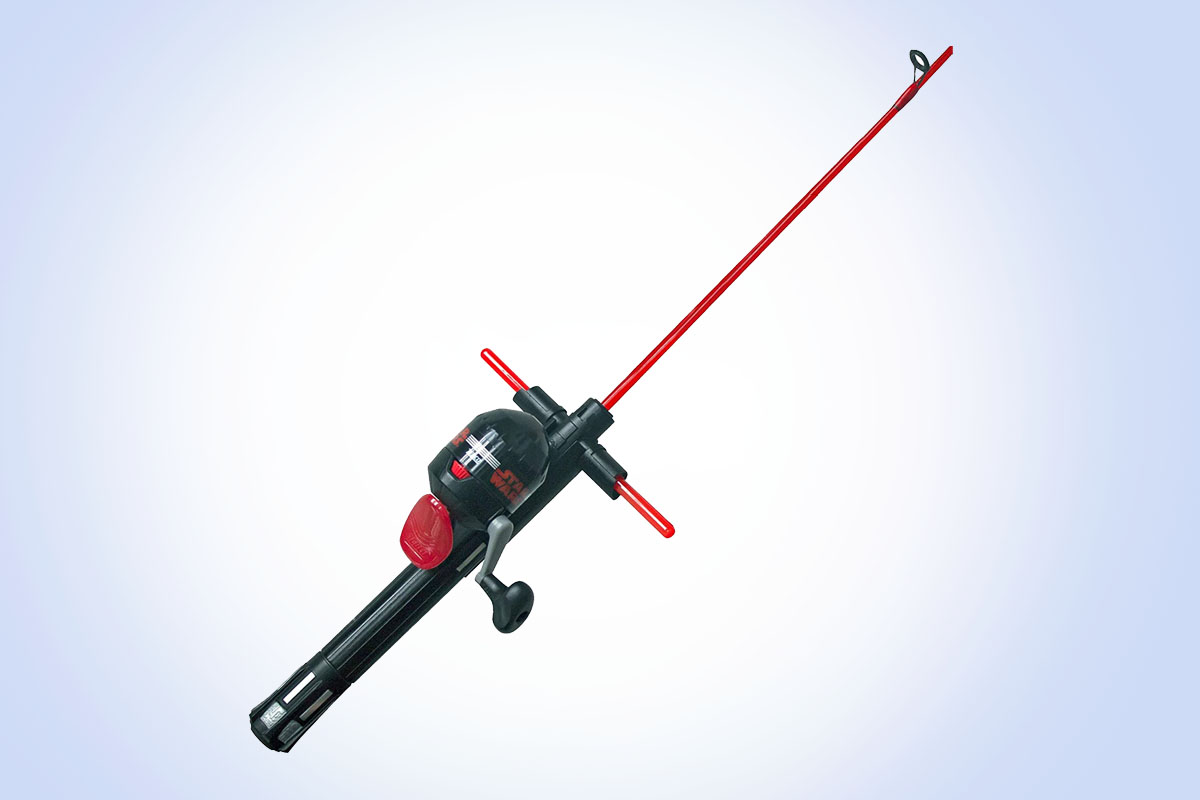 Check Price
If you ignore the obvious marketing ploy of tying a rod and reel combo to a popular Star Wars character, you'll discover a versatile combination that is a step up from the basic level. Fitted with a t-shaped handle to tie in the idea of a lightsaber, this is a good piece of equipment.
Zebco is one of the most famous of all fishing manufacturers and their quality, especially with spincast reels comes with an incredibly low price tag in this combo. The lightweight two-piece rod is 48 inches long, making it a good choice for an upper elementary-aged angler.
A dial-adjustable drag, lightweight power rod, built on a durable glass blank makes this a viable fishing tool, even for an experienced adult. It casts well and has more sensitivity than shorter, moderate, or heavy power rods. It's a great step up in the learning process for a novice fisherman.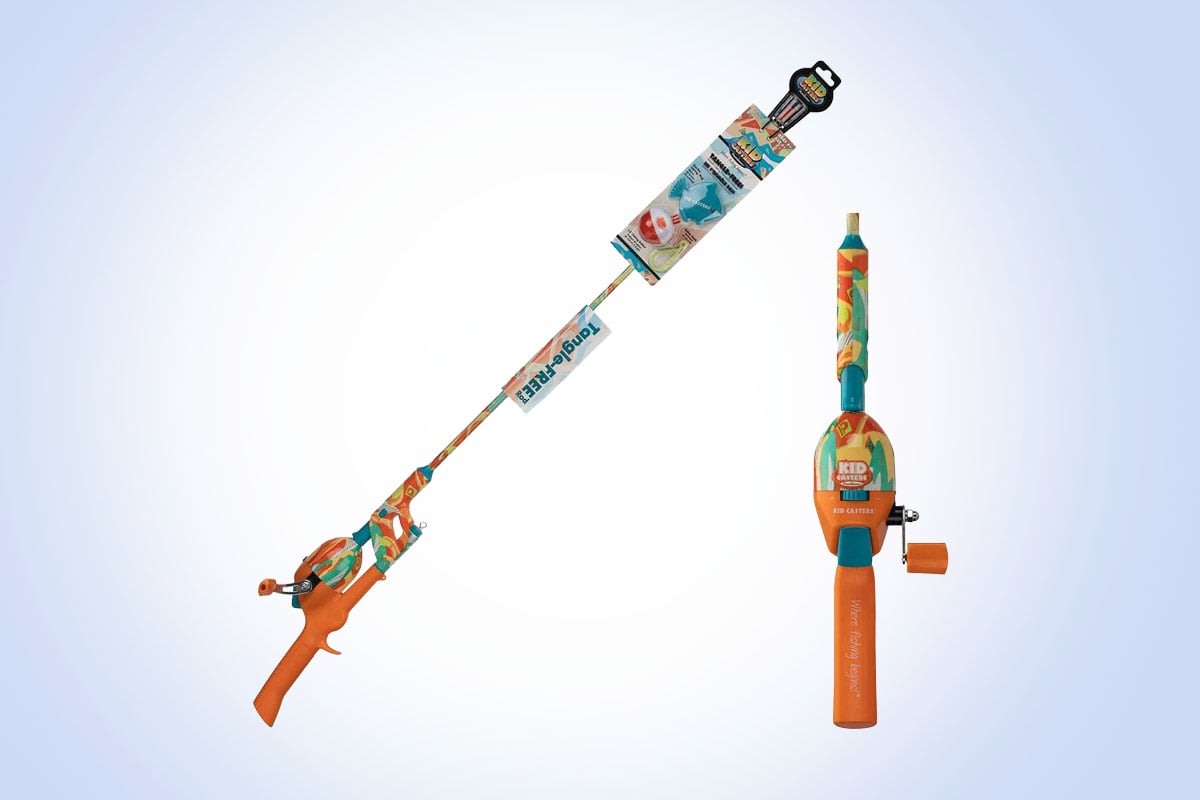 Check Price
Untangling fishing line is one of the most frustrating things a parent can do when taking a child fishing for the first time. Kids Casters knows that and put special emphasis on a no-tangle design that helps with the drudgery of getting your kid back in the water after a mess of monofilament has tied itself in knots.
The 34-inch one-piece rod is attached to a spincast reel with a 3.3:1 gear ratio and is pre-spooled with six-pound test line. Add to that a snap-swivel already tied on and you have a combo ready to tie a lure to and cast right out of the box.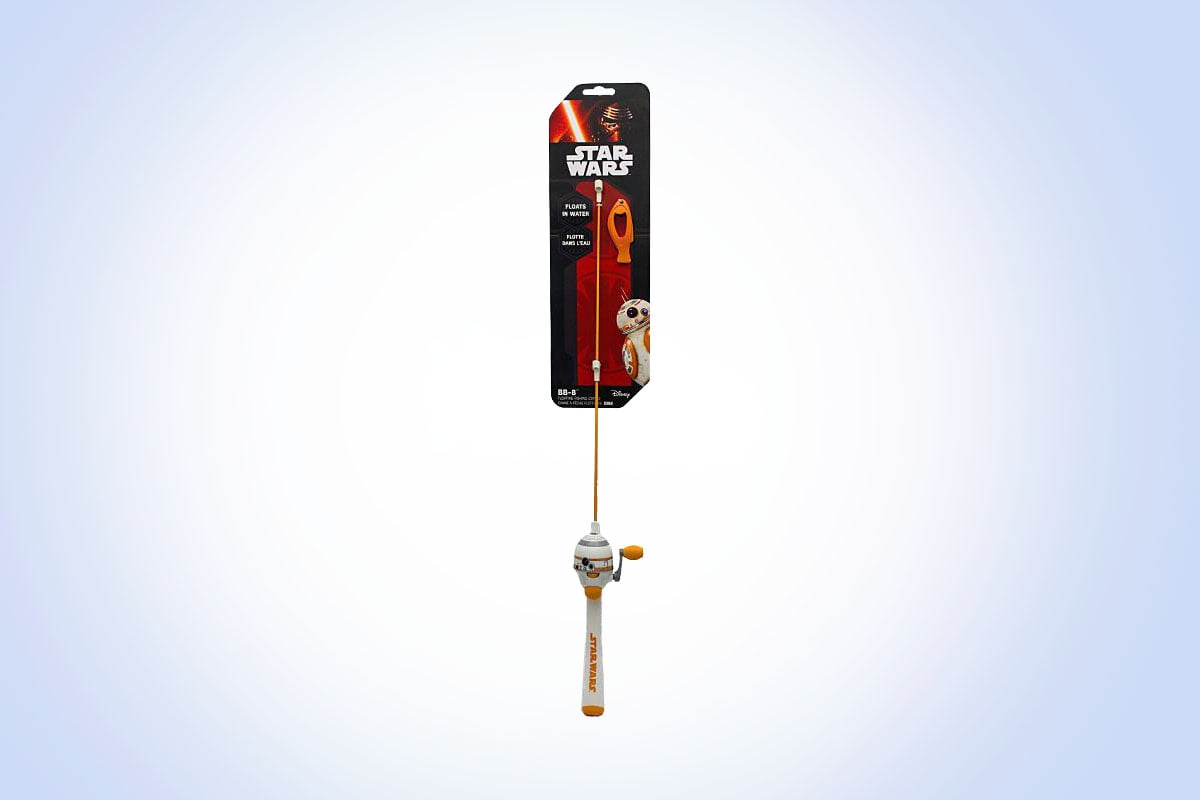 Check Price
I once spent an hour at Worthen Meadows Reservoir with a weighted treble hook on my line trying to retrieve my then eight-year-old son's fishing pole from the bottom of the 12-foot lake.
I finally hooked it, but you won't have to do that with a low-cost Zebco combo that floats. If your son or daughter loses their grip and throws the entire combo into the water, it will just float until you wade out or row over and retrieve it.
The combo is more than just a floating innovation, it comes with a dial-adjustable drag, anti-reverse, and is made of a durable fiberglass blank. This is the lowest-priced combo in the top five.
Check Price
Paw Patrol, P.J. Masks, My Little Pony, and Minecraft are just a few of the unique designs this combo is offered in. Yes, Kid Casters sold out on the idea of direct marketing to kids, but they took the time to build the only left-handed children's model in the top five.
The 3.1:1 gear ratio offers a versatile retrieve and the 29.5-inch length (the shortest in this list) is perfect for the youngest of anglers.
Pre-spooled with six-pound test line on the spincast reel, and with a medium-light power rod, this combo gets a lot of action with very small fish. It creates an excitement level that is hard to beat.
Comparison Chart of Top 5 Combinations
Conclusion
Quality comes at a cost, but in a children's rod and reel combo price is rarely an issue.
Introducing another generation to the joys of fishing is time well spent, and youth rod and reel combos can give them confidence, teach them necessary skills, and bring a lot of fun while learning about the great outdoors.