Skip to content
Choosing Children's Fishing Poles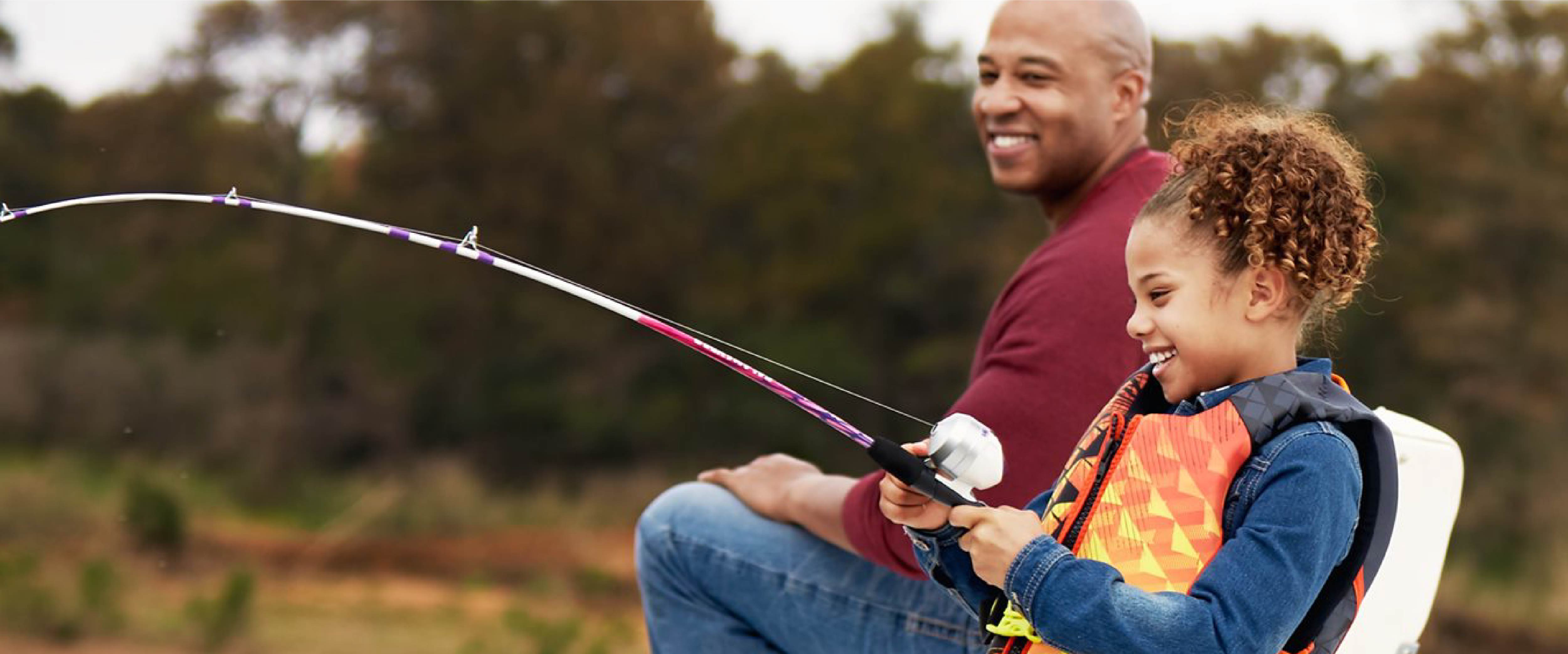 Fishing with your kids can be a fantastic activity that all of you can enjoy. Assembling their first angling kit is sure to be an educational and rewarding experience that will leave a lasting impression. By preparing your kids for a great day fishing, you can teach them the ins and outs of the sport and highlight what equipment they'll need to succeed. Of all the equipment that your child will need, a fishing pole is going to be the most essential. They'll need a rod that works for their physical size (or lack thereof) and skill level. By equipping your children with the right rod, fishing can be a rewarding and fun family activity.
Children's fishing rods are simply smaller versions of adult-sized rods. But, when you're shopping for your child's fishing pole, there are a few things that you should take into consideration. The rod needs to be kid-friendly, but it also needs to be effective. Length, weight, usability, and build quality all play a role in determining the overall quality of a rod.
Reel Style
---
Before looking at the rod itself, you should consider what kind of reel you'll attach it to. For beginner fishing poles, there are two different styles of reels. The first is an open-faced spinning reel, and the other is a closed-face spincast or 'push-button' reel. There are also baitcast reels, but those work best for adults and aren't recommended for beginners.
Open-Faced Reels
Open-Faced Reels are a type of spinning real that are good for children who aren't complete novices. These reels are best suited for children over the age of 7 and are a great option for children who will be fishing for years to come.
Spinning reels make it very easy for your child to eventually transition into a more mature fishing setup when the time comes. If you are fishing in saltwater, an open-faced reel is going to be the way to go. The open design makes open-faced reels easier to clean and less prone to salt deposits, which can rust the reel's metal components. However, for a very first reel, we'd suggest the spincast style.
Spincast Reels
Spincast reels are attached to spinning rods. They feature a simple push-button mechanism that releases the line. This easy casting process makes spincast reels very popular amongst beginner fishermen. Spincast reels can be purchased on their own, or as part of a rod and reel combo. Some spincast rod-and-reel combos even feature the designs of popular cartoons or children's characters, which can help get your child excited about their fishing setup. For children under 6 or first-time anglers, we suggest a spincast reel.
Rod Length and Material
---
After deciding which style of reel is best for your child's fishing pole, you can begin to focus on the length of the rod. It would be entertaining to watch a child wrangle a 10+ foot surf rod, but it's important to get a rod that your kid can comfortably handle. After all, a rod that is the wrong size will sacrifice both their casting abilities and their self-confidence. If a child can't maneuver their rod properly, they won't catch any fish, and they certainly won't get excited about angling.
Most kids' fishing rods are between three and four feet in length, which creates a great balance between comfort and performance. However, as your child grows in both stature and fishing experience, be sure to invest in an appropriately sized rod.
Anyone with kids knows that they can be a bit destructive. It's important to buy durable fishing equipment. Children can put a serious toll on gear, so you should get a durable rod that won't break when you're on the water. Look for lightweight, tough materials like graphite, fiberglass, and composite. These will be fun and user-friendly for kids, while preventing you from buying rod after rod throughout the year.
In addition to a rod for your kid, we suggest getting some pint-sized add ons that will help your child learn how to fish. A casting plug, some snap swivels, and bobbers will be good gadgets to have in your child's first tackle box. You can even get bobbers that cover the hook end of the fishing line, preventing any accidents from your child's hook. Some rod and reel combos do come with fishing accessories, but the tackle box is another great way to educate your child on the sport. Just like the rod itself, building a tackle box can be a great way to learn and bond with your child.
Fishing days can be truly unforgettable experiences for you and your child. By understanding and choosing the right kids'-sized fishing pole, you can take one step closer to a fantastic family outing. Follow the above advice to gear up for a lifetime of fun on the water.