Skip to content
Best Ever Rifles for Coyote Hunting
By Randy Tucker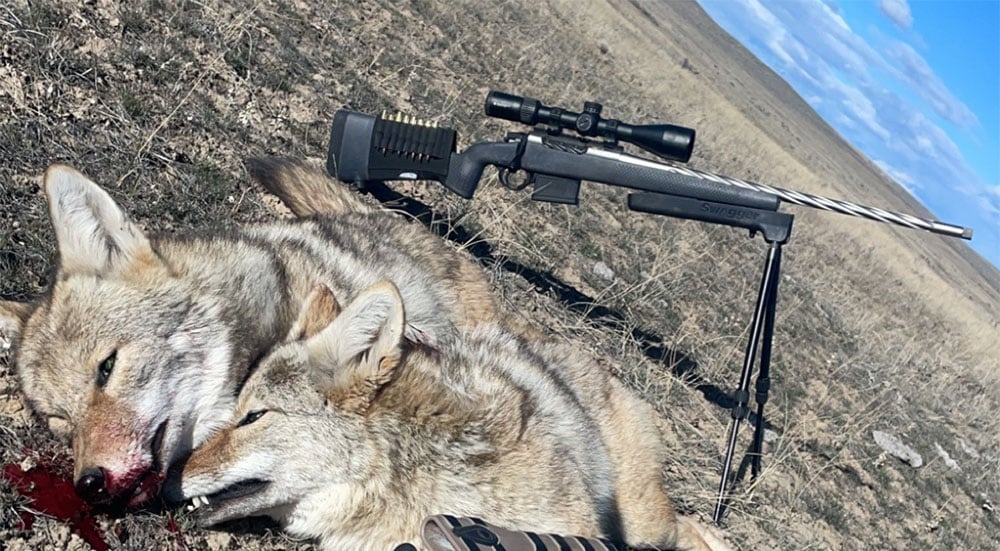 Coyotes are a challenge, even for experienced hunters. There are many approaches to hunting coyotes, some more successful than others. Many hunters prefer a rifle that can reach a long way across open ground, others turn to night vision where coyotes are not as apt to notice an approaching human, and shots can be taken at much smaller distances. Precision hunters prefer the one-shot, one-kill method of highly accurate shooting, while less able marksmen prefer to put a lot of lead on target with fast action, semi-automatic rifles.
Just as there are a multiple methods and strategies for hunting coyotes, there are multiple rifles that will work for taking a coyote. A few of the best rifles for hunting coyote include the Ruger American Predator - 6mm Creedmoor, .223 Remington ADL, .243 Ruger Hawkeye Predator, .22-250 Browning X-Bold, .224 Valkyrie Savage Arms 110 Priarie Hunter and .204 Ruger American Standard.
What makes a great coyote rifle?
While there is no one ideal coyote rifle, a good coyote hunting rifle should exhibit the following attributes: knockdown power, accuracy, flat trajectory and low recoil. As for projectile, there are plenty of options.
Knockdown Power: Depending on the skills of the shooter, coyotes can sometimes be shot at distances over 200 yards. So, a coyote rifle will need to have plenty of knockdown power so that it can still be effective at longer distances.
Accuracy: Coyotes are not large targets. As a species, they have an average weight of about 45 pounds, which means their vital organs are about the same size as a man's fist. At 150 yards out, that makes for a remarkably small target. High-quality coyote rifles will shoot groups of ½ MOA.
Flat Trajectory: The given shot on a coyote is typically not planned, but instead is often very "spur of the moment". You simply don't always have time to wait and wait for the ideal shot. For that reason, you want a rifle with a flat trajectory that will be much more forgiving.
Low Recoil: With a low recoil, you'll be able to keep your weapon in position to see the aftermath of your shot. If you need to fire a second shot, a lower-recoil weapon will allow you to fire a second round without spending time repositioning your firearm.
Projectile: If you're hunting for pelts, look for a smaller caliber rifle with a spear-pointed projectile. This will reduce the size of the bullet's entry mark. If you're simply practicing varmint control, look for an expanding cartridge that will cause immediate death. Hollow-point and vermin-point cartridges are widely available and cause almost instant death upon impact. We suggest steering clear of full metal jacket projectiles -- these bullets tend to pass through the animal, leaving entrance and exit wounds that can heal quickly.
Additionally, a good coyote rifle will also be chambered for a good coyote hunting cartridge. While coyotes can be killed with everything from a .22LR to a .30-06, rifles chambered in .223 Rem, .22-250, .244 Valkyrie. 243 Win, 6mm Creedmoor and 6.5 Creedmoor tend to be most effective.
My Top Rifle Picks
The following are my picks for the best coyote hunting rifles based on the attributes outlined above.
Ruger American Predator – 6mm Creedmoor

Ruger American Predator Left Hand Black/Moss Green Bolt Action Rifle - 6.5 Creedmoor - 22in
Many a coyote hunter swear by the 6mm Creedmoor. One such coyote hunter is Coleter Jordan of Sand Mesa, Wyoming. Jordan grew up on his parents' and grandparents' ranch on the northern boundary of Fremont County in the center of the state. As a youth, he began coyote hunting and was transfixed by the sport.
Jordan has definite views on the best platform, caliber, and style of hunt.
His gun and caliber of choice is the first one we'll review here, a Ruger American Predator in 6mm Creedmoor.
"I've hunted with .243, 22-250, and .223, the 6mm Creedmoor is an unbelievable round," Jordan said.
He spent $5800 getting his Predator adjusted just to his liking which includes a 6x24 Vortex Diamondback Tactical scope.
The 6mm Creedmoor is a fast round, and that provides much of its attraction.
Moving at 3,300 feet per second with a 108-grain bullet, it has a flat trajectory at 200 yards and drops just six inches at 300. The round is viable for a long distance. Jordan's record on a coyote with this rifle is 847 yards.
In Wyoming, and much of the west including Nebraska, and the Dakotas a howling wind is a constant companion for any coyote hunter. Calm days are the exception, especially during winter coyote hunts.
The 6mm Creedmoor is one of the most drift resistant cartridges to ever enter the market.
"They were designed to shed the wind," Jordan said. "They're based off the 6.5 Creedmoor and can handle 30 mph crosswinds. Long range steel shooters and hunters love them."
While a 6mm Creedmoor barks here, and bites way out there as the old shooting cliché goes, it's a great platform for closer shots as well.
"I've taken 175 to 200 coyotes with my Creedmoor, and I've never had one get away," Jordan said.
Ruger American Predator – 6mm Creedmoor features and stats:
MSRP
$500-$600
Cartridge
6mm Creedmoor
Capacity
3 + 1
Weight
6.6 lbs.
Barrel Length
22 in.
Overall Length
43 in.
Stock
Matte Black
Energy (108 gr @ 200 yds)
1,643 ft-lbs
Velocity (108 gr @ 200 yds)
2,618 ft/s
Remington 700 ADL - .223 Caliber

Remington 700 ADL Varmint Matte Black Bolt Action Rifle - 223 Remington
Inexpensive and accurate, what more can you say when you're looking for a varmint rifle. The Remington ADL is a modestly priced rifle that can still deliver accurate shots to 500 yards. The Remington ADL is one of the ubiquitous shooting platforms in America today.
The synthetic, composite stock doesn't possess the warm beauty of polished walnut, but it is moisture proof, wears well, doesn't warp, and keeps the barrel straight in weather extremes from 30 below zero to 110 degrees above.
he .223 is good for close range coyote hunting. It is effective to 400 yards, and hard to beat for price and availability of ammunition.
Hornady's 53 grain VMax .223 is a perfect coyote round.
In the world of coyote hunting, it's called "fur friendly" meaning it will drop the coyote, and not leave a huge hole in the pelt. Holes mean lower prices from fur buyers and with a fluctuating market are an important consideration.
The only problem with a .223 is that at longer distances, the round can glance off a coyote if it hits a rib. Even if there is some penetration, coyotes are notoriously tough animals, and will likely escape.
Another benefit to the .223 is the rate of fire for AR users. Most coyote hunters prefer the accuracy of a bolt-action rifle, but novice hunters sometimes need to compensate for poorer marksmanship by throwing more lead at a target. An AR in .223 is a fast action rifle and can get you second and third shots on a close range coyote, but once they're moving they're almost impossible to hit with their darting, open field style of evasive running.
Remington 700 ADL - .223 Caliber features and stats:
MSRP
$500-$650
Cartridge
.223
Capacity
4+1
Weight
8.5
Barrel Length
26 in.
Overall Length
41.5 in.
Stock
Matt Black
Energy (55 gr @ 200 yds)
753 ft-lb
Velocity (55 gr @ 200 yds)
2,482 ft/s
Ruger Hawkeye Predator - .243

Ruger Hawkeye Limited Edition Satin Blued Bolt Action Rifle - 243 Winchester
All the good ol' boys carried a .243 Winchester in the back window of their pickups just a generation or two ago. There is not a doubt that the .243 is a great cartridge for just about any sporting application.
"You can pack one and kill an elk, but you can get a coyote at 600 yards too," Jordan said.
The Ruger Hawkeye Predator comes in a wide variety of calibers, but if you were to own just one gun, a rifle powerful enough for big game, but with the range to take a coyote without literally blowing it apart, the .243 Predator might just be the perfect gun for you.
While many hunters are constantly having to explain to their wives that they really need a larger gun cabinet, a .243 Predator can deliver everything you want in a flat shooting rifle, that can be used at great distances accurately with the right scope.
Ruger Hawkeye Predator - .243 features and stats:
MSRP
$1,400-$1,500
Cartridge
.243 Win
Capacity
4+1
Weight
7 lbs
Barrel Length
22 in.
Overall Length
42 in.
Stock
High-Grade American Walnut
Energy (75 gr @ 200 yds)
1,452 ft-lbs
Velocity (75 gr @ 200 yds)
2,953 ft/s
Savage Arms 110 Prairie Hunter .224 Valkyrie

Savage 10/110 Prairie Hunter Bolt Matte Black Bolt Action Rifle - 224 Valkyrie
Savage offers the growingly popular .224 Valkyrie in a moderately priced rifle that is perfect for the hunter who prefers to stalk coyotes, rather than call them in, but that still has great range.
The .224 Valkyrie cartridge has some impressive ballistics, the most prominent being an effective coyote range to 850 or 900 yards, with minimum recoil.
Firing a 60-grain bullet it has a muzzle velocity of 3300 feet per second and 522 pounds of energy at 400 yards. Flat at 200 yards, it drops 20 inches at 400 yards and 42 at 500, but that can be adjusted with a scope to extend range.
The selling point is its weight at 8.75 pounds, a synthetic stock that handles weather extremes, with a short 22-inch barrel for easy carrying on foot for long distances.
A drawback might be the three round magazine, but as an accurate hunter, you're only going to take on shot on a coyote.
Custom loads have tallied hits on a one x one steel target at a mile.
Savage Arms 110 Prairie Hunter .224 Valkyrie features and stats:
MSRP
$600-$700
Cartridge
.224 Valkyrie
Capacity
4+1
Weight
8.75 lbs
Barrel Length
22 in.
Overall Length
42.45 in.
Stock
Gray Synthetic Fixed AccuFit
Energy (75 gr @ 200 yds)
1,070 ft-lbs
Velocity (75 gr @ 200 yds)
2,534 ft/s
Havak PH2 – 6mm Creedmoor
Seekins Havak Pro Hunter PH2 Black/Stainless Bolt Action Rifle - 6mm Creedmoor
The Havak PH2 is a relatively new platform with a lot of positive initial reviews. In 6mm Creedmoor, the Havak PH2 offers a lot of high end features, but also at a high end price.
Weighing just 6.9 pounds, in a short action barrel design, the Havak PH2 also has a long action barrel for larger calibers which aren't a good choice if you want to prefer to save any hide after a large bullet hits the relatively small coyote.
A stainless steel trigger, set at a modest 2.5 pounds of pull offers a balanced action.
Available in charcoal gray, a color that blends well in both desert and snowy conditions, with a weather resistant stock, this rifle is popular for stalking coyotes in open country and works well in broken brush, timber, and wetlands too.
In 6mm Creedmoor the Havak PH2 has the ability to shoot long distances, with great power, and to deliver a bullet that could cause too much damage to a coyote at close range.
The magic of the 6mm Creedmoor is that when it hits the target, the animal drops, whether it's a coyote, pronghorn, or mule deer.
Seekins Havak Pro Hunter PH2 – 6mm Creedmoor features and stats:
MSRP
$1,700-$1,800
Cartridge
6mm Creedmoor
Capacity
5+1
Weight
6.9lbs
Barrel Length
24 in.
Stock
Black
Energy (120 gr @ 200 yds)
1,884 ft-lbs
Velocity (120 gr @ 200 yds)
2,659 ft/s
Ruger American Predator - .204
Ruger American Predator Bolt Action Rifle - .204 Ruger
The .204 is the smallest centerfire coyote gun in this review. It is a blazing fast cartridge with perhaps the widest range of comparative bullet weights. The .204 can fire a 24 to 45-grain bullet at muzzle velocities from 3625 to 4400 feet per second.
With almost no recoil, the Ruger American Predator offers an inexpensive platform to shoot the highly accurate, minimally invasive .204 cartridge.
An adjustable trigger pull is a nice feature for those that want the additional safety of a stronger pull, or others who prefer a light touch that doesn't affect their aim when they're locked onto a distant target.
The 22-inch barrel and stiff stock might be a bit short and maybe a little inflexible for some hunters but it gets the job done.
With the .204 version, the Ruger American Predator is a great coyote gun.
Butch Miller, a veteran coyote hunter living on the Wind River Indian Reservation in central Wyoming swears by the .204.
He was a mentor to Jordan in his youth when he was first learning how to hunt.
"With his .204, Butch Miller has killed more coyotes than parvo," Jordan said.
Ruger American Predator - .204 features and stats:
MSRP
$500-$600
Cartridge
.204 Ruger
Capacity
10+1
Weight
6.6 lbs
Barrel Length
22 in.
Overall Length
46.25 in.
Stock
Matte Black
Energy (40 gr @ 200 yds)
855 ft-lbs
Velocity (40 gr @ 200 yds)
3,104 ft/s
Conclusion
There is no one perfect rifle or perfect caliber for coyote hunting. Each hunter will eventually have to choose which combination works best for their hunting environment and strategy. Daylight hunting, calling coyotes from a blind, or nighttime hunting are all different versions of the same sport, but which require a slightly different setup.
Caliber, platform, powder charge, velocity, energy, and bullet drop are all just metrics that have to be calculated against your personal preferences. Enjoy it, the journey is as much fun as the destination when done correctly.