Skip to content
Skip to navigation menu
The Best Handguns for Home Defense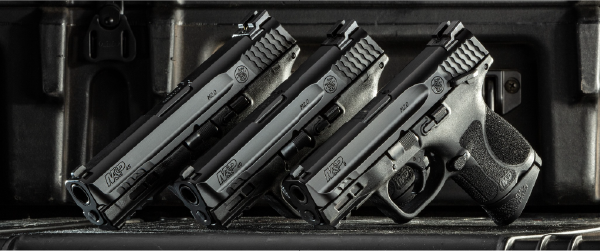 Handguns are generally the most popular and most practical choice for effective home defense. They are easy to operate, and their compact designs lend well towards small, enclosed spaces. In addition to this maneuverability, handguns are easy to operate with one hand. This allows the user to call 911 or activate a home security system with his or her free hand. However, within the market of handguns, potential gun owners have no shortage of choices. There are dozens of world-class handgun manufacturers, with thousands of individual guns available.
A fantastic starting point for determining the ideal handgun is to explore duty pistols. "Duty pistols" are a class of weapons used by law enforcement and military forces. These organizations demand the best out of their weapons, and consumers can trust that if a handgun has been selected for use by police or military… it's definitely a world-class firearm.
Duty pistols carry some similar characteristics. They're usually full-sized, polymer-framed handguns that are chambered in either 9mm or .40 S&W. Duty pistols often include features like passive trigger safety, three-dot sights, ambidextrous controls, and high-capacity magazines.
With these qualifications as 'must-haves', we've picked out six duty pistols that are all ideal home defense handguns.
Glock 17
---

The Glock 17 is the Glock firearm that we would most happily suggest for home protection. It is the weapon of service for the Federal Bureau of Investigation. In general, the gun selected for the FBI sets the precedent for various other federal and state law enforcement agencies.
For years, the FBI carried .40-caliber weapons, but with the 2016 move to the Glock 17, the agency returned to 9mm. The FBI argued that the 9mm outperformed the .40 caliber option, while providing more control, accuracy, and overall effectiveness.
If the Glock 17 is good enough for the FBI to roll back 20 years of .40-caliber use, then it's more than capable of protecting your home.
Sig P320
---

In 2017, the U.S. Army penned a $580 million contract to replace their Beretta M9 pistols with Sig P320s. Just as the FBI sets the standard for law enforcement pistols around the country, the Army's firearms selection does so for other branches of the military. Sig pistols have also become popular among local police forces in America.
The P320 was designed for the military, alongside the M17 and M18. They all come with a polymer frame and manual safety. The Sig Sauer P320 is also available with a huge variety of features, in many different calibers. This contrasts Glock handguns, with come equipped with standardized features. Because of this difference, the Sig P320 is available to suit more specific needs of different users. No matter which Sig P320 variant you select, it will surely keep your home safe.
Glock 22
---

Despite the FBI's recent move away from .40-caliber Glocks, they did utilize the firearm for nearly 20 years. The Glock 22 is as reliable as they come and has enough stopping power to protect against almost any type of threat. In fact, several federal agencies and police departments across the nation still carry the Glock 22.
Contrasted with the Glock 17, the Glock 22 utilizes 15-round magazines instead of 17 round magazines, because the .40 S&W is a slightly larger round than the 9mm. Glock produces its entire line of pistols in generations, but the Glock 22 is not currently available in a newer Gen 5 version. That being said, the Gen 5 and Gen 4 models have only minor differences -- the biggest change between the two is that the Gen 4 has finger grooves on its grip.
Sig P229
---

The Sig P229 is the weapon of choice for many federal agencies, including the Secret Service, Air Marshals, and the Coast Guard. Each agency uses a different caliber of the weapon to suit their own unique needs, but civilians can purchase the P229 in .40 S&W, .357 SIG, and 9mm chambers. The P229 is unique amongst the guns on our list, not featuring a polymer frame or a striker-fire system. Instead, the P229 features all-metal construction and a hammer-fired pistol with a double and singer-action trigger.
Smith & Wesson M&P
---

Smith & Wesson is a name that's synonymous with high-quality, world-class firearms. With over a century of experience, Smith & Wesson undoubtedly produces some of the best consumer-level firearms available today. Smith & Wesson guns can also be found in some of the most demanding police forces in America -- the Detroit Police and the Los Angeles Sheriff's Department both list Smith & Wesson M&Ps as approved carry pistols.
For those who have experience with Glock pistols, Smith & Wesson M&Ps feel very similar. The brand has a similar reputation for reliability and quality craftsmanship, and offers its polymer-frame design in a variety of calibers.
Springfield XD
---

The Springfield XD is lesser-known to casual civilians than some of the other entrants on this list, but it is an approved carry for police departments in major metropolitan areas like Chicago and Houston. Earlier we spoke about brands re-designing and improving upon the popular Glock design. The Springfield XD is a firearm that fits comfortably into this category. The XD is available in a variety of chamberings and can come equipped with numerous performance features. For those who want a little more than a Glock, the Springfield XD is a fantastic option.
The Best Home Defense Handgun
---
All these handguns have been tested in the field and are proven by those who carry them daily. There's no 'one size fits all' solution when it comes to home-defense handguns. The above-listed guns are a great place to start, with their proven track records of effectiveness and reliability. Take time to decide what's best for your unique circumstances though, as each gun offers its own host of strengths.