Skip to content
Best Rifle Scopes
for the 450 Bushmaster
By: Patrick Long |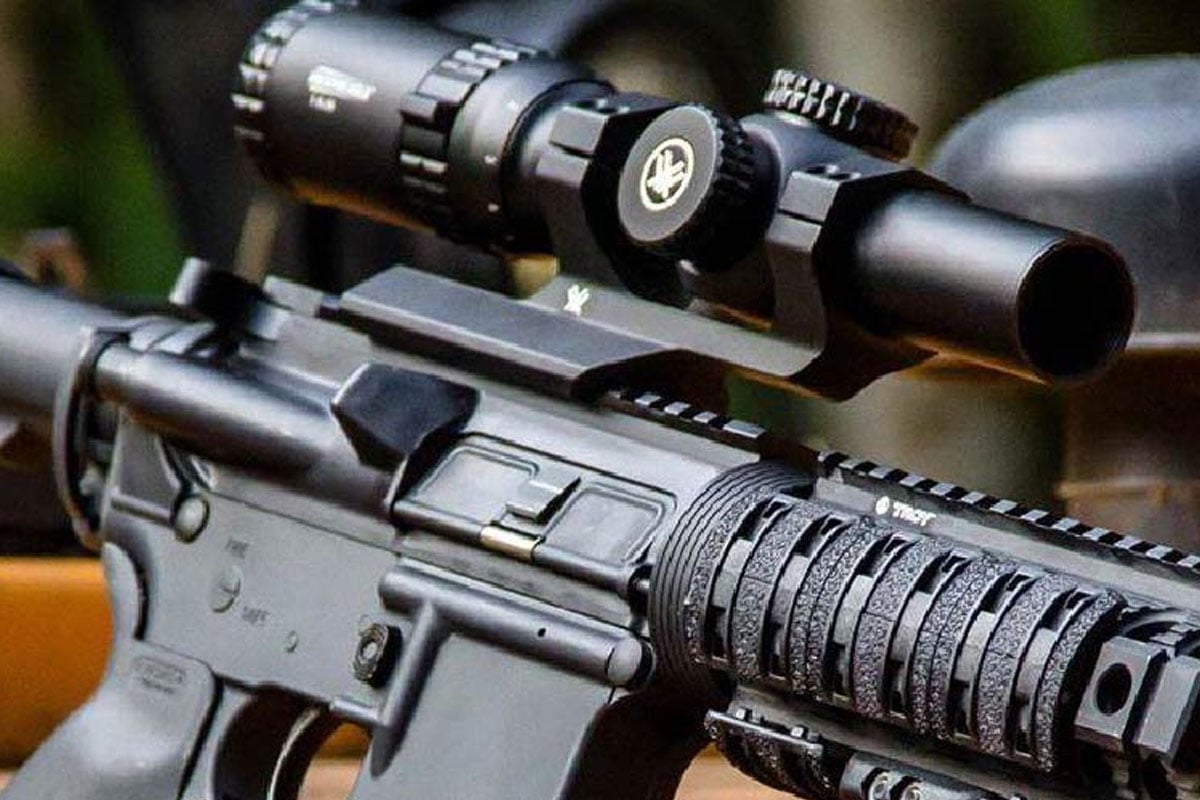 The right optic for a 450 Bushmaster will excel at ranges of 200 yards or less. You will want an optic that can handle the recoil of a beefy AR cartridge, and that can put up with a few bumps or drops. To reach out to 200 yards, you will need at least 6x magnification. The 450 Bushmaster is a great cartridge that deserves a great scope; today I'll show you the best ones on the market for any shooter.
The 450 Bushmaster was quite literally made to produce a one shot kill on big game at 250 yards out of the AR-15 platform. What started as the .45 Professional Cartridge made by Tim LeGendre morphed into a collaboration between Bushmaster, Hornady, and LeGendre to produce the 450 Bushmaster in 2007.
Now the cartridge is popular in the AR-15 platform, and is used for hunting throughout the midwest where straight wall cartridges are required. It shoots fairly flat out to 200 yards, and has minimal drop out to 250, which makes it very attractive to whitetail hunters that wouldn't likely shoot farther than that even if they could use centerfire cartridges.
Critical Scope Characteristics for the 450 Bushmaster
Sure, you can slap any old scope on your 450 Bushmaster and knock down a target, but if you want to be serious, there are a few qualities you need to make sure your scope has. First and foremost, you don't want a scope that has too much or too little magnification for your cartridge. Let's look into the specifics.
Range & Magnification for the 450 Bushmaster
The 450 Bushmaster actually uses a 0.452 caliber bullet and you can get it in 220 grains up to 300 grains, but 250 grains is fairly popular. With a 250 grain bullet, you will get a muzzle velocity of around 2200 feet per second, and a muzzle energy of around 2700 foot pounds. If you zero this cartridge at 200 yards, you will get a rise of about 4 inches at 100 yards, and a drop of nearly 19 inches at 300 yards. You can expect to see around 12 inches of drop at 250 yards, and that is about as far as most people push the 450 Bushmaster.
To shoot that far, you will likely want a scope with 3 to 9x magnification. The rule of thumb is to have 3x magnification for every 100 yards you want to shoot, so this scope has you covered up to 300 yards, much like the 450 Bushmaster. If you really take your time to train on the range, you could push this cartridge out to 400 yards, and then you would want a scope that has at least a 12x maximum magnification. Since 3-12x scopes are fairly common, if you don't want the optic to be the limiting factor on long range shots, go with the 12x. Personally, I keep my 450 Bushmaster under 200 yards, so I rock a 3-9x scope.
Reticle & Scope Styles for the 450 Bushmaster
Since you can get away with a low amount of magnification with the 450 Bushmaster, some shooters choose to go with a red dot or a holographic sight. Simple red dots work very well, and you can throw a magnifier on there to make it look extra cool. You probably do not need any magnification out to around 100 yards if you are not trying to make absolutely perfect shots. Although if you do want to be accurate, a traditional scope is the way to go for longer ranges.
Another advantage of red dot and holographic sights is their field of view. If you need to pick up targets quickly, like a hog hunter would, a holo sight would make that much easier than a regular scope. I know I have spent way too much time trying to find deer in a scope because my magnification was too high, which shrunk my field of view. If you don't want that, get a scope that boasts a large field of view, or a red dot or holographic sight.
As for the reticle itself, you don't need anything too fancy for a 450 Bushmaster. This round isn't going much farther than 300 yards, and there isn't a whole lot of fancy ballistics for us to play with. At 300 yards you need to account for a bit of drop (nearly 20 inches), but a standard duplex reticle is good enough for that if you are only shooting that far every now and again. If you regularly want to shoot that far, you should probably pick a different cartridge.
Recoil & Recommended Eye Relief for the 450 Bushmaster
The 450 Bushmaster has a fair amount of recoil. It isn't exactly the cartridge that you would want to shoot a few dozen times at the range. It has roughly the same recoil as shooting a 12 gauge 1 oz slug. So you are going to want a scope that is shockproof and durable; hopefully like your shoulder while shooting it.
A fair amount of eye relief is also ideal, I would suggest somewhere around 4 inches if you are going to use a standard scope. You can use a red dot or a holographic sight to get unlimited eye relief, and they fit very well on an AR platform.
Common Uses for the 450 Bushmaster
This cartridge was made for taking down big game, and it does that very well. The most common animal the cartridge is used to hunt is whitetail deer. If you are in the southeast, your average shot is going to be well under 100 yards, so just about every rifle caliber will work. Although in the Midwest, those shots might stretch out over a long corn field. In that case, you will want to limit yourself to around 300 yards, or less with the 450 Bushmaster.
Still, this cartridge has enough knock down power to take big game at your usual distances. It is certainly enough for whitetail and mule deer within range, and plenty of people use it to hunt hogs and elk. Within range, it is also powerful enough to take down black bears.
If you want to push the limits of the 450 Bushmaster, or not have your scope be the limiting factor while hunting, then you might want to get something with a maximum magnification of around 12x. That will have you covered out to 400 yards, and let you see plenty of details on your target at 200 or 300 yards.
With those qualities in mind, here are a few of my favorite scopes to pair with the 450 Bushmaster. I included a little something for everyone, so no matter your build or budget, there should be a scope here that will impress you.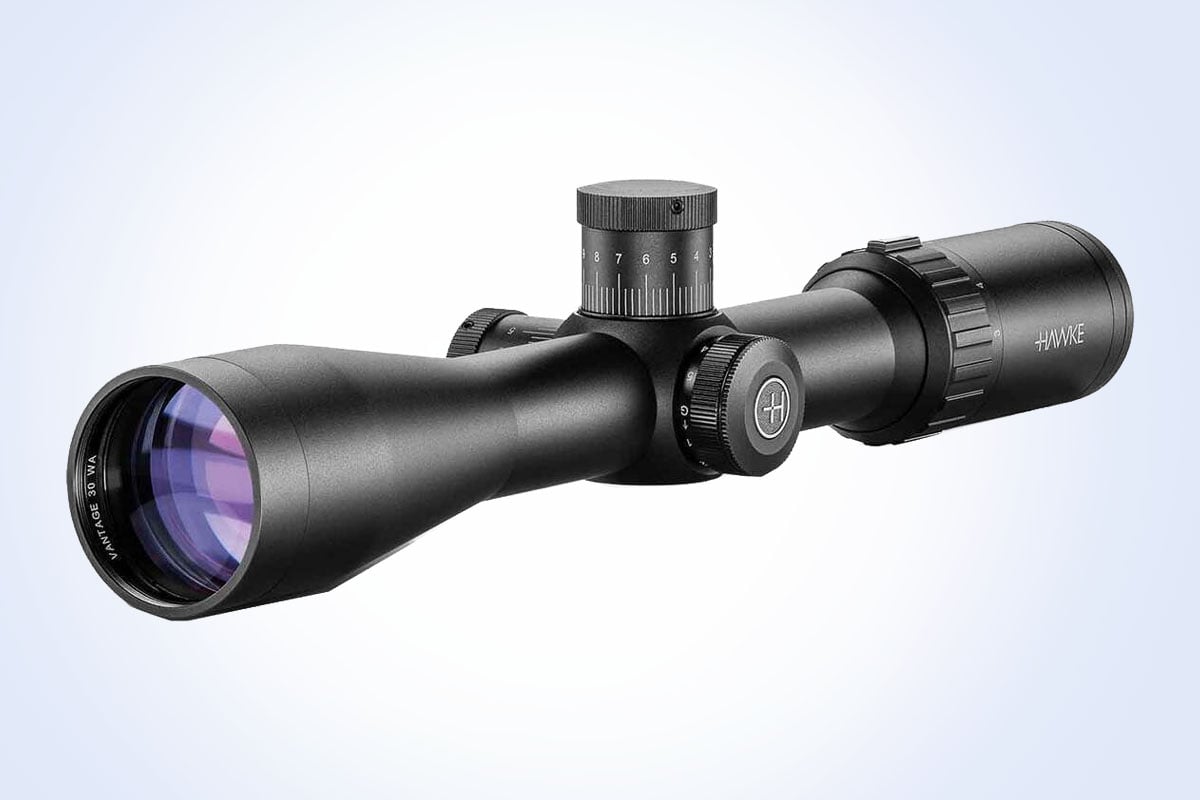 Check Price
If you want a traditional rifle scope that is super adjustable and reliable, the Hawke Vantage 30 WA is worth a look. If you don't know Hawke, they are a UK based company that has been in business for over 40 years, and expanded to the US in 2007. Their goal is to make the finest precision optics available, and that shines through in their products.
The Hawke Vantage 30 WA is a nitrogen purged, shockproof, waterproof, and fog proof scope. With that kind of construction, you can be sure that it will keep up with you. This scope is also rated as an "All Caliber" scope, so it can certainly handle the stiff kick of the 450 Bushmaster. It also has 11 layer fully multi-coated lenses that make it even more durable, not to mention how clear of a sight picture you get due to the coatings. It is obvious that this scope is built to last, and it is no surprise that Hawke also has a no-fault lifetime warranty like you would expect with a quality optic.
The Vantage 30 WA has a 3 to 9x magnification range, which is perfect for the 450 Bushmaster. This scope also has some nice locking turrets that are easy to move when you want to test out the limits of the cartridge. This scope has a 42mm objective lens, which is fairly standard for this magnification range, and it offers a clear sight picture and surprisingly wide field of view. Its reticle is in the second focal plane and is MOA based. Plus, it is a duplex reticle with a few extra markings for bullet drop. While this scope is slightly more expensive than other scopes in its class, it brings more to the table and is a great price for what it offers.
Key Features
3-9x Magnification
42mm Objective Lens
Fully Multi-Coated Lenses
MOA System
Second Focal Plane
Check Price
If you want to reach out a little farther with your 450 Bushmaster, the Bushnell Nitro gives you up to 12x magnification to play with. That is more than enough magnification to allow you to push the cartridge to its limits, and as you will see, this scope is built to withstand the recoil of a 450 Bushmaster as well. Plus, the Bushnell Nitro is also one of our most popular scopes in its class, and it made our best rifle scopes buyers guide list.
Out of this scope's 44mm objective lens, you get a bright sight picture through its fully multi-coated lenses. Its lens coatings are not your run of the mill coating either, the Nitro has Bushnell's exclusive EXO Barrier Protection, which is their newest and best protective lens coating that molecularly bonds to the glass, repelling water, oil, dust, debris and preventing scratches. It also has Ultra-wide Band Coating, which is a Anti-reflection coating applied to both lenses and prisms, for the best light transmission possible.
The Nitro is IPX7 waterproof which means that it is o-ring sealed to stay dry inside, even when immersed in three feet of water for up to 30 minutes. So, unless you are hunting underwater, you should be just fine! The scope's multi-x reticle is in the second focal plane and based on the MOA system, as is standard in this optics class.
This scope weighs 24.2 ounces, which is not a ton for its magnification range. All and all, this is a great scope to pair with the 450 Bushmaster. It is not going to limit your range at all, and it is a great quality optic. Like other brands, Bushnell offers a great warranty that you can lean on if you ever have problems with one of their scopes.
Key Features
3-12x Magnification
44mm Objective Lens
Fully Multi-Coated Lenses
MOA System
Second Focal Plane
Check Price
Seeing as the 450 Bushmaster was made for the AR-15 platform, it didn't feel right to not include a scope with the same story! If you are using 450 Bushmaster in an AR, you might want to check out the Sig Sauer Tango-MSR. This is a LPVO that reaches up to 6x magnification, although it can zoom all the way out to 1x so you can still see and make those close-range shots. I love scopes like this that are made to be versatile, it keeps you from building a rifle that gets pigeon-holed into a specific range.
6x magnification is ideal for around 200 yards, and that is a good range for the 450 Bushmaster. Although it is still feasible to reach out to 300 yards with 6x magnification. The Sig Sauer Tango-MSR is one of the highest rated AR scopes on sportmans.com, and also found its way onto our best rifle scopes buyers guide list.
This scope also has an Ultra-Low Dispersion glass coating to make sure you have a clear sight picture. Its MOA reticle is in the second focal plane, and is super easy to use with its 11 illumination levels. According to Sig Sauer, these factors come together to produce "Industry leading light transmission and optical clarity for any situation." An illuminated reticle is also nice to have, especially at shorter ranges.
Another great feature about this scope is its integrated thread in throw lever that lets you quickly change your magnification range. Plus, this scope is waterproof, shockproof, and fog-proof; which makes it more than capable of taking on your 450 Bushmaster. This scope is made for the AR platform, and you will struggle to find a scope that is better suited for a short-range AR.
Key Features
1-6x Magnification
24mm Objective Lens
Ultra-Low Dispersion (ULD) Glass Coating
MOA System
Second Focal Plane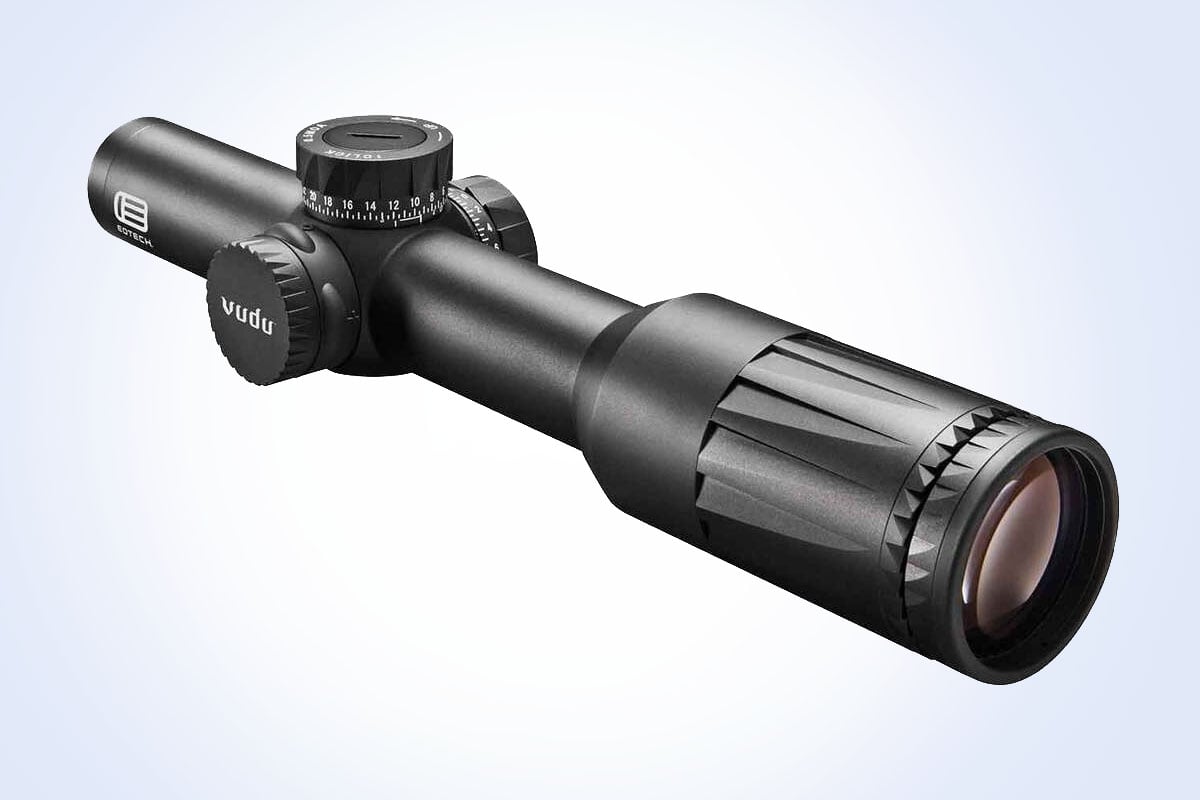 Check Price
If you prefer a first focal plane scope, the Eotech Vudu SR2 may be worth a look! A scope with its reticle in the first focal plane gives you the advantage of scaling your reticle with your magnification. That way, your reticle isn't covering your target at shorter ranges (where the 450 Bushmaster is most effective), and it isn't too small to see at longer ranges. Unlike most first focal plane scopes, the Vudu SR2 isn't a monster of a scope with a crazy amount of magnification. It has a magnification range of 1-6x, which is perfect for the 450 Bushmaster and its ballistics.
This scope is also made to last. It has an aircraft-grade aluminum, single-piece construction with an anodized finish for extreme durability. It also features laser-etched adjustment indicators and push-button illumination controls for easy use. The Vudu SR2 is also water-resistant, fog-resistant, and shock-resistant with a single construction eyepiece. Its lenses are made of XC™ high-density, low dispersion glass, and have anti-reflective coated lenses that provide efficient light transmission and impressive glass clarity.
The Eotech Vudu SR2 was created with the avid 3-gun competitor and serious hunter in mind. It has oversized, precision-machined turrets with EZ Check Zero Stop and side-mounted parallax adjustment. The push button illuminated SR-MOA reticle with 10 brightness settings features an auto power-down to sleep mode after two hours of inactivity with an approximate run time of 500 hours at middle brightness setting 5.
If you are a fan of LPVOs, this is a great one to pair with the 450 Bushmaster. Its magnification range matches the cartridge ballistics fairly well, and its tough construction can put up with the repeated abuse that the 450 Bushmaster is sure to dish out. Plus, this LPVO fits well on the AR platform, as well as a standard bolt action rifle. If I were to buy this scope, it would likely be for its first focal plane reticle, which absolutely sets it apart from other scopes in its class.
Key Features
1-6x Magnification
24mm Objective Lens
Anti-Reflective Coated Lenses
MOA System
First Focal Plane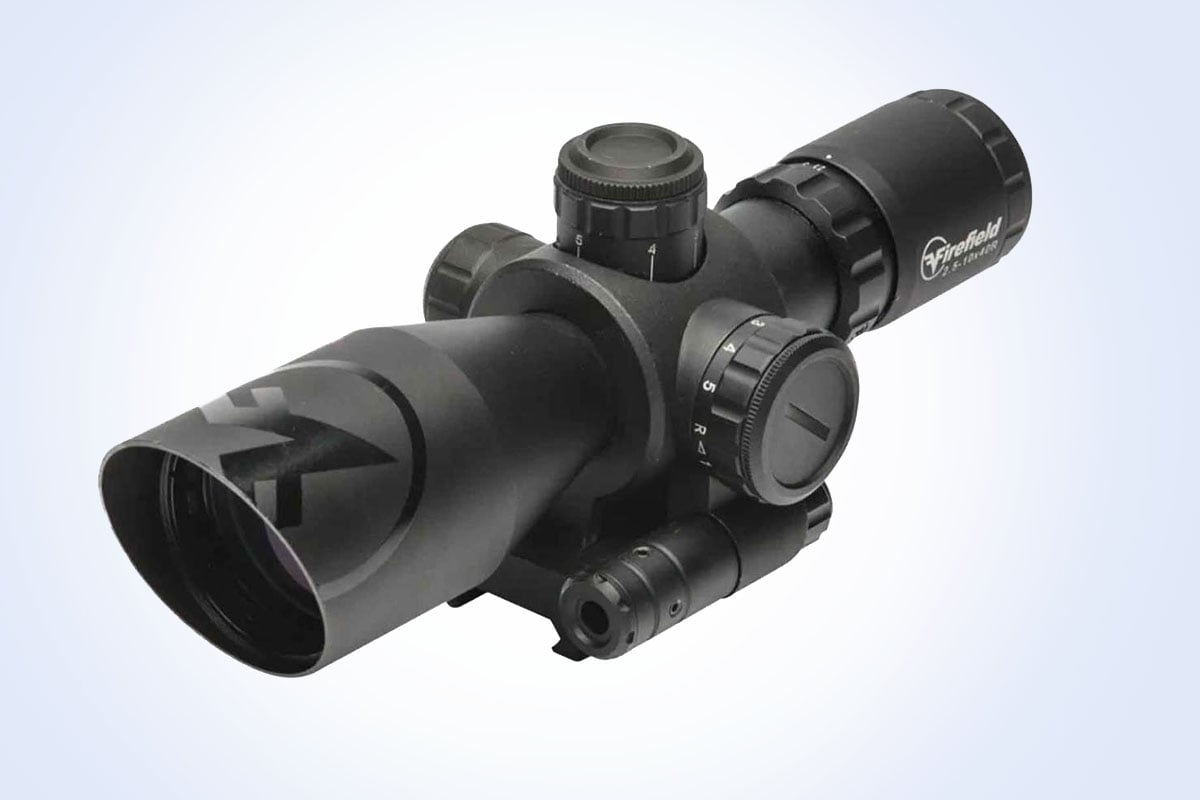 Check Price
If you want a scope to slap on an AR that isn't going to cost more than the rifle itself, the Firefield Barrage is a great option. You can get this scope for just under $100, and it still comes with many of the nice features that more expensive scopes on this list have. Of course, with optics you get what you pay for, but the Firefield Barrage is a solid scope for most AR builds.
For starters, this scope has a 2.5-10x magnification range. That gives you a good amount of magnification at short range, without being so strong you can't find your target. It also has a little extra magnification than your standard hunting scope, going to 10x instead of 9x maximum magnification. For being as small as it is, it still has a relatively large objective lens at 40mm. Paired with its fully multi-coated lenses, you are going to get a clear site picture and you don't need to be afraid of scratching your glass.
The Barrage's multi-dot reticle is illuminated and you can make it red or green, and you can make quick elevation adjustments out to 500 yards. The illuminated reticle also has a 100 hour battery life, so you can use it for hundreds of rounds before you need to replace it. The Firefield Barrage also comes with a 5mW 532nm Class IIIA red laser that just adds to the robustness of this scope. The Firefield Barrage is also IPX4 Waterproof, which means that it can hold up to heavy rain while in use, but it is not rated to be fully submerged in water.
All and all, this is a solid scope to use on your 450 Bushmaster AR if you are casually shooting it. Although if you plan on putting hundreds of rounds a year though your rifle, you may want a scope that is shockproof and made to handle larger rounds. Although if you hunt with the 450 Bushmaster, and you're like me, you probably put 10 to 20 rounds through that rifle a year between target practice and hunting both. In that case, the Firefield Barrage is up to the job, and very affordable.
Key Features
2.5-10x Magnification
40mm Objective Lens
Fully Multi-Coated Lenses
MOA System
Second Focal Plane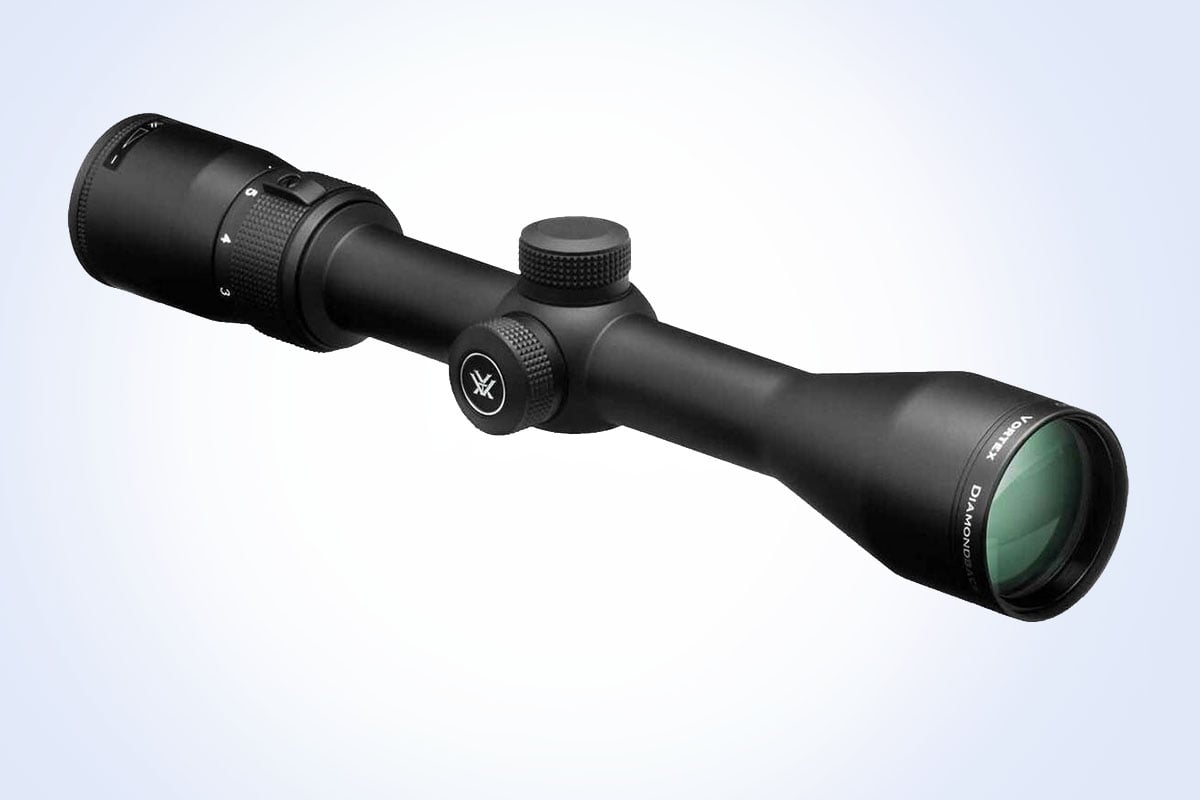 Check Price
The Vortex Diamondback is one of the most popular hunting scopes on Sportsmans.com. It has amazing reviews by hundreds of happy customers, and if you want a standard hunting scope on your 450 Bushmaster that gives you all the magnification you will need, the Diamondback is a great choice. It is also no surprise that this scope made it on our best rifle scopes buyers guide list. Let's see if it's the right scope for you.
For starters, the Vortex Diamondback has a 3-9x magnification range. That has you covered out to 300 yards, which is farther than most people would want to send a 450 Bushmaster. 3x magnification also isn't too strong to make closer targets hard to see. You get the standard 40mm objective lens that is so common in this class of optic, but it is a good size and captures a large amount of light. When you pair that with the high-quality glass and the fact that it is fully multi-coated, this scope is going to produce a very clear sight picture that never fails to impress.
This scope is also built to last with its aircraft-grade aluminum construction from a solid block of aircraft-grade aluminum for strength and rigidity which is of course shockproof. It also has waterproof O-ring seals that prevent moisture, dust and debris from penetrating for reliable performance in all environments. The Diamondback was also purged with argon gas to prevent internal fogging in any temperature.
As for the reticle, you can choose between a simple v-plex crosshair, or you can choose the dead-hold BDC reticle. Both of which are in the second focal plane and are on the MOA system. All and all, this is a fantastic scope that performs exceptionally well at its price point.
Key Features
3-9x Magnification
40mm Objective Lens
Fully Multi-Coated Lenses
MOA System
Second Focal Plane