Skip to content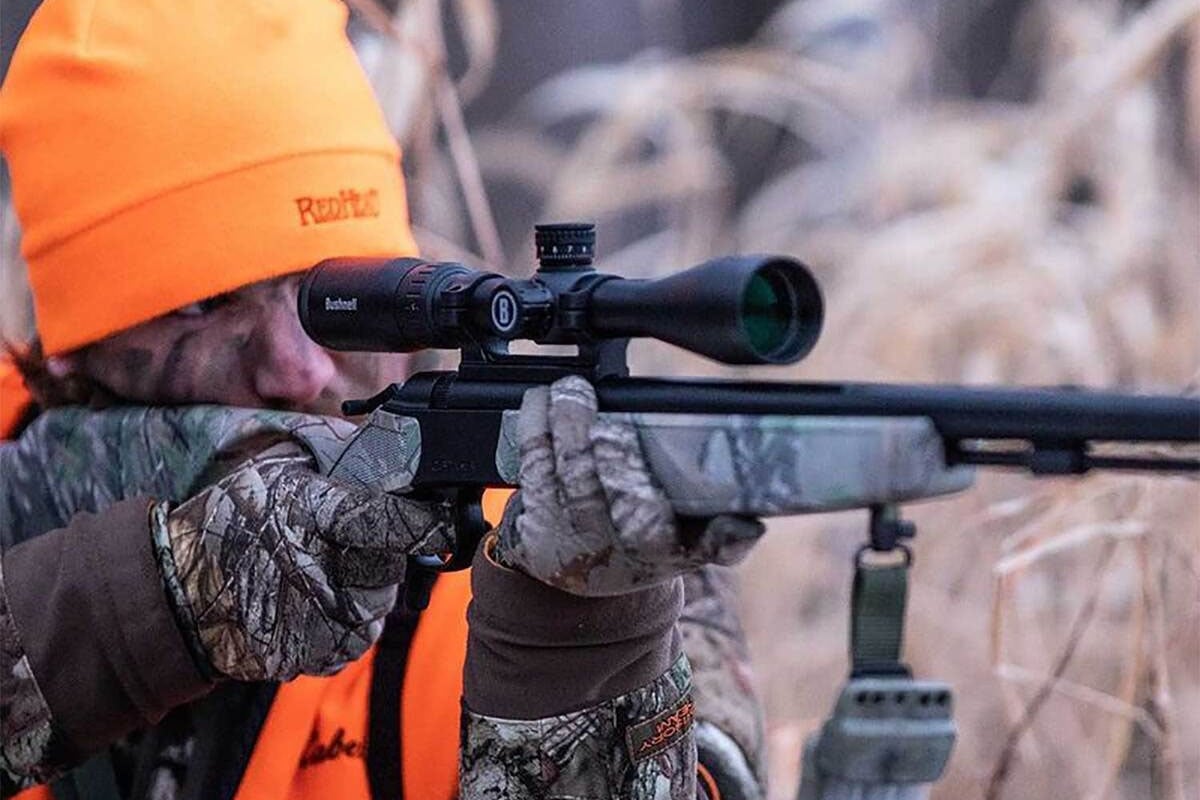 Whether you are hunting, shooting competitively, or just having fun on the range, you need the right scope on your rifle. After shooting and hunting with dozens of different scopes over the years, I sat down and found the best ones on the market for just about anyone.
If you don't know an awful lot about rifle scopes, that is alright! You could read my How to Choose a Rifle Scope Guide here on Sportsmans, or stick around and let me hit the high points while showing you a few quality scopes.
Magnification and objective lens diameter will be the main thing we look at. These two factors determine what your scope is built for. The lens coating is also important and is one of the main factors impacting overall quality. We will also pay attention to some personal choices like using the MRAD or MOA system, as well as which focal plane a scope uses. Lastly, we will look at what each scope is best at and how far you can ideally shoot with it.
Before we get started, here is a quick list of the scopes we will see today.
What Makes a Scope Right For You?
The world of optics can be as complicated as you want it to be. When you are buying a scope, you can keep it simple and look at the main factors, magnification and objective lens diameter, or you can dive into every facet of every scope and get exactly what you are looking for. Personally, if you are going to spend the money on a nicer scope, you should get what you want. So before we look at specific scopes, let's briefly go over their characteristics and see what your ideal scope looks like.
Magnification Range
The level of magnification you want out of a scope heavily depends on what you want to use it for. More magnification is not always better, but it is generally more expensive. The rule of thumb is that you need 3x magnification for every 100 yards you plan to shoot.
For an eastern hunter that doesn't usually stretch their shot much past 100 yards, the standard 3-9x variable scope is more than enough, and has you covered out to 300 yards. If you are a western hunter that is comfortable shooting mule deer out to 400 yards, you will want at least 12x magnification, and many western hunters stretch that out to 16x. Although a more powerful maximum magnification comes with a smaller field of view, so the more you zoom in, the harder it will be to find your target; especially in a rush.
Objective Lens Diameter
The objective lens is the outermost lens on the business end of the scope. It is responsible for capturing as much light as it can and sending it through the rest of the scope. As you may imagine, the larger the lens, the more light it can bring in. This makes a brighter, and often clearer picture.
However, that doesn't mean you need the scope with the biggest objective lens you can find. Scopes with 40mm diameters and up bring in a ton of light and will make a very nice picture. Getting a scope with a lens in the 50mm range will only be more expensive, and make the scope heavier. Plus, if your lens is too large, you may need taller mounts on your rifle to make it fit.
You can also get away with a smaller objective lens if you are not shooting as far. It is easier to make a clearer picture at closer ranges, so a large objective lens is not really a requirement unless you want to push your rifle to extremely long ranges.
Lens Coatings & Glass Quality
If you want a good scope, you want a scope with high glass quality and a great coating. Most scopes from name brands have fairly good glass, but you can get scopes with exceptional glass. Ultra low dispersion glass is usually a good sign. You also want to make sure you have a good glass coating. The coating is just as important as the glass itself. A cheap coating on great glass makes a cheap scope.
A lens coating is going to protect your lenses from scratches, and it will also affect the way your scope transmits light. Better light transmission means a better sight picture through your scope. There are four main types of coatings, coated, fully coated, multicoated, and fully multicoated. Here's their differences.
Coated: One lens surface has one coating layer.
Fully Coated: All air-to-glass surfaces have one coating layer
Multi-coated: At least one surface has multiple coating layers.
Fully Multi-coated: All air-to-glass surfaces have multiple coating layers.
Generally the more coatings the better, so you want a fully multi-coated scope. That kind of coating isn't extremely hard to find either, most solid scopes by big brands will be fully multi-coated.
Construction
The final thing you want to look for in a scope is a solid construction. Most good scopes are made of aircraft-grade aluminum which is tough, and hard to break. Of course, you don't want to use your scope as a hammer, but the tougher it is, the better. You should also look out for shockproof, waterproof, and fogproof ratings. The industry standard waterproof rating is IPX7, which means it can be fully submerged in a foot of water for up to 30 minutes. So sticking it out through a little rain shouldn't be a problem.
To consider a scope to be "good" or the "best" at what it does, you want to focus on the factors I mentioned here, magnification range, objective lens diameter, lens coatings, glass quality, and the scopes construction. All the other little characteristics a scope may have is really left to personal preference. Things like using MOA or MRAD, first or second focal plane, large or small turrets, they all depend on your preference and how much you want to spend. You can make it as complicated as you want, but personally, a scope is a piece of glass in a tube, so the glass and lens coatings are the first thing I look at when I'm looking for a quality scope. Let's start looking at some scopes!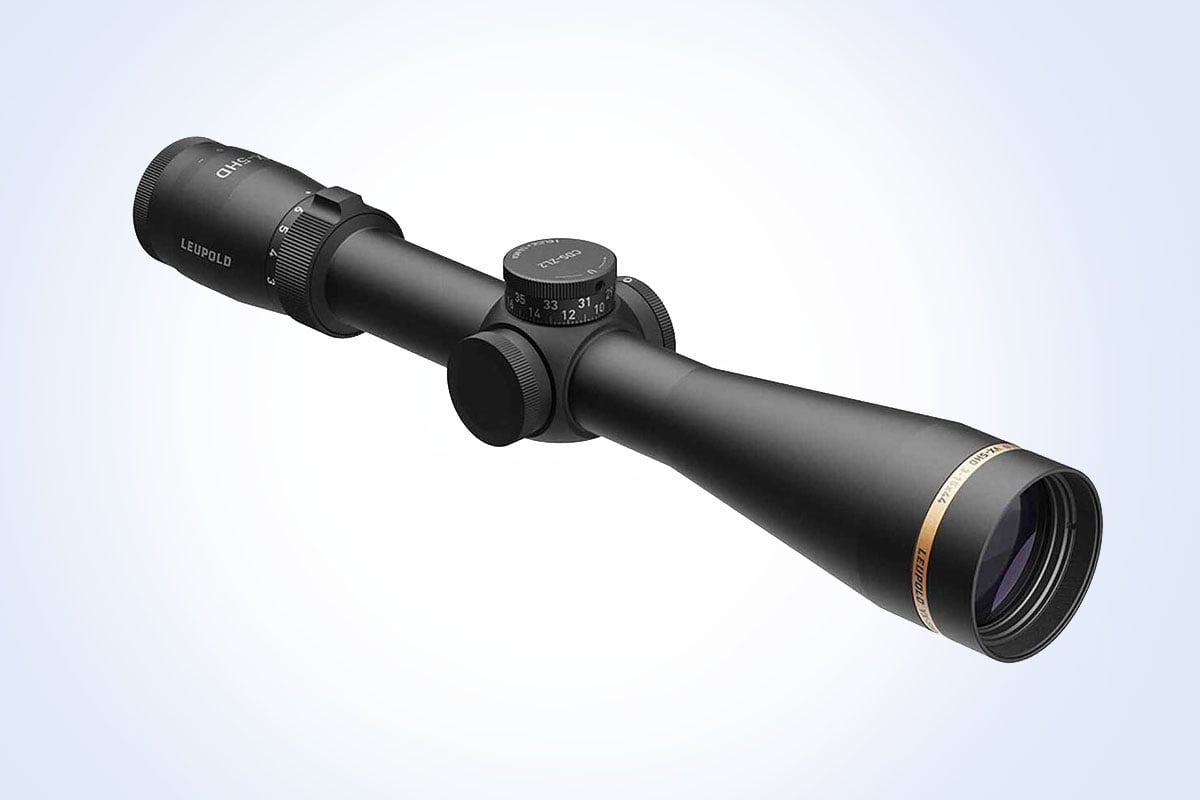 Check Price
The Leupold VX-5HD CDS-ZL2 is one of the best all-around scopes out there. It has a wide magnification range from 3 to 15x so you can use it for virtually any kind of hunting. It also has a larger objective lens diameter so you are letting plenty of light in and getting a very clear picture. Combine that with an illuminated FireDot Duplex reticle, and your target can be easily seen in any light conditions.
The Leupold VX-5HD CDS-ZL2 3-15x 44mm lenses also have a Guard-Ion Lens Coating, which easily sheds dirt and water for clear, crisp images. The scope is also water, fog, and shockproof, making it an excellent choice for any weather conditions. The VX-5HD is also backed by Leupold's lifetime warranty, so you can be sure that your investment is protected.
This scope is a second focal plane scope, and comes in MOA by default. The Leupold VX-5HD CDS-ZL2 3-15x 44mm is one of the most purchased scopes on Sportsmans.com, and it is loved by its users, as seen by its more than 500 five-star reviews. That is due not only to its great performance, but its versatility. With a 3 to 15x magnification, this scope can be used for a wide variety of purposes.
Key Features
3 to 15x Magnification
44mm Objective Lens
Guard-Ion Lens Coating
MOA system
Second Focal Plane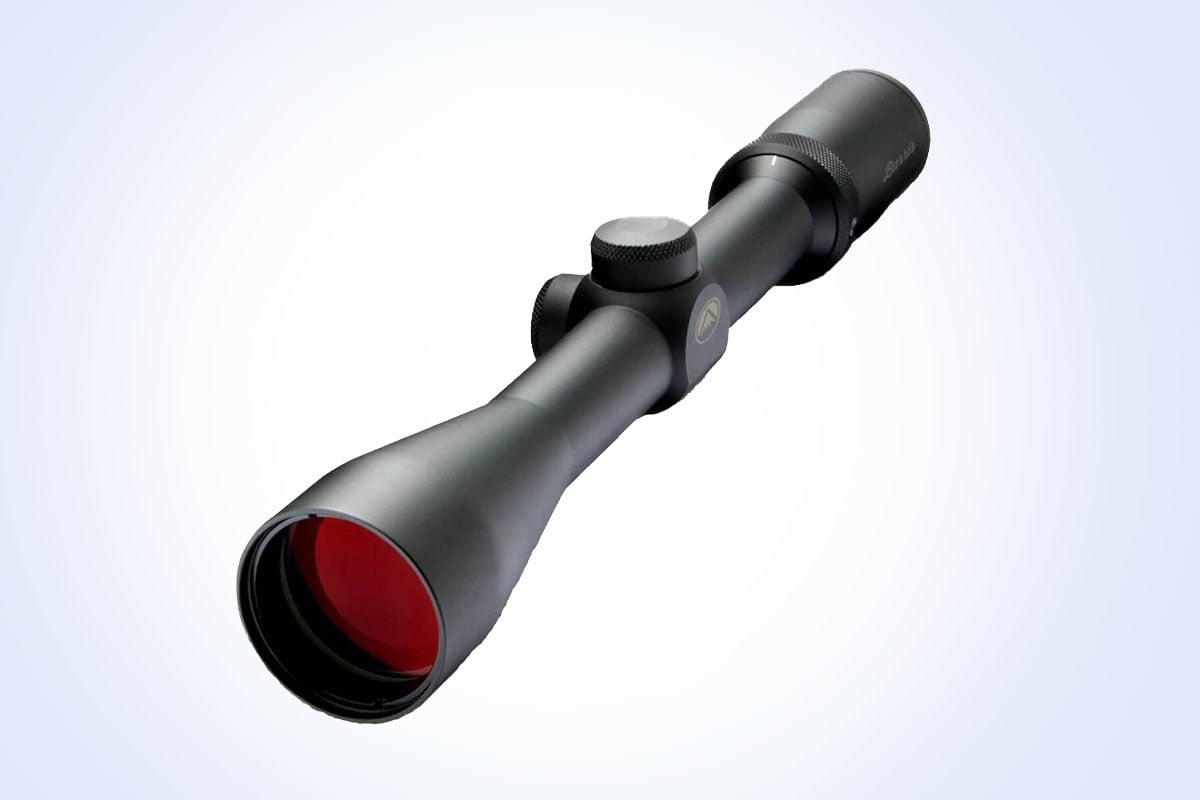 Check Price
The Burris Fullfield II 3-9x 40mm scope is a great quality scope for the money. It has a 3-9x variable magnification with a 40mm objective lens, and the lenses are fully multi coated with a Hi-Lume Multi Coating to provide maximum clarity and light transmission for improved visibility in low light conditions, and glare reduction.
The ¼ MOA reticle is placed in the second focal plane to ensure that the reticle stays true at all magnifications. This scope is recommended for use at ranges up to 300 yards, which makes it perfect for eastern hunting where you have to find your deer at relatively close range and get a shot off.
The best part is that this scope is less than $200! Plus, Burris is a great brand, and the 3-9x Burris scope on my Remington 700 has helped me shoot dozens of deer over the years.
Key Features
3-9x Magnification
40mm Objective Lens
Fully Multi-Coated Lenses
MOA System
Second Focal Plane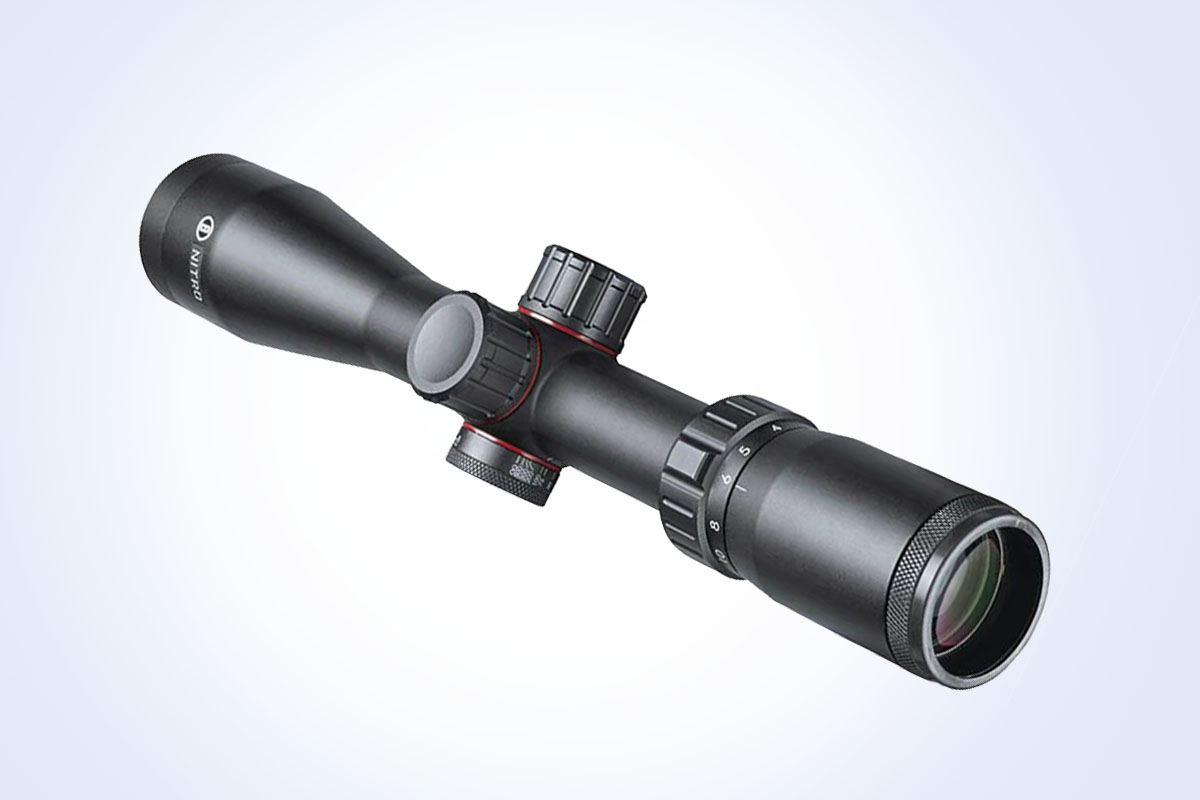 Check Price
The Bushnell Nitro 3-12x44mm scope is an ideal choice for long and short range hunting, featuring a magnification range of 3-12x and a 44mm objective lens size. The Ultra-wide Band fully multi-coated lens coating includes multiple layers to provide excellent light transmission and clarity, while the MOA reticle offers easy zero adjustments. The scope is constructed with a second focal plane design that keeps the reticle in proportion to the target image at all magnifications, and also has generous eye relief.
With its rugged construction and high quality optical system, this scope is great for hunting just about anything. You can get up close and personal with the 3x, or reach out over 400 yards with the 12x magnification. While being less than $500, this is truly a "do it all" kind of scope.
Key Features
3-12x Magnification
44mm Objective Lens
Fully Multi-Coated Lenses
MOA System
Second Focal Plane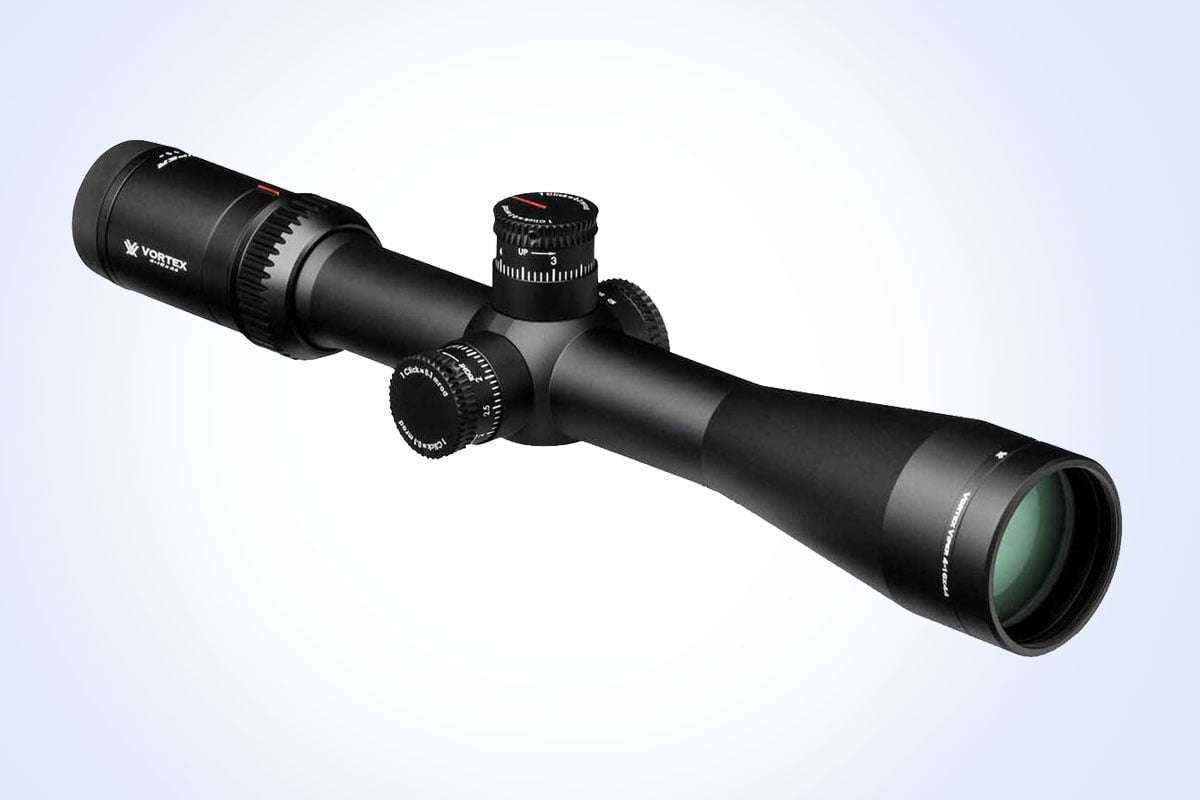 Check Price
The Vortex Viper HST 4-16x 44mm is a rifle scope that offers exceptional performance and versatility. It features a 4 to 16x magnification range, and a large 44mm objective lens size. It also has an ArmorTek Ultra-hard fully multi-coated lens coating with XRPlus anti-reflective coating for optimal light transmission, and a MRAD or MOA reticle in the second focal plane for accuracy at all magnifications. For those real long range shots, it also has an adjustable parallax from 10 yards on out.
This scope is best suited for medium to long range shooting, making it perfect for the western hunter that often needs to reach out over 300 yards. With a 16x maximum magnification, the farthest you would ideally want to shoot with this scope is around 500 yards. That is more than enough for any kind of hunt.
Key Features
4-16x Magnification
44mm Objective Lens
Fully Multi-Coated Lenses
MOA or MRAD System
Second Focal Plane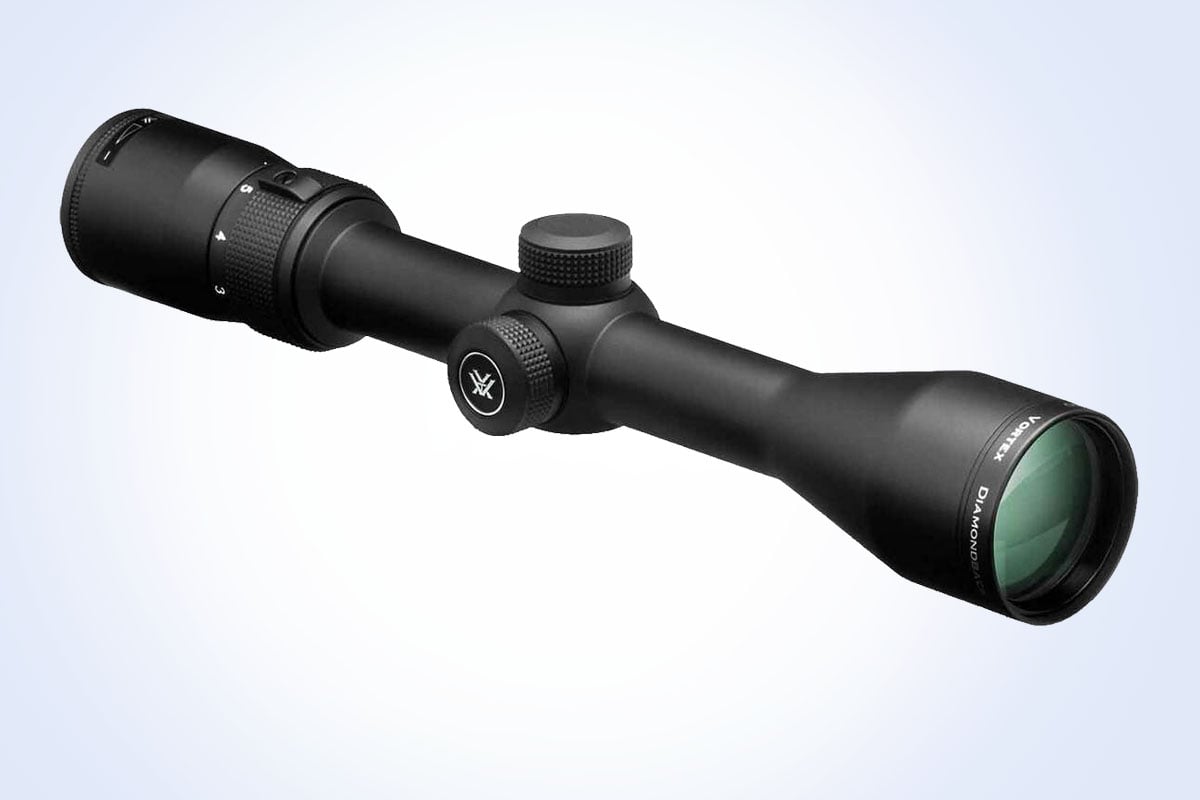 Check Price
The Vortex Diamondback 3-9x 40mm Rifle Scope is a great choice for shooters looking for a reliable rifle scope for ranges under 300 yards. This scope is designed with quality construction and features a fully multi-coated lens for increased light transmission and image quality. The Vortex Diamondback 3-9x 40mm Rifle Scope features a 3-9x magnification range which is perfect for the eastern hunter chasing whitetail.
The 40mm objective lens size is also great for gathering more light and creating a clear, crisp image. The lens is also coated with Vortex's XR Plus anti-reflective coating, which helps reduce reflected light and glare for a clearer, brighter image.
The Vortex Diamondback 3-9x 40mm Rifle Scope is also designed with a second focal plane MOA reticle. You can actually choose between their Dead Hold BDC reticle or the V-PLEX reticle. V-PLEX is a simple MOA reticle, while Dead Hold BDC has some hash marks to help account for bullet drop.
Key Features
3-9x Magnification
40mm Objective Lens
Fully Multi-Coated Lenses
MOA System
Second Focal Plane
Check Price
The Sig Sauer Tango-MSR LPVO 1-6x24mm AR scope is an excellent choice for shooters looking for a versatile, high-quality scope. This scope provides an adjustable magnification range from 1x to 6x, giving you the flexibility to engage targets from close quarters up to distances as far as 200 yards. The scope has a 24mm objective lens and is made with a ultra low dispersion (ULD) glass coating, providing exceptional clarity and light transmission in all conditions.
The Tango-MSR features a second focal plane illuminated MRAD reticle with 0.5 mil lines on both axes which allows precise measurements and holdovers when shooting at extended ranges. This crosshair design also makes it easy to quickly acquire moving targets at any magnification level without needing multiple turrets or complicated adjustments. It even has a built-in throw lever for quick magnification changes.
This scope is extremely durable and features a rugged design with a shockproof, waterproof and fog-proof construction. The Sig Sauer Tango MSR LPVO 1-6x24mm is absolutely ideal for medium range engagements with an AR such as competitions or tactical applications where quick target acquisition and accuracy are vital.
Key Features
1-6x Magnification
24mm Objective Lens
Ultra Low Dispersion (ULD) Glass Coating
MOA System
Second Focal Plane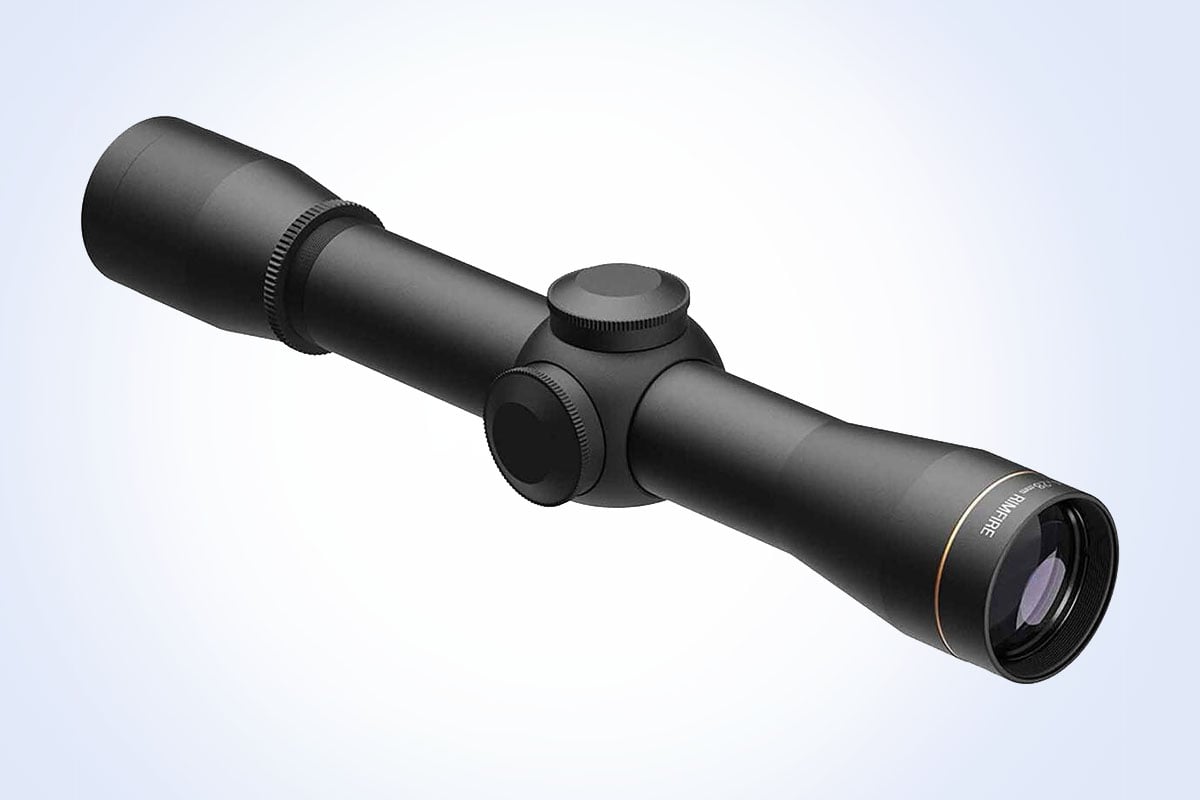 Check Price
The Leupold FX-I Rimfire 4x 28mm Rifle Scope is a classic optic designed for small game hunting and target shooting. The scope features 4x magnification with a 28mm objective lens that allows you to see your targets clearly at close range while still providing ample magnification to reach out over 100 yards.
The FX-I comes multi-coated with Diamond Coat 2 coating which provides superior image quality and reduces aberrations caused by glare and distortion. It also features an ultra crisp second focal plane duplex reticle with 1/4 MOA click adjustments to make sure your shot lands precisely where it needs to go.
In my opinion, this would be the perfect scope to put on a .22 lr or a .22 mag. Walking through the woods with a set up like this would bring back so many memories. It would also work great as a range scope on a 10-22. Now that sounds like fun!
Key Features
4x Magnification
28mm Objective Lens
Multi-Coated Lens
MOA System
Second Focal Plane
Check Price
Vortex Viper HST 6-24x 50mm is a top of the line, state of the art scope designed for precision shooting and hunting. With its impressive magnification power and large 50mm objective lens, it provides shooters with the flexibility to take accurate shots even in low light conditions. With a maximum magnification level of 24X, this scope allows you to easily identify targets at distances up to 800 yards or more with ease. This obviously makes it a great scope for long range shooting, and it will be able to see a fly on the back of a mule deer at 300 yards.
To make such a scope you would expect the glass to be top tier and you would be right. The Viper HST comes with XD Lens Elements Extra-low dispersion (XD) glass with XR Fully Multi-Coated Proprietary coatings and an ArmorTek Ultra-hard scratch-resistant coating that protects exterior lenses from scratches, oil, and dirt.
You can get in the Vortex Viper HST in MOA or MRAD, and it features the Vortex VMR-1 reticle in the second focal plane. Its rugged construction also makes it suitable for harsh environments making sure that no matter what happens during your hunt or competition you'll always have reliable performance when using this scope.
Key Features
6-24x Magnification
50mm Objective Lens
Fully Multi-Coated Lenses
MOA or MRAD System
Second Focal Plane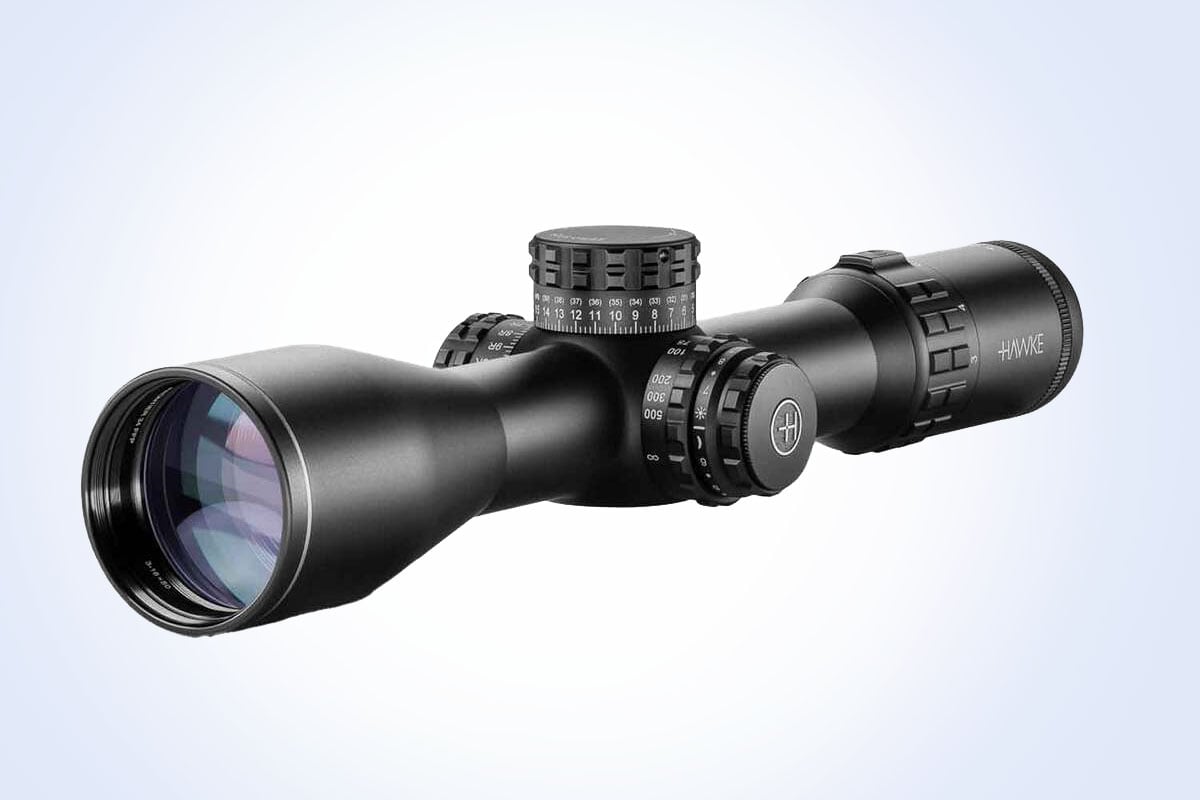 Check Price
The Hawke Frontier 3-18x 50mm Rifle Scope is a top-of-the-line rifle scope designed to enhance accuracy and precision in any shooting environment. The most impressive features of the Hawke Frontier are its wide magnification range of 3 to 18x, large 50mm objective lens size, and advanced 21 layer fully multi-coated lens technology. This scope definitely came to win.
This scope is perfect for hunters or competitive shooters who need precision and accuracy at medium or long ranges. It has the first focal plane FFP MOA Pro Ext. (18x) which is illuminated, and honestly looks pretty awesome. It also has a wide field of view (FOV) at 100 yards - 37.5 feet @3x through 6.3 feet @18x, which is great for quick target acquisition even at high magnifications. This makes the Hawke Frontier a perfect scope for shooting out to 500 yards. Of course, you can reach a bit further than 500 yards with 18x magnification, but for the shooters who are focused on 500 yards or less, this is a great option.
Key Features
3-18x Magnification
50mm Objective Lens
Fully Multi-Coated Lenses
MOA System
First Focal Plane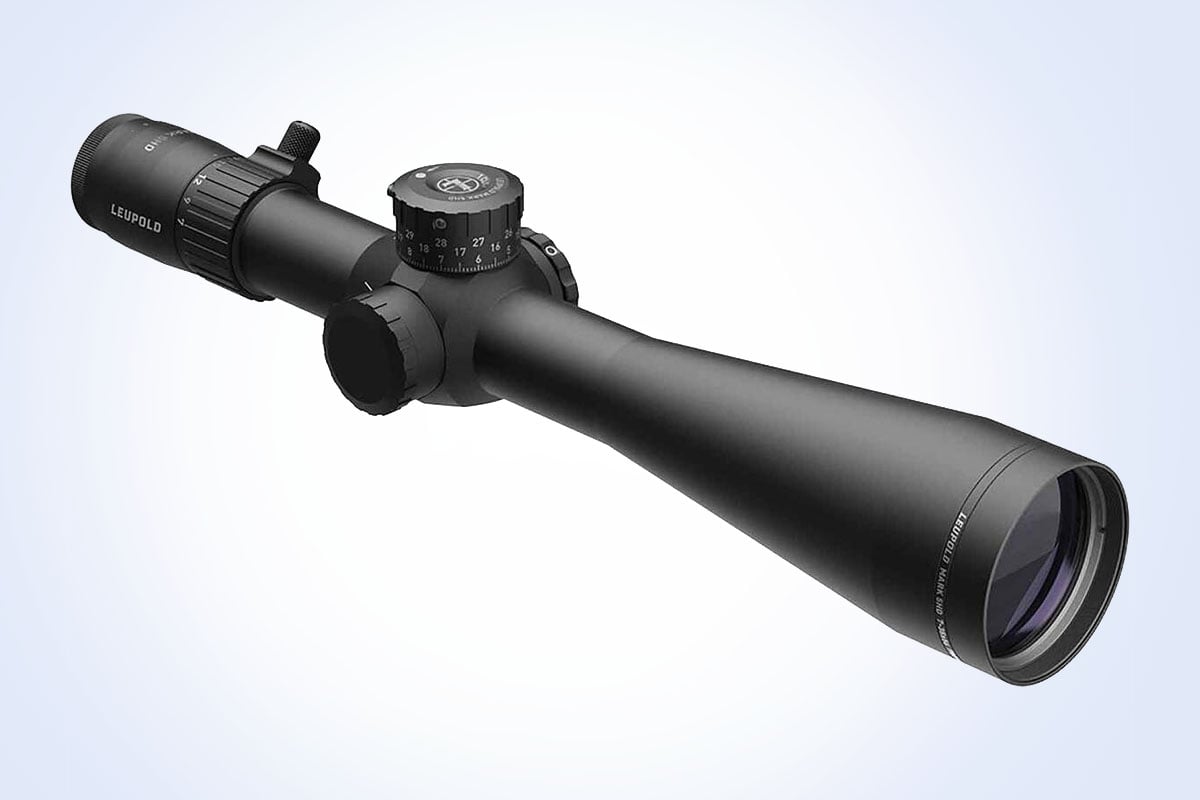 Check Price
If you ever needed or wanted to shoot over 1000 yards, this is the scope that you want on your rifle. The Leupold Mark 5HD is the coup de grace of long range scopes. With 35x magnification, you can see anything within 1500 yards, and shoot anything within 1100. You also get a large 56mm objective lens to make sure there is enough light transmission at that high magnification level. Plus, these fully multi-coated lenses have industry-leading glare reduction and scratch protection.
This is a first focal plane scope that is actually available in 7 different reticles. You can get a reticle in either MOA or MRAD. If you are a serious shooter that is looking to push the limits of how far you can shoot, the Luepold Mark 5HD is certainly up to the job. With its reliable construction and premium optics technology, the Leupold Mark 5HD 7-35x 56mm Rifle Scope will help ensure that every shot counts no matter what kind of terrain or weather conditions you might encounter during your next outing!
Key Features
7-35x Magnification
56mm Objective Lens
Fully Multi-Coated Lenses
MOA or MRAD System
First Focal Plane