Skip to content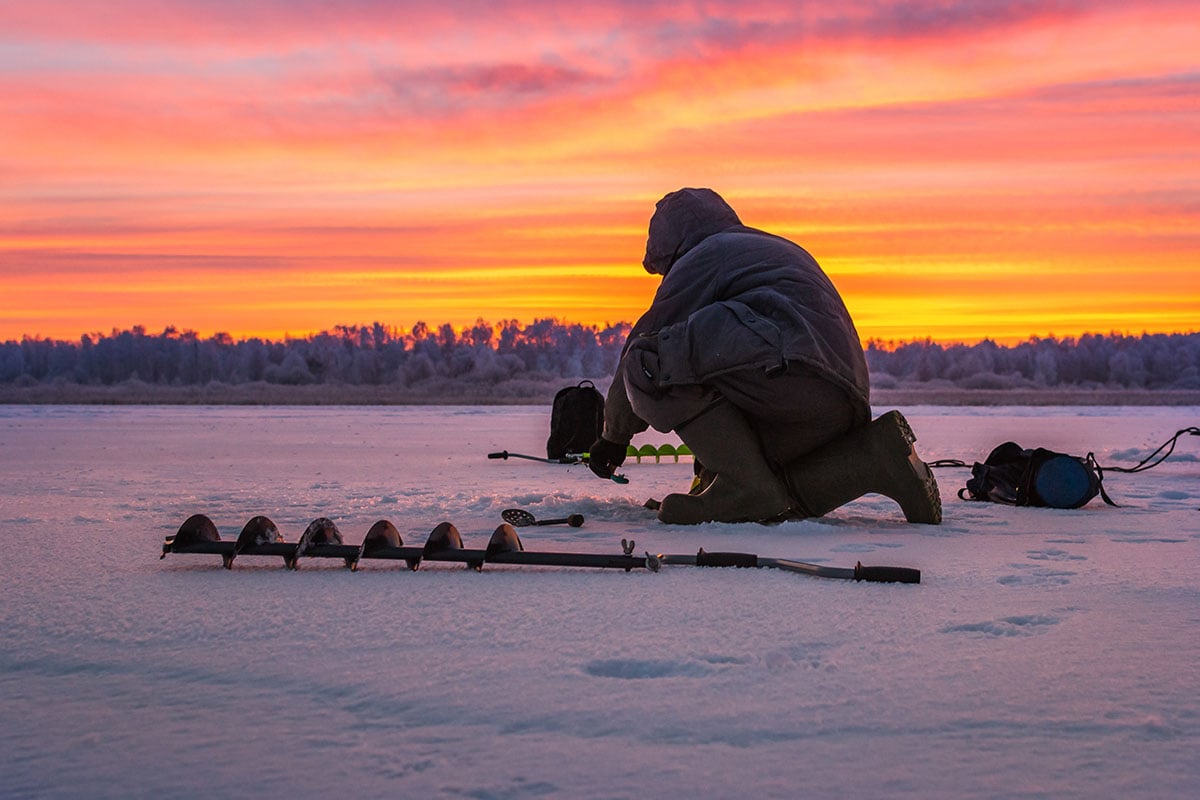 When ice fishing, you are not just battling the fish on the end of your line: you're also battling the weather. Winter conditions bring a whole new set of challenges, making ice fishing a unique activity. It's important to bring the right gear (and the right knowledge) before you set out on the hard water. This guide will provide you with everything you need to know to get started.
Essential Gear
In order of importance – Essential Ice Fishing Gear
Ice fishing sled
Rods/tip ups
Auger
Spike
Ice skimmer
Bucket
Shelter
Fish finder
Bait & lures
Ice Fishing Sled
If you've ever attempted to carry your gear across the ice and snow, you know it's hard work.
Most serious ice anglers use sleds to make the job easier, but it's important to find a good sled.
A flimsy, low-quality sled can be just as big of a headache as carrying your gear yourself. Having a good ice fishing sled will make finding a good fishing spot faster, safer, and a lot less work.
A good ice fishing sled should be rugged, but light, so you can haul your gear safely but quickly. A good sled should glide over the snow and ice with ease. Make sure your sled is big enough and sturdy enough, to carry all the ice fishing gear you'll need including a portable shelter, electric auger, multiple rods and reels, tip-ups, a heater, and a bait bucket. The right sled will ensure you can haul more equipment quicker and easier, so you can fish longer.
---
---
Jigging Rod or Tip-Ups
There are two ways to ice fish: with a jigging rod or with tip-ups. A jigging rod is closer to the traditional fishing rod, while tip-ups are entirely unique to ice fishing.
Regulations vary from state to state, and you should check them before heading to the ice, but in general, you can jig with two rods, and spread out up to six tip-ups on most lakes.
A jigging rod is a short, 12 to 36-inch rod, with a reel attached that gives you excellent control above the ice hole while working jigs, lures, and live bait.
Tip-ups come in a wide variety of styles with older types made of wooden cross members, and more modern ones spring-loaded to set the hook on a strike and flip up a flag to let you know you have a fish on. (Explore types of ice fishing rods.)
Top 3 Ice Fishing Rods
---
---
Top 3 Tip-Ups
---
---
Auger
You'll need an auger to drill holes in the ice. But there are many different types of augers you can buy. If you plan on drilling a lot of holes through very thick ice, consider a gas or electric auger instead of a manual option. When targeting large fish, you will need to drill a wider hole.
So, the larger the species of fish you're targeting, the larger your auger will need to be. Augers come in sizes from 6 to 12 inches. The larger the auger, the more torque required, and the more power to drill through the ice.
---
---
Spike
The original ice auger wasn't an auger at all but just a steel bar with a sharp edge for chipping holes in the ice. A spike is the modern version of that steel bar and has an extra use as a walking stick to help you stay steady on rough sections of the lake. Some use it judiciously to test ice thickness as well. No matter the use, it's a vital piece of equipment and you should always have a rope tied to one end, with the other around your wrist. This is the most commonly lost ice fishing equipment when someone breaks through the ice and loses their grip, sending it to the lake bottom.
---
---
Ice Skimmers
We call them ice skimmers, but they're really more similar to a ladle. On cold afternoons, and especially during night fishing when the temperature really drops, holes will quickly freeze over at the surface and continue until they're solid ice again. An ice spoon lets you clean out floating ice chunks that accelerate the freezing process, keeping your hole open and ready to fish.
---
---
Bucket
They're not glamorous, and they don't get much attention online or on the store shelves, but buckets, plain old 5-gallon buckets are the backbone of every ice fishing adventure. You can save lightweight ones from painting projects, or from other sources, but these won't last as long as a bucket designed specifically for the extreme temperatures and UV exposure you find on the open ice. They've been the backpack of ice anglers for a long time and their versatility keeps them out there.
---
---
Shelter
Ice fishing shelters (often called shanties) are optional. However, if you're going to be fishing in freezing temperatures for hours at a time, investing in a shelter can make the experience much more enjoyable. Even basic, budget-friendly shelters will provide warmth and wind protection.
These "ice tents" are a bridge between sitting in the open and those permanent shacks you find all around the Great Lakes.
---
---
Fish Finder
A fish finder displays water depth, structure and locates fish as well. Knowing what is under you and if there are any fish nearby is a valuable tool. It can also mark fish and show whether they are interested in your bait. You can use the same fish finder for ice fishing that you use during the warmer months.
---
---
Bait & Lures
The limitations of fishing through a small hole in the ice doesn't mean you don't have a lot of options for bait and lures, because you do. Depending on the fish you're after, your lures and bait will need to be adjusted. Almost every ice fishing species will hit a live minnow, and a few will do the same on night crawlers, mealworms, and other organic bait.
Lures won't have the same "pop" as they do in moving water, but jigs, some spoons, and a few spinners will still do the trick through the ice.
Lures:
Jigs
Crankbait
Spoons
Bait
Jigs
---
---
Crankbait
---
---
Spoons
---
---
Bait
Live bait, especially minnows are the go-to option in ice fishing, particularly with tip-ups. All types of live bait have their place with certain species. We've created a chart for live bait with a little "how to" and what to look for when using it for specific types of fish.
Selecting a Spot
Finding a location to drill your holes and selecting a hole pattern to follow is equally as important as the bait you use, the style of tip-ups you set out, and how you jig.
Maps and fish finders are your best friend on a new lake, and locating your "secret spot" on an established lake is always a good idea.
You want to locate an inlet where water is still flowing into a lake, this brings more oxygen into the water, and baitfish will gather here. Setting your holes to follow the flow under the ice is a great idea too since some fish like trout, perch, and walleye will feed in schools. Getting those tip-ups all popping in succession makes a great day on the ice.
Look for structure like rock outcroppings and sunken logs that provide both protection and concealment for fish. The big ones use it to ambush and the smaller ones to hide.
When you've found a spot, drill your holes to match the structure beneath. Regulations vary in each state, so check before you drill too many holes.
Be creative in your hole pattern and keep the spot as clean as you found it when you're finished. The next guy will appreciate that, so pay it forward.
Popular Ice Fishing Species
The good news is that the northern latitudes of the USA and Canada are full of tasty, hard-fighting fish. Bass aren't a big ice fishing species, but you'll still catch an occasional largemouth through the ice.
The one species that is best caught through the ice is burbot, also called ling cod, and in many areas simply ling. This is the ugliest freshwater fish you can catch, but also among the best eating. Other species are available as well.
Top Ice Fishing Species:
Ling
Walleye
Northern Pike
Perch
Crappie
Trout
Bluegill
Ling
Often called "poor man's lobster" these long narrow fish are easier to catch through the ice than at any other time. You'll want to bottom bounce or suspend a minnow just above a weed bed for these guys.
Walleye
The most pursued fish on the ice. Walleye are considered the best-tasting freshwater fish and their habitat is widespread across the colder regions. Walleye prefer minnows, but they'll hit jigs, spoons, jerkbait, and nightcrawlers too. They can reach 20 pounds so be ready to enlarge the hole if you tag one.
Northern Pike
Like any other species, Northern pike get hungry under the ice. They are the most aggressive fish you'll find and will hit on minnows, cut bait, and jerkbait when presented properly. Most anglers just catch and release these fish, but if it's a big one, have your camera ready for a quick photo before you toss it back into the water.
Perch
Next to walleye, perch are a preferred eating fish, they're just smaller than their close relative the walleye. Perch will nest, meaning you'll find huge schools of them huddling around structure. If you locate a nest, and they're hungry, you're about to have a busy day on the ice.
Crappie
Like perch, crappie are a schooling fish. If you locate a big school of them, set your holes in a double line on each side of the school, mix your bait with mealworms, night crawlers, and jig alongside the live bait with a small spoon, or jig. The fun will soon begin.
Trout
Rainbows and lake trout are the most likely sub-species of trout you'll catch through the ice. They'll hit jigs, spoons, jerkbait, and minnows and might show a little interest in night crawlers as well. Often the biggest trout from a lake are caught through the ice.
Bluegill
We often think of bluegill, pumpkinseed, and other sunfish as warm water species, but in Minnesota and Wisconsin, you can catch these smaller, tasty gamefish all year long. They'll hit on waxworms, red worms, and sometimes on very small jigs. They have huge concentrations so if you find a good spot, you might catch a few dozen an hour when conditions are right.
Conclusion
Be a good sport, pack in, and pack out everything you bring with you. Leave the ice looking like you were never there.
Be a good neighbor as well. When fish are hitting, the ice can be a crowded place. Stay close to your holes and don't infringe on anyone else. If they're having problems with a four-wheeler or other equipment, offer to help.
If you're fishing overnight, leave a lantern on low or a light to mark your spot. Some anglers prefer to move under the stars with an ATV and neither of you wants to meet each other in an accident on the ice.
Dress appropriately, pay attention to incoming weather, and enjoy the solitude. Sound carries much farther on the ice, and will carry beneath as well since water, frozen or not, has excellent sound-carrying qualities.
Have a good time.