Skip to content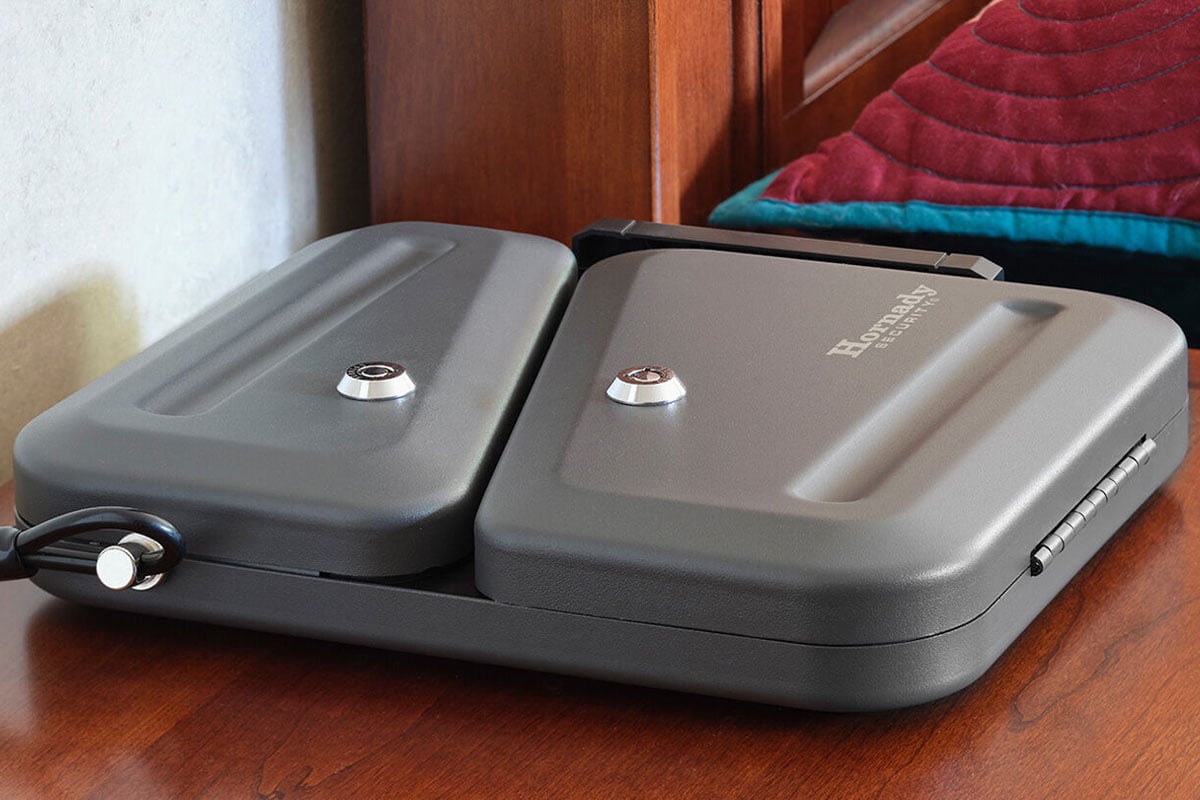 Gun safes are crucial for safely storing handguns at home or even in a vehicle. Alongside build quality and security, accessibility is one of the most important qualities of a handgun safe. You need to be able to get to your firearm in a matter of seconds while still keeping it protected from others.
It also needs to be small enough to fit wherever you plan on storing it, yet big enough for your pistol and possibly an extra magazine. As a handgun owner myself, I know the crucial factors that go into choosing the right safe. Here are my top picks.
Important Handgun Safe Qualities
Before you pick out the best-looking gun safe with the highest reviews, there are a few things you need to know. Not all handgun safes are made equal, and there are different pistol safes for different users. Of course, every user wants a good price for their safe, but size, accessibility, and security are just a few of the topics we should cover in a bit more detail before we jump into examples.
Size & Placement
This question is relatively simple, yet some people still end up with too small of a safe. Generally, you are only going to fit a single firearm in a handgun safe. Unless it is otherwise stated, you can assume that a handgun safe will fit a single full-size pistol and possibly an extra magazine. Although it is always best to check out the dimensions of your favorite safe before buying and ensure your pistol isn't too long.
If you want to store multiple handguns in your safe, you will be limited on options. Most "handgun safes" are meant to store a single handgun. You can get models that store two, three, and four standard-size handguns, although if you want to do much more than that, you will need to get a regular gun safe and outfit it with a few shelves. This is the most effective option for storing a large number of handguns, and if you want more information about larger safes, head over to our 5 Best Gun Safes of 2023 Guide.
Size or firearm capacity is likely the first thing you think about for a safe, but the physical dimensions are also important. A handgun safe in your car will need to be much different from one in a closet at home, on your bedside table, or hidden in the living room. If you plan on mounting your handgun safe somewhere, measure that space before buying.
Access & Security
There are four common access designs: keyed locks, an access code, biometrics, and RFID. Restricting access to the firearm is the whole point of a handgun safe, but as the primary user of that firearm, you need to be able to get to it quickly. Newer technology is making access faster while still keeping it secure, but let's start with the basics, a key.
Keyed safes are fairly common and straightforward but are not the most secure. Most cheaper locks found on handgun safes can be picked in a matter of seconds by someone who knows what they are doing, but they are still highly effective for keeping firearms out of the hands of children. These safes work great for most people as long as you don't lose your key.
Access codes are a good substitute for keyed safes because you do not have to keep up with a key, and they tend to be slightly more secure. Usually, a shorter code is less secure, but I would argue that simplicity is often best if the handgun inside is your go-to home defense weapon. You certainly do not want to need your gun just to not remember the code. Sometimes users have difficulty initially setting the code of their new safe, but once you get that part figured out, access code safes are simple and easy to use.
Biometric and RFID safes are newer to the market than key and code safes. The average gun owner is a little reluctant to try out new technology that could stand between them and their home defense weapon, but general biometric sensors and RFID have been around for decades. You can trust these sensors if you go with a reputable brand.
If you use an RFID safe, you simply wave a fob over the sensor on the safe, and it pops open. Functionally, this makes them a lot like a keyed safe but harder to pick or break into. Biometric safes are normally the fastest safe to open; after a few moments of reading your fingerprint, it will open. Oftentimes there will be multiple access types on the same safe. Just about every safe has a backup key, and most RFID or Biometric safes also come with a backup access code.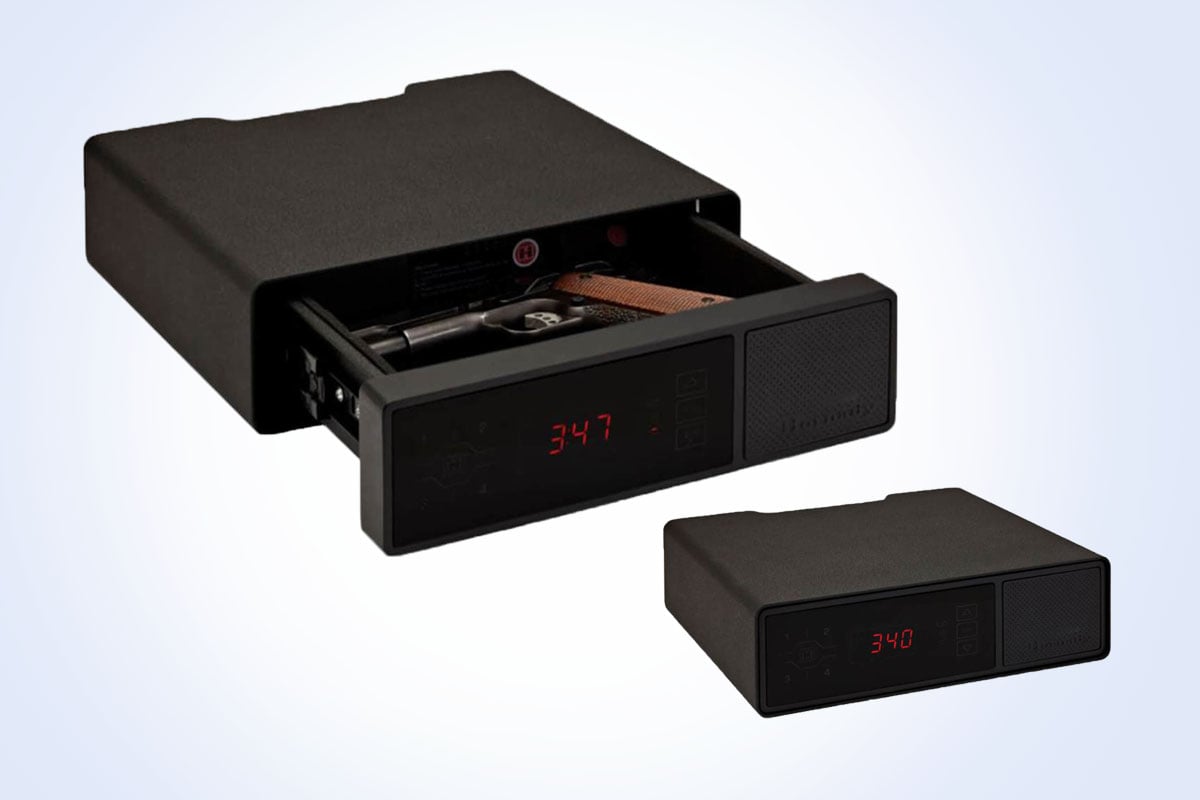 Check Price
The Hornady RAPiD Safe Night Guard is the perfect handgun safe for someone that wants to discreetly keep their pistol on their nightstand. This handgun safe looks like an alarm clock but holds a lot more than the hour. Hornady is a trusted name in the firearms world, so you can be confident that this safe is well-made and secure.
This safe uses Hornady's patented RFID technology. With this tech, you can open your safe using a wristband, keyfob, or decal. You can also access the safe with a personal access code or a key.
Not only does this safe look like a bedside clock, but it also functions as a charging station. The clock itself can run off of batteries but can be plugged into the wall. It can then charge phones and other electronics with its two USB ports in the back. It can also be mounted to your bedside table or a wall with a few screws.
The Hornady RAPiD Safe is a popular and quality option that will serve you well and last a long time. This roomy safe will keep your handgun easily accessible for you yet unattainable to thieves and curious kids.
Key Features
Multiple access options including RFID, access code, or key
Clock and two USB-A charging ports
Wall or battery powered
Fits most full sized handguns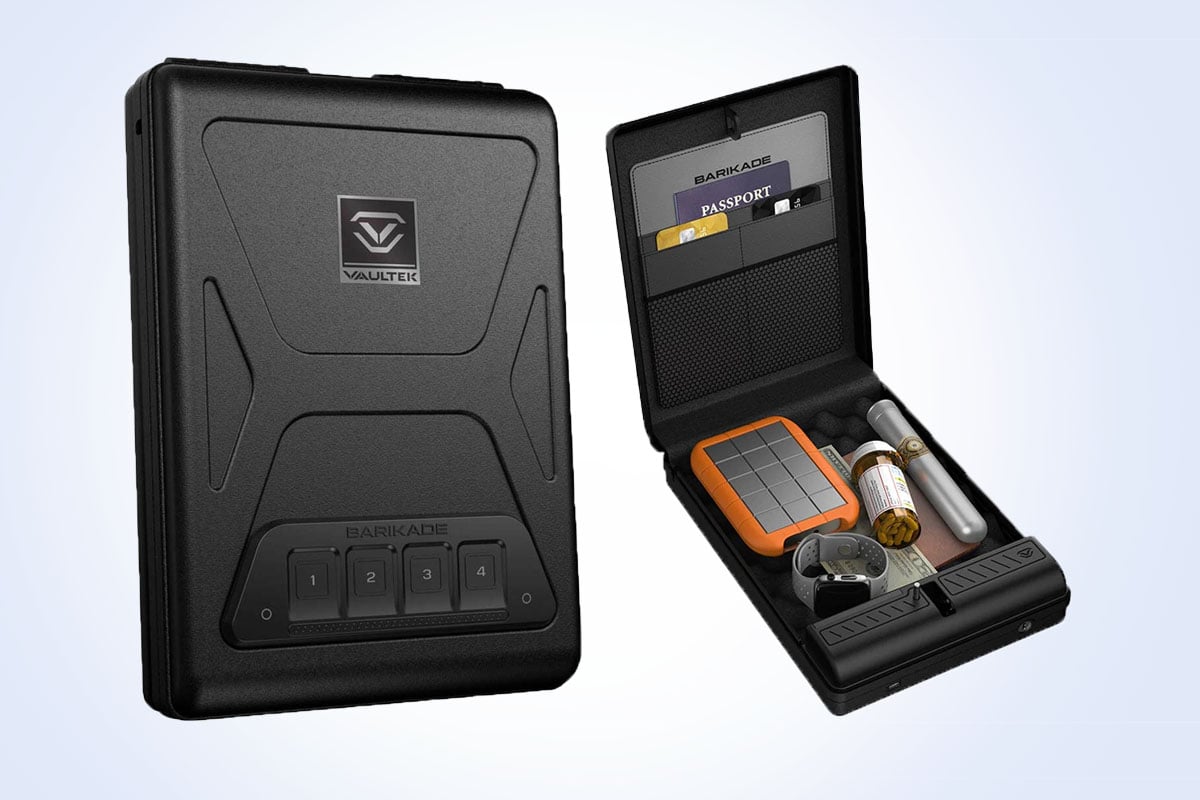 Check Price
The Vaultek Barikade Series 1 Keypad Pistol Vault is the perfect budget single handgun safe that still has all the most important features. This safe is mountable, has multiple ways to access it, is pry-resistant, and has an anti-impact latch.
It also costs less than half of what many other handgun safes cost, but you will not find any negative reviews about its build quality or security. In general, users have had an overwhelmingly positive experience with this safe and often say it is a great safe for the price.
One of the neatest features of this safe is that even though it's one of Vaultek's budget-friendly options, it still contains Vaultek's smart sense technology. The safe will sense when someone is close to it, and the keypad will light up so that you can easily find and open it in the dark. It also opens with a biometric sensor or access code and has a backup key.
Another neat feature is that it also contains an interior lid organizer. This organizer can store your ID, cash, small wallet, paperwork, and whatever else you can think of. However, most of us here are only interested in putting a firearm in this safe. This is a smaller safe, and its inside length is only about 8 inches which means it may not fit every full-size pistol but would be ideal for compact pistols.
Key Features
Three access options
Smart sense digital keypad and an interior light
Lid assist
Internal lid organizer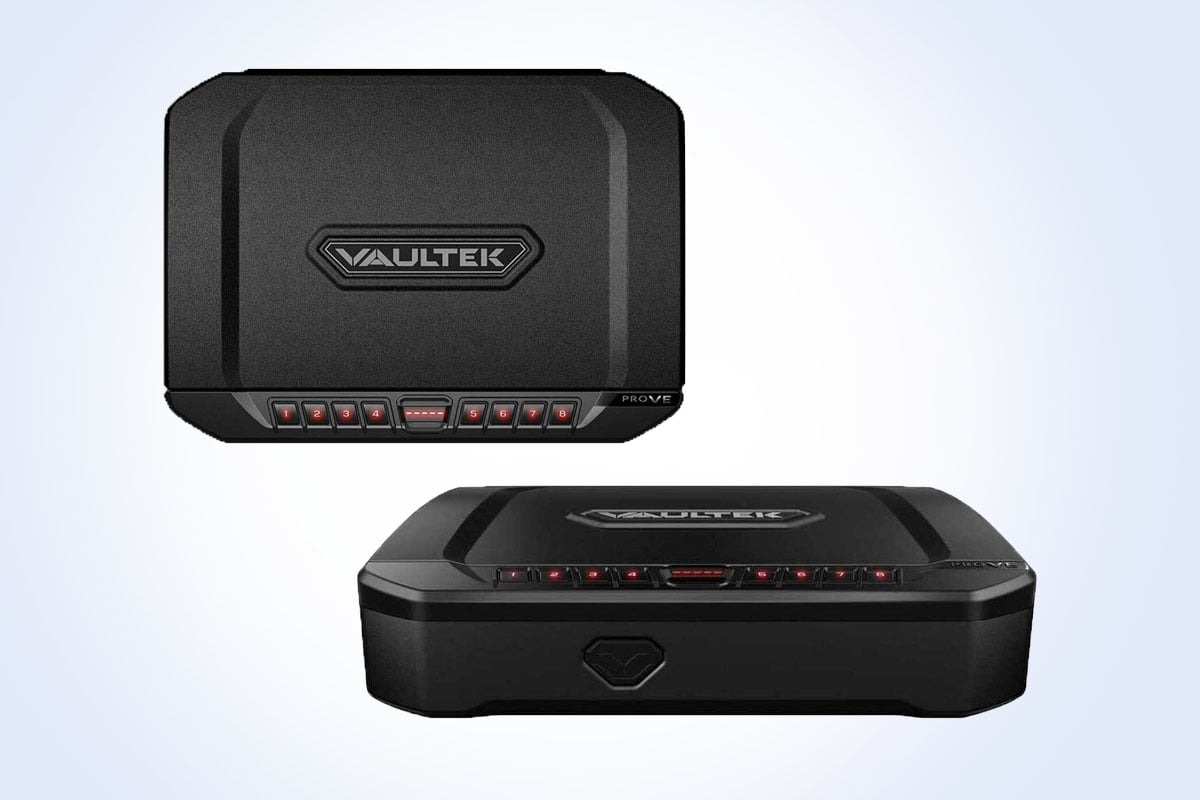 Check Price
The Vaultek Pro VE Essential 2 Pistol Vault is the perfect mountable safe for the user who wants to securely store multiple handguns in one spot. For instance, both you and your significant other's handguns could be mounted on a nightstand. Or maybe you have two different pistols you routinely carry and want to keep them together and easy to access.
Although this safe is considered a "two handgun safe", it can actually fit three subcompact guns. This is a nice feature that, depending on gun size, may allow you to store an additional firearm or extra magazines.
A unique feature of this vault that most others do not have is the proximity sensor built into the keypad. This is Vaulteks Smart Sense technology that we mentioned in a previous safe. When it detects someone nearby, it lights up the keypad so that you don't have to fumble in the dark trying to find the keypad to enter your personal access code.
If you liked the Vaultek Barikade but wanted something just a little bigger, this is the safe for you. It has the same great build quality, three access methods (biometric, code, key), holds at least two firearms, and gets great feedback from users.
Key Features
Auto opening door
Three access options
Backlit keypad with proximity sensor
Holds two full size or 3 sub compact handguns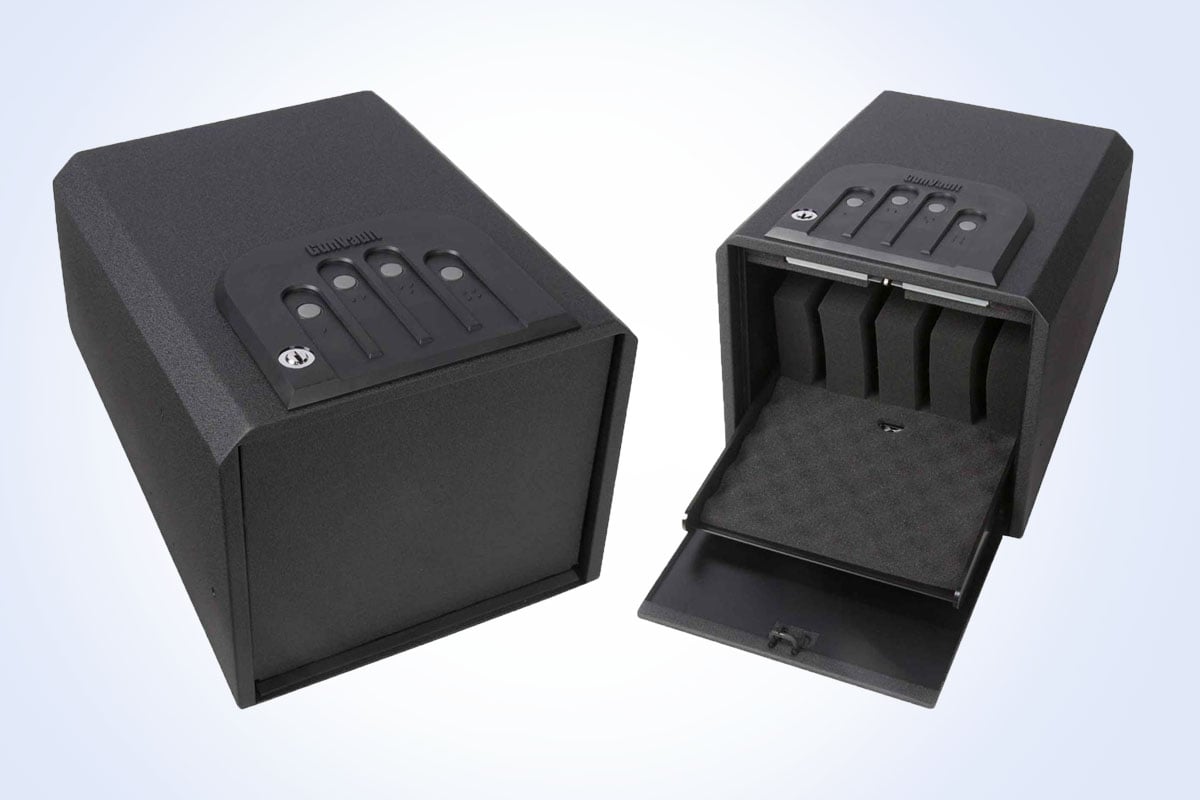 Check Price
The GunVault MiniVault 4 Gun Pistol Vault is the perfect safe for someone who wants to store up to four handguns in one place. It is quick and easy to access and will keep curious kids and thieves at bay.
This safe is an affordable and dependable handgun safe that you can count on. It's quick to deploy, mountable, and has two access methods (biometric and key). It will also run for months off of a single nine-volt battery.
Additionally, it's easy to access in the dark with its lighted keypad and red interior light. The red light is a nice feature of this safe that won't impair your vision at night when removing a handgun in the dark.
Lastly, this safe has a tamper detection feature that enables you to determine if there have been unsuccessful attempts to break into your safe. This feature is nice for those that may be worried about someone they live with trying to access their guns or even if a burglar has broken into your home.
Key Features
Stores 4 handguns
Fast slide out door
Lighted keypad and interior
Tamper detection
Best Vehicle Specific: Hornady Rapid Vehicle Safe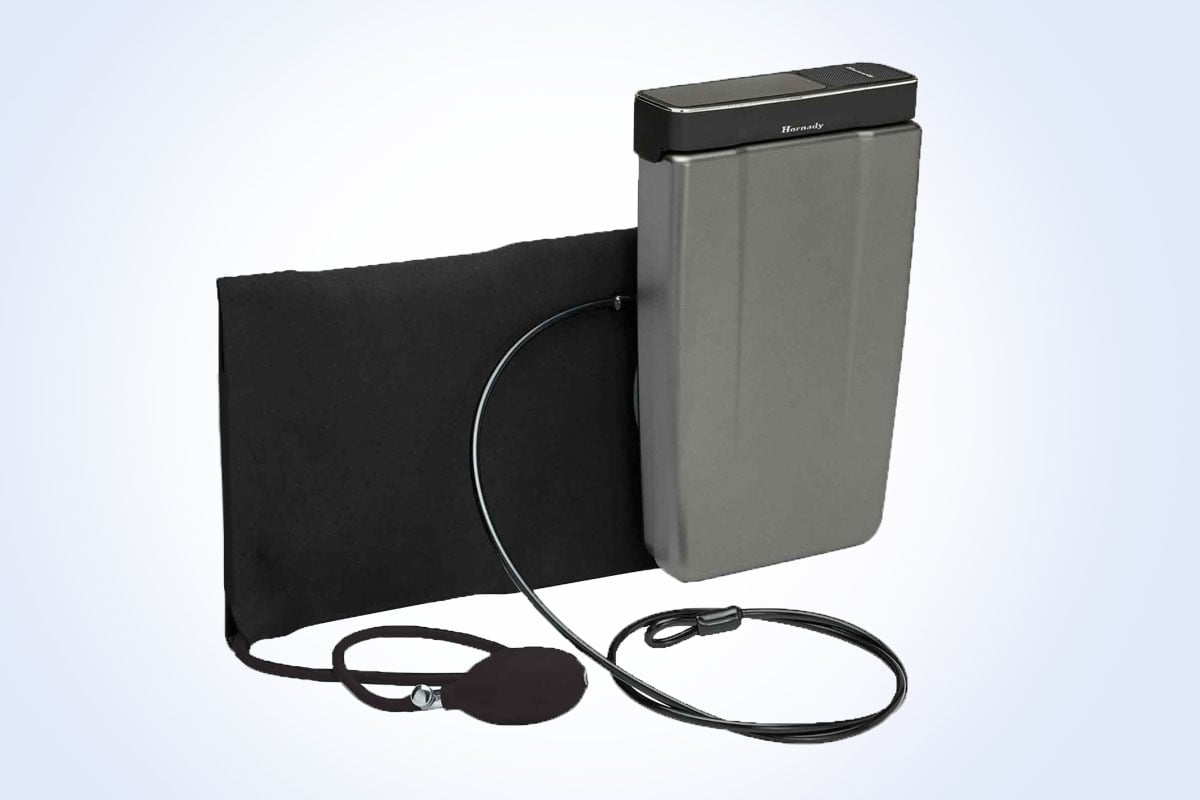 Have you ever wished that you had an easy place to put your handgun in a vehicle that offers concealment, easy access, and security? If so, your wait is over! The Hornady Rapid Vehicle Safe is the perfect safe to install in your vehicle for when you are on the go. You don't even need to do any vehicle modifications to get this safe to fit either.
This safe meets the International standards for child safety, pry resistance, lock strength, and blunt force attacks. You can rest easy when your handgun is in this safe. You won't even need to make vehicle modifications for this to work. Users report that it takes about 15 minutes to get this safe up and running.
Like other Hornady Handgun safes, this one is also equipped with RFID technology that allows you to quickly and easily access it using a bracelet, key fob, or decal. As an alternative access method, this safe also can be used with a programmable access code and keys.
Key Features
RFID and Programmable Access Codes
12v car or AA batteries
Assisted opening lid
No need to make modifications to the vehicle
Exceeds safety standards