Skip to content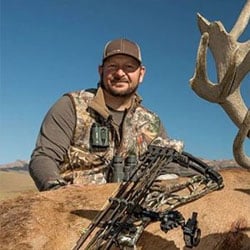 Home grown and self taught, Larry has made a name for himself in the bowhunting world by meticulously studying his prey and never giving up. Along with being an avid hunter, he is also a host for the Respect the Game TV show. You can watch him and the rest of the team every week on the Sportsman and Hunt Channels. In his free time you can find him eating steak, learning about honey bees, and hanging out with his wife and kids.
---
Highlights
Experienced hunting guide
Larry is a host on the Respect the Game TV show, an outdoor educational game show.
---
Experience
Larry has years of experience hunting, fishing, bowhunting. He is very knowledgeable, and shares his insight, advice and experience in articles and on TV (Respect the Game), and the Working Class Bowhunter podcast.
---
Recent Work