Skip to content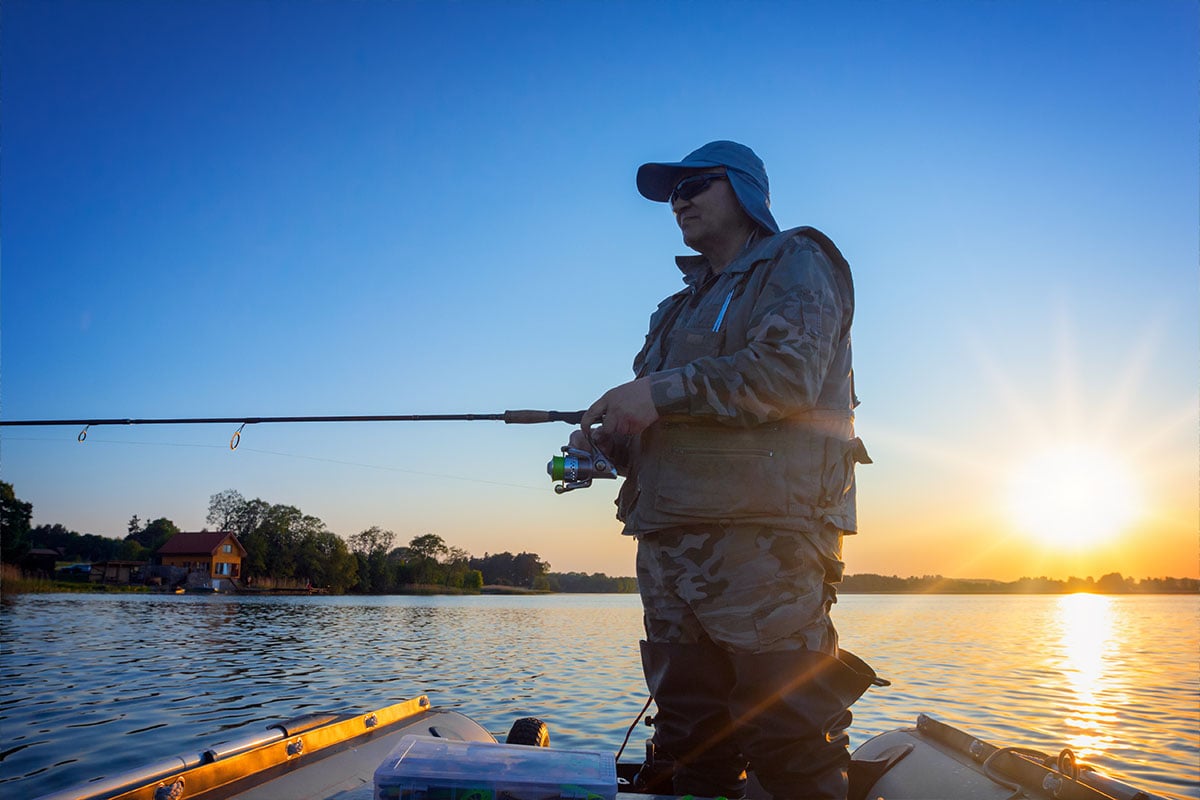 If you've watched Bassmaster competitions you've probably noticed the anglers all wear jackets similar to NASCAR drivers. They are filled with decals from every imaginable fishing vendor advertising the best spinning rods for bass, line, lures, boats, you name it.
That's the world of competitive bass fishing and it descends to those of us who just do it for fun. If you enjoy bass fishing but get confused by the literally thousands of rods, reels, lures, line, and other items being offered you're not alone.
It's easy to get lost in the forest of products when all you're looking for is the best bass spinning rod for bass, one that fits your style of bass fishing, hopefully without breaking the bank.
We're here to help, with a list of the top 10 bass fishing rods we've found. They vary a bit in design and price, but they all share one thing in common, they're designed to pull in both largemouth and smallmouth bass.
Bass Rod Basics
There are three things to consider when deciding which bass spinning rod to buy. They are:
Rod Length
Rod Power
Rod Action
We'll break down the different metrics of each category to help you decide which one fits your style of bass fishing best.
1. Rod Length
Bass rods can vary from five to nine feet in length. In general, the longer the length, the longer the cast, the shorter the length, the more accurately you can cast. With that in mind, nearly everyone prefers a 6.5 or 7-foot rod for all-around performance.
The reason for the middle-of-the-road length is a combination of casting distance and control.
There are times when you'll have to flip a lure dozens of yards to a promising spot on the water, but there are also times when the space between a couple of lily pads is only a few inches, and dropping your popper, or crankbait perfectly between them is the difference between the water boiling with a huge bass or scaring one away when you rip the treble hooks loose from the vegetation they're trapped in.
Length Comparison Chart
Rod Length
Casting Distance 1-10
(10 = Greatest)
Accuracy 1-10
(10 = Most Accurate)
5 ft.
3
10
5.5 ft.
4
9
6 ft.
5
8
6.5 ft.
6
8
7 ft.
7
7
7.5 ft.
8
5
8 ft.
10
4
2. Rod Power
All rods are rated in terms of power from ultra-light to ultra-heavy. As with length, the best rods for bass fishing are between the two extremes.
Power is a way of measuring the bend in a rod. The lighter the power, the greater the bend; the higher the power, the less the rod bends. Think of a spaghetti noodle versus a steel pipe as extreme examples.
A lighter power makes it harder to set the hook and more of a challenge to reel in a larger fish.
A heavier power means you won't have the sensitivity to determine when a strike takes place, but the hook will respond immediately.
Rod Power Comparison Chart
Rod Power
Lure Size Range
(oz.)
Hook Setting 1-10
(10 = Best)
Lures to Use
Fish
Ultra-Light
1/16 or smaller
3
Small jigs
Crappie, bluegill, brook trout
Light
1/16 to 1/8
4
Light spinners, small jigs
Bluegill, walleye, trout
Medium
1/4 to 3/4
5
Poppers, spinners, crankbait
Trout, small bass, walleye
Meadium-Heavy
1/2 to 3/5
10
Poppers, topwater, buzz baits, crankbaits
Best for bass
Heavy
3/8 to 1
9
Poppers, bottom bouncing, crankbaits
Big bass, muskie, lake trout
Extra-Heavy
1 to 6
9
Bottom fishing, heavy weights, big spoons
Channel catfish, muskie, big bass
3. Rod Action
Many novices confuse power and action, but they are not the same. The simple explanation is power is the stiffness of the rod, and action is where the rod bends first. Action is not marketed as often as power and takes a little effort to find with some manufacturers.
There are four primary levels of action in a bass rod. They range from extra-fast to slow, with fast or moderate action in between. Bass anglers usually prefer the two middle actions, fast and moderate The action measures where the rod will bend first. Extra-fast bends at the tip, fast in the upper one-third of the rod, moderate near the center of the rod, and slow in the bottom third.
You may ask. why does any of this matter? The reason is that extra-fast and fast rods set the hook faster since they don't flex as much. They're more sensitive to strikes and make it easier to tell when to set the hook.
A moderate rod is less sensitive, and a slow action rod is the least sensitive of all. But, when you hook a big bass you'll appreciate the stiffer backbone of a moderate power rod, and if you catch a real lunker, a heavier action rod will handle the power of that big largemouth and keep him out of the weeds when he makes his run.
Each of the four actions has its merit. The one you select depends on the style of bass fishing you prefer, and the potential to catch large bass over five pounds.
Rod Action Comparison Chart
Rod Action
Sensitivity 1-10
(10 is most sensitive)
Stiffness 1-10
(10 is the stiffest)
Hook setting 1-10
(10 is the best)
Ultra-Fast
10
3
10
Fast
8
5
8
Moderate
7
7
7
Slow
5
10
6
Best Spinning Rods for Bass
Now that we've explored the basics of what bass rods are all about, it's time to take a look at a few of the best models on the market. We'll include the price in these reviews, along with reliability, durability, the reputation of the manufacturer, and their longevity or innovation on the market.
Best Spinning Rods for Bass
[Comparison Chart]
| Rod Model | Rod Length | Rod Power | Starting Price | Benefit |
| --- | --- | --- | --- | --- |
| Okuma Cerros Bass | 7 | Medium | $89.00 | Medium action |
| Phenix 2020 M1 | 6.75, 7.16, 7.66 | Light, medium | $178.00 | Carbon fiber rod |
| St. Croix Bass X | 6.66, 6.82 | Medium-light, medium, medium-heavy | $120.00 | 5-year warranty |
| Daiwa Tatula Bass | 7.16, 7.5 | Medium-light, medium, medium-heavy | $149.99 | Longer casts |
| Lamiglas XP Bass | 7.25, 7.66 | Light, medium, heavy | $96.99 | Split cork grips |
| Duckett Green Ghost Bass | 6.75 | Medium, medium-heavy | $89.00 | Halo-sanded construction |
| Dobyns Rods Maverick | 6, 6.5, 6.75 | Light, medium-light, medium | $99.00 | Kevlar wrapped |
| Fitzgerald Rods Stunner HD | 6.75 | Medium | $169.00 | Medium action |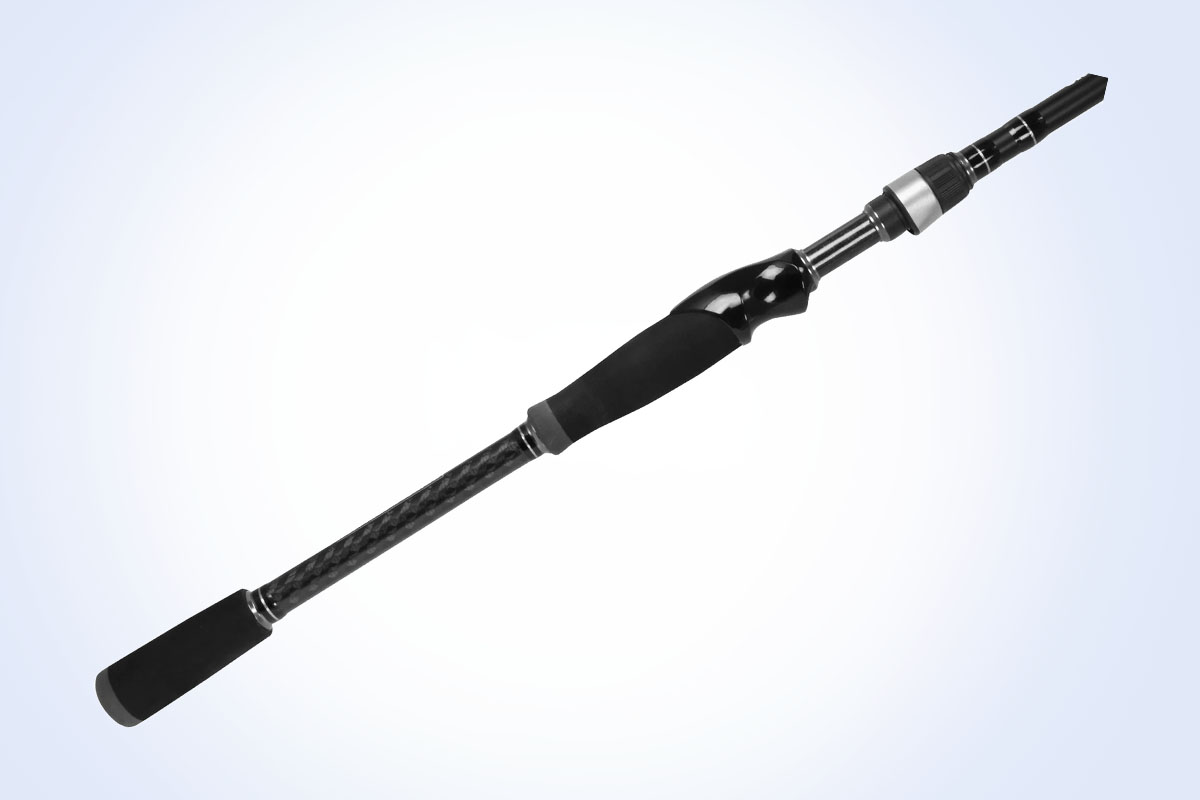 Check Price
If you paid attention to the charts, you noticed that a seven-foot, medium power, medium action rod was the best compromise between casting distance and accuracy. That's exactly what Okuma designed in their Cerros Bass rod.
This single-piece, seven-foot rod is built of responsive and durable 24-ton carbon. Zirconium line inserts ensure smooth, long lasting flow of any type of line without fear of nicks or cuts.
The split rear grip contoured handle makes it easy to use, with less fatigue after long days out on the water.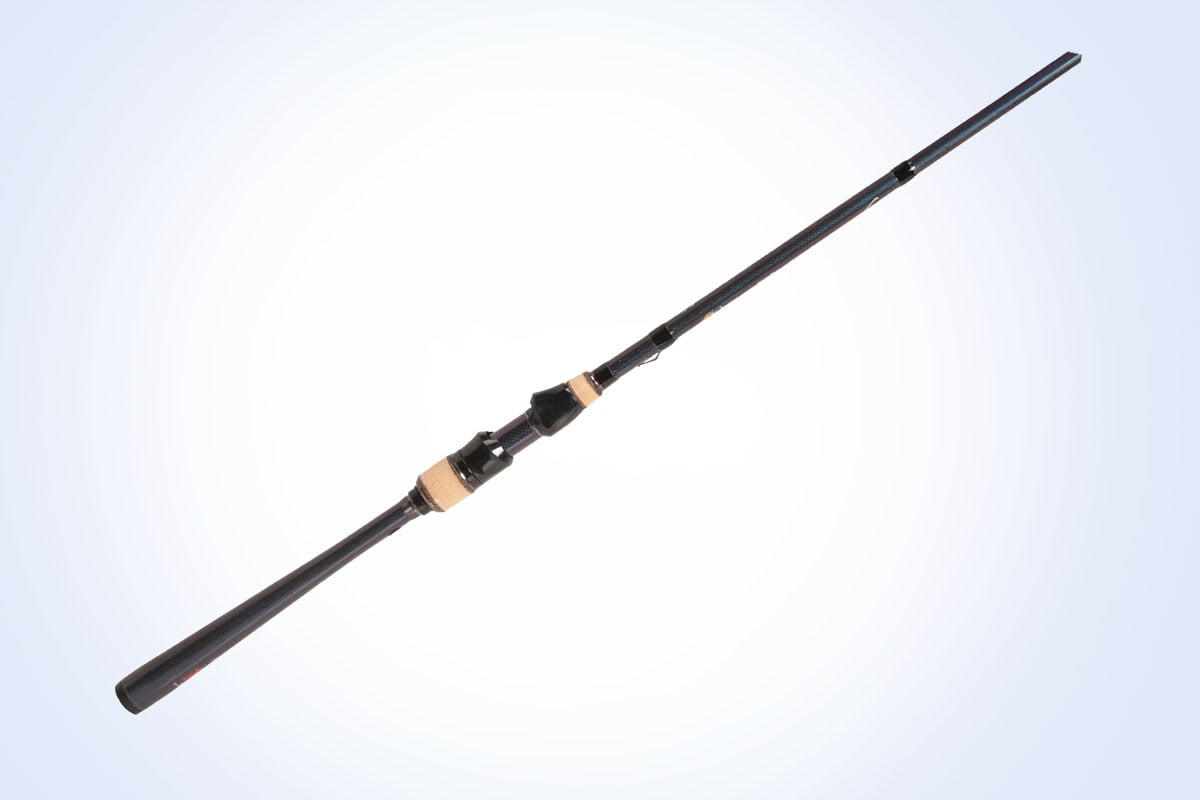 Check Price
The odd lengths of this rod might detract a few anglers, but they're designed to fit any smaller niches in the bass fishing world with their unique lengths of 6.75, 7.16, and 7.66-foot lengths.
Available in either light or medium power, this rod is perfect for throwing lighter ¼ to ½ ounce lures.
It comes at a higher price in comparison with many other models reviewed here, but this carbon fiber rod will work in settings where longer casts are required, or in more controlled locales where a pinpoint placement is the difference between a memorable afternoon or another scared fish that won't return.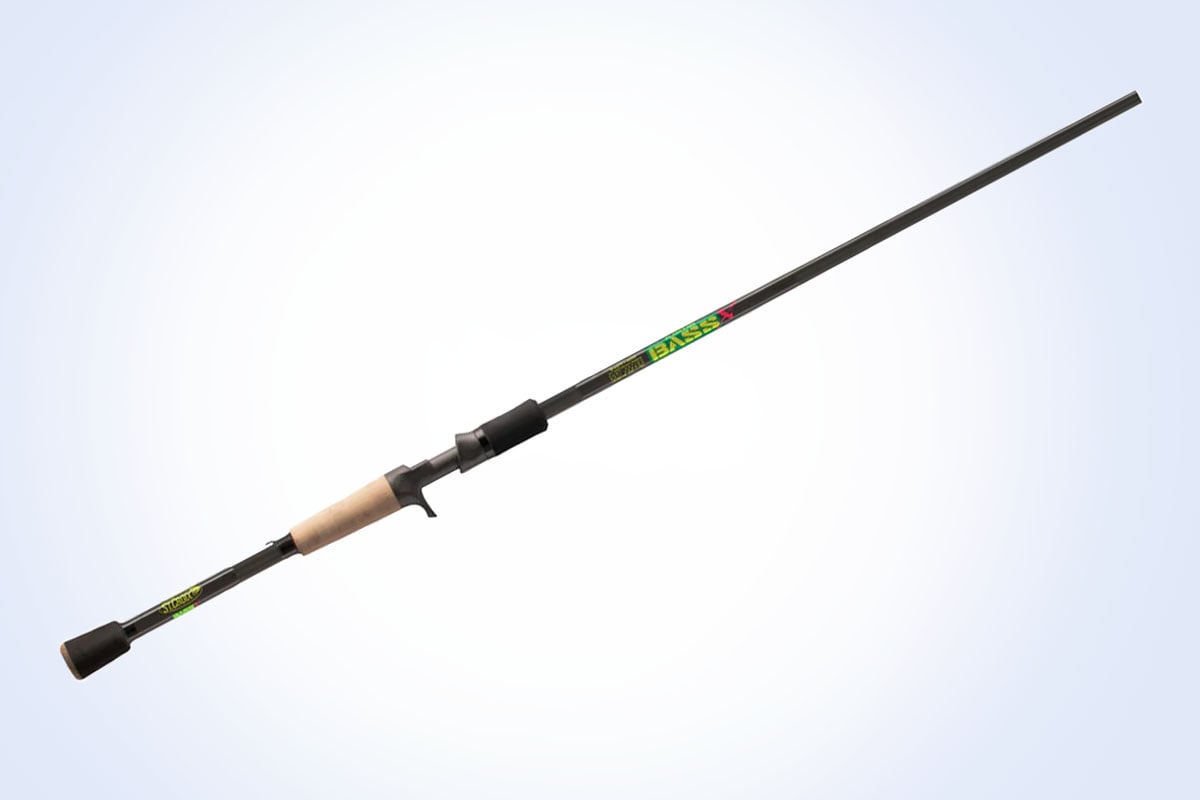 Check Price
Designed with the bass fishing sweet spot in mind, this rod has three of the most popular power settings for large or smallmouth bass, medium, medium light, and medium heavy.
These popular settings combined with two rod lengths of six-foot eight inches, and six-foot ten inches narrow the gap between distance casting and controlled casting to a margin that should work for any bass angler.
The grips are made of traditional cork, and the line guides are high-quality aluminum oxide.
The rod comes with St. Croix's highly respected five-year warranty.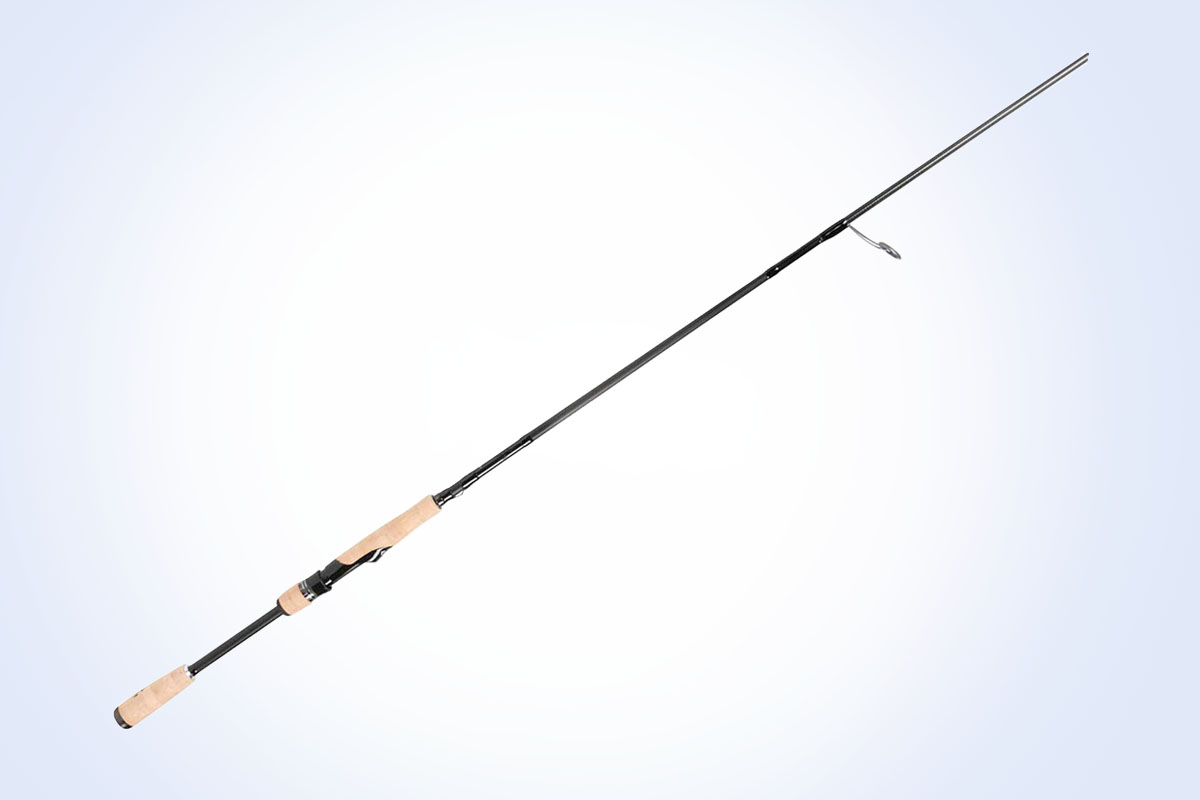 Check Price
If you're a novice or a seasoned bass fisherman, odds are you either started with, or are familiar with Daiwa rods, reels, and accessories. This company is an industry leader in a wide variety of angling equipment, and they've produced a quality spinning rod that is deadly on bass.
Available in a variety of lengths, the two most popular among largemouth anglers come in a seven-feet two, and seven-feet six inches.
They're on the upper end of the length scale, but combined with the moderate target of medium, medium light, and medium-heavy these are great rods for more open water.
Large rivers and bigger lakes offer more opportunity to cast a longer distance and these Daiwa specials will get your lure out a long way from the boat or shoreline.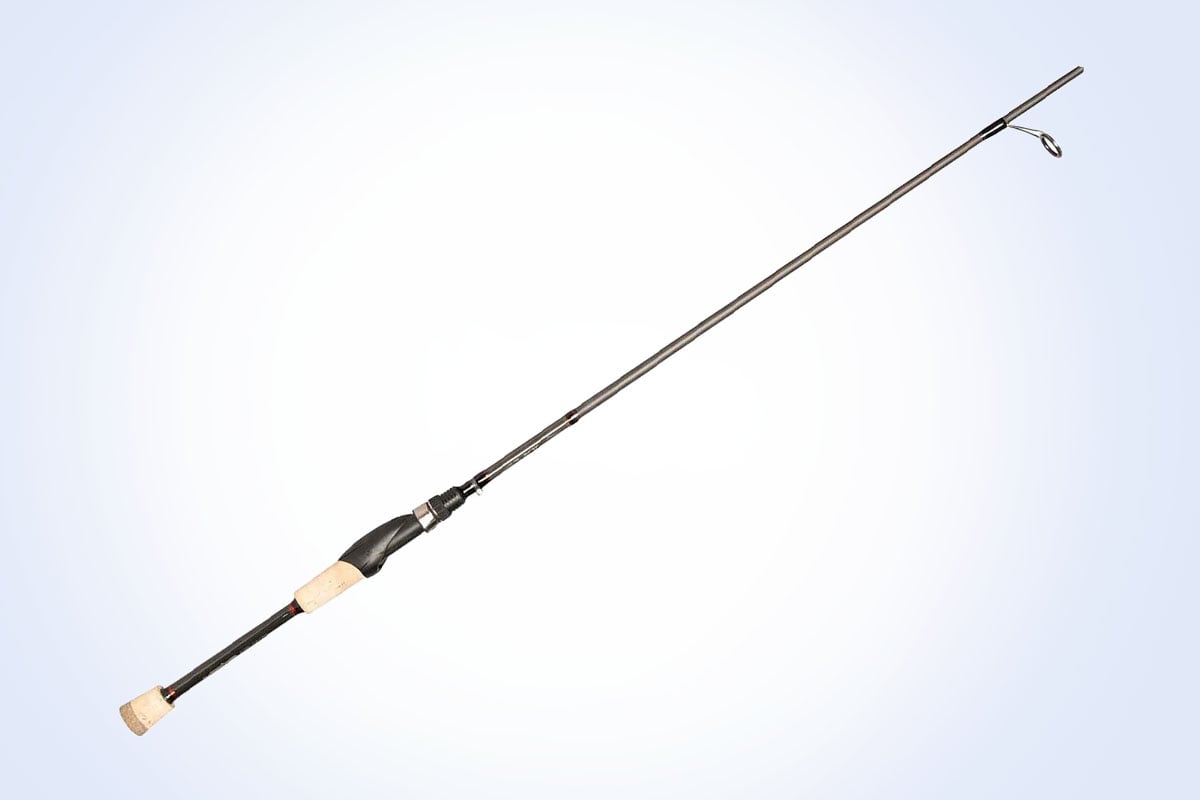 Check Price
Lamiglas is relatively new to the bass fishing industry, but they've covered all their bases with one of the widest inventories of bass fishing rods on the market. They offer rods in light, medium, and heavy power in standard lengths of seven feet, with a couple of slightly longer rods at 7.25 and 7.66-feet.
Lamiglas rods are constructed of sensitive graphite with split-cork grips and solid reel seats.
These rods are designed for mid-range-sized spinning reels in the 2000 to 3000 size range.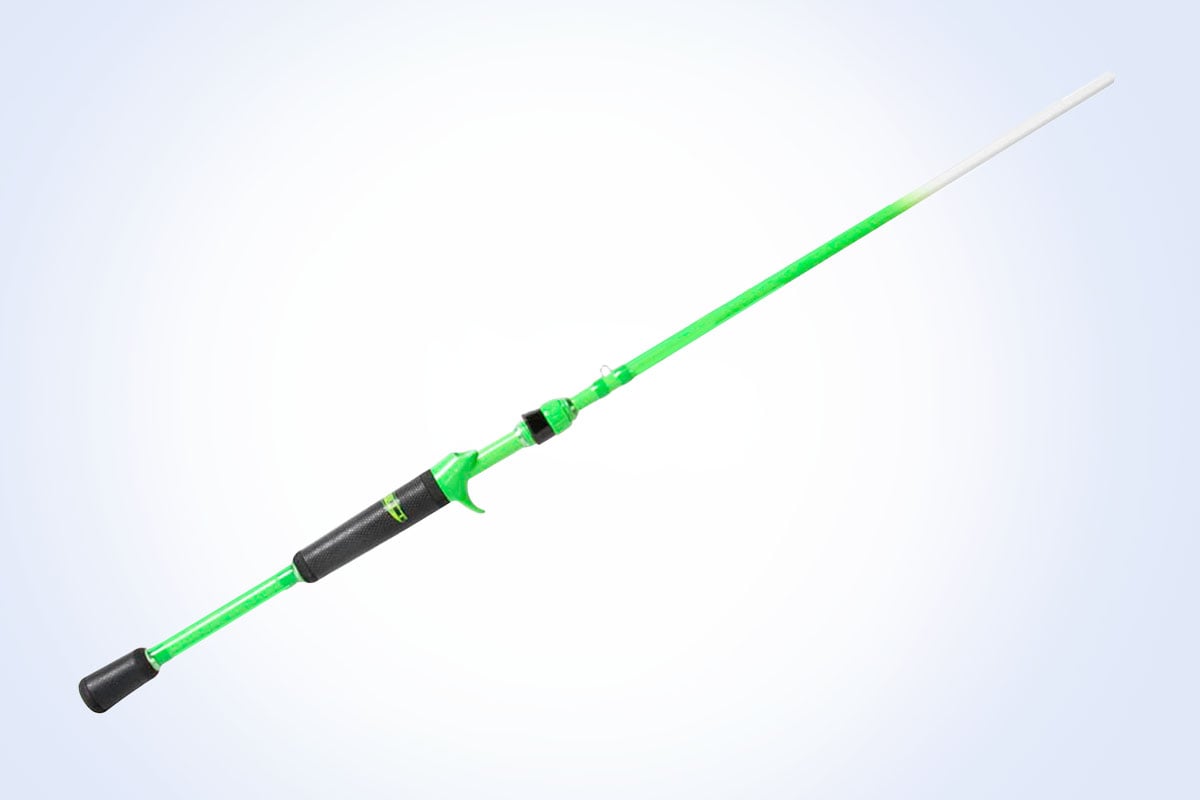 Check Price
You won't misplace this rod in a pickup bed with your buddies. The neon green color attracts the eye to the Green Ghost, and the unique production process creates a lighter, stronger rod with great sensitivity, but maximum strength attracts you to the feel of the rod.
At 6.75 feet, and with medium and medium-heavy power settings this rod is designed to catch larger bass. It won't have the feel of a light power rod, but it will have the backbone to pull in a six-pound largemouth from a fast-moving river.
Duckett fishing is a newcomer to the bass angling world, but their halo-sanded manufacturing technique creates a stronger, carbon fiber rod.
Dobyns Rods Maverick
: Greater Accuracy, Best for Smaller Fish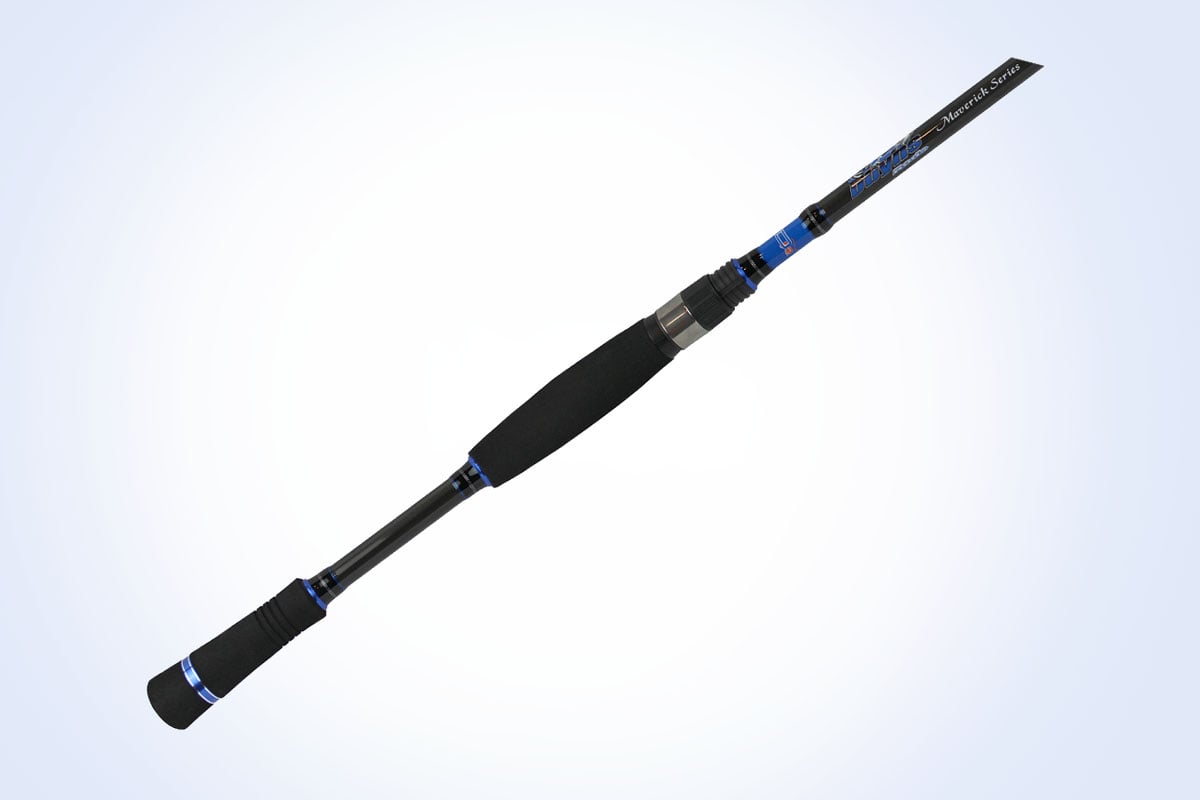 Check Price
We've added the Dobyns Maverick to our review for the angler looking for a lighter power rod.
The Maverick comes in light, medium-light, and medium-power settings and is a medium-action rod that will bend about one-third down the rod from the tip. These features make this a great rod for anglers pursuing both bass, and smaller gamefish like bluegill, pumpkin seed, and sunfish.
The Maverick features a Kevlar wrapping, high modulus graphite, and a high-density EVA handle.
All these lighter end features are brought together in a moderately priced rod that is available in lengths of 6, 6.75, and 7 feet.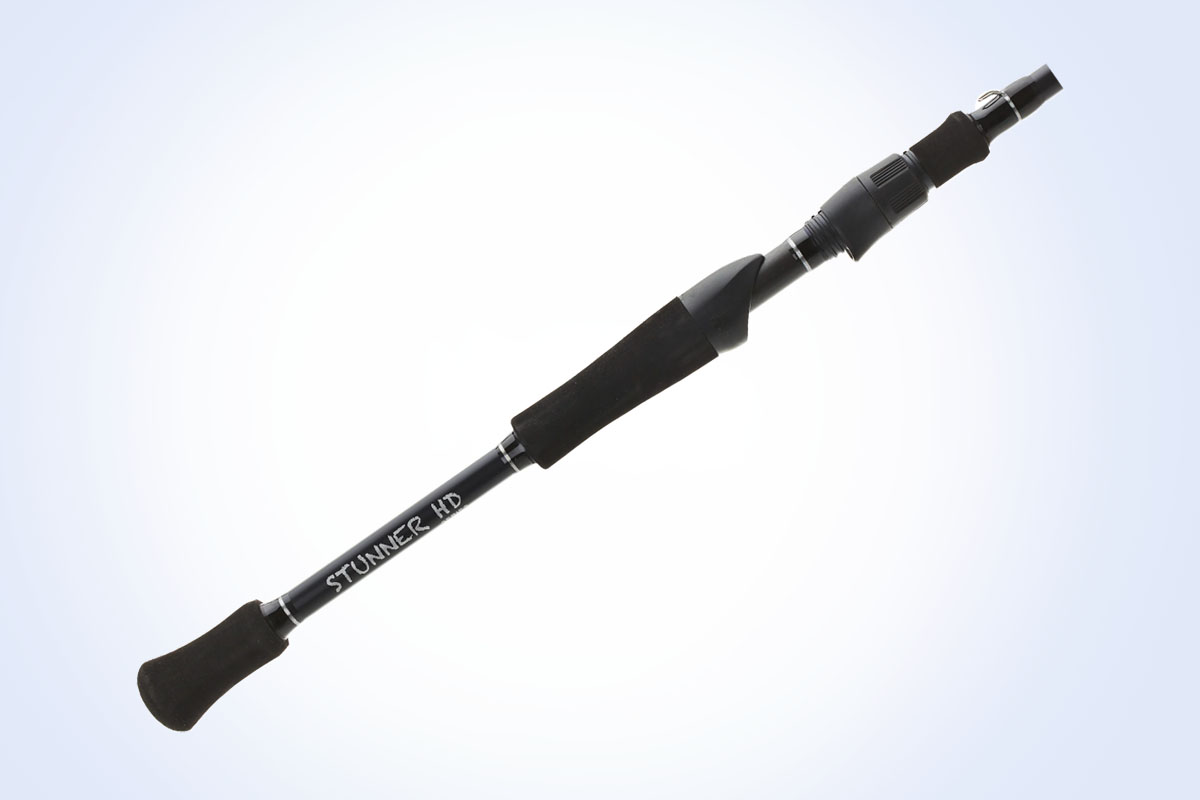 Check Price
If you're lucky enough to live in an area where you can work the local rivers and lakes for bass, and also have access to nearby saltwater, this is the rod for you.
The Fitzgerald Stunner only comes in one length, the popular 6.75-foot one piece, and has a single offering in medium power and moderately fast action, but the components are high grade, salt, and sand resistant and designed to last.
Specifically built to handle ¼ to 5/8 ounce lures and for use with eight to 15-pound test line, this is a niche rod that offers good distance on casts, with enough control to get that lure right where you want it.
Summary
There is a tremendous amount of scientific research that goes into the design and production of bass spinning rods. You can spend a lot of time researching to find the best one for you.
Hopefully, we've cut the time you'll spend looking, and get you out on the water sooner. Good fishing.