Skip to content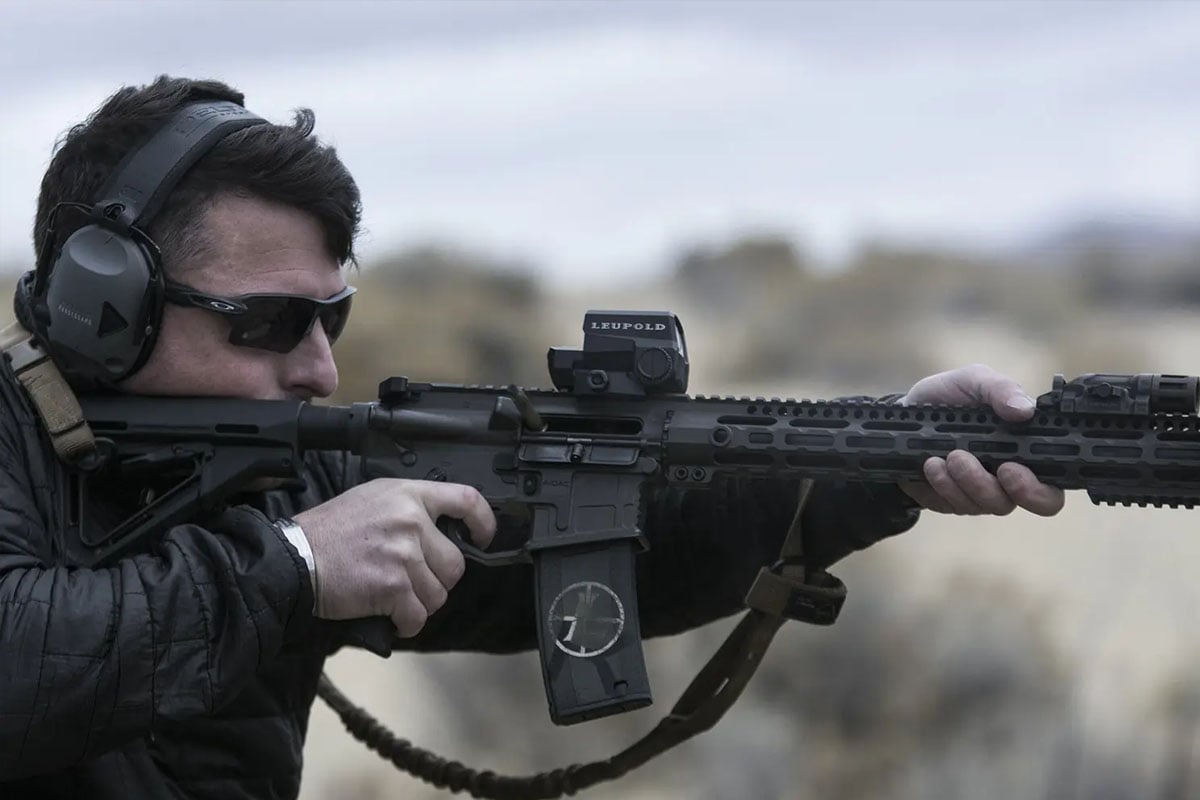 The AR-15 is known for its reliability and customization. In order to take full advantage of the AR-15's range, you need a scope that allows you to see your target clearly. Without a good scope, all that build quality and accuracy is for nothing. Although with literally thousands of options, which one do you choose?
Part of why the AR-15 is one of the most popular firearms in the United States is because it is so customizable. There are tons of add-ons and substitutions you can make to your AR, and we're guessing you have a few in mind already! Although, a quality scope should be toward the top of the list. There are several things to keep in mind when choosing your scope; this article will help you understand the terminology, and narrow down the big world of scopes to help you find the perfect fit.
Common Uses for The AR-15
The most common uses for an AR-15 are target shooting and hunting. The rifle is also used by some for home defense and by law enforcement in a variety of situations.
While you can, you likely will not be hunting big game with an AR-15. The most common cartridge for an AR-15 is 223 Remington, which is usually considered too small to reliably hunt big game. Some hunters still use it for deer hunting, but it is certainly not big enough for elk or moose. Instead, the 223 Remington and other rounds that can be in the AR-15 platform, are best suited for varmint hunting. The most popular varmint to hunt with an AR is coyotes, and you can expect those shots to be from around 50 to 200 yards, which would require around 6x to 9x maximum magnification.
If you just use your AR-15 for target shooting, the scope you need heavily depends on how far you want to shoot. A general rule of thumb is that you need 3X magnification for every 100 yards you shoot. So a 200 yard shot requires 6x, a 300 yard shot requires 9x, etc.
Home defense is the perfect use for an AR-15. The rifle is extremely capable of giving the user an advantage over anyone with a handgun. These encounters are usually within very short ranges, so iron sights or a red dot sight would work the best.
Is a Red Dot, Variable, or Fixed Scope Best?
Red dot sights are extremely popular for use with AR-15s. They are useful if you need high speed and accuracy at close ranges. They can also be helpful if you are shooting a moving target, or several targets. They are extremely intuitive, making them helpful for home defense, especially for less experienced shooters.
If you have a bigger budget, you might consider holographic (or holo) sights. These use a more complicated technology that allows the shooter to focus on the reticle and the target at the same time. They are easy to use for new shooters, and they last an extremely long time, making them a worthwhile investment for many users.
Although if you want to shoot farther than 100 yards or so, you will need some real magnification. A variable scope provides a range of magnifications, while a fixed scope provides one specific magnification. The versatility of a variable scope can't be matched, but you will pay for that with extra weight.
If you are worried about having enough rail space on your AR, a prism scope may be the right option for you. They use a glass prism instead of the series of lenses that other scopes use for magnification, this makes them much lighter and smaller. They usually have a lower fixed magnification, typically between 1x and 5x. You think of these as fixed magnification scopes that are even smaller and lighter.
Most AR's have plenty of rail space, so you may even be able to mount a regular variable scope to your top rail, and a smaller red dot or iron sight to your side rail for close range shots.
Common Cartridges for The AR-15
The AR-15 can be chambered in just about any small cartridge you want. I found a list of more than 85 cartridges that fit on the AR-15 platform with a single google search. Although the main cartridge you will find an AR-15 chambered in is the 223 Remington. It is the same (except for chamber pressure) as the 5.56 NATO, which is the cartridge the US military used in its M16, which the modern AR-15 is the civilian counterpart to.
Some more popular AR-15 cartridges include the 300 Blackout, the 6.5 Grendel, and the 22 Nosler. All of these cartridges have fairly light recoil, and you will not find yourself needing a huge amount of eye relief on your fancy new scope to handle these rounds. Any standard eye relief is going to get the job done, and if you go with a scope made for AR's, you really do not even need to think about eye relief.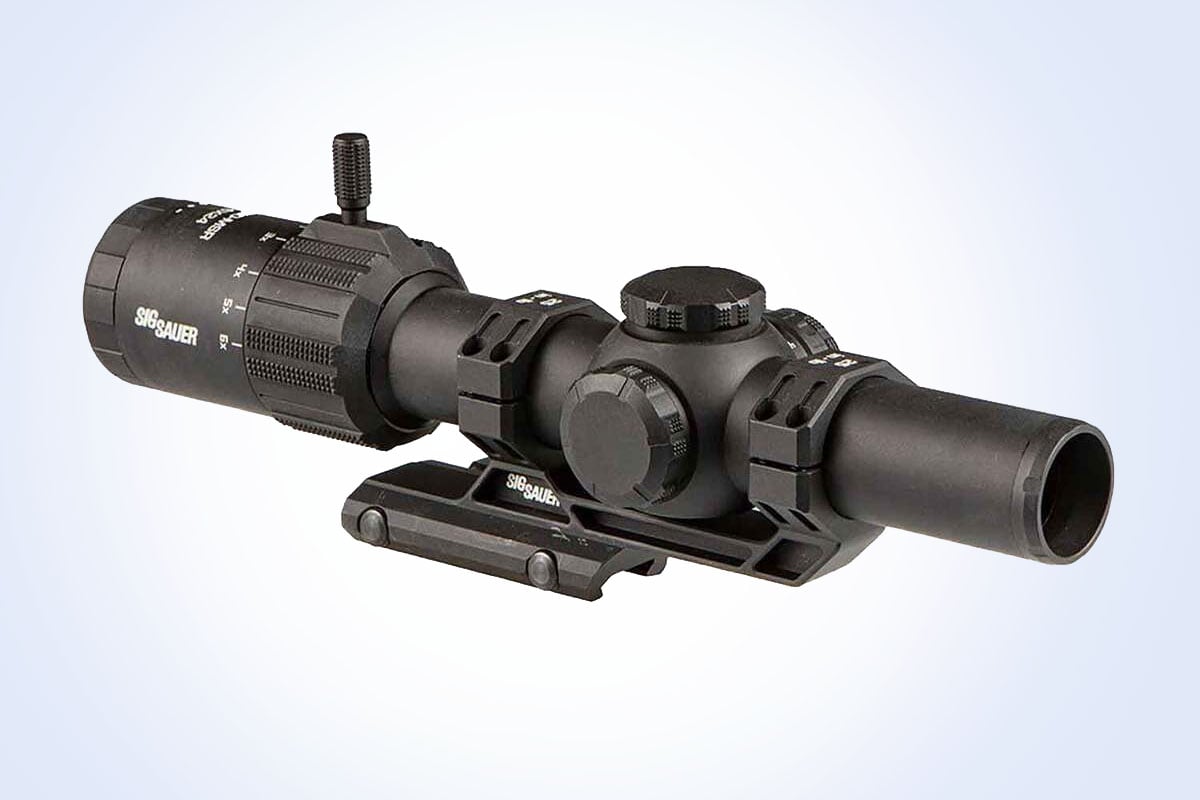 Check Price
Sig Sauer makes a wide range of scopes that are tailored to AR's. Their Tango-MSR Low Power Variable Optic is the perfect addition to an AR-15. It comes with a 1x to 6x magnification, so you can hit those close-range targets, and very comfortably reach out to 200 yards with the same optic.
You also get a 24mm objective lens that has an Ultra-Low Dispersion (ULD) Glass Coating so you know you will get a clear picture. Of course, the build quality of a Sig Sauer product is another thing you can look forward to, the Tango-MSR is an extremely durable scope. Lastly, you get a standard second focal plane MOA reticle that is clean and easy to use. All and all, the Sig Sauer Tango-MSR LPVO 1-6x24mm is a great scope for any AR-15.
Key Features
1-6x Magnification
24mm Objective Lens
Ultra-Low Dispersion (ULD) Glass Coating
MOA System
Second Focal Plane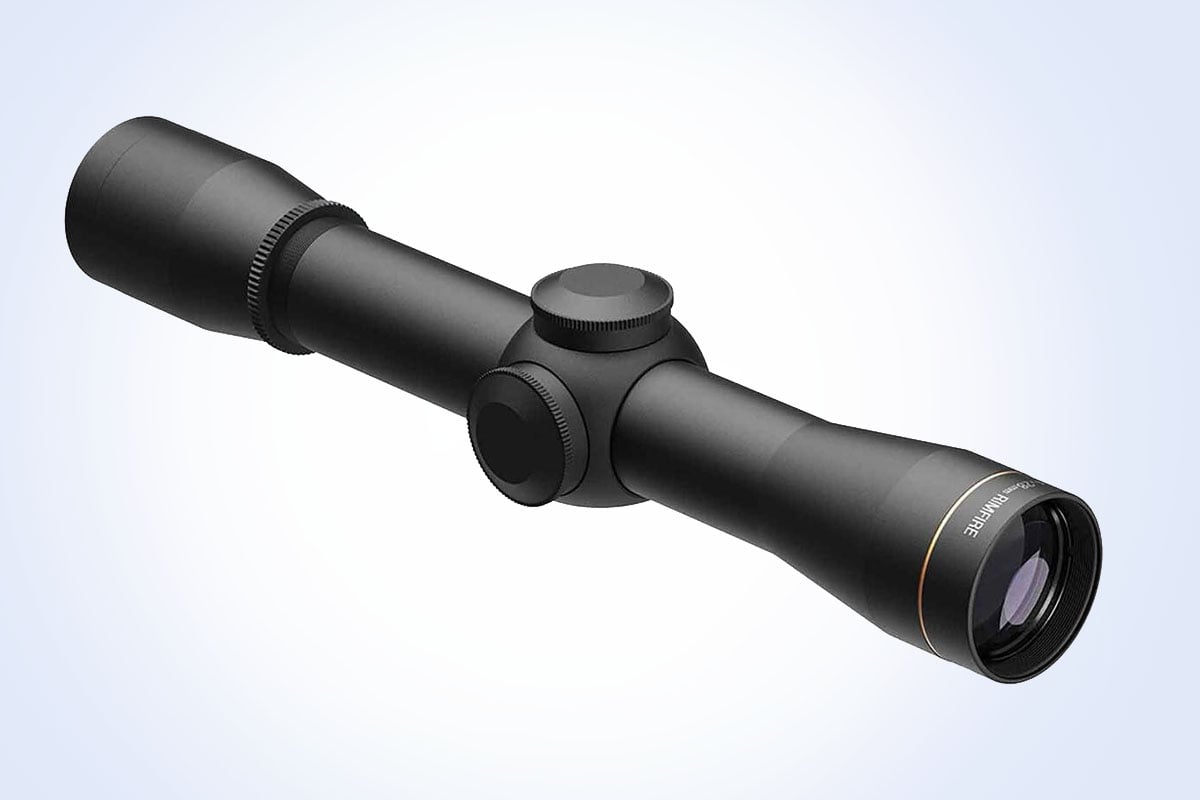 Check Price
If you want your AR build to be as simplistic as possible, a fixed scope might be the ticket. Well, the Leupold FX-I Rimfire gives you just enough magnification to be super accurate past 100 yards, while not being so strong that you can't find close range targets in the scope. The 28mm objective lens is multi-coated so you get great glass clarity.
Another great thing about this scope is its weight! It weighs only 7.5 ounces which is tiny compared to most scopes. This is great for keeping your build lighter overall, and may leave a little room for you to add other heavier attachments. Lastly, this scope comes with a standard MOA second focal plane reticle that is simple and easy to use.
Key Features
4x Magnification
28mm Objective Lens
Multi-Coated Lens
MOA System
Second Focal Plane
Check Price
If you want to make longer range shots or hunt with your AR-15, you will need a scope with a little more magnification than the former two. The Burris Fullfield II is a 3x to 9x variable scope with a 40mm objective lens. I actually use a Burris Fullfield 3-9x40mm on my deer rifle, so I can say from experience that this scope has more than enough magnification to reach out to 300 yards, and it has stood up to more than a few bumps and scrapes.
The lenses on this scope are Fully Multi-Coated, and it comes with a standard MOA second focal plane reticle. This is a good scope for shooting out to 300 yards, and it is also fairly affordable. Pair its price with its Burris Forever Warranty, and you get a great scope you can depend on for a lifetime.
Key Features
3-9x Magnification
40mm Objective Lens
Fully Multi-Coated Lenses
MOA System
Second Focal Plane