Skip to content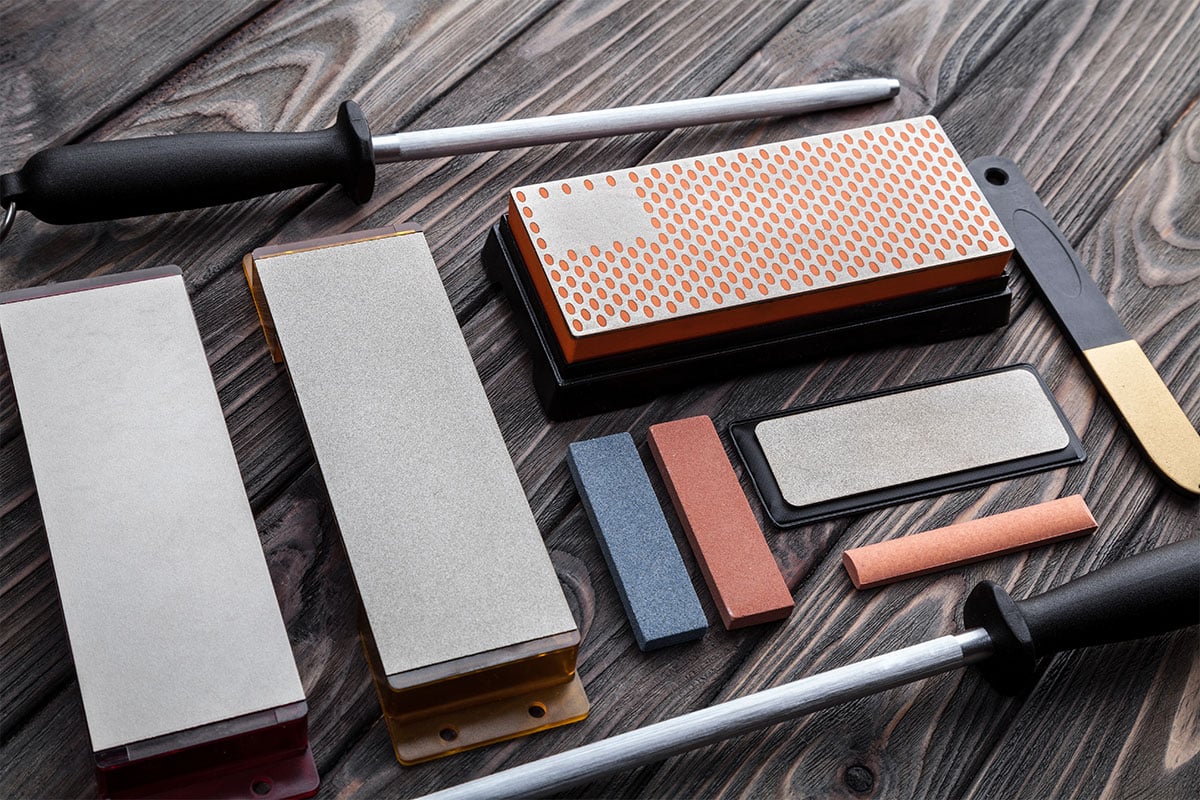 Dull knives are a safety hazard. This is because you have to use more effort to cut something, which opens up the opportunity for the blade to slip and cut you instead.
This makes a knife sharpener necessary for safe knife handling. However, there are a lot of knife sharpeners out there and not all of them will work with every knife. So we're going to go over most of the types of knife sharpener and what they are good for.
Knife Sharpener Types
Knife sharpeners all work the same way, they remove metal from the blade through friction. This means every time you sharpen your knife, there will be a little less blade afterward but a better edge.
Over time, this will wear down your knife, but you won't see significant wear if you use a good sharpening method and don't over sharpen your knife. Some methods are easier, others are faster, but they all require a little bit of skill. Let's look at some of the different sharpening options
Sharpening Stones
Sharpening stones were the first sharpening method I actually was good at and they are the most basic sharpening method available. These consist of either a natural stone, called an Arkansas stone, or a man-made stone.
They come in various roughness levels or grits and will work on every plain edge design. The rougher the grit, the faster it will remove material from the blade. This means if you have a very dull knife, you should start out with a rough grit and then finish up the edge with a fine grit stone.
Keep in mind that sharpening stones will damage serrations if you try to sharpen them with a normal stone. This is because serrations are not a straight edge and you will be grinding down the "teeth" of the serration which provide their cutting power.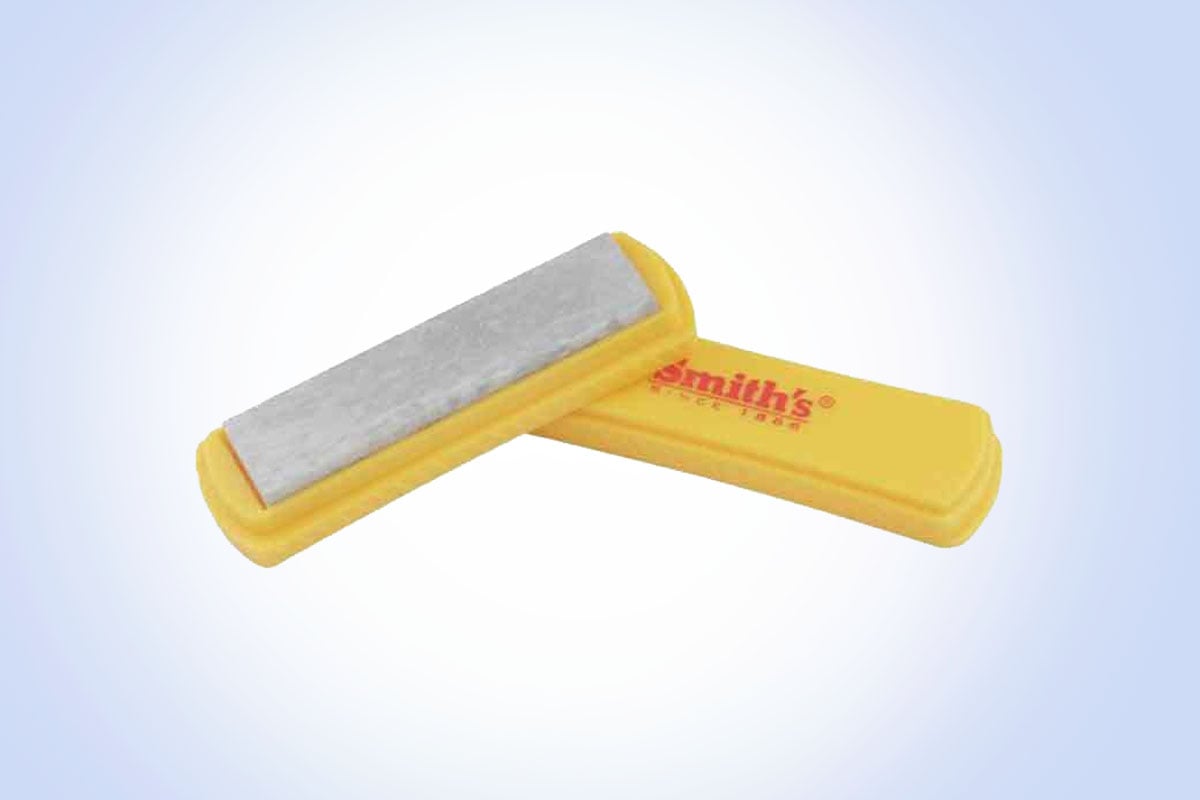 Check Price
This is a great affordable and portable option if you want to get into knife sharpening. The natural Arkansas stone is contained in a plastic base and features a protective cover which helps prevent the stone from chipping during transport. I'd purchase multiple of these and store them in my equipment or loan them out as needed.
Key Features
4 inch Arkansas stone
Plastic base and cover
Low price point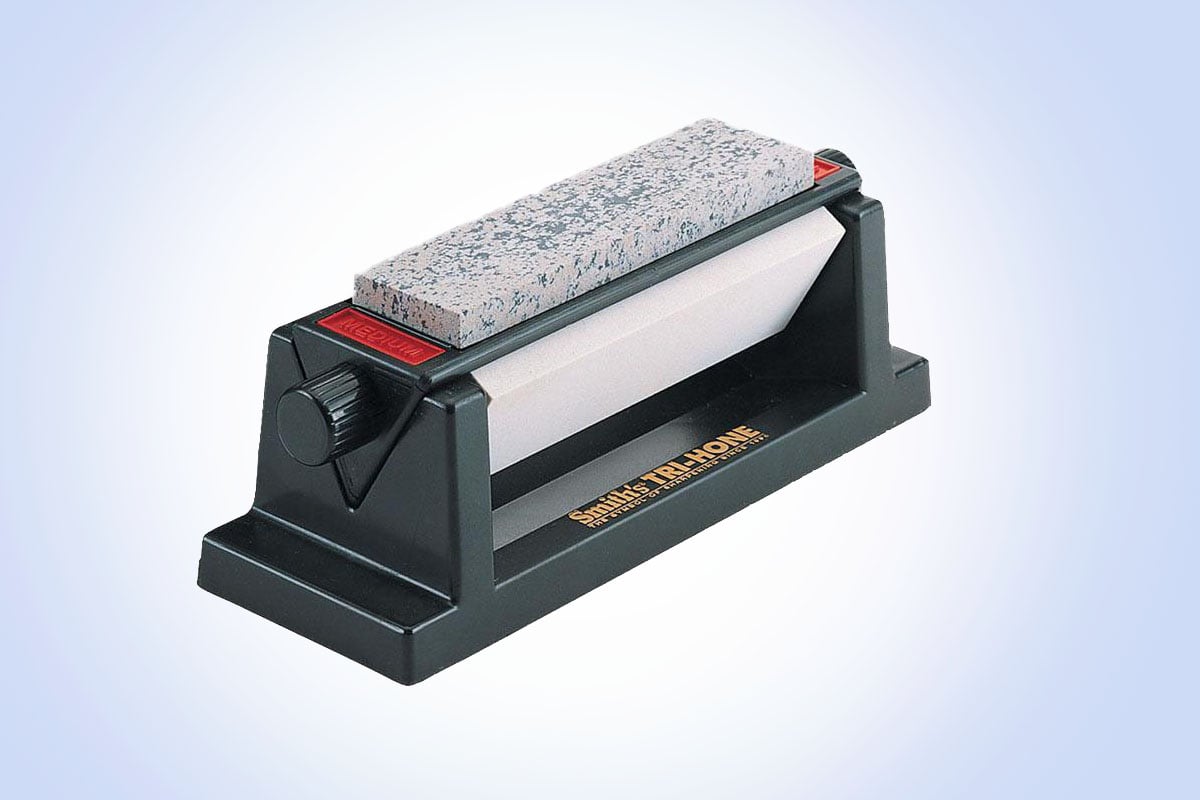 Check Price
If I was planning to spend the day hand sharpening my knives, I'd choose this three stone sharpening system. It comes with two different Arkansas stones and one synthetic stone, each with a different grit.
The base features non-skid rubber feet, and a trough to catch the honing oil. There is a lot of debate over the benefits of using oil, water, or no liquid at all while sharpening a knife, but these stones come with a bottle of honing solution that helps protect the stones themselves.
Key Features
Three 6 inch stones
Non-slip plastic base
Honing-solution trough
Ceramic Sharpeners
Ceramic stones are usually used to finish off the sharpening process. Because they can have extremely fine grit, it's best to use ceramic stones last to smooth out the knife edge. I keep a small ceramic sharpener in my bag on trips just to touch up my knife edges to ensure a proper cut when I need it.
A ceramic sharpener should not be your only sharpener. If you are dealing with an extremely dull blade, a ceramic sharpener will take longer to reach your edge goal than if you use a very coarse grit. However, if you want the finest edge you can make, a ceramic sharpener is necessary.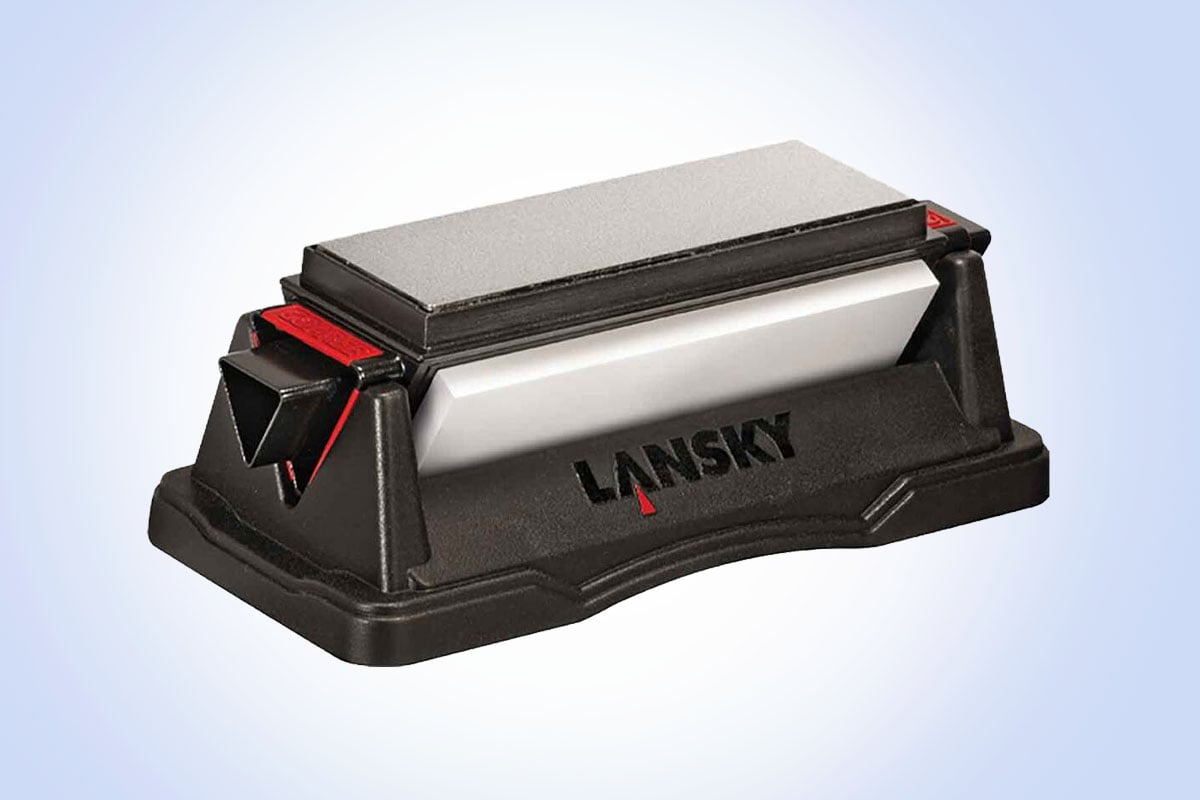 Check Price
This is a great starting kit for someone who needs multiple styles of stone. It comes with a diamond stone for extremely dull blades, an Alumina-Oxide stone for most of your sharpening work, and a ceramic stone for any finishing touches.
The set includes a non-slip plastic base to keep the stones stable while you're sharpening. This model does not need any oil or water which makes it perfect for those who just want to jump into sharpening.
Key Features
No-oil design
2x6 inch stones
Diamond, alumina-oxide, and ceramic faces
Non-slip, low profile base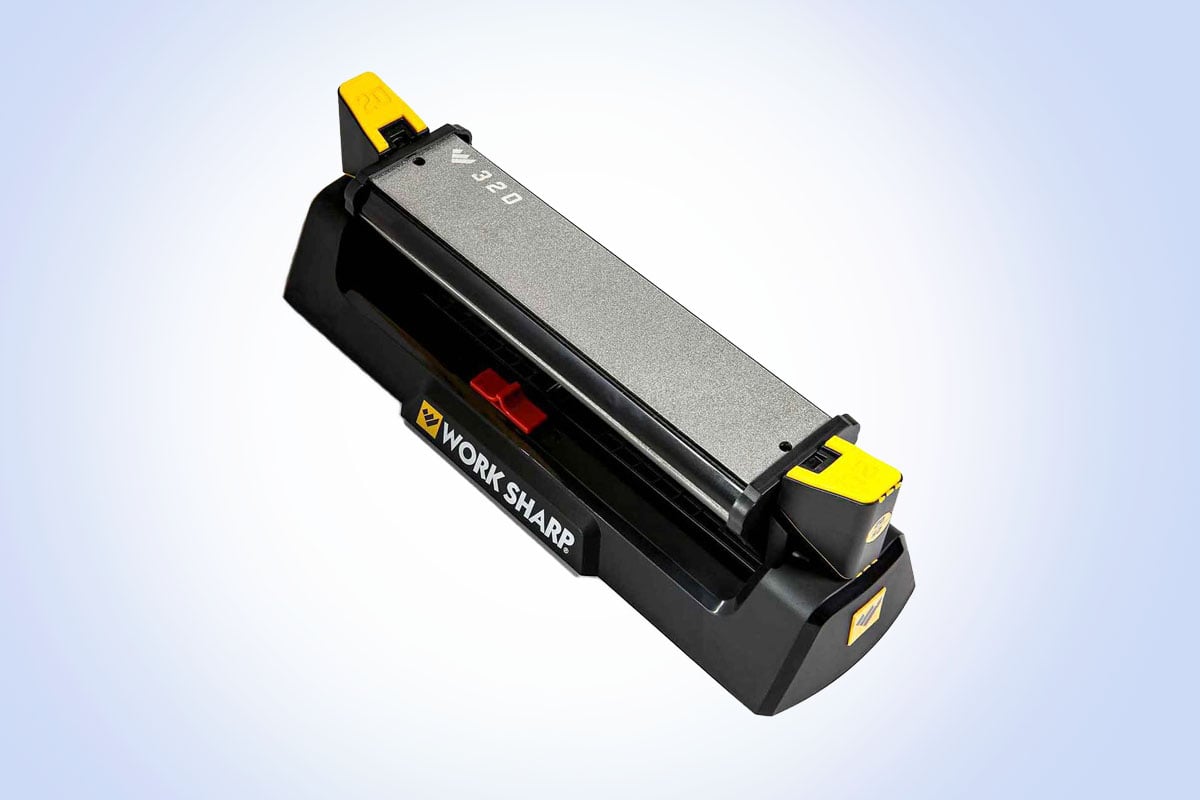 Check Price
This would be the stone I'd get for someone who really wanted to practice knife sharpening by hand. It features three different stones that are either ceramic or diamond which provide more durability than normal Arkansas stones.
It also features a set of removable guides that can help you maintain an edge angle while sharpening. This will help you have a consistent edge geometry across the entire blade.
Key Features
Removable angle guides (20 and 25 degrees)
Picot Response locks for rigid sharpening surface
2 ceramic stones and one diamond stone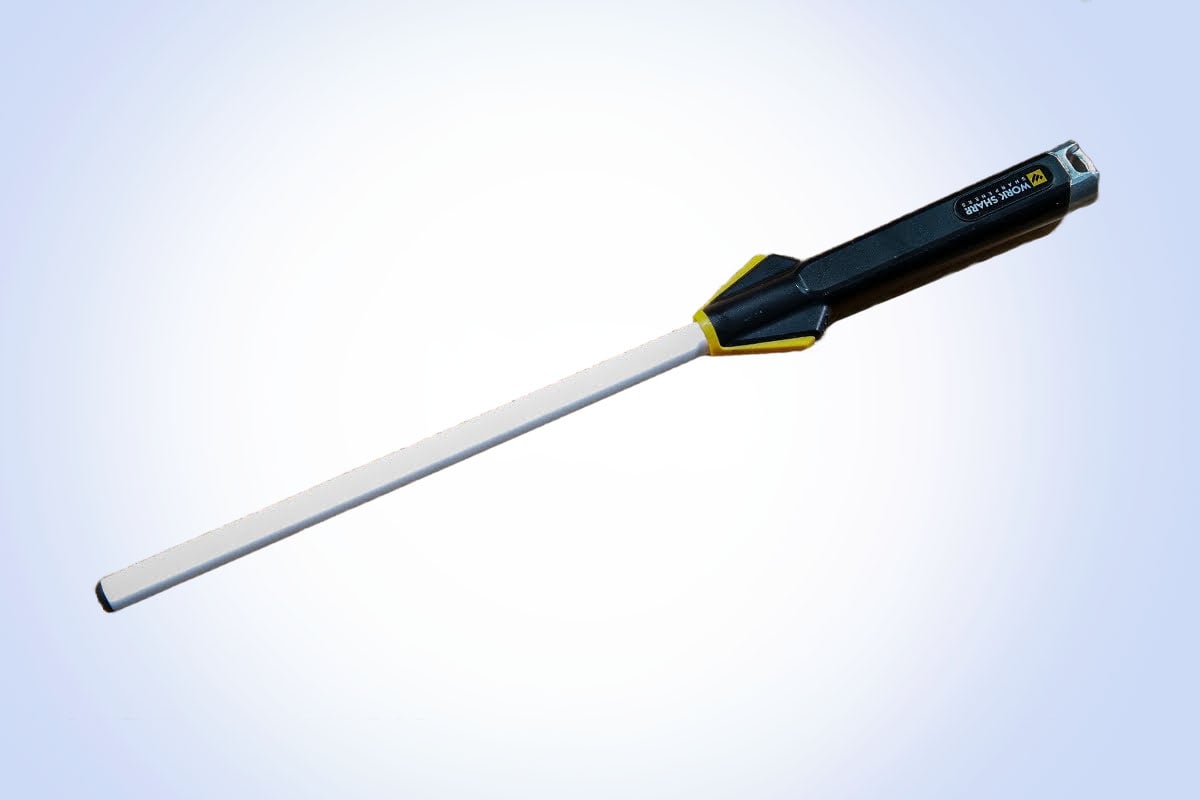 Check Price
While this rod is designed to realign the edge of your knife, it will still take a little material off of your blade. The built-in angle guides and rubber tip allow you to quickly sharpen and restore your edge consistently.
This ceramic rod is great for your large kitchen knives due to the larger surface area, but it is not recommended for serrated blades.
Key Features
Easy to use
Not recommended for serrations
Hones and sharpens blades
Diamond Sharpeners
Diamond sharpeners are some of the most common forms of sharpening stones. They use lab made diamonds to create the grit of the stone. This allows for easy sharpening since most steels are softer than the hardness of a diamond. They also don't need oil or water in order to work.
Because of how useful and consistent diamond sharpeners are, they are often featured in rod sharpeners. However, we'll focus primarily on the flat stone variations in this section.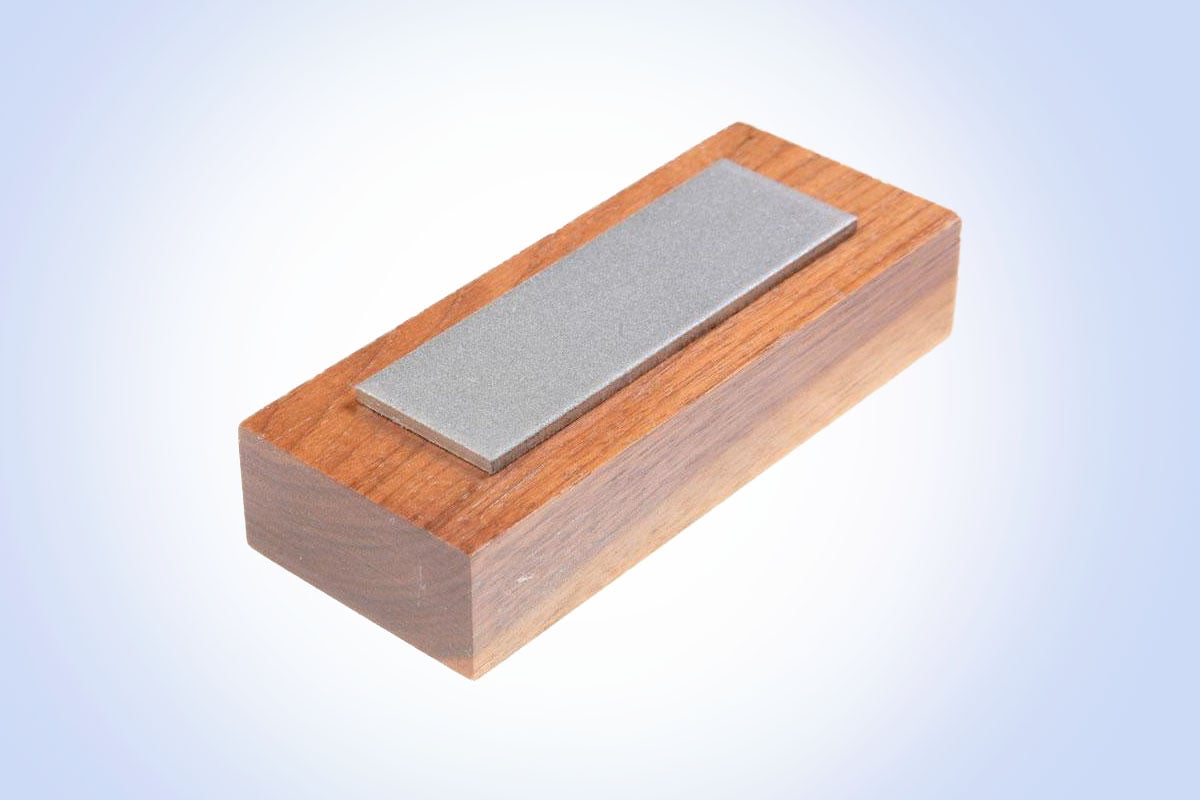 Check Price
This simple diamond stone is an affordable introduction to using diamond stones. The stone is 1x3 inches with a fine grit and includes a wooden pedestal for ease of use. If you needed a sharpening stone or wanted to expand your collection, I would consider this a good option.
Key Features
Low-cost diamond stone
Wood pedestal
Works dry or with water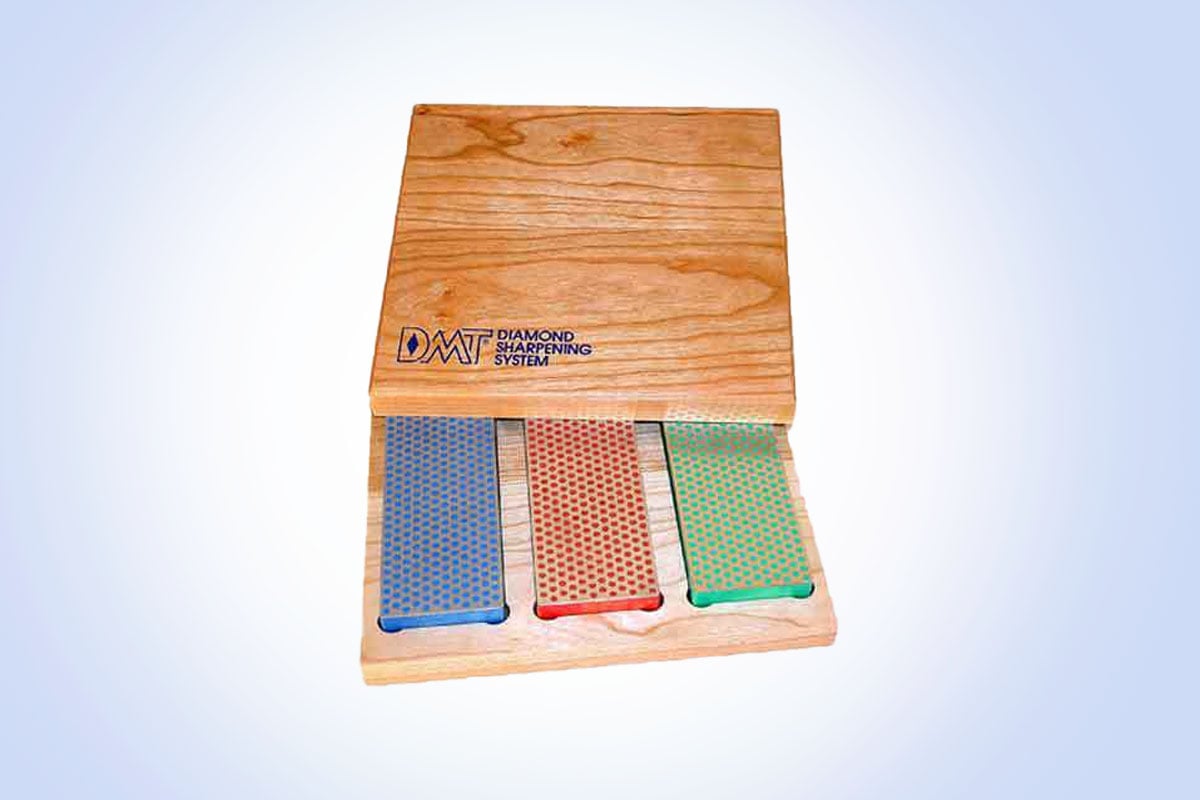 Check Price
While these are a more expensive option for sharpening, this sharpener set offers three different grits so you can refine your edge. A friend of mine was given a similar set of these one year, and the following deer season he cleanly split open a knuckle and thumb with the knife he sharpened with these while he processed his deer.
He did have a complete recovery, but there's no doubt that these stones were able to produce a quality edge on the less-than quality folding knife he was using at the time.
Key Features
6x2 inch stones
Course, fine, extra grit
Wooden storage case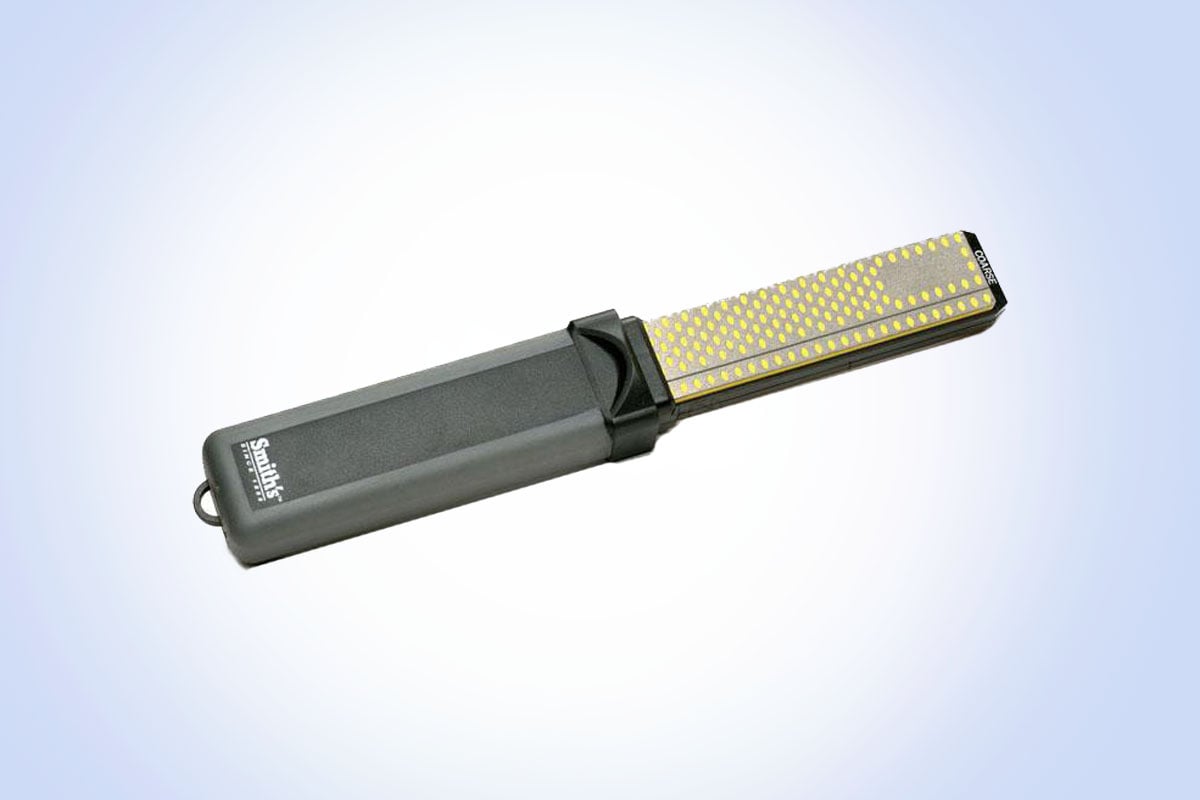 Check Price
This handy little sharpener offers two different grits and a sharpening groove for things like fish hooks or other points. It also has a rubber handle to secure the stone in your grip. The stones can be stored in the handle for safe keeping, making it a good travel option.
Something like this has been on my wish list for a while, but my sharpener collection doesn't need another addition to meet my current needs.
Key Features
Dual diamond stones
Rubber grip doubles as storage
4x1 inch stone features sharpening groove and micro tool pad
Rod Sharpeners
These are some of the most versatile sharpening methods. This is because rod sharpeners are one of the few sharpeners that can actually be used to sharpen serrations. With some practice you can easily sharpen plain edges, curved blades, and most serrated blades.
Because of their versatile nature and potential compactness, most rod sharpeners will be either diamond or ceramic. These sharpening options are more efficient and can actually be crafted into a cylindrical shape unlike natural stone.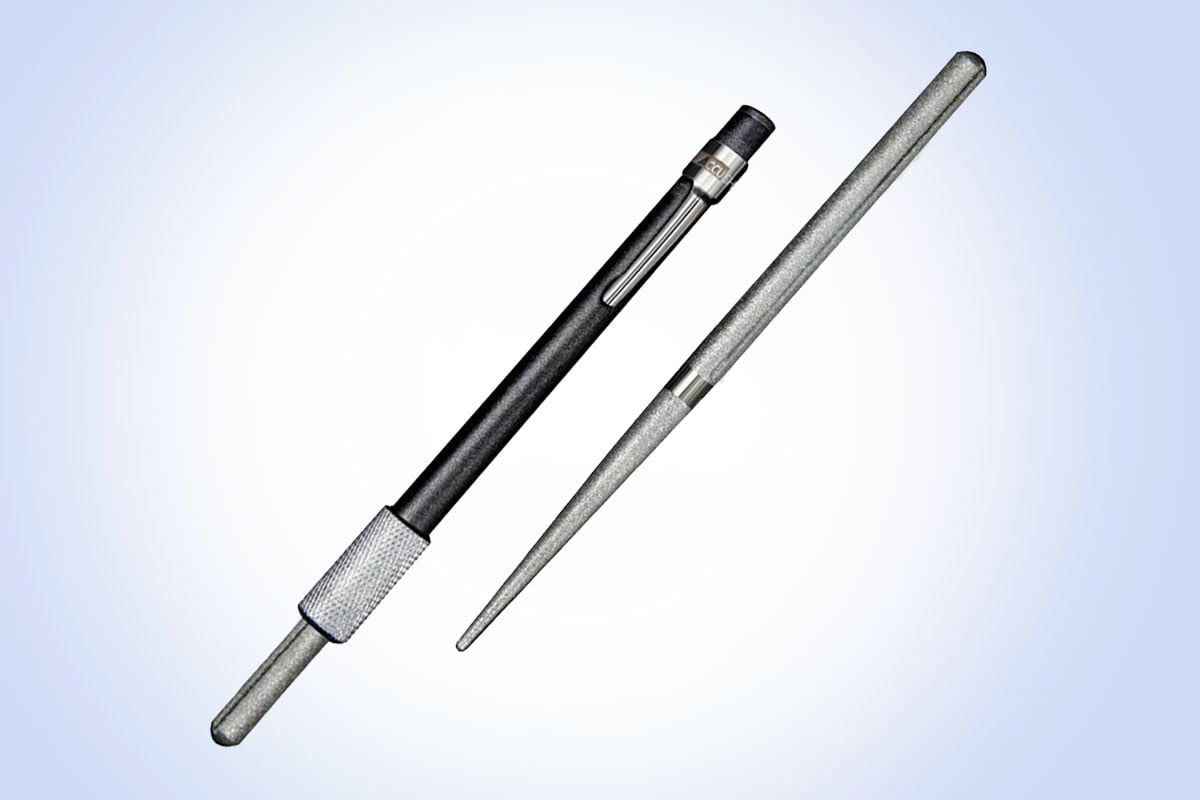 Check Price
Made from a steel rod covered in a diamond coating, this rod sharpener has a narrow cone side and a more cylindrical side. The cone side is for use with serrations and tight spaces. The cylinder side is for more general use and has a sharpening groove for your various points.
The holder that comes with the rod has a pocket clip that allows you to store it in roughly the same areas as a pen. The clip won't accept thicker materials because of how narrow it is, so keep that in mind when you are looking for a place to store it.
Key Features
Multiple sharpening surfaces
Works on serrations and most blade designs
Shirt pocket clip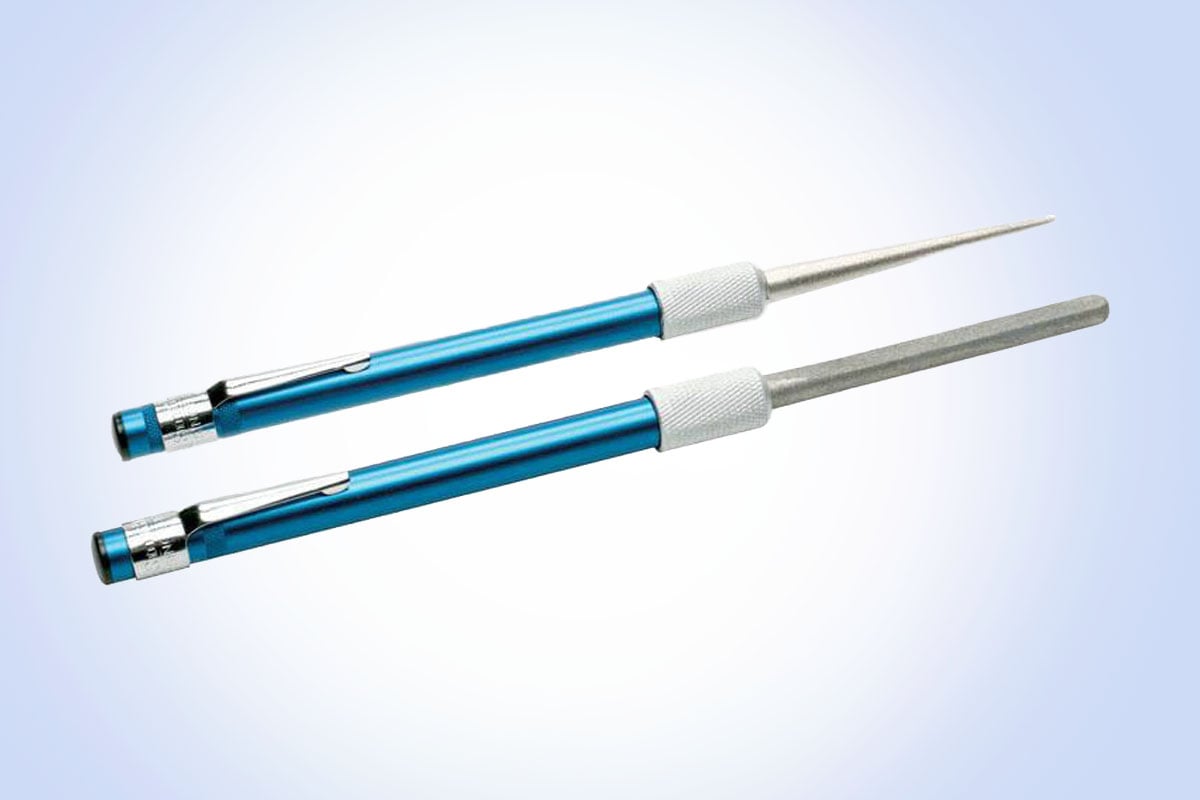 Check Price
This retractable option functions similarly to the AccuSharp. It can work on serrations, plain edges, etc. The rod is stored in the aluminum handle and can be clipped in a shirt pocket. It features a medium grit, half-round diamond coating. This coating has some potential durability issues, but if you need to sharpen your knife quickly, this will work long enough to get it back to your main stones.
Key Features
Easy storage
Easily sharpens serrations
Rod is adjustable and stores in handle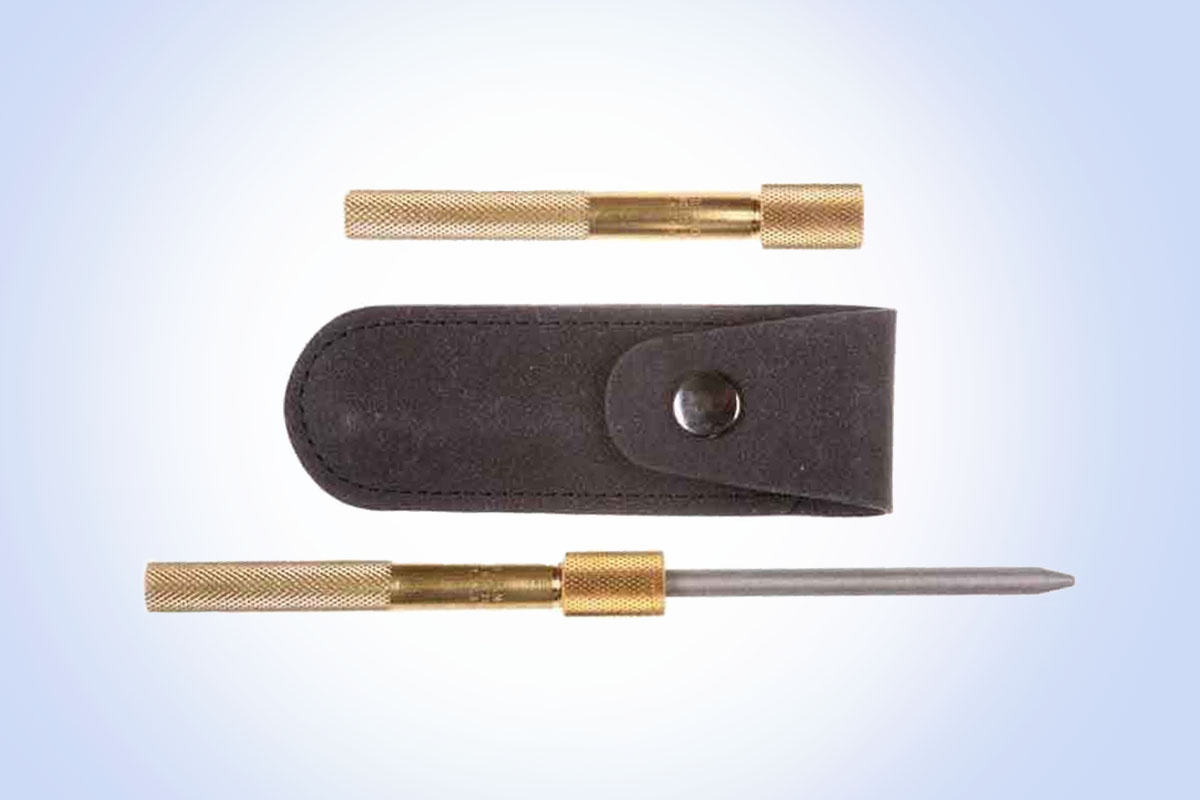 Check Price
This sharpener is closer to a honing steel than other rod sharpeners. It will put a new edge on your blade while straightening the edge. It comes with a storage pouch, so you don't have to have another item to store in your pockets.
The steel fits in the brass handle to prevent damage to the rod and to keep the overall length down.
Key Features
Belt pouch with belt loop
3.75 inch diamond shaft
Geared more towards straight edges
Pull-through Sharpeners
Pull through sharpeners comes in two varieties. One where the sharpener is pulled over the edge of a knife and one where the knife is pulled through the sharpener. The second option is the most popular, but both work in the same way.
These types of sharpeners have two bits set at an angle to each other that corresponds to the angle you want your edge to be. These are usually some sort of carbide and require only a handful of passes before the edge is properly sharpened. This makes it easy for inexperienced sharpeners and those in a hurry to sharpen their knives.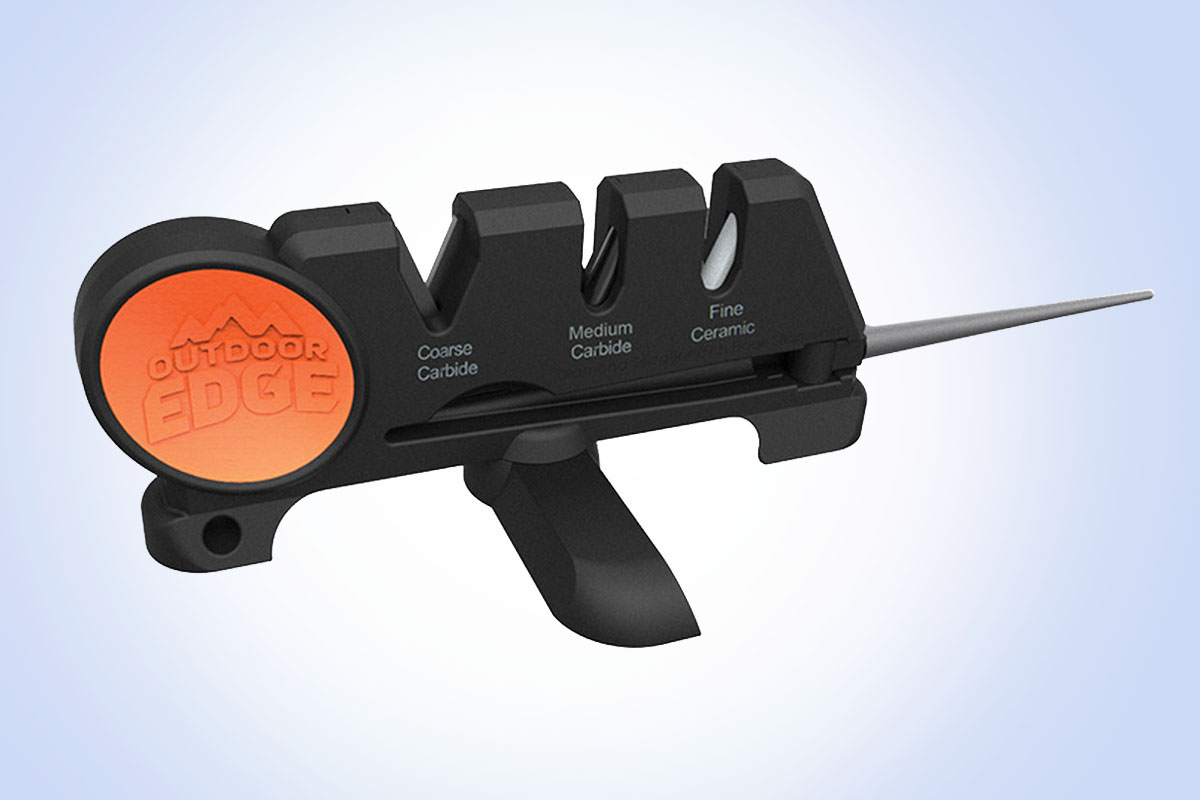 Check Price
You should consider the Edge-X Pro if you're looking for a compact, all-in one sharpener. It has coarse and medium grit carbides with a set of ceramic bits to finish your edge. A folding diamond rod tackles serrations and has the fish hook sharpening groove.
A small stabilizing "arm" allows you to securely brace the sharpener on a flat surface while you use the carbides.
Key Features
2 carbide bit sets, 1 ceramic bit set
Diamond rod
Zytel base and rubberized TPR grip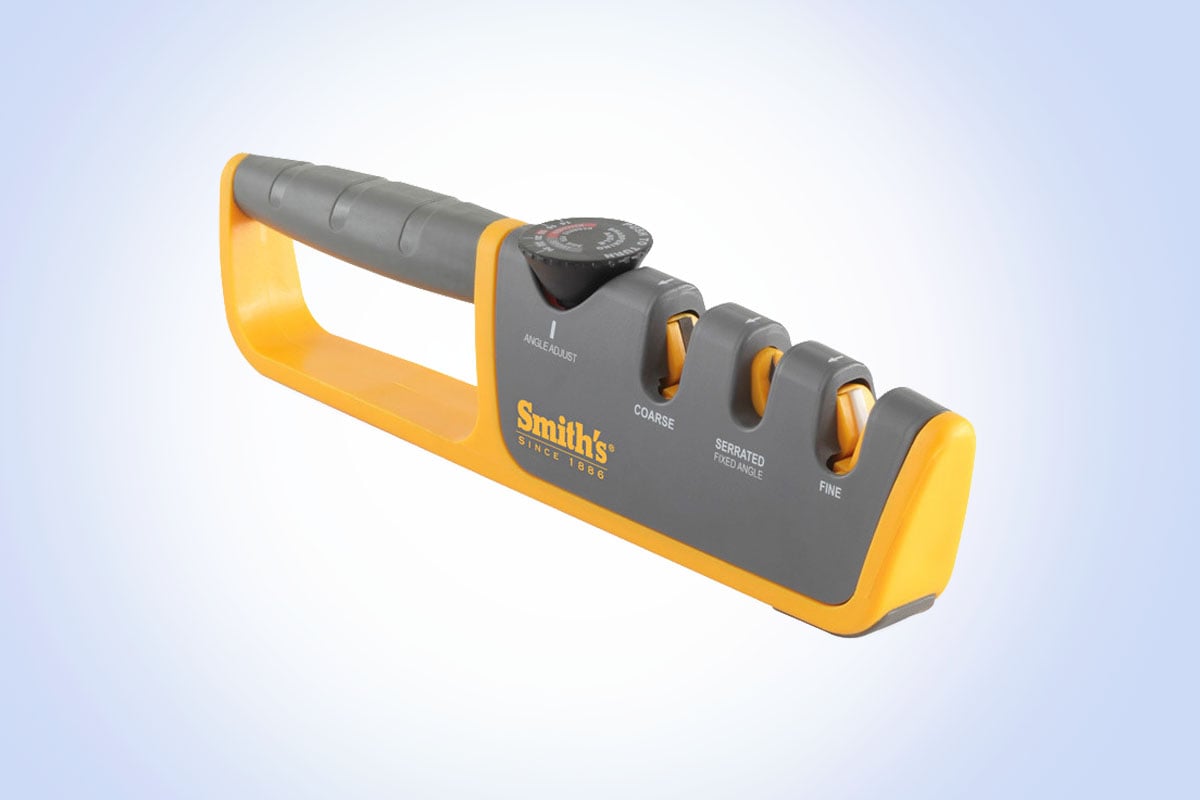 Check Price
This sharpener offers three different sharpening options and allows you to adjust the angle of the sharpening bits. The soft rubber handle allows for a firm grip while using the sharpener. Most blades will require only two of the bits to sharpen, but a third coarse option is available for particularly dull blades.
The adjustment dial allows for 6 different angles with each set up to match most factory grinds. Sharpening is easy as it only takes a few passes through the appropriate bits to get the blade to the desired sharpness.
Key Features
Coarse and medium carbide bits
Ceramic bits
Adjustable bit angle with 6 possible angles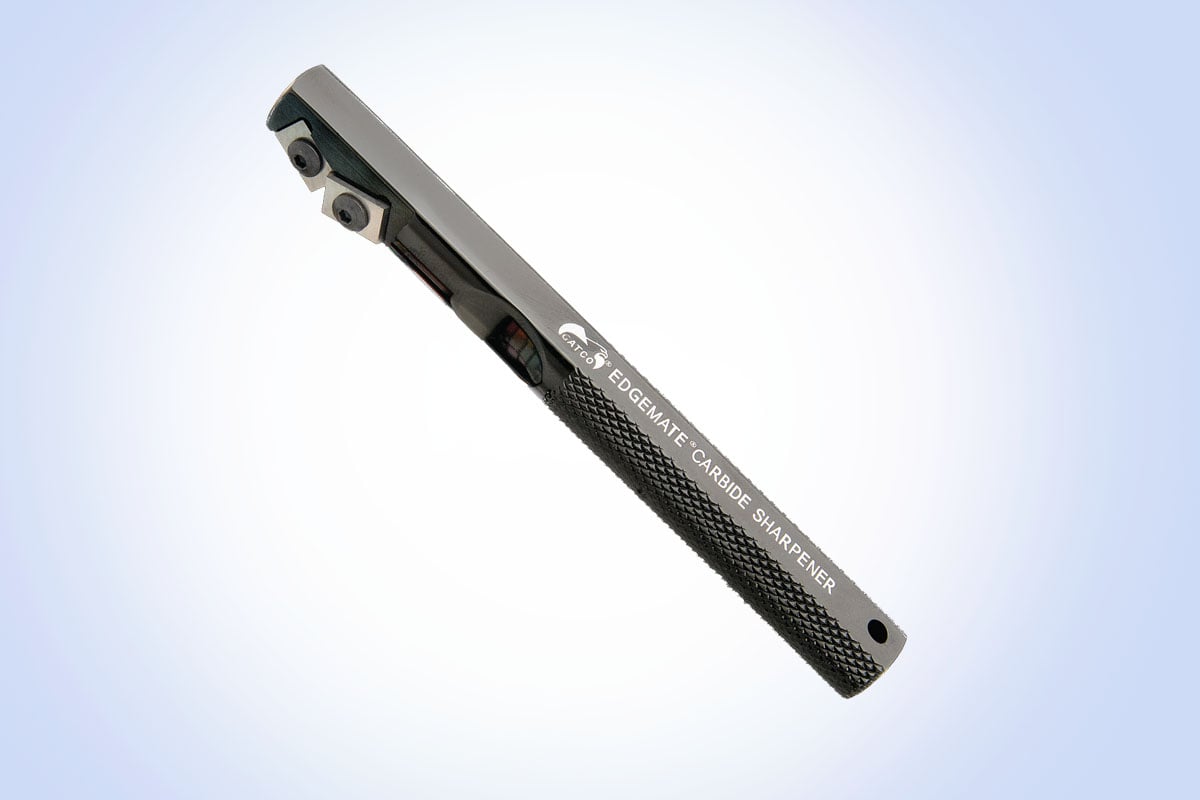 Check Price
This minimalist sharpening option provides a means of sharpening out in the field. The aluminum handle features two easily accessible tungsten carbides. The bits are set at a 35 degree angle and sharpen a knife in just a few passes.
The handle is made out of 6061-T2 aluminum with an anodized coating for durability and corrosion resistance. Makes a great gift for your casual knife enthusiast.
Key Features
5 inches overall length
Aluminum handle
Tungsten bits w/35 degree angle
Guided Sharpeners
Guided sharpeners are for those individuals who either take their edges extremely seriously or who are going to be professional knife sharpeners. Guided sharpeners allow you to clamp a knife into place and produce repeatable angles with your stones.
These sets tend to be a little more expensive, with multiple stones, angle guides, and oils. If you are not going to be sharpening a lot of knives, it would be better to just go with a more affordable set of basic stones.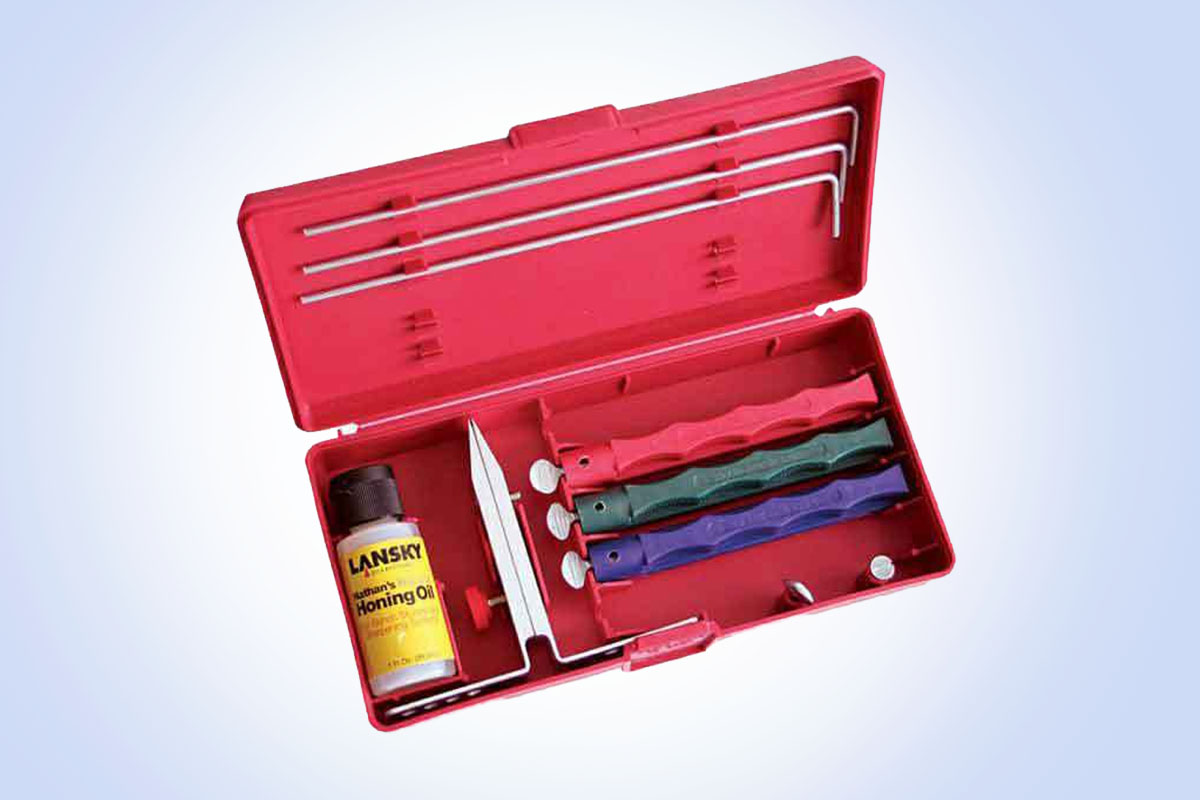 Check Price
The best balance between price and utility, this three-stone sharpening kit features the blade clamp, guide rods, and honing oil that you'll need to sharpen your blades. The stones themselves are basic sharpening stones, no fancy diamond or ceramic materials.
The grits are not that impressive, but the whole set will give you the option to see if you would benefit from a guided sharpener kit without having to fully invest in a more expensive option.
Key Features
Coarse, medium, and fine grit stones
Clamp and guide rods included
Best used with honing oil (included)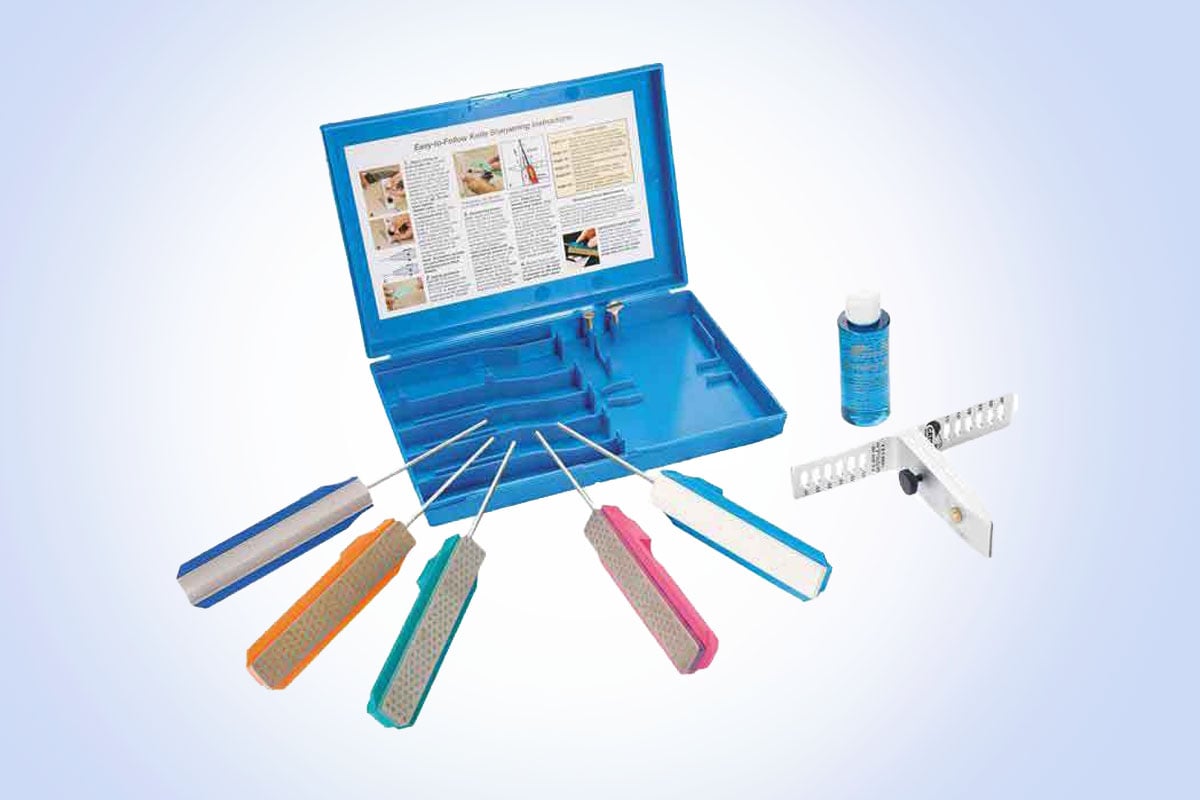 Check Price
This Edgemate set comes with multiple different stones and the Gatco exclusive knife clamp. The clamp itself offers more angles than the Lansky kit. It also has coarse, medium, and fine diamond honing stones. What's even more useful is the serrated knife stone which allows you to sharpen your serrations.
The entire stone set is designed to be used with the included honing oil. Overall this is a more refined system than the more affordable Lansky option, but the stones sometimes need to be reglued to their carriers. Additionally, the clamp can cause some issues for the more acute angles it provides
Key Features
More edge angles
Works with serrations
Requires honing oil
Diamond stones
Check Price
This more expensive Lansky kit features four different diamond stones. These range from extra coarse to fine. While these will tackle most of your sharpening needs, it is recommended to add an extra fine diamond stone or a Supper Sapphire ceramic hone to finish off your edge.
This version of the Lansky kit is more for the individual who specifically wants to do more for their knives. They can build off of this core set, but it does require a little more investment
Key Features
Extra Coarse, Coarse, Medium, and Fine Diamond stones
Includes honing oil and guides
Electric Sharpeners
For the fastest and most consistent sharpening experience, electric sharpeners are the best option. But these sharpeners also pose the most danger to your knives. Since the sharpening is motor powered, you can wear down the edge faster than you would if you were sharpening by hand.
You can also damage the hardness and edge of your blade when using an electric sharpener. This is because the sharpener can cause so much heat while grinding it can warm the blade enough to damage the temper of the steel.
You should only invest in an electric sharpener if you are going to be a professional knife sharpener or dull your knives regularly.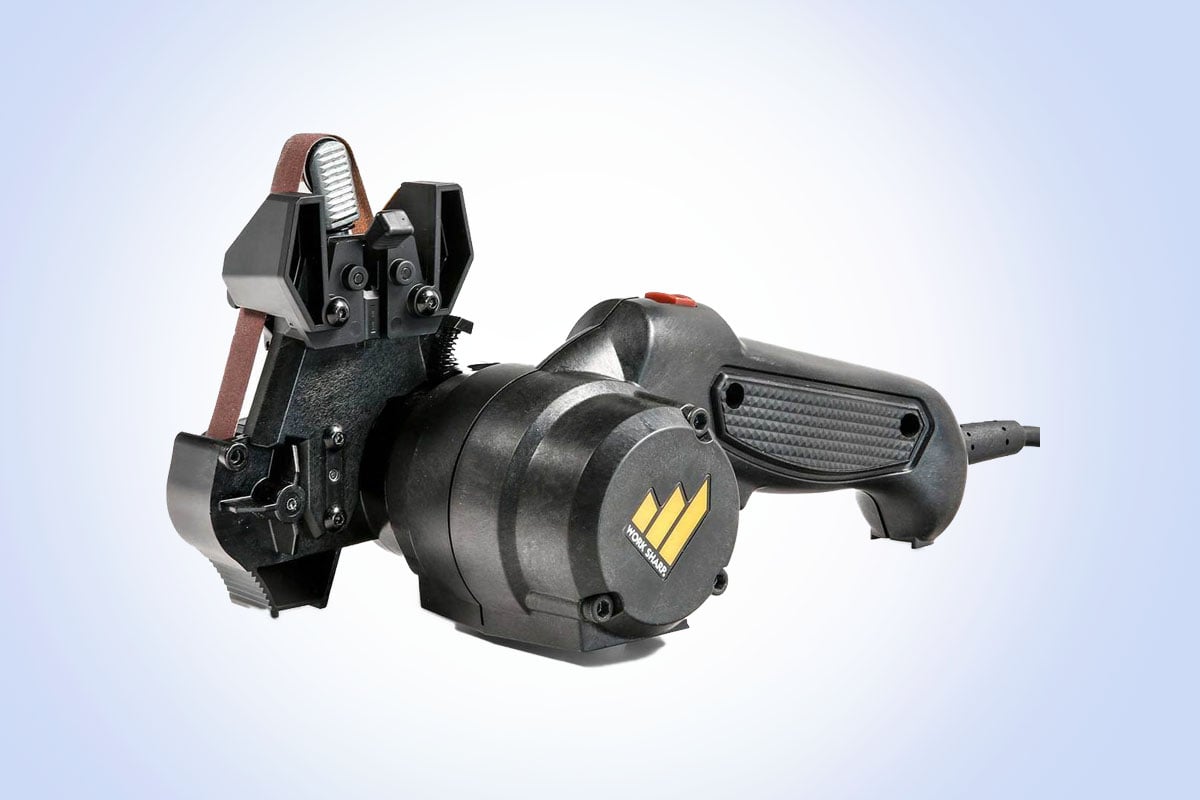 Check Price
This electric sharpener will allow you to sharpen your knife blades but also any other blade out there. It includes a serrated knife guide, 6 piece abrasive belt kit, and a power platform. All of this combines into a very versatile sharpening tool that allows you to swap out and replace belts as needed. This is a great option if you need to sharpen everything from scissors to knives to lawnmower blades.
Key Features
6 abrasive belts
Edge guide
2 power levels
Works with serrations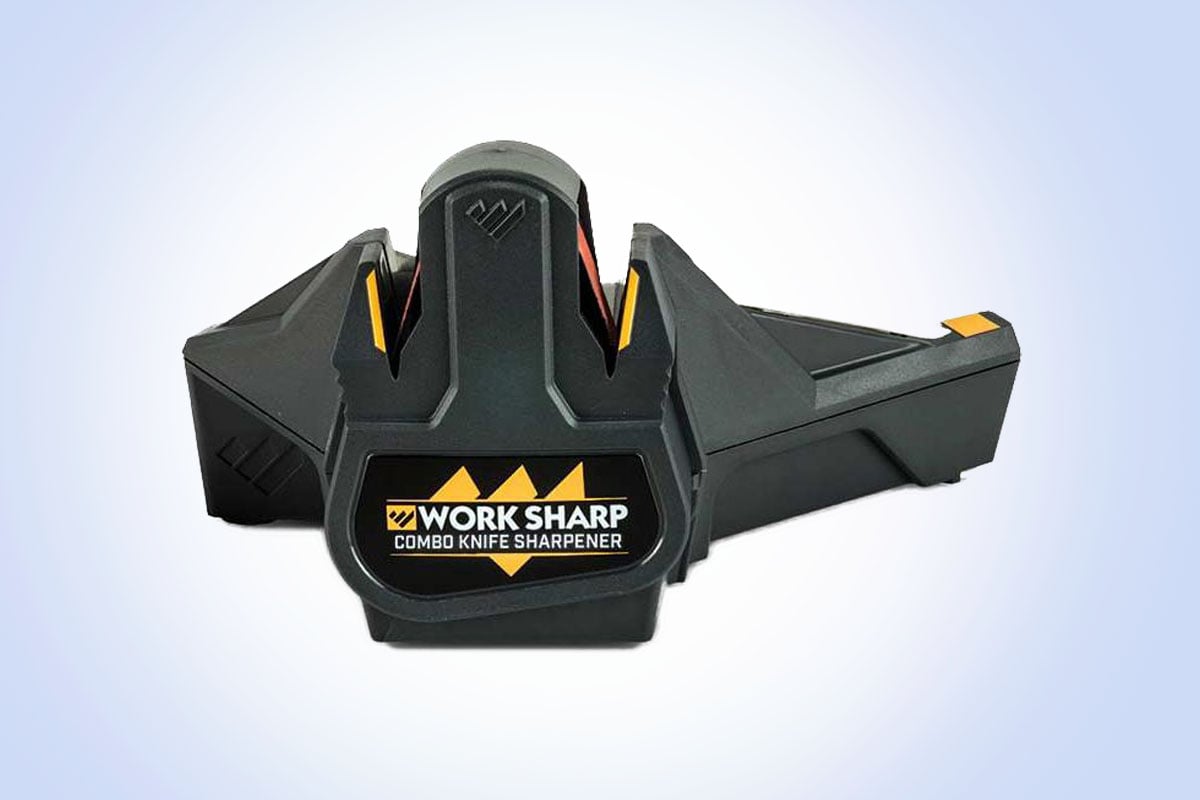 Check Price
If you just need something that doesn't require as much effort but don't want to get into the knife sharpening business, this Work Sharp sharpener is for you. Not too expensive and designed to avoid overheating the blade, it uses a standard ½ x 10 inch belt to sharpen your blade.
An additional ceramic honing rod is built into the sharpener to polish your edge and sharpen serrations. This sharpener is the best balance of cost and performance for an electric sharpening option.
Key Features
Includes 2 belts
Single light duty power setting
Ceramic rod for honing and sharpening serrated blades.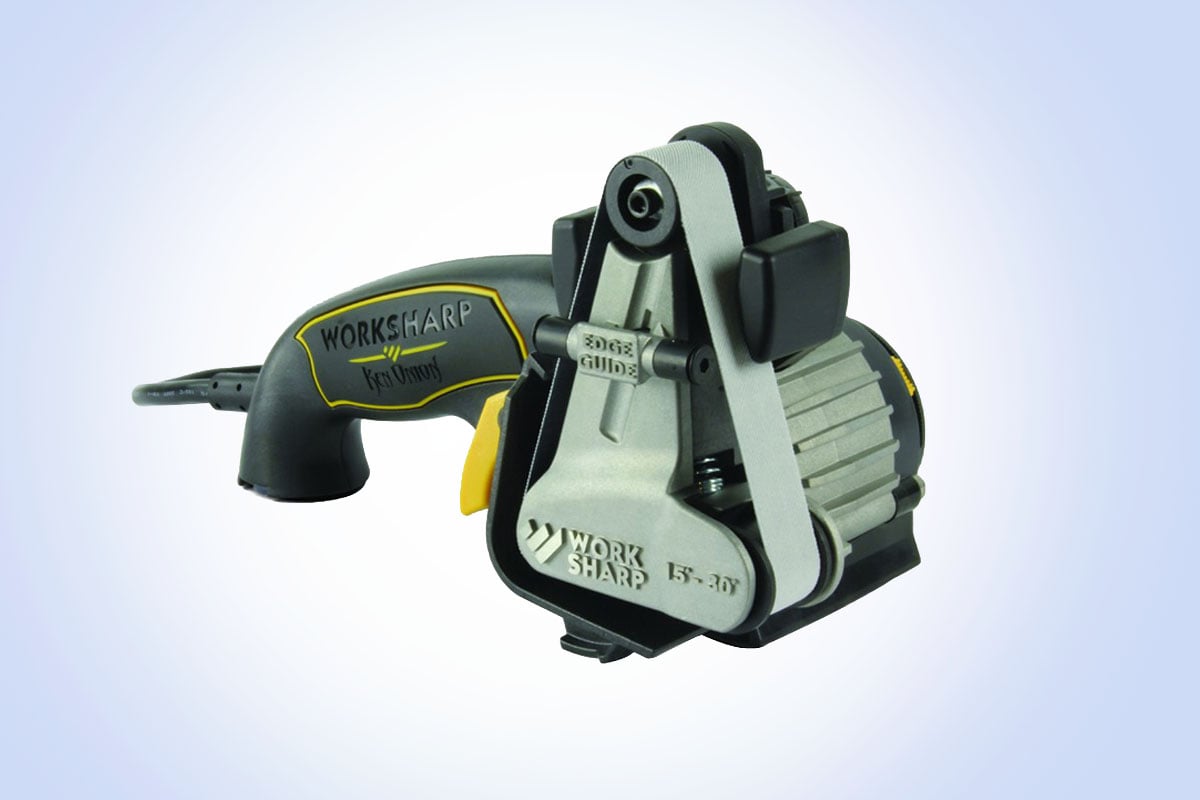 Check Price
This is the sharpener you should consider if you are going pro. It has a wider belt, 1 degree angle adjustments, variable speed control, and is compatible with serrated knives. All of this comes at a much higher cost than the other options. However, this model has the most versatility and control out of the list.
If I was going to open up a shop as a knife maker or professional sharpener, this would be the electric sharpener I'd choose. I could experiment with much finer edge angles, easily swap out the belts, and it wouldn't take up as much space as an industrial sized belt grinder.
Key Features
Includes 5 abrasive belts
15-30 degree angle range with 1 degree adjustments
3/4 x 12 inch belt size