Skip to content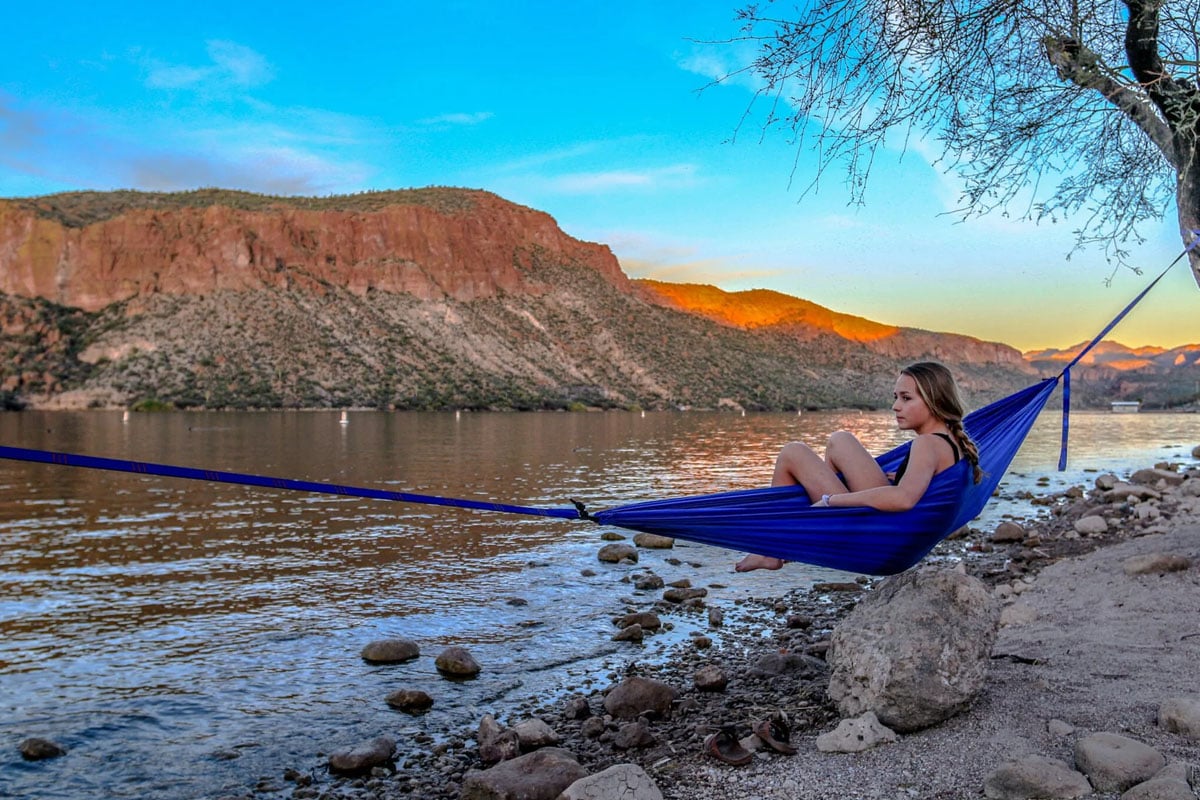 Check Price
Whether you enjoy the comfort of sleeping off the ground, or you want a nice place to hang after an afternoon hike, a hammock can be an excellent addition to the camping experience. Hammocks keep you off rough and rocky terrain, and can be combined with tarps and hammock tents for a bit more shelter off the ground.
When choosing a camping hammock, it's important to pick the right size, weight, and design for your particular uses. You'll need to consider number of people, whether you're backpacking or camping, and what kind of suspension will be possible.
In this guide, we will walk you through the major differences in outdoor hammocks available today. By the end, you'll be an expert on outdoor hammocks and ready to get situated between the trees!
What Do I Need to Know to Choose a Hammock?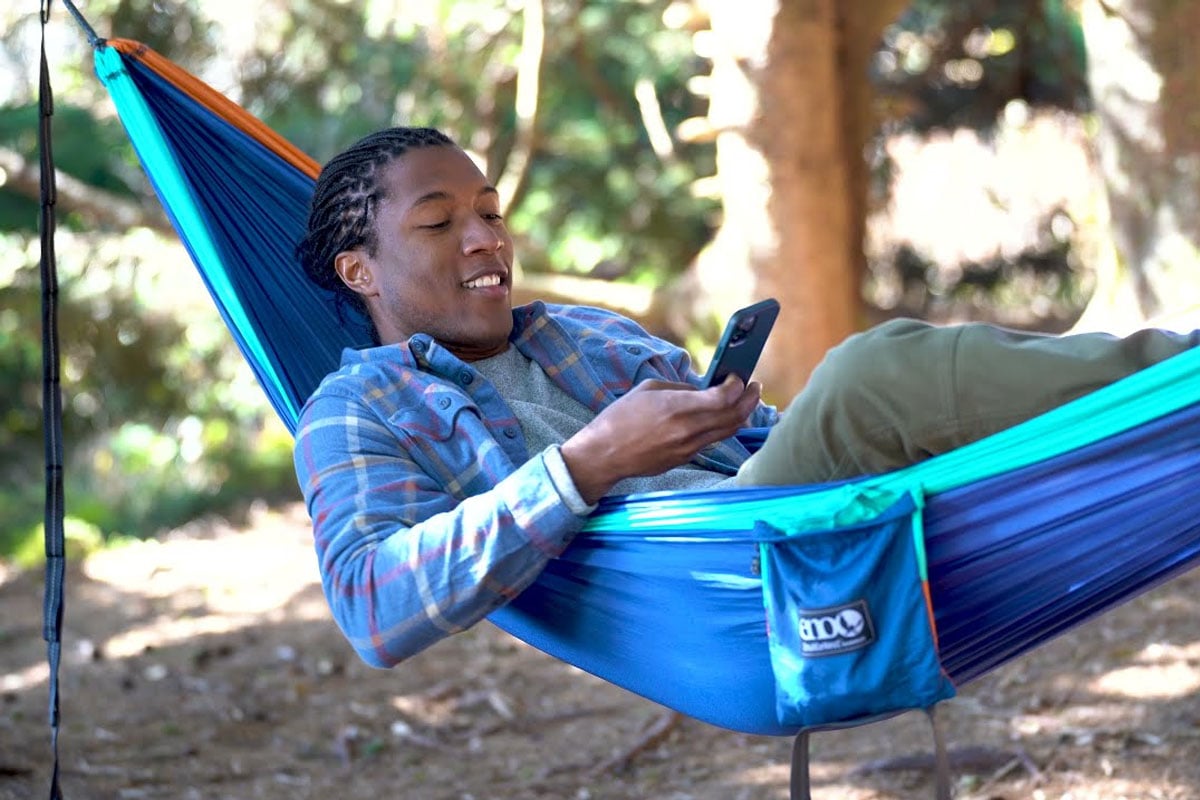 Check Price
There are several considerations to think through before you decide on a camping hammock. These include:
How many people will be sleeping in your hammock? Many people prefer to sleep one person to a hammock, but many solo campers prefer double hammocks for the extra space.
What weather are you expecting? Colder conditions may warrant an underquilt.
Are you concerned about bugs in your camping destination? If so, a jungle tent might be the right fit.
Are you confident that you will have trees to attach your hammock(s) to where you're camping?
Will you be carrying your hammock with you on hikes? If so, lighter weight materials may be a priority.
Let's break down the common features of popular camping hammocks so you can navigate these questions.
1. Number of Sleepers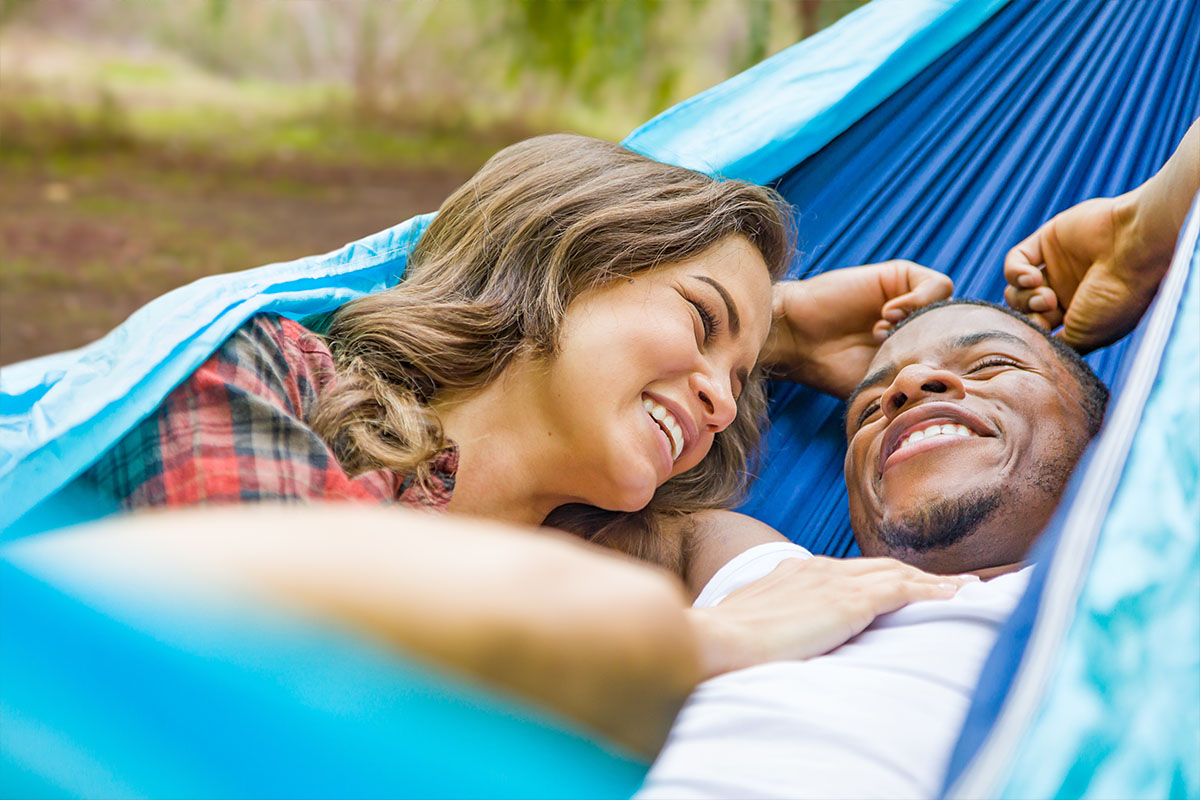 Many people prefer to sleep solo in their hammocks. If you'll be sleeping solo, you'll want a single or double hammock. While "double" might sound like it's meant for two people, it's really referring to double the size of the single hammock. A "double" might therefore be a great option for a single person who wants room for their sleeping bag and other accessories.
If you're camping with multiple sleepers to a hammock, you can get an underfloor suspension system and reinforcing straps to help balance the weight. Separate sleeping bays can help avoid a giant clump in the middle of the hammock.
You can also find three-person camping hammocks and family camping hammocks for larger groups. Each come with their own considerations.
Hammock Size & Weight Capacity
2 anchor points needed
Cannot sleep more than one person
Most models hold 300-400 lbs
Ultralight hold ~250 lbs
May be used for two people (with separate sleeping bays) or extra space for one person (without separate sleeping bays)
2-3 anchor points needed
Most hold 400-500 lbs
Ultralight hold ~350 lbs
Minimum 600 lb capacity
At least 6 feet wide
3 anchor points and ratchet setup will give more security
Hammocks available with capacities of 1200 lb
Fit two adults and two children, six adults, and more configurations
Supported with straps and ratchets
2. Hammock Length
In the above section, we covered various widths available based on the number of sleepers. Hammock lengths are much more standard: in general, look for a camping hammock that is at least two feet longer than you are tall. Unless you are very tall, you likely will not need to worry about the length of the hammock.
Hammock Accessories for a Good Night's Sleep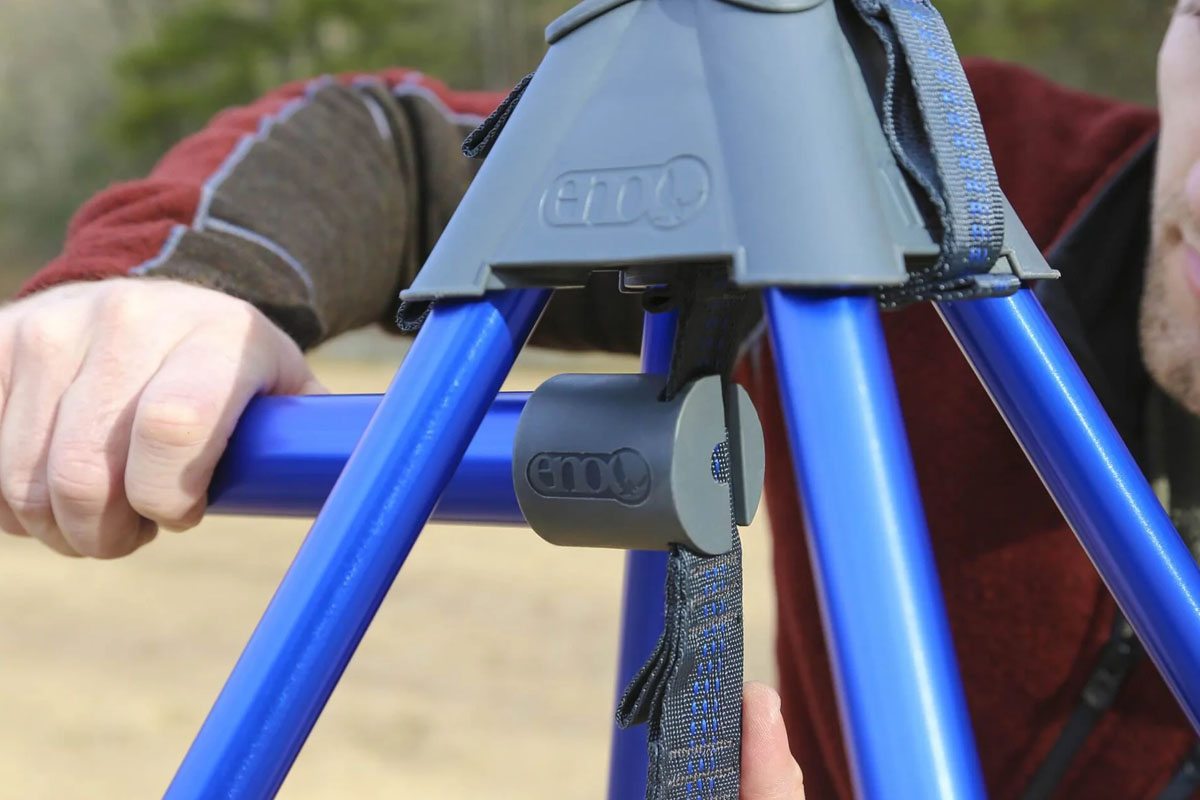 Check Price
Once you've decided how many people are sleeping in your hammock, the next choice is how your hammock is going to function as an overnight shelter. Some campers enjoy sleeping in a hammock uncovered, and feel closer to nature this way.
If you're worried about bugs or the elements, or you just feel a bit safer with some cover, there are options for covered hammocks.
1. Hammock Bug Net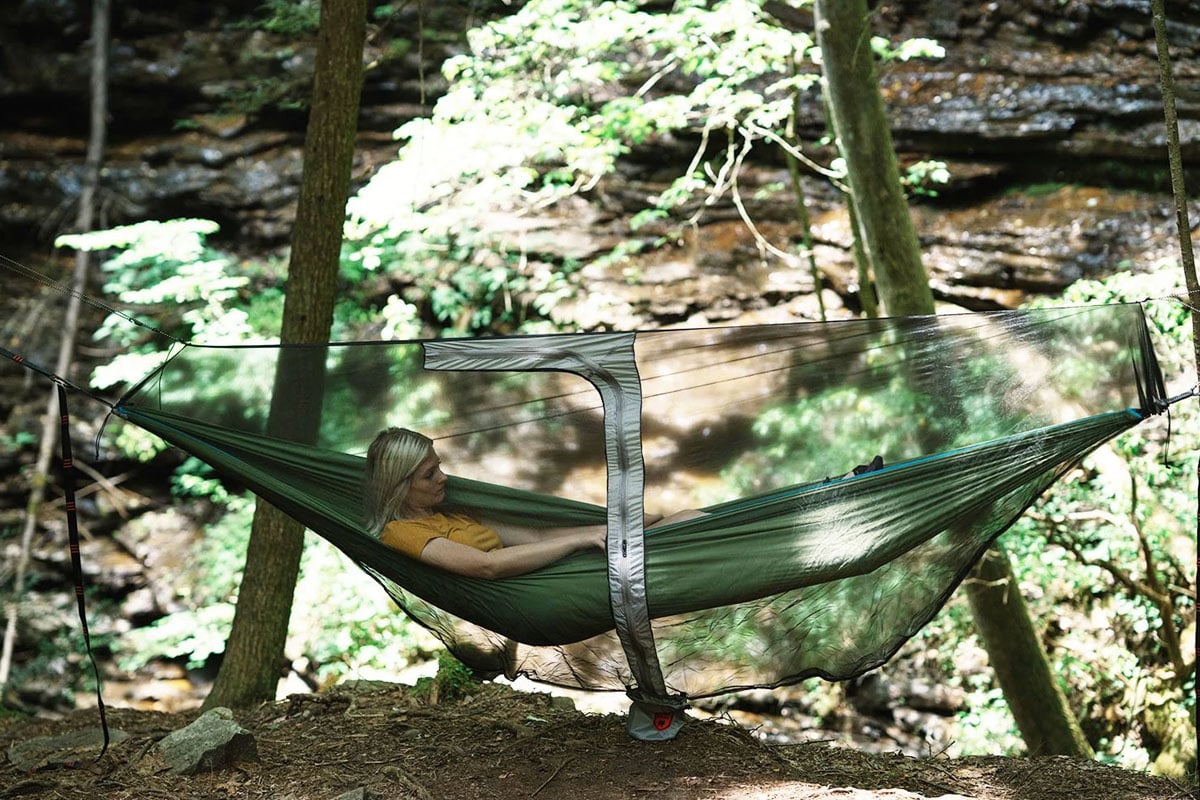 Check Price
If your only concern is bugs, then a jungle hammock might be the right fit for you. These hammocks have a bug net sewn right onto the hammock itself, so you can zip yourself in and enjoy the lake without the mosquitos.
You can also purchase a bug net separately, in which case the separate net will encompass the whole hammock. This also gives you extra room for backpack storage.
2. Tarp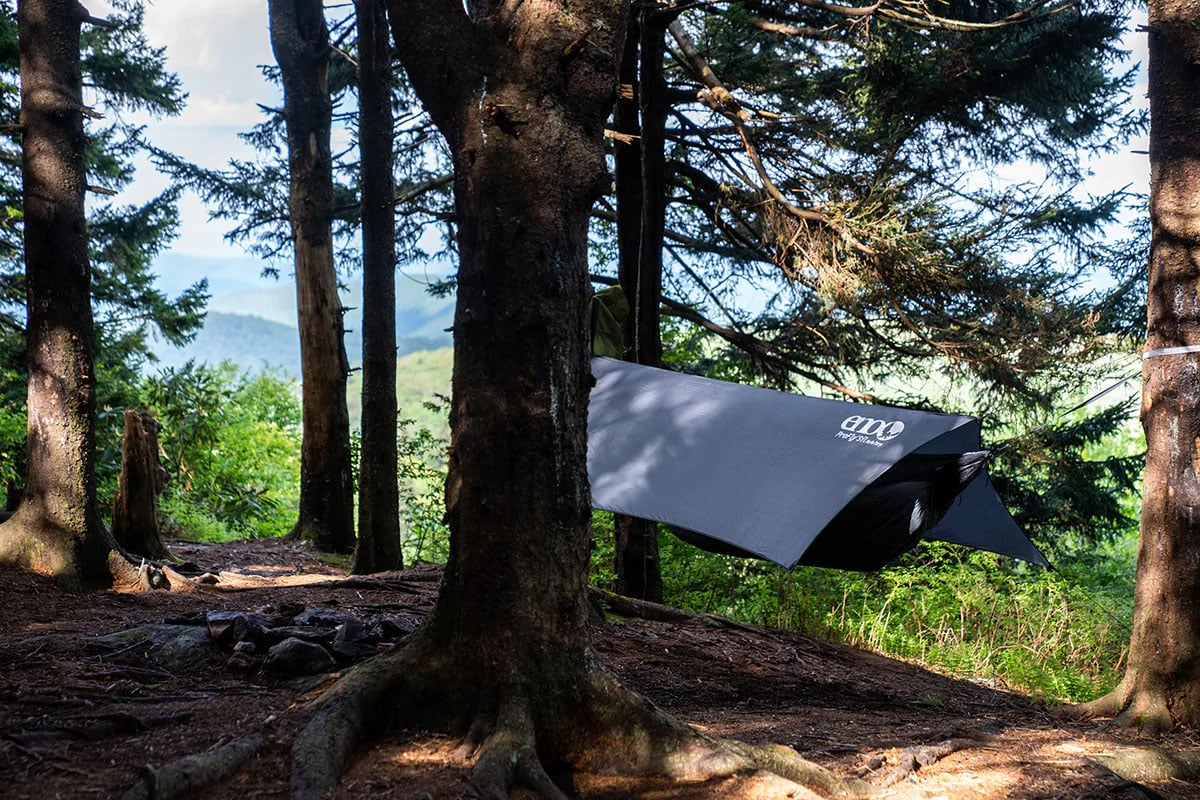 Check Price
If you're also concerned about the elements, a tarp can bring some peace of mind. Hammock-specific tarps will have a method of staking the tarp down in case of wind, and will keep rainwater from draining down the suspension straps and into the hammock.
3. Underquilt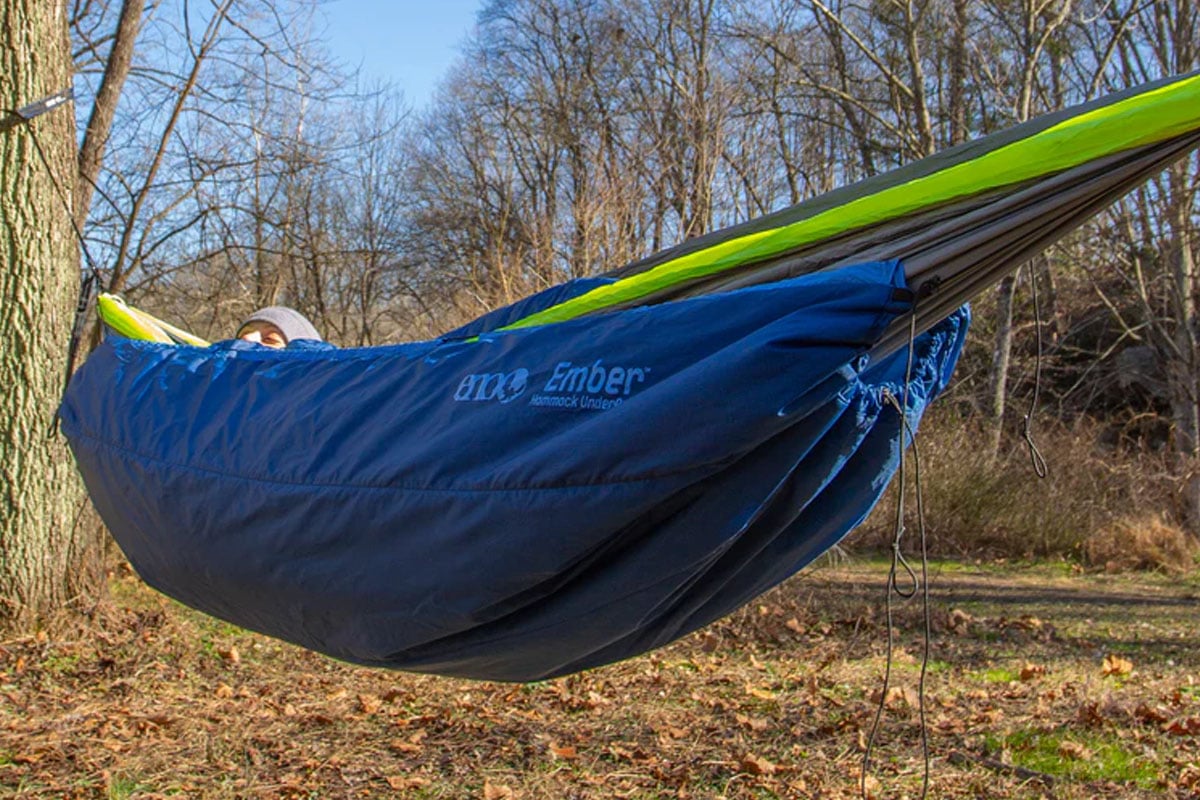 Check Price
Most sleeping bags insulate better when they are expanded than when they are compressed. Because your sleeping bag can get more compressed between you and the hammock when you're sleeping, it can lose some of its insulating properties.
Underquilts add an extra layer of insulation, as they are suspended beneath the hammock itself and thus do not go through this compression. You can combine an underquilt with a sleeping bag, or just use a blanket.
4. Tent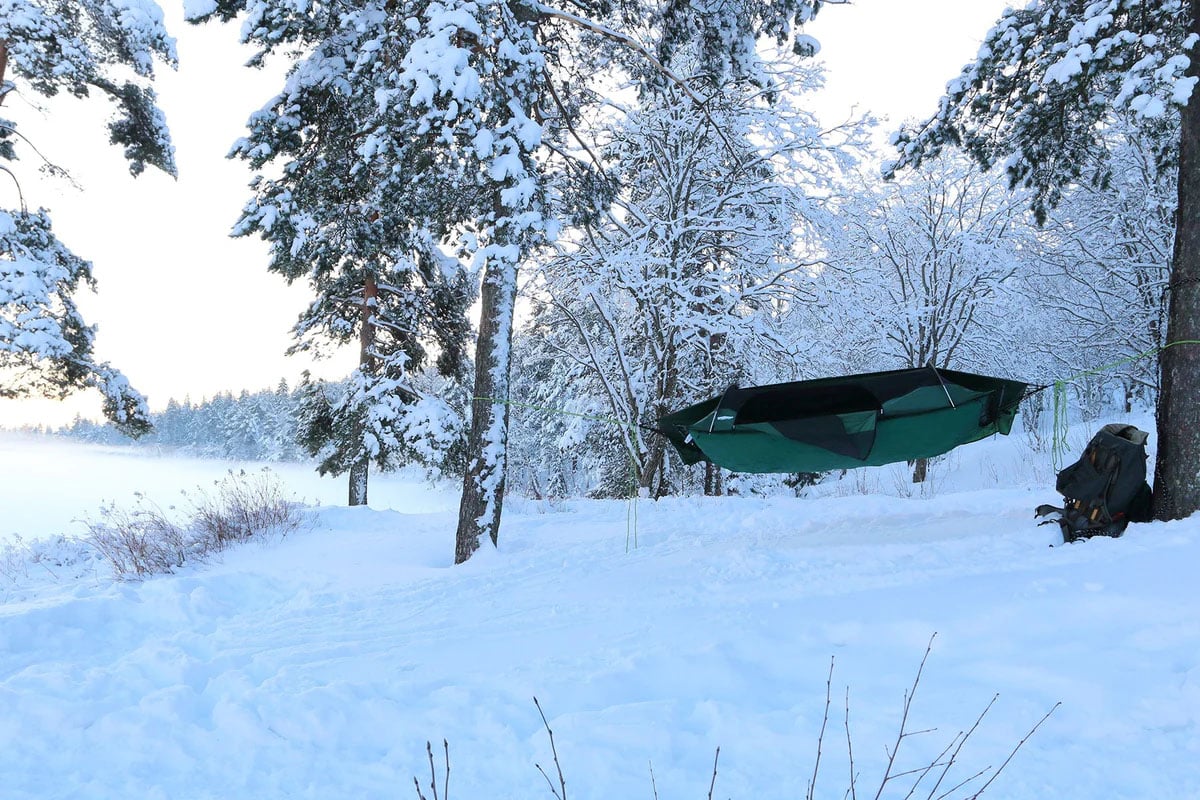 Check Price
Many manufacturers offer hammock sleep systems that include all the various accessories needed for a comfortable night's sleep. These offer a kit including tarp, bug net, underquilt, and suspension system for the whole thing.
Hammock Designs
So how does this hammock actually attach to the tree? Here's where we get into hammock designs. Many of these design types can be combined with approaches we've discussed so far, like jungle versus open hammocks.
The most popular types of hammocks are listed here with their key features for easy reference:
Hammock Design & Key Features
Single point on the sides
Very secure, unlikely to tip over
Affordable and simple
Pole on short ends to flatten fabric
Higher center of gravity means more likely to tip over
Heavier and bulkier resulting in greater difficulty to set up
Spreader bar plus "suspension bridge" style fabric
More stable than spreader bar but less than gathered-end
Heavier
One overhead anchor point
Must be reinforced to hold all weight
Three anchor points allow for greater weight capacity
Heaviest of all designs
1. Gathered-End Hammocks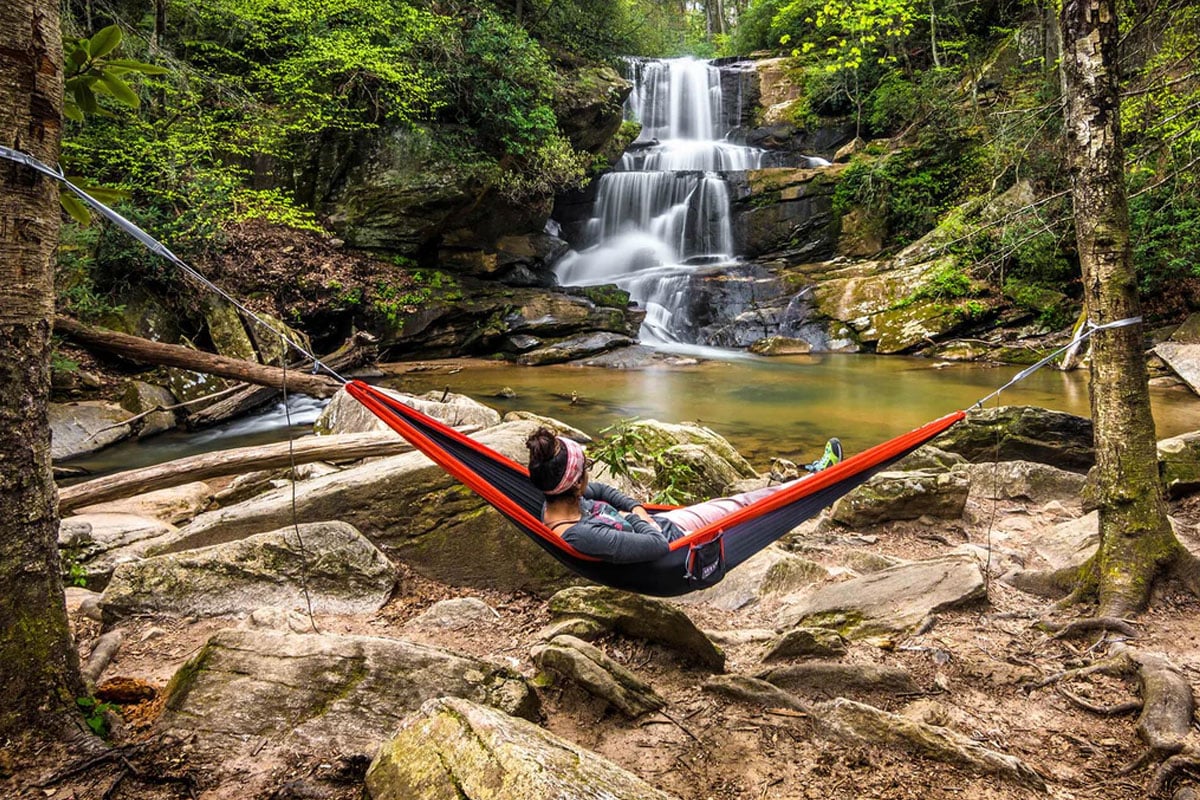 Check Price
The gathered-end hammock is a very simple, affordable model that gives the classic banana-shaped curve for comfortable reclining. These take a bit of effort to learn to set up right, but they are very secure and unlikely to tip.
These hammocks are often referred to as "single," "double," or "triple" based on their various widths, as discussed above.
2. Spreader Bar Hammocks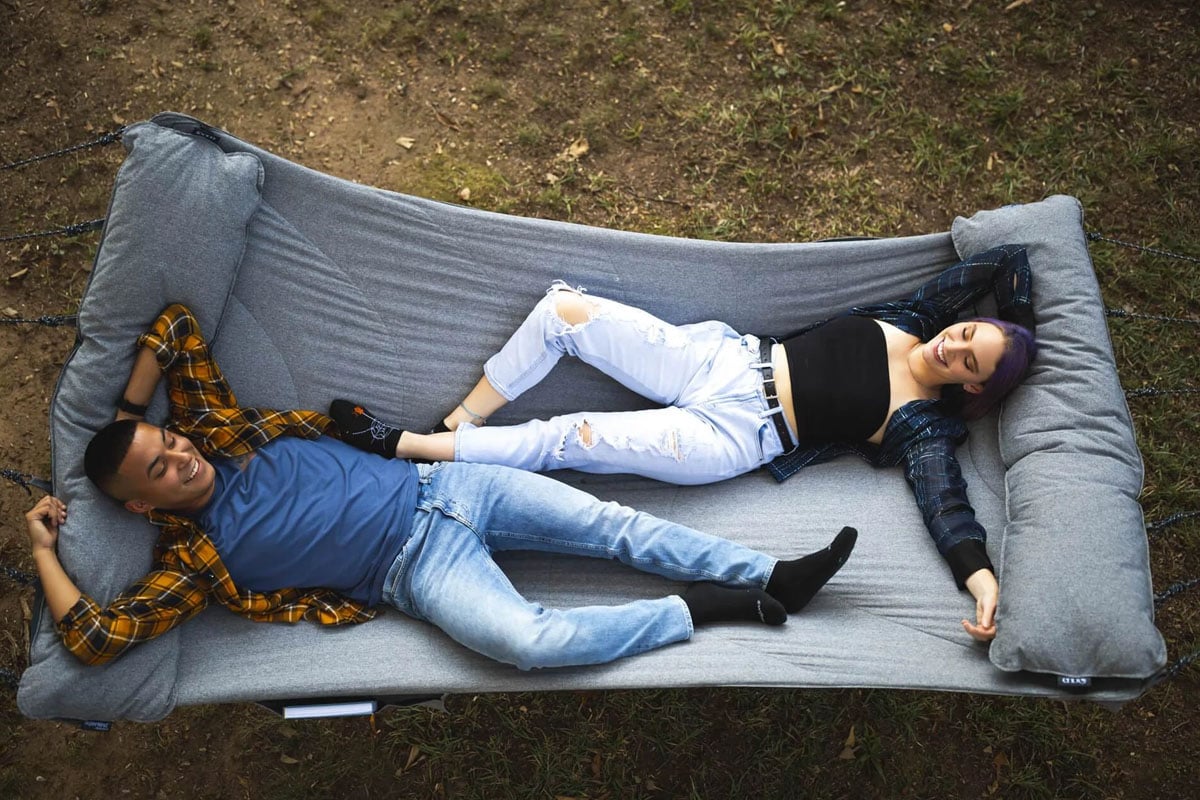 Check Price
A spreader bar hammock is named for the pole that creates space on the short ends of the hammock. This leads to a hammock that is more prone to tip over, because the center of gravity ends up being higher. But, the base of the fabric is flatter.
The bars themselves and other setup accessories make these a heavier, bulkier options.
3. Bridge Hammocks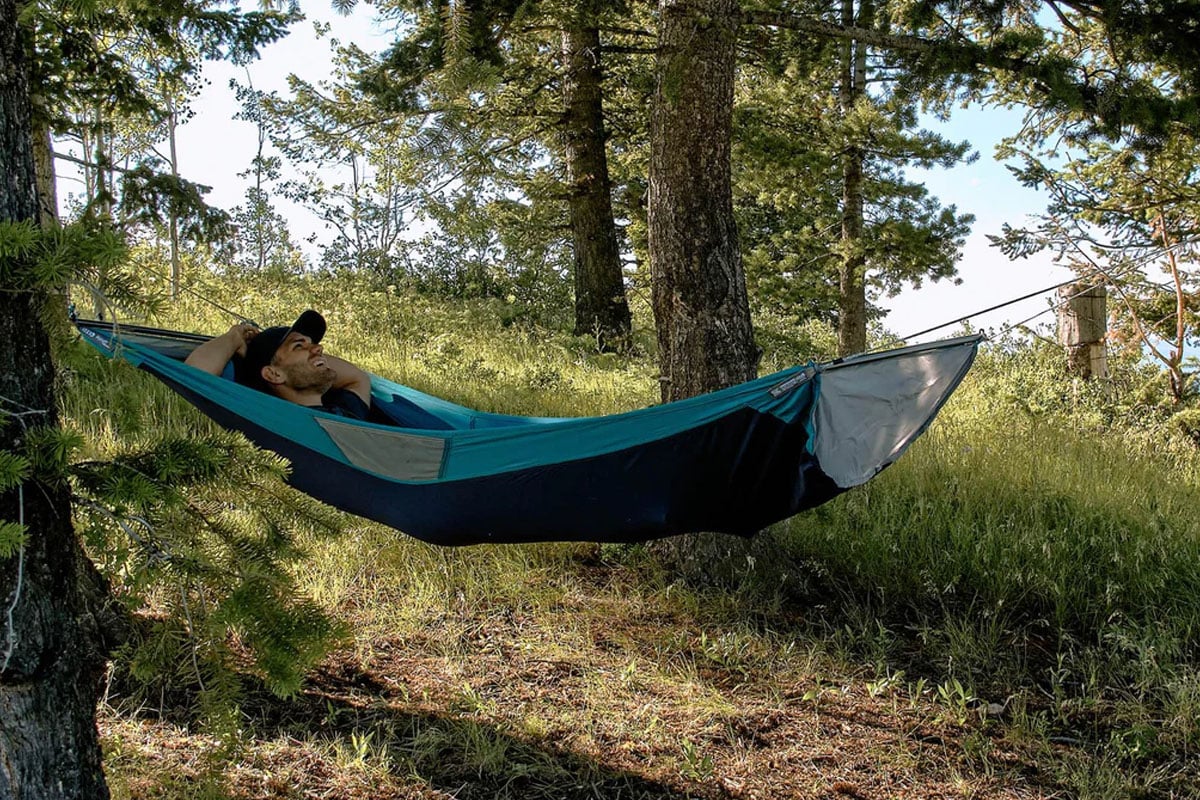 A bridge hammock takes the spreader bar design a step further. Here, the base of the hammock is flat and the fabric curves above. The name draws from the suspension bridge that the design mirrors.
This creates a more stable hammock than the spreader bar model, but less than the gathered-end model. They are also a bit heavier.
4. Single-Point Hammocks
The single-point hammock uses one anchor point above the hammock to hang the fabric. This requires a sturdy anchor point that can bear the entire weight of the hammock's occupant.
5. Multi-Point Designs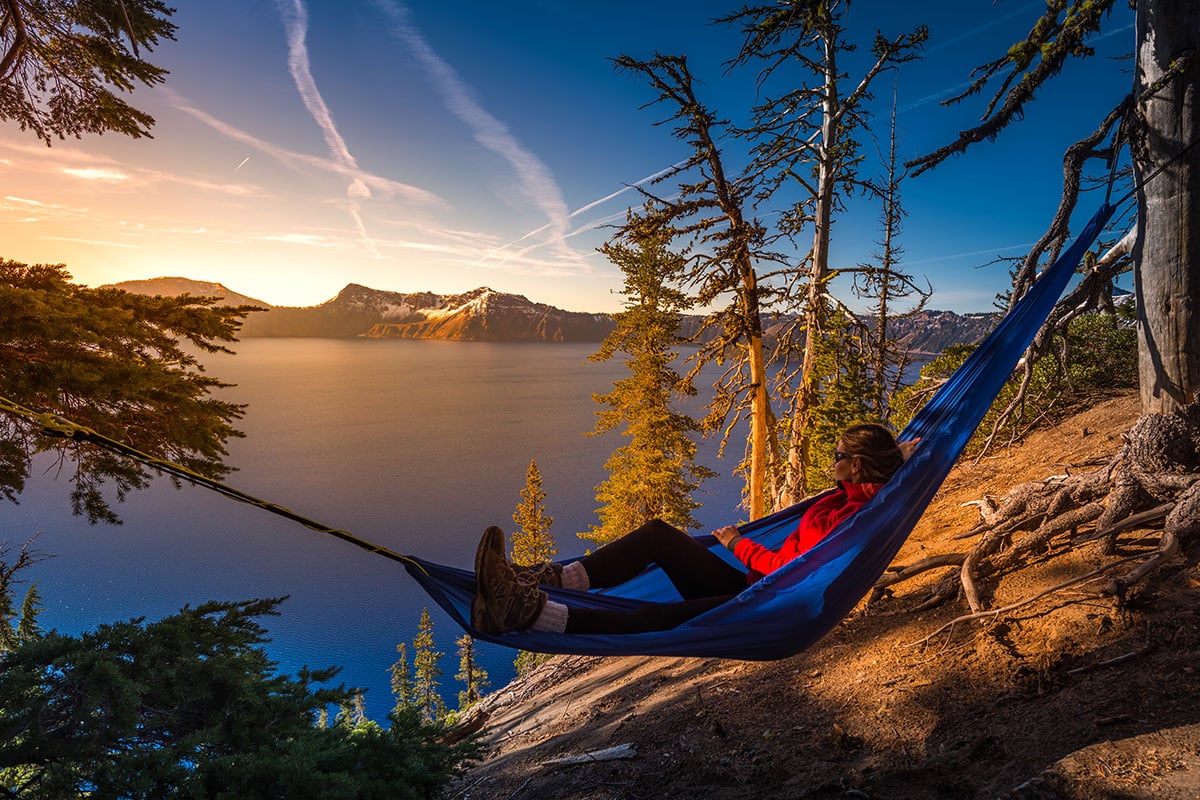 Many hammocks have two anchor points – but when you want more occupants, a third anchor point can significantly increase the weight capacity.
Hammock Fabric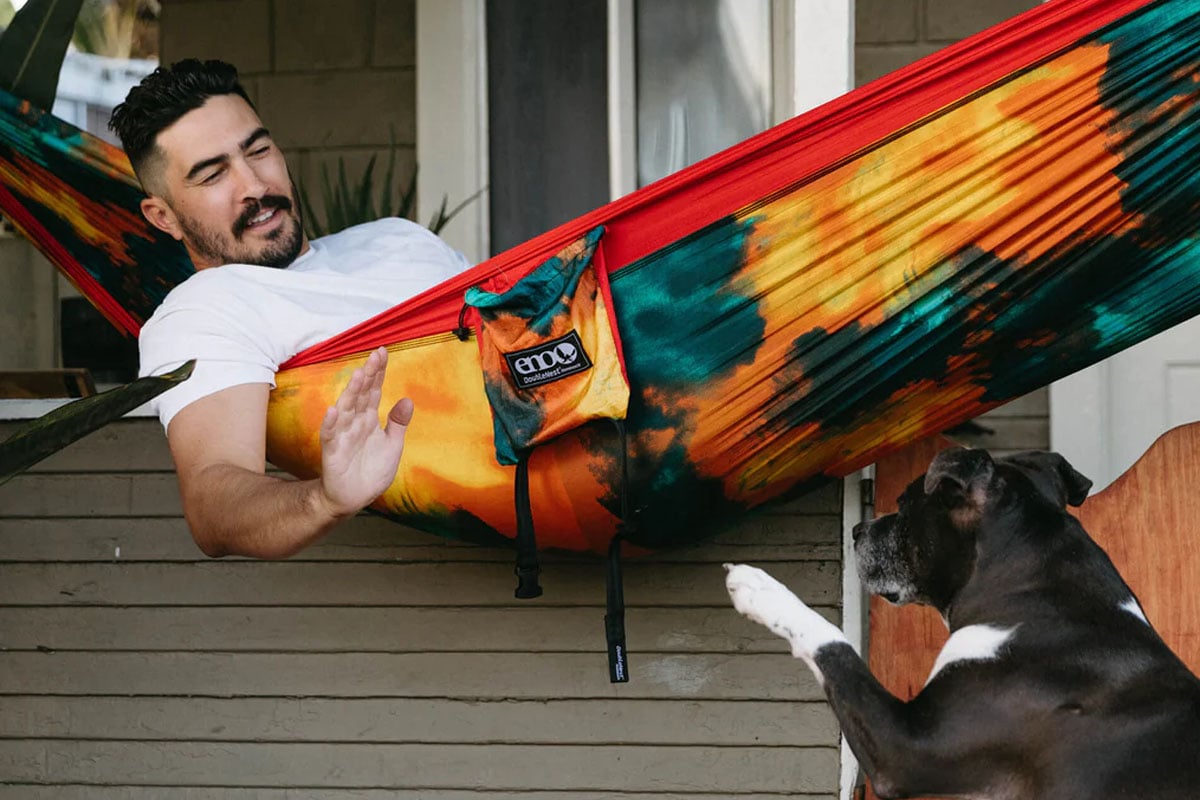 Check Price
Hammocks are made from robust fabrics that can hold weight and resist the elements. The variation in hammock fabrics is primarily in their weight, with "ultralight" models for backpacking trying to meet these needs in as few ounces as possible.
Denier can tell you how robust the fabric is. Higher denier fabrics (such as 70-denier) are more robust, while lightweight models will be lower (around 30-denier). Low-denier fabrics will wear out with less use.
Suspension System
Check Price
If you want your hammock to reliably lift you up off the ground, you need to have the right straps. You also need some flexibility, because the wilderness rarely provides perfectly spaced trees exactly where you want to set up camp for the night.
Straps should be at least ¾" wide. Straps are specially designed to minimize damage to trees, which makes them a better option than rope. Good straps will include several attachment point options for different distances between your anchor points.
Not all hammocks come with straps; be sure to check on this when budgeting!
Portability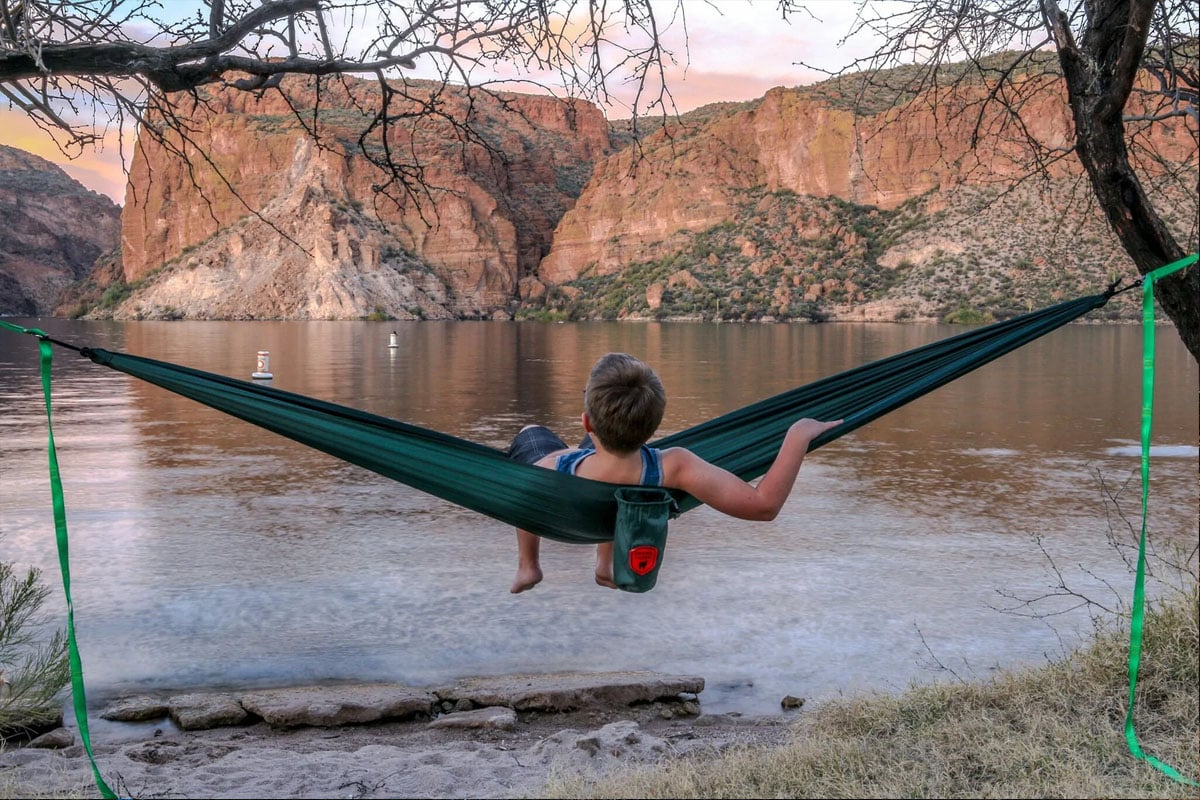 Check Price
If you're a backpacker, you know that every ounce is precious. Hammocks are popular with backpackers because they take up even less space and weight than a backpacking tent.
If you are sleeping two to a hammock, you may be able to split up the hammock body and the suspension system between packs.
Many solo hammocks weigh as little as 2 lbs. For this reason, backpackers sleeping solo might prefer a single hammock over a double hammock.
In Conclusion
With this information, you are now ready to make a choice about the ideal camping hammock for you. Before you set out into the wilderness, practice setting up your hammock and getting inside it at home. You don't want to find out you can't set up or sleep in your hammock deep in the backcountry!
Many campers find that sleeping on a slight diagonal within the hammock is most comfortable. It may take some time to learn how to maneuver inside the hammock, and to figure out what model is best for your sleeping arrangement. Enjoy the ride and this new way of enjoying the great outdoors!