Skip to content
When setting out to the backcountry, most of us just want to focus on the hunt. By making sure you have the perfect pack for all your gear, you increase your chances of a successful trip.
Hunting big game is a whole lot easier when your pack fits properly. Choosing the right pack requires understanding the size, frame length, load lifters, meat hauling capabilities, fit, and organizational compartments.
Thankfully, we've done the hard work for you and assembled a list of the best hunting packs for big game, based on these criteria. We'll make sure you understand what you need from a pack, and provide several options that might just be the perfect pack for you.
What to Consider When Choosing a Hunting Pack
A hunting pack is one of the most important pieces of gear you'll need on a trip – if you have the wrong size or not enough space, it can completely ruin your experience and even send you home early. Here are the top things to consider when you're shopping for your hunting pack.
1. Size
Bigger is not always better. It's important to choose the size pack that is appropriate for your trip. If you'll be doing day trips, you're going to need a very different pack than if you're heading to the backcountry for five days at a time.
Here is a basic breakdown of pack volume based on the length of your trip. For big game, you might want to adjust up a bit more depending on how much gear you'll be hauling with you – when in doubt, size up.
Trip Length & Backpack Capacity Reccomended
| | |
| --- | --- |
| Day hunts | Up to 2,000 cubic inches |
| 3-5 day trip | 3,000-5,000 cubic inches |
| 5+ day trip | 8,000 cubic inches |
This reflects a general rule of thumb to plan on 1,000 cubic inches per day of your trip. Of course, it's up to your personal style: an ultralight backpacker may need less space, while a gearhead with enough muscle to carry everything he wants might need less.
For big game hunting, you will need a pack that can carry at least 100 pounds.
2. Frame Length
The next big decision is the type of frame you'll want, and this again relates to how much you'll be carrying. Make sure that whatever frame you choose fits you well – if you're going on a long trek, you'll pay for a poorly fitting pack!
Make sure the frame is the correct length for your torso. You should be able to move your head, and if you'll be going through wooded areas, you'll want a frame that isn't constantly catching on branches. However, taller frames do carry heavy loads better, and keep more of the weight off your shoulders.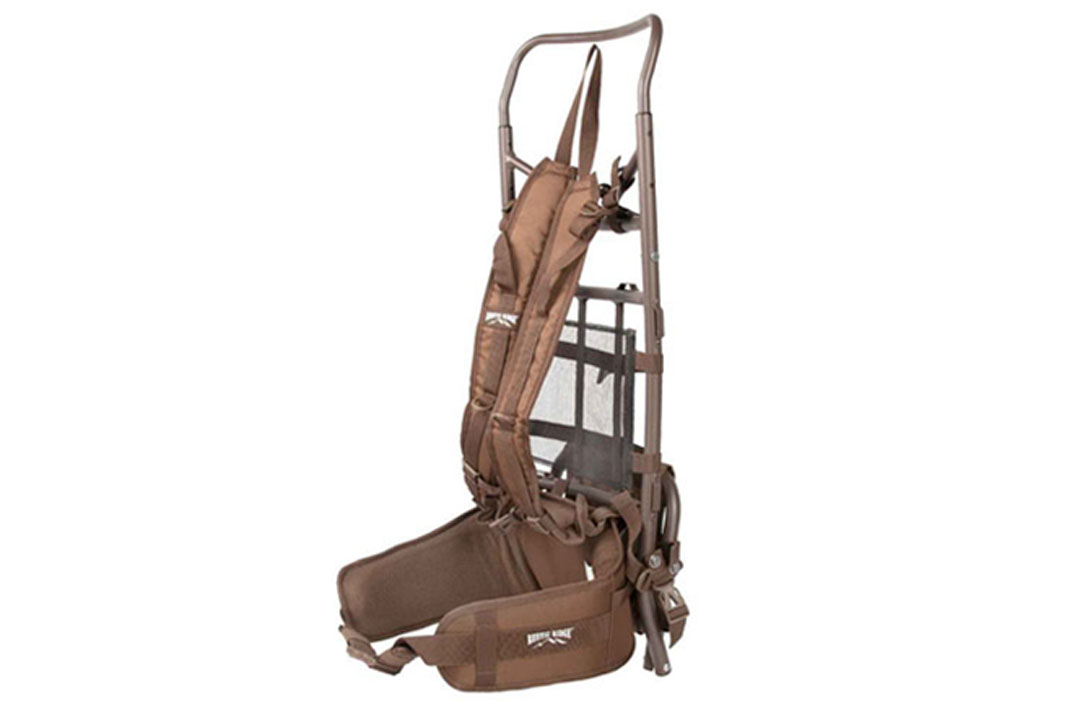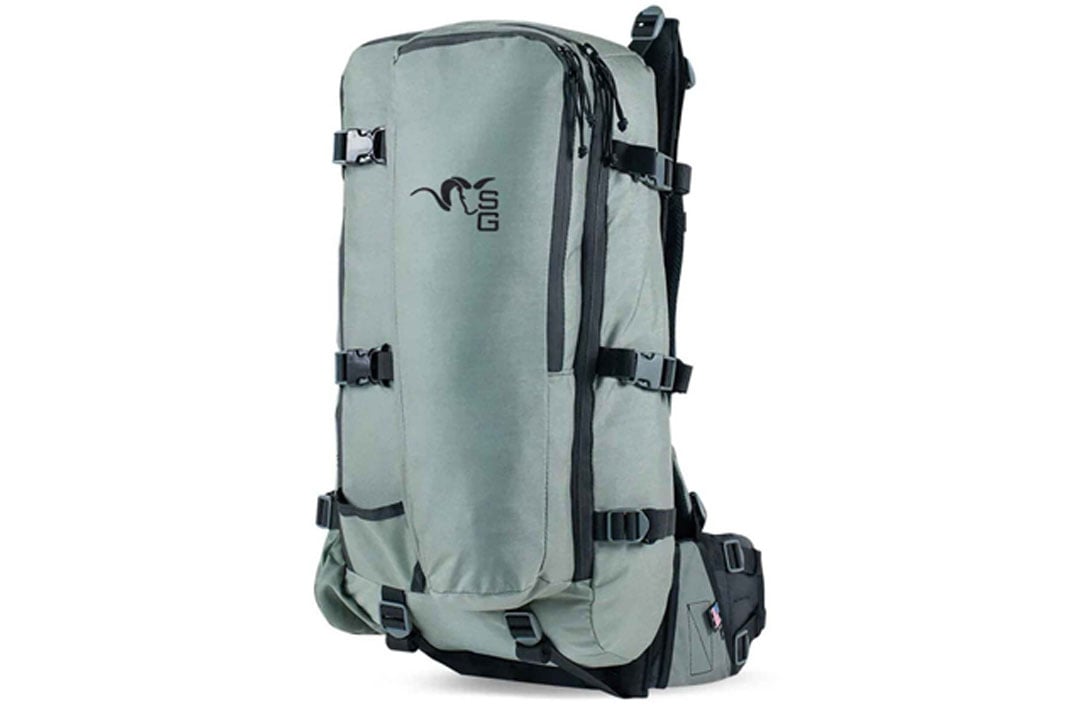 Shorter Frame Pros & Cons
3. Load Lifters
Load lifters are a key part of how weight is distributed in your pack. They essentially bring more weight tighter toward your back while taking it away from your shoulders.
These load lifters are additional straps that connect the top of your backpack to your shoulder straps. They should bring your shoulder straps closer to the pack itself, lightening the weight on your shoulders.
Not all packs have load lifters, so you need to specifically look for this if you want them.
4. Meat Hauling
When big game hunting, you need help transporting your kill. After all, this is the prize that sets us out into the backcountry in the first place.
Many hunting packs are designed to haul meat, and some have options to strap meat between the bag and the frame. Strapping meat in this way allows you to use your hands for other things, like trekking poles.
5. Fit
Of course, your backpack needs to fit you perfectly. Be sure to try on your backpack with weight inside it, like sandbags or gear, to see how this impacts the fit.
The waist belt is a crucial part of the fit – it must be sized correctly to help carry the weight of the pack. When considering waist belt size, leave room for additional layers in colder temperatures. You also want to be able to tighten your waistband after clipping it, which leads to a tighter fit.
6. Compartments
Big game hunting requires a lot of gear. You're going to want to keep it organized, with some items readily accessible on the go, and others safely stowed away, waiting to be used later. When evaluating a backpack, consider how you might load and unload, and where you might store essentials.
Some helpful organizational tools on a hunting pack can be:
Center zips
Zippered pockets on lid, outside of pack, etc.
Waist belt pouches
Water bottle holders
Water bladder holder
Removeable day packs (for extended stay packs)
Top Hunting Packs
Now that you know what you're looking for in a hunting pack, we've assembled a list of high-quality, proven products that just might be perfect for your next expedition.
Check Price
If you're looking for a dependable pack for a variety of trips, the Mystery Ranch Metcalf won't let you down. Extremely durable material pairs with a robust suspension system to allow hunters to carry all their gear and meat over long trips. It boasts plenty of organizational space and includes Mystery Ranch's patented OVERLOAD feature, which allows hunters to store meat between the bag and the frame, keeping bag contents clean while creating more stability for the trek.
Key Features
Size small through extra-large
Guide Light MT Frame
OVERLOAD feature keeps bag contents clean while hauling meat
Detachable lid
Dual stretch-woven side pockets
Full-length side zip access
Auto-lock buckles to prevent slippage
Detachable day pack
Compression straps on bottom, front, and side
Top-loading shroud
Dedicated space for hydration bladder
Side zip for easy access to main bag
Compression straps to carry bow and rifle
Side pockets for water bottle, rifle, or tripod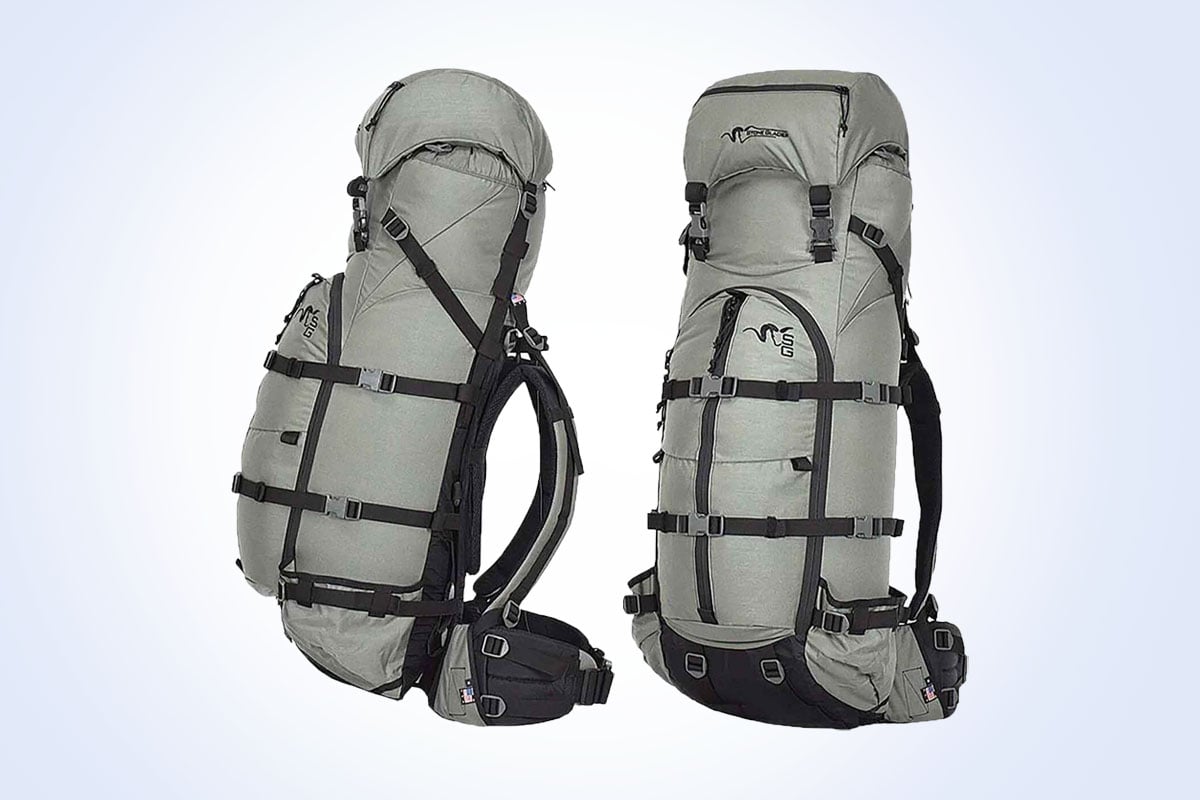 Check Price
If you find yourself wishing for a range of volume options, Stone Glacier's Sky design is here to help. The Sky Lid is a unique approach to compression that allows this pack to shrink down as small as 4,300 cubic inches, or expand to hold 5,900 cubic inches at full volume. With a load shelf volume of 2,500 cubic inches, that means this pack has a maximum capacity of 8,000 cubic inches, an impressive volume that should support most backcountry treks. The shoulder and chest straps are easy to adjust, creating a fit that's unique to you.
Key Features
XCurve frame
Front panel zip for easy access to pack
Sky Lid helps pack transition from 4,300 cubic inches to 5,900 cubic inches
Load shelf volume adds 2,500 cubic inches
22" front vertical pocket for spotting scope
Attachment points for swing out pockets for small items
External open-top pockets on sides of pack
Hydration bladder compatible
150+ pound load rating
Belt attachments
5.55 pounds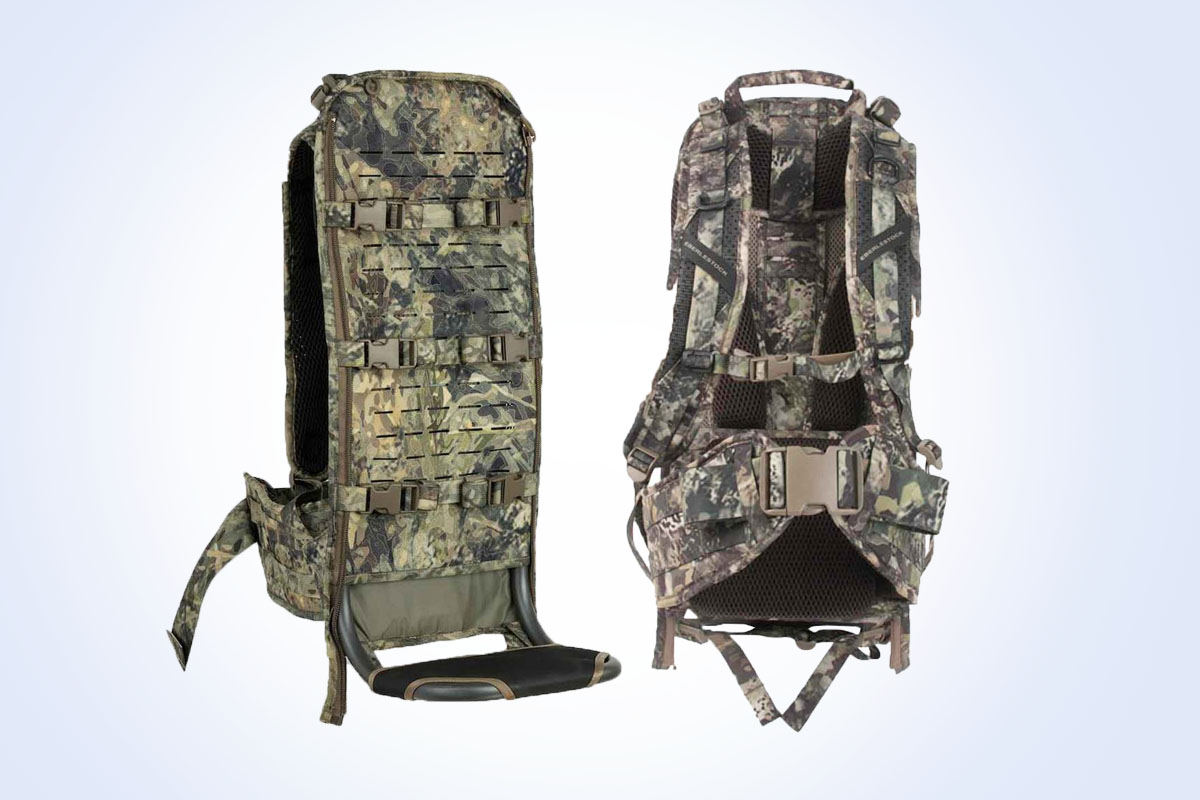 Check Price
Sometimes, you just need a way to carry meat home from a big game hunt. That's why the Eberlestock F1 Mainframe Pack is sold in a modular way: hunters can purchase just the frame and meat shelf, or purchase compatible pack bodies that can also carry gear. These packs can be swapped out: use the frame as the base of a day pack, or a larger pack for multiday expeditions. The Eberlestock offers a high-quality frame to help with larger loads, proving that there is still space for external-frame packs even as the popularity of backpacking-style packs continues to rise.
Key Features
Can be used as day pack, freight pack, utility pack, meat hauler
Intex II aluminum external frame
Eberlestock Modular System (EMOD) can be used with various packs (sold separately)
EMOD provides customizable accessories
Straps for carrying quarters or bulky items
Rated to carry 700 pounds
Zippered attachment points
MOLLE webbing matrix attaches main panel to accessories
Three integrated horizontal compression straps
Ladder harness system is adjustable
4 lbs 8 ounces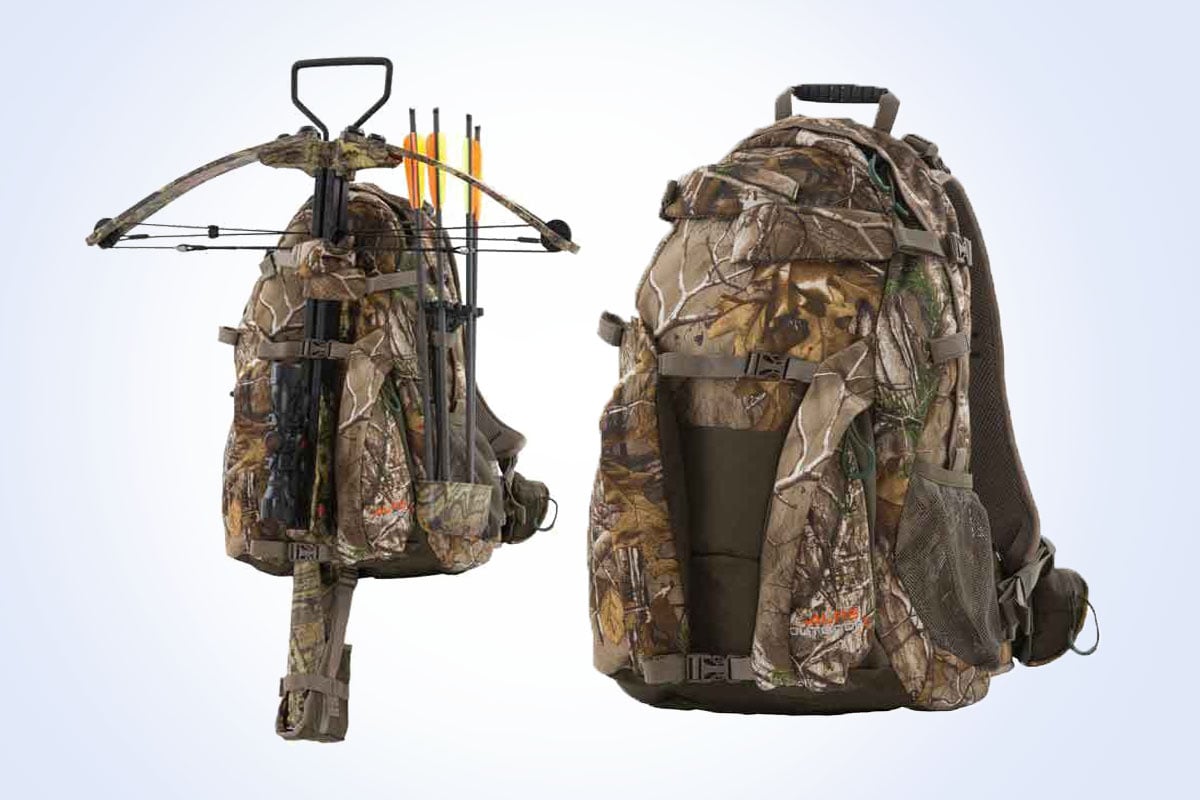 Check Price
Hunting can get expensive – and for the hunter who's looking to keep costs down, the ALPS OutdoorZ Matrix offers a highly organized pack for day trips or overnights. This highly useful pack secures crossbows, bows, or rifles through two dedicated straps that start in the middle of the pack, wrap around the weapon, and fasten to the sides. Plus, the material keeps quiet through the backcountry. The lashing system allows for some meat hauling, but without a frame, its capacity is more limited than some other options on this list.
Key Features
Day pack or overnight
2,700 cubic inches
Dedicated storage for weapons
Pocket inside main compartment
Front zippered wing pockets
Padded waist belt with two pockets and compatibility with clip-style handgun holsters
Two front wing pockets
Two side mesh pockets
Quiver holder on each side
Lashing straps for large loads
Center aluminum stay for support
Rain cover included
Hydration bladder compatible
Available in two camouflage patterns
4 lbs 1 ounce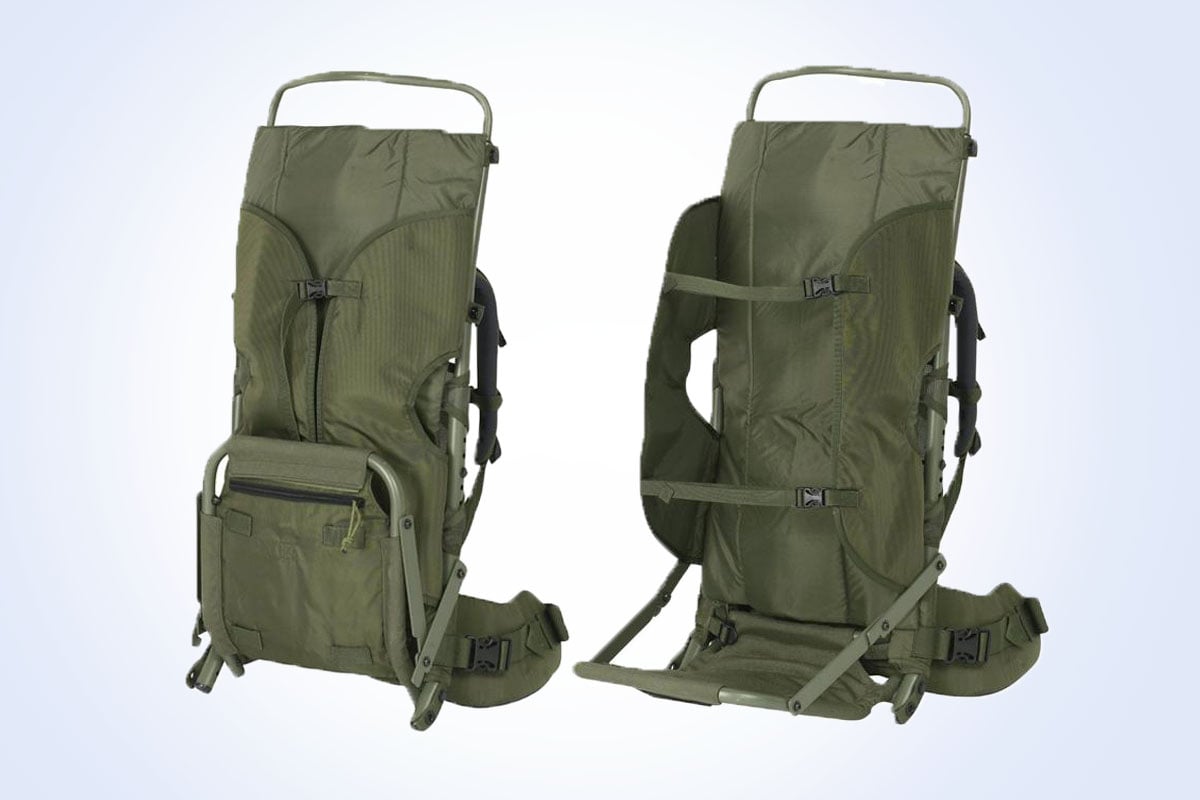 Check Price
Sometimes, you just need a budget-friendly external frame to haul meat. When simplicity and affordability is what you're after, the Kelty Cache Hauler delivers. With added straps and bungees, this frame just might be able to carry more than its stated 56.5-liter capacity in gear as well as meat. Its solid metal is highly durable, and great for hunters who prefer to travel with a day pack and then return with their heavy-duty hauling frame.
Key Features
56.5-liter frame
Backpanel is moisture-wicking to keep you dry
Padded waistbelt
Padded shoulder straps with load-lifter straps
Sternum strap
Blaze-orange raincover included
Solid metal frame
9 lbs 2 ounces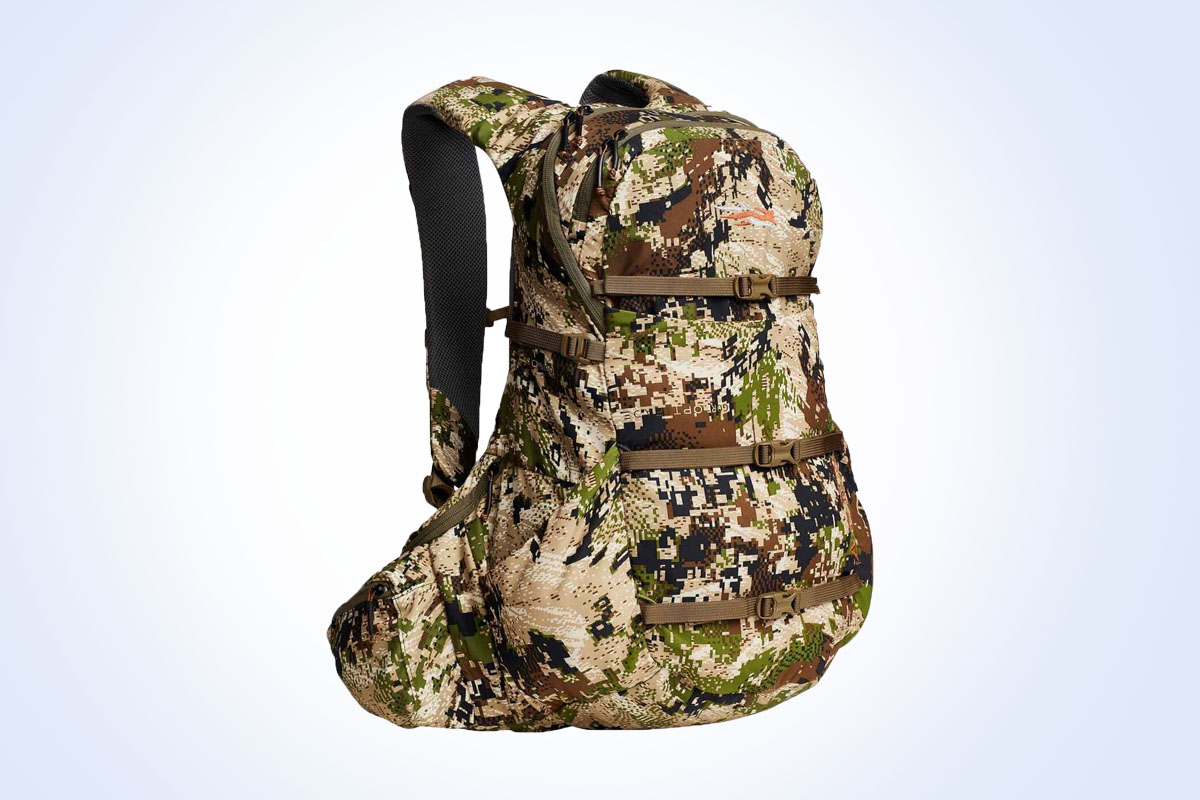 Check Price
Any list of the best packs should include a day pack for the big game hunter who's planning to sleep inside. This pack is streamlined, with a frameless design that stays quiet on the hunt. Offering 1,800 cubic inches of space, this pack sets hunters up for a great day trip – but is not going to help haul huge amounts of meat. This pack can be used in conjunction with frames or other hauling devices, but it likely won't help you bring big game home in a small number of trips.
Key Features
1,800 cubic inches
36 ounces
Waist belt with multiple pockets
Three outside compression straps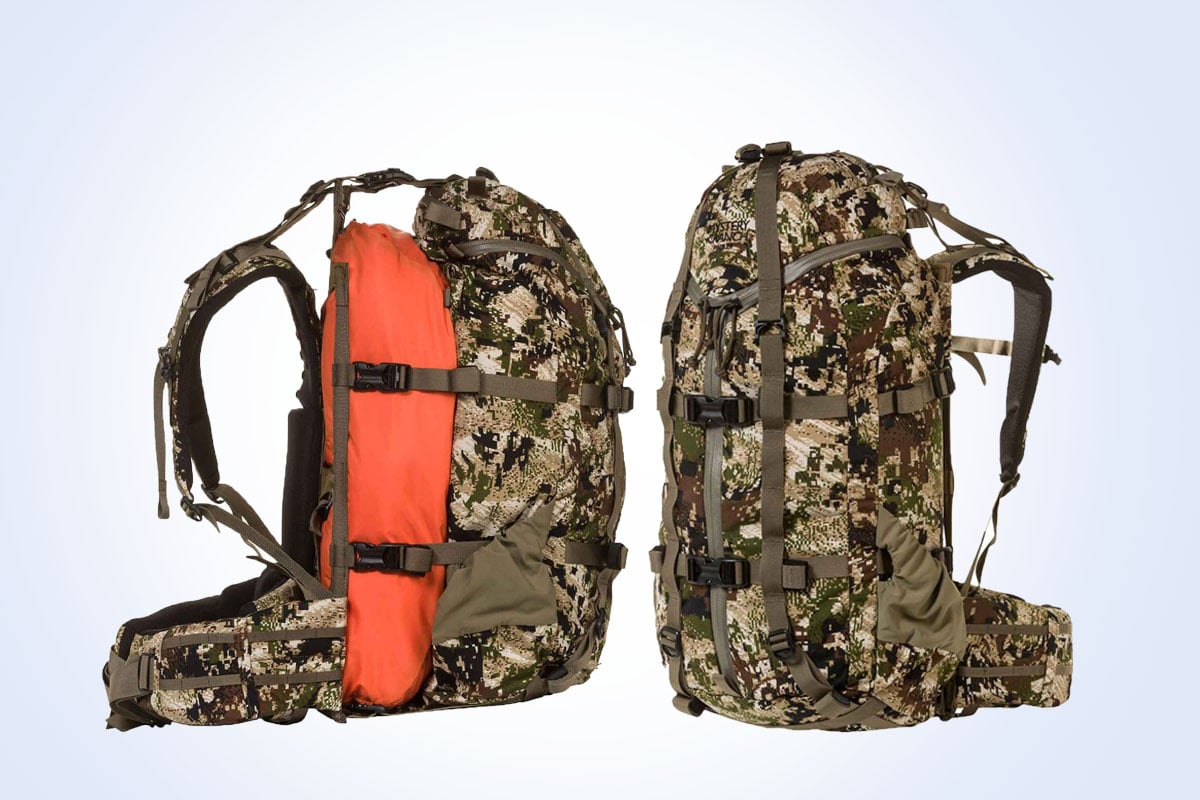 Check Price
When you're heading out for just a night or two, you want a bag that will hold all your gear without weighing you down. The Mystery Ranch Pintler distributes weight well, is highly durable, and is the perfect size for mid-length trips. For those who are particularly concerned about weight distribution around the hips, this suspension system will distribute weight more evenly across the torso.
Key Features
2,335 cubic inches
5.7 pounds
Available in three camouflage designs
OVERLOAD design feature distributes heavy loads evenly
Accessory straps compatible with bows and rifles
3-zip organizational pocket design
Guide Light MT Frame
Accessories can be attached through daisy chain
Two internal dump pockets
Four internal zip pockets
Compression straps on bottom, front, and side
Zippered lid pocket
Hydration bladder compatible
Auto-lock buckles to prevent slipping
Side pocket for water bottle, rifle, or tripod