Skip to content
Best Dutch Ovens For
Baking Bread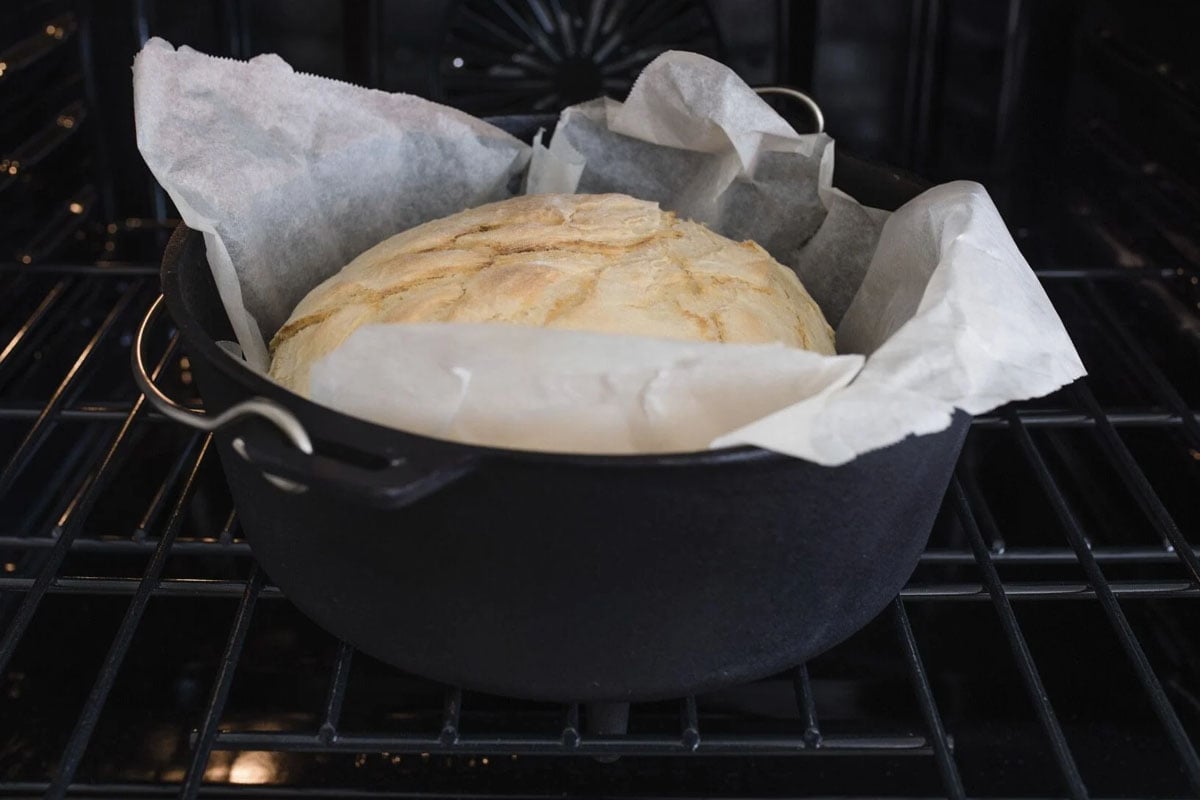 Check Price
When you want bread with a nice crust on the outside and soft goodness on the inside, a Dutch oven is the perfect baking tool. When selecting a Dutch oven for baking bread, you'll want to consider the type of Dutch oven, the size, and accessories. This guide will help you what to look for when selecting the best Dutch oven for your specific style of bread baking.
What is a Dutch Oven?
A Dutch oven is a highly versatile pot that can be used for baking, braising, roasting, frying, and sautéing. There are many types of Dutch ovens, and many will last for generations.
Dutch ovens are so versatile because they can move between ovens and stoves, be used for indoor or outdoor cooking, and stand up to very high temperatures. They are usually round or oval, depending on what you need to fit into the pot.
But what makes a Dutch oven a good fit for bread baking, and what special considerations go into a good baking oven?
Advantages of Baking Bread in a Dutch Oven
There are many ways to bake bread – but if you want bake bread with a crispy crust and a soft middle, using a Dutch oven is the way to go. This is because Dutch ovens create and trap steam during baking.
Dutch ovens are miniature at-home versions of bread ovens thanks to this steam. Where a commercial oven has steam injectors, the Dutch oven naturally capture captures steam during the baking process to produce fluffy, soft bread with a moist center.
Types of Dutch Ovens for Bread Baking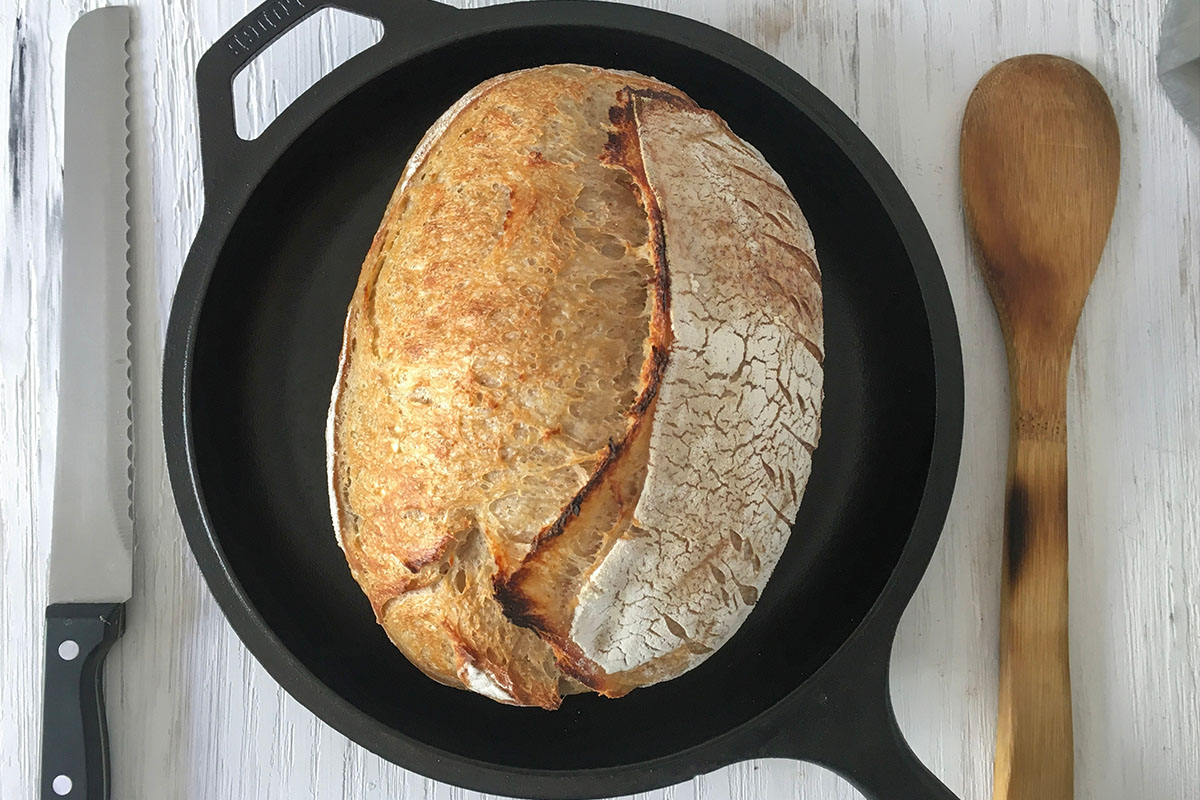 Check Price
The best type of Dutch oven for baking bread is cast iron. Cast iron Dutch ovens are ideal for cooking bread because they're constructed with hefty material and thick walls that can withstand extreme heat.
There are two types of cast iron Dutch ovens for baking bread: seasoned cast iron or enamel cast iron.
1. Seasoned Cast Iron
A seasoned cast iron pan will be very affordable. As you cook in your Dutch oven more, it will become seasoned and add additional flavor to your dishes. However, this means that you don't want to use soap with your cast iron, as it will also take on the flavor of the soap.
A seasoned cast iron pan can be used for outdoor as well as indoor cooking. You can also preheat a seasoned cast iron.
The following are a few of the most popular cast iron Dutch ovens on the market today.
2. Enamel Cast Iron
An enamel cast iron Dutch oven adds an additional coating over the regular iron, and comes in many aesthetically pleasing designs that can beautifully heighten your kitchen. An enamel cast iron Dutch oven cleans up easier than seasoned cast iron, but it's also a bit more expensive.
Enamel cast irons should only be used indoors, and should never be preheated. When preheated, it runs the risk of shattering. Enamel cast iron can only be used up to 500° F – this may be plenty for you, but a season cast iron can be used even higher.
Additionally, check to see what your enamel cast iron handles are made of. Some manufacturers will add attached handles that are not oven-safe.
Best Size Dutch Oven for Bread Baking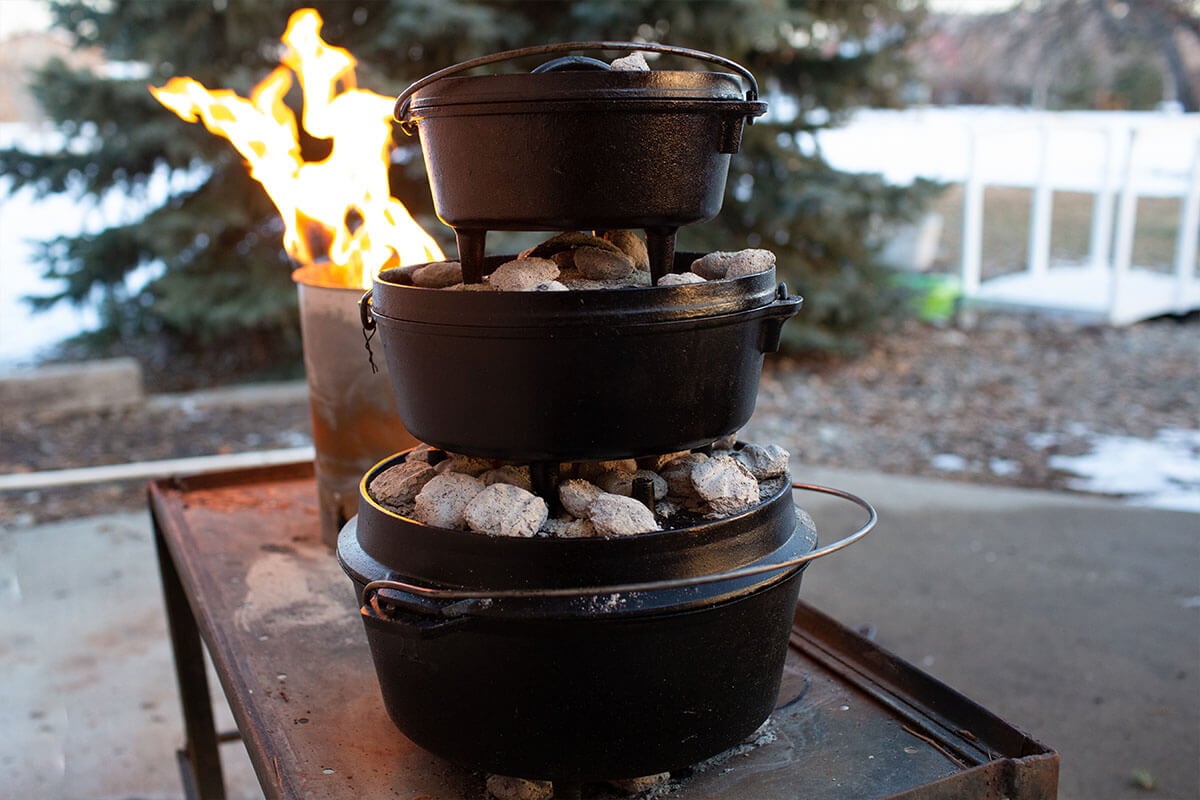 Check Price
Now that you've decided on a type of Dutch oven to bake bread, what size should you get? A 5-5.5 quart Dutch oven is the standard size for bread-baking, and round or oval are the best shapes. If you will be baking larger bread loafs, a Dutch oven up to 7.5 quarts may be better.
Make sure to get a Dutch oven with high walls so that your bread has plenty of room to rise. Remember that dough expands quite a bit: sourdough for example can rise to four times its original size.
Size of Dutch Oven & Type of Bread Recipe
| | |
| --- | --- |
| < 5 quarts | Small recipes |
| 5 - 5.5 quarts | Standard loaf recipes |
| 5.5 - 7.5 quarts | Larger recipes or for bakers desiring more room to rise |
Additional Considerations for Baking Bread
If you'll be baking bread in your Dutch oven, there are a few more things that you should be aware of.
Oven safety. Make sure that all accessories on the oven and the lid can go into the oven and are approved for the highest temperature you'll be baking at.
Handles. Many bakers prefer to use integrated handles that are also made of cast iron to ensure oven safety.
Lid. The lid should be heavy and give a tight fit to trap steam inside the Dutch oven.
Bottom. Make sure the bottom of the Dutch oven is set flat and will sit easily on an oven rack.