Skip to content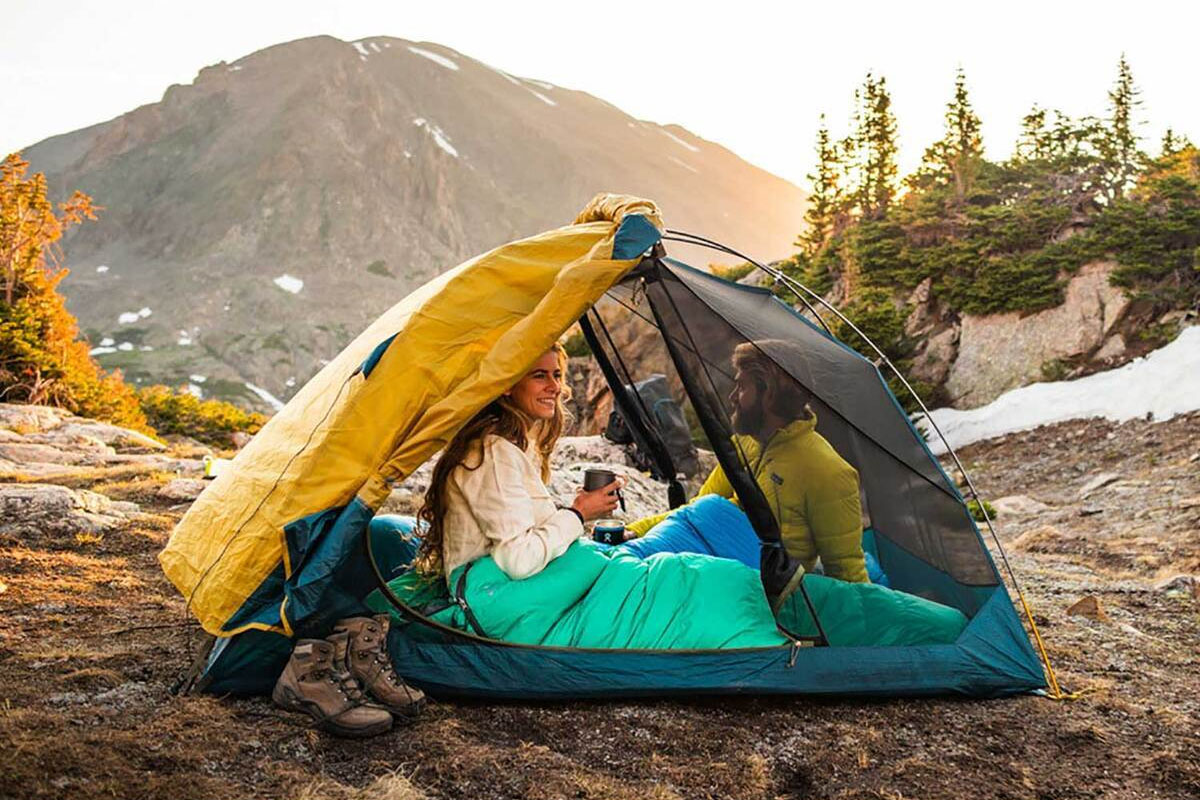 Carrying your shelter on your back can open up whole new worlds of backcountry to hikers. Sleeping in the great outdoors in a remote area known just to you can be one of life's greatest pleasures - but of course, we want to make sure you actually sleep!
When I'm backpacking, I want to eliminate every ounce I possibly can. But with my priority items like my sleeping arrangement, there are some things I can't compromise on. That's why I'm always balancing size, warmth and weather protection, tent weight, and design features when I shop for backpacking tents.
In this guide, we will walk you through the basics of what to look for in a backpacking tent, and then provide examples of some of the best backpacking tents available this year. Some of my favorites are:
What to Consider When Choosing a Backpacking Tent
When I'm choosing what tent to bring on my next backcountry adventure, there are a lot of considerations. Where am I going? What's the weather like? Who's coming with me? How many meals am I planning for, and how much weight is that already taking up in my pack? Once I know the answer to these things, I can review my tents based on the following major criteria.
Tent Capacity & Comfort
Let's start with the obvious: we want the smallest tent we can get for backpacking, since we're literally carrying it on our backs. This means that if I'm going to be sleeping solo, I'm going to be packing a 1-person tent.
But, if I'm traveling with a buddy I don't mind sharing sleeping space with, then a tent with greater capacity can be much better than multiple smaller tents. Now we can split up the canvas and poles between our bags, rather than each carrying our own shelter.
Exact dimensions vary based on the manufacturer - so make sure to check your specific product! But here are some general numbers on tent capacity and square footage.
Tent Capacity & Square Footage
| | | |
| --- | --- | --- |
| 1-person | 15-20 sq ft. | 3'-3.5" at widest part |
| 2-person | 30-35 sq ft. | 5-6' at widest part |
| 3-person | 40-45 sq ft. | 7' at widest part |
When you're considering the size of your tent, you also want to keep in mind a few variables that impact your comfort. These include:
Peak height. For backpacking, I'm never expecting to stand up in my tent - but I do enjoy sitting up! Check out what your head room is going to look like.
Wall shape. How tapered are the walls? If they're very domed, then know you'll be much shorter than your peak height throughout most of the tent.
Seasonality & Weather Protection
Most of my backpacking tents are 3-season tents. This is because when I'm already roughing it and practicing my survival skills, I'm not likely to add snow into that equation - and I know I'm not alone, because most backpacking tents are 3-season tents.
If you're heading into rougher winds or heavy rains, make sure you have a durable 3-season tent with a quality rainfly. A 3+ season tent will keep you protected for a bit of light snow or harsher conditions. And if you're tougher than me and an avid winter camper, then you'll need a real 4-season tent to keep you comfortable.
But it's not just protection from cold that we worry about - I always make sure that my tents have proper ventilation for the summer months. This way, I can keep the windows open for good airflow while keeping bugs out when I'm trying to enjoy a summer in Yosemite without being swarmed by mosquitoes.
If you're heading somewhere wet, make sure your tent has a good rainfly - but if you're confident you won't be dealing with rain, leave it at home and save the ounces!
Weight
Now that we know what type of tent we're looking at, it's time to compare weights. In the world of backpacking, weight is almost always related to budget - meaning, we can get a good price on a pretty light tent, or we can shell out extra bucks on an ultra-light tent.
As we've seen above, keeping your tent small and using a 3-season tent will go a long way toward reducing its weight. You can also remove anything you won't need, even including the actual tent container!
Here's a basic breakdown of what you might expect from a 2-person tent based on materials.
Material & Tent Weight
| | |
| --- | --- |
| Standard weight | 4-5 pounds |
| Lighter weight | 3-4 pounds |
| Ultralight | 2 pounds or less |
As you lose pounds, you lose features and/or increase your budget. It's all a balancing act, so choose what's right for you! If you're camping in the snow, you need to go with a heavier tent and find other ways to cut the ounces.
Minimalist Tents
If keeping weight down is a high priority, and you're ready to feel a greater connection to the great outdoors, then a minimalist tent might be just right. We've mostly been talking about freestanding tents, with the traditional enclosed space and poles. But there are even smaller options that backpackers should be aware of.
Now, there are a few additional features that can really enhance your experience of a tent. These are the final things I look for when I'm shopping.
Color. A bright rainfly makes a small tent feel larger.
Storage. What kind of storage pockets does the tent have? Will the rainfly create vestibules where I can keep my boots, or even my pack?
Doors and ventilation. Will I have to crawl over my campmate to get out of the tent in the middle of the night? Are there mesh windows? Does the rainfly itself have ventilation?
Setup. I always practice setting up my tent at home. I love pole designs that unfold easily from one piece, and then clip easily onto my tent.
Best Backpacking Tents for 2023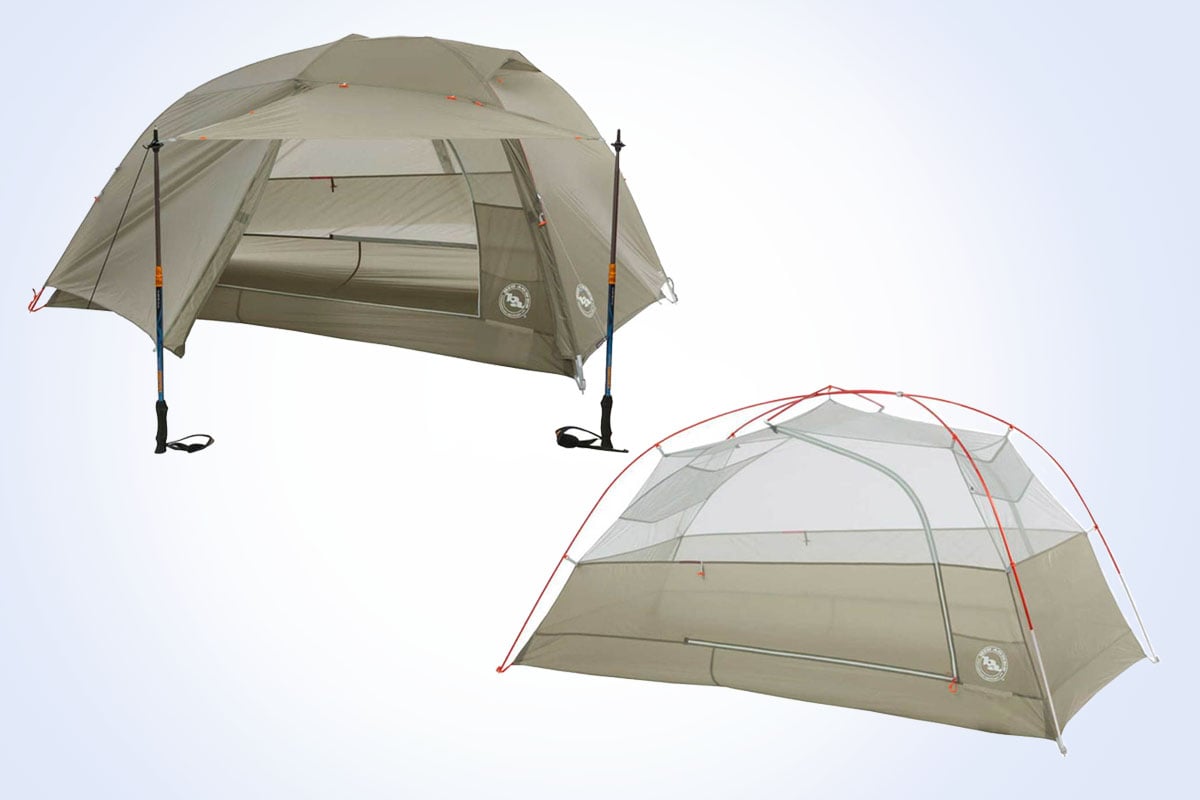 Check Price
Weighing in at just 3 pounds 2 ounces, the Big Agnes Copper Spur HV UL2 provides a lightweight yet spacious and comfortable shelter for backpacking. I use my trekking poles to convert the vestibules into awnings, giving the tent an even larger footprint and ventilated space to cook in the shade. The fly attaches by buckles in the corners for easy setup, and the materials are thin and lightweight.
One of my favorite features this tent offers is the storage. There are plenty of pockets, and the head ceiling pocket even has routing for cords for electronics. The storage at the foot is elevated bin-style storage for my bulkier necessities.
Key Features
Awning-style vestibules with double zippers
Two doors and two vestibules
Dual ventilation on vestibule doors and fly
Elevated storage at feet, oversize ceiling pocket with cord routing for electronics
Quick Stash door-keeper to stow unzipped doors
Velcro tabs connecting fly to pole structure
Pre-cut, reflective guylines on fly
Storm flap protects vestibule zippers
Interior loops to attach gear lofts, lights, and accessories
Fly and floor are ultralight double rip-stop mixed denier nylon with 1200mm polyurethane coating
Tent body is ultralight double rip-stop mixed denier nylon breathable and polyester mesh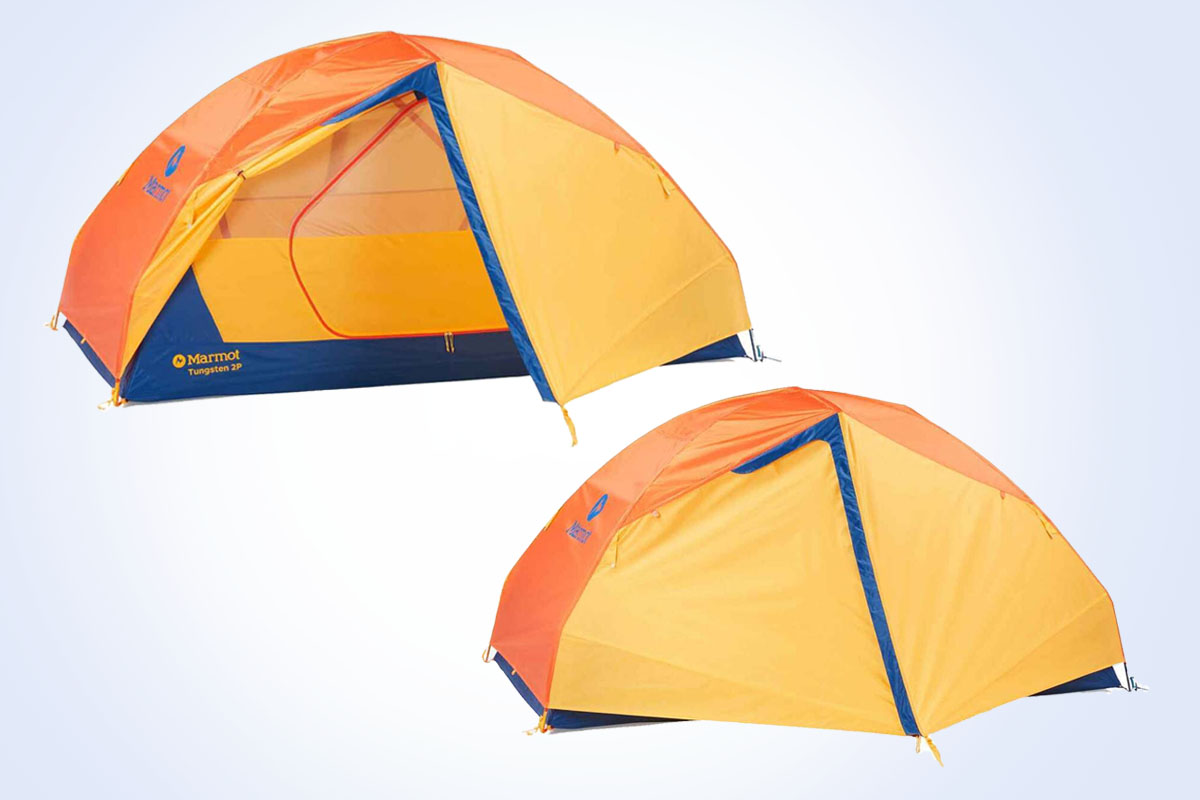 Check Price
If you're looking for a quality tent that won't break the bank, Marmot is the way to go. Coming in well under $300, the Marmot Tungsten is a 3-season, durable tent for a few nights in the backcountry. The footprint is included, which saves another $30-50. It's a bit heavier than our previous entry, but is still fairly lightweight under 5.5 pounds. This does come along with a larger packable size, which can be tough to get into a backpack, but it's quite easy to split between two people.
The tent body has a nice mixture of nylon and mesh, with 70- and 68-denier fabrics in the floor and fly. I love this tent for both backpacking and car camping - its heavier fabrics make it a nice option for those who want to go back and forth. This tent is available in 1-, 2-, 3-, and 4-person models.
Key Features
Two doors and vestibules
Seams are taped for weather protection
Full-coverage fly
Seam-taped catenary-cut floor
Color-coded, easy-pitch clips, poles, and fly
Lampshade pocket allows you to use headlamp for ambient light
Interior pockets
Solution-dyed fabric reduces water consumption during manufacturing, resists UV fading
Footprint included
Best for Lightweight Durability: MSR Hubba Hubba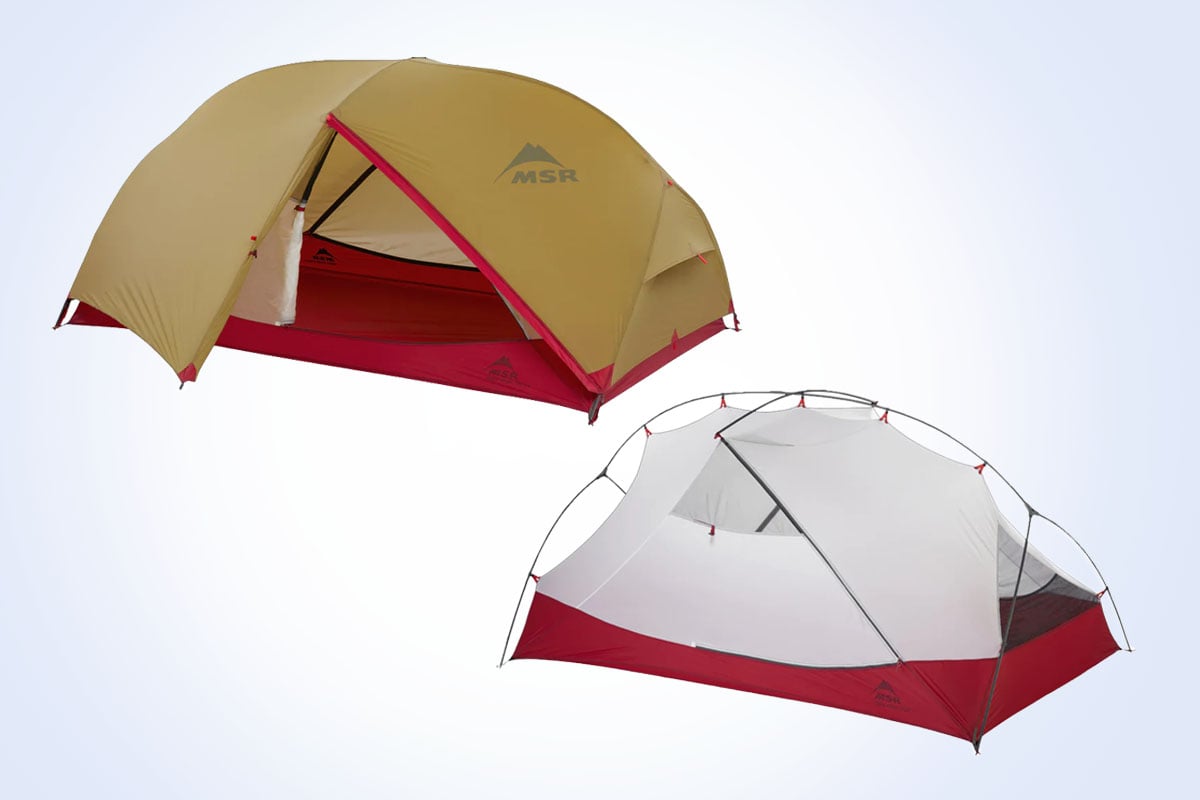 Check Price
Balancing a lighter weight, durable materials, and a reasonable budget is not an easy feat. The MSR Hubba Hubba manages to compete in all three categories. At just 3 pounds 4 ounces for the two-person model, this tent is very lightweight, with a 3-season treatment and spacious interior that make it highly comfortable and livable.
The tent itself is fairly easy to set up, but the fly can get a little complicated. If you're setting out with this tent, make sure you practice at home so you're not trying to figure out the rain fly in the actual rain! There are small mesh segments on the top for stargazing - I personally prefer a full mesh canopy, but if you want a balance of a little ability to see up with more privacy, this might be perfect for you.
Key Features
20D ripstop nylon fly
Two large side-entry vestibules
DuraShield fabric coating and taped seams for waterproofing
Easton Syclone poles give strong wind protection using aerospace composite materials
Vestibules have kickstands for additional ventilation
Two large pockets at head and foot ends, two smaller pockets at doors
Mesh opening at top for stargazing
Cable ports on all pockets for electronics
Easy setup on the tent itself thanks to symmetrical design
Reinforced patches and stitching at guy points for added durability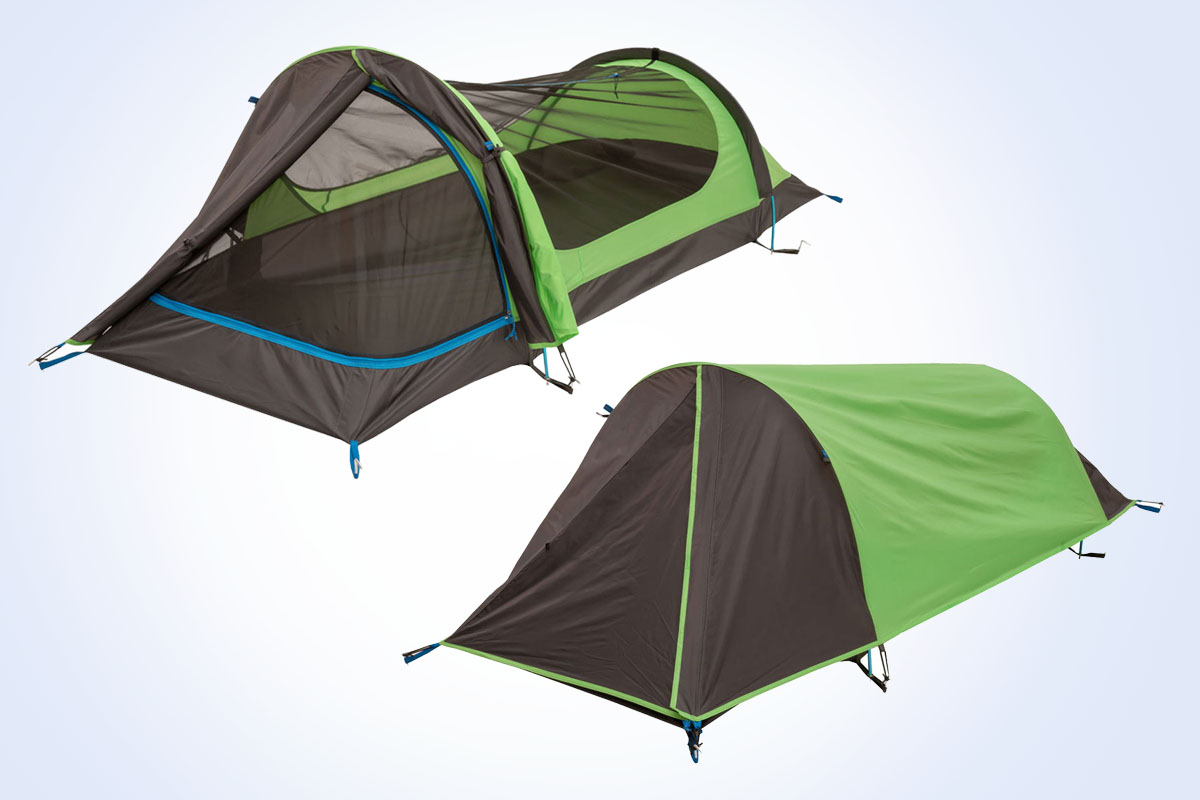 Check Price
If you've always been intrigued by the minimalist options, but you're not quite ready to set out with just a bivy sack, the Eureka Solitaire is a great way to test the waters. This highly affordable, lightweight tent doesn't provide much more space than your average backpacker will take up, but ensures a durable frame with a full-coverage fly to give you real protection during storms.
This rain fly is sewn onto the tent - so there's no leaving the fly at home. The advantage here is that you pitch the fly and tent together, so the inside will stay dry if you have to set up during a storm. When the rain fly is in use, it can really trap heat and humidity - so it might not be a great option for areas with lots of rain and humidity in the forecast.
Key Features
Two durable aluminum poles that slip into pole sleeves
One door
Two interior pockets
Rain fly sewed onto the tent, rolls back for ventilation and stargazing
Elastic cord guy-outs
Easy setup
Ridgeline entry zipper
Check Price
When you're camping with three or four people, sharing a tent and dividing the materials between packs can save some serious space and ounces. The Sierra Designs Meteor 4 sleeps four people with just 5 pounds 9 ounces of weight. The ridge pole design means the wall angles are steep, providing more volume at the head, peak, and foot.
The open mesh canopy is great for stargazing - I love piling the family in the tent and gazing upwards before we add the rain fly for the night!
Key Features
Ridge pole design gives steep walls and extra head room
Two doors
Two vestibules
Burrito bag for easy tent storage
Quick setup with two poles
Bathtub-style floor
PFC-free rain fly
Mesh canopy for views and ventilation