Skip to content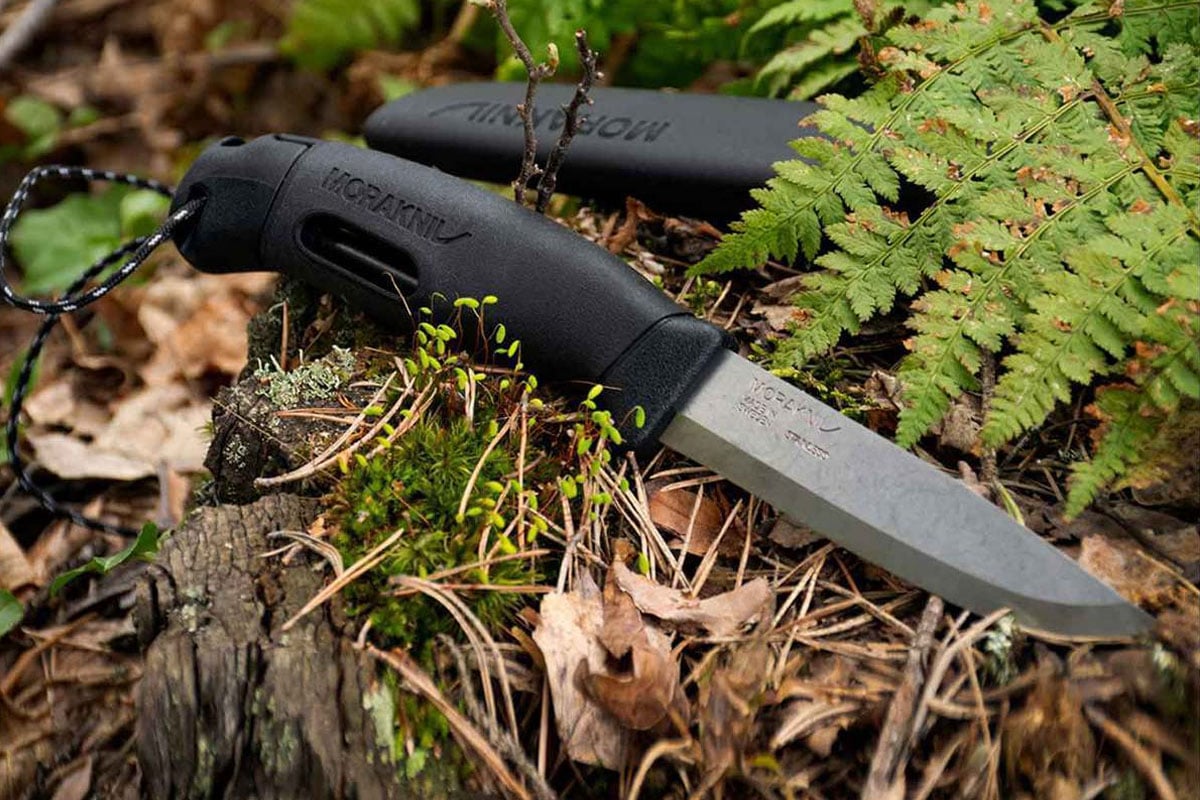 A good camping knife can be the difference between a great trip and a terrible one. Make sure your trip goes smoothly by selecting the right knife.
Making camp and all of the mundane tasks it involves is easier when you have the right knife. This means we have to know what our needs are and which knife meets most of them.
Selecting a knife is a very personal experience. Your skill and preferences influence how you set up your equipment and your knife needs to be able to fit seamlessly into your overall system. Additionally, you need to take your environment into consideration.
Since every location is different, we've selected five knives that can be beneficial in every environment. Think of these as your standard option, the baseline knife you'll always bring on your trip.
What to look for in a Camping Knife
A camping knife is a general use knife. We often forget about these knives since they work without any of the cool factors that other blades have, but we wouldn't have the same experience without them.
Selecting a good camping knife comes down to three factors: Utility, Size, and the Sheath/Carry Method.
1. Utility
A camping knife is designed to work. This means blade shapes are usually cutting or slicing oriented with wide points. Drop point-style blades tend to be the most common form of camping knife, but other blade shapes can be used.
Fixed blades are the sturdiest style of blade to use in a utility role. They allow you to do more with the blade without worrying about breaking it. Folding knives, especially swiss army-style knives, provide numerous small-form tools that allow you to do more tasks easily but are not designed for dealing with heavy tasks.
Personally, I tend to use two different knives for all of my cutting tasks. A small folding knife for cutting cordage or light wood work and a larger more specialized knife for everything else
2. Size
The size of the knife determines where you put it in your gear. An overly large knife can be very hard to carry on the belt, which means it will be carried on your pack. This creates the problem of always having to have your pack with you if you need your knife.
A small, easily carried knife that fits in your pocket or around your neck will be more useful than the biggest knife you don't carry.
I will usually keep multiple small knives on me and I prefer a good medium sized blade to handle tougher jobs. However, my preferred knife and sheath combination is roughly the length of my thigh which is a lot of area to take up with a single object. Shorter sheath and knife options allow for less inconvenience and easier storage.
3. Sheath/Carry Method
If you are using a fixed blade, you need to have a good sheath for it. The sheath needs to be a good balance between having multiple mounting options and not being overly bulky. This can add more to your overall carry weight which can lead to extra discomfort on your trip.
Folding knives fit better in your pocket or equipment. While they are easier to carry, they are not as durable as fixed blade knives and cannot handle splitting logs or clearing foliage.
I keep a Victorinox Recruit in my left pocket for general utility, a sheath knife on my belt, and another general use folding knife with a belt clip in my right hand pocket. This allows me to deal with most tasks I'll encounter on my trip while keeping all my cutting tools within easy reach all the time.
5 Best Knives for Camping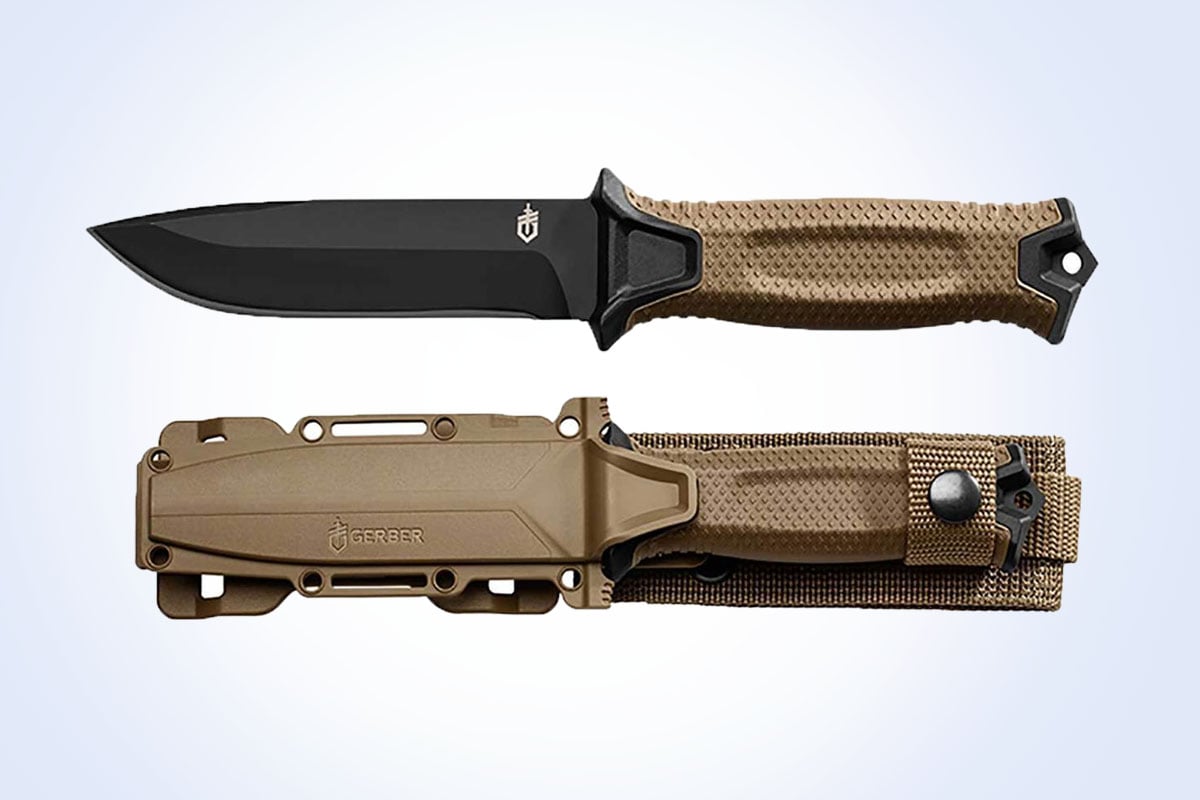 Check Price
The Gerber StrongArm is the perfect balance of knife and sheath design. It's not too big to be carried, it has a very versatile sheath, and it features a non-serrated edge. This knife will allow you to tackle most camp tasks without weighing you down.
The blade will allow you to perform normal cutting tasks to more aggressive actions like splitting wood or prying open containers. The strike pommel can also be used to break glass in an emergency.
Your grip will be secure due to the rubberized handle and handguard. This means you won't accidentally let go of the knife while you are using it. If you plan on only having one knife, the StrongArm should be your primary contender.
Key Features
4.8 inch plain edge
420HC steel blade
Rubberized grip
Detachable belt loops for horizontal carry
Nylon webbing for retention and drop-leg carry
MOLLE snap in strap
Strike Pommel
Lanyard hole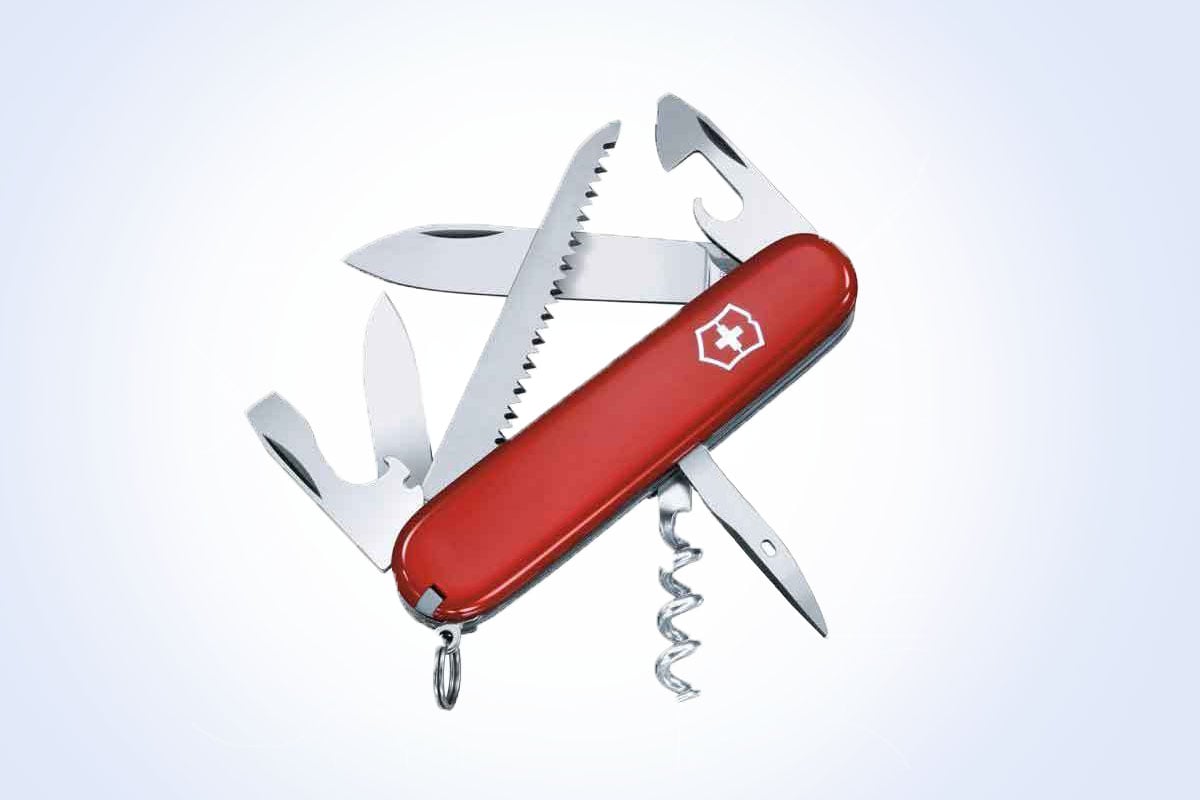 Check Price
The classic Victorinox Camper allows you to keep a literal handful of tools in your pocket. While the Camper is not meant for extremely harsh use, it does perform well on small tasks. The saw is a great addition, since it can help with making shelter or crafting primitive tools.
Knives like this are extremely common and won't raise any eyebrows if you're seen with one. It makes a great supplemental knife or a good knife to bring on a light camping trip.
Key Features
Large and small blades
Wood saw
Toothpick and tweezers
Reamer
Corkscrew
Key ring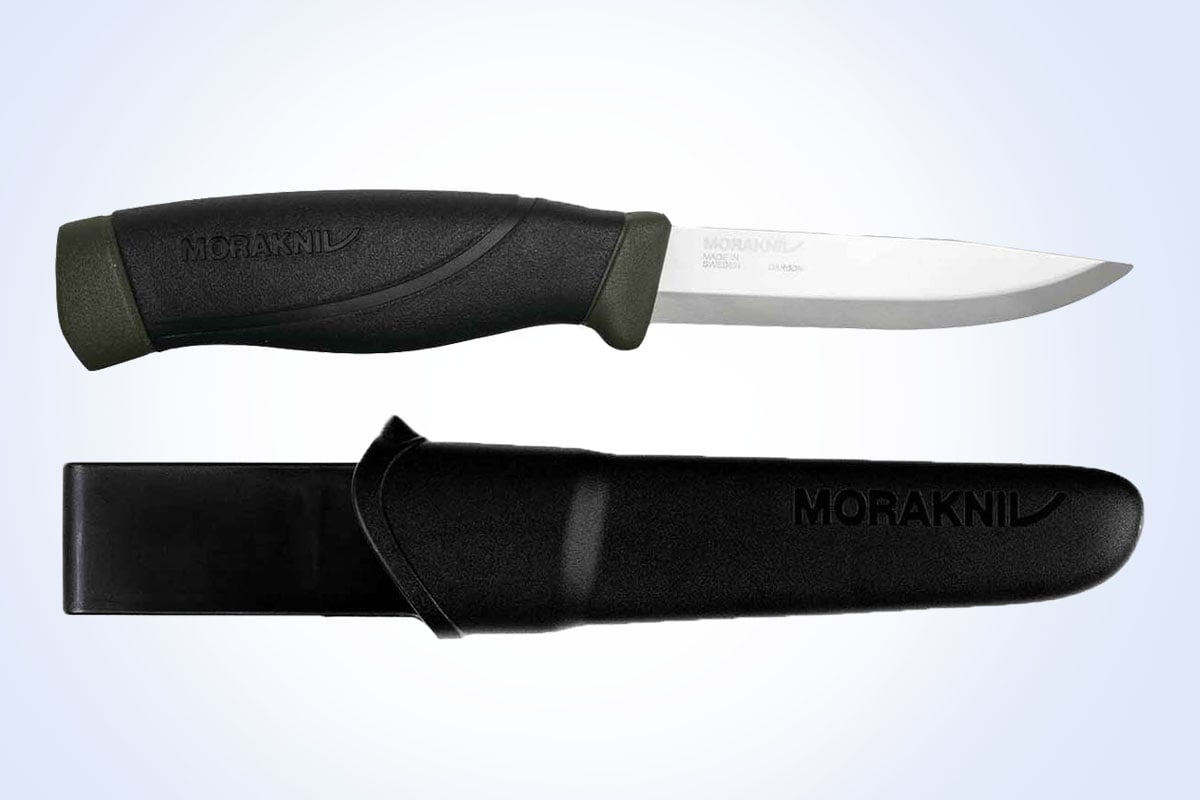 Check Price
Morakniv blades are the primary option for low cost bushcraft blades. This makes the Morakniv Companion the perfect knife for budget camping.
The Companion features a 4.1 inch blade which is long enough to handle both light cutting tasks and more intense tasks like building camp or processing wood. The Companion is secured to the belt by a simple belt loop sheath which retains the knife easily.
The Companion also features a high friction grip to lock the blade into your hand and to prevent mishaps while using it in the field. The stainless steel blade is rust resistant so you don't have to worry about keeping the blade oiled like a 1095 carbon steel blade.
Key Features
Drop point blade
Three-fourths tang
Sandvik 12C27 stainless steel blade
Plastic sheath
Swelled grip for safety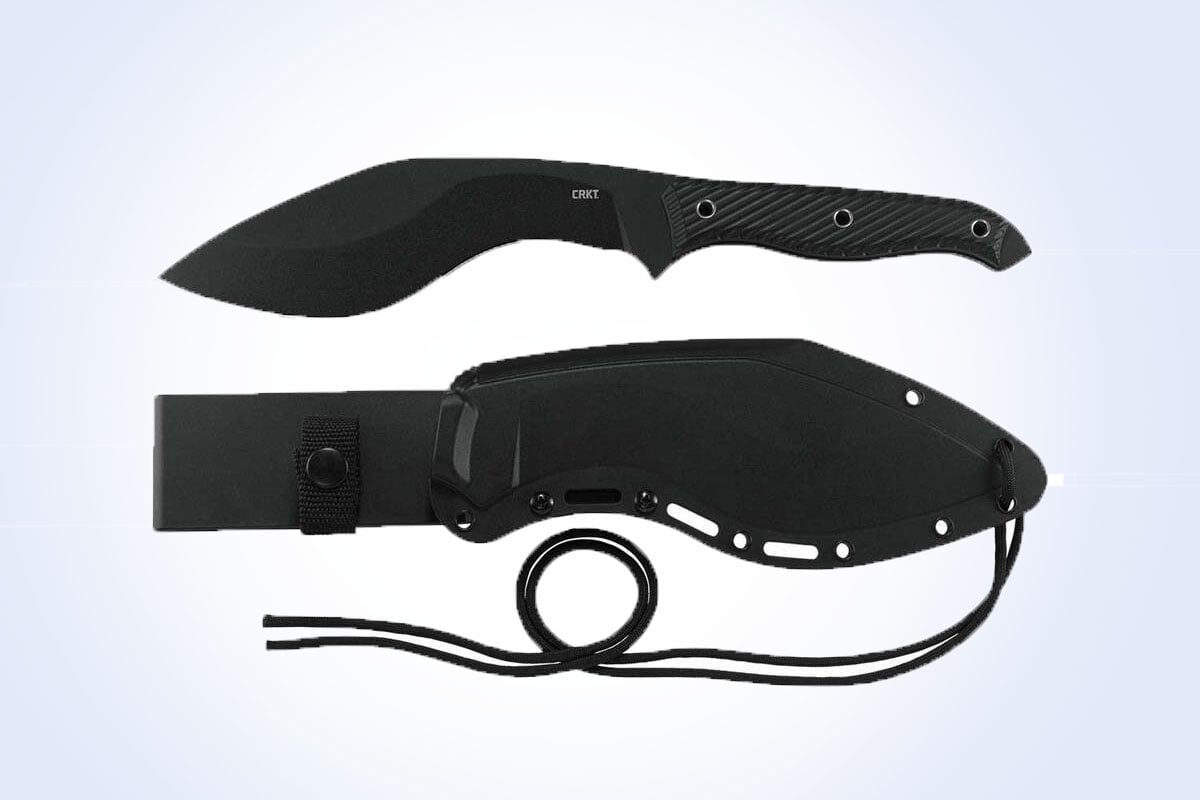 Check Price
This mini-kukri blade offers a highly specialized tool for your camping trip. The original kukri design is a utility knife with the power of a machete. The Clever Girl shrinks the traditional 10+ inch blade down to a more manageable 7.75 inches and features a massive belly to the blade to maintain its cutting capacity.
If you want something that can deal with light foliage and saplings, the Clever Girl is what you're looking for. The blade design will allow you to do a lot with the knife once you get used to it. Choking up on the blade will allow it to be used like a much smaller knife while holding it by the handle allows you to give powerful cuts similar to a small hatchet.
Traditionally, a kukri would be paired with a smaller skinning knife to round out its capabilities. This remains true with this blade. You'll get the most out of the blade if you supplement it with a smaller utility knife and leave the harder tasks for The Clever Girl
Key Features
Cutting-centric Kukri style blade
Full tang design
G10 grips
Corrosion resistant coating
Belt clip and lanyard on sheath
SK-5 carbon steel blade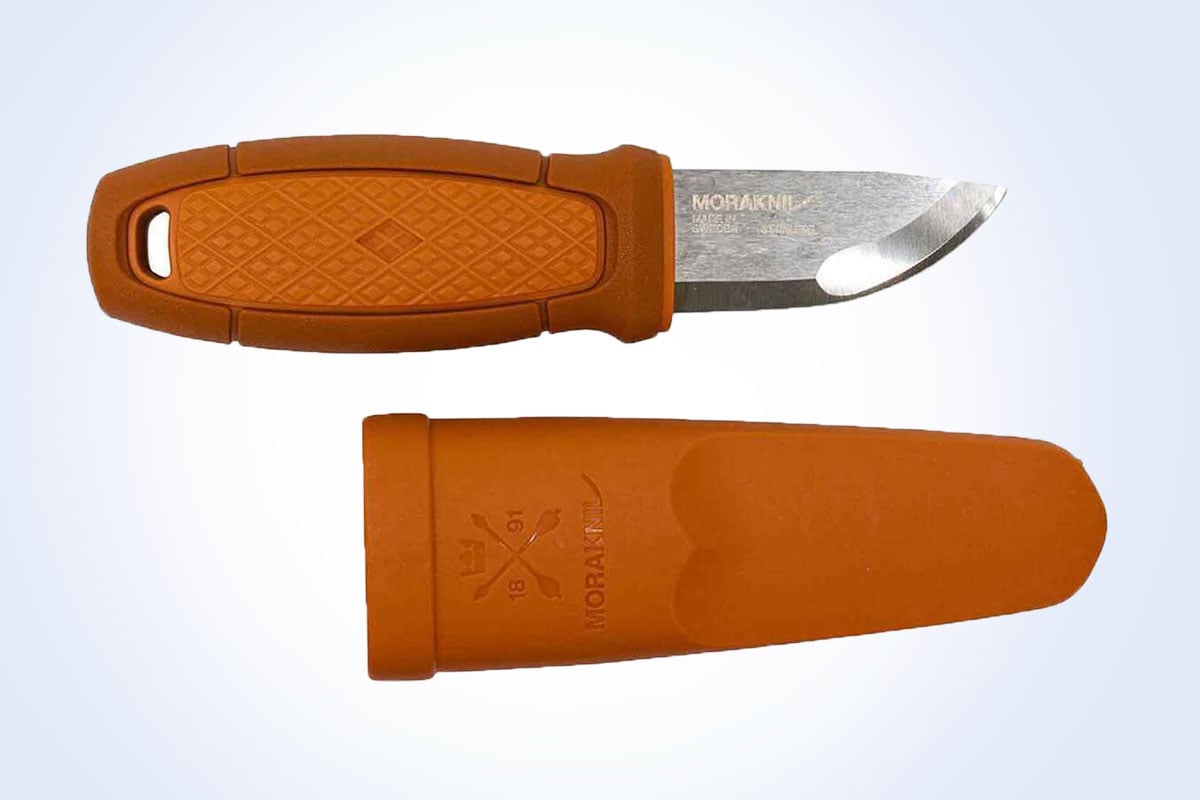 Check Price
This small form survival knife allows you to keep a cutting tool within easy reach. Designed as a neck knife, the Eldris can be worn comfortably around the neck with a lanyard. This means you won't have to worry about carrying it in a pocket, in a pack, or on your belt.
This version is bright orange so you won't lose it easily. The 2.3 inch blade is great for very light cutting tasks while the 90 degree spine allows you to use a fire starter rod with the blade. If you find the grip to be too short for you, just slip the handle of the blade into the sheath to extend the grip. The Eldris is great if you only have a very short camping trip planned or you want a supplemental knife without a lot of cost.
Key Features
Scandi grind 2.3 inch blade
Sheath locks over blade
90 degree spine
Comfortable handle
Overall length 5.6 inches
Best Camping Knives Comparison