Skip to content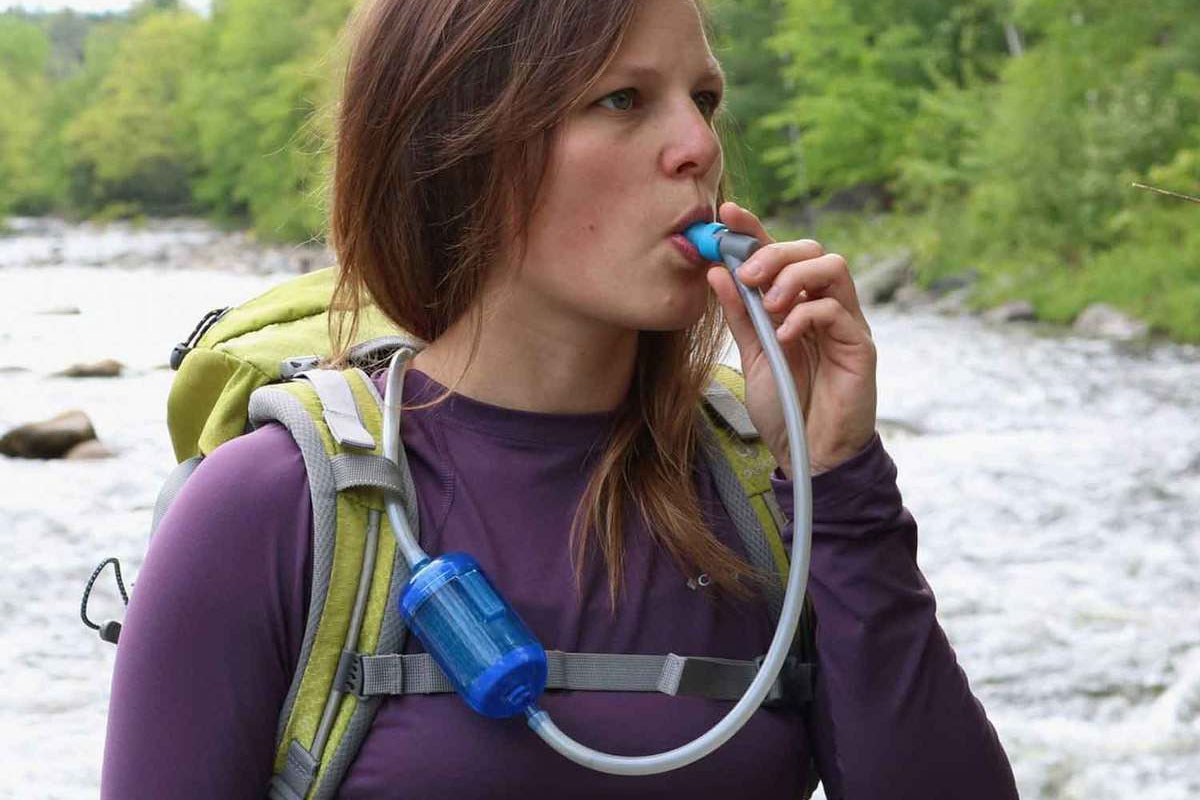 Exploring the outdoors isn't just about time in nature - it's also about taking care of yourself and your survival. Whether I'm planning a short hike with friends or a serious trek through the backcountry, water is my top planning priority.
But nothing puts a damper (no pun intended) on a trip like hauling a big uncomfortable water jug! I want to have everything I need to feel safe and secure on my trip, while minimizing added weight and strain. That's where hydration packs come in.
The good news is there are plenty of excellent hydration packs on the market for hikers with a variety of goals. In this guide, we'll walk you through the different types of hydration packs, the styles that are best for certain uses, and the features to look for to make sure you get the best hydration pack for you. We've even put together a list of some of our favorite packs to get you started!
What to Consider When Choosing a Hydration Pack
The best hydration pack for you will largely depend on your personal goals and priorities. So before we dive into these features, take a moment to picture yourself on your next great adventure. No, this isn't a meditation - we just want to make sure you know how long you might be out in the wilderness before we get started!
What Are The Types of Hydration Packs?
Your first big decision is what type of hydration pack to shop for. This will depend on your intended use for the pack, and the level of comfort you enjoy. Here's a table that will get you familiar with your overall options before we dive into each more specifically.
Hydration Pack & Highlights
Now let's get a bit more specific about each of these offerings.
Hiking Packs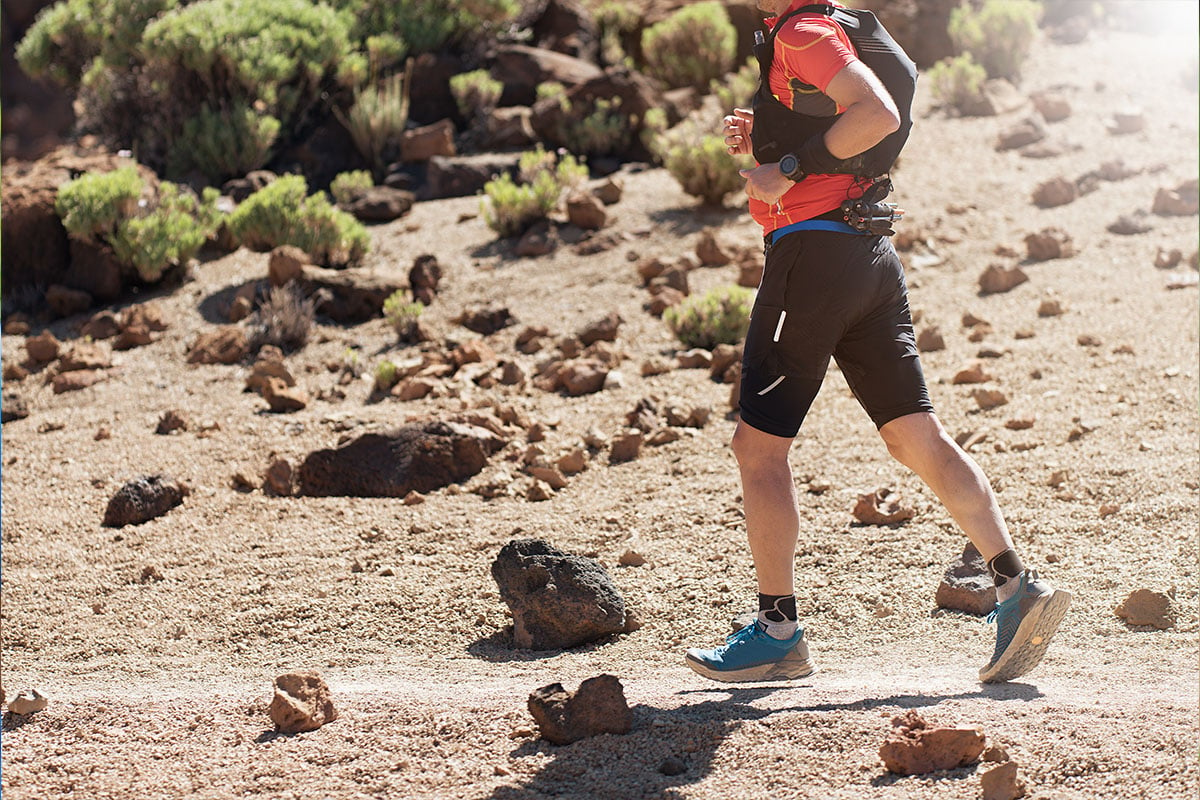 If you're happy with your regular backpack but you wish it had more intentional space for hydration, this is the option for you. Hiking backpacks of all sizes can come with integrated hiking packs. Personally, I love my 65L backpack for those multi-day treks - it has a pouch that holds my hydration bladder, and then unclips so I can use it as a day pack when I've set up camps and I'm just looking for a short exploration.
Many hiking backpacks have clips or valves to hold the hose, so it won't be flying all around while you're on the trail. This is the best option when you're looking to store your water plus your hiking essentials to keep you safe and fed on the trail.
Running Backpacks & Vests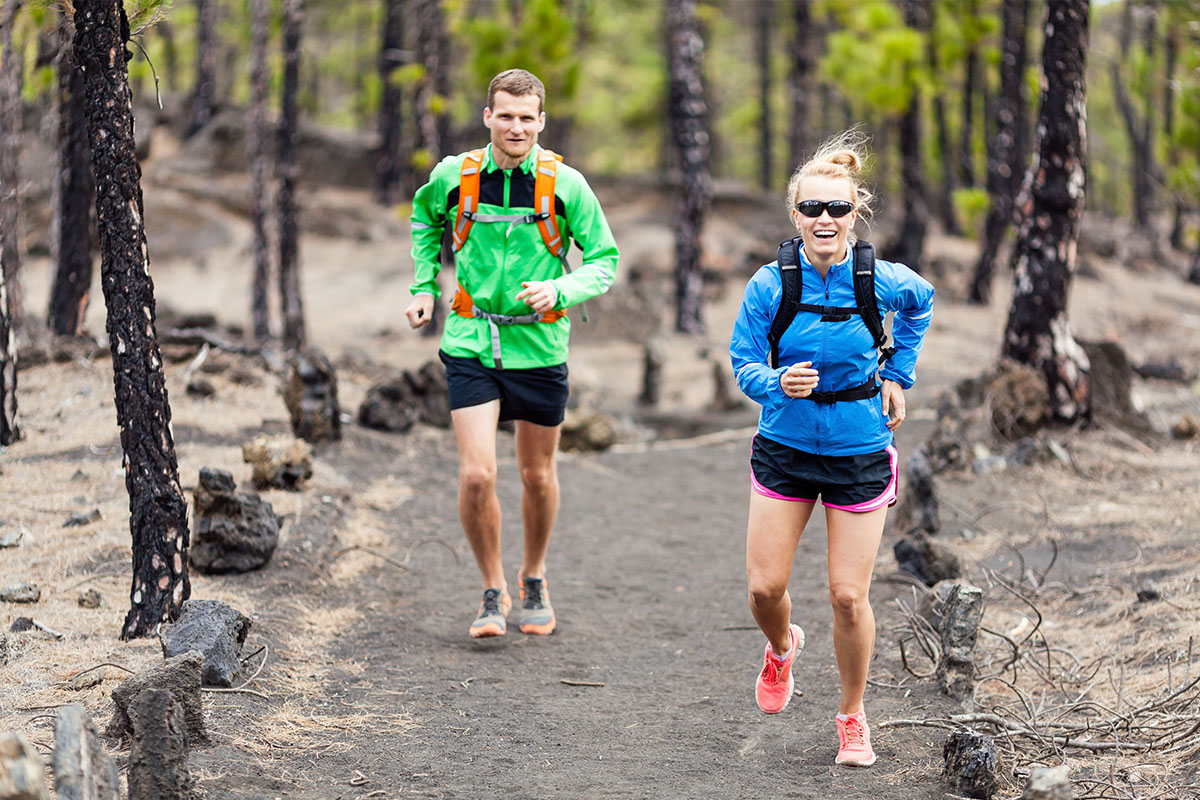 A runner doesn't want a lot of extra weight. Shedding pounds is one of the easiest ways to increase your speed - and improve your experience. While a hiking backpack gives room for extra storage, a running pack is going to be as light as possible and include space for the essentials.
Running packs will usually have pockets on the straps, where I like to store energy gels for a quick boost on longer runs. A running vest has more pockets on the front straps and usually skips the hip belt, while a running backpack gives more overall storage for longer trail runs. Running packs will often give space to store bottles as well as the hydration reservoir - not all vests include a hydration reservoir, so be sure to check if that's something you want.
Biking Packs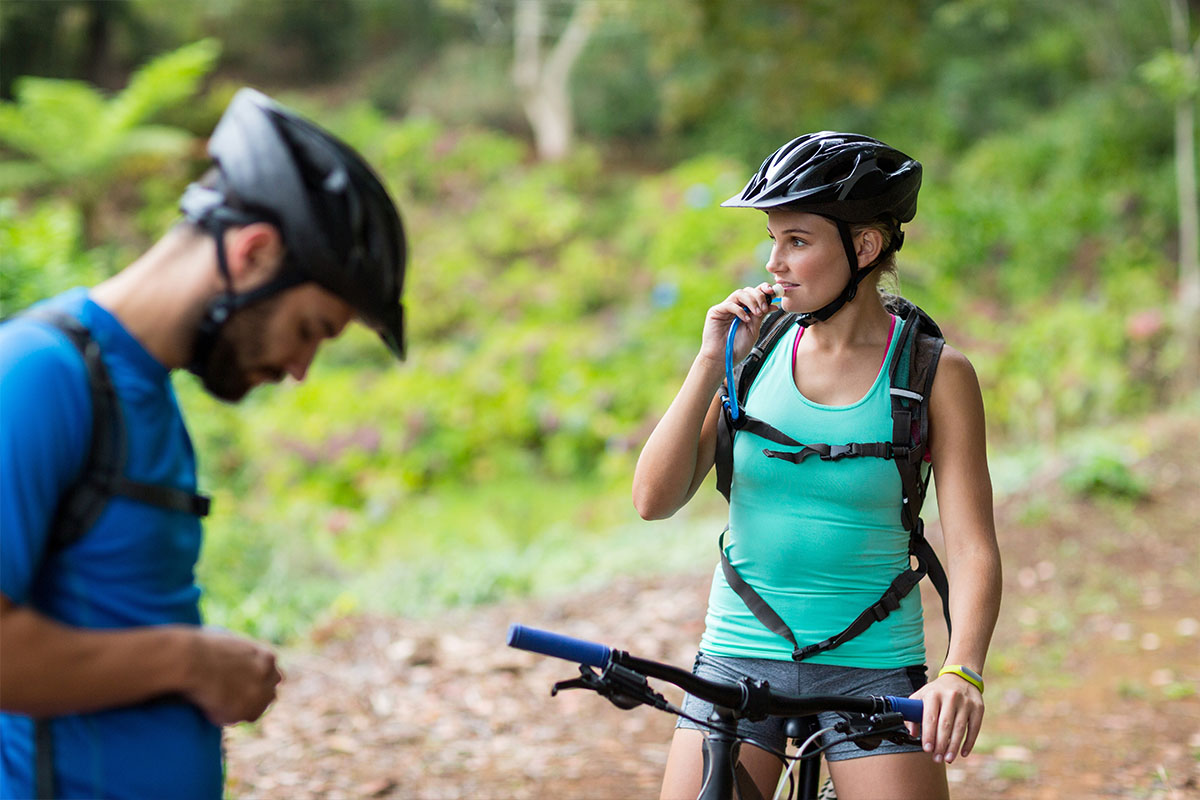 When you're biking, the last thing you want is straps interfering with your process. Biking packs have low-profile waist belts to keep your gear away from the pedals. Biking hydration packs may come with special clips for your helmet and other cycling-specific gear.
Biking packs are often designed for road cycling or mountain biking.
Road cycling packs are usually lighter and designed to be more wind resistant.
Mountain biking packs usually give more storage space for trail essentials.
Snow Packs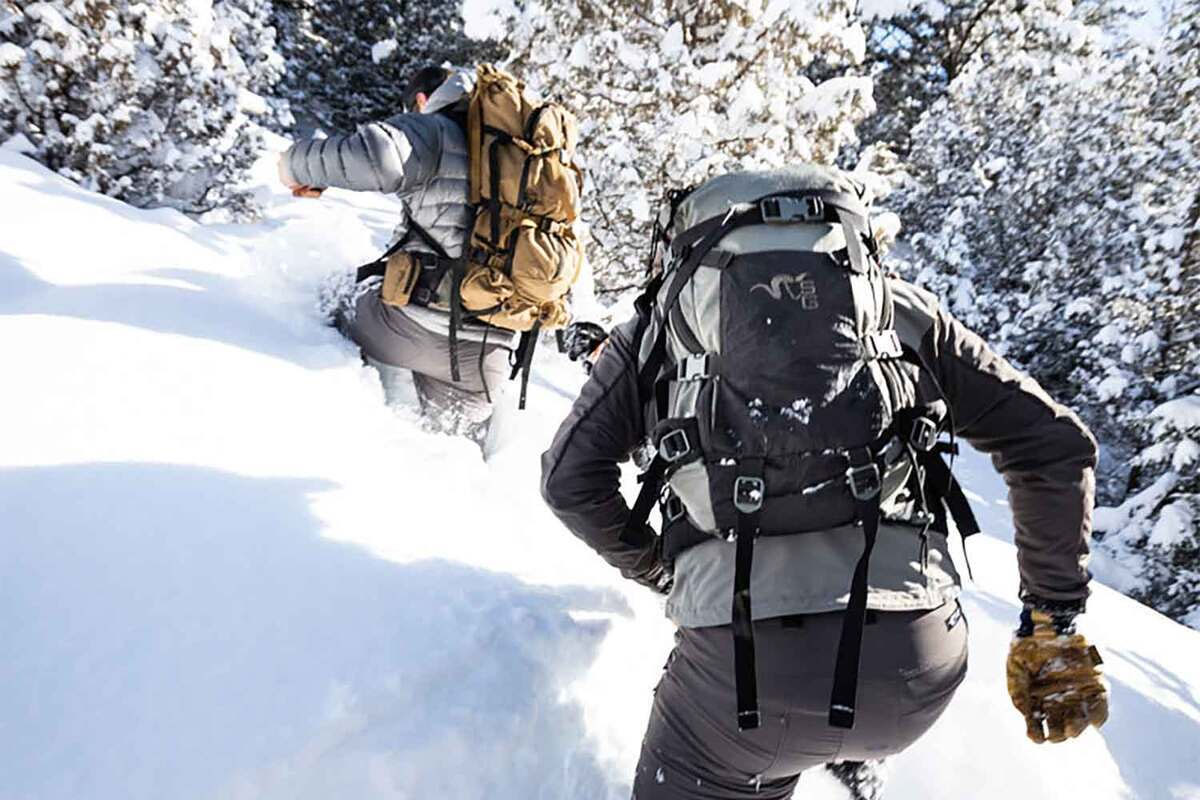 If you're setting out to ski or snowboard, you don't want to end up carrying around a block of ice. That's why special gear can be so useful: snowsports hydration packs will provide extra insulation to make sure your water isn't in danger of freezing in those frigid temps.
The insulation should usually be on the bladder itself, the hose, and the bite valve cover. Snow packs might also come with carry straps for your snowboard - check out the additional features that might make your next trip that much more convenient.
Waist Packs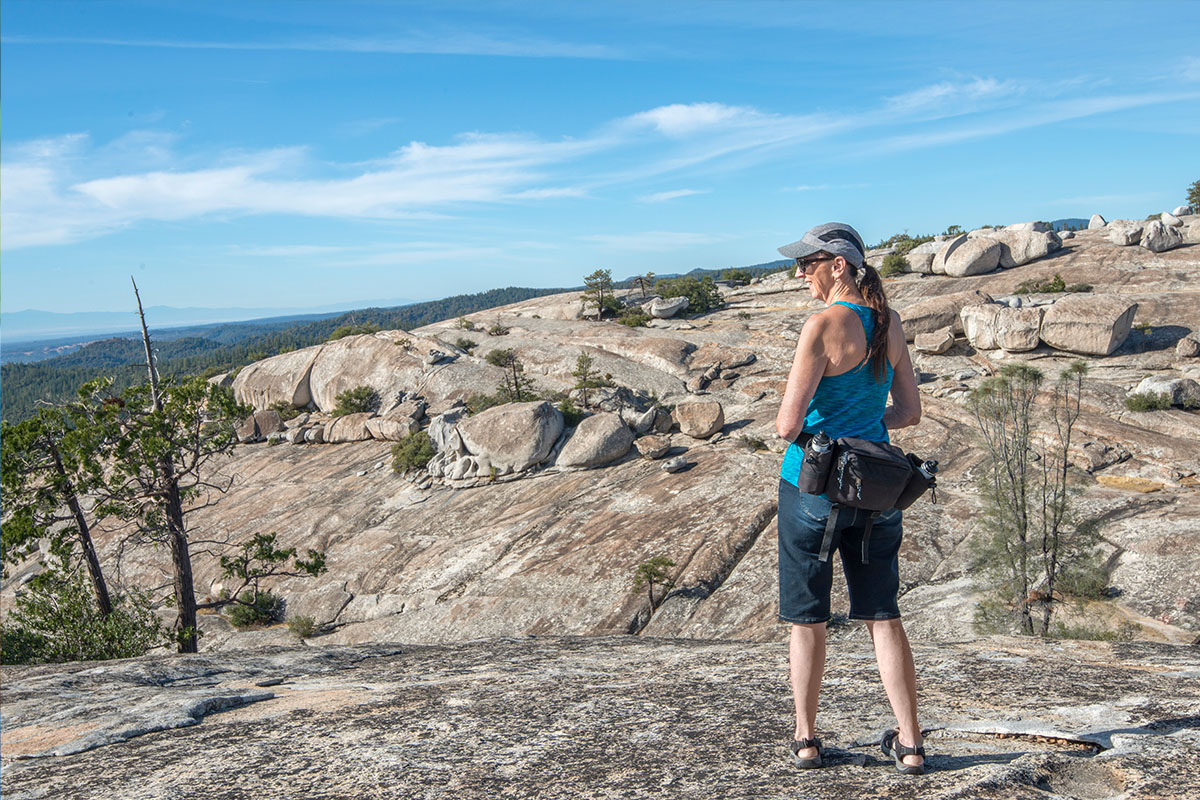 What if you aren't going far and just want a hands-free way to carry a water bottle? This is where the waist pack comes in. They usually just store a bottle rather than a reservoir, and they have limited extra storage space. They're perfect for that quick run or afternoon hike with your buddies.
How Much Water Do I Need?
Everyone's a little bit different. It's never a bad idea to monitor your water intake over the course of a normal day to figure out what your baseline is. Then, you can personalize your hydration needs based on the environment you're heading into (bringing extra water the more you anticipate heat and sweat) along with your own specific body.
Still, there are general guidelines for what the average human is going to need on the trail. Use this table as a jumping off point to plan your hydration.
Hydration Pack Size & Use
< 0.5 liter

One or two water bottles
Short walk/run

1-1.5 liters

Day hikes
Bike commutes
Mountain bike rides under a few hours

2-2.5 liters

Popular all-around choice
Will last up to several hours without refill
Can work for a day hike with 1-2 refills (if refills are possible)

3+ liters

Multi-hour long distances
Situations where you want to be confident you won't run out
Good if water is scarce
A good rule of thumb is to bring ½ liter per hour of moderate activity in moderate temperatures. You may need more than this if it is very hot or you are planning more strenuous activities.
How Much Gear Capacity Do I Need?
When we talked about the types of hydration packs, we mentioned that different types of packs hold different amounts of gear. I carry very different amounts of "stuff" when I run (bare essentials that won't slow me down) than when I am backpacking (literally carrying my shelter on my back). So, you want to make sure to get the hydration pack that has the right amount of room for all your other gear!
Here's a basic breakdown of what each size hydration pack is typically used for. Feel free to make adjustments - if you're a minimalist, you might want a smaller pack than we recommend, while you might need extra space if you have extra essential gear.
Hydration Pack Size & Use
< 5 liters

Road cycling
Running
Short hikes
Fits only bare essentials (snacks, water, phone, etc)

5-10 liters

General use hiking and biking
Carries more gear (maps, layers, first aid, snacks)

10-20 liters

All-day hiking and biking
Fits a 3-liter bladder plus essentials like layers, first aid, snacks

20+ liters

Largest packs for the longest times on the trail
Potential to be used for ultralight overnight trips
What Essentials Should My Hydration Pack Have?
Now you should know the category of hydration pack you're considering for your next big adventure. At this point, we can get into the qualities that all hydration packs should share. The questions I ask myself are:
How do I clean it? I prefer a pack that can be fully opened and cleaned, so a larger bladder opening is easier for me. I personally love my reservoir cleaning kit, especially if I'm using my bladder for anything other than water.
How will I drink out of it?? I love a hose so I don't have to reach around to grab my bottle on those long hikes. But, I have hiking buddies who don't enjoy the feeling of the hose – they just want their pack to distribute the weight of their water, not provide sips on the go. I always look at how the hose goes through the pack to make sure it will land where I expect it - tube portals or clips on the straps can help it stay safe and secure in the pack.
How will I fill it? This depends on how the bladder is situated in the pack. Do I have to pull it out, refill it, and then squeeze it back in? I love a pack with an easy opening for refilling from that beautiful little creek (with a filter, of course!). If you'll be filling from a sink, this might be less of a concern.
What support does it offer? When I'm hitting the trail with a good amount of gear, I need support from my pack. For large packs, I look at the cushioning on the hip belt, back pad, and any strap that will be touching my body. The more weight I'm carrying, the bigger I want my hip belt and shoulder straps to be. If I'm using a small pack with just the essentials, I look for cushioning on the shoulder straps and that's about all I need.
Is it ventilated? No one likes that pool of sweat that inevitably appears where your back hits your backpack. But it doesn't have to be that way! Open mesh and fabrics where your pack makes contact with your body will change the game. A wire frame with a mesh back panel will minimize contact with your back as much as possible.
Does it fit me? I need a snug hip belt and a pack that's the right length for my torso. Check the manufacturer's sizing before ordering online, or head on in to your local Sportsman's Warehouse for a personalized fitting. You'll need to know your torso length and waist size to order from home.
How does the bite valve close? Some twist open and closed, and others have a switch. It's really just personal preference as long as the water stops flowing when you need it to.
Do I need to work with the weather? I can always upgrade a hydration pack to stand up to colder temperatures by picking up an insulated reservoir or tube, or covers for the reservoir or bite valve. If I'm worried about rain, I will bring a pack raincover if I have enough space.
Best Hydration Packs
Now you're essentially an expert on hydration packs. With these options in mind, you're ready to start shopping some of my very favorite hydration packs on the market!
Best Minimalist Hydration Pack: Gregory Nano 18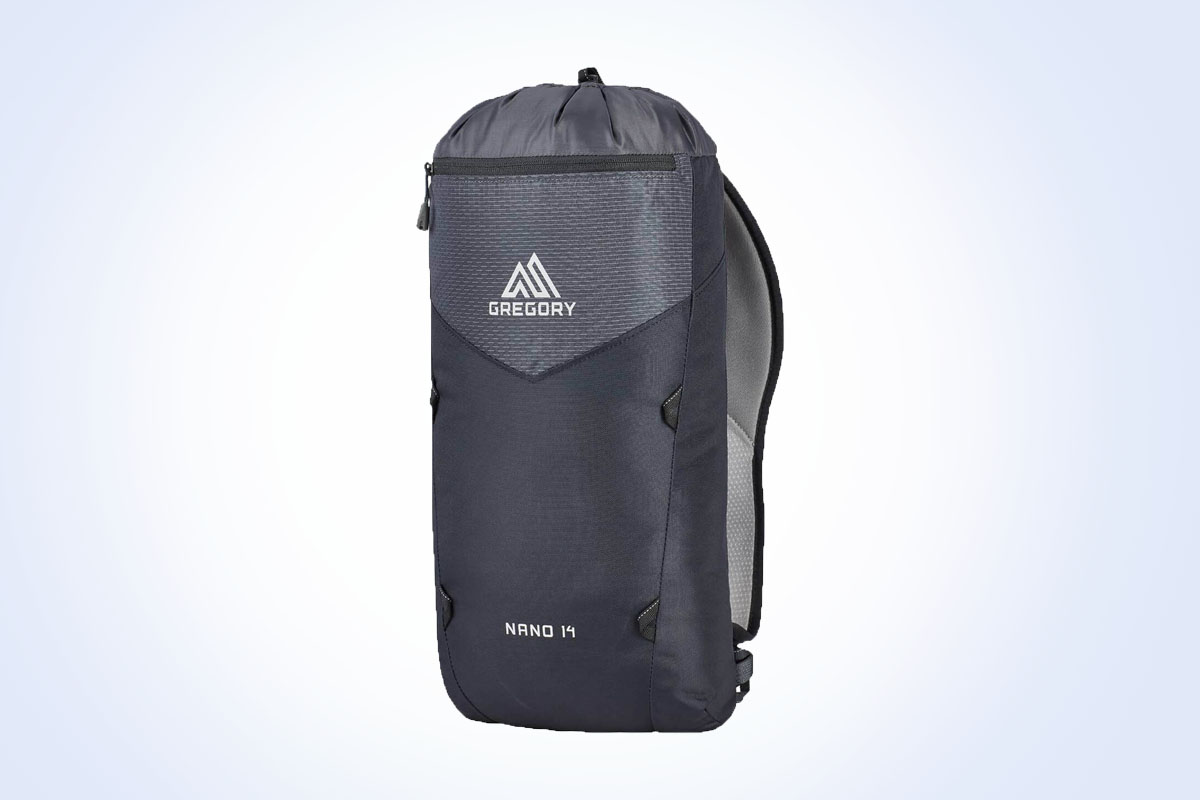 Check Price
Sometimes you don't need all the bells and whistles - you just need a great pack that will distribute weight, keep you from sweating, and carry your belongings. The Gregory Nano 18 is one of my favorite day packs, used for everything from hiking to biking to regular travel. The reservoir compartment will route a hose for easy access - and I like to use the sleeve for my iPad when I'm not carrying water with me! The sternum strap and hip belt help to distribute weight in the back very well across the body.
The back panel is very well ventilated, keeping sweat to a minimum. Two mesh side pockets give extra storage, and the front zippered pocket gives easy access to small essentials. This is a simple pack without a ton of storage compartments - if you're looking for an affordable, straightforward pack, this might be an excellent choice.
Key Features
Zippered pocket for hydration reservoir
Integrated routing for hose from reservoir
Padded airmesh shoulder harnesses
One-handed sternum strap buckle
Breathable die-cut backpanel
Removable webbing hipbelt
Zippered access to main compartment
Dual compression straps with quick release buckles
Zippered front pocket with key hook and organization sleeves
Two side mesh pockets
Reflective webbing loops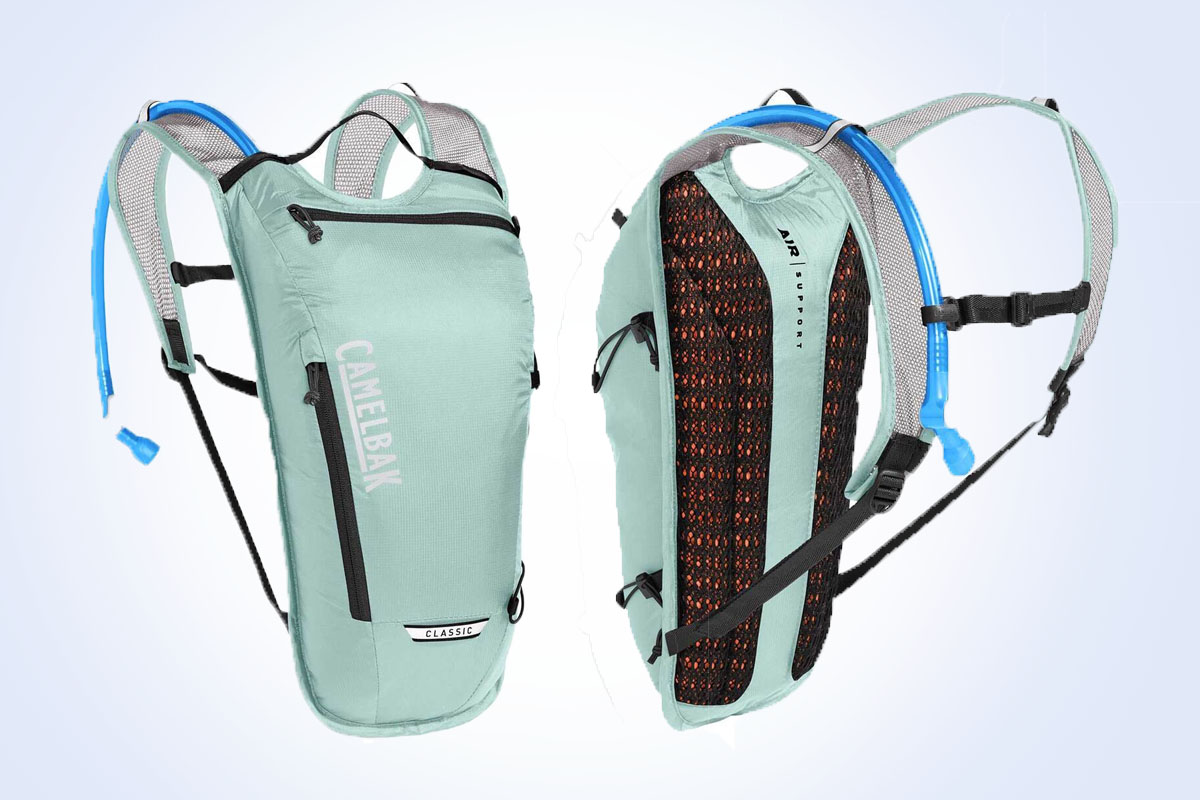 Check Price
Sometimes you just need the water and almost nothing else. When that's the case, the CamelBak Classic is the way to go. This snug pack stores its 2-Liter Crux Reservoir and gives pockets for small essentials and maybe a small snack - but that's all you're taking with you in this option! I use my CamelBak Classic for bike rides when I'll be working hard and needing my hydration - but then landing at a place with plenty of food that I didn't have to carry with me.
This pack has a ventilated harness and the Air Support Light Back panel to keep sweat to a minimum. An extra layer can be stored with the bungee overflow system. It's reflective to keep you safe in lower light, and comes with an adjustable strap system.
Key Features
2 Liter Hydration Pack with routed hose
Ventilated harness
Air Support Light Back Panel
Integrated tool organization
Zippered pocket for small essentials
Bungee overflow
Adjustable sternum strap
Integrated loop to clip on a light
Spot to secure helmet
Reflective for low light scenarios
Check Price
I love a waist pack. Sometimes you just don't want the feel of shoulder straps rooting you down, and you don't have that much to carry anyway - and that's a waist pack's time to shine. Osprey is a trusted name in the pack game, and their waist pack is another excellent offering.
The Osprey Seral 4 includes a 1.5 liter bladder with a very cool hose management system - the bite valve connects magnetically, giving you easy access without strapping it down. The pack gives a good bit of additional storage, with space for snacks and bike tools if needed. This pack is also made with sustainable materials, using PFC-free recycled bluesign-approved nylon.
Key Features
AirScape back panel with contouring lumbar wrap gives ventilation and stability
Osprey Hydraulics 1.5 L reservoir by Hydrapak (included)
Magnetic bite valve attachment to hip belt
Large zippered main compartment
Reservoir sleeve inside main compartment
Tool organization
Internal zippered pocket
Blinker light attachment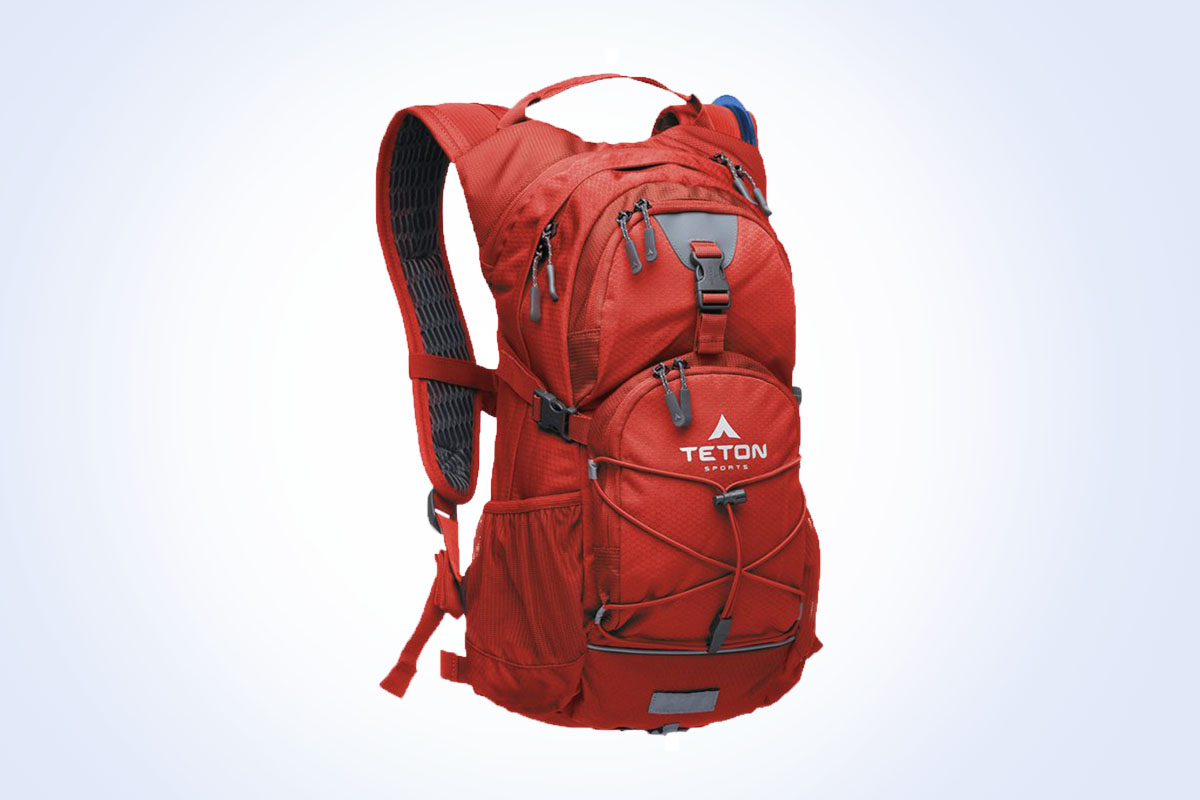 Check Price
It's hard to beat a $50 price tag on a nice, mid-size pack - so if you're shopping on a budget but want all your essentials with you, the TETON Sports Oasis 18 is an excellent choice. This design comes with good ventilation and a nice pocket system to keep everything organized. It even comes with a rain cover, which is a great addition if you're concerned about your gear out in the elements.
The hydration reservoir does move a bit more slowly than some other options on this list, but it still does what it needs to do. It has a tube disconnect and bite-valve lock, so it's still workable overall.
Key Features
Durable ripstop construction
Hydration port options on either side
Front-zip pockets for easy access to small essentials
2L hydration bladder
Adjustable shoulder, chest, and waist straps
Padded shoulder straps are contoured
Bungee shock cord stores helmet or an extra layer
Chest strap with safety whistle
Reflective trim and accents
Cushioned bite valve
Micromesh pockets
Rain cover included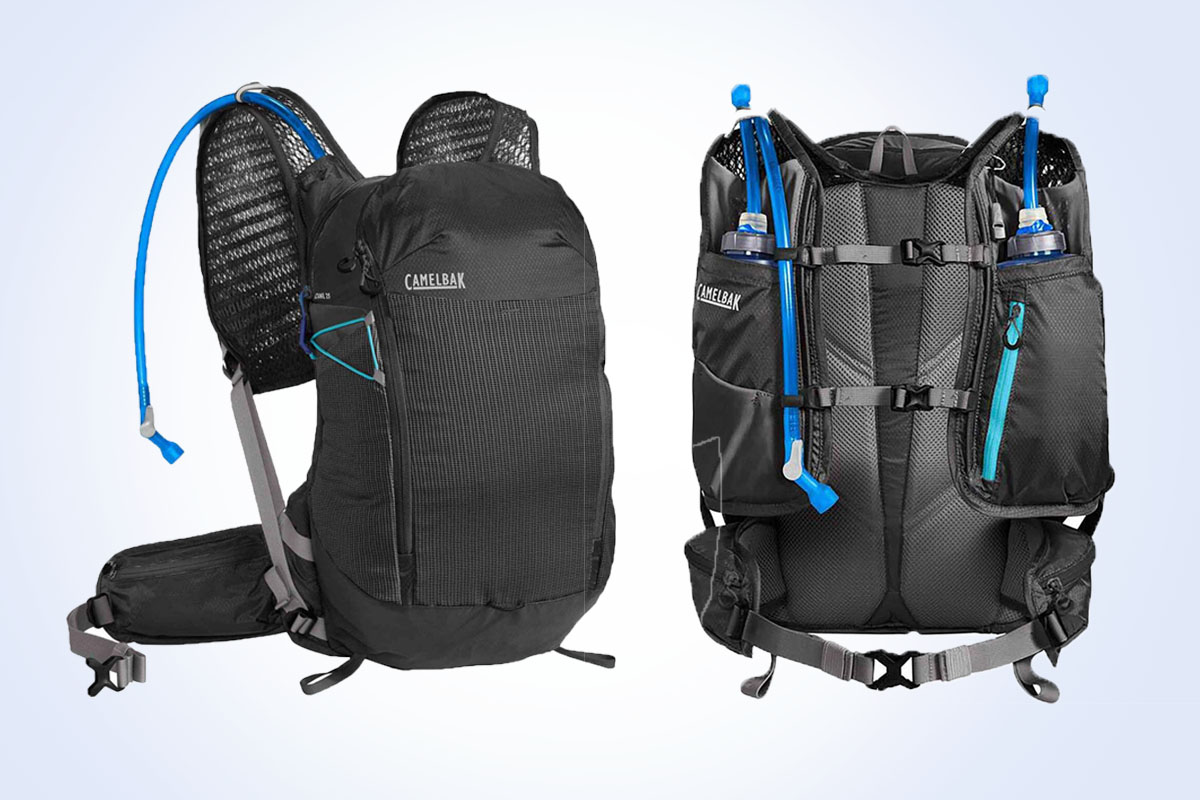 Check Price
The CamelBak Octane 25 is the largest pack on this list, for trips when you need more serious capacity for gear storage and hydration. This pack includes a 2 Liter hydration bladder and large zippered entry to its large front compartment. It can be used either on the back or vest-style, allowing you to find the version that's most comfortable for you!
The simplicity of the CamelBak Octane 25 makes it a great fit for hikers who like to move fast but need to have all their gear. The only issue is that it comes in one size - so if that size doesn't work for your body, this pack may not be a good option. It has a good ventilation system, pockets for easy organization, and attachments for trekking poles. It's a nice pack for those longer trips when you want options from your gear.
Key Features
2L hydration bladder with tube trap management system
3D Mesh for ventilation
Dual adjustable sternum straps
Organized pockets for small essentials
Stretch overflow pocket for quick access to an extra layer
Dedicated phone pocket
Ventilated hip belt with cargo
Attachment point for trekking poles
Space for soft flask for extra hydration
Integrated rain cover
Reflective accents