Skip to content
Top 10 Guns for Squirrel Hunting
By Chad Meyers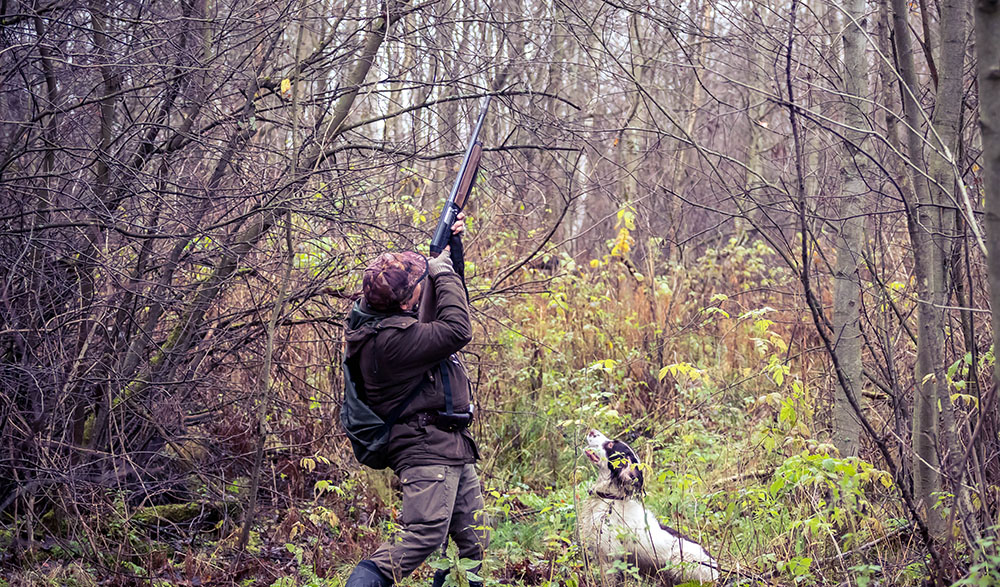 Whether it's pest control, another meat source, or a reason to get out in nature, squirrel hunting is a great pass time to pick up.
Squirrels are prevalent in a number of areas and usually have a sizable bag limit per day. This makes them a great choice if you want to hunt on a budget.
Squirrel hunting gives you the opportunity to work on your shooting fundamentals and use firearms that aren't necessarily the cutting edge of technology. This means firearms that are more fun than practical, like lever-action rimfire rifles.
Because squirrels are small game, it doesn't take a lot to get an ethical kill. However if you're looking to add them as a possible food source, your choice in firearm and ammunition matter.
Let's go over the basic factors of squirrel hunting and the top 10 guns to use.
Squirrel Hunting basics
Squirrels can be taken down with .22 LR, .17 HMR, and .410 rounds. The distance and goal for taking the squirrels will determine if you use a pistol, rifle, or shotgun. If you are taking squirrels for food, .22 LR should be your go-to round.
This gives us a general idea of what to select but it doesn't give us a full understanding of our options. So we're going to go over these rounds to see what their performance is and see which guns we can pair them with for the best effect.
Keep in mind, these are actual firearms. Some prefer to hunt squirrels with air rifles, but for our list we will be focusing solely on firearms.
Squirrel Hunting: Ammunition and Firearms
Squirrels are small game. This means we have to balance terminal effectiveness with our overall goals. If our goal is just to manage the squirrel population, a more powerful round and a more modern style rifle will suit our needs.
If we plan on preserving the meat and hide we need a round that will ethically kill the squirrel but won't completely destroy the meat.
Either way, expect to try and take as many squirrels as your local bag limit allows in order to get the most for your efforts.
Let's look at some popular squirrel hunting ammunition.
Ammunition
Ammunition is going to be the limiting factor for our firearm selection, so we need to understand what we'll be using to hunt squirrels and why we're using it.
While more standard rifle ammunition and shotgun loads will kill squirrels, it would be a waste of time, effort and ammunition to use something like 5.56 or 00 buck on a squirrel unless it's all you have and you're performing other pest control activities in the area.
This limits us to some of the smaller "plinker" style ammunition. While we won't use the same ammo for plinking and hunting, we will be using the same calibers.
We are going to focus on three major loadings to use on squirrels: .22 LR, .17 HMR, and .410 bore.
.22 LR
The .22 Long Rifle cartridge is one of the most popular rounds on the market. It's commonly a starter round for young shooters to get them used to the fundamentals, but it also is a long time small game cartridge.
This rimmed cartridge is effective within 100 yards and is very light on recoil. This makes it a great round to use on small, close targets like squirrels.
For our rimmed rounds, .22 LR is the heavier option with projectiles ranging from 26 grains to 40 grains depending on the manufacturer and load.
At 100 yards most of the common loads still have 60 to 104 foot-pounds (ft-lbs) of energy. This is more than enough to kill a squirrel with the added benefit of less damage to the meat when compared to .17 HMR.
M Carbo has a good list of small caliber ballistics which we'll be borrowing for examples. The following chart uses the following to represent different manufacturers: C for CCI, H for Hornady, R for Remington, W for Winchester.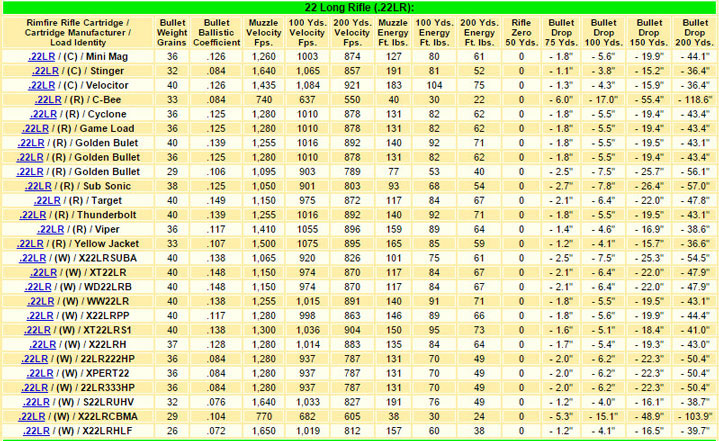 As we can see, .22 LR offers a wide variety of loadings. But we start to see a ballistic drop off in performance after 100 yards in both energy and velocity.
This makes it better for nearer targets when squirrel hunting. Now let's look at its closest competitor.
.17 HMR
The .17 Hornady Magnum Rimfire (HMR) does not have as long a history of use as .22 LR but it is a more specialized round.
This tiny round offers better velocity and a flatter trajectory than .22 LR. It does this with lighter, more specialized projectiles combined with a small magnum load.
The options for .17 HMR are not as varied as .22 LR, generally ranging from 15.5 grains to 20 grains in projectile weight. However at 200 yards it has equal or greater energy on average than .22 LR.

Most of the damage of .17 HMR comes from its velocity, which is roughly 500 to 1000 feet per second faster at the muzzle than .22 LR. This drops to roughly the same muzzle velocity of .22 LR for .17 HMR at 200 yards.
The .17 HMR is a capable varmint round, taking down game up to coyotes. But this comes at the price of a lot of damage to the meat, especially for squirrels.
Which is Better: .22 LR vs .17 HMR
Which of these rounds is better than the other? This comes down to what you want out of your hunt.
If you're looking to get squirrels for food and have decent performance up to 100 yards, .22 LR is the best option. This is because .22 LR is normally available and there are many different firearms chambered in this caliber.
But if you're starting to reach out farther in your hunts, you should consider using .17 HMR. It is a better varmint round, but you won't be harvesting a lot of meat with it. This is the downside of the round. It's perfect for varmint control, but not for putting a lot of food on the table.
Here's a comparison of .17 HMR and .22 LR with a few other round types at range.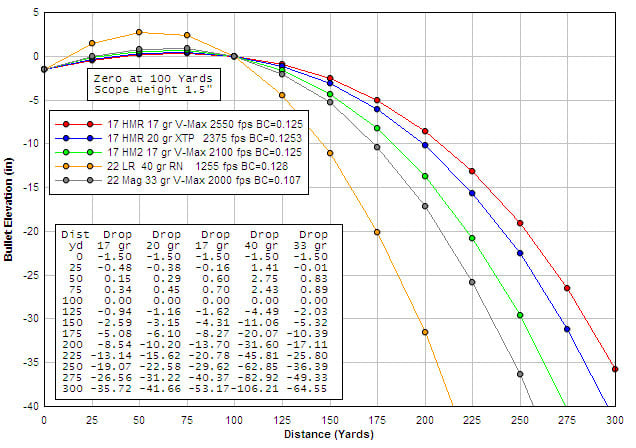 The .17 HMR absolutely wins at distance when compared to .22 LR. However it is more expensive than .22 LR and not as common off-the-shelf. While it has been consistently available, it is not as refined in its load variety as .22 LR.
This brings us to another option.
.410
For those who want to use a shotgun for hunting squirrels, the classic .410 shell is really your only option. It provides a number of loadings with shot and slugs depending on what you need.
However, since it has such a limited space in the shell, you don't get the projectile number for shot that a 12 gauge might offer. This means 4 to 6 projectiles in a shot shell, depending on the load.
This means you effectively have to treat all .410 shells like a rifle round. Emphasizing accuracy instead of relying on a broad pattern.
This finally brings us to selecting the right gun.
Guns
What you can use on a squirrel is very forgiving, depending on the ranges you expect to be shooting at. This means you can hunt squirrels with anything from a .22 LR pistol to rifles and some shotguns.
But here are a few considerations before we get started. A scope or some sort of magnified optic is going to help you a lot with squirrel hunting. Getting proper shot placement is going to be harder with iron sights, but not impossible.
When you get to longer ranges, scopes will help you to see where you should hit the squirrel in order to take it down in a single shot.
Some of these options come in multiple different variations. So don't consider all of these options to be the "only" option of its type. These are the variations which give the most for what they are, rather than the "perfect" option.
Rifles
Rifles will be your primary option when it comes to squirrel hunting. They are quite popular and come in our two primary calibers of .22 LR and .17 HMR. Many models come in both chamberings, so be sure you get the one that suits your needs the best.
1. Ruger Precision Rimfire

This bolt-action from Ruger has a lot of benefits. Not only is it set up like a quality precision rifle, it's chambered in multiple calibers to fit your needs.
Featuring a free floated barrel with M-Lok compatibility, this rifle has a picatinny optics rail to allow you to choose your sights with ease. Whether a magnified optic or something like a red-dot is your preference, it will easily be attached to the rifle.
If you're going to be hunting squirrels, this rifle is perfect for single shot effectiveness. It also features a pre-threaded barrel so you can attach a suppressor to the rifle. This has two major benefits.
The first benefit is better hearing protection. Since the suppressor will help cut down on the report of the gun shot, you won't risk as much damage to your hearing when using it. It also helps prevent spooking other squirrels in the same general area, resulting in multiple squirrels easily.
It comes in either .22 LR or .17 HMR depending on your preference. The .22 LR version is compatible with all 10/22 magazines. This means you won't have to get specialty magazines for it.
The adjustable stock will make it easy for you to dial in the correct length of pull and comb height so you get the best accuracy out of the platform. This will help with the longer 200 yard shots if you are using .17 HMR for pest control.
Optics ready?
Yes, picatinny optics rail
Caliber
.22 LR, .17 HMR, model dependent
Suppressor ready?
Yes
2. Ruger 10/22
This classic .22 LR rifle is what many shooters started out on. This semi-automatic design comes in a variety of different options. From take-down/backpack models to standard rifles, there is a 10/22 in your preference of design and color pattern.
This model comes with a factory mounted 3-9x40 mm scope. You'll be able to pick this rifle up and go squirrel hunting right away. And since it is a 10/22 there are a number of magazine options available to it.
The semi-automatic action allows for quick follow up shots. Some models do feature threading for a suppressor, but this is not the standard on most models.
The simple controls and familiar design make this a great starting option if you don't want to sink a lot of money into a squirrel gun.
Optics ready?
Model dependent
Caliber
.22 LR
Suppressor ready?
Model Dependent
3. Henry Classic Blued Lever Action
This Henry rifle is a great option if you want a rifle that's fun to shoot while bringing a lot to squirrel hunting.
Its internal tubular magazine allows you to bring 15 rounds of .22 LR without modification or additional magazines.
The iron sights feature a protective hood for the front sight and an adjustable rear sight. If you want to challenge yourself, then the Henry Classic is ready right out of the box.
This rifle is known for its accuracy and if you want to get the most out of that accuracy, the receiver is grooved to accept a scope mounting. The grooves are set for a ⅜" ring mounts, so be sure to get the right hardware to mount the scope.
The rifle offers great performance and a satisfying experience of a lever-action rifle. It's not the best in terms of modern modularity, but you will enjoy your time hunting squirrels with this gun.
Optics ready?
Yes, 3/8" Grooved Receiver
Caliber
.22 LR
Suppressor ready?
No
4. CZ 457 Lux Bolt Action Rifle

This rifle falls into the pest control role. The CZ 457 line comes in multiple rimfire options. This model comes in .17 HMR.
With this more powerful round, it is going to impact how much meat you can harvest. But if you're just trying to keep the local squirrel population low, it is a great option.
This bolt-action comes equipped with iron sights perfectly set up with the comb of the stock. The manual nature of the rifle will help you conserve ammunition, so you get the most of the .17 HMR without using a lot of this comparatively expensive round.
An 11mm dovetail allows you to mount compatible optics just in case you want to really push the range of the gun.
It features a relatively small 5+1 capacity with the included magazine. This means you will either need spare magazines/ammo on hand or only bring this one out for precision pest control.
Optics ready?
Yes, 11mm Dovetail
Caliber
.17 HMR
Suppressor ready?
No
5. Savage 93R17 FVXP Scoped Bolt Action

If you want an out of the box, precision varmint rifle, this Savage 93R17 variant is worth your time.
Chambered in .17HMR, this bolt-action varmint rifle features a factory bore sighted Bushnell 3-9x40 mm scope. This rifle comes with a heavy barrel making it an affordable precision package.
If you're looking to get into precision shooting and take everything from squirrel to coyote, don't pass this rifle up. It features Savage's AccuTrigger and a synthetic stock to help keep the gun's accuracy in a wide variety of weather conditions.
If you have to deal with a large area at the 200 yard mark, this rifle is perfect for pest control.
Optics ready?
Factory mounted 3-9x40 mm scope
Caliber
17 HMR
Suppressor ready?
No
Shotguns
Shotguns are the second most likely choice when hunting squirrels. They tend to be used similar to rifles, but with a lower overall capacity.
Shotguns are better for the closer-in hunts, but some can be used to push into the ranges of .22 LR rounds.
1. Mossberg 510 Compact Mini Super Bantam

If you usually hunt with a shotgun but don't want to waste your normal shotgun ammo, this .410 pump-action is a good option.
Designed for younger shooters, this light shotgun will allow you to easily take down squirrels. Its stock is adjustable with the included spacers and it features a 2+1 capacity.
The dual bead sighting system allows for quick, closer range shots. The handy firearm is great for keeping the squirrels off your property with some very light recoiling rounds.
If you're already heavily invested in shotguns, this will help you round out your collection with a small game option.
Optics ready?
No
Caliber
.410
Suppressor ready?
Yes, pump-action
2. CVA Compact Scout

If you want a less complex option, the CVA Compact Scout is single shot, lightweight .410 shotgun.
This shotgun is 100% ambidextrous with an adjustable length of pull. It also features a DuraSight scope rail. This is important since it allows you to mount any standard scope ring set currently available. Those scope options will allow you to get the most out of the single round.
If you want something that is going to be effective, but also offer you a challenge, this single-shot shotgun will serve you well in the long run without a lot of cost.
Optics ready?
Yes, DuraSight scope rail
Caliber
.410
Suppressor ready?
No
3. Stoeger Uplander Compact Shotgun

If single-shot is not your preference, but you still want a classic shotgun style, this Stoeger side-by-side double barrel is an affordable option.
Set up to be a shotgun for beginners, it offers a small length of pull and a relatively heavy 6.5lb weight. This comes from the satin walnut furniture and sturdy construction.
This .410 shotgun provides a popular English double gun style, without breaking the bank. It will deal with squirrels at closer ranges, but is not suited for the longer ranges achieved by the .22 LR and .17 HMR options.
Optics ready?
No
Caliber
.410
Suppressor ready?
Yes
Pistols
Pistols are the third most likely option. They are more geared towards an impromptu squirrel hunt, but some prefer to use a pistol when hunting squirrels.
There are many options that allow you to mount a pistol scope, but here are two fun options to consider.
1. Ruger Mark IV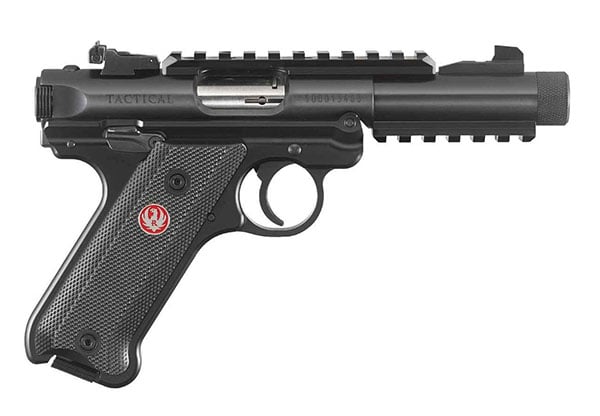 The Ruger Mark IV series has a number of good options for hunting squirrels, but this model has been selected for its overall modularity.
This tactical Mark IV comes with standard iron sights, ambidextrous safety, and a 10+1 capacity. But the main reason it differs from other Mark IV options is the two sets of Picatinny rails and the threaded barrel.
The Picatinny rails allow you to put your desired optics and lights on the gun. This means you can use a red dot or any other Picatinny compatible optic. You'll also be able to mount a light for those times when you choose to hunt squirrels in low-light environments.
The threaded barrel allows you to mount a suppressor as well. This helps protect your hearing while lowering the chances of a group of squirrels scattering after the first shot.
Optics ready?
Yes, Picatinny rail
Caliber
.22LR
Suppressor ready?
Yes
2. Ruger Wrangler Revolver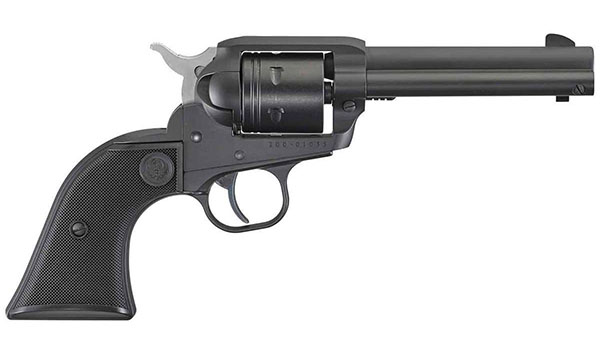 This is another "fun" option if you want something to take care of small game without having to carry a larger firearm.
The Ruger Wrangler is a good single-action revolver at an affordable price. It will be best to use this at closer ranges, unless you really want to test your accuracy.
It features a transfer bar mechanism and an interlocking loading gate to prevent an accidental discharge. This makes it a safe, reliable option for a pistol in .22 LR.
Like the Henry lever-action, this pistol provides something a little extra than the standard semi-automatic. It's great for plinking in addition to dealing with small game, while being fun to shoot.
With a 6 round capacity it definitely is not the best option if you plan on spending the day hunting. But it is a great secondary to bring if you want to keep the hunt going while you reload your main squirrel gun.
Optics ready?
No
Caliber
.22 LR
Suppressor ready?
No
Conclusion
Squirrel hunts are a fun, affordable way to hunt. It offers time outdoors, shooting practice, and an additional meat source. Because it is not "as serious" a hunt, we can use less optimized firearms.
This adds more enjoyment to the hunt by allowing us to use everything from lever-action rifles all the way to more modern semi-automatics. Not everything has to be the cutting edge of technology, sometimes it's best just to use something that's "good enough" for the job.
Whether you're taking on more professional pest control duties or just looking to scratch your hunting itch, there are a number of options available to you.
Those who are going for pest control should look at the .17 HMR options like the Savage 93P17 or the Ruger Precision Rimfire in both .17 HMR and .22 LR if they are going to be spending a lot time hunting squirrel.
For those more leisurely hunts, the Henry Classic paired with the Ruger Wrangler offer a fun, if not completely optimized, hunting experience.
The range and needs of your squirrel hunt will be the primary factors when choosing the right gun. The .22 LR options are great to about 100 yards. Beyond that distance, .17 HMR should be your primary choice.
Shotguns and pistols are better kept under the 100 yard range, but still offer viable alternatives to the rifle options.
Choose which one works for you and enjoy some much needed time outside.