Skip to content
Pennsylvania Hunting Guide
Pennsylvania offers a diverse, healthy population of game species for hunters to enjoy. Hunting opportunities exist in virtually every portion of the state, though some species are much more abundant than others. Between the state's longstanding hunting tradition and diverse landscape, Pennsylvania has become a popular destination for hunters.
What to Hunt
---
Most popular American game species can be found in Pennsylvania. The state supports a wide range of big and small game hunting opportunities.
White Tailed Deer
Pennsylvania is a popular destination for deer hunting. However, in recent years, trophy buck and other top end deer populations have begun to diminish. It is generally not permitted to hunt deer on Sundays in Pennsylvania, though they state has expanded Sunday hunting opportunities in recent years. Licenses generally go on sale in mid-June, and hunters must be prepared to apply for antlerless deer licenses.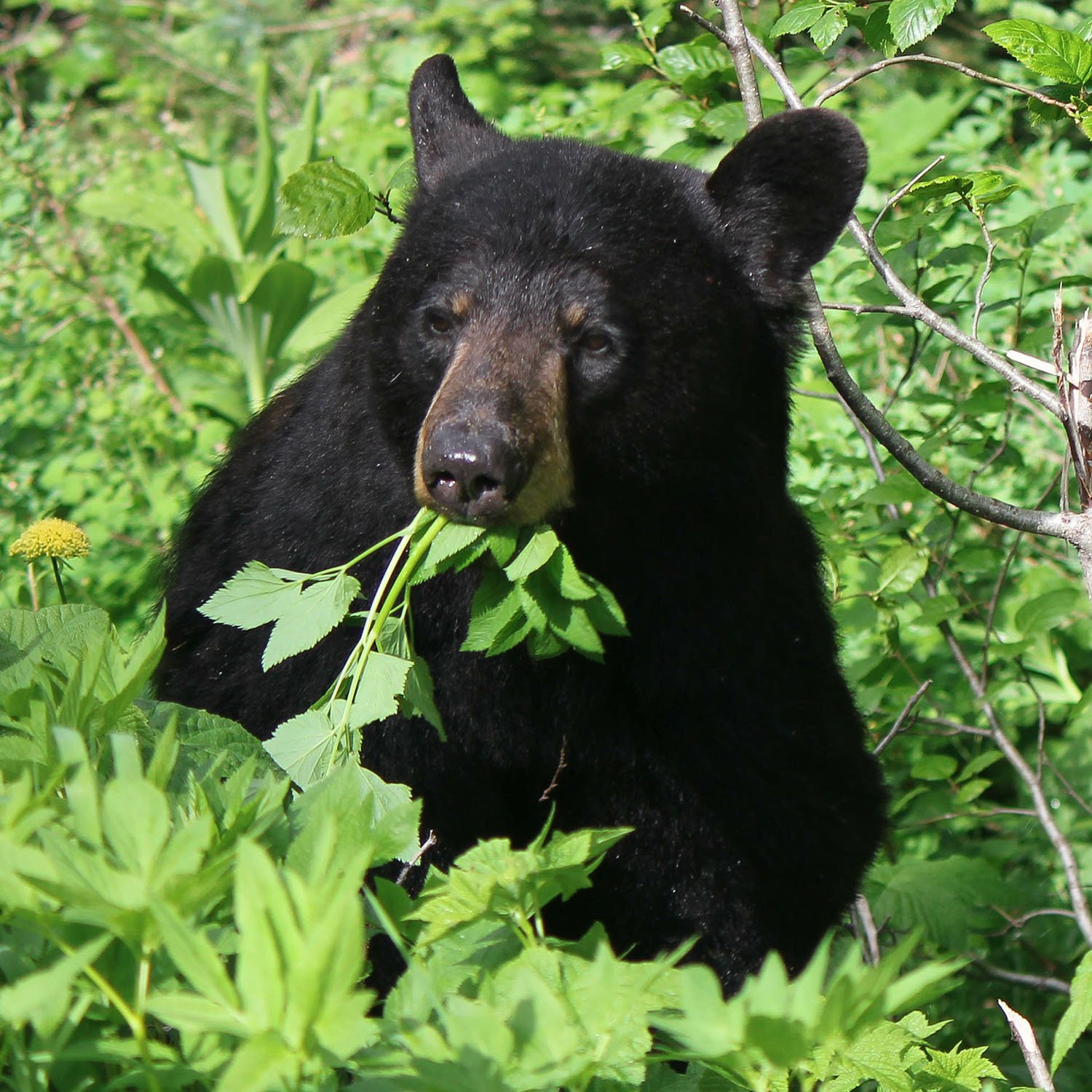 Bear
Pennsylvania presents significant bear hunting opportunities, for both archery and firearm hunters. The state's bear population is most significant in the center and northern center regions, with additional strong populations in the northeast. Bear season generally runs from October to November, with seasons divided into archery, muzzleloader, and special firearms. Some zones hold extended bear seasons that run into December. There are approximately 20,000 bears in Pennsylvania, and their population has been stable for several years.
Turkey
Pennsylvania has a longstanding turkey hunting tradition, and public lands are occupied by the Eastern subspecies. The bag limit for the fall season is one turkey of either sex, while the bag limit for the spring season is two bearded turkeys. Hunters may use manually operated or semiautomatic shotguns with a capacity of no more than three shells; muzzleloading shotguns of any type; long, recurve, and compound bows with a draw weight of at least 35 pounds; and crossbows with legal broadheads.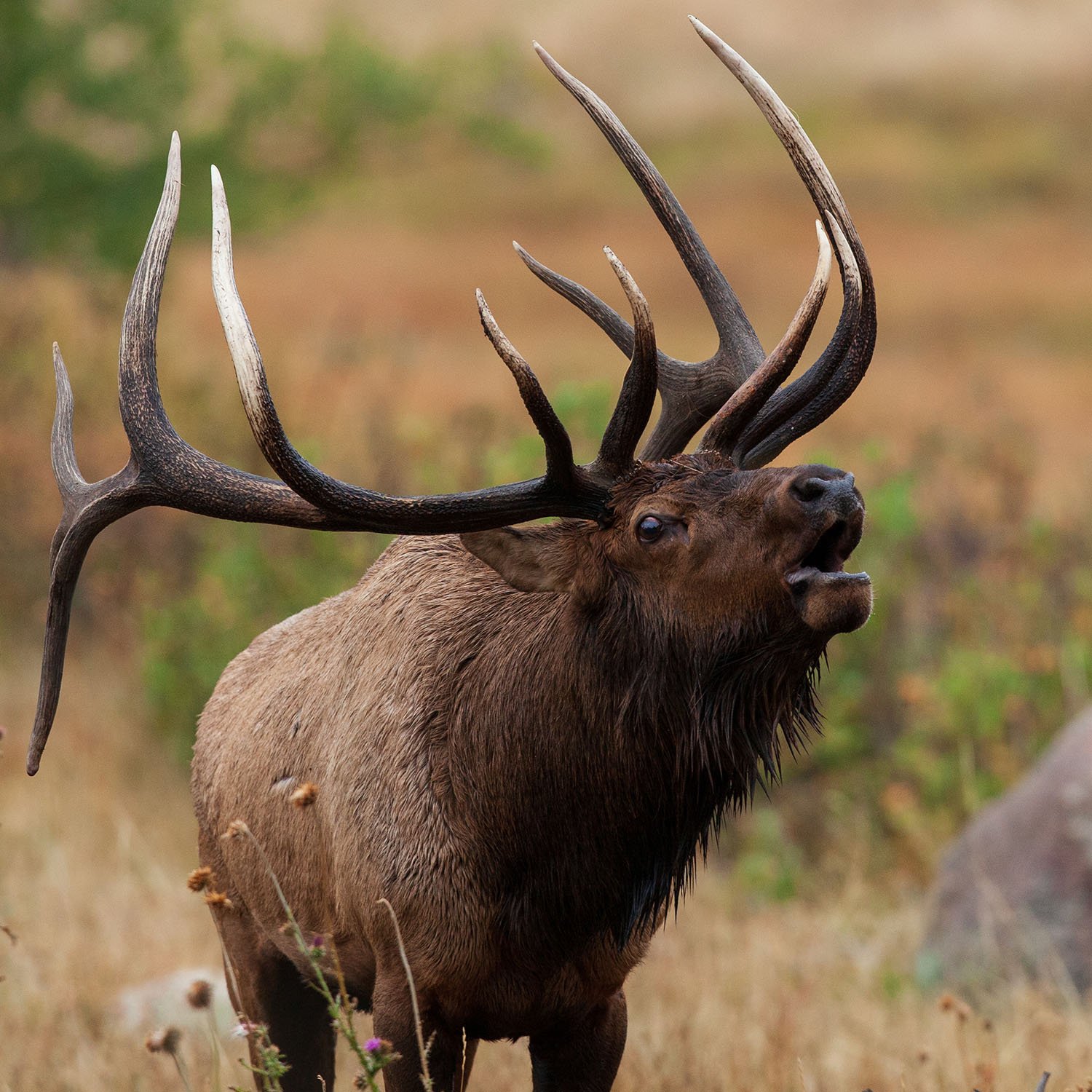 Elk
Pennsylvania supports a small, stable population of elk. These are almost entirely found in the very center of the state. Pennsylvania's elk season is very short, but the strong localization of the population creates frequent success for hunters. Pennsylvania generally holds an archery season in September, with a short general season in November and a late season in January. Pennsylvania grants a total of 164 licenses, with specific quotas set per zone of the state. Licenses are awarded through a lottery system.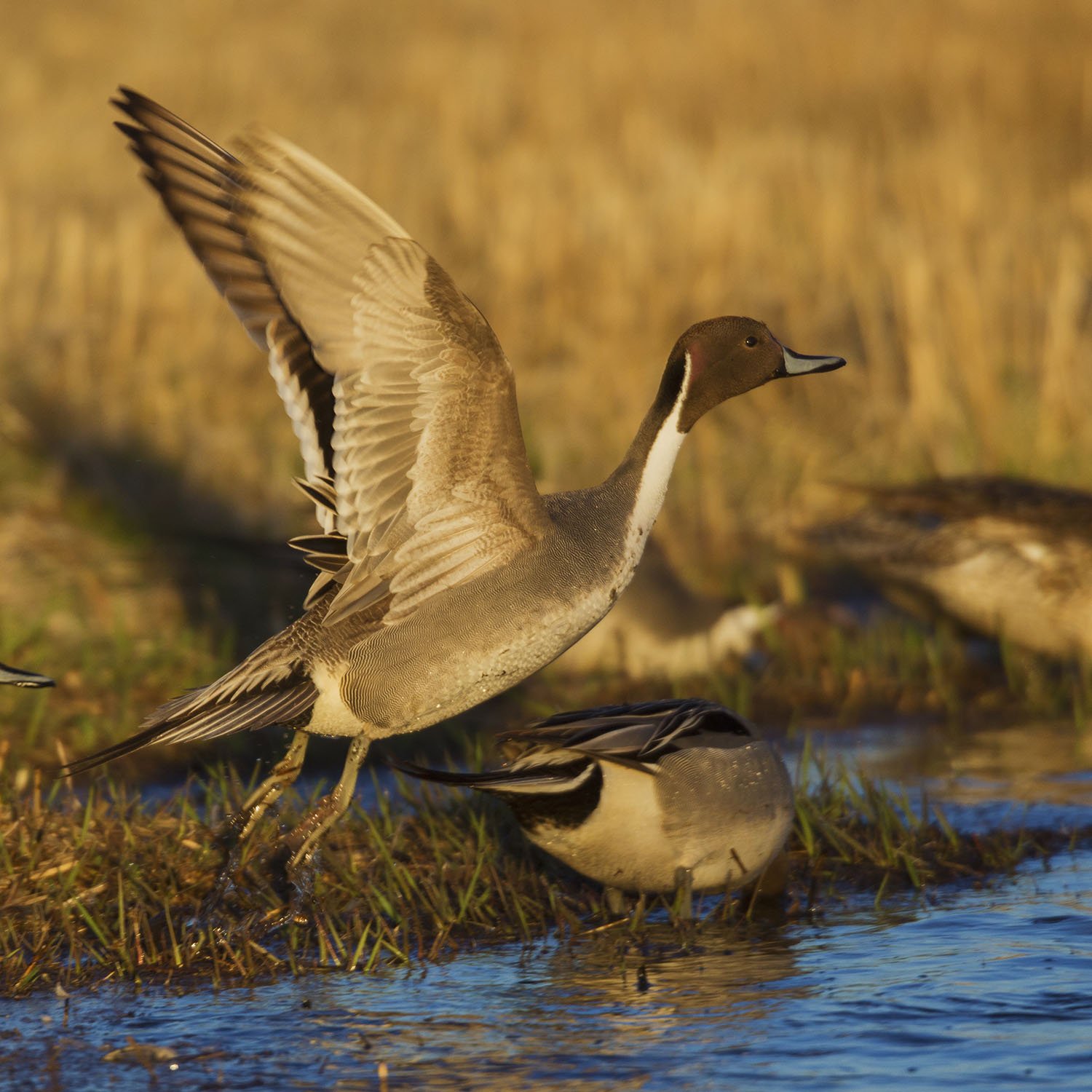 Waterfowl
Each year, Pennsylvania's duck harvest includes mallards, wood ducks, black ducks, teal, bluebills, ringnecks. Hunters may apply for controlled goose hunts at Middle Creek and Pymatuning. Waterfowl hunters must have a federal duck stamp, and youth must have a migratory game bird license if they want to hunt doves. It is not permitted to use sink boxes; shoot from moving cars, aircrafts, or boats; use live decoys; or chase, drive, or bait waterfowl. There are youth and veterans and military days for hunting waterfowl.
Other Pennsylvania game species include: Squirrel, Ruffed Grouse, Rabbit, Pheasant, Bobwhite Quail, Hares, Woodchucks, Crows, Starlings and English Sparrows, Spring Gobbler, Duck, Canada Geese, Brant, Light Geese, Woodcock, Common Snipe, Gallinules, Virginia and Sora Rails, etc. found in the "Hunting Seasons" section at bottom of the page.
Where to Hunt
---
Pennsylvania offers large amounts of acreage as public land that is available for hunting and trapping.
State Game Lands
Pennsylvania's Game Commission owns and maintains almost 1.5 million acres across the Commonwealth. These lands are intended to provide habitat for wildlife, as well as recreational hunting and trapping. It is important to consult the Game Commission's regulations before hunting in these areas, as restrictions may apply.
Hunter Access Program
The Pennsylvania Game Commission has partnered with private landowners to provide public hunting opportunities. The Hunter Access Program creates a partnership wherein the landowner works with the game commission to create ideal habitats for wildlife and hunters alike.
State Forests
All 20 of Pennsylvania's state forests, totaling 2.2 million acres, are open to hunters. Deer is the most popular game in these areas. Small game and game bird species are also available.
State Parks
97 of Pennsylvania's 121 state parks are open to hunting at various times throughout the year. Be sure to check with the appropriate office before planning your trip.
Licensing Fees
---
A hunting license is required to take any animal in Pennsylvania. Additional fees may apply based on the species targeted and method of take.
| License | Fee |
| --- | --- |
| ​Resident Adult Hunter | ​$20.97 |
| Resident Junior Hunter | ​$6.97 |
| ​Resident Senior Hunter | ​$13.97 |
| ​Resident Military Hunter | ​$2.97 |
| ​Nonresident Adult Hunter | ​$101.97 |
| ​Nonresident Junior Hunter | ​$41.97 |
Hunter Education
---
All first-time hunters and trappers are required to pass a hunter's education class prior to obtaining a hunting license, regardless of age. However, you must be at least 11 to enroll in the class.
These classes can be taken online or completed in-person. It is recommended that youth hunters are supervised by adults during the class.
Youth Hunting
---
Persons under 17 years of age must have their parent or legal guardian's permission to purchase a hunting license. Any hunter under the age of 16 must be accompanied by a parent or legal guardian while hunting.
Pennsylvania also offers a Mentored Hunting Program that is available to youth of all ages. A mentored youth hunter does not need to take a hunter education course to enter the program. Mentored youth hunters can hunt the following game: squirrels, rabbits, hares, ruffed grouse, bobwhite quail, pheasants, crows, doves, porcupines, woodchucks, coyotes, deer, and turkeys.
Mentored youth must be accompanied by a licensed hunter of 21 years of age or older.
Trapping
---
Pennsylvania considers all of the following mammals 'furbearers' for the purposes of trapping: eastern coyotes, red foxes, gray foxes, beavers, muskrats, mink, raccoons, opossums, striped skunks, weasels, bobcats, otters, and fishers. A furtaker's license is required to trap any of these animals.
Hunting Seasons
| Game | Season Begins | Season Ends |
| --- | --- | --- |
| Squirrel | Sep 10 2022 | Feb 27 2023 |
| Ruffed Grouse | Oct 15 2022 | Dec 23 2022 |
| Rabbit | Oct 15 2022 | Feb 27 2023 |
| Pheasant | Oct 22 2022 | Feb 27 2023 |
| Bobwhite Quail | Oct 22 2022 | Feb 27 2023 |
| Hares | Dec 26 2022 | Dec 31 2023 |
| Woodchucks | Jul 1 2022 | Jun 29 2023 |
| Crows | Jul 1 2022 | Apr 9 2023 |
| Starlings and English Sparrows | No Closed Season | No Closed Season |
| Wild Turkey | Oct 29 2022 | Nov 25 2022 |
| Spring Gobbler | Apr 29 2023 | May 30 2023 |
| Black Bear | Sep 17 2022 | Dec 10 2022 |
| Elk | Aug 31 2022 | Jan 7 2023 |
| Deer | Sep 19 2022 | Jan 28 2023 |
| Ducks | Oct 8 2022 | Jan 7 2023 |
| Canada Geese | Sep 1 2022 | Feb 25 2023 |
| Brant | Oct 8 2022 | Dec 5 2022 |
| Light Geese | Oct 1 2022 | Apr 21 2023 |
| Woodcock | Oct 15 2022 | Nov 25 2022 |
| | Dec 12 2022 | Dec 21 2022 |
| Common Snipe | Oct 15 2022 | Nov 25 2022 |
| | Dec 12 2022 | Dec 21 2022 |
| Gallinules | Sep 1 2022 | Nov 21 2022 |
| Virginia and Sora Rails | Sep 1 2022 | Nov 21 2022 |
*Hunting dates for this species may vary by zone, method of take, or subspecies of animal. Visit the state's website here to find out more.
Disclaimer: The information provided here is not to be construed as legal advice or acted upon as if it is legal advice: it is provided for informational purposes only. While we strive to provide accurate, up-to-date content, we cannot guarantee the accuracy, completeness, or currency of the information.