Skip to content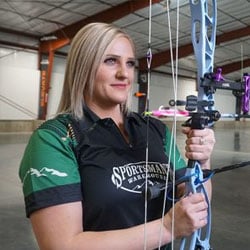 Paige was only 18 months old when she picked up her first bow. At 10, she had her first state record. Since then, Paige has broken 110 state, national and world records. At the time, she was the youngest person to go to the Woeld Championships at age 13.
---
Highlights
2017 Archery World Cup Stage #4 - Mixed Team Gold, Team Gold
2016 Pan American Championships - Silver, Mixed Team Silver, Team Bronze
2015 Archery World Cup Stage #4 - Silver, Team Bronze
2014 Archery World Cup Stage #2 - Team Gold
---
Experience
As a child, Paiges' parents would take her to the range to practice shooting all the time, even though she was still young enough to still be in a stroller, so it's not surprising that she took to the sport, and quickly rose through the ranks. She currently holds five World Championship titles, as well as two Mixed Doubles World Championships.