Skip to content
9 Best Varmint and Predator Rifles
By Chad Meyers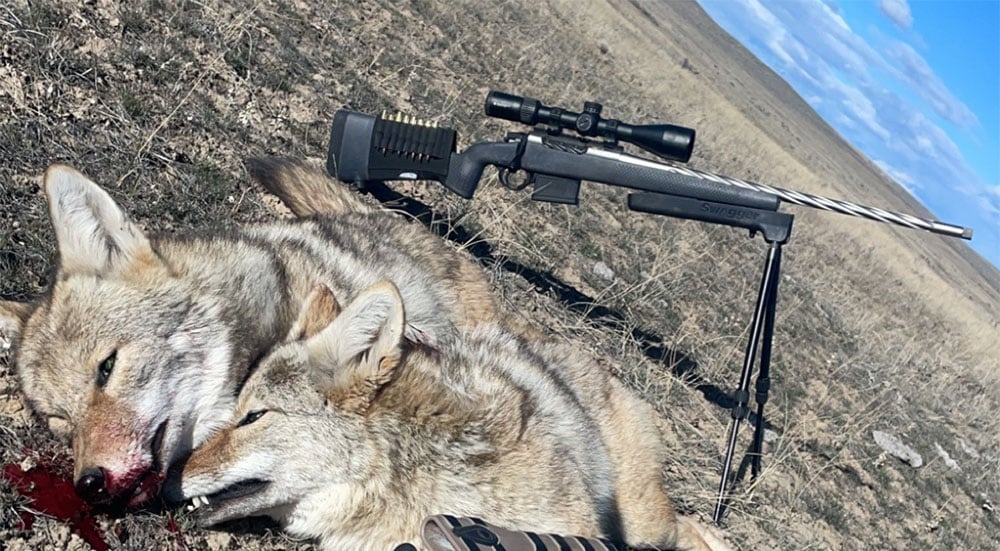 Whether you're dealing with a serious infestation or doing some recreational hunting, the right rifle is key to varmint and predator hunting. These rifles typically utilize a heavier barrel than light-caliber rifles. Because varmints are typically hunted from a fixed position, the extra weight isn't a nuisance.
Varmint and predator rifles share attributes of both light caliber rifles and big game hunting rifles. The best varmint and predator rifles will be well-matched for the size of game, offering enough stopping power for a clean, ethical kill while minimizing damage to the pelt. The most popular calibers for varmint and predator hunting include .223 (best all around), 17HMR (preserve the pelt), 6.5 (longer shots) and .22-250 (great for coyotes.)
If you have a rifle that you already use for deer hunting, you can always start here as you move into varmint and predator hunting – but you'll quickly find that it is overkill, especially if you are aiming for smaller varmint like squirrels and rats. If you are hunting predators such as foxes and want to preserve the pelt, a lighter caliber (such as the 17HMR) is even more important.
There are a few qualities that all varmint and predator rifles should have. Each of the guns on this list is sure to deliver:
Accuracy
Durability
Consistent performance
Appropriate caliber for target
These qualities are guaranteed with the manufacturers below, many of which are the top brands in firearms manufacturing on the market. In addition to these qualities, your own personal goals for predator and varmint hunting will factor in to your final decision. These considerations are:
Size of prey. Will you be hunting rats and prairie dogs, or coyotes?
Portability. If you'll be shooting rats in a barn, you will likely work from a fixed position and not mind some extra weight. If you'll be tracking over longer days, you might want to save ounces where you can.
Budget. As always, your budget will factor into your final decision.
With these considerations in mind, review our selection below of the best rifles on the market for hunting coyotes, bobcats, prairie dogs, invasive species, and more. This list is by now means comprehensive. There are large variety of rifles that will effectively take a varmints and predators--these are just our favorite. We also recommend reviewing our comprehensive catalog of varmint and predator rifles.
Remington 700 Varmint SF

We couldn't make this list without mentioning the Remington Model 700. Specifically, the Varmint Stainless Fluted (SF) version of the rifle, which is specifically designed for hunting predators. It's also available in all popular varmint calibers, as well as the ever-popular, heavy-hitting .308 Winchester for those hunters who need to deal with larger pests. Chambered in the .308 Win. the Remington 700 Varmint SF is fully capable of taking down feral hogs, deer, and bears.
The 26" barrel on the 700 Varmint SF is perfect for both rapid and long-range shooting applications. This makes it a great rifle for those hunters who need excellent accuracy. For added weather resistance during hunts, the 700 Varmint SF features a synthetic stock and a stainless-steel barrel.
This firearm is available in .223 Remington, .220 Swift, .22-250 Remington, and .308 Win., with a four-round or five-round capacity, depending on the caliber.
Remington 700 Varmint features and stats:
MSRP
$500-$600
Cartridge
.223, .220 Swigt, .22-250 Rem, .308 Win
Capacity
4+1, 5+1
Weight
8.5 lbs.
Barrel Length
26 in.
Overall Length
45.75 in.
Ruger 77/22

If you're hunting in a populated area where noise and bullet ricochets are something to be concerned about, high powered, high-velocity cartridges are far from ideal. When hunting near populated areas the Ruger 77/22 is a fantastic option.
Built to fire the centerfire .22 Hornet cartridge, the Ruger 77/22 is accurate enough to fire sub-MOA with the right loads. It fires with a flat trajectory up to 200 yards, and is very effective for hunting small game without producing a lot of noise.
The Ruger 77/22 is available with a 20" or 24", and comes with a 6-round maximum capacity.
Ruger 77/22 features and stats:
| | |
| --- | --- |
| MSRP | $600-$1,000 |
| Cartridge | 22 Hornet |
| Capacity | 6+1 |
| Weight | 7 lbs. |
| Barrel Length | 18.5 in. |
| Overall Length | 37.75 in. |
| Stock | Laminate |
Browning X-Bolt Eclipse Varmint

With the high velocity .204 Ruger cartridge, the Browning X-Bolt Eclipse Varmint has a well-earned reputation for accuracy and is built for hunting predators and varmints. This makes it one of the top rifles for long-range shooting at small targets like prairie dogs.
When equipped with a high-quality scope and some well-made ammunition, this rifle is the ideal platform for delivering high-accuracy performance with minimal recoil. The Browning X-Bolt Eclipse Varmint has a barrel length of 26", and a magazine capacity of five rounds. So, if long-range accuracy is an absolute must, this may be the firearm for you.
Ruger American Rimfire Compact
For the casual hunter on a budget, the Ruger American Rimfire Compact is the ideal varmint and predator hunting rifle. Even more experienced hunters may enjoy the Ruger American Rimfire Compact and its easy-to-carry construction. The rifle is available in inexpensive rimfire calibers including .22WMR and .22LR.
This bolt-action rifle is built with an 18" barrel and has a 9-round capacity. It is not ideal for varmint hunting at long range. We suggest the Ruger American Rimfire Compact for hunters who need to perform regular garden maintenance against pests, or who simply need an extra rifle for their truck.
Ruger American Rimfire Compact features and stats:
MSRP
$300-$400
Cartridge
22 Long Rifle
Capacity
9-10
Weight
5.3 lbs.
Barrel Length
18 in.
Overall Length
18 in.
Stock
Interchangable Buttstock
Remington R15 Rifle

For high-volume predator control, you can't go wrong with an AR-15. The Remington R-15 is designed and purpose-built to be used for predator control and is chambered in a caliber that many hunters consider excellent for coyote hunting -- the .223 Remington. Although accurate enough for long-range hunting, the Remington R-15 is built to take multiple shots in quick succession.
The Remington R-15 Predator Rifle features a flattop receiver and a Picatinny rail and will accommodate most AR-15 accessories. Because it lacks a flash suppressor and an adjustable stock, the weapon is legal in most states. It accepts all standard magazines for the AR-15 platform, and comes with a detachable five-round magazine.
Savage 110 Varmint

The Savage 110 Varmint is another fantastic option for a budget-friendly firearm that can perform at medium-to-long range distances. Although it comes with a heftier price tag than the Ruger American Compact Varmint, this weapon is still budget-friendly. It also comes equipped with a few more features than the Ruger.
The 110 Varmint comes with Savage's AccuTrigger and AccuStock. With these features, the user can manually adjust the trigger-pull weight, as well as the stock comb height (and length of pull). These features make for an ultra-customizable weapon that can be personalized to fit the user without laborious modifications. The 110 Varmint is available in .204 Ruger, .223 Remington, and .22-250 Remington. It is also well suited for coyote hunting, with its high muzzle velocity and flat trajectory.
Savage 110 Varmint features and stats:
MSRP
$700-$800
Cartridge
204 Ruger, 22-250 Rem, 223 Rem
Capacity
4+1
Weight
8.75 lbs.
Barrel Length
26 in.
Overall Length
41.75 in.
Stock
AccuFit Gray
Henry Varmint Express

The Henry Varmint Express is a lever-action rifle designed specifically and exclusively for Varmint Hunting applications. It is chambered in .17 Hornady Magnum Rimfire, and is a compact, lightweight rifle. This rifle is a quiet and flat shooting weapon that isn't designed for long-range hunting but is ideal for prairie dogs, foxes, and other small varmints at short-to-medium range distances.
In many ways, the Henry Varmint Express is similar to the Henry Small Game Rifle. It is fast-pointing, easy-to-carry, and easy to transport on foot, horseback, or in a truck. It has a barrel length of 19.25", and a maximum capacity of 11 rounds.
Henry Varmint Express features and stats:
MSRP
$500-$600
Cartridge
.17 HMR
Capacity
12
Weight
5.75 lbs.
Barrel Length
20 in.
Overall Length
38.5 in.
Stock
Checkered American Walnut w/Cheek Raise
Winchester Model 70 Coyote Light

The Winchester Model 70 is another rifle that we simply could not leave off our list. It's a classic varmint hunting rifle that is chambered in .22-250 Remington and is designed for long-range coyote hunting. The weapon incorporates a high-end composite stock and a fluted barrel. Under even the most demanding conditions, the Winchester Model 70 is known to deliver top-of-the-line performance. The weapon has a barrel length of 26", and a magazine capacity of four rounds in total.
Conclusion
Truth is, there is no one perfect rifle or caliber for varmint and predator hunting. To review a complete selection of rifles designed for varmint and predator hunting clicks the link below.